We Tasted 5 Fast-Food Vanilla Ice Creams & This Is the Best
See which fast-food place churns out the best ice cream, and which ones should stick to flipping burgers.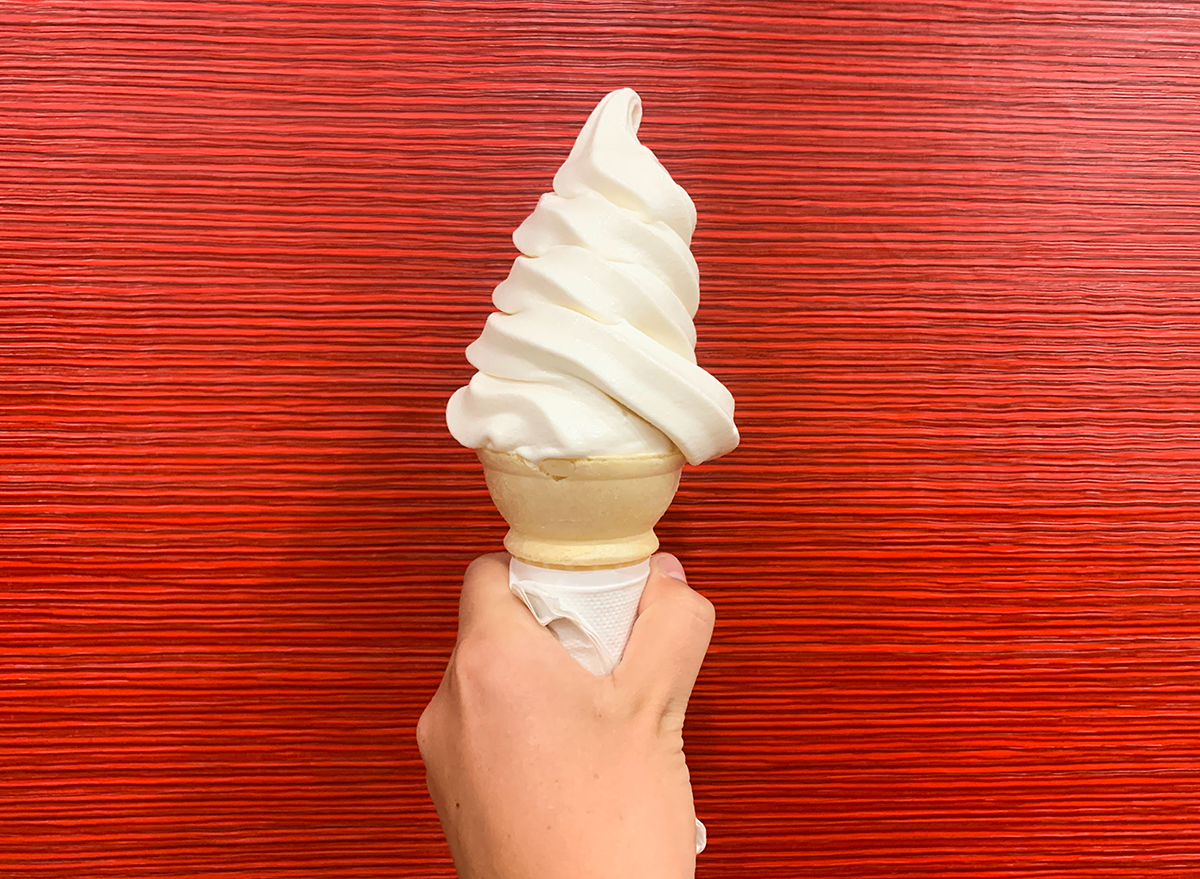 Ice cream may not be your go-to order at your favorite fast-food place. In fact, the fast-food joint you frequent the most may not even serve ice cream (we're looking at you, Taco Bell). However, for those that do, two other editors and I set out to find the best fast food ice cream. There are some fast-food places that are known not just for their burgers, but also for their surprisingly delicious ice cream treats.
To figure out the best fast-food vanilla ice cream, we visited five well-known quick-service restaurants: Burger King, Chick-Fil-A, Dairy Queen, McDonald's, and Wendy's. Our order? One vanilla ice cream cone. Except at Wendy's, where we ordered a vanilla Frosty, but you get the picture. See which fast-food restaurant serves up the tastiest vanilla ice cream, and which one serves a sad excuse for a frozen treat.
And for more, don't miss We Tried 7 Fast-Food Cheeseburgers & This Is the Best.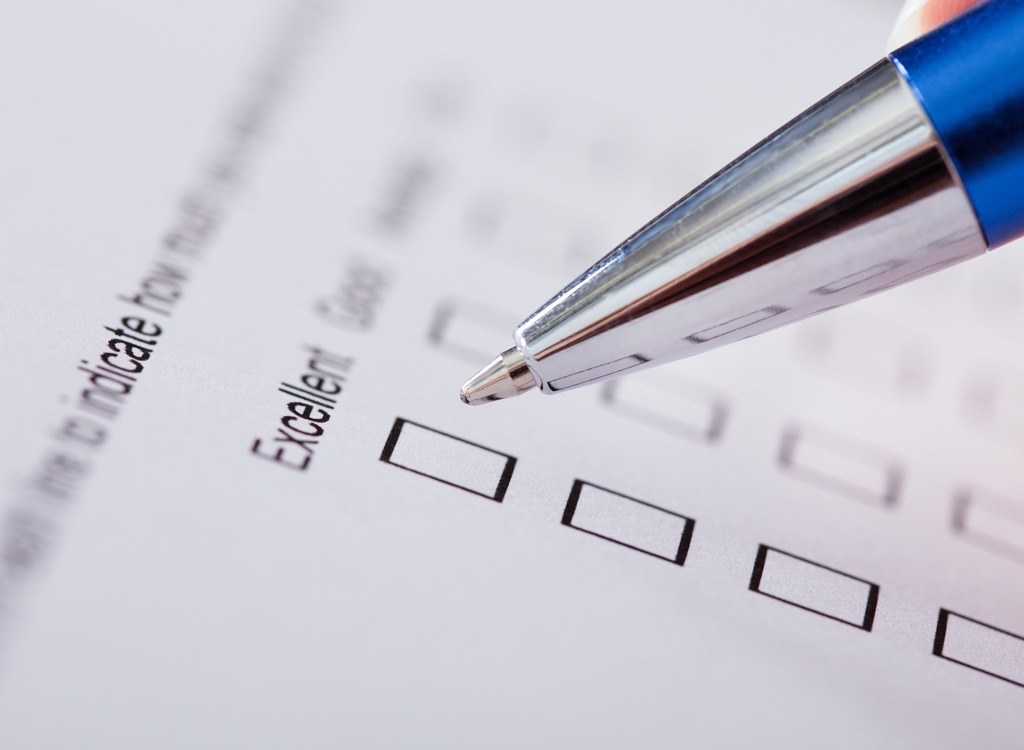 Because most of the ice creams served at fast-food restaurants are soft-serve, we graded the ice cream on how smooth and light the texture was, as well as the quality of the vanilla flavor. While it wasn't a deal-breaker, we also took the presentation of the ice cream cone into consideration. Because no one likes to be handed a cone with a lopsided dollop of ice cream on the brink of sliding off, do they?
Chick-Fil-A's vanilla ice cream cone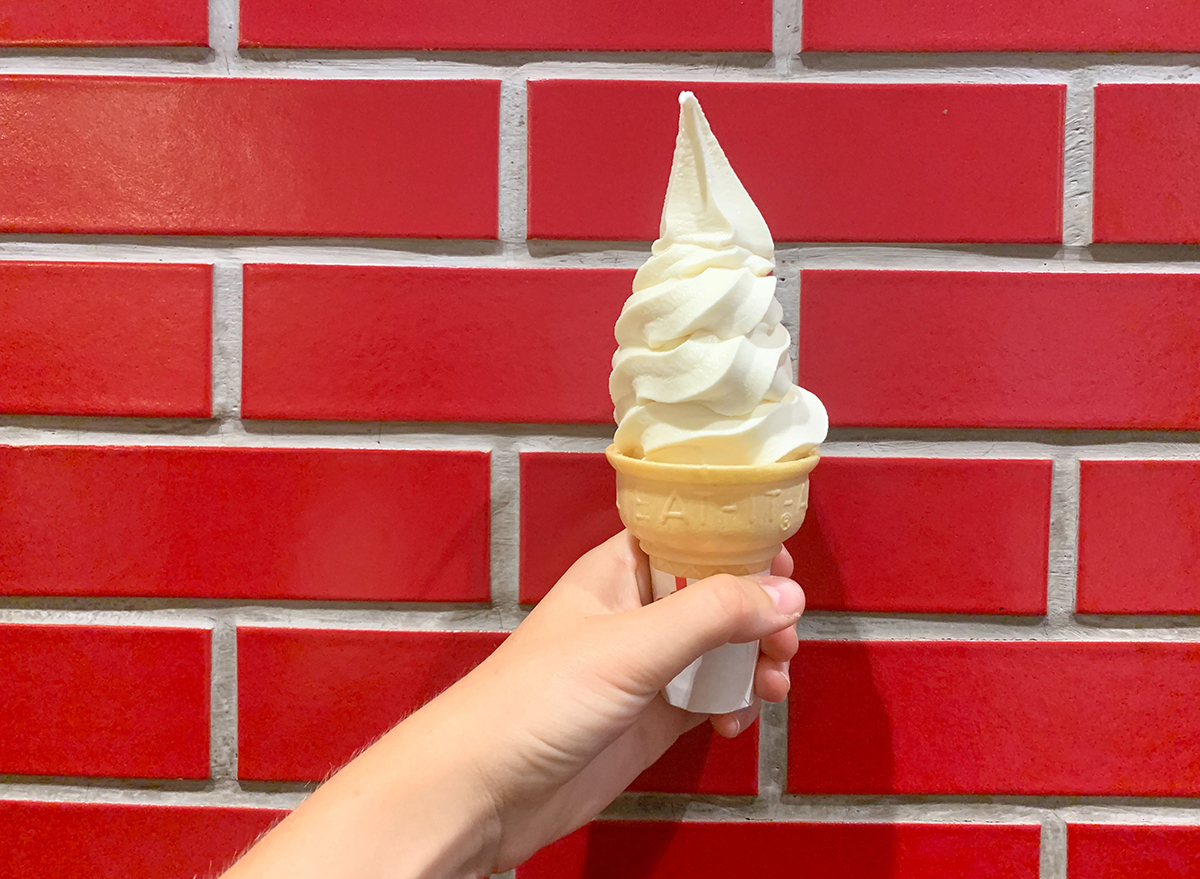 Texture and Taste
The texture was icy and not very smooth at all. This ice cream left a potent aftertaste in our mouths.
Eat This, Not That! Verdict
There was something seriously wrong with this ice cream. We had overheard a few employees saying they were having issues getting the ice cream to thicken and that they needed to add more shake base to it. According to Conagra Foodservice, shake base is an ingredient used to facilitate the blending of a milkshake without clogging the machine. We're not sure if that's what's to blame for the horrid taste of this ice cream cone or if it's this bad all the time.6254a4d1642c605c54bf1cab17d50f1e
We all came to the conclusion that this vanilla ice cream cone left an aftertaste similar to the one you'd get after licking an envelope. We also were curious as to why this vanilla ice cream had more of an ivory shade than the traditional white color of vanilla. The presentation was nothing special, and the ice cream wasn't packed into the cone the way it was at the other places we visited, so you get less bang for your buck at this place.
Overall, we were not impressed with Chick-Fil-A's vanilla soft-serve ice cream.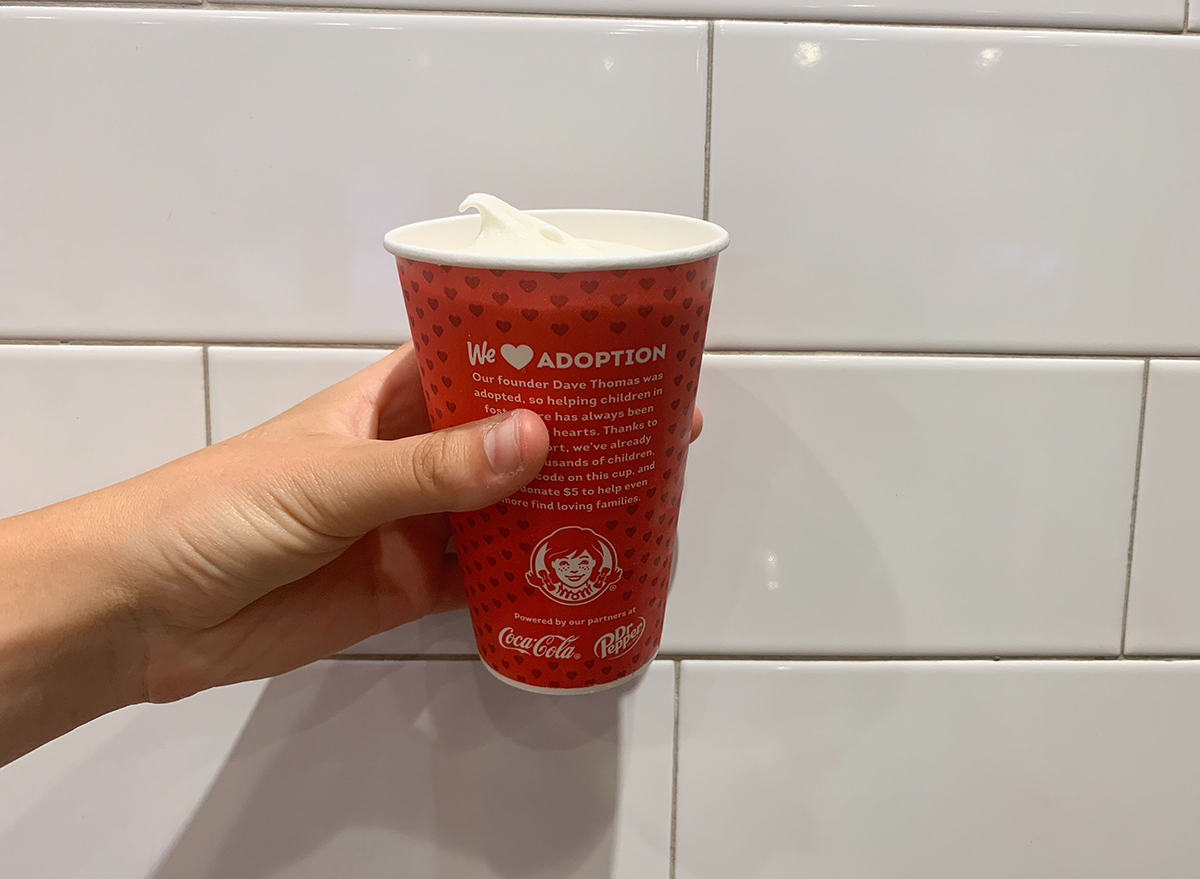 Texture and Taste
The Wendy's Vanilla Frosty was light. However, the texture is best described as grainy and icy. The taste was sweet, but it was nothing riveting.
Eat This, Not That! Verdict
Is a Frosty in a league of its own? We were torn about whether to include this one in our ranking but decided that an article about fast-food ice creams wouldn't be complete without the Wendy's take on the sweet treat. One editor said that the "Frosty texture still rings true in the vanilla, but it's creamier." While it may be creamier than the famed chocolate version, it still wasn't comparable in texture to some of the other ice creams we sampled, which is why this one didn't receive as high of a score.
Next time we'll order the chocolate Frosty…along with an order of French fries for dunking, of course!
McDonald's vanilla ice cream cone
Texture and Taste
This soft-serve had both the taste and texture of custard.
Eat This, Not That! Verdict
We appreciated how thick McDonald's soft-serve was, not to mention how nice it looked propped on top of the cone. This ice cream was refreshing. However, what set this cone back from a higher rank was its slightly artificial vanilla flavor.
Burger King's vanilla ice cream cone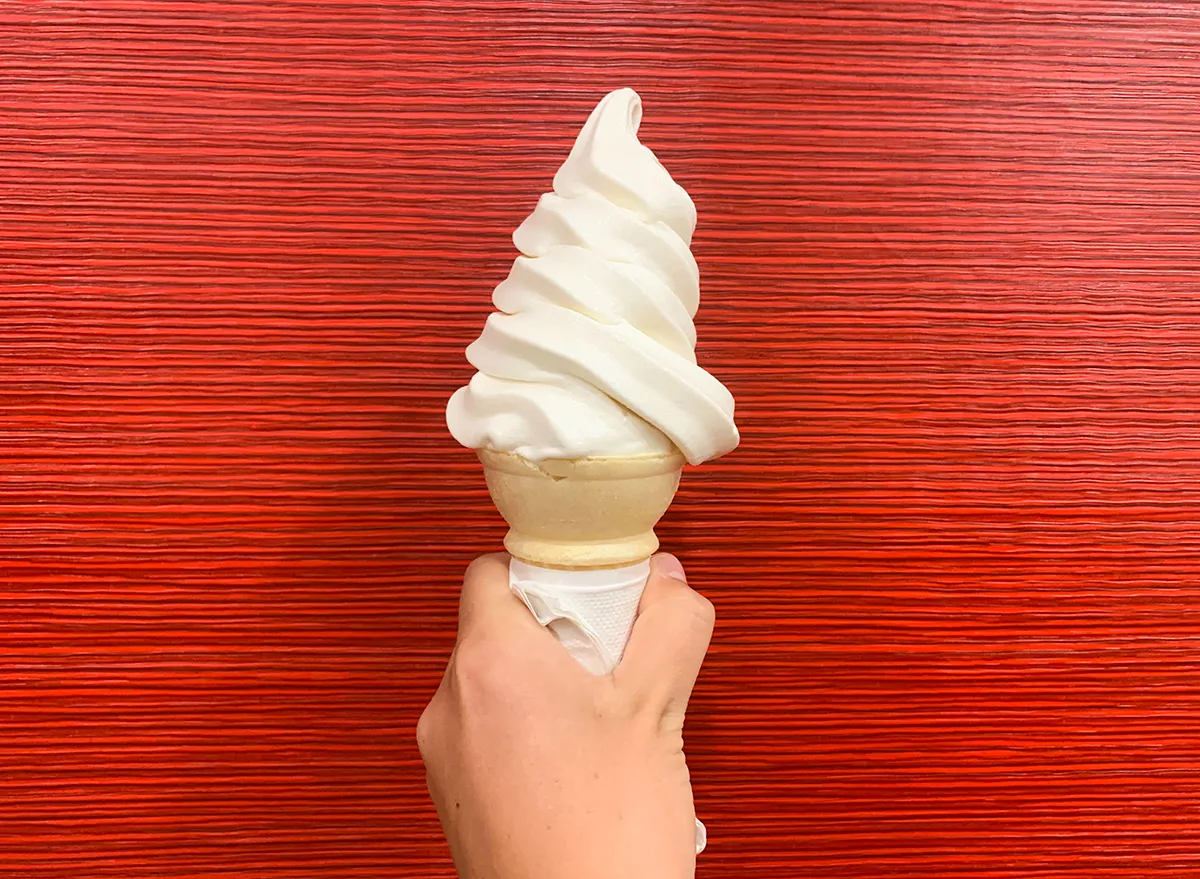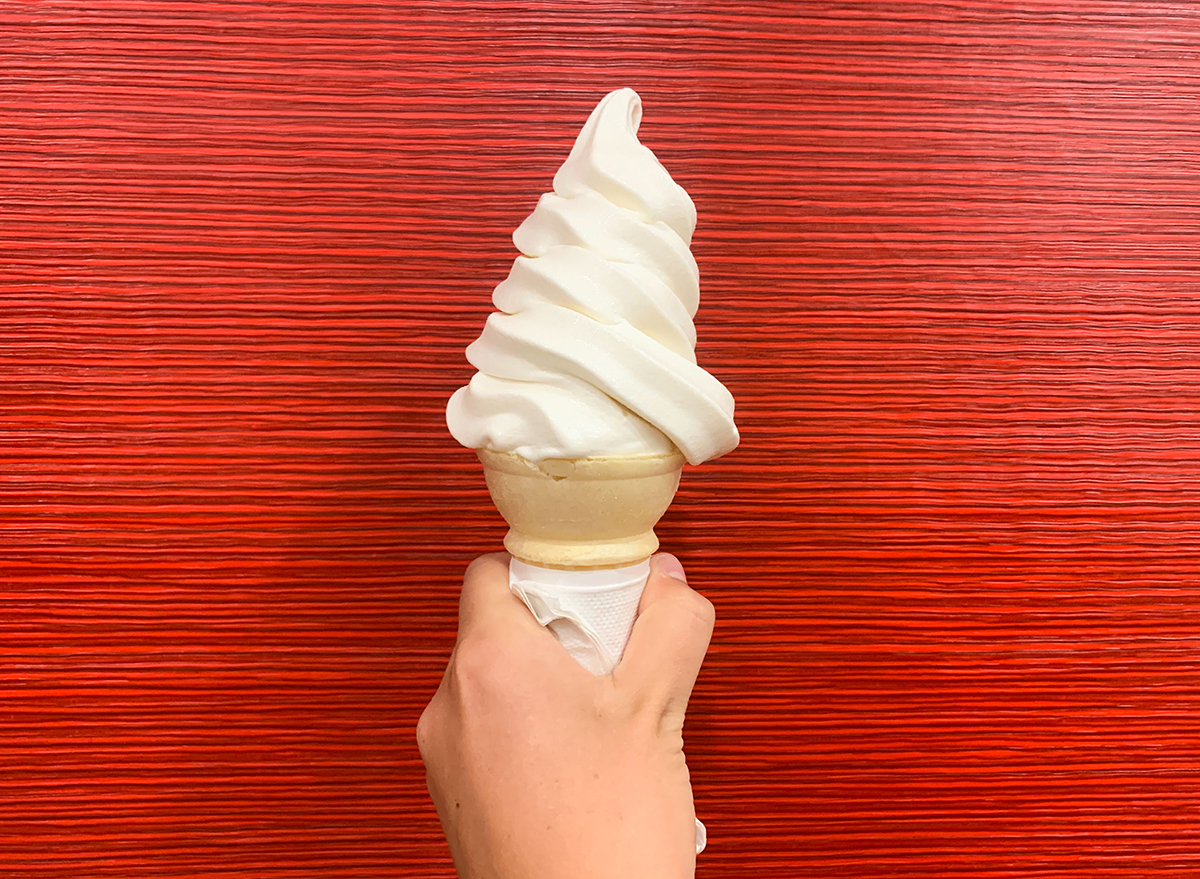 Texture and Taste
This is exactly what you would expect soft-serve to taste like: creamy with a prominent vanilla flavor.
Eat This, Not That! Verdict
One editor wrote, "Impressive. It's sweet, but not overpowering. The texture is good, creamy yet light." We docked points for the way this ice cream sat on the cone. As you can see in the picture, the bottom layer of ice cream was folding over at the bottom, which increases the likelihood of losing your ice cream all too soon.
Dairy Queen's vanilla ice cream cone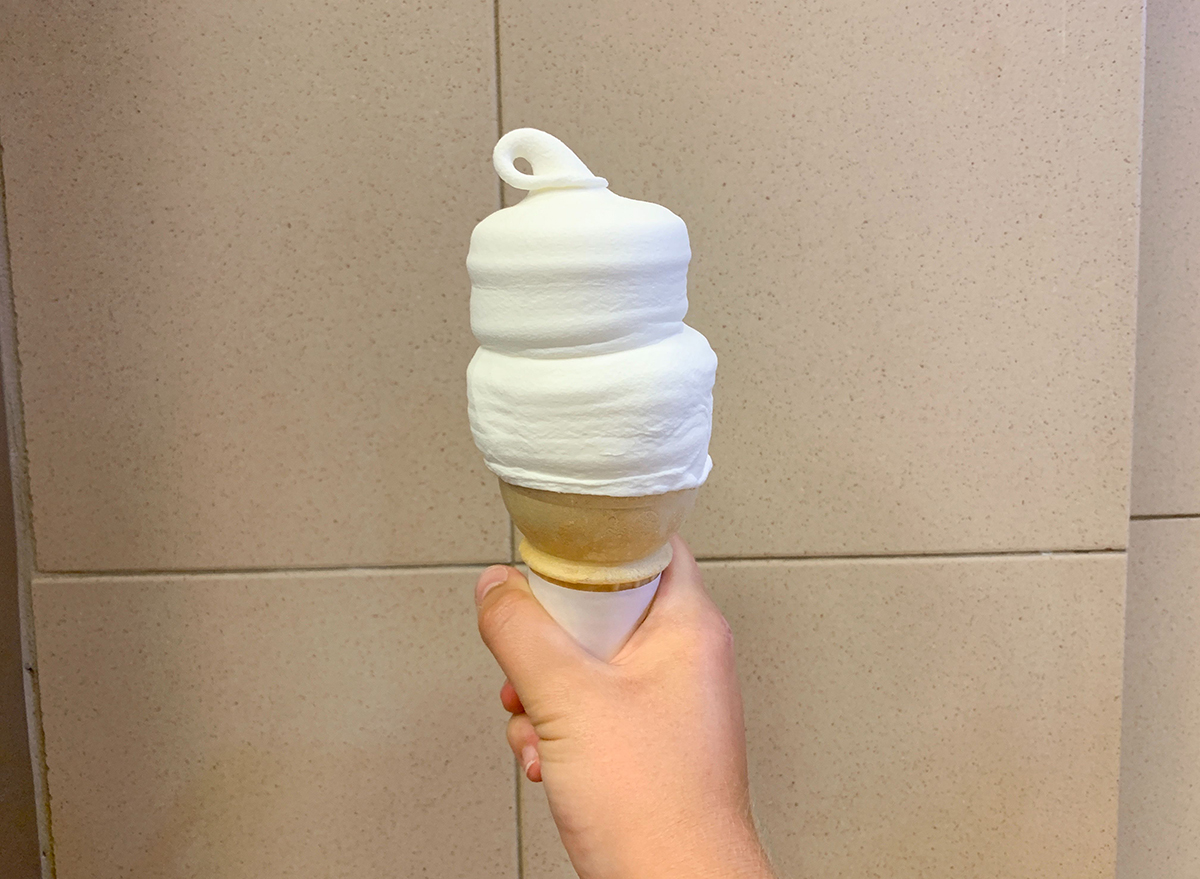 Texture and Taste
This is the best soft-serve you could order—it's thick and delicious!
Eat This, Not That! Verdict
Dairy Queen specializes in ice cream, so it should come as no surprise that its soft-serve ice cream would beat out that of its fast-food competitors. We all thought this ice cream had the best taste and the smoothest texture. We also appreciate the classic curly-Q on top.
One editor noted, "While we spent the day tasting vanilla ice cream, this was the one we kept dipping our spoons into."
She's not wrong; we couldn't get enough of this Dairy Queen cone!
Explore more of our exclusive taste tests:
We Tried Every Burger at McDonald's & This Is the Best
We Taste-Tested Fast-Food Desserts—These Were Our Favorites