We Tried 7 Chocolate Ice Creams and This One Is the Best
This brand's rich dessert blew us away.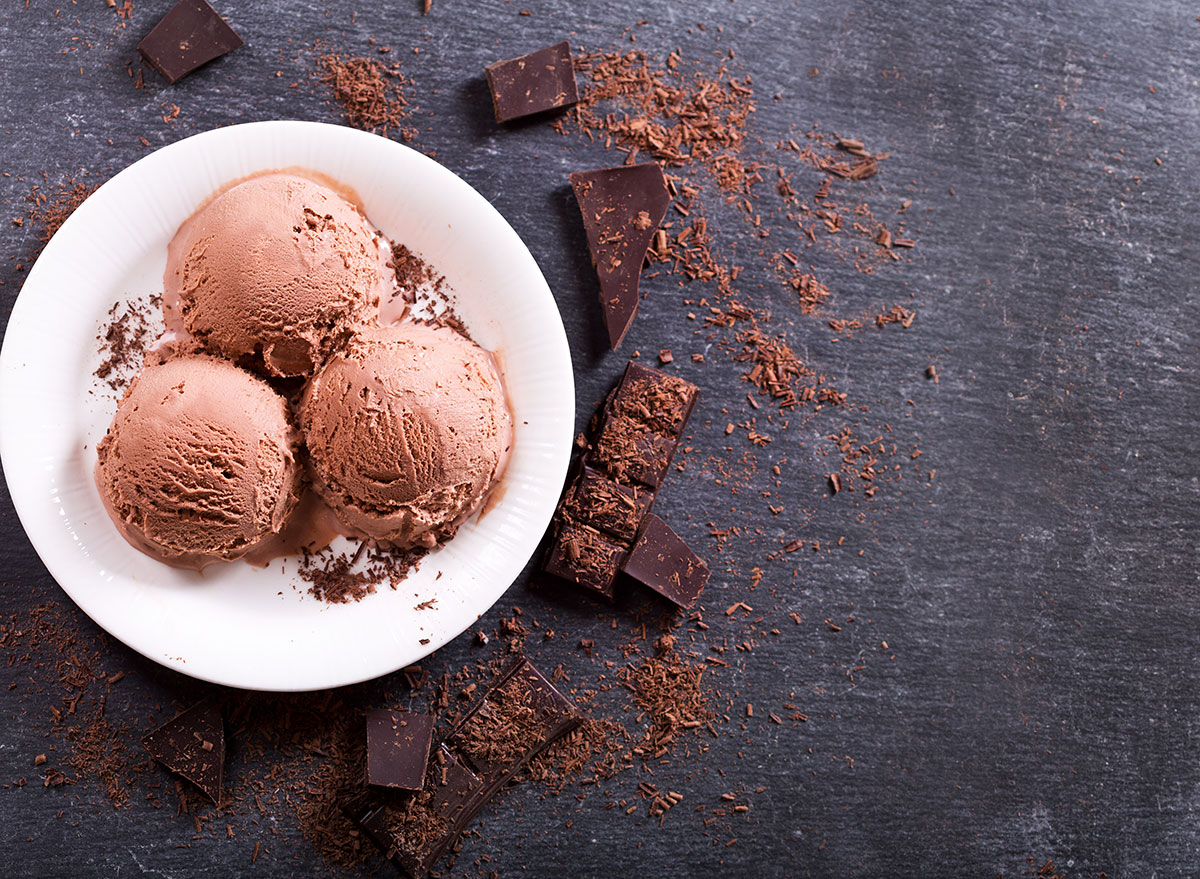 There's nothing more exciting than hearing an ice cream truck headed your way. As a child, you heard the catchy tune, saw the bright colors, and sniffed the sweet smell that wafted from the truck as it drove down the block. I'd run to my parents, ask for some money, and get myself a chocolate dip cone. While there's nothing wrong with a classic chocolate cone from Mister Softee, sometimes I just want to grab a pint of chocolate ice cream and go to town.
However, at the supermarket, there are so many options to choose from that it can feel overwhelming. Whether you like toppings mixed in or have certain dietary restrictions, there is now ice cream for just about everyone. But don't worry—we're here to help! I tried seven chocolate ice creams to find the very best one. During my taste test, I looked for chocolate ice cream with a rich, creamy texture and the satisfying sweetness that makes this frozen dessert so delicious.
Here are the 7 ice cream brands I tried, ranked from worst to best. And for more, check out these 15 Classic American Desserts That Deserve a Comeback.
Daiya Triple Fudge Chunk
Per 2/3 cup (123 g)
: 280 calories, 17 g fat (15 g saturated fat, 0 g trans fat), 95 mg sodium, 31 g carbs (2 g fiber, 21 g sugar), 2 g protein
I'm usually a sucker for ice cream with the typical fudge and chocolate chip mix-ins, but not this one. Upon the first bite, I didn't taste any chocolate, which surprised me. Looking at this pint, I thought it would be a chocolate overload, but it was bland. I tried a few spoonfuls and still didn't get chocolate from it. Instead of the chocolate, you might want to opt for the dairy-free brand's more savory flavors like salted caramel chip.
So Delicious Dairy-Free Chocolate Coconut Milk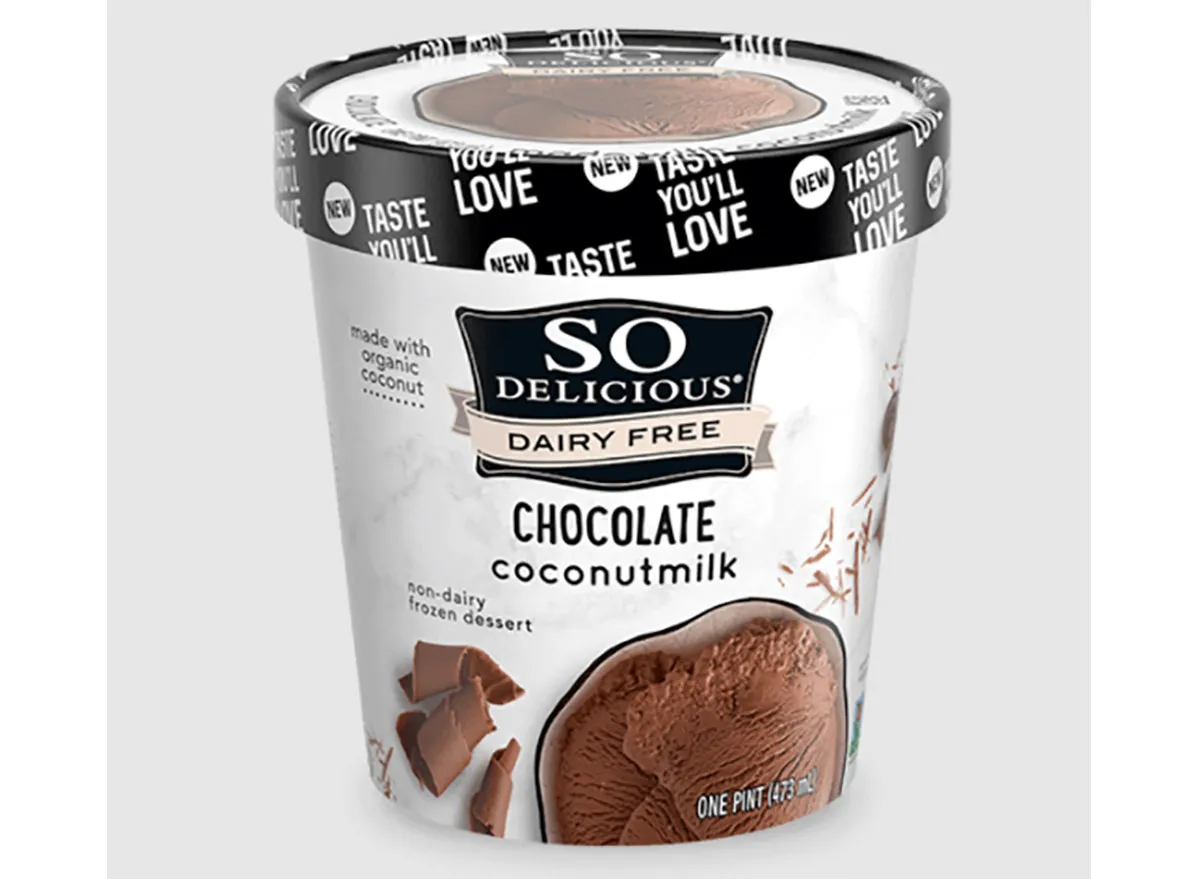 Per 2/3 cup (108 g)
: 200 calories, 11 g fat (10 g saturated fat, 0 g trans fat), 5 mg sodium, 25 g carbs (2 g fiber, 19 g sugar), 2 g protein
Dairy-free ice cream has been the latest craze, but I was not impressed. The ice cream was soft and smooth, which was refreshing, but the coconut milk canceled out the chocolate flavor I craved. I've had So Delicious frozen desserts before and thoroughly enjoyed them, so this was a bummer, but maybe next time I'll go for the cashew milk creamy chocolate.
Halo Top Chocolate
Per 2/3 cup (85 g)
: 100 calories, 3 g fat (1.5 g saturated fat, 0 g trans fat), 135 mg sodium, 18 g carbs (2 g fiber, 7 g sugar), 6 g protein
Halo Top always catches my eye at the grocery store. With only around 300 calories a pint, how can it not? I've tried the brand's chocolate chip cookie dough flavor before and am obsessed with it, but the chocolate flavor was not my favorite. The best way I can describe the flavor is that it tasted similar to how I imagine shaved ice mixed with chocolate syrup would.
Planet Oat Chocolate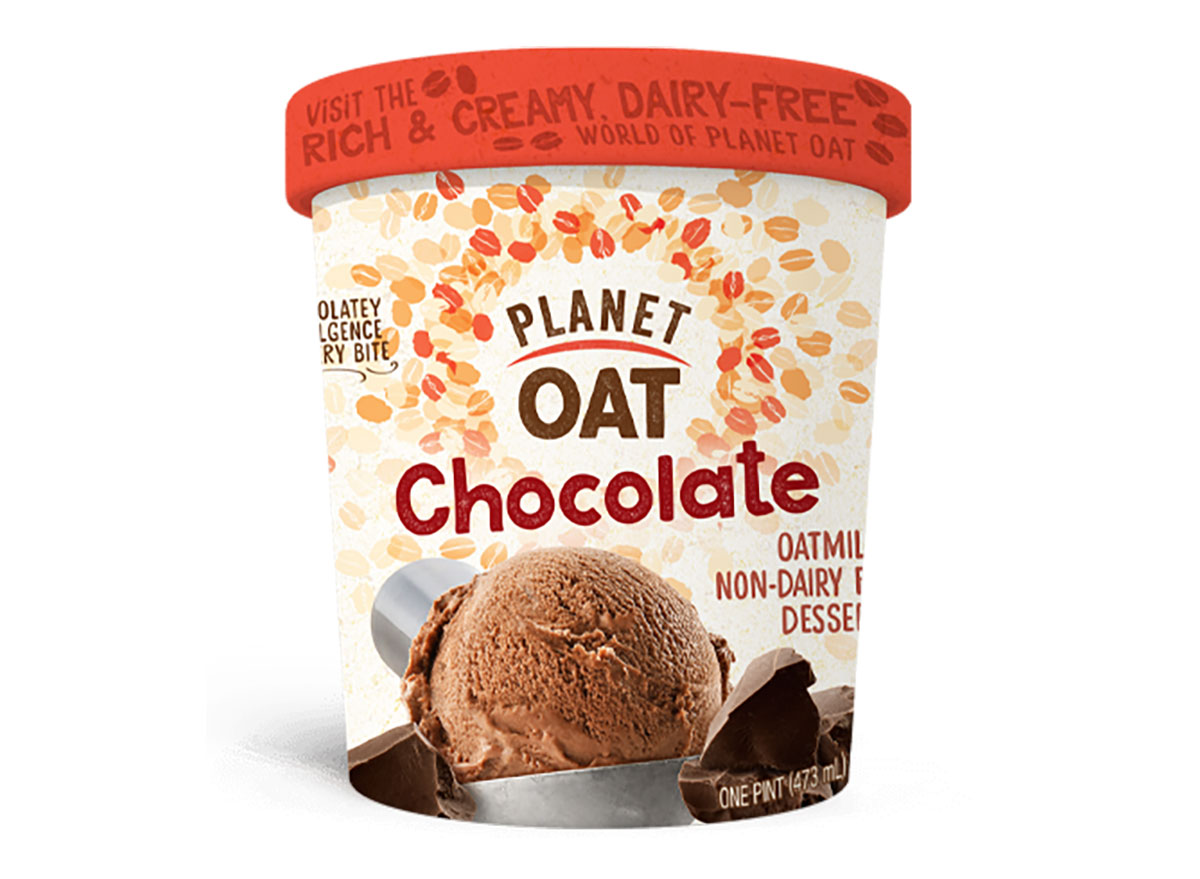 6254a4d1642c605c54bf1cab17d50f1e
Per 2/3 cup (113 g)
: 220 calories, 10 g fat (9 g saturated fat, 0 g trans fat), 55 mg sodium, 30 g carbs (2 g fiber, 17 g sugar), 6 g protein
Planet Oat's oatmilk before has changed my breakfast routine in the best way. Because I enjoy the brand's oatmilk, I decided to get my hands on the brand's chocolate ice cream. This flavor hosts a creamy and velvety texture that melts right in your mouth. If you like soft-serve ice cream from an ice cream truck or boardwalk stand, you'll love this flavor.
Blue Bunny Chocolate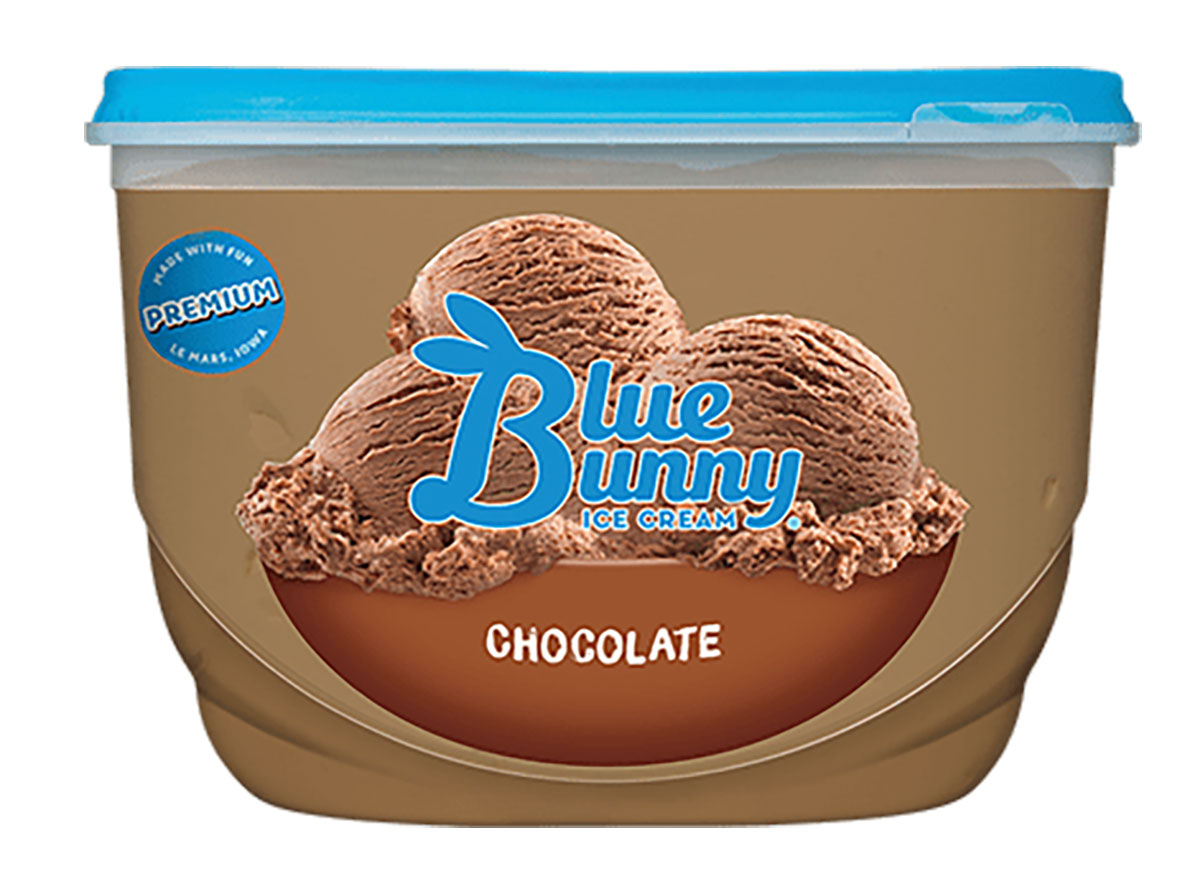 Per 2/3 cup (88 g)
: 180 calories, 9 g fat (6 g saturated fat, 0 g trans fat), 55 mg sodium, 24 g carbs (1 g fiber, 19 g sugar), 2 g protein
I've had Blue Bunny's Load'd Cones before but had yet to try the brand's premium ice cream flavors on their own. This reminded me of the chocolate ice cream I would eat growing up: smooth, creamy, sweet, and delicious. This is the quintessential chocolate ice cream that everyone needs in their lives.
Graeter's Double Chocolate Chip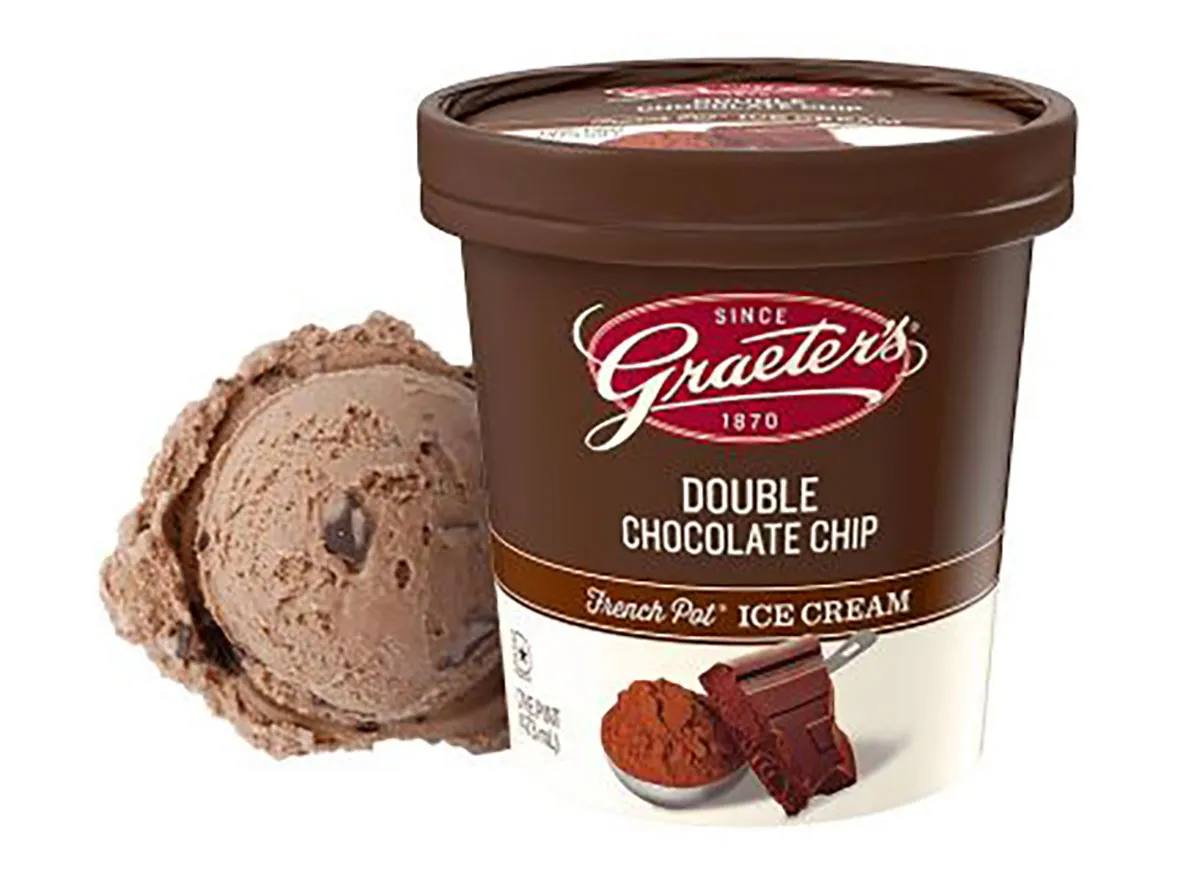 Per 2/3 cup (145 g)
: 410 calories, 27 g fat (15 g saturated fat, 0.5 g trans fat), 60 mg sodium, 38 g carbs (0 g fiber, 36 g sugar), 6 g protein
I'd never heard of Graeter's before, but I saw it and decided to try it. I can't believe it took me nearly 22 years to discover this family-owned brand, which crafts its ice cream in French Pots. How cool!
This ice cream is light, airy, and refreshing. The chocolate chips dispersed throughout added another dimension to this decadent dessert, making it one of my favorites.
Magnum Dark Chocolate Truffle Mini Ice Cream
Per 3 bars (128 g)
: 420 calories, 31 g fat (19 g saturated fat, 0 g trans fat), 65 mg sodium, 39 g carbs (6 g fiber, 28 g sugar), 6 g protein
Magnum's Dark Chocolate Truffle Mini Ice Cream is easily the best chocolate ice cream I've ever had. When I am craving chocolate ice cream, this is exactly when I'm referring to: rich, creamy, velvety, melt-in-your-mouth chocolate. Not only is the ice cream delicious, but it's also coated in luscious Belgian chocolate that ups the ante. If you're a chocoholic, you can't go wrong with these mini ice cream bars.
Casey Clark
Casey Clark is a current journalism student at Hofstra University with a passion for food, beauty, and entertainment.
Read more about Casey