6 Fast-Food Restaurants That Serve the Best Nachos
Nachos are on the menu at more places than you might expect.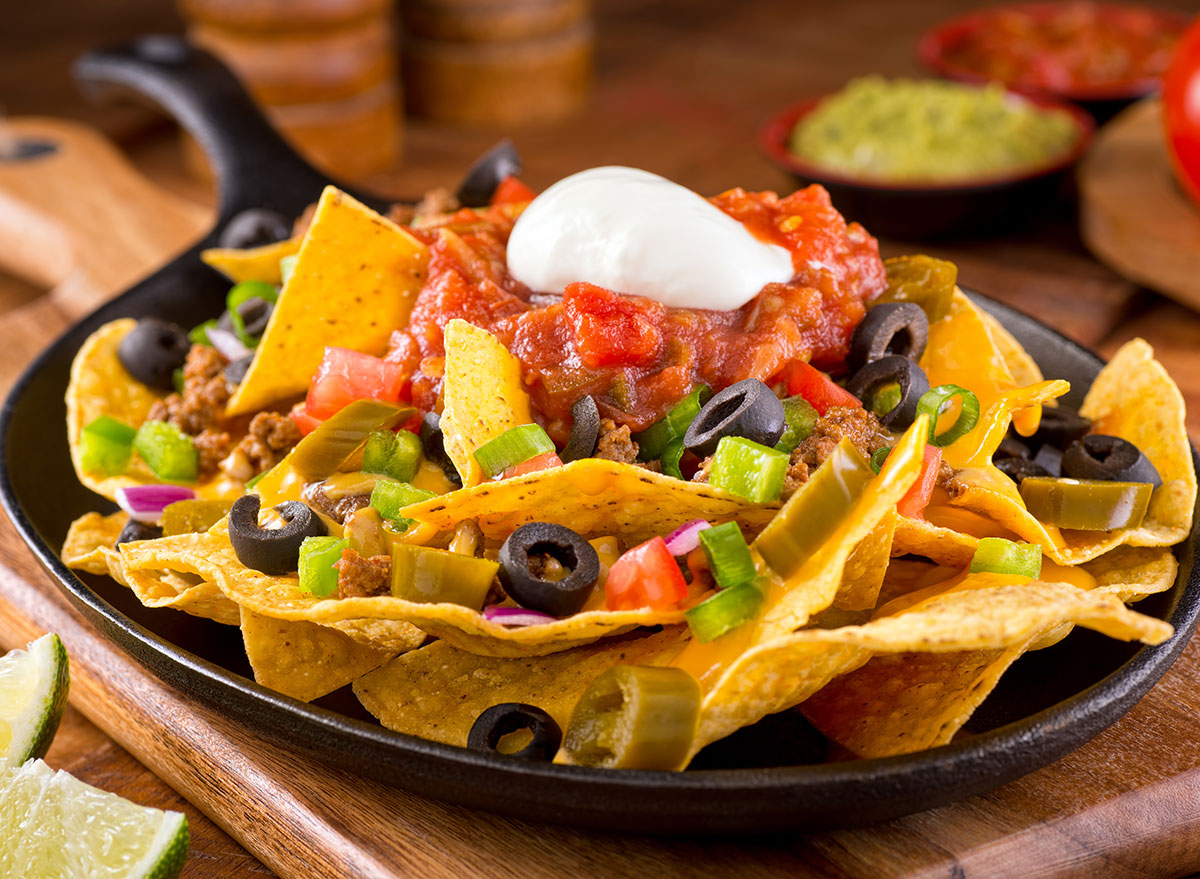 The product recommendations in this post are recommendations by the writer and/or expert(s) interviewed and do not contain affiliate links. Meaning: If you use these links to buy something, we will not earn a commission.
The origin stories of many foods are clouded in mystery or else heavily disputed. Where was the Cobb Salad truly invented? Were potato chips truly first made by accident? In the case of nachos, however, we can trace their creation to one place, one year, and to one man. He truly launched a thousand cravings for the fast and delicious mound of chips covered in cheese that we call nachos.
Per The New York Times, the place was a Mexican city called Piedras Negras, the year was 1940, and the man was Ignacio Anaya, nicknamed—you guessed it—Nacho. Mr. Anaya was the manager of an establishment called the Victory Club and was on duty one evening when three American women entered looking for a drink and a bite to eat. With all the cooks gone for the day, Nacho Anaya threw together whatever he could find, which were fried tortilla chips, Colby cheese, and sliced jalapeños, baked it all together, and served his guests.
The women loved the impromptu dish so much that word soon spread about Nacho's creation. As in it spread locally, then across the border, then across America, and eventually the world. So while nachos may seem like a quintessential American take on Mexican cuisine, it is indeed an authentically Mexican dish. That said, they are more popular Stateside than south of the border, and today, nachos are a staple item on many restaurant menus, including many fast-food chains like those featured here.
Here's where you can pick up the best nachos.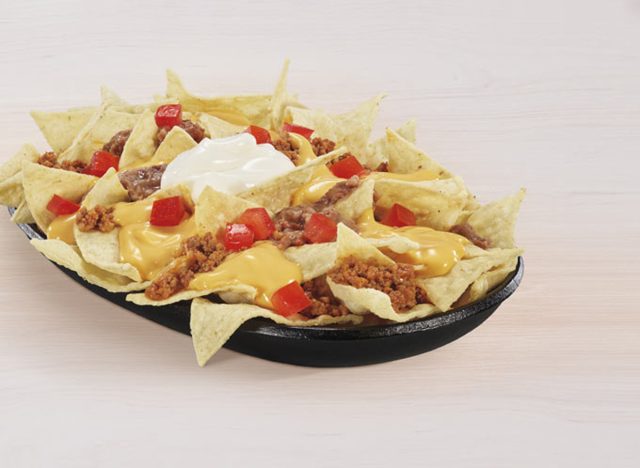 Taco Bell may not have a reputation as the highest-quality fast-food chain out there, but its nachos have lots of fans. In fact, you can find dozens of posts on Reddit where someone has simply shared a picture of their Taco Bell Nachos Bellgrande and people pour on the praise with posts like: "Honestly this is a masterpiece" and "These are the prettiest nachos I've seen so far!" Plus, you can always count on Taco Bell for consistency and it satisfies those late-night cravings.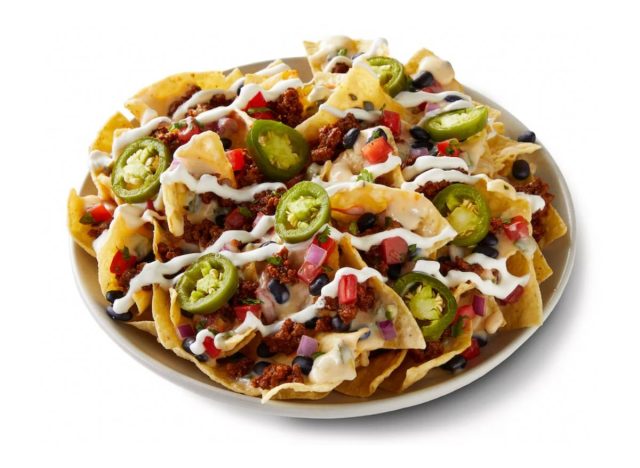 Don't think of the nachos from Qdoba as a side, starter, or app: this is a meal in and of itself. And it's a meal you design yourself, too. With the chain's Create Your Own 3-Cheese Nachos, you choose a protein (like Citrus-Lime Shrimp, Brisket Birria, or Grilled Adobo Chicken, to name a few of the choices), you add a choice of beans, you add up to three salsas/sauces, and you can add up to nine toppings like guac, pickled red onions, fresh cilantro, and more.6254a4d1642c605c54bf1cab17d50f1e
Del Taco has two different types of nachos on the menu: 3 Layer Queso Nachos and Queso Loaded Nachos. While the former is tasty, the latter is the go-to if you're really hungry. The 3 Layer Queso Nachos consist of chips, queso, beans, and "green sauce," while the Queso Loaded Nachos also include sour cream, tomatoes, jalapeño slices, and your choice of meat or vegetarian proteins.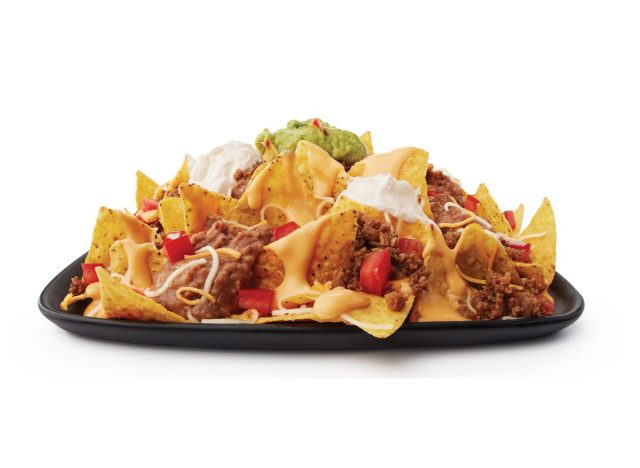 Go to Taco John's for the tacos. Stay for the nachos. Like those on the Qdona menu, these are full-on meals, so it's apt that the chain chose the name Super Nachos. They consist of freshly cooked chips, 100% American beef, refried beans, a melty four-cheese blend, tomatoes, guacamole, and sour cream. And while a large-sized order does pack in 800 calories and 41 grams of fat, as an occasional treat or when shared with a few friends, they are worth it.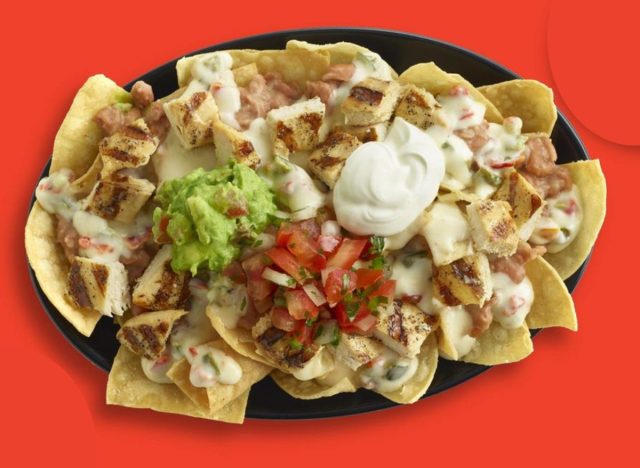 Just a heads-up, not every El Pollo Loco location offers nachos. You won't find them on the chain's main website, but as you start to search the menus of specific locations, they can be found at many restaurants. And found the chain's Shredded Chicken Nachos should be. These nachos consist of tortilla chips topped with shredded chicken, tomato salsa, fresh guacamole, queso sauce, sour cream, beans, and a fresh pico de gallo. If that description doesn't make you hungry, then either you just ate, or you just don't like nachos and should have stopped reading by now.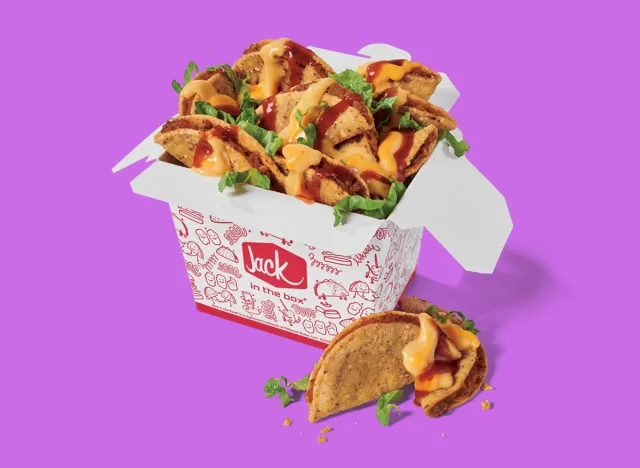 Bear with us here: if the nacho basically consists of tortilla chips, melted cheese sauce, and toppings, then why can't a box full of mini tacos be considered effectively nachos? These Loaded Tiny Tacos from Jack in the Box are for all intents and purposes, just with the tortilla chips stuffed with meat. The elements are all there, including the chips, the cheese sauce, and toppings like shredded lettuce and "signature taco sauce." They could be the most creative fast-food nachos ever.
Steven John
Steven John is a freelancer writer for
Eat This, Not That!
based just outside New York City.
Read more about Steven