5 Best Fast-Food Sandwiches for Belly Fat, Say Experts
Eat a burger without jeopardizing your weight-loss goals.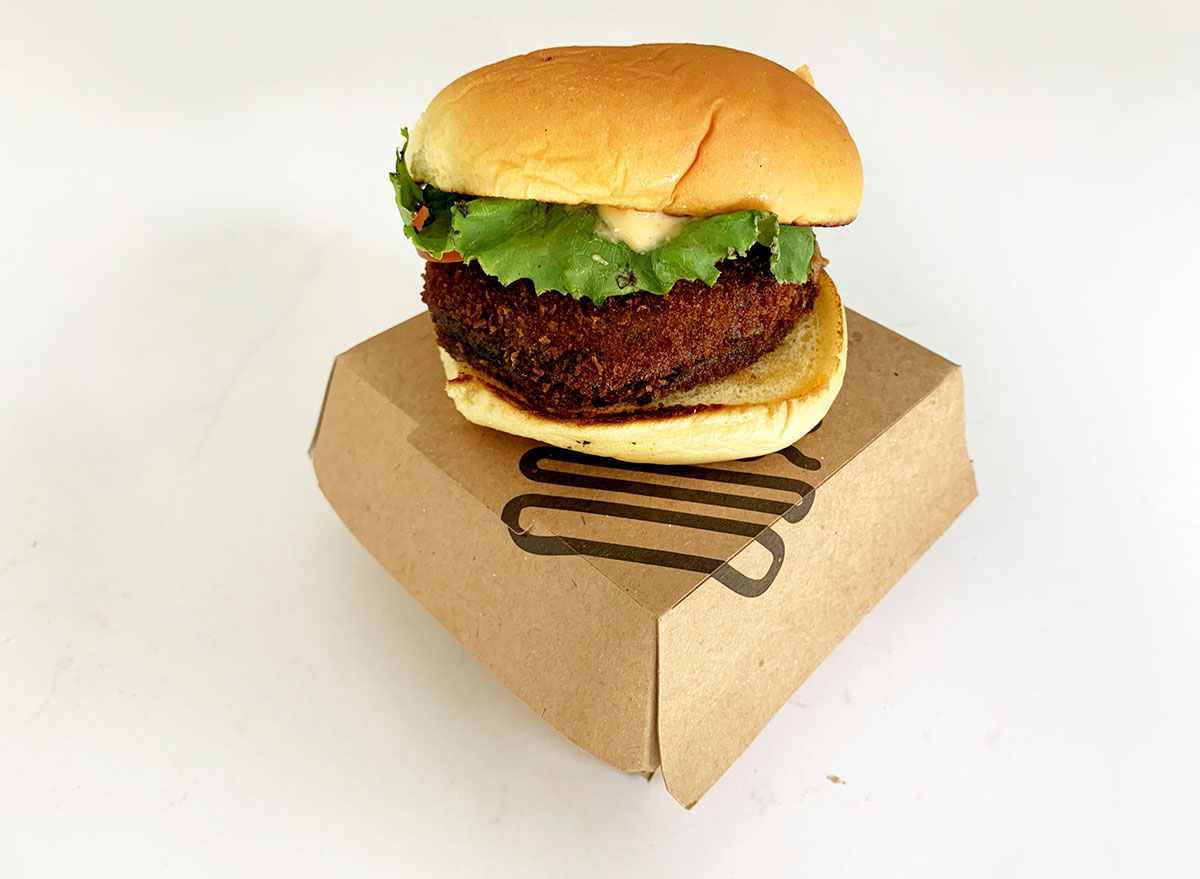 In general, fast food is not synonymous with less belly fat. In fact, despite shifts towards lower-calorie and more naturally processed menu items, the industry as a whole has not done much to permanently escape its reputation as unhealthy.
Celebrity chef and nutritionist Serena Poon put it plainly: "If you're being conscientious about belly fat, a fast-food burger probably isn't going to be the best first choice for a meal. You'll want to reach for a diet that is rich in fresh vegetables and fruits, whole grains, legumes, and high-quality protein instead."
That doesn't mean, however, that when faced with a pit stop at a row of fast-food restaurants, you can't choose a sandwich that is slightly better for you than the most deluxe burger the joint has to offer. We consulted an array of experts and asked which hamburger they think poses the least concern, nutritionally speaking. Some of these options might even be able to be incorporated into a healthy diet where you continue to achieve your belly fat goals. Read on, and for more on how to eat healthy, don't miss Eating Habits to Lose Abdominal Fat As You Age, Say Dietitians.
In-N-Out's Protein Style Hamburger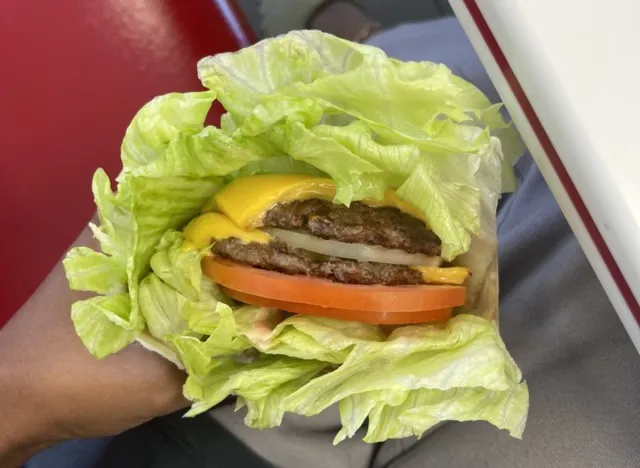 Per burger
: 240 calories, 17 g fat (4 g saturated fat), 40 g cholesterol, 370 mg sodium, 11 g carbs (3 g fiber, 7 g sugar), 13 g protein
"If you do want to eat a slightly better-for-you fast-food burger, I recommend eating a patty stacked with as many veggies as you can get your hands on inside of a lettuce wrap," explained Poon.6254a4d1642c605c54bf1cab17d50f1e
When you order a protein-style burger at In-N-Out, and load it up with veggies, this is essentially what you're getting. The burger comes wrapped in lettuce instead of a bun, and you can control how many patties, veggies, and condiments you add.
"This can help in burning belly fat because it's pretty balanced, low in carbs, and high in protein," says nutritionist Jay Cowin, NNCP, RNT, RNC, CHN, CSNA. "The protein will help keep you feeling fuller longer, so you're less likely to snack later on. It's great for those days when you're on the go and need something quick, satisfying, and healthy. A downside though, is that this can be messy to eat!"
Shake Shack's Shroom Burger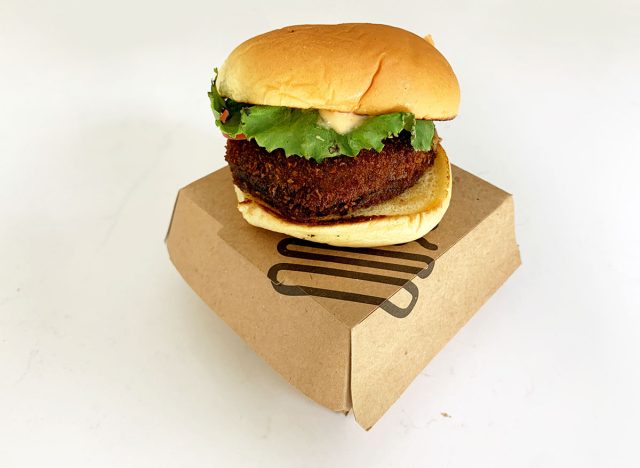 Per burger
: 510 calories, 27 g fat (10 g saturated fat, 0.5 g trans fat), 45 g cholesterol, 670 mg sodium, 49 g carbs (0g fiber, 7 g sugar)
There is a lot of evidence that eating less meat can help achieve and maintain weight loss goals. So, when indulging on a burger, consider making it meatless. The 'Shroom Burger at Shake Shack, which is made from Portobello mushrooms, filled with cheddar and muenster cheeses, and topped with lettuce, tomato, and the restaurant's secret ShackSauce, is a great option.
"The sandwich might be the way to go if you're looking to limit your sodium intake as it contains less sodium (670 milligrams, to be exact) than other options on the menu. Likewise, should you be looking for a heart-conscious item, this healthy fast-food item is lower in saturated fat than other burgers at Shake Shack," explains registered dietitian Harland Adkins, RD.
Five Guys' Bunless Little Hamburger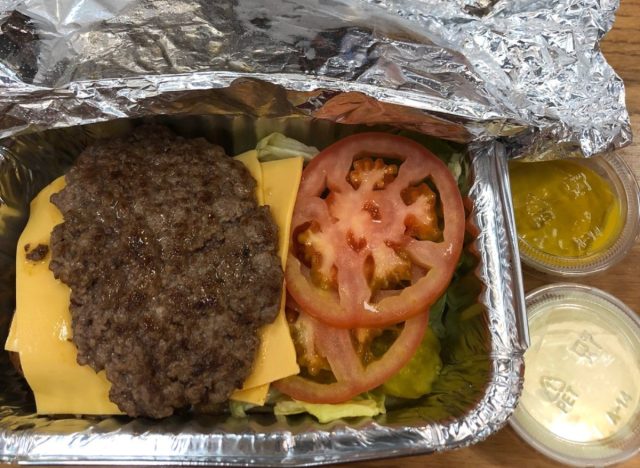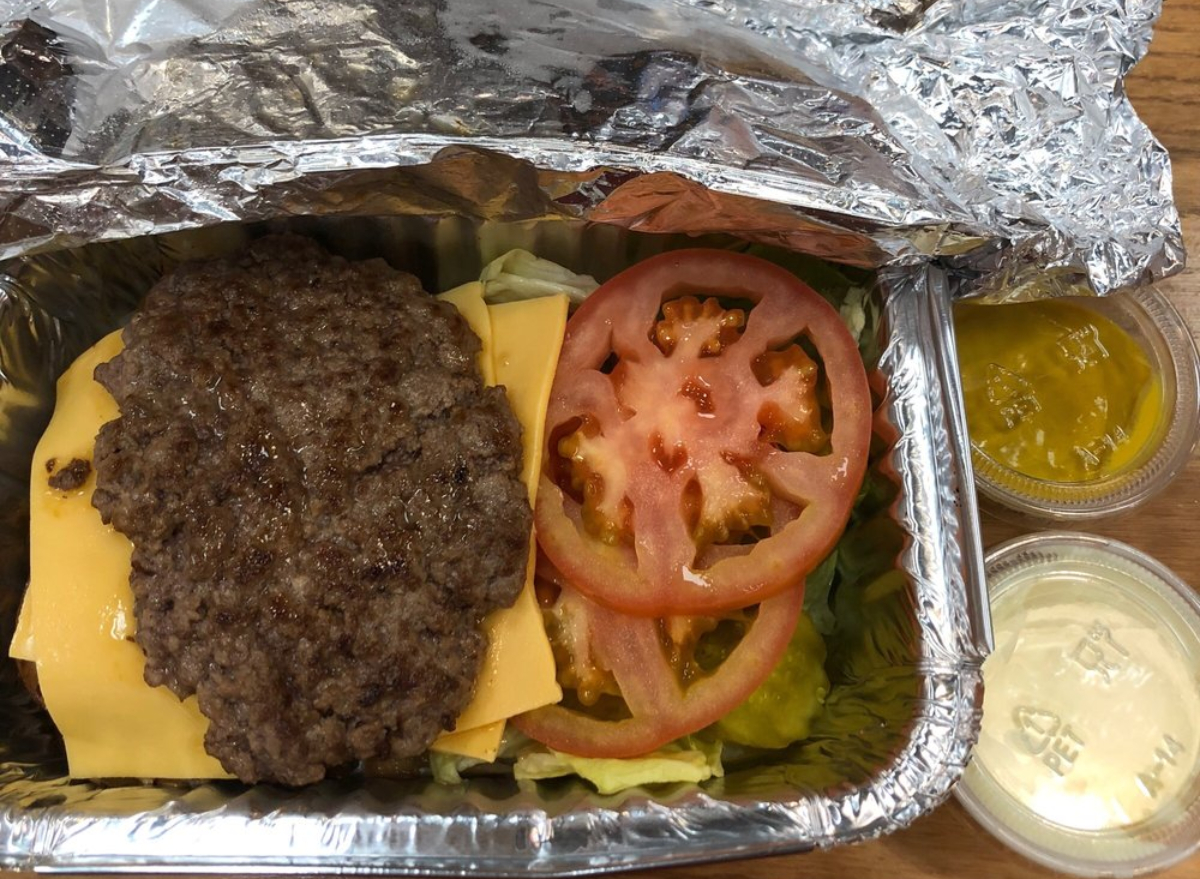 Per serving
: 220 calories, 17 g fat (8 g saturated fat), 60 mg cholesterol, 50 mg sodium, 0 g carbs, 16 g protein
Serena Poon is a fan of Five Guys' burgers in general, calling them "a decent option." She explains that their plain burgers have less sodium than most – so when you take away the bun and make it a mini, the nutritional value only continues to increase.
"The Five Guys Hamburger can easily support weight loss and burning of belly fat," adds Nataly Komova, RD. "The protein can boost metabolism while the low fat and calorie amount speed up weight loss and prevent fat accumulation."
Burger King's Impossible Whopper
Per burger
: 626 calories,  32.3 g fat (9.5 g saturated fat, 0.2 g trans fat), 16.8 mg cholesterol, 1343.3 mg sodium, 61.9 g carbs (5.7 g fiber, 13.7 g sugar), 28 g protein
This burger, the second meatless option in our line-up, has fewer calories from fat and cholesterol than other options. "The added plant ingredients and proteins can keep you fuller and boost metabolism," explains Komova. However, Poon cautions against getting too much in the habit of ordering this alternative-meat burger. It still contains a high amount of sodium, refined oils, and processed ingredients.
"Though this burger does offer slightly more fiber than most burgers and could be an okay option if eaten with a lettuce wrap and topped with as many veggies as possible," Poon says, "eating fast food burgers regularly really isn't going to support you on a journey to decrease belly fat."
Freddy's Grilled Chicken Breast Lettuce Wrap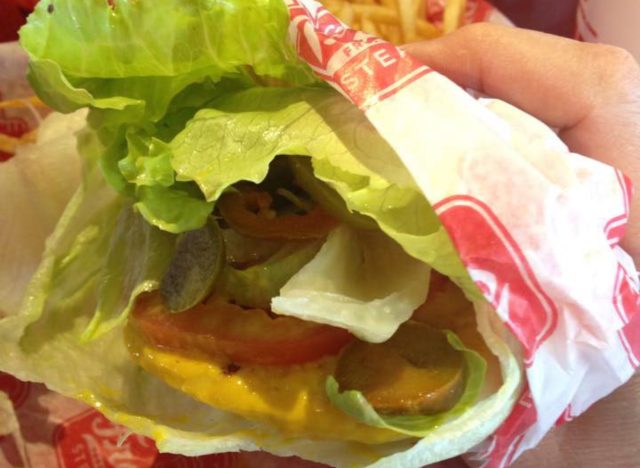 Per sandwich
: 130 calories, 2.5 g fat (0.5 g saturated fat), 70 mg cholesterol, 270 mg sodium, 3 g carbs (1 g fiber, 1 g sugar), 22 g protein
Given what we've learned about the way traditional hamburgers and low belly-fat goals are, in some ways, oppositional, maybe you'd be open to considering a sandwich option that is not even trying to pretend to be a burger. Say, for example, this wrap with grilled chicken from Freddy's.
"It's a highly nutritious sandwich that can help keep your calories and carbs low," says Komova. "[It] provides the body with essential nutrients to keep the metabolism humming, speed fat burning and maintain moderate calorie intake."