The Single Best Way to Make French Toast
Adding this one special ingredient will completely transform this classic breakfast dish!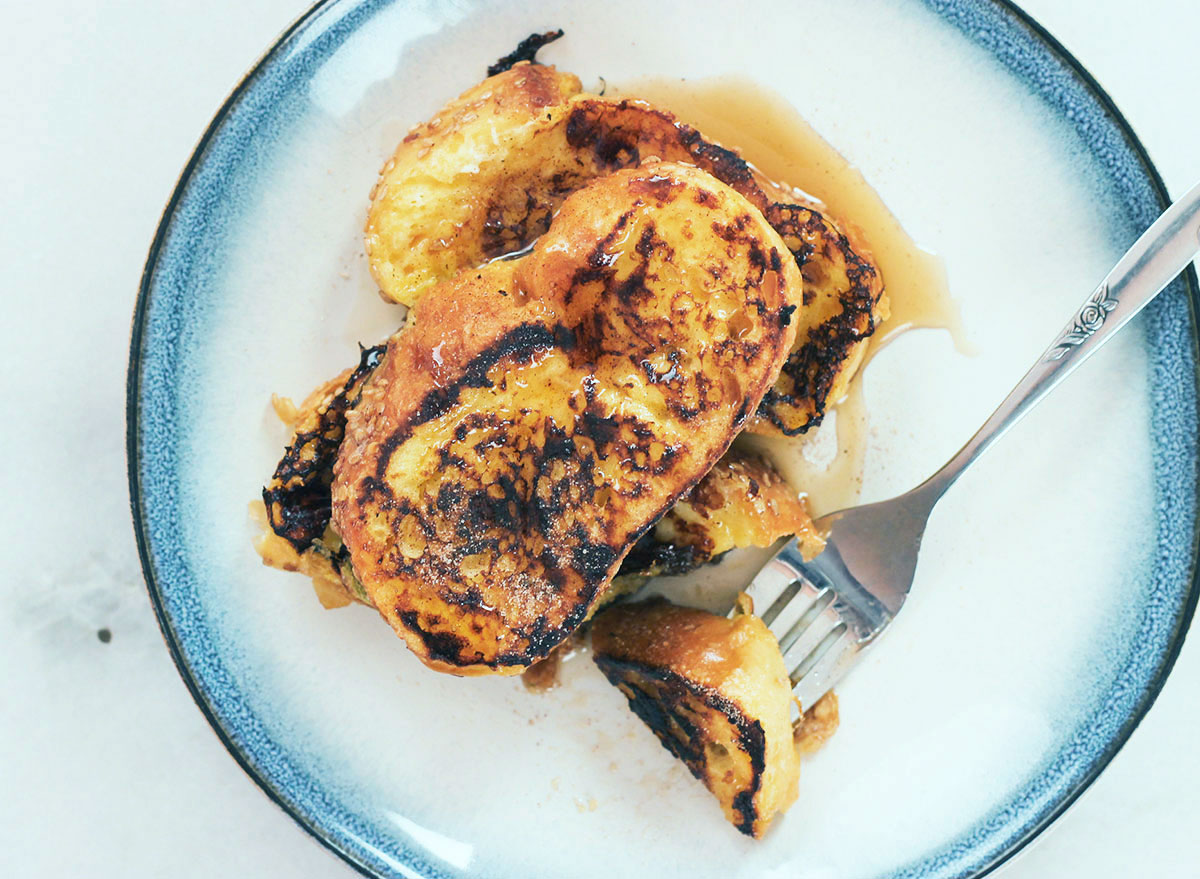 Growing up, breakfast at my house was always simple during the school week. Slices of toast with peanut butter or a bowl of cereal would usually suffice. But Saturday mornings were a completely different story. My mom would get up and make some kind of lavish breakfast. Usually it was pancakes, but sometimes, if we were lucky, she would whip up her French toast recipe. I would help my mom whisk together the eggs and milk, dip the leftover bread we had from our school sandwiches that week, and watch as she would fry them on the pan. So basically, I was learning how to make the best French toast from a young age!
I may not be able to experience those special mornings at home as often, but I sure do love to wake up and make a plate of French toast on a Saturday morning, especially using the few tricks I've picked up over the years.
The secret to making the best French toast
So what makes my French toast recipe different from the kind I grew up with? A little bit of added vanilla extract! This small amount of added flavor turns the French toast from a slice of simple eggy bread into a delectable meal to wake up to. Ever since I started adding vanilla extract to my French toast recipe, I never looked back. I would absolutely consider it the single best way to make French toast.
Use any bread you like
The best thing about this recipe is how versatile it can be. You can make French toast with whatever bread you have on hand. You can try it with simple sliced sandwich bread, or my personal favorite, slices of a leftover crusty French baguette or Italian loaf. For this example, I actually used a leftover semolina bread loaf which had some sesame seeds sprinkled on top—a unique added touch to this French toast recipe.
French Toast Recipe
Here is an easy step-by-step tutorial for you to follow!
Makes 4 servings
Ingredients
2 eggs
1/2 cup milk
1 tsp vanilla extract
1 Tbsp butter
8 slices crusty bread
Syrup, for serving
1/4 cup sugar, for serving
1 Tbsp cinnamon, for serving
How to Make French Toast
Whisk the wet ingredients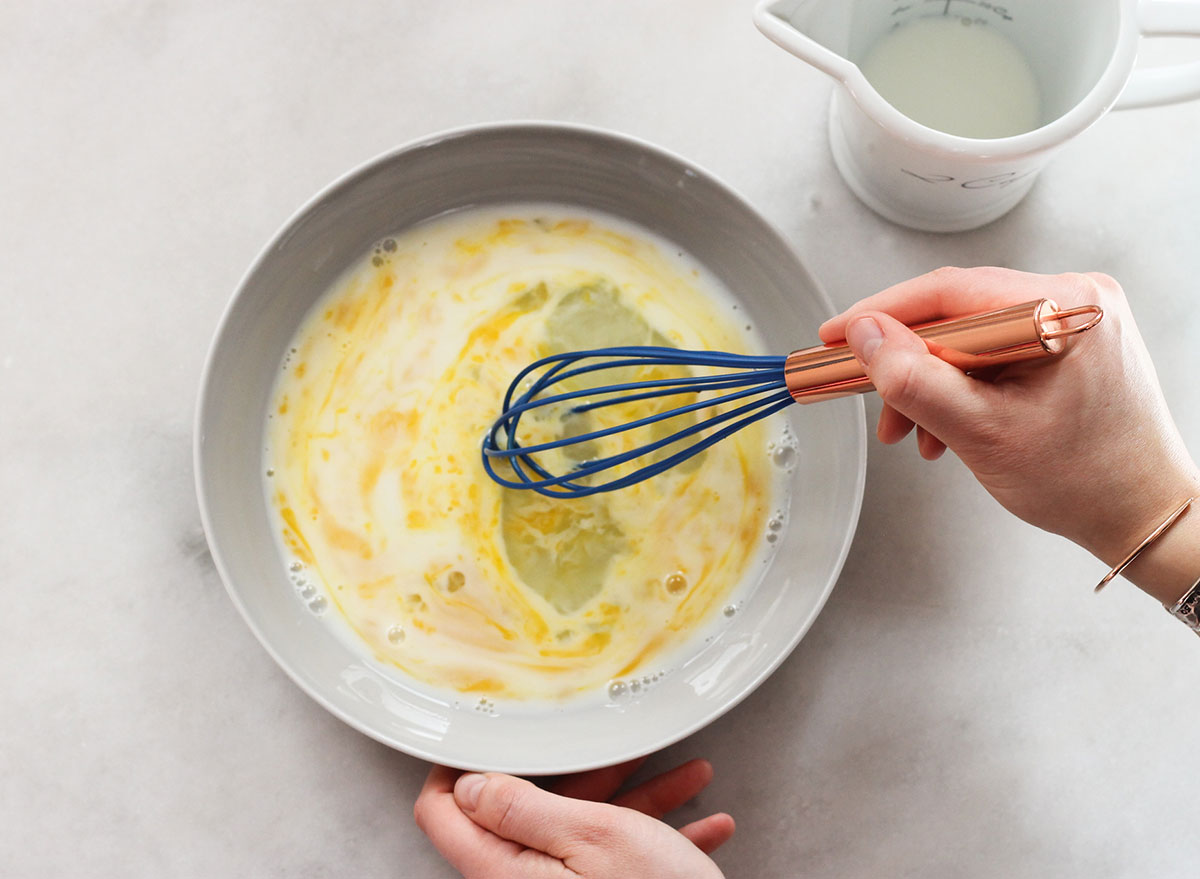 Combine the eggs, milk, and vanilla extract in a bowl. Make sure the bowl is big enough to dip the bread. I like to use a flatter bowl for this—like a shallow pasta bowl—to make the dipping easier. If you have a lot of leftover eggs, here are 13 Chef-Approved Ways to Use Your Eggs That Will Blow Your Mind.
Soak the bread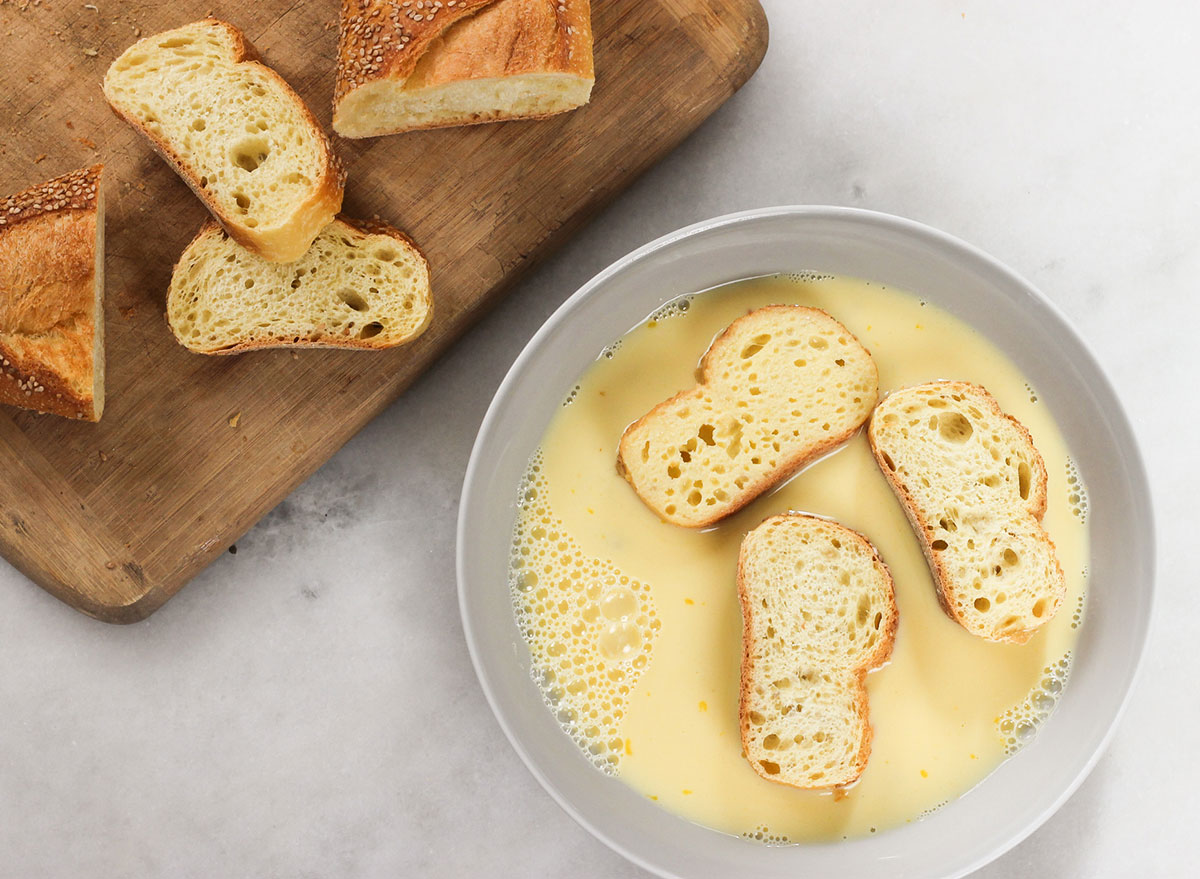 Soak the slices in the egg mixture for a few seconds on either side. I like to use leftover crusty bread that I have for French toast, but any bread will work for this recipe. This is also a great way to use up stale bread if you have any! To properly store your bread, here's Why You Shouldn't Keep Bread on the Counter (and Where to Store it Instead).
Fry them in butter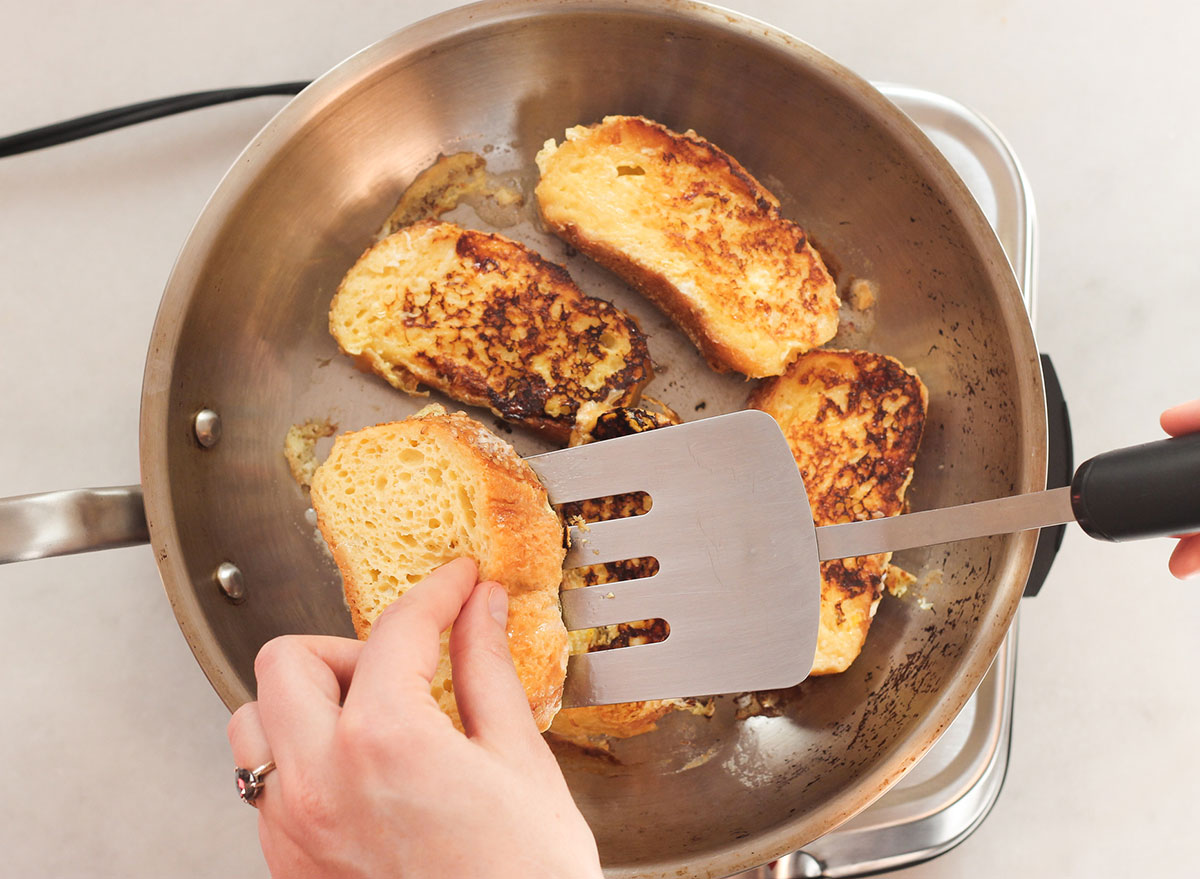 Heat up a skillet over medium heat, and melt some butter on the pan. You won't need much—just enough to coat the bottom. Transfer the dipped bread to the pan and fry on each side for 2 to 3 minutes, or until toasted and golden brown.6254a4d1642c605c54bf1cab17d50f1e
Read more: 50 Life-Changing Kitchen Hacks That'll Make You Enjoy Cooking Again
Dress your French toast
Plate up your French toast and drizzle with some maple syrup. Mix together the sugar and the cinnamon, then sprinkle it on top of the bread. You may not use all of the cinnamon sugar for this recipe—that's okay! Save it for the next time you make French toast.
Full French Toast Recipe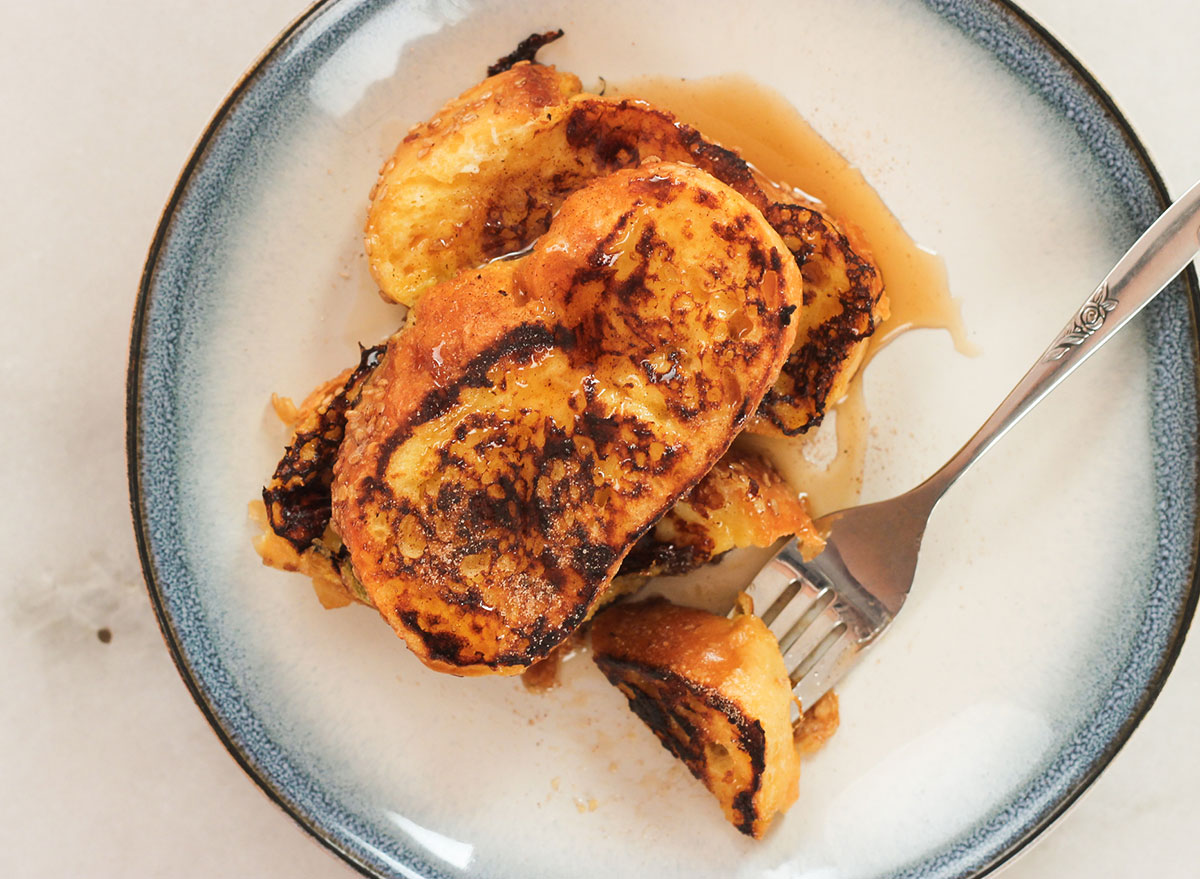 In a medium bowl, whisk together the eggs, milk, and vanilla extract.
Place a skillet over medium heat. Melt the butter on the pan and swirl around to coat. Dip the slices of bread in the egg mixture and let them soak for a few seconds on each side. The trick is to strike a balance between moist and soggy.
Fry the bread on each side for 2-3 minutes, or until toasty and golden brown.
Mix together the sugar and cinnamon. Drizzle the toast with syrup and sprinkle with some cinnamon sugar.
For more breakfast ideas, here are 16 Delicious Breakfast Sandwich Recipes.