The Secret Thing You Never Thought to Do With Eggs
The possibilities are endless with incredibly nutritious and delicious eggs.
Packed with protein, vitamin D, potassium, and vitamin B12, eggs are a superfood in their own right. They're not only affordable and quick to cook, but they also offer a bounty of nutritional benefits.
"Eggs are considered one of the most whole protein sources out there," says Ashley Walter, a Chicago-based chef, and personal trainer. In other words, eggs contain the nine essential amino acids your body can't produce on its own but needs to build and repair body tissues. What's even better is that they're cheaper than other high-quality protein sources, such as grass-fed beef and free-range chicken.
And if you're trying to lose weight, research shows that protein can help curb hunger and regulate your appetite. Eating a meal with at least 1.35 grams of protein per kilogram of body weight can help reduce caloric intake by up to 22%, according to a study in the American Journal of Physiology.
What's more, eggs offer portion control, says Jessica Cording, MS, RD, CDN, a registered dietitian and recipe developer. Depending on the size, one egg provides roughly 70 to 80 calories and six grams of protein, making it easy to keep track of your daily nutrient and calorie total. Best of all, eggs are incredibly versatile. To prove it, we asked five chefs to offer their favorite ways to incorporate eggs into cooking. Here are some of the best egg recipe ideas they had to offer.
And for more, don't miss these 15 Classic American Desserts That Deserve a Comeback.
It sounds strange, but eggs make a delicious alternative to avocados in homemade, Paleo-friendly salad dressings. "You just puree [hard-boiled eggs] with whatever other flavor ingredients you want, and then you have a high-protein dressing or sauce," Walter says. She will often puree a handful of hard-boiled eggs to the texture of hummus and mix in a blend of mustard, garlic, lemon juice, and a bit of apple cider vinegar. Pour over salads to boost your protein intake.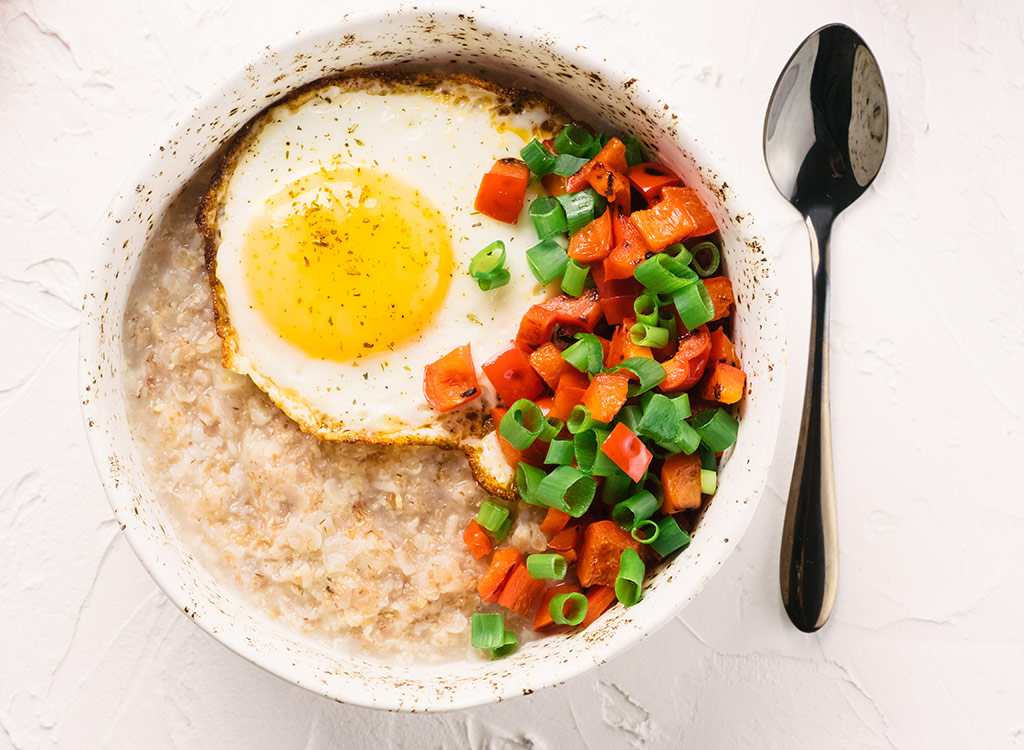 One of Cording's favorite ways to use eggs is to crack one or two into morning oatmeal before cooking to add a bit of stomach-filling protein and fat. You can drop the egg right on top of your go-to oatmeal recipe or mix it in; either way, you'll get a savory flavor in every bite. Just don't add eggs if you're soaking your oats overnight, Cording says. If you need to shake-up your usual morning routine, try Cording's recipe for chocolate oatmeal with egg whites.
Swap chips for eggs with guacamole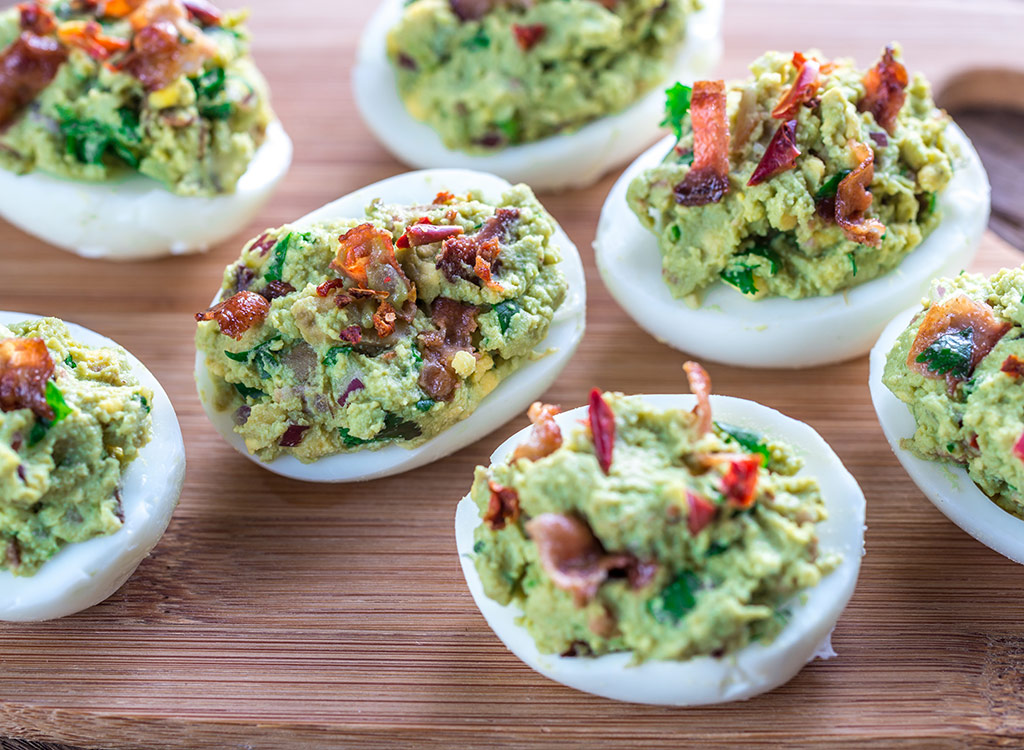 Celebrity chef Paula Brooke Hankin works with a lot of pro athletes who are always looking to increase their protein intake. One way she helps them sneak in more protein is to have them load up hard-boiled eggs with a scoop of guacamole. Use eggs in place of chips and guac for a tasty way to cut back on refined carbs.
Prep a batch of egg white muffins to fill your breakfast quota for the entire week. Just whisk together egg whites and whatever ingredients you have on hand, such as spinach, bacon, tomatoes, cheese, and mushrooms. The flavor combinations are endless, so feel free to get creative. Or, try one of Walter's favorite combinations: rotisserie chicken, buffalo sauce, red onion, and blue cheese. Not only will you get plenty of protein, but egg white muffins keep longer than other breakfast egg dishes like omelets.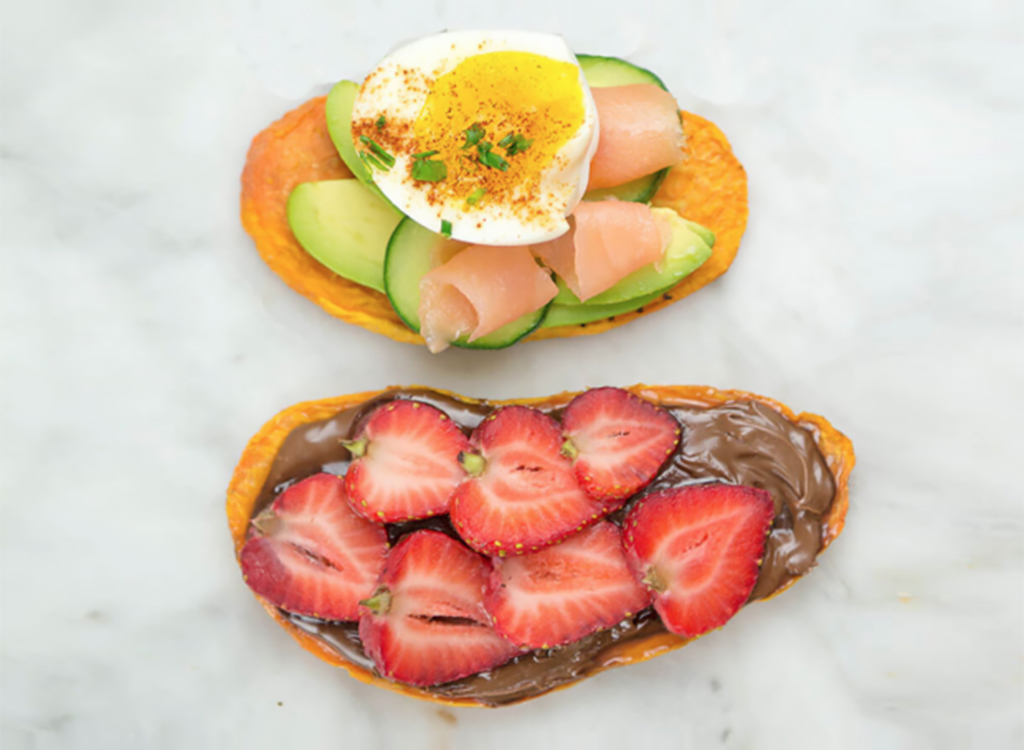 For clients who can't eat grains, Cording offers this variation of eggs on toast: Slice a sweet potato and bake it in the oven or toaster until the edges are crispy and the inside is soft. Top with a poached egg for a healthy, protein-rich breakfast or snack.
Whip up a healthy, balanced breakfast that only tastes like a cheat meal. Take a whole-wheat waffle and top it with some crumbled bacon, avocado, hot sauce, and a poached egg. "It's a delicious play on a traditionally unhealthy breakfast," Hankin says. To save time, buy frozen waffles (Hankin loves Van's Foods frozen waffles).
Build an "unconventional" frittata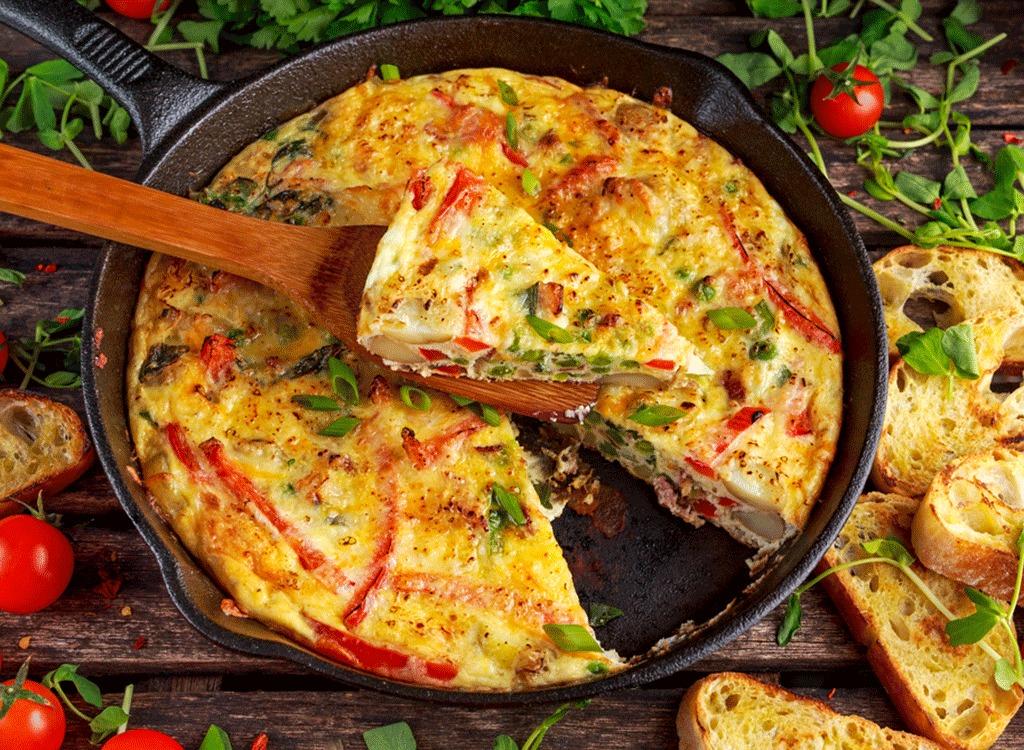 Claudia Sidoti, head chef and recipe developer at HelloFresh, likes to create frittatas with unique twists. One of her favorites is a pasta and veggie frittata that uses eggs as the primary source of protein, as well as a binder to hold the ingredients together. Put some cooked pasta in a bowl and beat with six eggs. Then, add a splash of milk or water and a healthy amount of chopped veggies, like zucchini, spinach, kale, or broccoli. You can also stir in some cheese if desired. Then, heat a large nonstick pan, add the mixture, and cook until it just sets around the edges. Pop into a 400-degree oven to finish cooking. Remove, flip it upside-down, and slice into wedges.6254a4d1642c605c54bf1cab17d50f1e
Make breakfast fried rice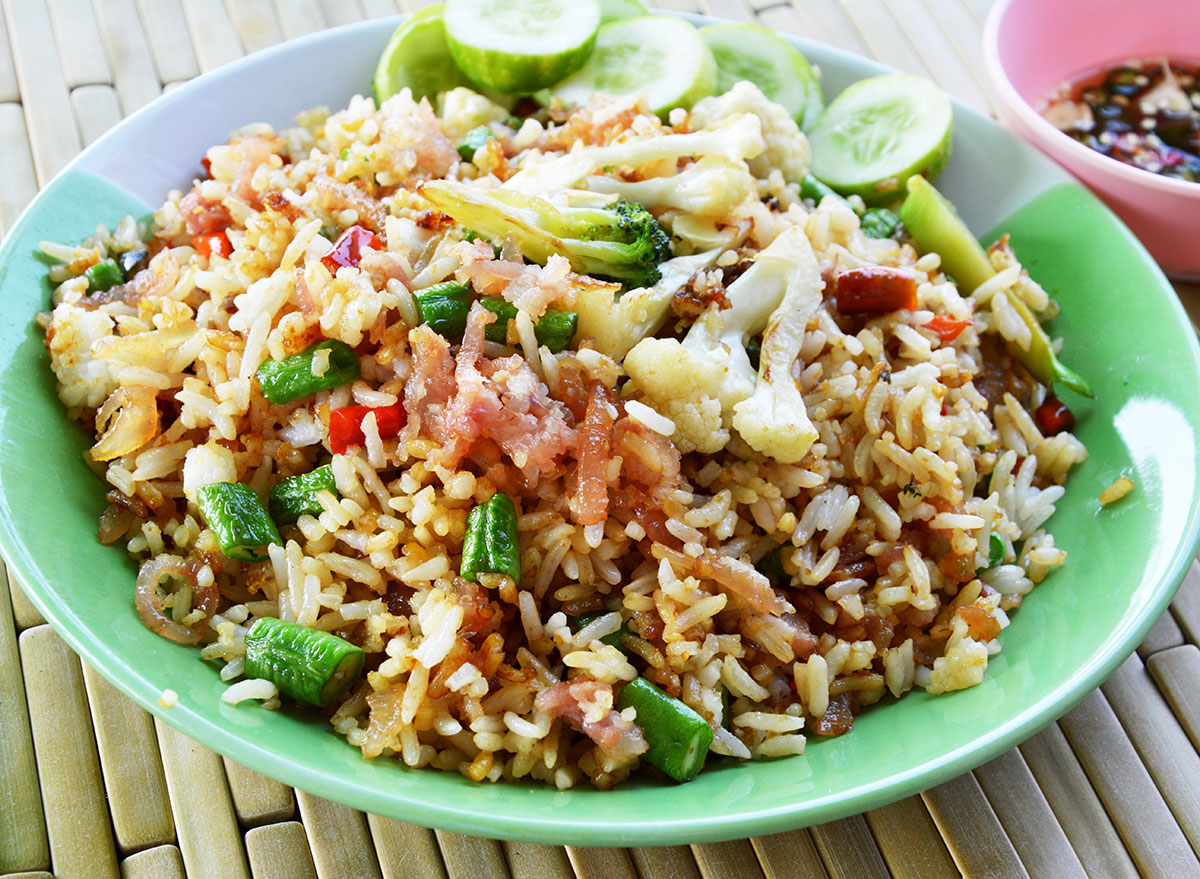 Use eggs to make this filling, protein-rich breakfast fried rice dish, courtesy of Dean Sheremet, nationally-renowned chef and personal trainer.
You'll need:
● 3 large organic eggs
● 2 scallions, sliced thin
● 1 Tbsp grass-fed ghee for cooking
● 1 cup cooked rice of your choice
● 1/2 cup of pancetta cubes
● 2 tsp minced ginger
● 2 garlic cloves, minced or grated
● 2 Tbsp soy sauce
● 1 tsp fish sauce
● 1 tsp sesame oil
● 1 jalapeño, thinly sliced
● 1/4 cup cilantro leaves
● Sriracha, to taste
How to make it:
1. Gently whisk together the eggs and the green part of the scallions (set the white part aside).
2. Heat the ghee in a 12-inch skillet until almost smoking. Add in the egg and scallion mixture and stir constantly until the eggs are just barely set. Then, transfer the eggs to a plate.
3. Add the pancetta cubes to the pan and cook until nice and crispy. Transfer the cubes to the egg plate.
4. Stir the scallion whites, garlic, and ginger into the pancetta fat that remains in the pan and cook until softened, about 1 minute. Add in the rice and stir often. Tip in the soy sauce, fish sauce, and sesame oil and stir until well-mixed and evenly coated. Finally, stir in the eggs and pancetta, making sure to break up the eggs well.
5. Serve in a large bowl with jalapeno slices, cilantro, and Sriracha. Makes two servings.
Broth-based veggie soups are an easy and delicious way to meet your daily vegetable quota. Unfortunately, they typically lack in protein and staying power. To fix this, Cording will use poached eggs to give weak soups extra nutrients and stomach-filling protein. "Just put it right on top," she says, "it's all good."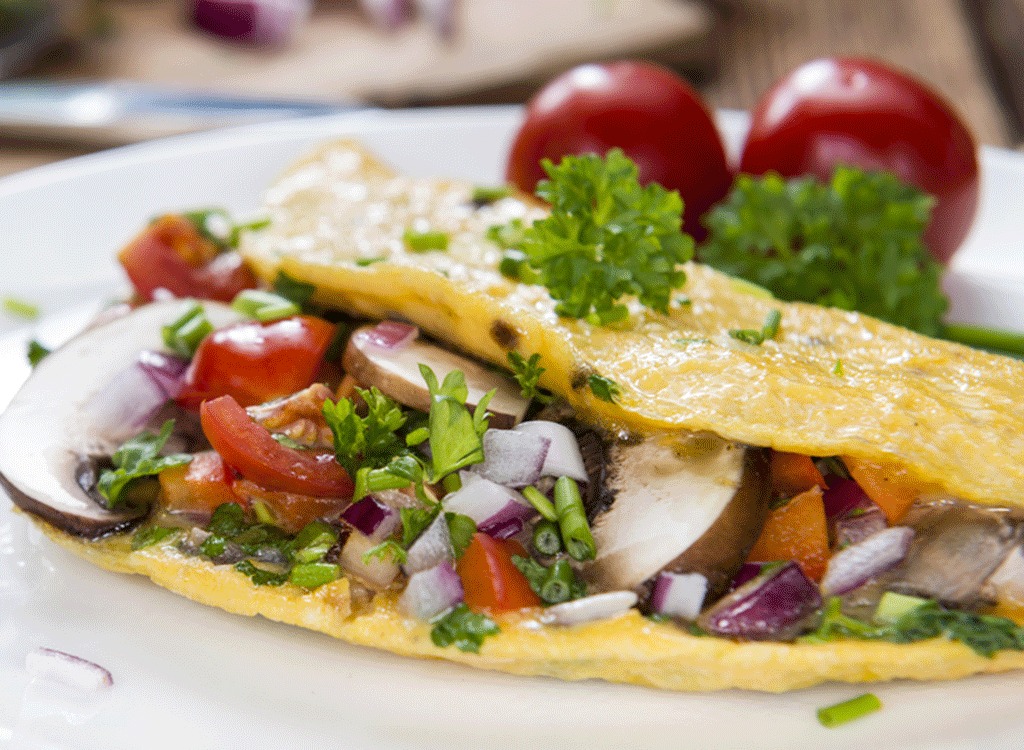 Sidoti loves using eggs to make a breakfast "burrito" that's big enough to share. To make an egg burrito, beat a few eggs with water or milk and a pinch of salt. Preheat a nonstick pan over medium-high heat and pour the eggs in, cooking until just set. Fill with beans, cooked chorizo or bacon, cheese, and guacamole before rolling into a burrito. Transfer to a plate and top with sour cream and salsa.
According to Sidoti, one burrito can feed two people. Make it for breakfast and serve with warm, soft corn tortillas on the side.
Try hash brown egg-in-a-hole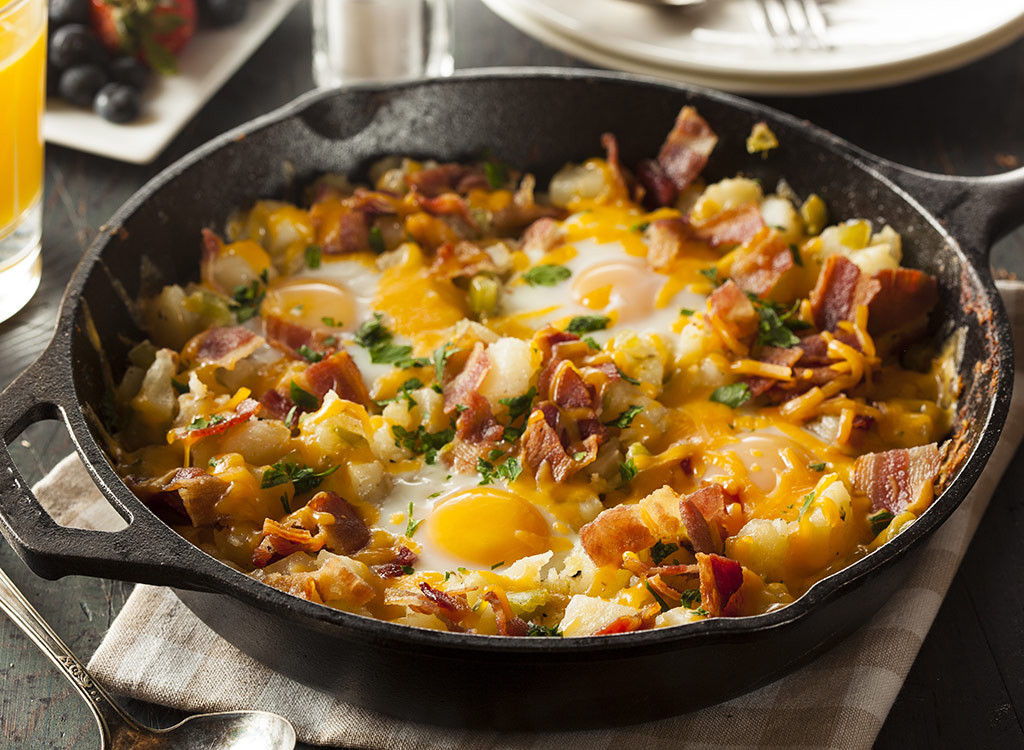 Swap out boring bread for hash browns for a crispy, salty egg-in-a-hole recipe that has a little extra oomph. "If you haven't made a hash brown version, you haven't really lived," Sheremet says. Saute some shredded hash browns in butter and make a well in the middle. Crack in an egg and cook until just set. Season with a healthy pinch of salt.
Sure, you could crumble a hard-boiled egg on top of your salad, but why not try a poached egg instead? Unlike hard-boiled eggs, poached eggs act as a salad dressing when they get nice and runny. Just toss together whatever veggies you have available, add a couple of poached eggs and you're good to go. "The egg yolk adds that rich texture, and it kind of coats all the ingredients as you start cutting it up and eating it," Cording says. If you want a little more flavor, you can always add a little vinegar or lemon juice.
Take Sidoti's lead and top a classic margarita-style pizza with a few eggs for a breakfast pizza that's perfect for sharing. "Breakfast pizza feels like a super indulgent treat, but actually, it's just like eating an egg sandwich, only more fun and delicious," she says. Cook the pizza about three-quarters, then crack the eggs in the center and cook the rest of the way. Or, you can cook the pizza all the way and top with fried eggs before serving.
For more, check out these 108 most popular sodas ranked by how toxic they are.