30+ Easy Dinners That Will Leave You With Plenty of Leftovers
These recipes are perfect for making dinner for your family or the week ahead.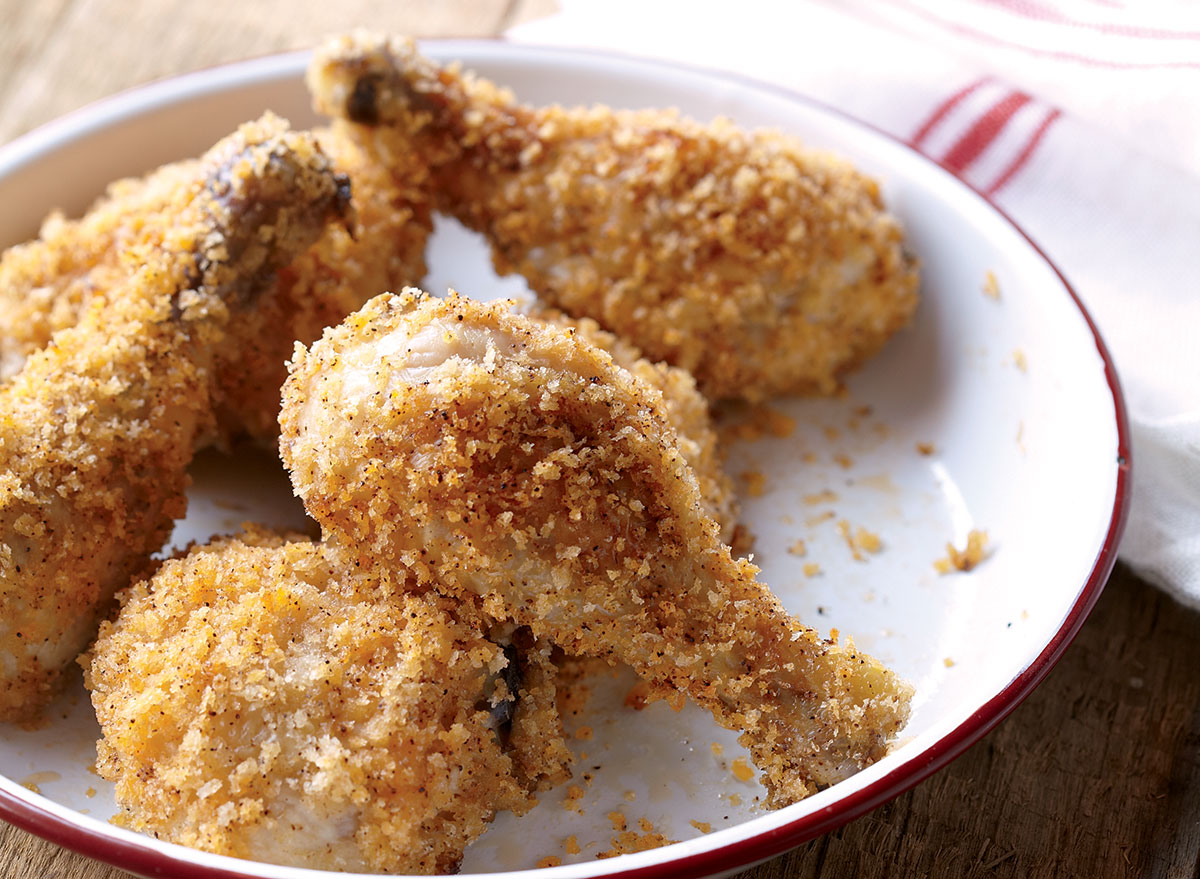 Finding the right recipes to serve dinner for your family (or a crowd) can be one of the most challenging cooking hurdles. This undertaking seems perilous, but with some proper planning, you can feed an army and still save some money.
When it comes to serving a big dinner, finding recipes that can be made in bulk is always best. Hearty meats and stews will definitely keep everyone well-fed, and they're usually easy to make in larger quantities.
All of the following 32 big-batch main dish recipes are easy and stress-free to assemble. Just make sure to double or even triple the amount of the ingredients in each recipe, depending on how many people you need to serve! Plus, if you want less cleanup check out these 30 Quick & Easy One-Pot Meals.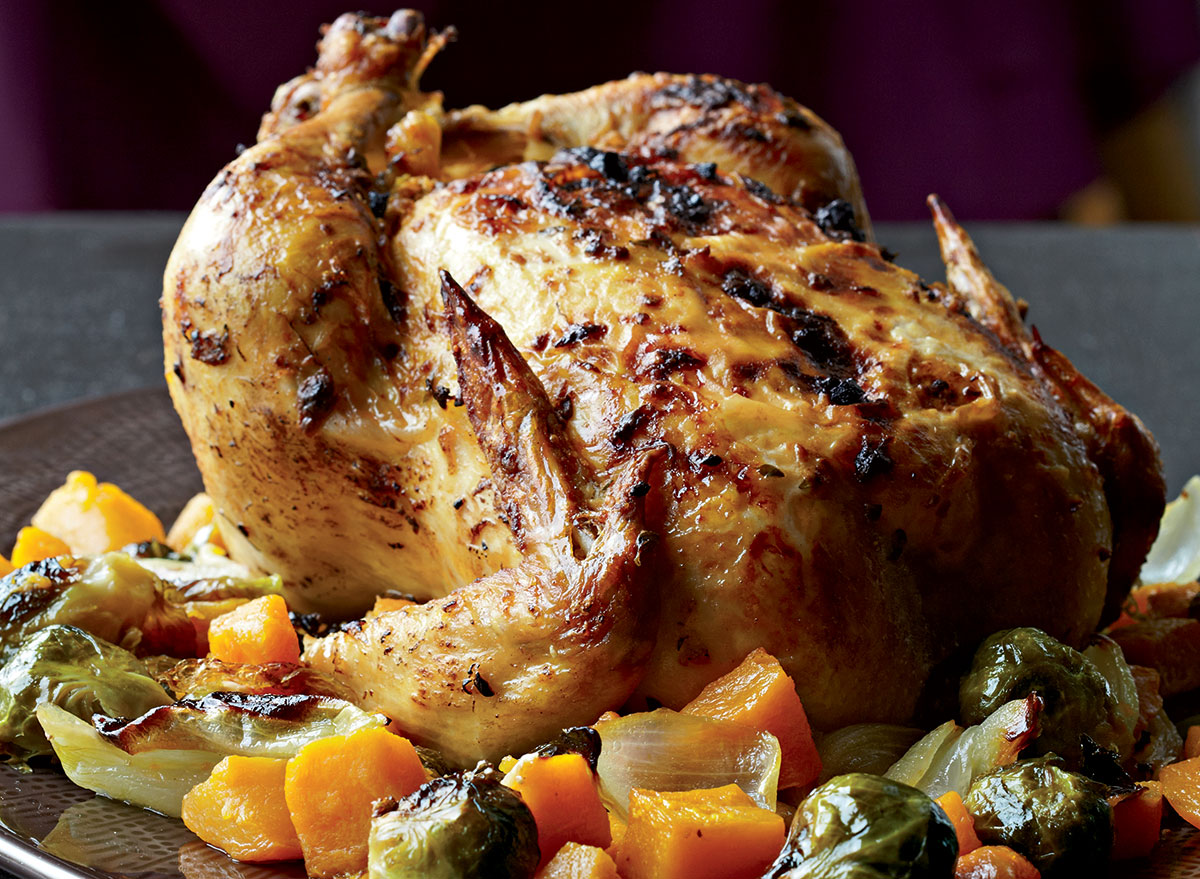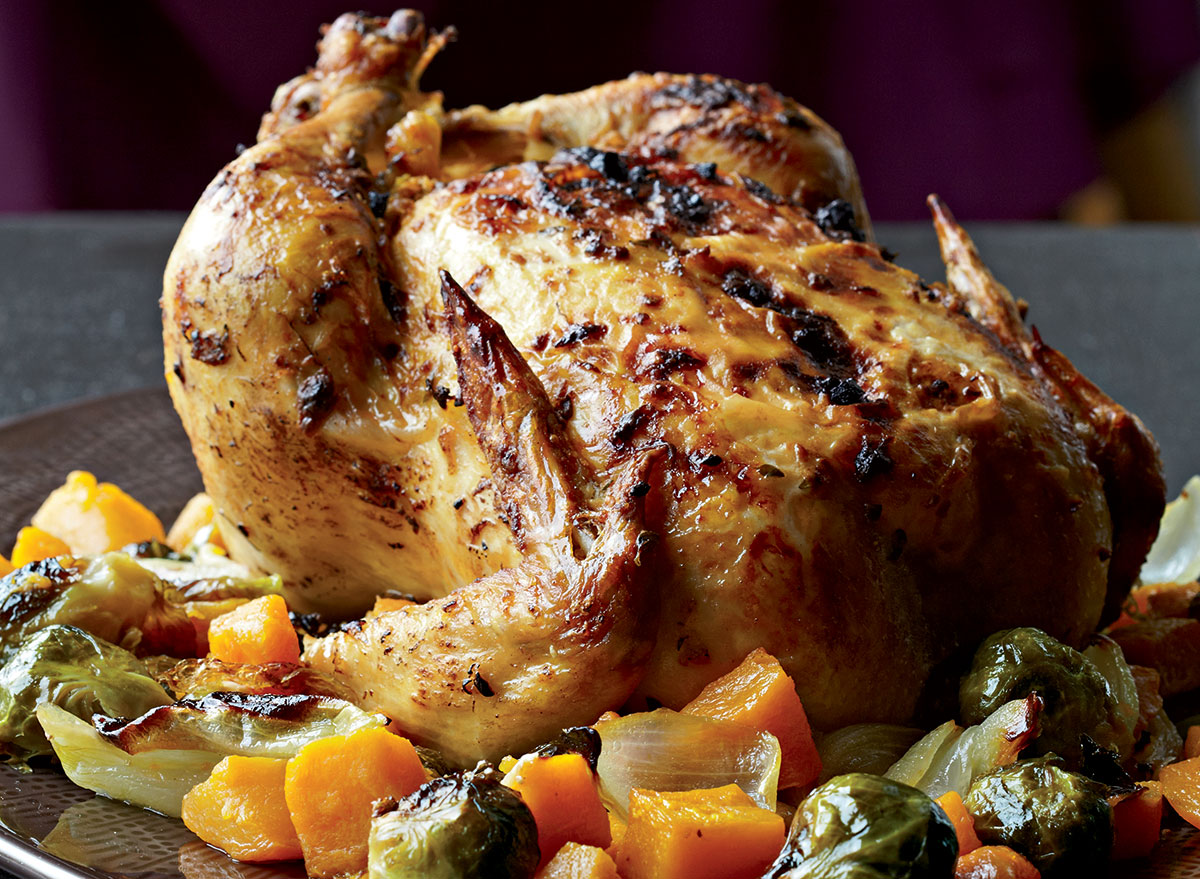 This take on roast chicken will take you back to your childhood. Packed with flavor, this crowd-pleaser only requires a minimal amount of cooking experience to tackle, and it's a great entry point to more recipes that involve roasting. If you never felt comfortable tackling this classic recipe, look no further than this roast chicken.
Get our recipe for Sunday Roast Chicken.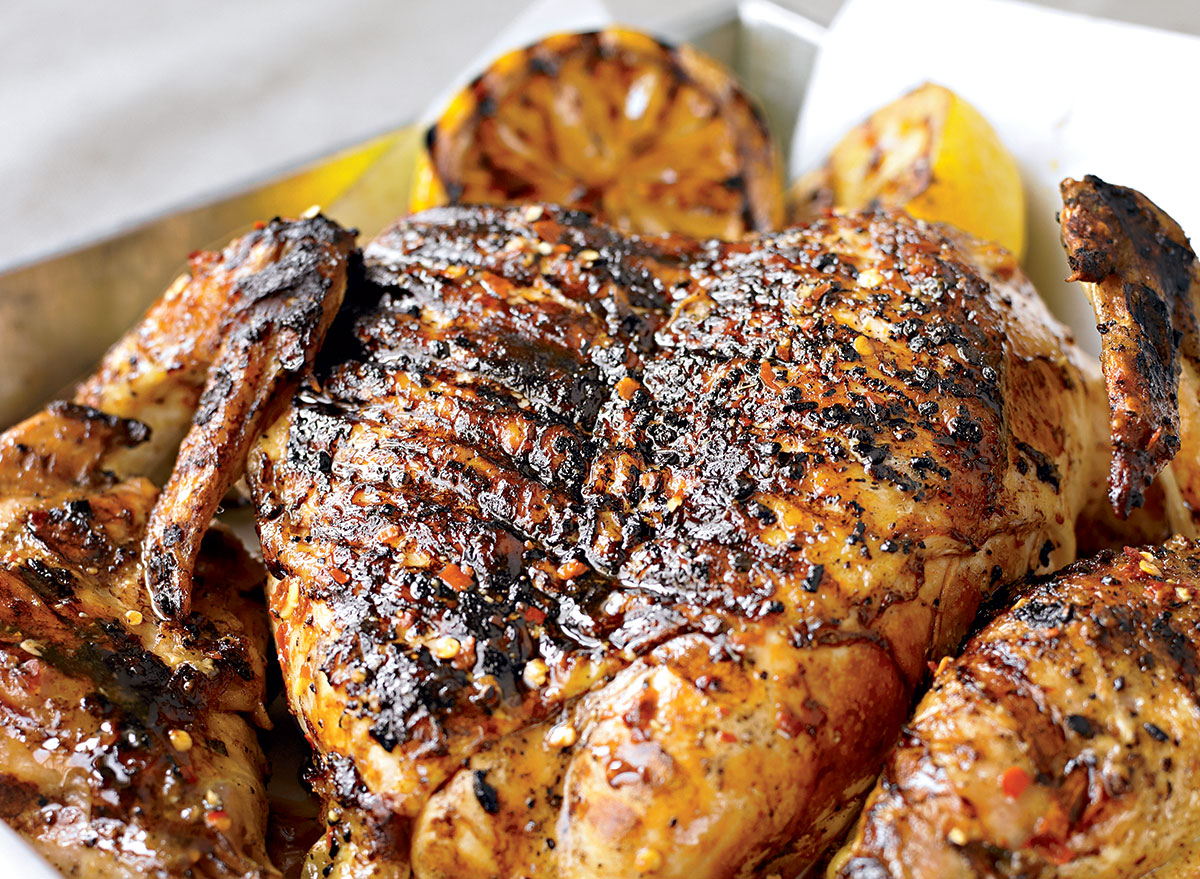 This Italian specialty is the secret to the crispiest grilled chicken you've ever had, all thanks to a creative (and very easy) cooking method.
Get our recipe for Chicken Under a Brick.
Grilled pork tenderloin with pineapple salsa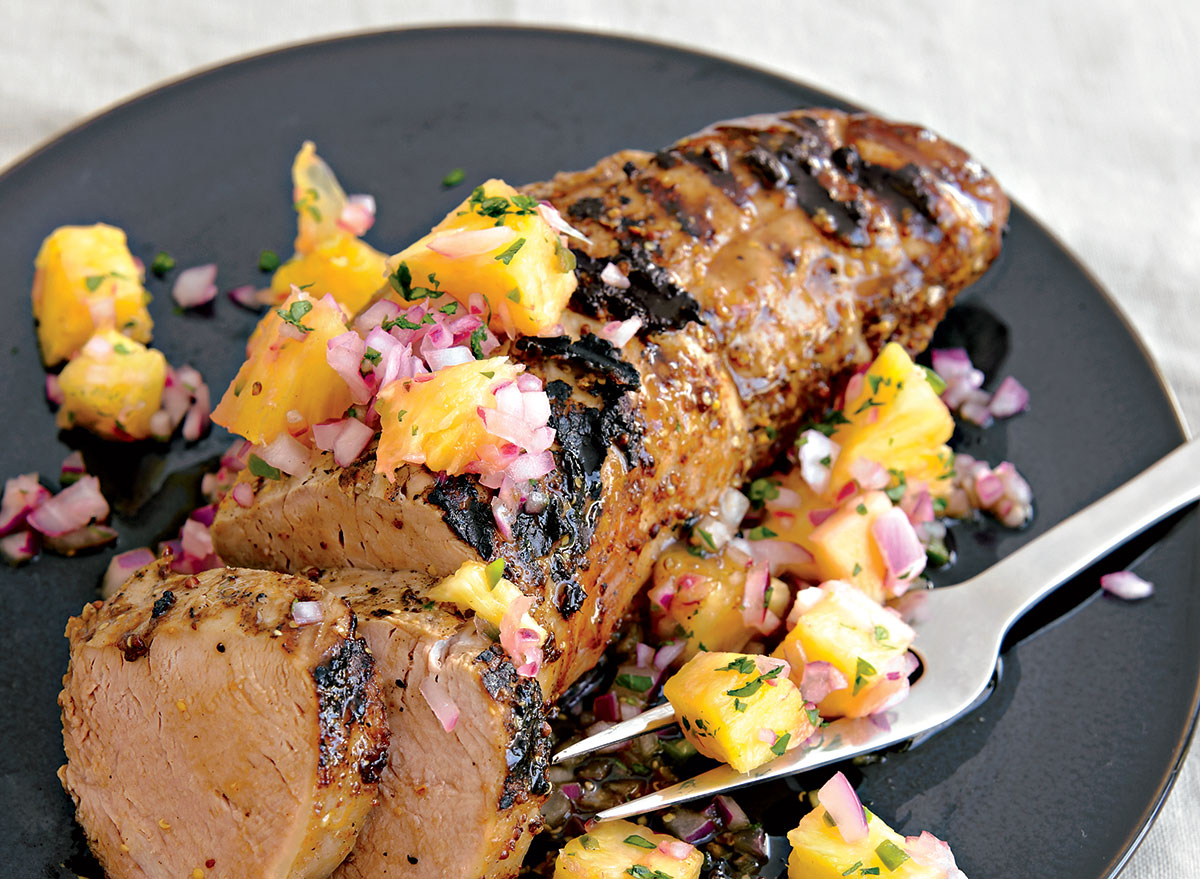 If you start to feel bored by chicken, this pork tenderloin will liven up any dinner. Bright flavors of pineapple liven up the richness of this meat, and it's an unexpected way to serve pork.
Get our recipe for Grilled Pork Tenderloin with Pineapple Salsa.
Classic beef stew in red wine
When you need to make a lot of food for a lot of people, this beef stew will be your new go-to. With borrowed flavors from a classic French coq au vin, you will not only fill your family up, but impress them with the complex subtleties of flavor embedded in the soup. Make sure to brown your meat before it goes in to fully ensure the soup is loaded with flavor. Plus, leftovers (if there are any) make for hearty lunches throughout the week.
Get our recipe for Classic Beef Stew in Red Wine.
Slow cooker chicken in red wine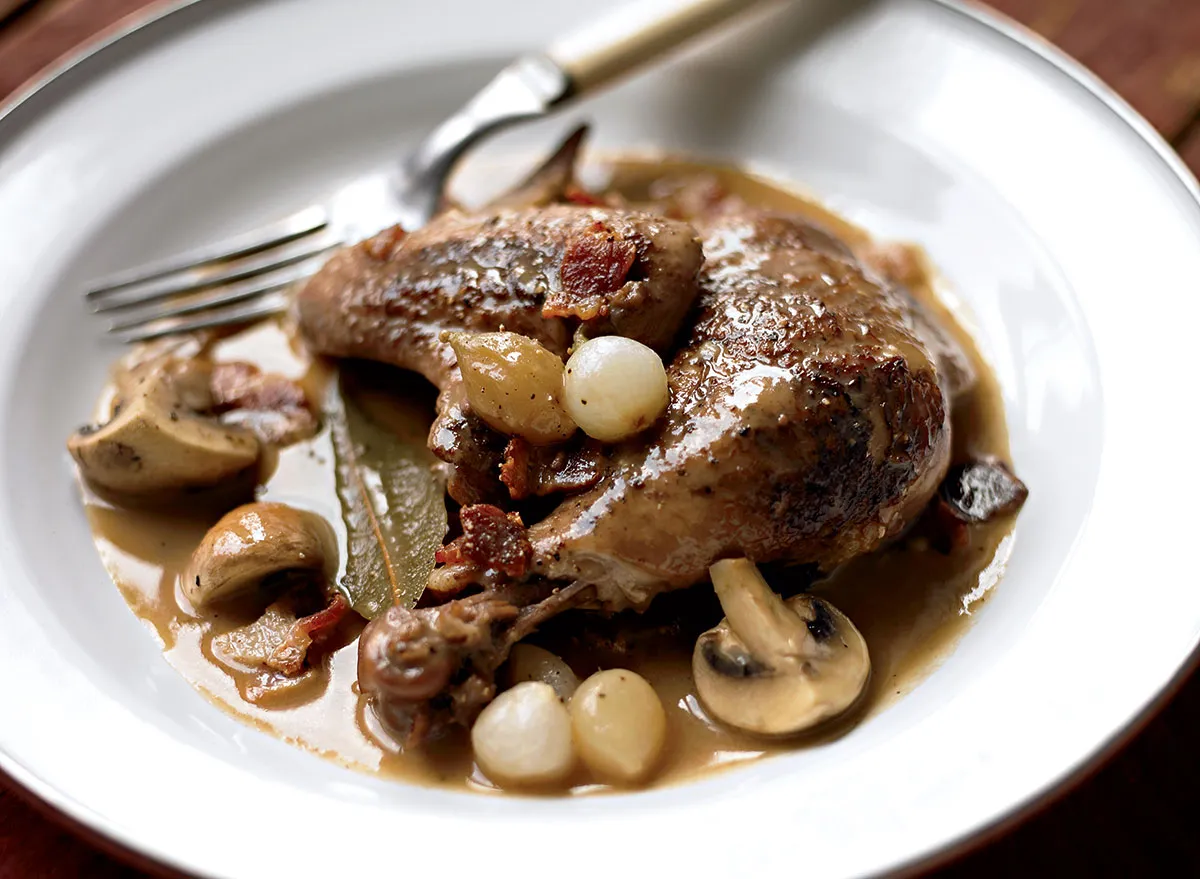 Another slow cooker favorite, this classic coq au vin will be hearty enough for anyone who's hungry. Plus, it's a very impressive classic French recipe (and your family doesn't have to know most of the work is done by a slow cooker!).
Get our recipe for Easy Slow Cooker Chicken in Red Wine.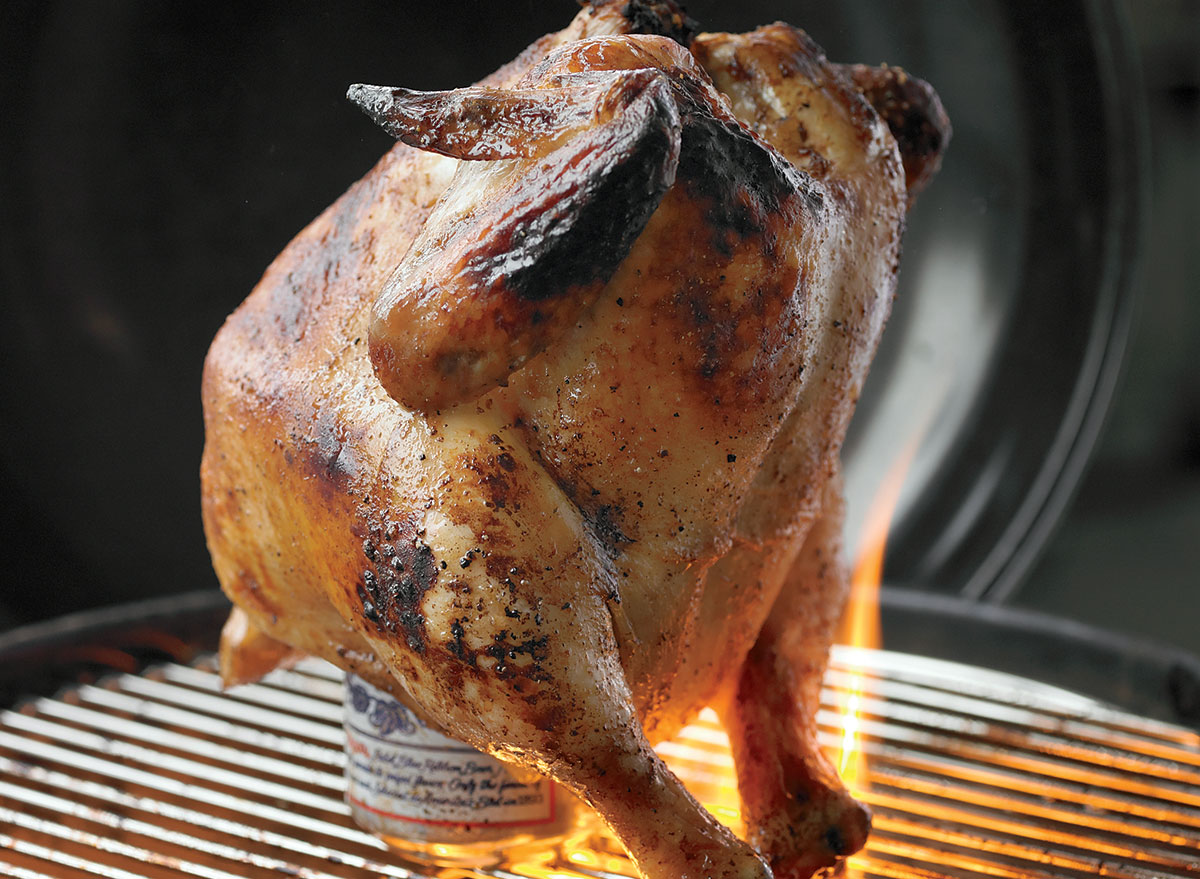 If you haven't had your fill of chicken, this succulent roast will guarantee everyone is stuffed. Have no fear in drying out your bird—cooking the roast with the liquid from the beer helps give the chicken its moist taste, and the even heat distribution from cooking the chicken upright guarantees that moisture will stay lock-in as it cooks.
Get our recipe for Beer Can Chicken.
It's so easy to get your recipes stuck on loops and repeat the same few ones over and over. To break the cycle of recipe drudgery, look no further than this BBQ pork shepherd's pie. Your family will be sure to demolish it, and it feels special.
Get our recipe for BBQ Pork Shepherd's Pie.
Honey mustard glazed salmon with roasted asparagus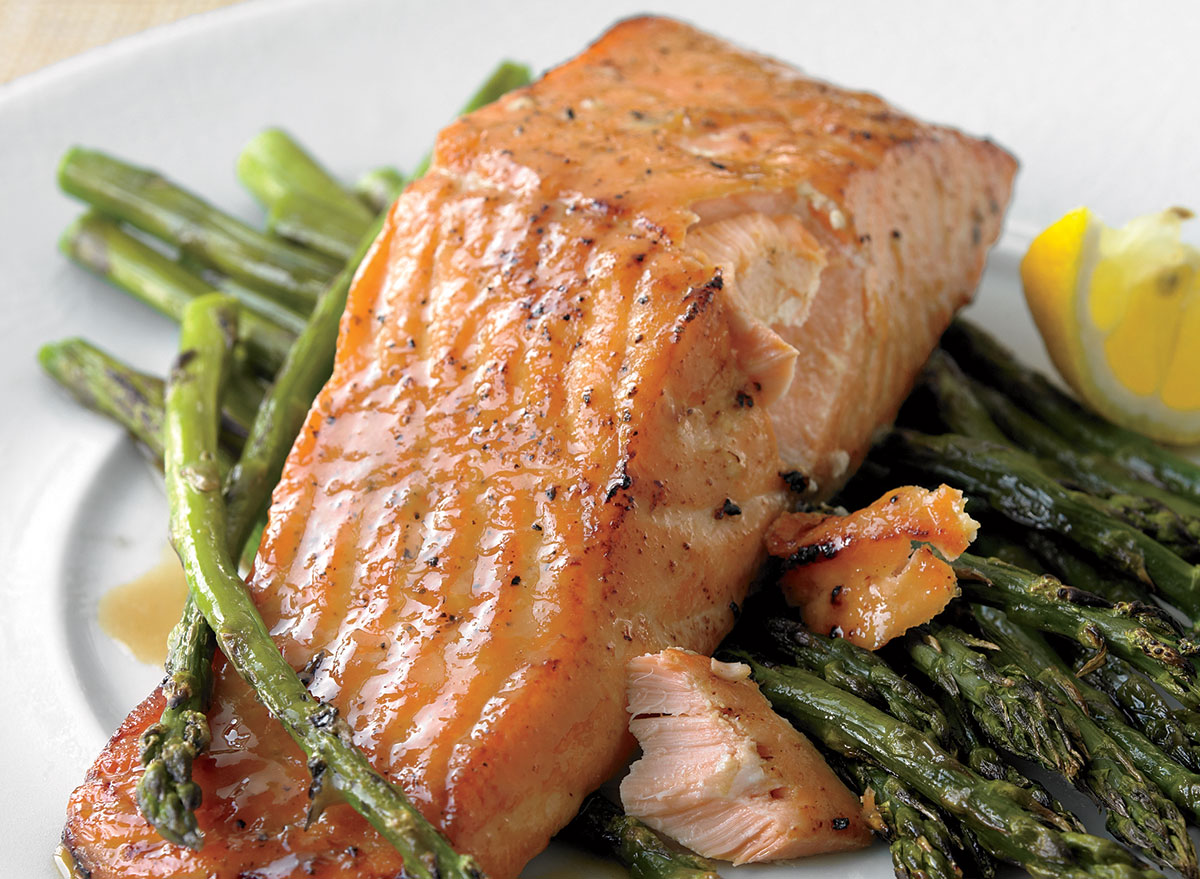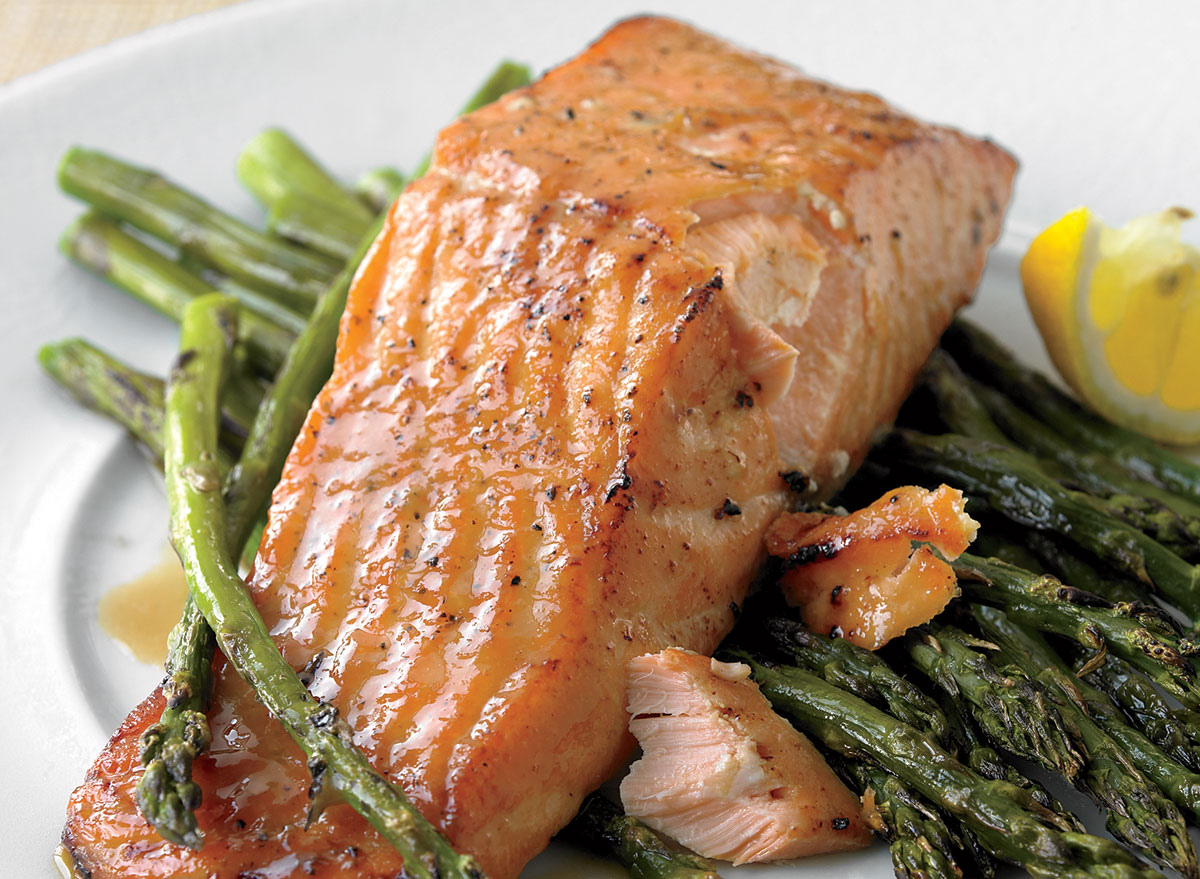 Preparing a salmon may seem daunting if you're making dinner for more than a few people, but this recipe lays out the fish in its barest, tastiest form, only accented by a sumptuous glaze, so it's easy to prepare. Sometimes, the simplest meals are the most memorable.
Get our recipe for Honey Mustard Glazed Salmon with Roasted Asparagus.
Mediterranean-inspired baked chicken with tomatoes and capers
If you're craving something bright and cheerful, look no further than this dish for a taste of fresh produce, tasty chicken, and fresh herbs, thanks to the bright flavors of tomatoes, capers, and basil. With an added flair of olives and pine nuts, this is the perfect meal when you want to embrace a cheerful main meal.
Get our recipe for Mediterranean-inspired Baked Chicken with Tomatoes and Capers.
You may have seen meats coated with a coffee rub and wished you could cook something similar at home. Look no further than this recipe. Coffee-rubbed steak is not only easy and quick, but it pairs with almost any roast vegetables you can imagine, making it the easiest main dish to make if you're serving dinner for a big family.
Get our recipe for Coffee-Rubbed Steak.
Vegetarian-friendly stuffed tomatoes
These roasted stuffed tomatoes combine everything we love about oven roasts (the roasted taste and the melt-in-your-mouth texture) while enlivening your meal with fresh, plant-based flavors. The feta gives it a nice bite and will have your family craving more. Plus, these could be a vegetarian-friendly main, or they could work as a simple side for your table.
Get our recipe for Vegetarian-Friendly Stuffed Tomatoes.
Moroccan-inspired salmon and quinoa pilaf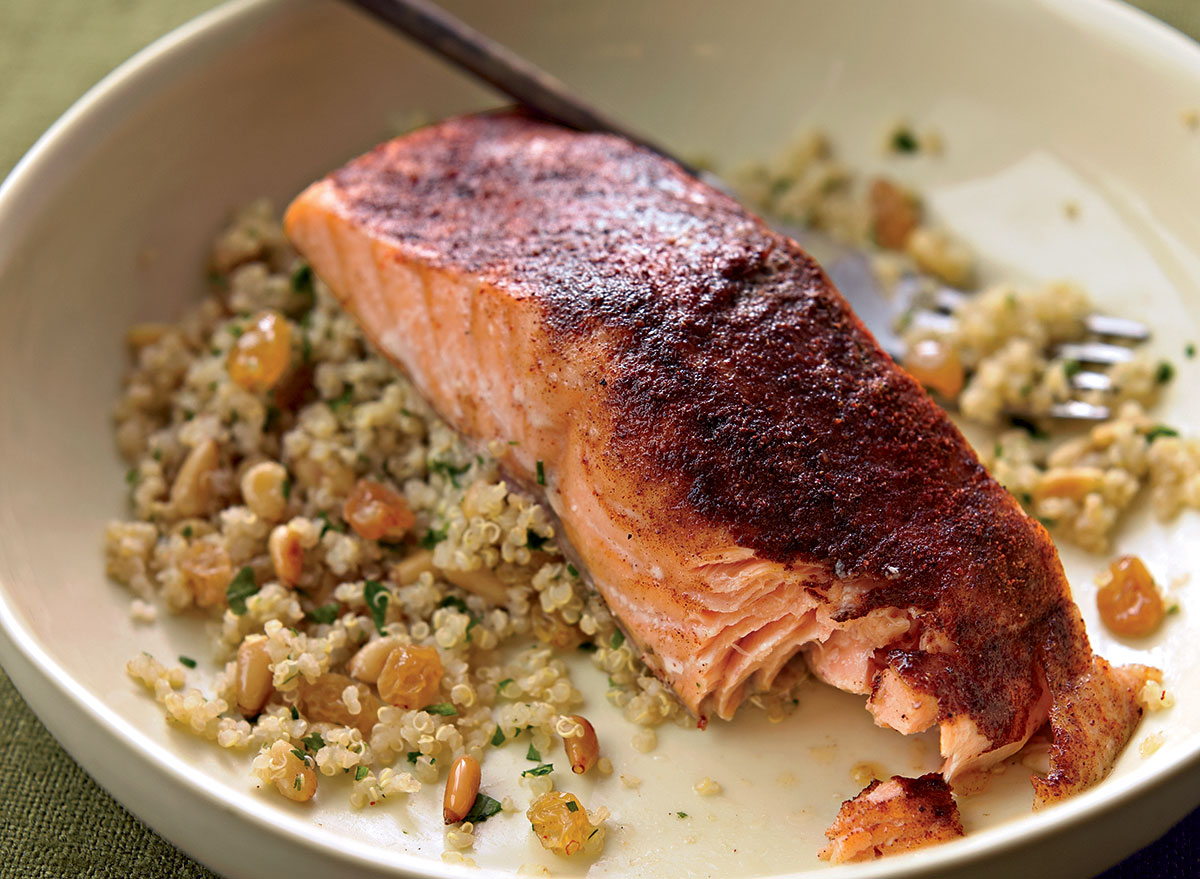 Very few other fish come close to being as healthy as salmon, and this recipe pairs this seafood star against a whole grain, bringing a new addition to your table. Brightened with cardamom and cinnamon, the festive flavors in the recipe will put you in good spirits in no time.
Get our recipe for Moroccan-inspired Salmon and Quinoa Pilaf.
Crispy Oven-Fried Chicken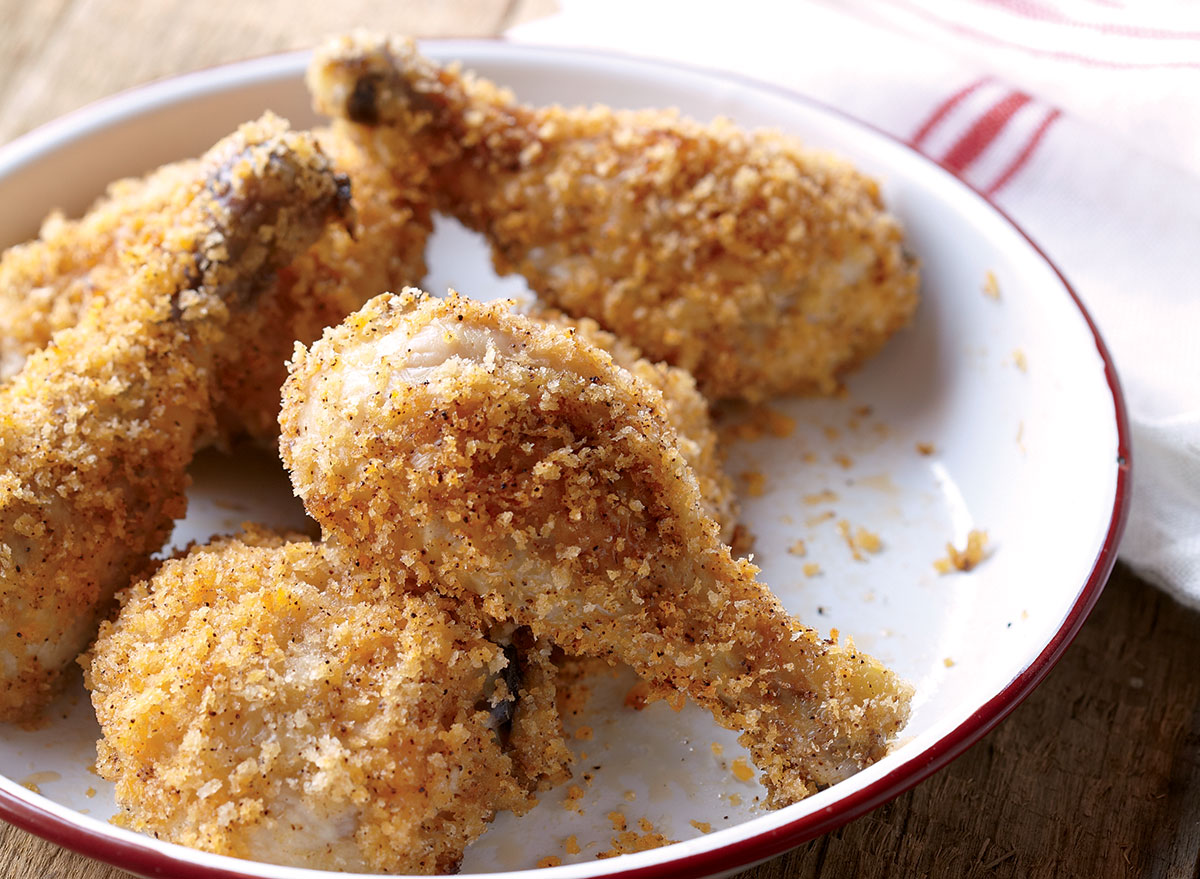 It's natural to crave comforting, fried foods—and this crispy oven fried chicken will satisfy that craving. You can make large batches of it if you're serving dinner for a big family, too!
Get our recipe for Crispy Oven-Fried Chicken.
Oven-baked fish and herbed breadcrumbs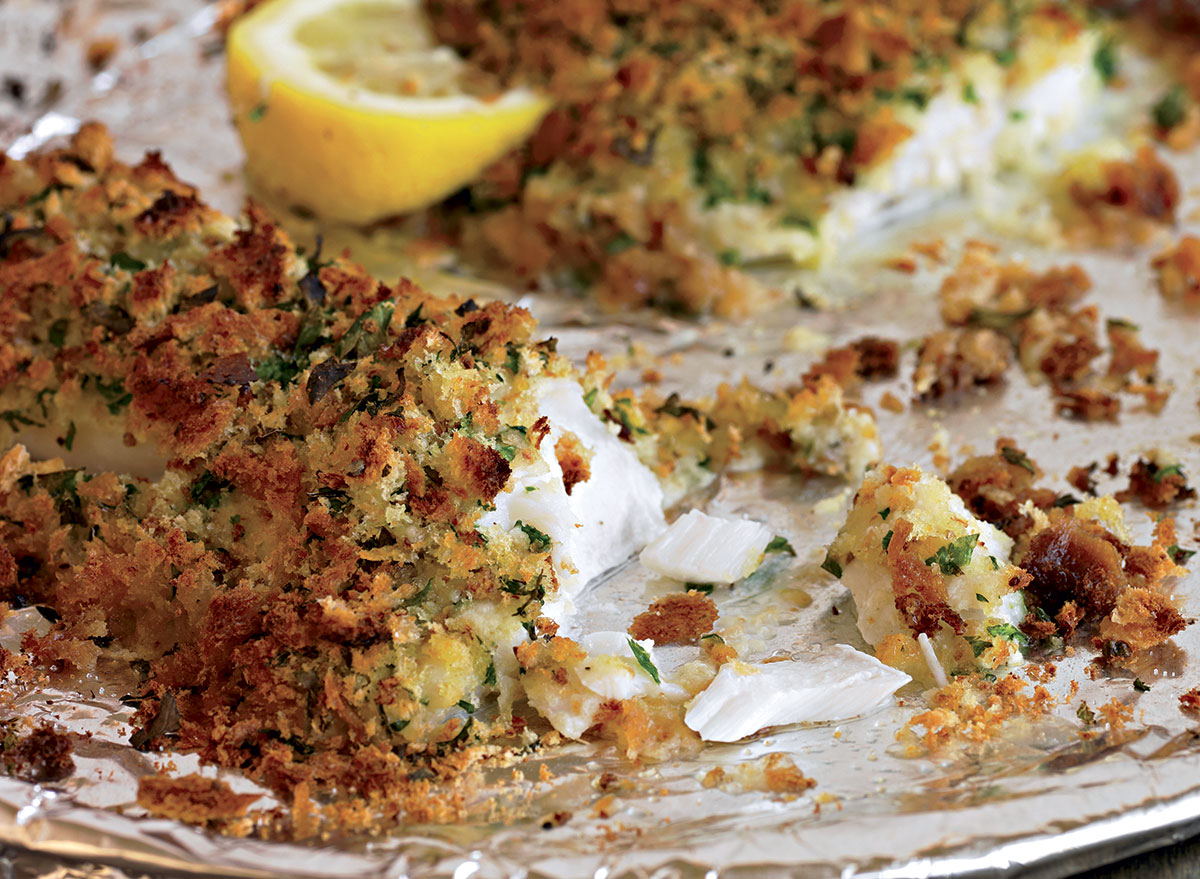 Oven-baking over frying always makes meals a breeze, and this flavorful fish favorite will please anyone coming over for dinner. Best of all, it can be made in large batches and saved for later.
Get our recipe for Oven-Baked Fish with Herbed Breadcrumbs.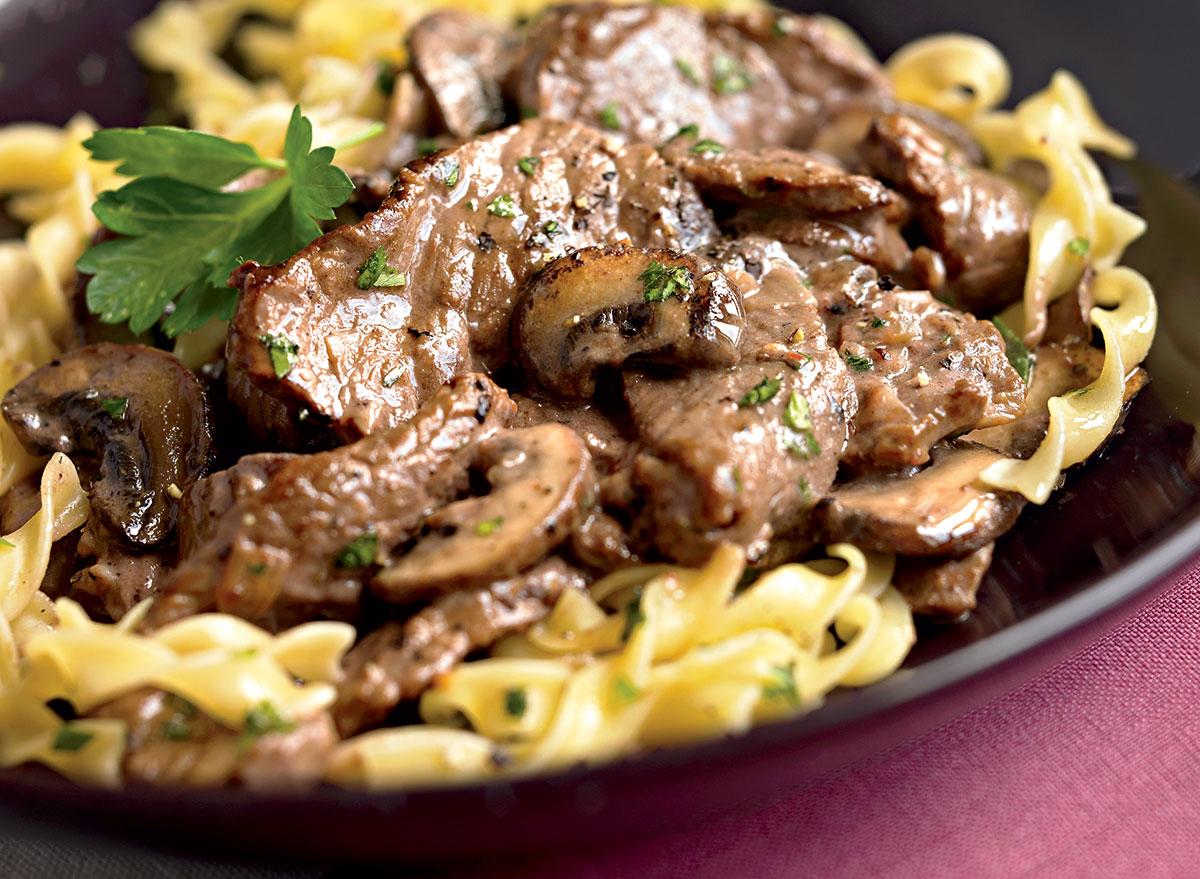 Beef stroganoff is perfect for cold nights when you want to feed a hungry family, and the comfort food is easier to make than you think. This version substitutes Greek yogurt in place of traditional sour cream for a creamier texture.
Get our recipe for Classic Beef Stroganoff.
Roast salmon with lentils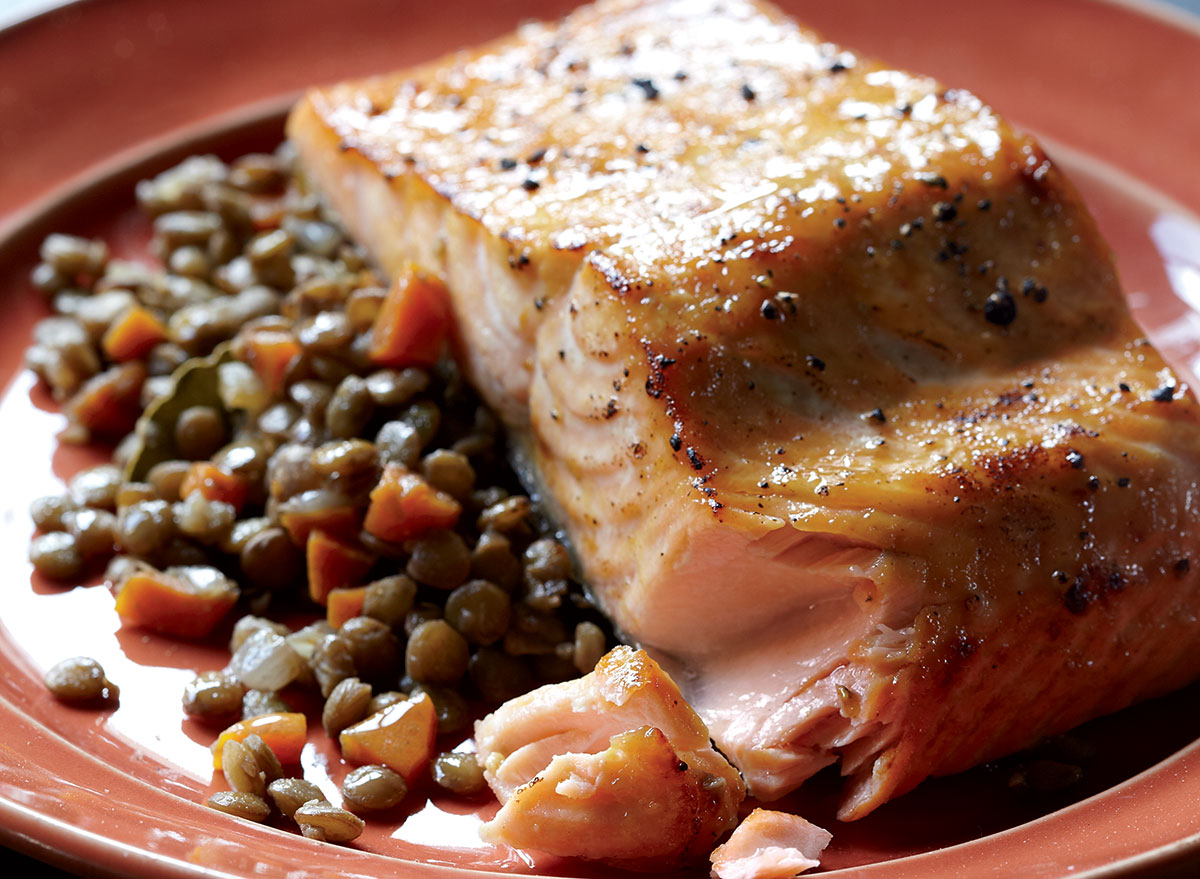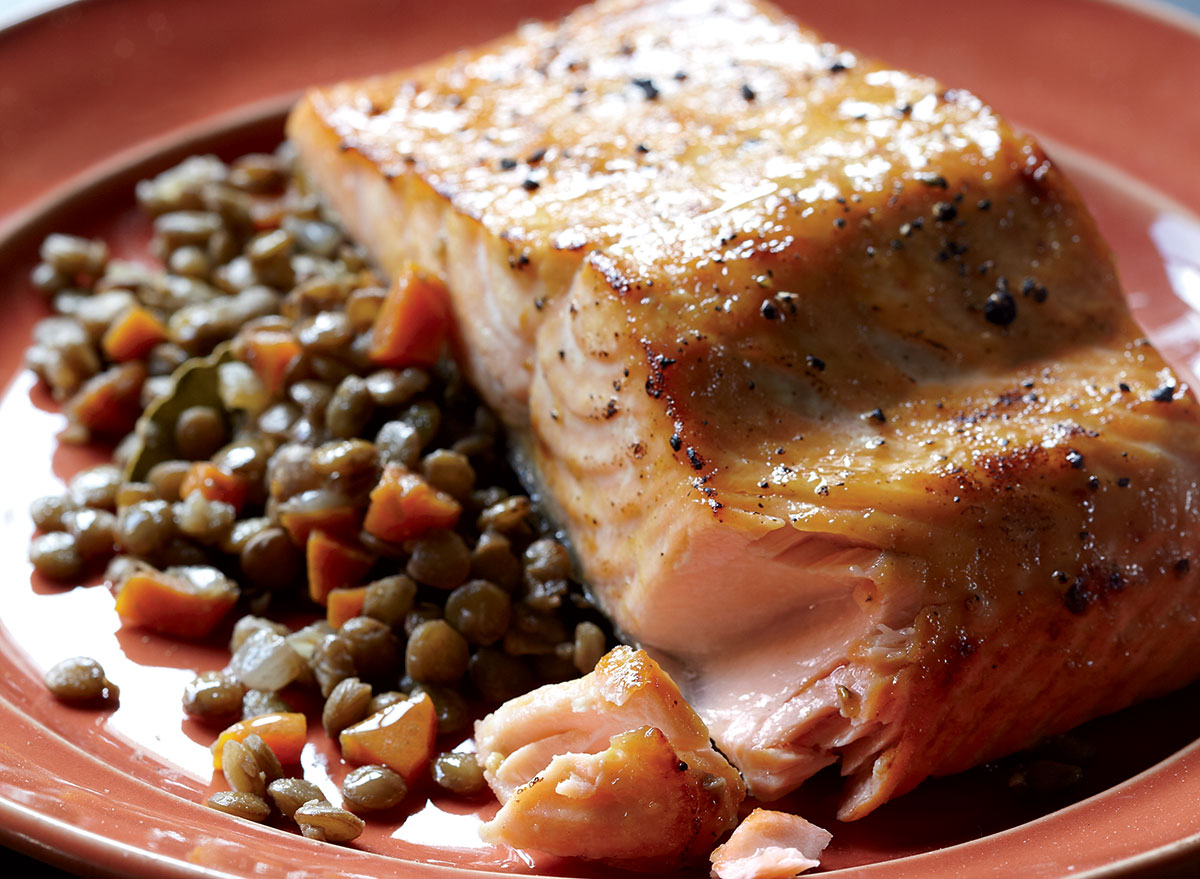 Roasted salmon can pair with a large variety of sides, and lentils might be one of the healthiest options out there. Lentils fortify an already healthy and rich fish that will keep your palate satisfied with its hearty roasted flavor.
Get our recipe for Roast Salmon with Lentils.
Slow roasted pork shoulder
A slow roaster is everyone's best friend, but it's real time to shine comes when you have to cook for more than two people. This luscious pork can be served in a variety of ways and with a plethora of sides. It's perfect for everything from a BBQ base to a Korean-themed centerpiece. It's so versatile, you can customize the rest of your menu around it.
Get our recipe for Slow Roasted Pork Shoulder.
Classic roast beef with garlic rosemary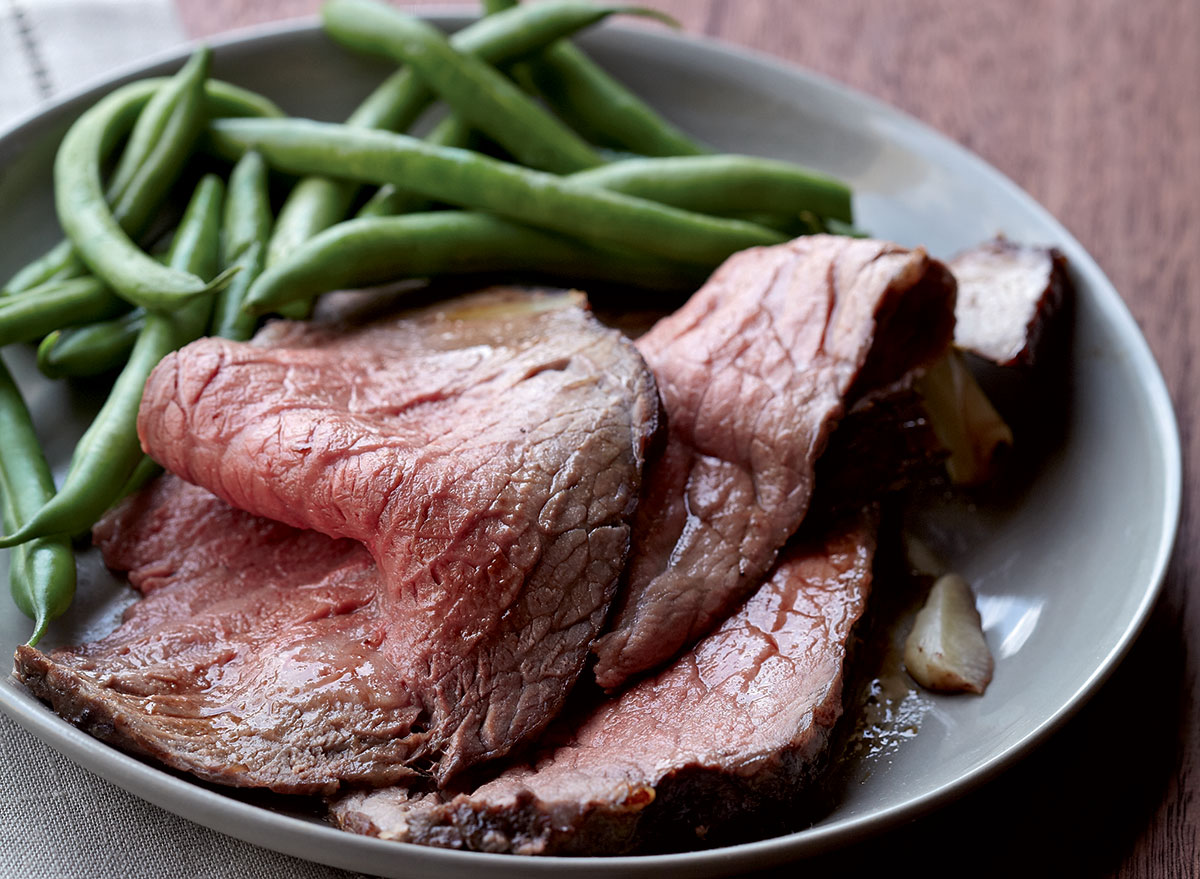 This dish captures the flavor of the meat and enhances it with extra rosemary and garlic. If you have never made one before, this beginner-level recipe is perfect for you! It's the perfect main dish to have when you're serving dinner for your big family.
Get our recipe for Classic Roast Beef with Garlic and Rosemary.
With a recipe as simple as this one, the crowd-pleasing classic can be the star of your dinner show. Sirloin replaces the traditional lamb filling for a leaner take on the classic, and it is a great way to make use of extra vegetables in your fridge.
Get our recipe for Healthy and Hearty Shepherd's Pie.
Short ribs braised in Guinness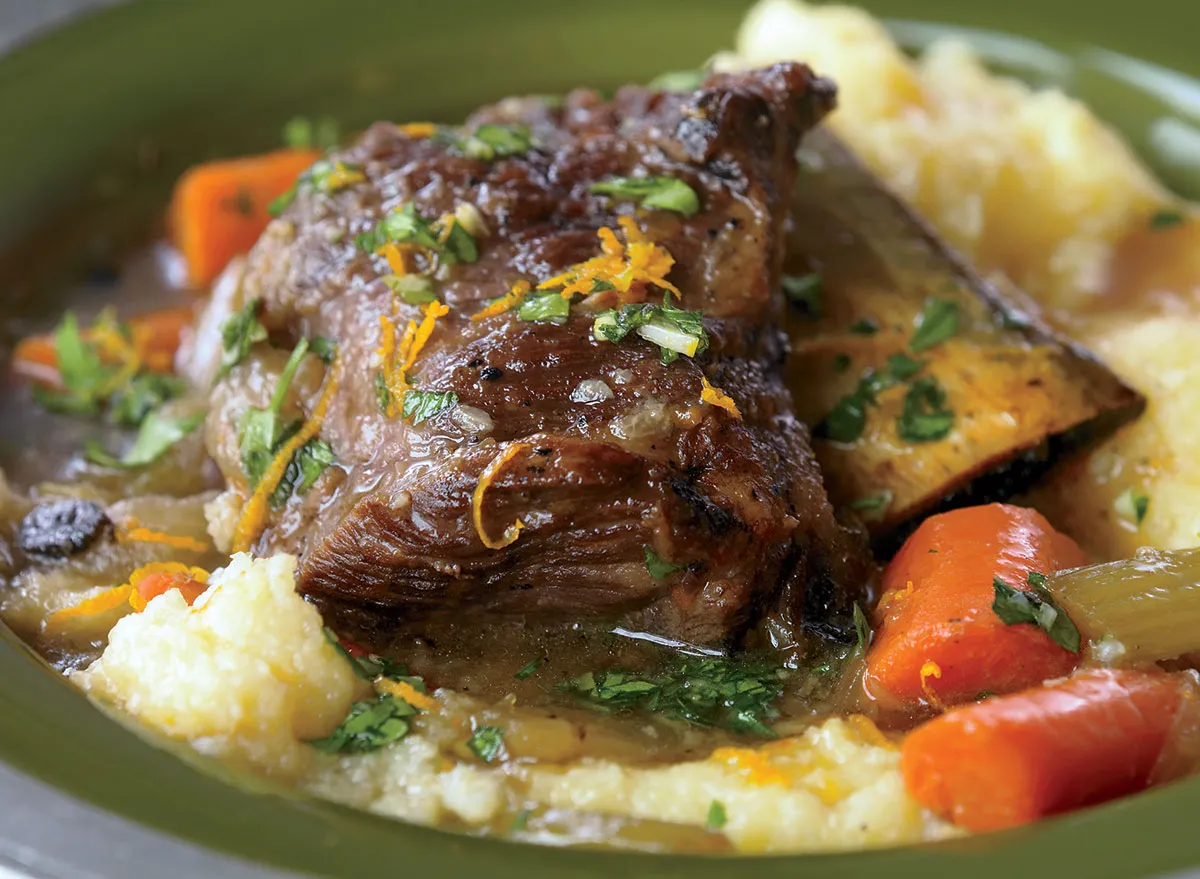 Who knew red meat and Guinness were a match made in heaven? The beer ensures that the meat remains moist, while also acting as a great complementary flavor.
Get our recipe for Short Ribs Braised in Guinness.
RELATED: The Best & Worst Cuts of Steak—Ranked by Nutritional Benefits!
Herb roast chicken with root vegetables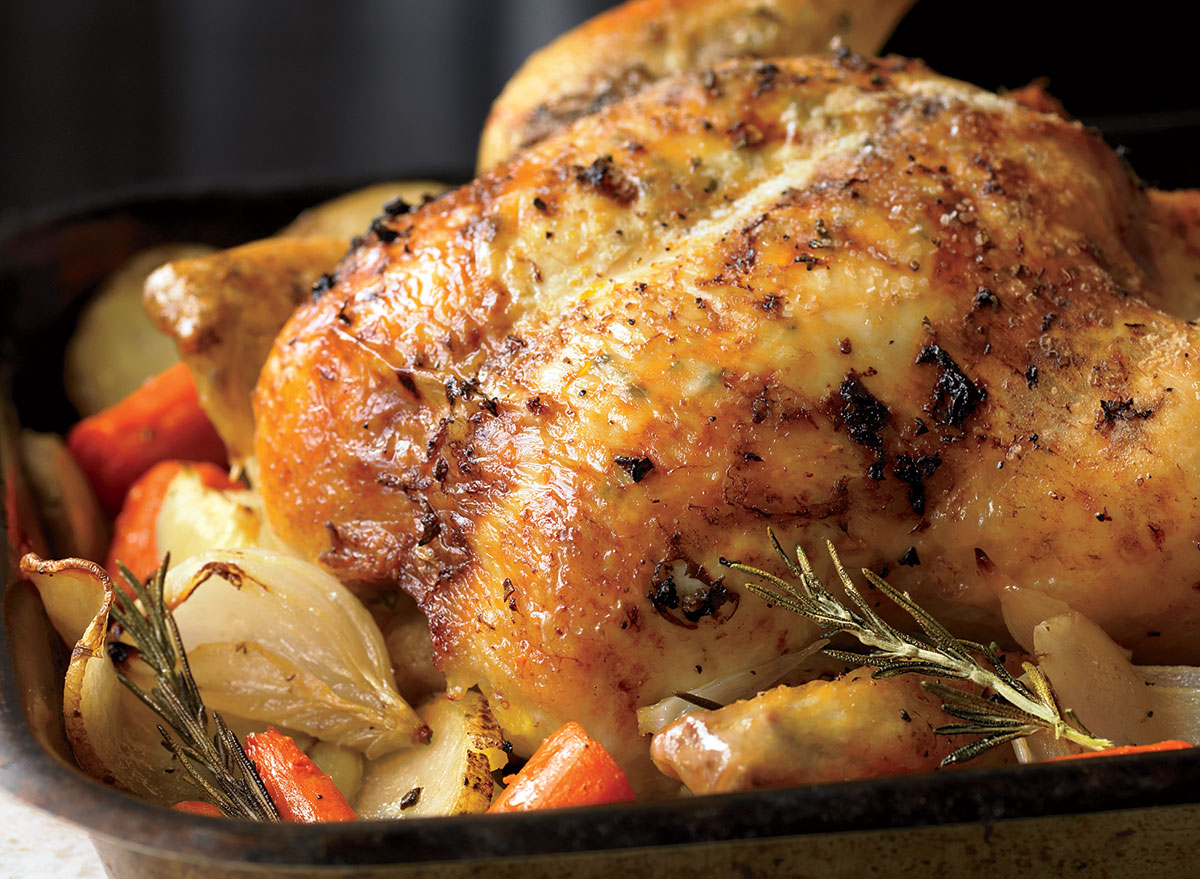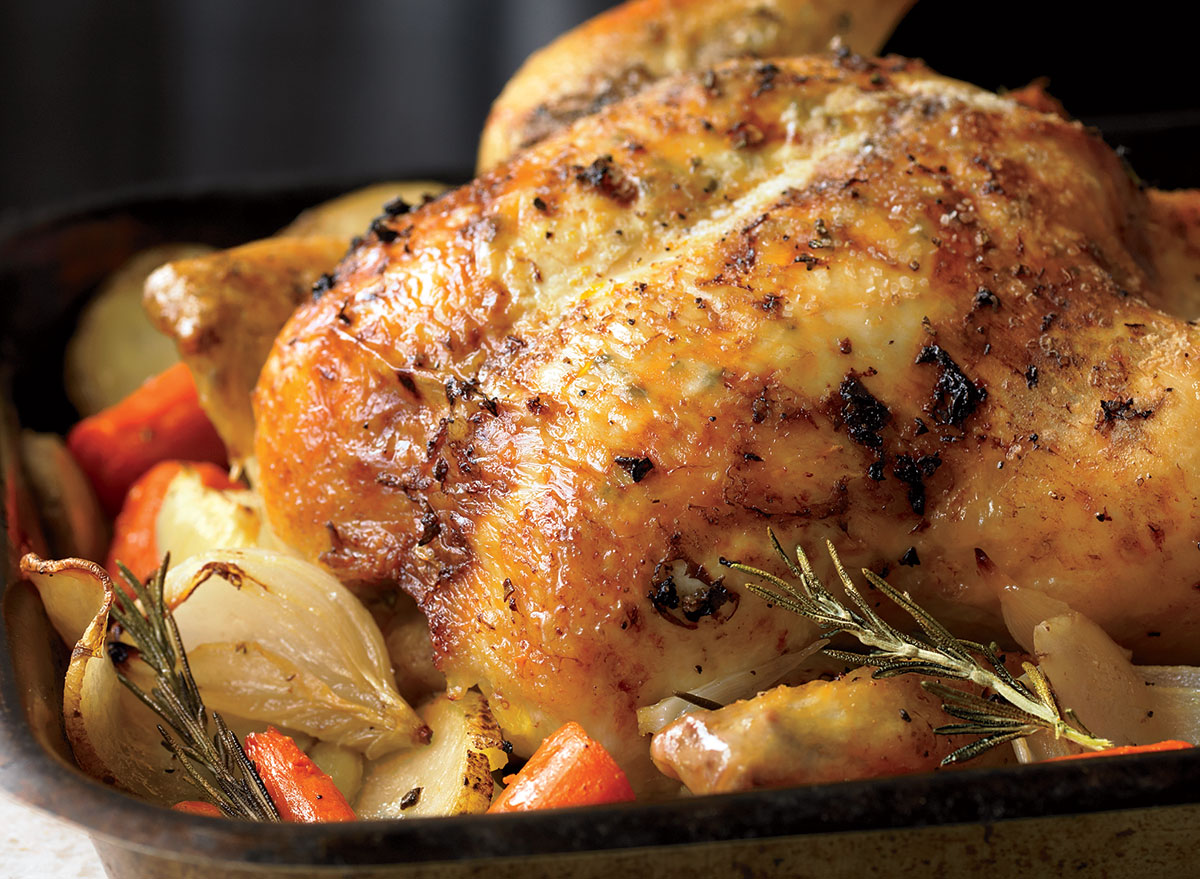 This roast chicken should be a go-to anytime you are craving poultry or need to feed a lot of mouths. Lemon juice and thyme brighten the flavors of the fowl, while roasted vegetables that bake alongside the chicken perfectly round out the meal and keep your menu compact. It's a true one-dish wonder!6254a4d1642c605c54bf1cab17d50f1e
Get our recipe for Herb Roast Chicken with Root Vegetables.
Cauliflower curry with butternut squash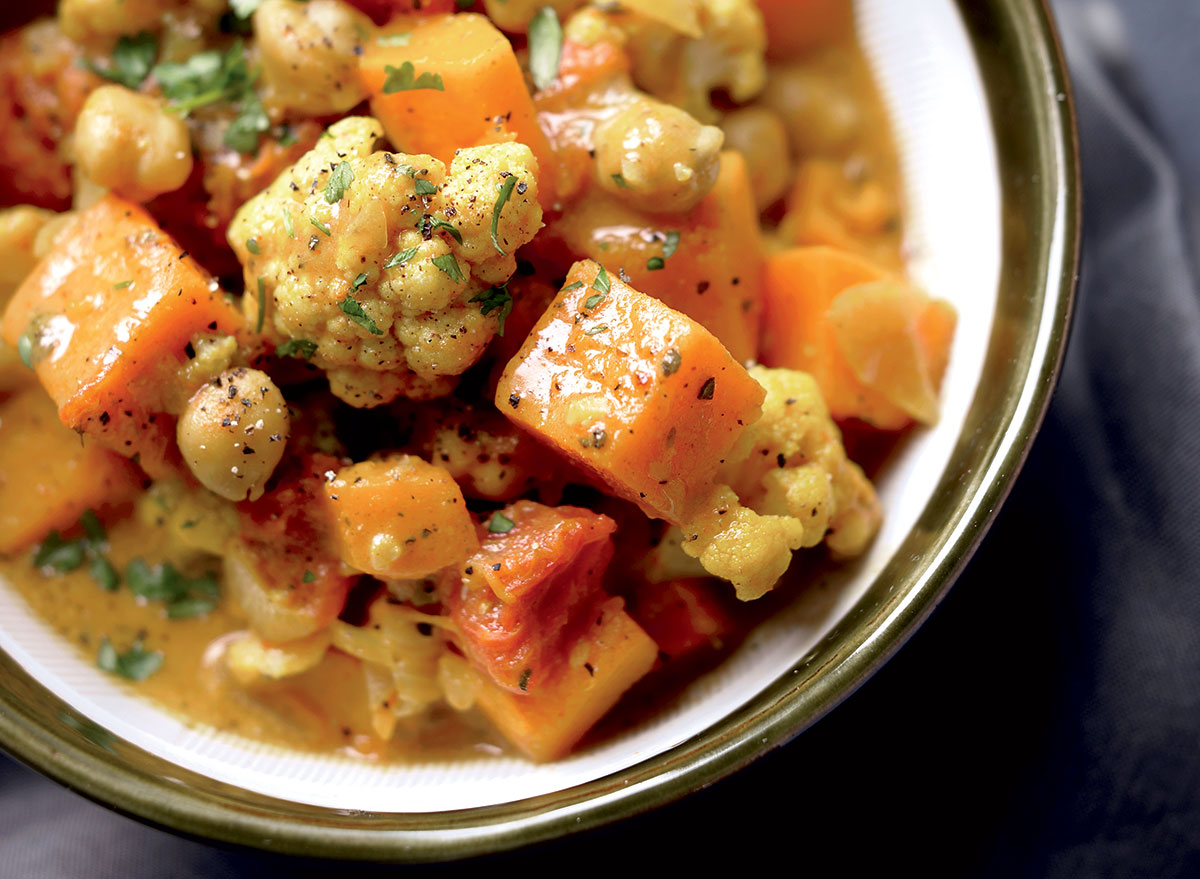 The bright flavors of ginger and jalapeno pair perfectly with coconut and butternut squash in this curry dish. This recipe is sure to impress and brighten your night with a vegetarian-based meal everyone will love.
Get our recipe for Cauliflower Curry with Butternut Squash.
Duck breast with balsamic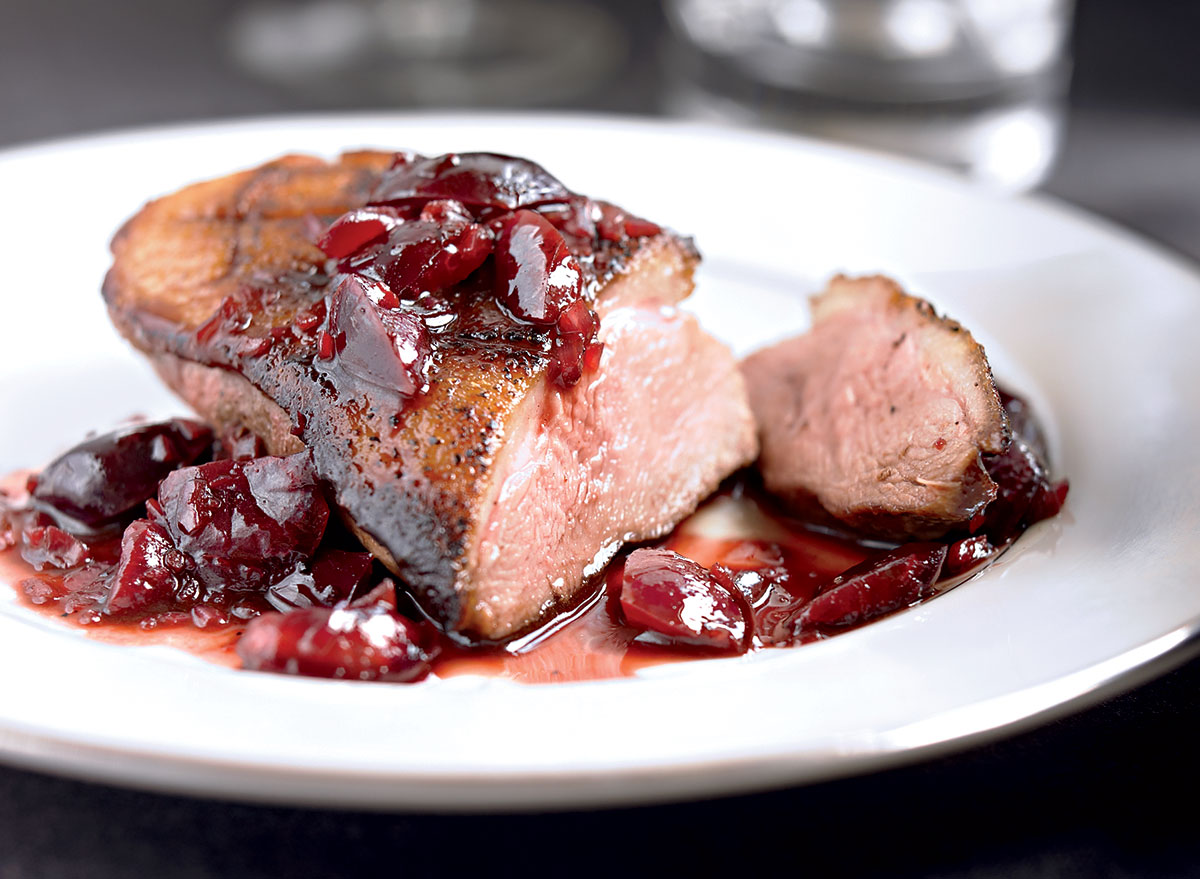 While duck is often deemed too fancy or complicated to cook at home, nothing could be further from the truth. This recipe pairs the fowl down to its tastiest basics to ensure any home cook has a fair shot at roasting the bird. It relies on simple French flavors to bring out the subtleties of the duck, making it a great sophisticated dish.
Get our recipe for Duck Breast with Balsamic.
Herb-roasted turkey breast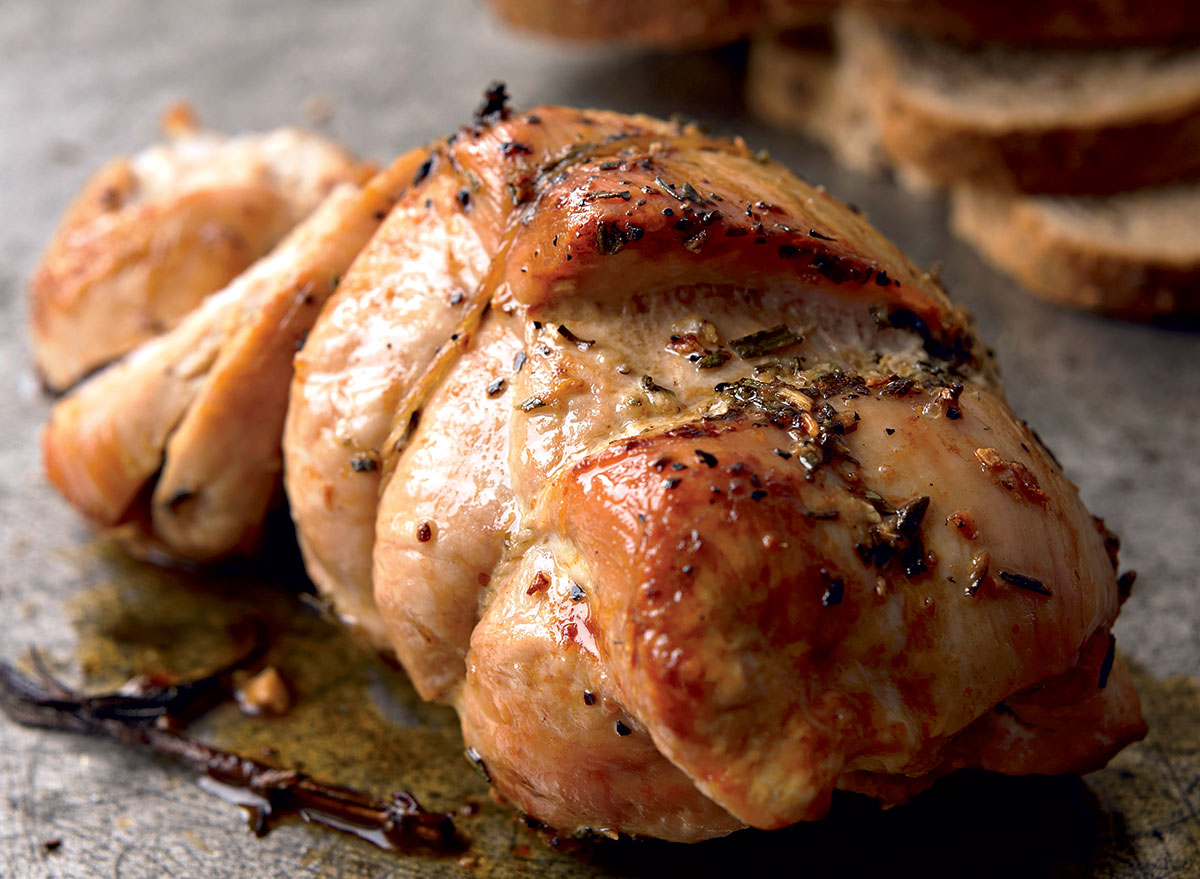 This recipe is your go-to if you need to make a lot of food quickly. Because this recipe serves 12 portions, you'll be ready to feed a dozen people at once at your table, or have plenty of leftovers. For a no-frills but still flavorful main, you can't go wrong with this one.
Get our recipe for Herb Roasted Turkey Breast.
Belgian-inspired beef and beer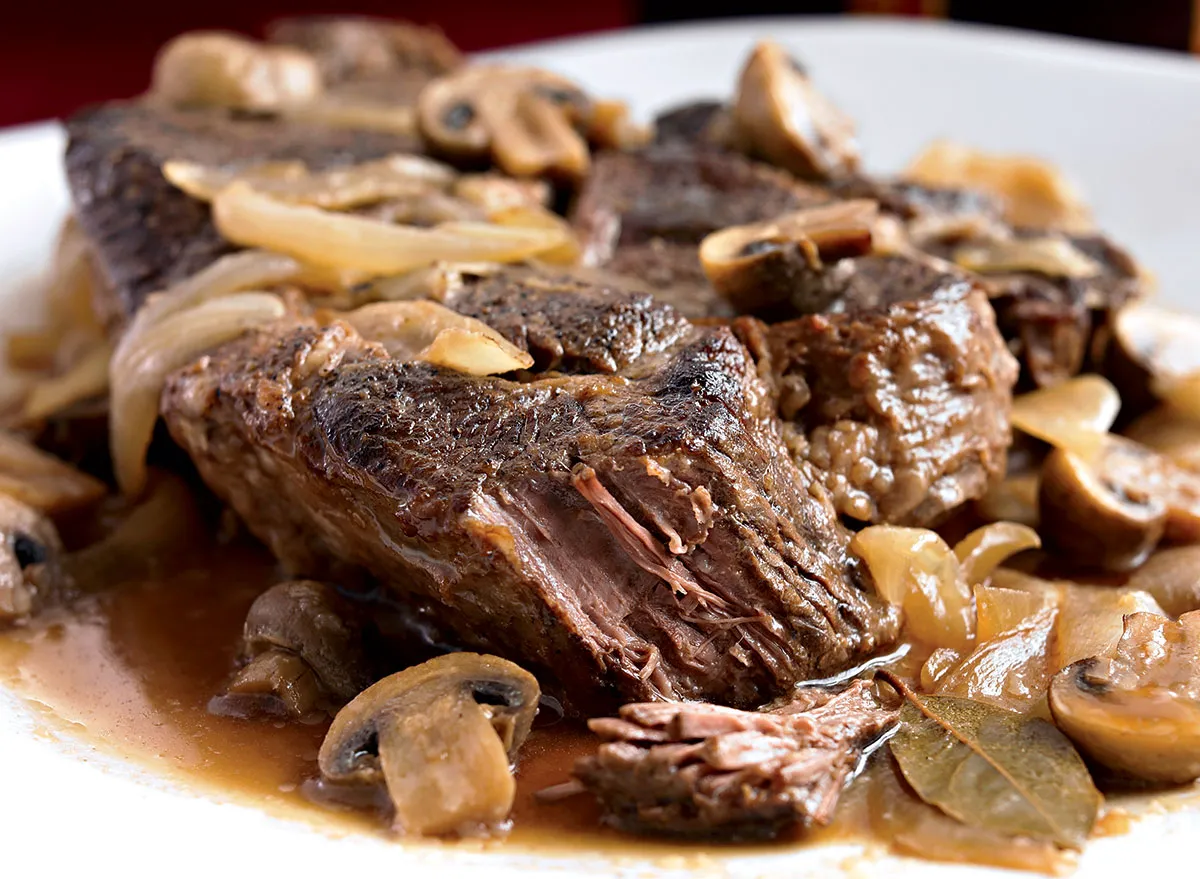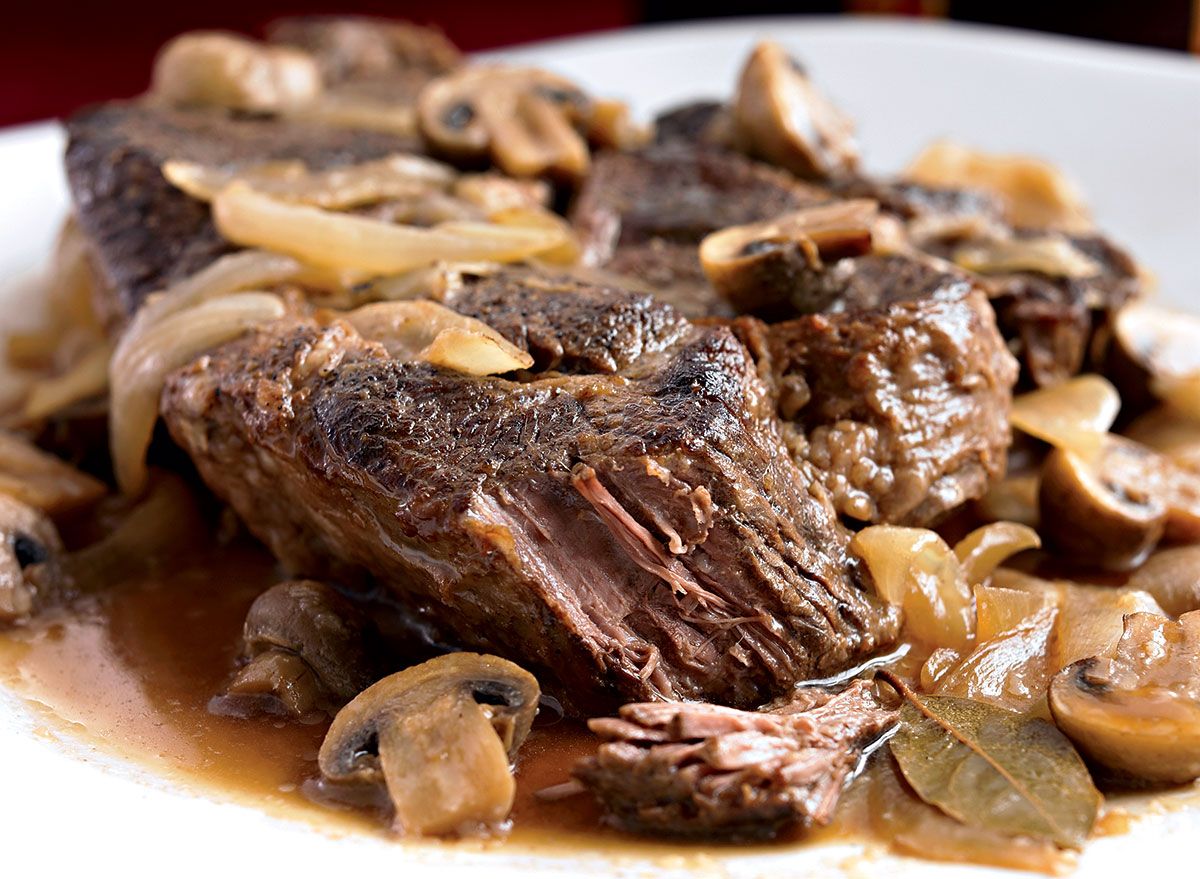 This take on a continental European favorite will easily cement itself in your family's memories. The recipe just takes 10 minutes of prep time, and it cooks all day in a slow cooker, making it an extremely easy dish to make during hectic times. It's a hearty stick-to-your-ribs recipe you'll turn to again and again.
Get our recipe for Belgian-Inspired Beef and Beer.
Braised brisket with horseradish cream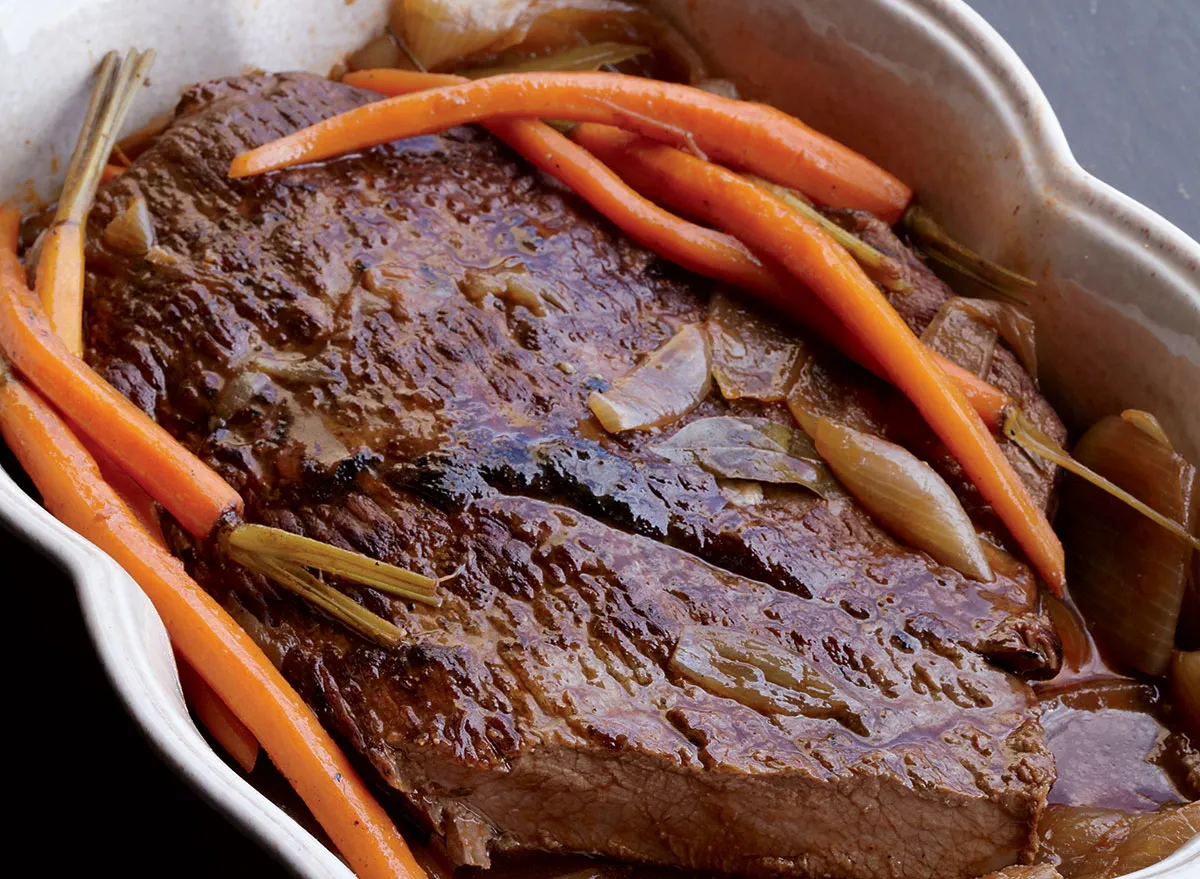 Brisket can be a tough piece of meat to tackle, but this recipe is beginner-friendly, so you will have an easy time when it comes to cooking this cut. The horseradish sauce is also sure to spice up your meal and make it a dish to remember.
Get our recipe for Braised Brisket with Horseradish Cream.
Porchetta-style roast pork loin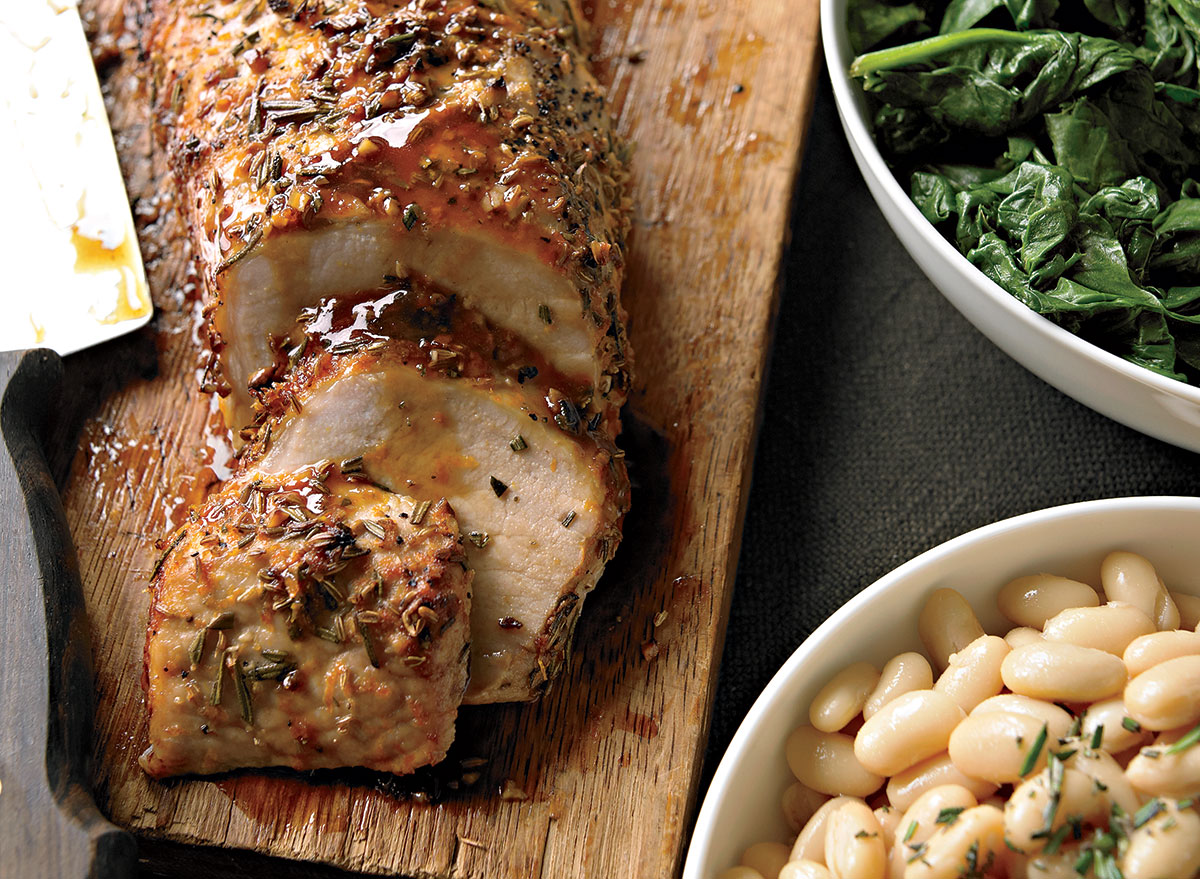 This Italian classic will brighten your whole menu with the flavors of fennel and orange zest. This pork loin will enliven any dinner and ensures your family will come back for seconds.
Get our recipe for Porchetta-Style Roast Pork Loin.
Nothing hits the spot quite like fried food. This perfect oven-baked fish and chips dish has you covered. Plus, oven-baking it instead of frying makes it healthier.
Get our recipe for Fish and Chips.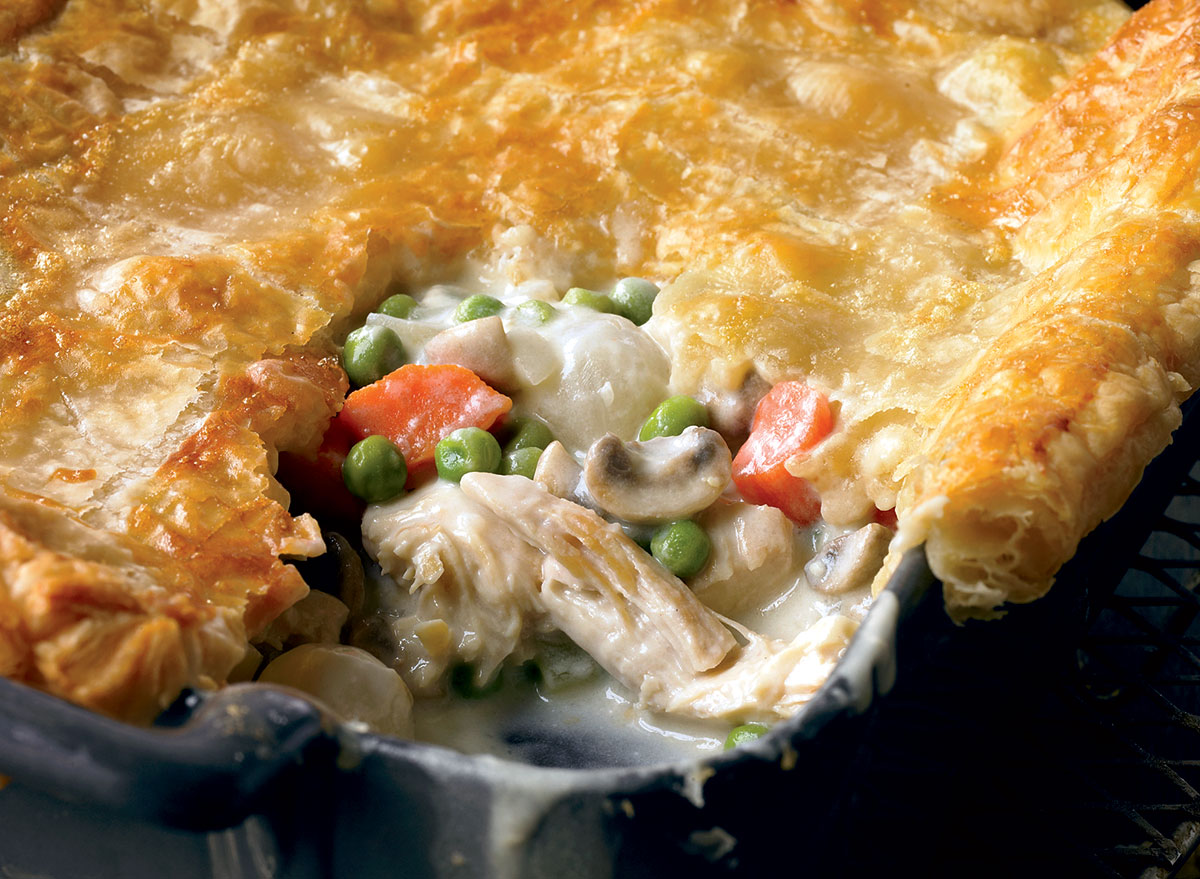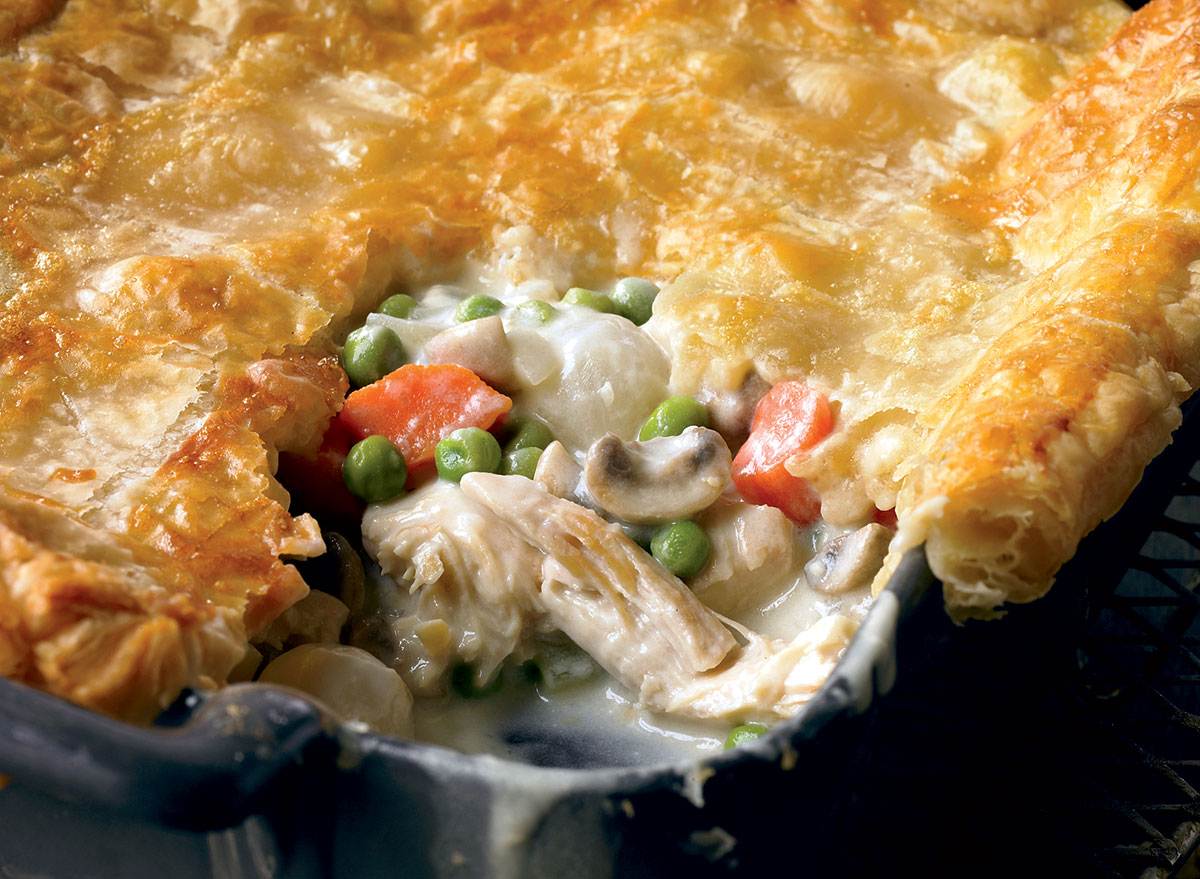 This hearty chicken pot pie will crush your craving for something comforting, and it's easy enough to prepare when you're making dinner for more than two people.
Get our recipe for Classic Chicken Pot Pie.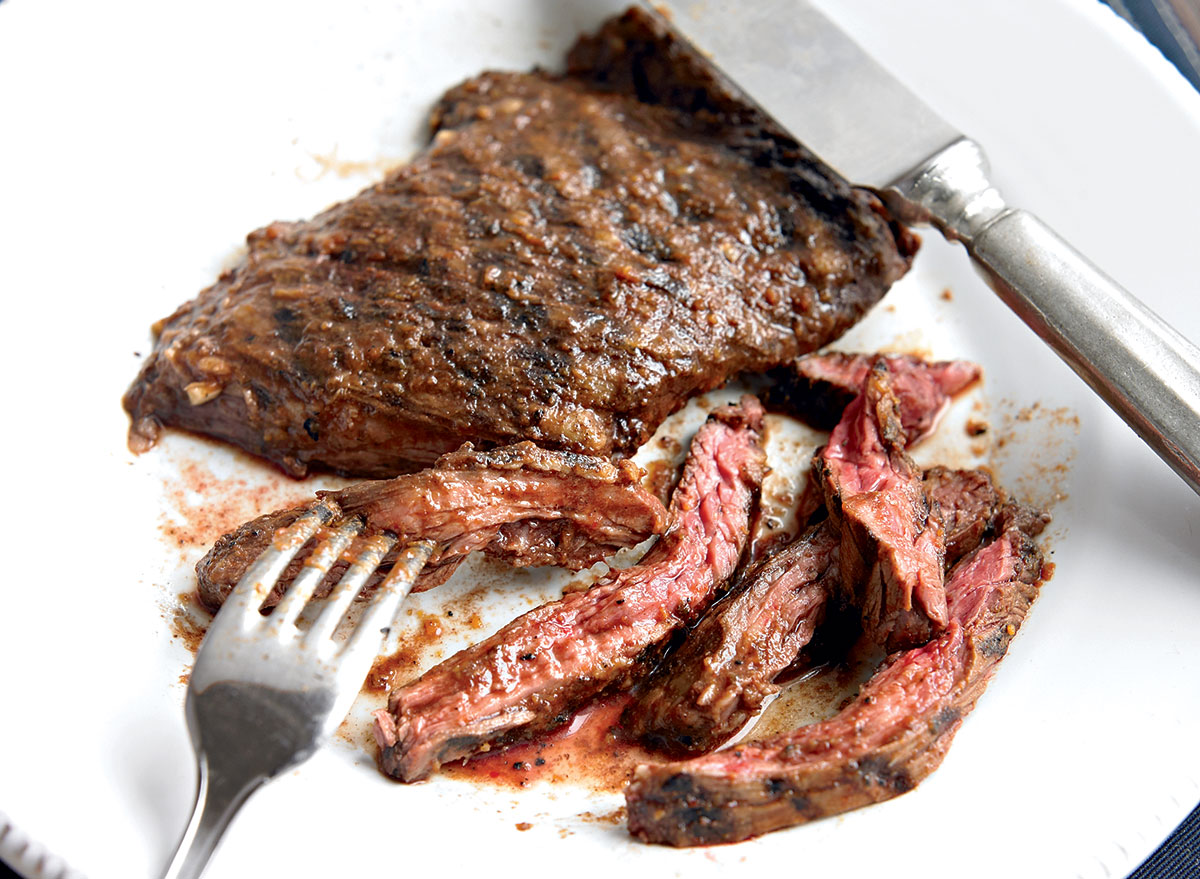 Break out the grill. This steak marinades in a bloody mary concoction (minus the alcohol) ensures the meat will soak up a hearty portion of flavor and lock in the moisture. The spicy mix makes for a surprising complement to steak. It's so good, we think your family will be asking for seconds.
Get our recipe for Bloody Mary Skirt Steak.
Homemade chicken noodle soup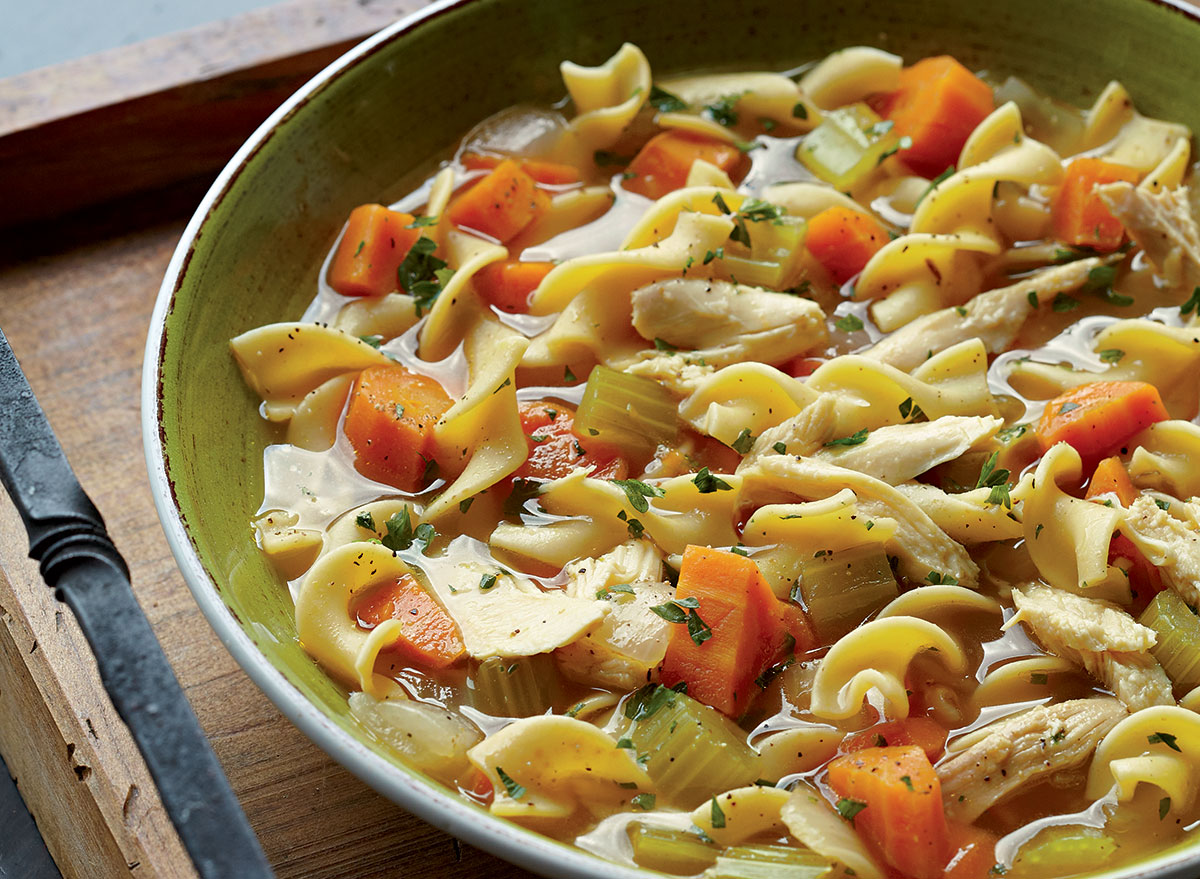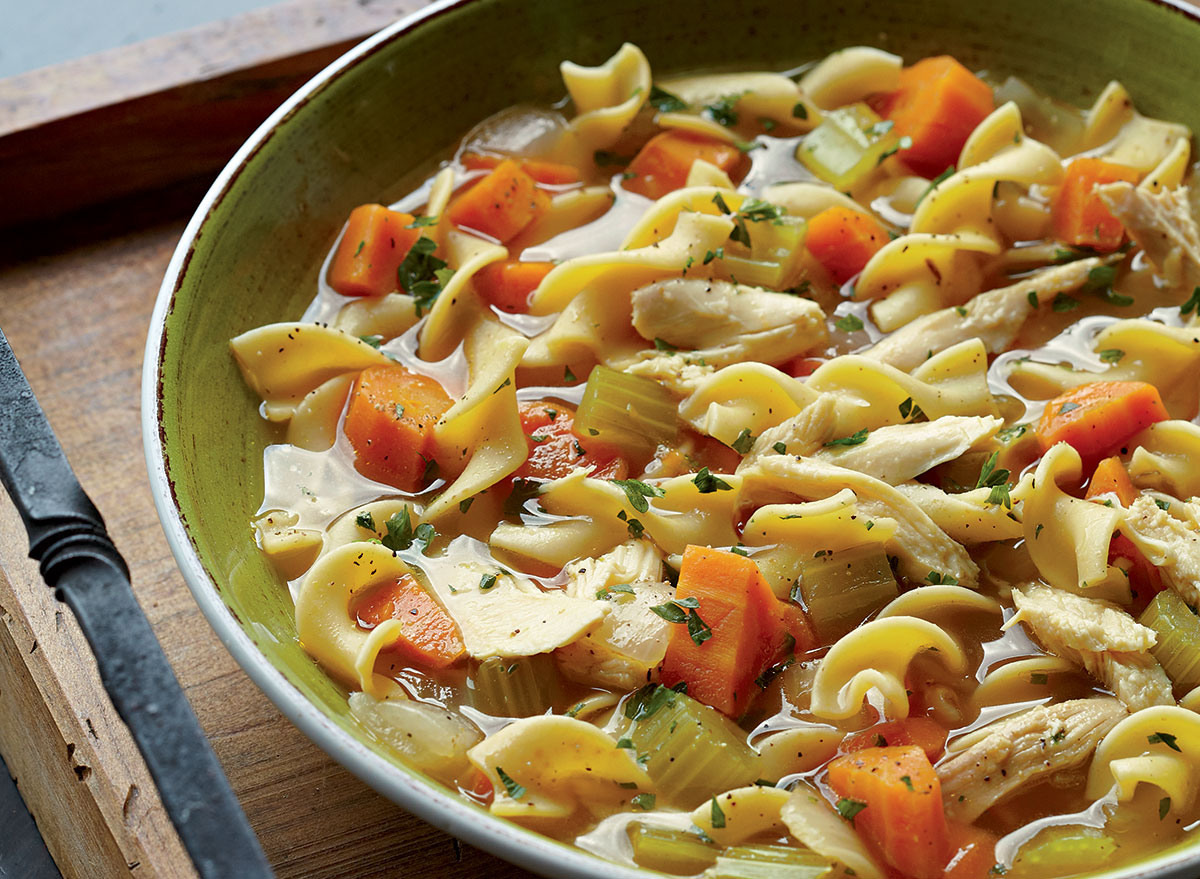 Nothing is as comforting as a good chicken noodle soup, and this recipe is sure to please. Not only will this meal serve dinner for a big family, but you will be sure to have some leftovers for many days later.
Get our recipe for Homemade Chicken Noodle Soup.
Hearty Asian beef noodle soup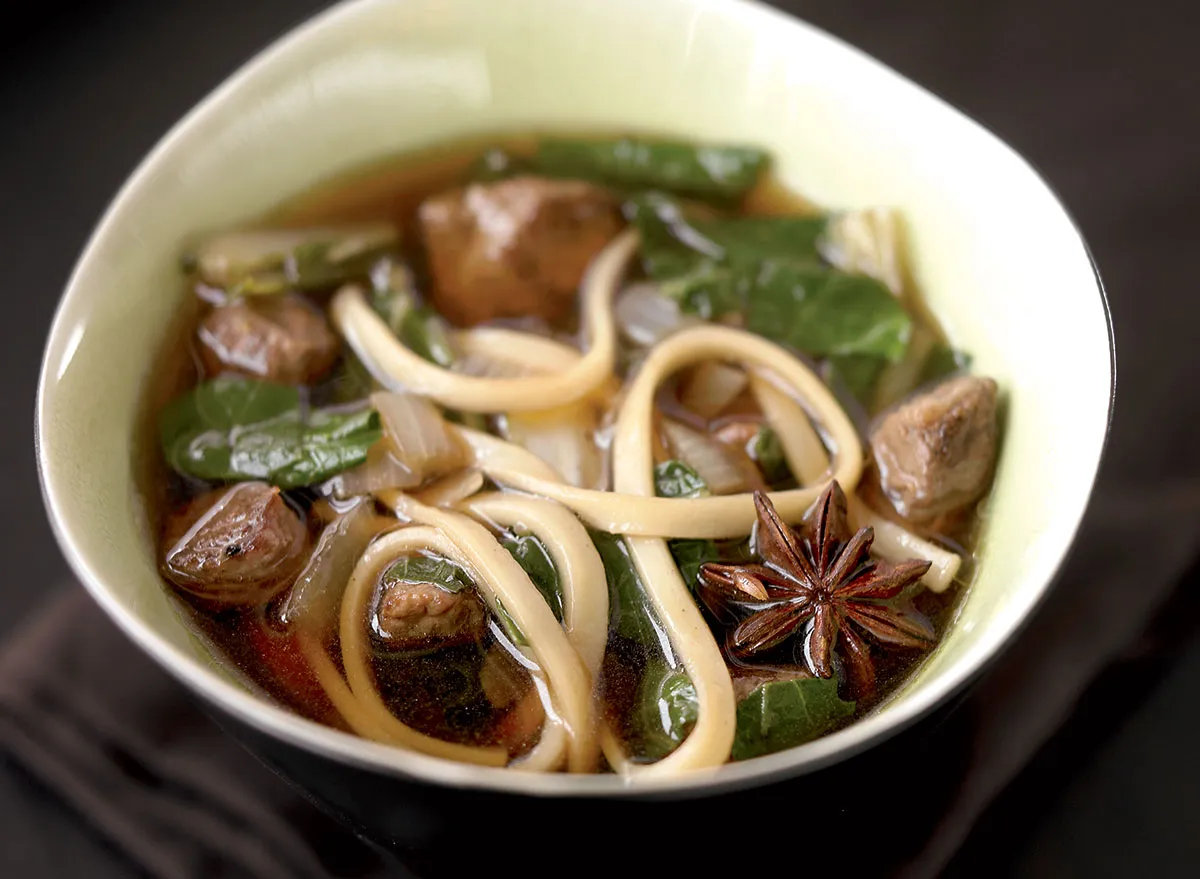 When you think of soup, an Asian beef noodle soup might not be your first go-to. Don't be fooled, though: this hearty soup packs in seasonal flavors like star anise and ginger. This soup will help put you in a good mood, and it's even easy to make in a slow cooker.
Get our recipe for Hearty Asian Beef Noodle Soup.
For more great recipe ideas, check out 51 Easy Weeknight Dinners You Can Throw Together in Minutes