10 Frozen Pizzas You Should Always Leave on Grocery Store Shelves
Keep on walking by these when you're food shopping!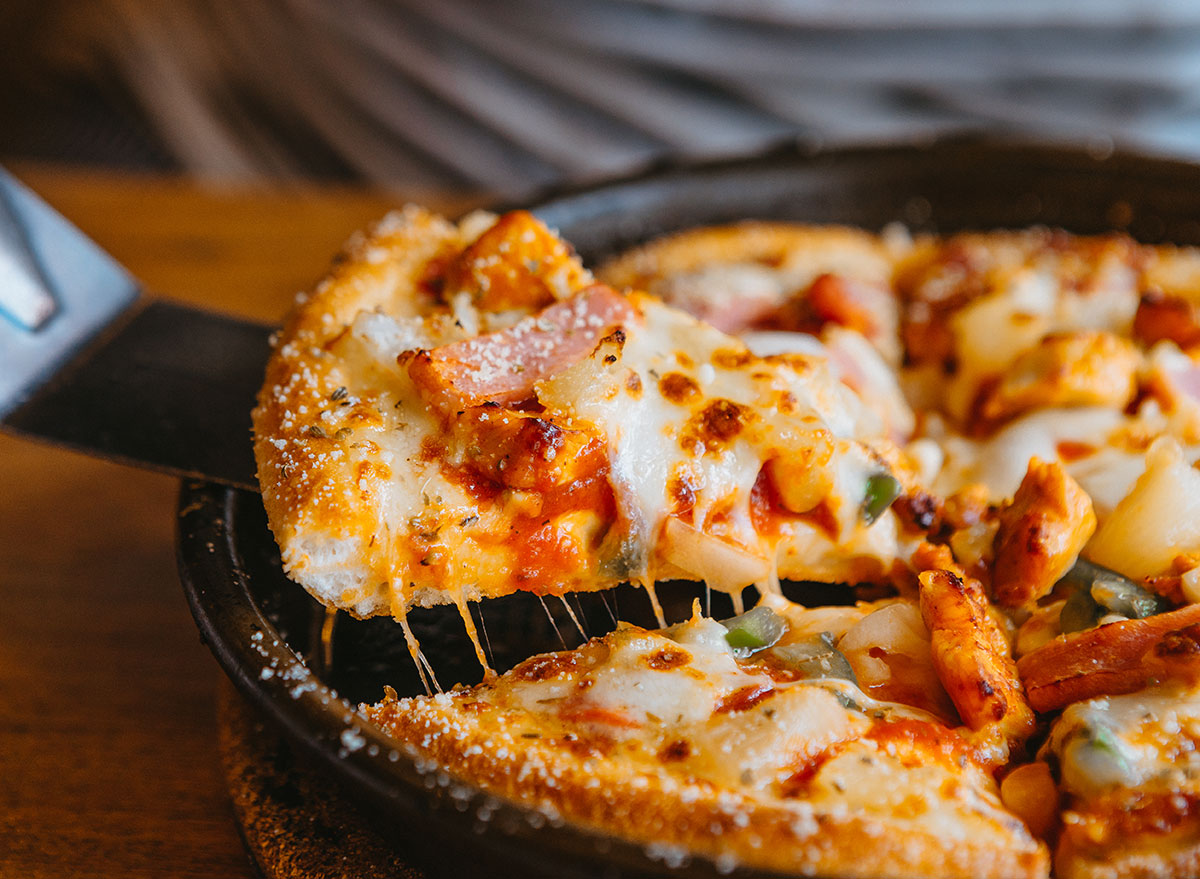 Sometimes, all you really need is a frozen pizza to hit the spot. It's ready in minutes and you don't have to worry about going out to pick it up or wait for the delivery person to arrive. Plus, you don't have to spend too much time in the kitchen like you would if you made it from scratch. But not every frozen pizza is the same. And some are worse for you than others.
So which is the worst frozen pizza out there? Well, we rounded up some of the worst, unhealthiest frozen pizzas you'll find in the freezer aisle. That way, you know which pie to just skip when you're looking for the perfect addition to your Friday night hangout in your living room. And while you're taking a closer look at the foods in your kitchen, be sure to stock up on The 100 Healthiest Foods on the Planet.
Stouffer's Three Meat French Bread Pizza
Per pizza
: 460 calories, 25 g fat (9 g saturated fat, 0 g trans fat), 1,070 mg sodium, 40 g carbs (3 g fiber, 5 g sugar), 18 g protein
These French-bread-based mini pies are topped with sausage, pepperoni, and bacon, creating a small pizza that has more sodium than 12 McDonald's Chicken McNuggets. Yikes.
DiGiorno Croissant Crust Three Meat
Per pizza
: 2,050 calories, 110 g fat (50 g saturated fat, 0 g trans fat), 4,200 mg sodium, 180 g carbs (10 g fiber, 20 g sugar), 85 g protein
DiGiorno took things up a notch with the introduction of its croissant crust. While it might make for a lighter, flakier pie, it's still high in calories and sodium.
Red Baron Thin and Crispy Pepperoni Pizza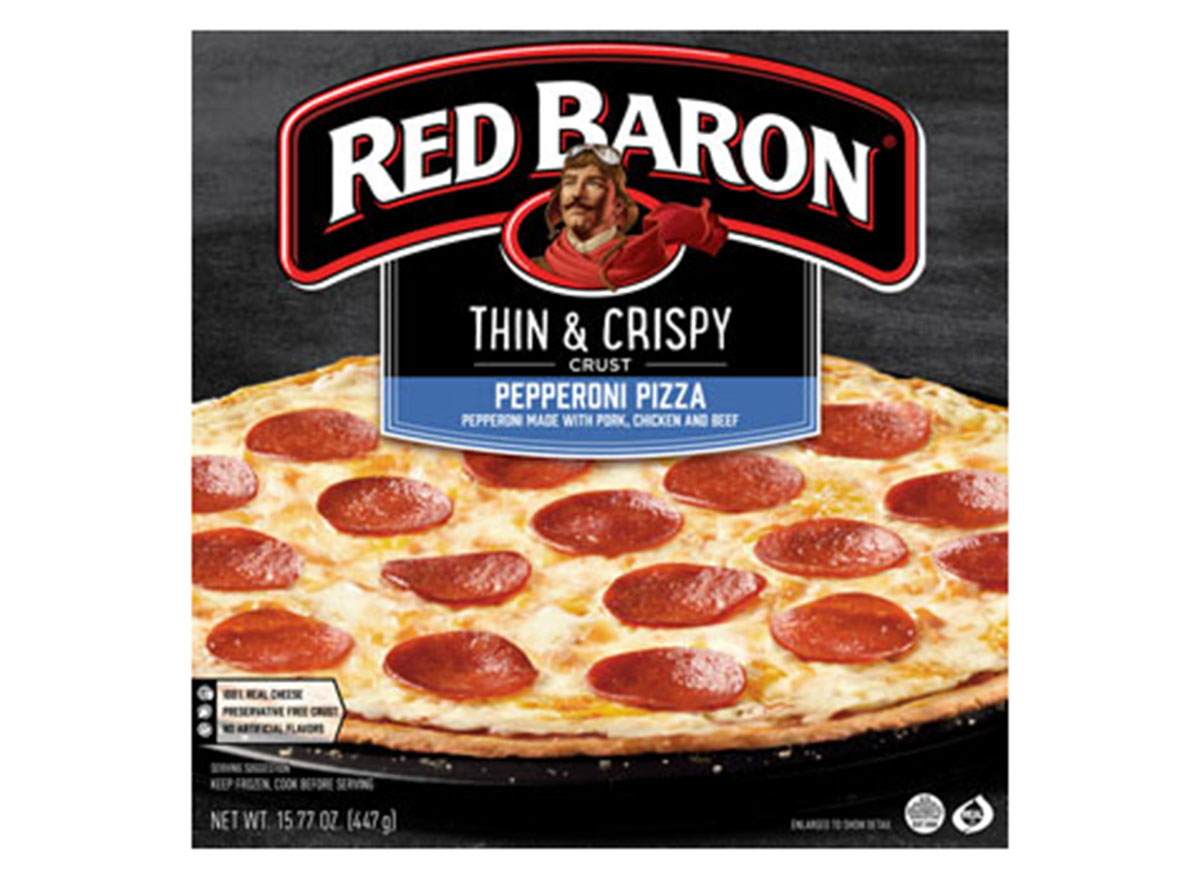 6254a4d1642c605c54bf1cab17d50f1e
Per pizza
: 1,170 calories, 60 g fat (30 g saturated fat, 0 g trans fat), 3,030 mg sodium, 114 g carbs (6 g fiber, 27 g sugar), 45 g protein
Red Baron's thin-crust pies aren't actually worse than the classic crust options. Just one slice of the Thin and Crispy Pepperoni Pizza will set you back 1,010 milligrams of sodium. The classic version? It's still pretty scary, coming in at 810 milligrams of sodium.
Tombstone Original Supreme Pizza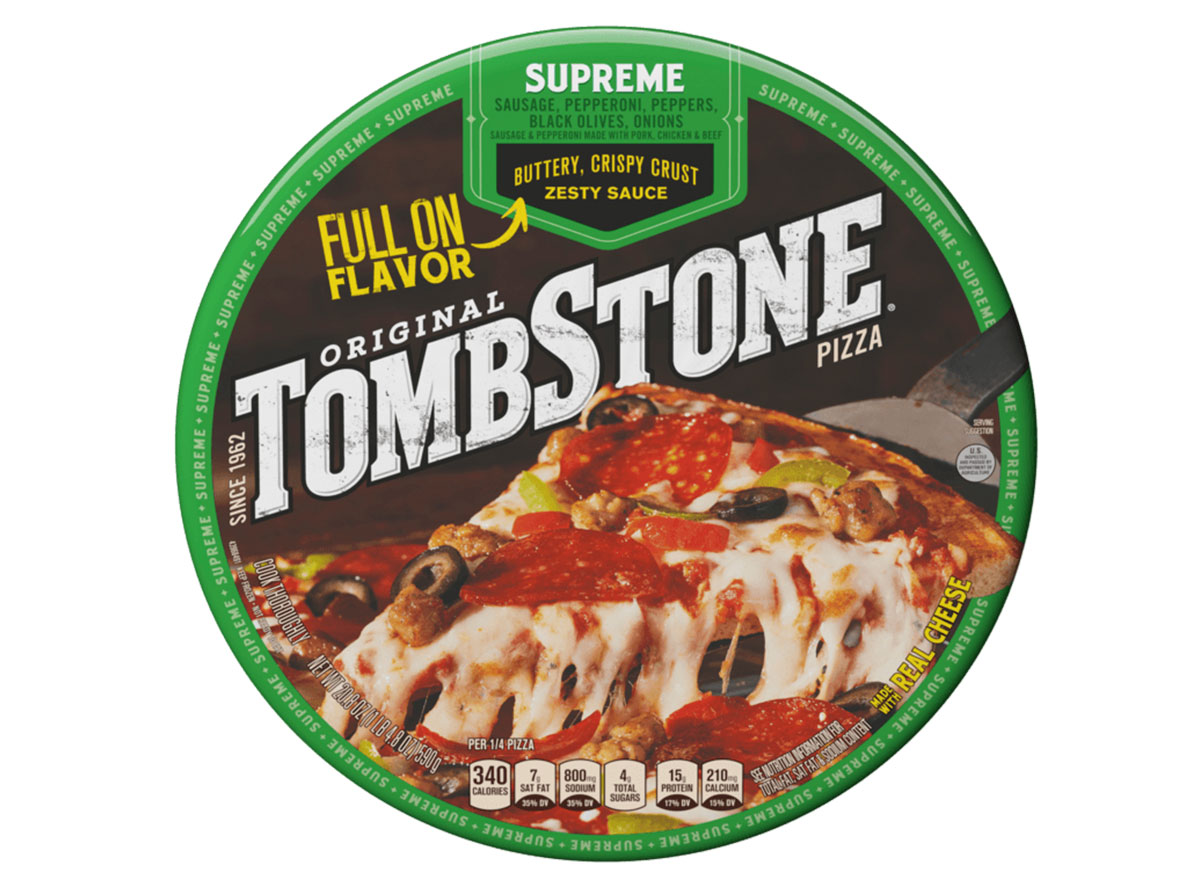 Per 1 pizza
: 1,360 calories, (28 g saturated fat, 0 g trans fat), 3,200 mg sodium, 140 g carbs (8 g fiber, 16 g sugar), 60 g protein
The presence of peppers, olives, and onions don't really help make things better here. This pie, which is also topped with the classic processed meats combo of sausage and pepperoni, is scary high in sodium.
Celeste Pizza for One, Sausage and Pepperoni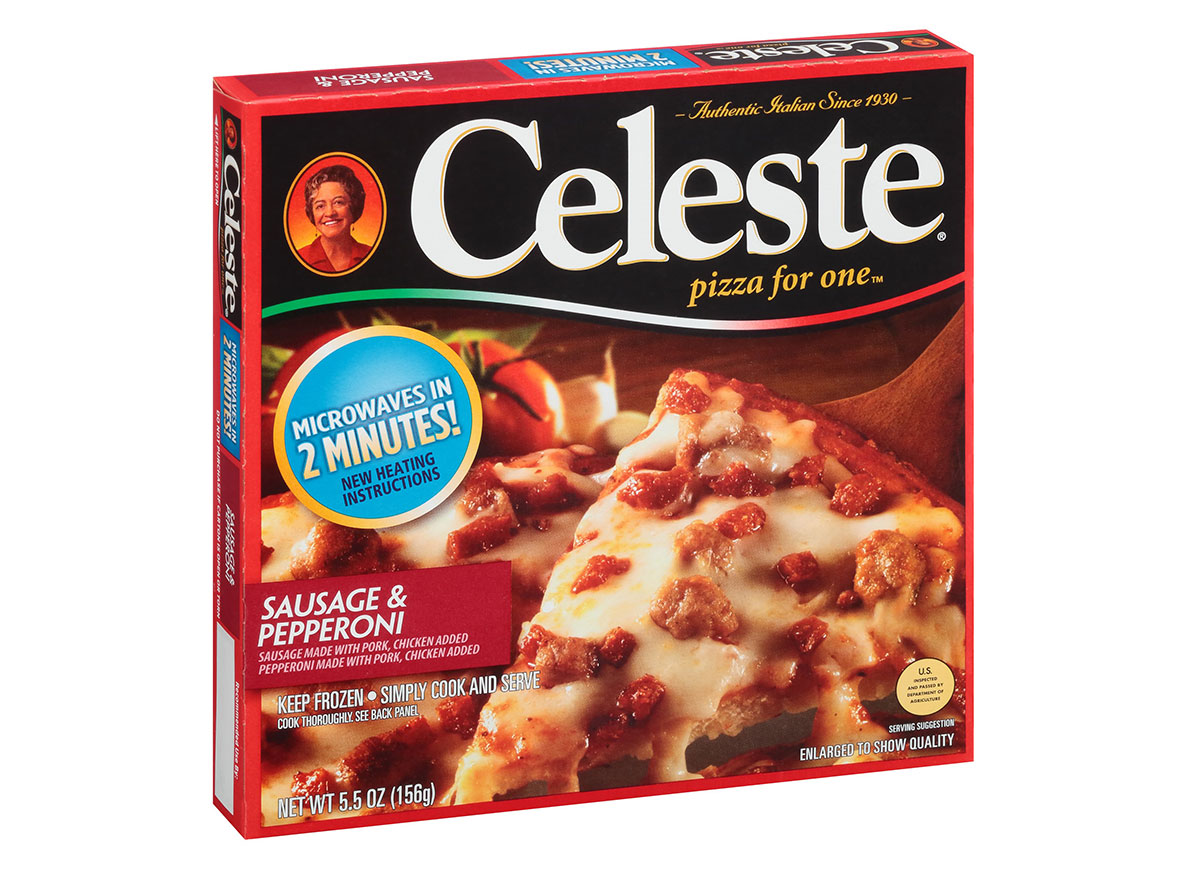 Per pizza
: 400 calories, 19 g fat (9 g saturated fat, 0 g trans fat), 900 mg sodium, 47 g carbs (2 g fiber, 3 g sugar), 10 g protein
If you thought going for the "personal pan" option would be a safer bet, this sausage and pepperoni pizza from Celeste proves otherwise. Coming in with 900 milligrams of sodium and a very long list of ingredients that includes fattening palm oil, this one gets a skip.
Looking for more helpful tips? Your ultimate restaurant and supermarket survival guide is here!
DiGiorno Bacon Me Crazy Pizza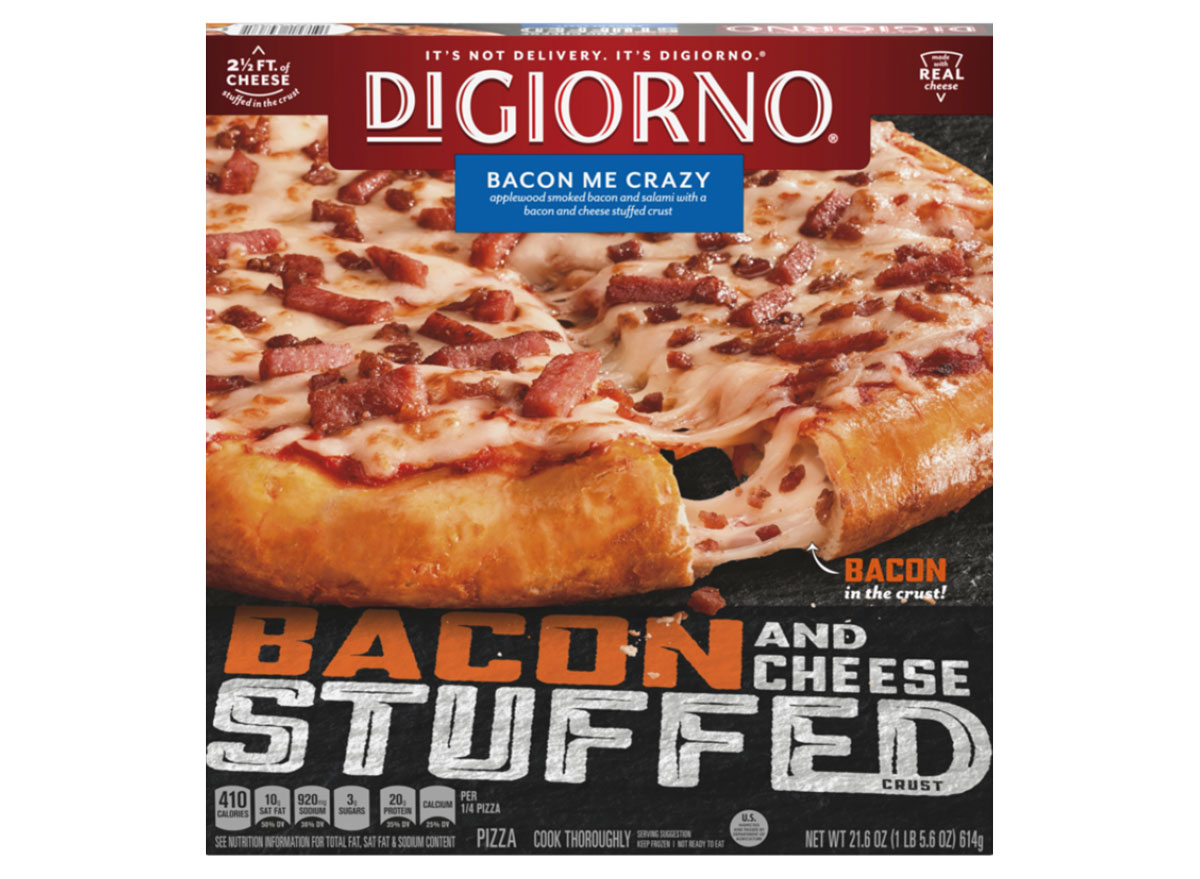 Per pizza
: 1,640 calories, 84 g fat (40 g saturated fat), 3,680 mg sodium, 136 g carbs (8 g fiber, 12 g sugar), 80 g protein
The fat and sodium in this pie are way too high! Even if you are splitting this pie, one serving alone is packing 920 milligrams of the salty stuff.
Red Baron Classic Crust Four Cheese Pizza
Per 1 pizza
: 1,520 calories, 68 g fat (36 g saturated fat), 2,880 mg sodium, 160 g carbs (8 g fiber, 32 g sugar), 64 g protein
You might think that since this pizza is thin crust and just topped with cheese and no meats, you would in the clear. But don't be fooled! It's still high in calories, fat, and sodium.
California Pizza Kitchen BBQ Chicken Pizza
Per 1 pizza
: 880 calories, 32 g fat (16 g saturated fat, 1 g trans fat), 1,940 mg sodium, 101 g carbs (4 g fiber, 27 g sugar), 47 g protein
While this pizza gets some points because the chicken it's topped with is grilled, there are still plenty of red flags. The fact that there are a few different sugars listed on the ingredients is not the best when it comes to finding a healthier pizza option.
Screamin' Sicilian Brazen Buffalo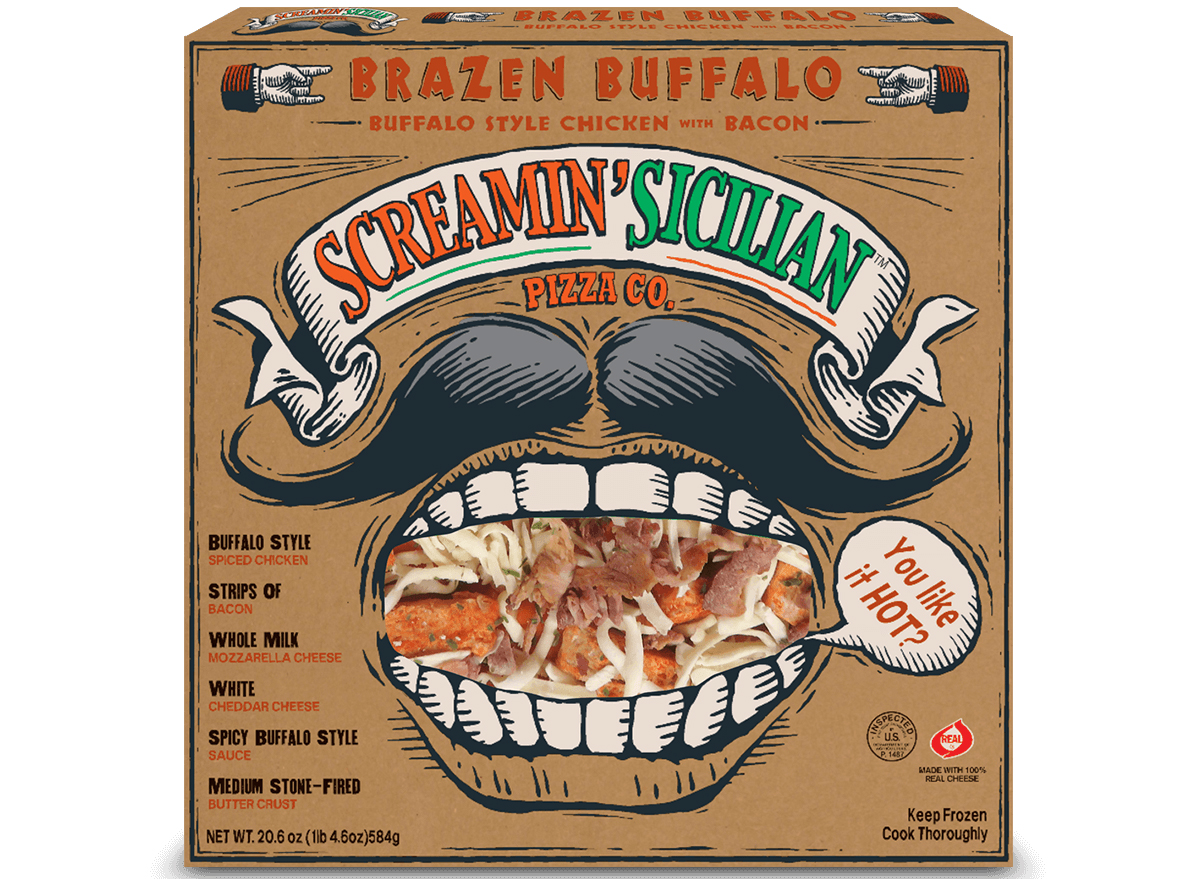 Per pizza
: 1,320 calories, 60 g fat (28 g saturated fat), 5,200 mg sodium, 124 g carbs (8 g fiber, 8 g sugar), 72 g protein
This spicy Buffalo chicken pizza is simply drowning in salt. One slice sets you back 1,300 milligrams, making the whole pie clock in at more than 5,000 milligrams. Keep in mind that The American Heart Association recommends the average person have no more than 2,300 milligrams a day of sodium, moving toward an ideal limit of no more than 1,500 milligrams. 
Tombstone Original 4 Meat
Per pizza
: 1,480 calories, 72 g fat (32 g saturated fat), 3,640 mg sodium, 140 g carbs (8 g fiber, 16 g sugar), 68 g protein
By now, it should be clear that any pizza that is topped with multiple processed meats is going to be bad news for your waistline. And that's all this 4 Meat pie from Tombstone is—trouble!
Read more about what you can find in the frozen food aisle:
The Best Frozen Foods at Walmart in 2021
Healthy Frozen Foods Dietitians Say You Should Buy
Jennifer Maldonado
Jennifer Maldonado is a senior editor at Eat This, Not That!, specializing in food and health content.
Read more about Jennifer