The 10 Best Kitchen Knife Sets Under $100
Hone into your chef skills with these upscale knife sets, beloved by online shoppers.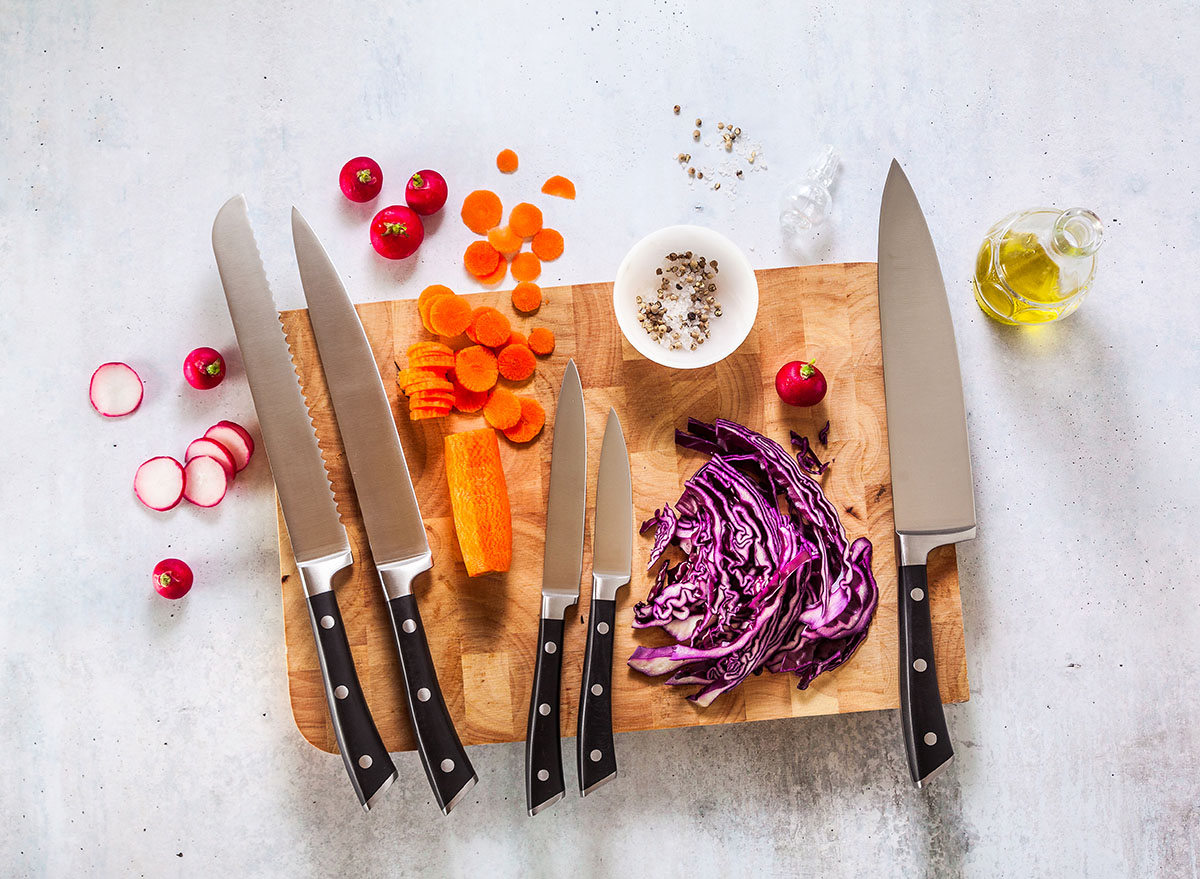 Purchasing a new knife set can be a bit of a stressful endeavor, with many options to choose from and all at varying prices—so how are you to know you made the best purchase? The truth is, the best set of kitchen knives may not actually exist, because what one person would consider the best may not be suitable for someone else. But there is one set out there for everyone!
In order to determine the best knife sets that you can purchase online for less than $100, we scanned Target and Amazon's top-selling knife sets, as well as one from Williams Sonoma. We then hand-picked what we thought were the 10 best based on versatility, special features, and aesthetic.
Now, here are the 10 best kitchen knife sets you can buy for less than a Benjamin right now.
From the least expensive kitchen knife set to the most expensive…
Cuisinart Advantage Non-Stick Color Cutlery
We're just going to say it: how cute are these knives? This particular knife set from Cuisinart Advantage brings some color to the kitchen with its 12-piece (six knives with covers) set. What's more is that it contains a nonstick coating, which makes for an even more seamless cut. The best part? The whole set is less than $20.00. Now that's what we call a bargain!
Vremi 10 Piece Colorful Knife Set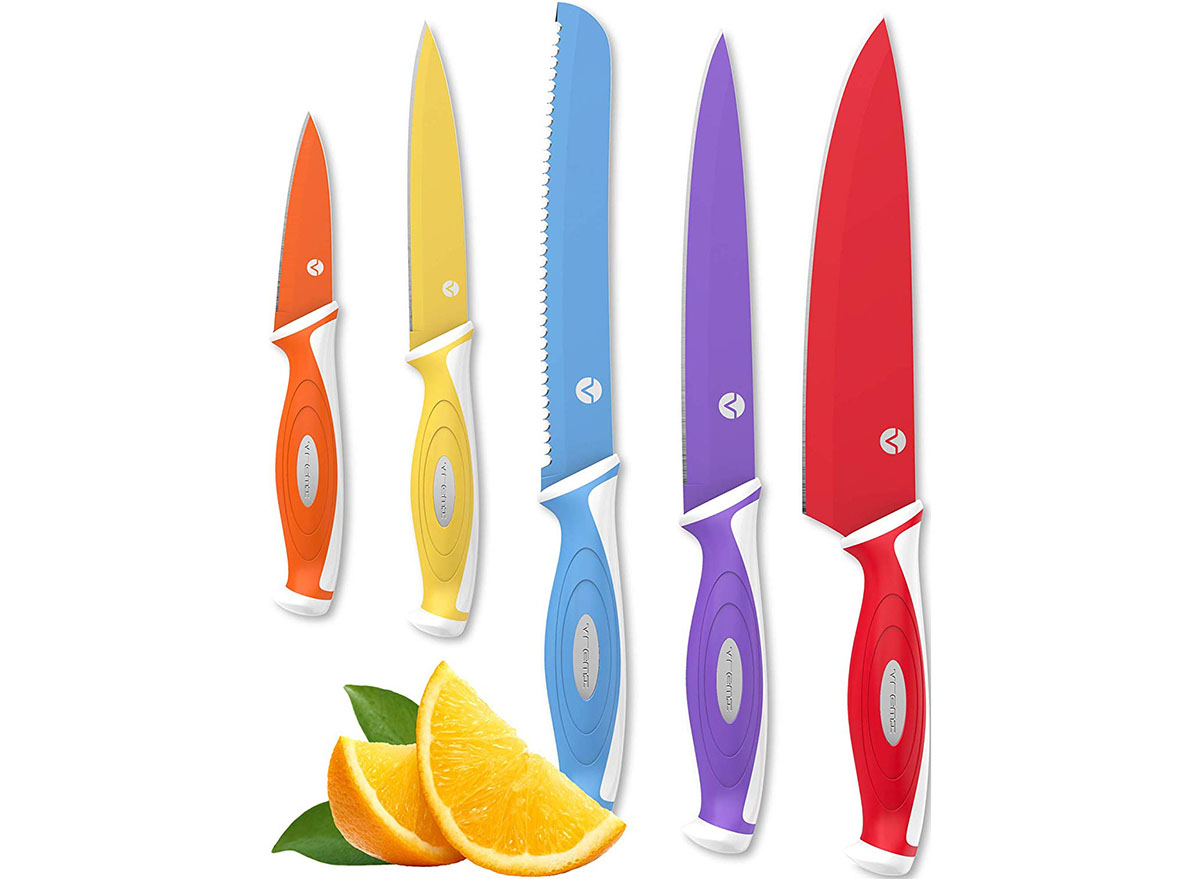 OK, so we may have a thing for colorful kitchenware—but can you blame us? Look at how slick the handles on these knives are! The handles are non-slip and are molded in a way that allows for a perfect grip. These five colorful knives are lightweight, resilient, and extra sharp, which is why we consider it to be one of the best kitchen knife sets.
Home Hero Stainless Steel Knife Set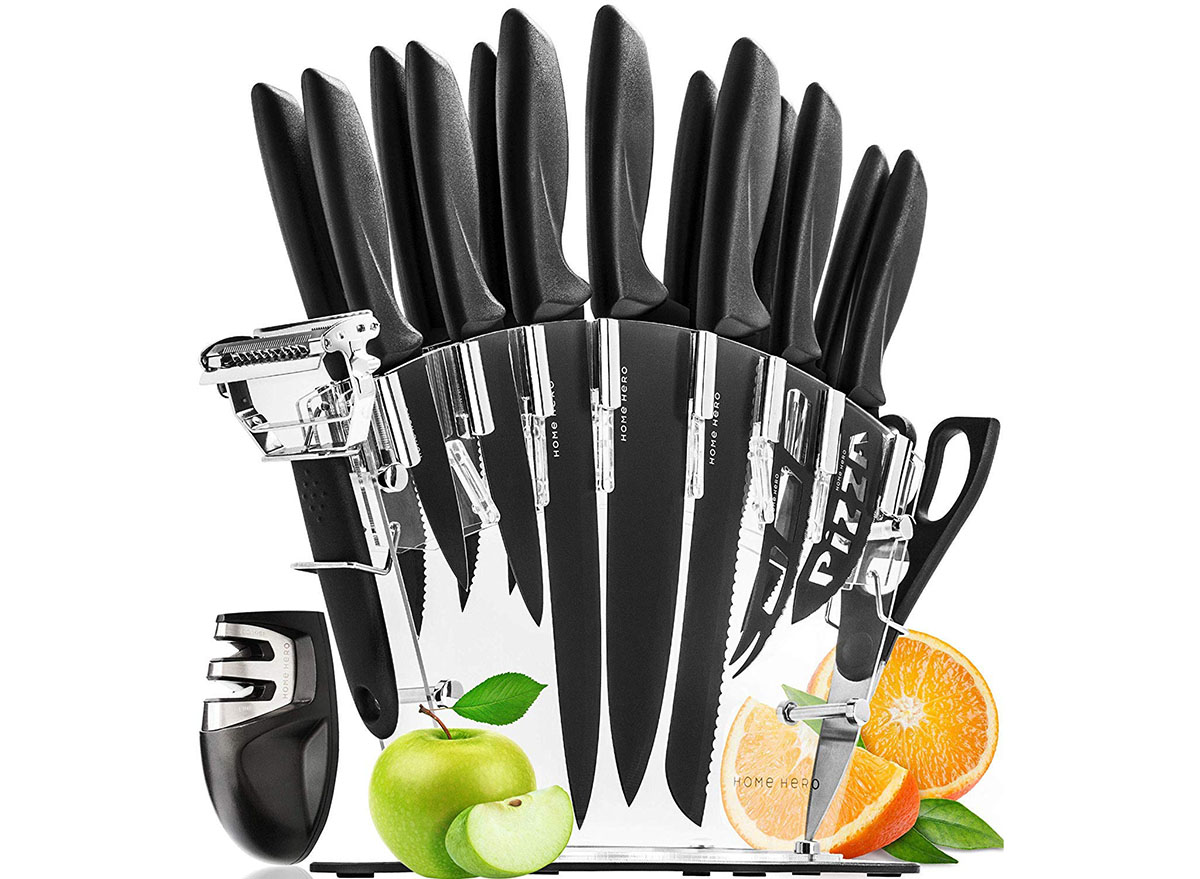 This stainless steel knife set on Amazon is by far the most bang for your buck. You get 13 different knives including six steak knives and then one of each of the following: chef, bread, carving, utility, paring, cheese, and pizza knives. In addition, you get a knife sharpener, a pair of scissors, and a peeler.
(Note: I actually own this knife set and my roommates and I love it!)
Emojoy Wooden German Knife Set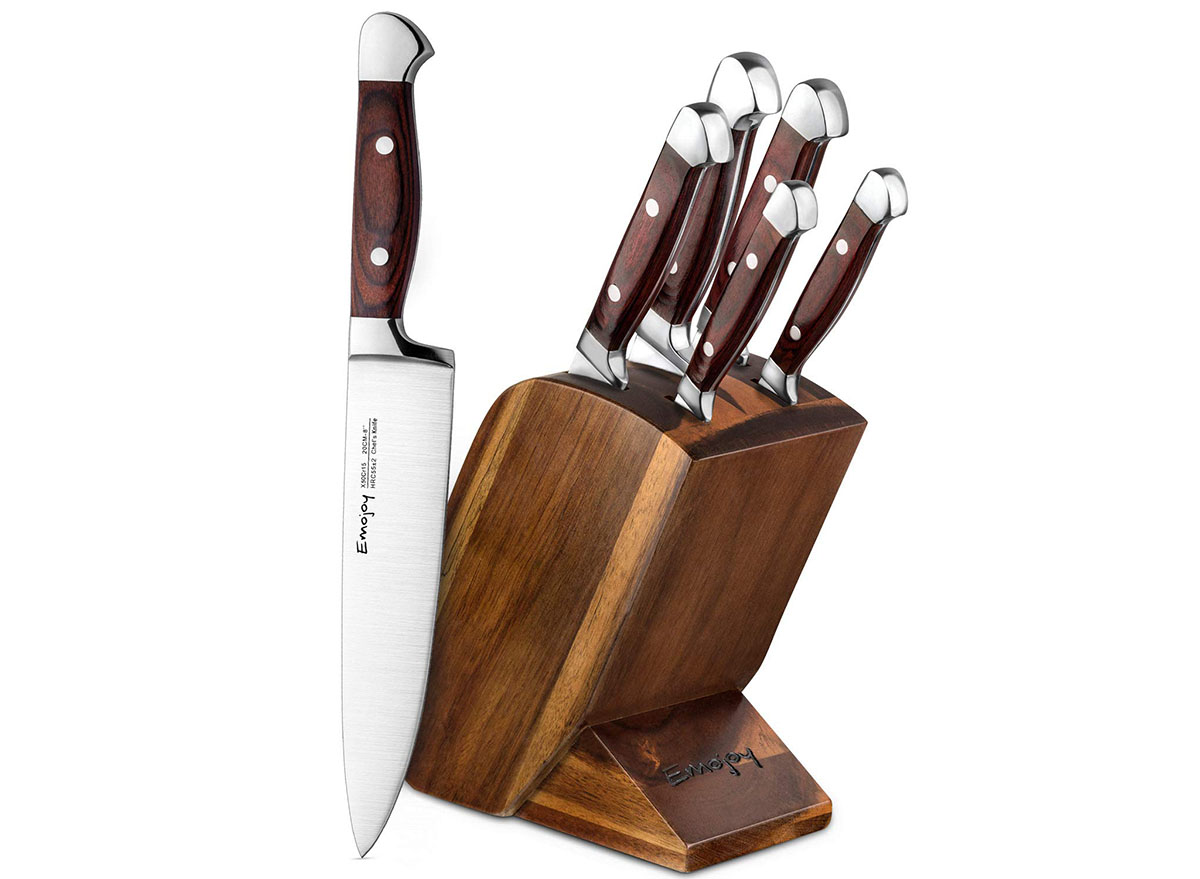 If you're on the market for a snazzy—yet affordable—knife set this would be your best bet. Five knives and a polished wooden block? Sign us up. This set includes an 8-inch chef knife, slicing knife, and bread knife as well as a 5-inch utility knife and a 3.5-inch paring knife.
Emojoy 15-piece Kitchen Knife Set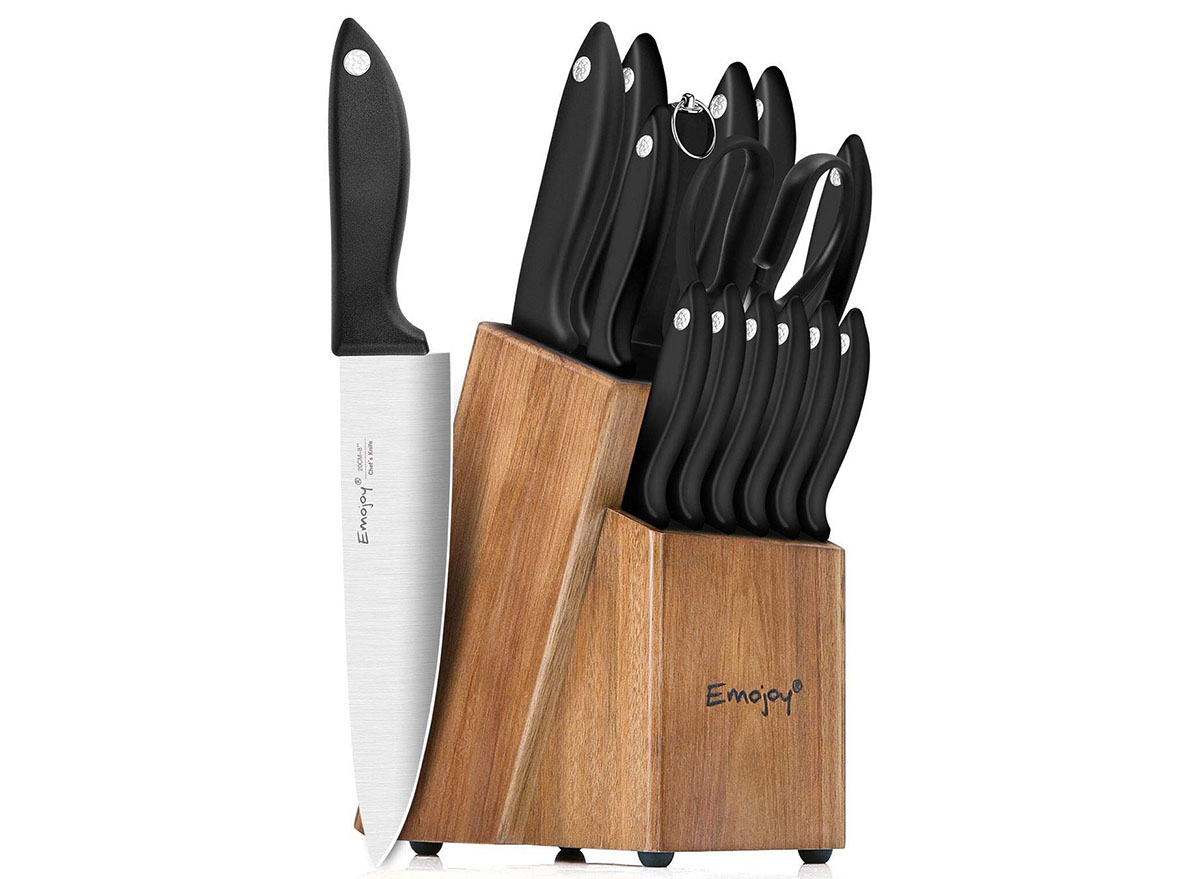 Why is this one of the best kitchen knife sets you can buy? The answer is simple—it contains 15 pieces, 12 of which are knives, while the other three pieces include a sharpener, pair of scissors, and an Acacia Wooden block. You get all of this for under $50! These knives are also dishwasher safe and have ergonomic handles, which makes it comfortable for prolonged use (think large meal preps on Sundays).
Keenair 15-piece Knife Set
We like this 15-piece knife set for its snappy red-tinted handles and block. Also, like most of the scissors included in kitchen knives sets, the center is a nutcracker in case you may have unshelled walnuts in your kitchen. However, a feature that's unique to the scissors in this set is its ability to crack open beer or soda bottles.
Chicago Cutlery Elston 16pc Knife Block Set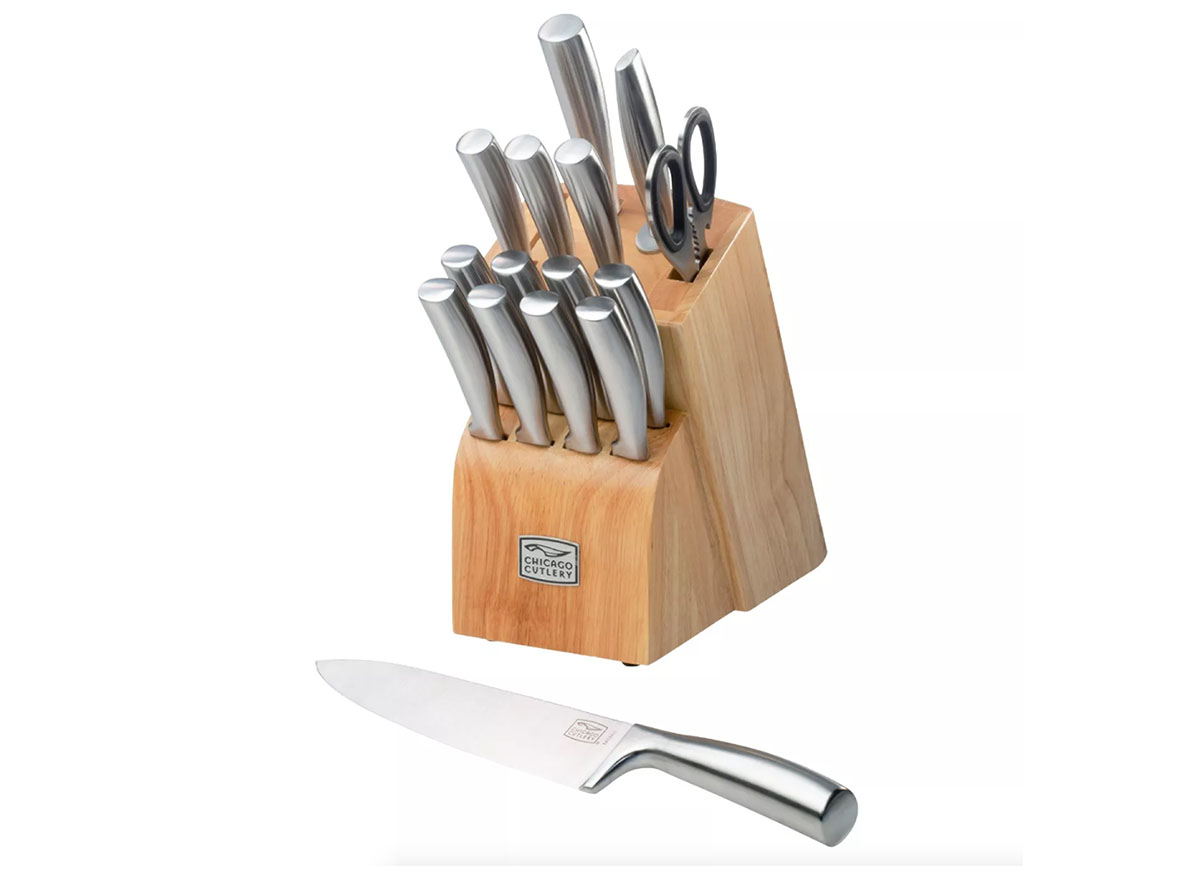 The blades on these knives are crafted from high-carbon steel which not only makes them durable but also gives the knives a chic appearance. You're sure to impress your dinner guests with this knife set on display in your kitchen.
Zwilling Stainless-Steel 8-Piece Knife Set with Tray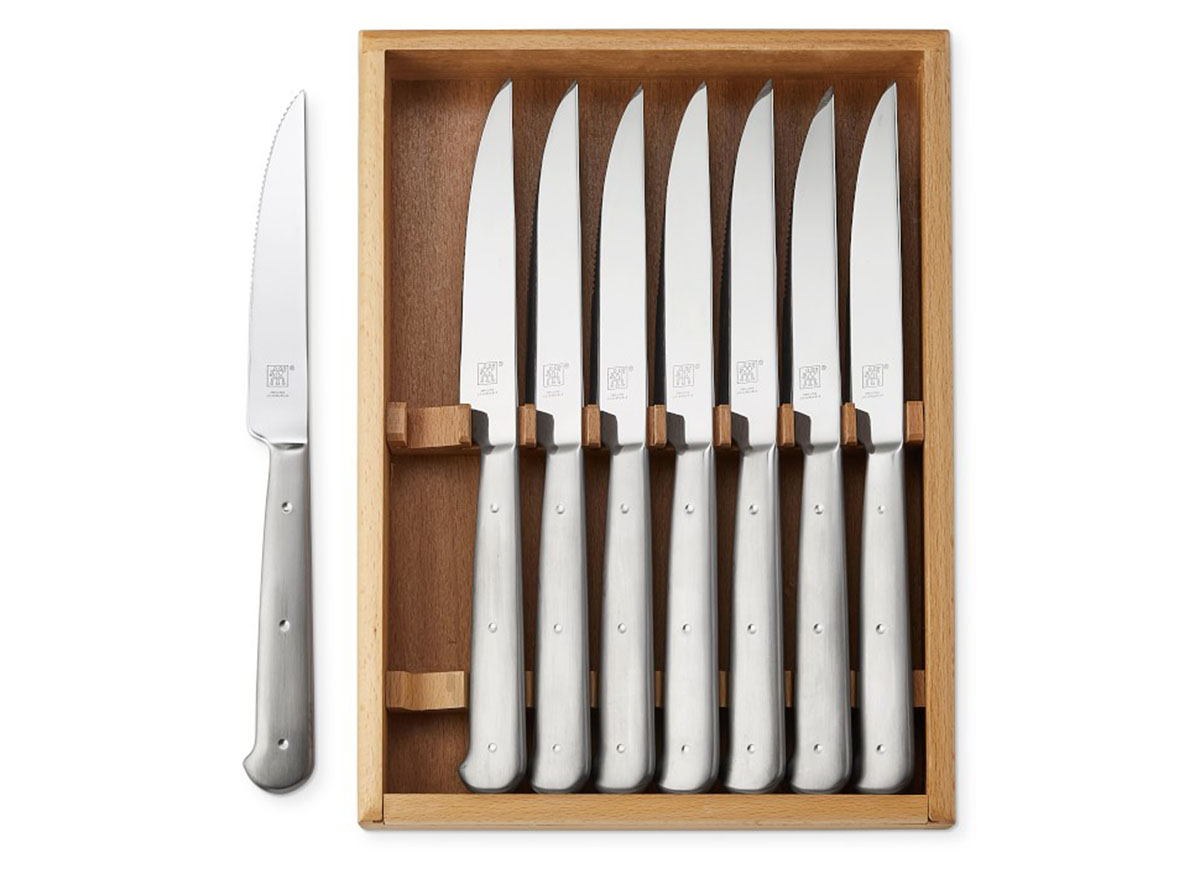 6254a4d1642c605c54bf1cab17d50f1e
If you have some extra cash you want to put toward this new kitchenware you're on the hunt for, this Williams Sonoma knife set may be your new go-to steak-cutting kit. These serrated blades cut through even the toughest cuts of meat like butter.
BILL.F 18 Pieces Knife Set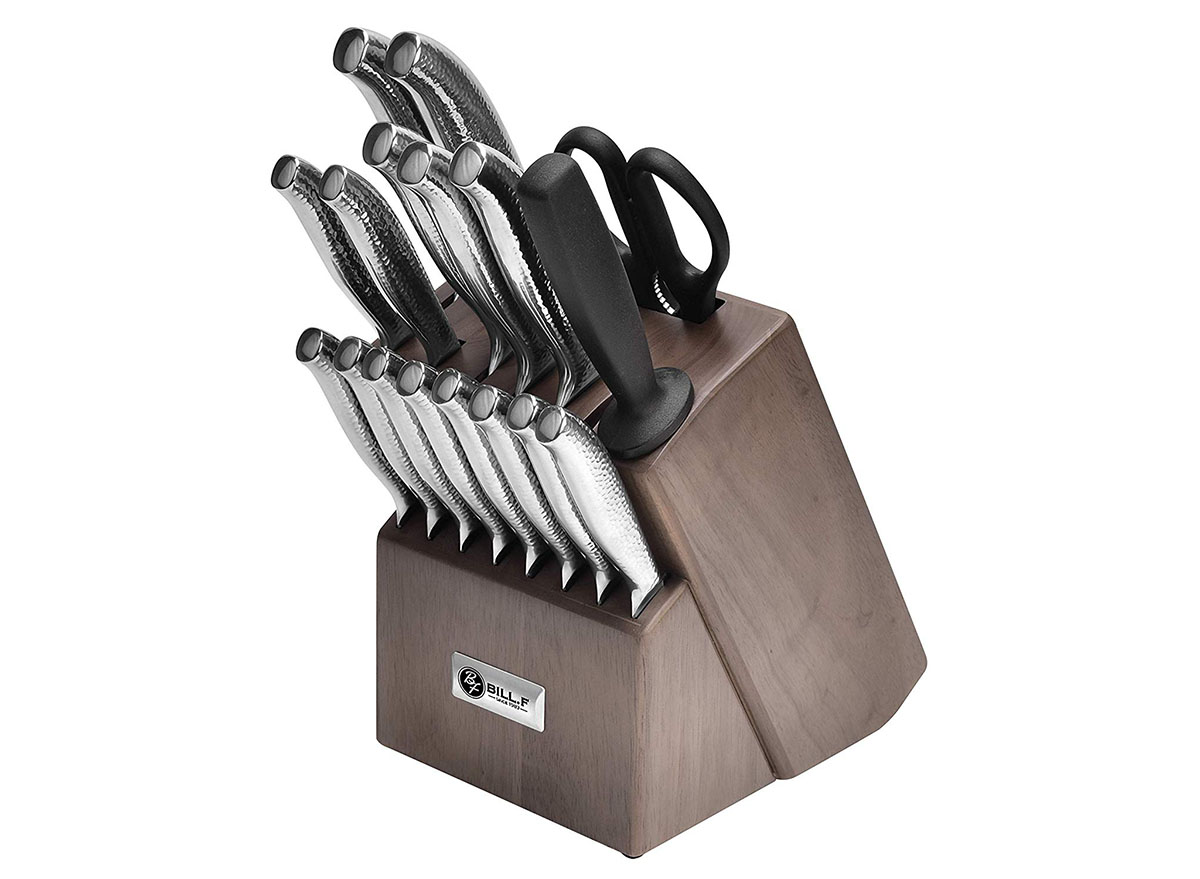 This may just be the most comprehensive knife set you ever purchase for under $100. Note, these knives, like wooden utensils, are not dishwasher safe. Just something to keep that in mind before you purchase this set.
Cuisinart Advantage Walnut Triple Rivet Cutlery Block Set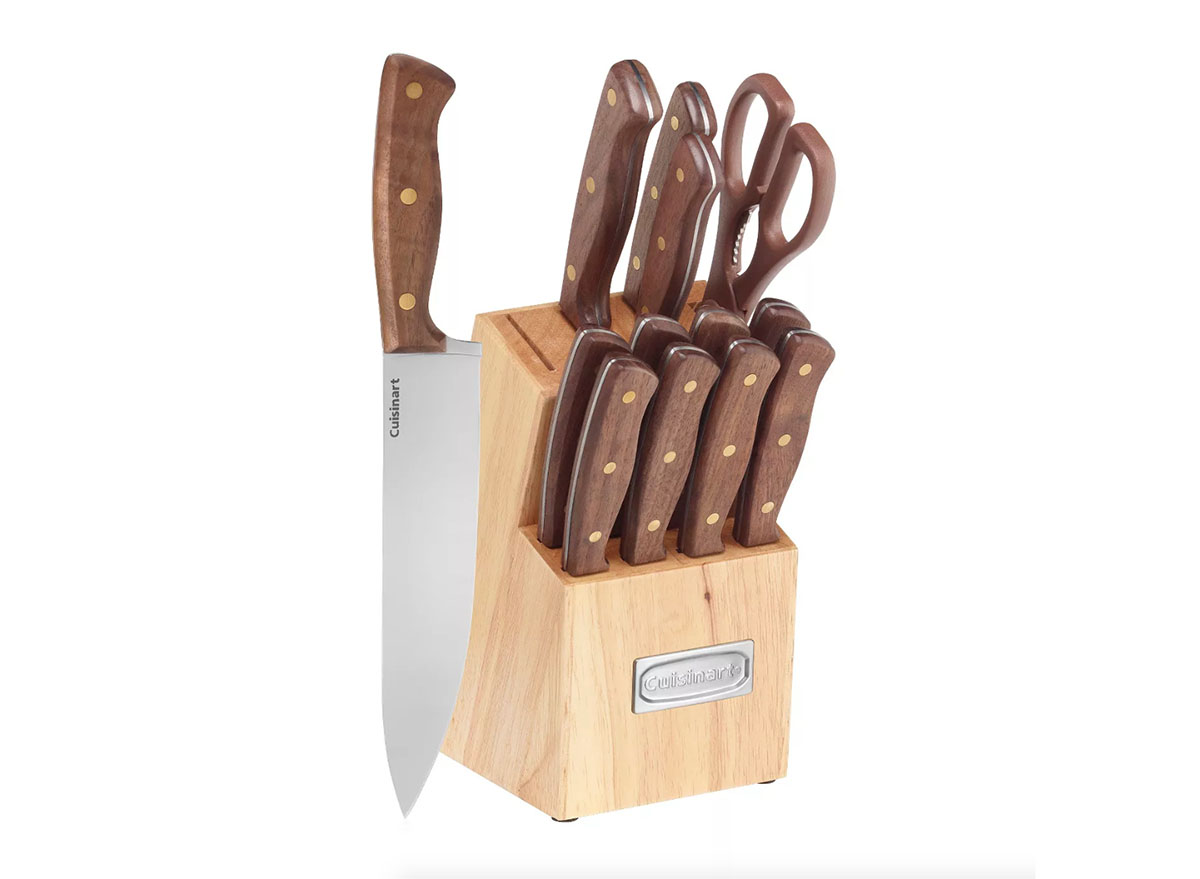 Last but not least is Cuisinart's Walnut Triple Rivet Cutlery 14-piece knife set. When you think of a high-end knife set, this is likely what comes to mind. If you are able to splurge and pay $100 for kitchen knives, we suggest you test out this snappy stainless steel and walnut knife set.