12 Best Lobster Rolls in New England, According to Chefs
When summer finally lands nothing is better than a fresh lobster roll. Here are the places chefs go to eat the best.
Is there anything that screams summertime more than a freshly made lobster roll? This tasty dish, which is said to have originated at a restaurant in Connecticut in the 1920s, has grown in popularity over the years. It's often made with lobster meat, butter, mayo, and lemon, although there are plenty of different variations out there. These rolls are often served on a New England-style hot dog bun, but don't be surprised if you see everything from brioche bread to a Kaiser roll being used.
Although lobster rolls are most connected with the state of Maine, they can be found all throughout the Northeast in places like Newport, Connecticut, Boston, and even parts of eastern Long Island. And, believe it or not, some McDonald's locations around Nova Scotia, Ontario, and New England even offer lobster rolls as a seasonal menu item. (Imagine?)
There are countless places in New England to enjoy lobster rolls, so how do you know which ones are actually worth the drive and the price tag? To help make your life a little bit easier (when it comes to lobster rolls, at least) we connected with some experts to get their opinion. From old-school establishments that sell only what they catch to tiny lobster roll shacks that serve lobster rolls with a side of amazing views, here are 9 of the best lobster rolls in New England, according to chefs. Enjoy!
Eventide Oyster Co. – Portland, Maine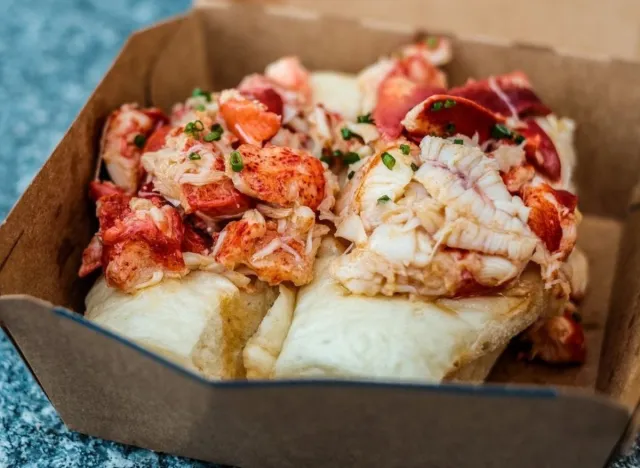 If you want a top-notch lobster roll, Chef Charlotte Langley, founder of Scout, recommends Eventide Oyster Co. in Portland, Maine, which she says has an "amazing take" on the classic lobster roll. The seafood spot, which opened in 2012, is a hit among many—it has garnered thousands of perfect ratings on Yelp.
"Their rolls are served on a buttery steamed bun with a delicious brown butter vinaigrette and topped with pickled red onion and chives," Chef Charlotte says. "Trust me, the flavors and textures are out of this world!" While you're there, be sure to also try out the New England Clam Chowder and Maine Lobster Stew.
The Clam Shack – Kennebunk, Maine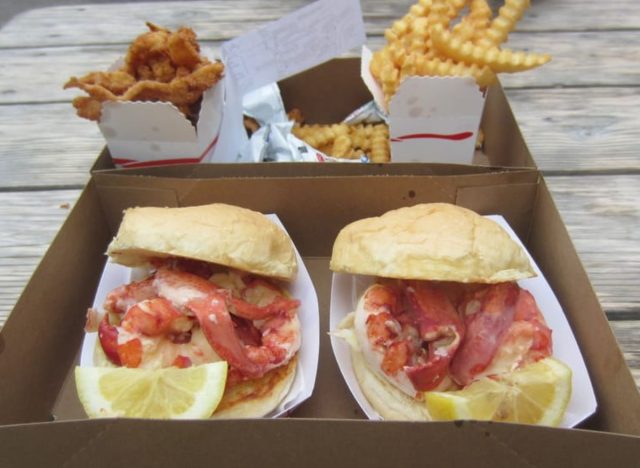 Chef Charlotte also cites The Clam Shack as another great place to pick up a delicious lobster roll. "Their lobster rolls are simple and straightforward, with fresh, local lobster meat and just a touch of mayo," continues Chef Charlotte. "It's a classic and delicious Maine lobster roll."
This spot, which was founded in the 1960s, is located in Kennebunk, Maine, and is open seasonally, so be sure to check out its website before you make the trip out. Tip: It looks like this year, they'll be open for the season starting May 19. If you're not local, don't worry, some of their most popular dishes, including lobster rolls, clam rolls, and clam chowder, are available to ship nationwide via Goldbelly.
Neptune Oyster – Boston, Massachusetts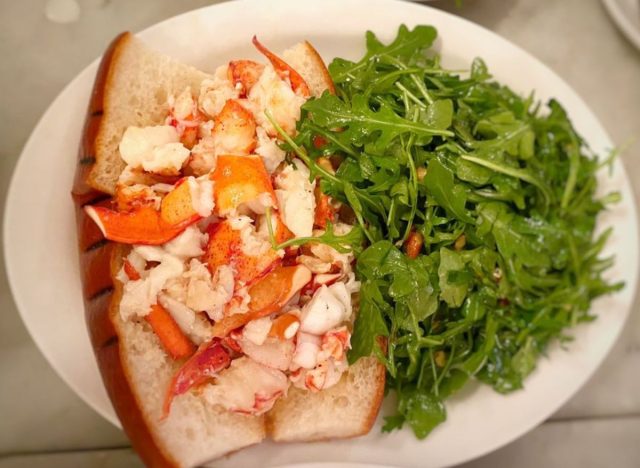 If you're near Boston, a great place to pick up a lobster roll is Neptune Oyster, which Chef Charlotte describes as a "must-try spot." "Their rolls are made with generous portions of fresh lobster meat and served on a buttery brioche bun with just the right amount of mayo," she describes. "This lobster roll is a decadent and indulgent treat that you won't want to miss!"
When it comes to lobster rolls, The Langham, Boston Executive Chef Stephen Bukoff knows a thing or two—he whips up this tasty dish for the two establishments at The Langham—GRANA and The Fed. Keeping this in mind, when he isn't enjoying his own he also likes to visit Neptune Oyster, in Boston's North End neighborhood on Salem Street, for a lobster roll. He likes the cold lobster roll served with mouth-watering mayo. Started in 2004, this famous locale is known for having some of the best seafood in the area, so you know it's a place you simply cannot miss.
The Lobster Pool – Rockport, Massachusetts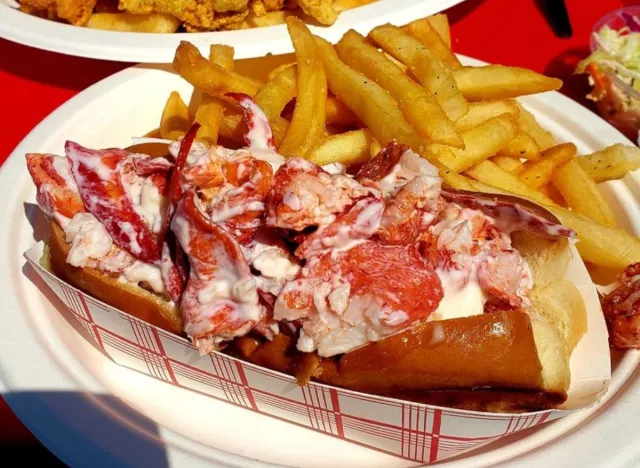 The Lobster Pool in Rockport, Mass., is also a favorite of Chef Charlotte's for lobster rolls. She shares that this casual seafood spot not only has great food, but also amazing views of the water. It's also BYOB if you'd like to pick up some drinks before heading over.6254a4d1642c605c54bf1cab17d50f1e
"Their lobster rolls are made with freshly caught lobster meat that is lightly dressed with mayo and served on a buttered, grilled hot dog bun," she describes. "The smoky, buttery flavors combined with the sweet and succulent lobster make this lobster roll a true delight."
Luke's Lobster – Portland, Maine
What's a lobster roll list without a mention of Luke's Lobster?
"Luke's Lobster in Portland, Maine, is a popular spot that's worth a visit," Chef Charlotte says of the buzzy seafood restaurant that began as a small lobster roll shack in New York City.
She shares that their delicious lobster rolls are made with chilled lobster meat, mayo, lemon butter, and secret spices. They're also served on a warm, buttered bun, which really hits the spot. "It's a refreshing and flavorful lobster roll that you'll love," she adds. "Plus, Luke's Lobster sources their seafood sustainably and supports local fishermen, making it an ethical and responsible choice."
West Shore Seafood – Bantam, Connecticut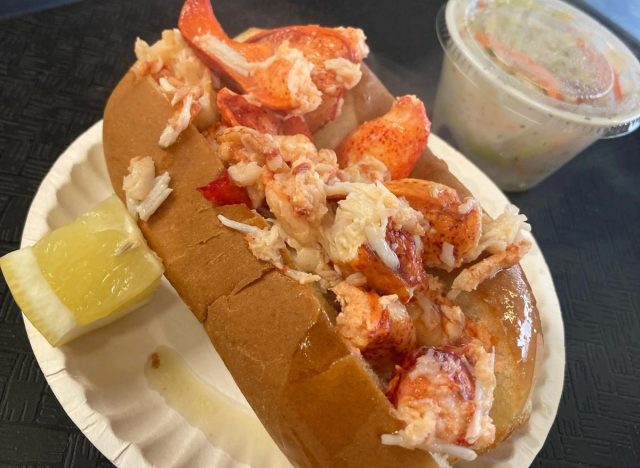 Chef Adrienne Lufkin, the founder of Struesli, recommends West Shore Seafood in Bantam, Conn., if you're looking for a top-tier lobster roll. "It's open seasonally with an awesome selection of super fresh seafood in a casual, family-friendly, outdoor dining experience," she explains. "The buttered, grilled rolls are brimming with fresh lobster meat served hot or cold, both delicious."
The spot, which is currently open Thursdays through Sundays, also has picnic tables and cornhole available to play, making it a good place to pick up lunch or dinner with the whole family.
Topper's at The Wauwinet – Nantucket, Massachusetts
Lufkin also suggests Topper's at The Wauwinet, an al fresco seafood restaurant that overlooks the Nantucket Bay, as a "special place to enjoy the perfect lobster roll." She shares that this lobster roll comes chilled on a brioche roll and the lobster meat is lightly dressed in a Meyer lemon aioli and served with Boston lettuce. "Simple, fresh ingredients combine to make a divine lunch," she says. "Maybe add a glass of Prosecco to really put it over the top."
Newport Lobster Shack – Newport, Rhode Island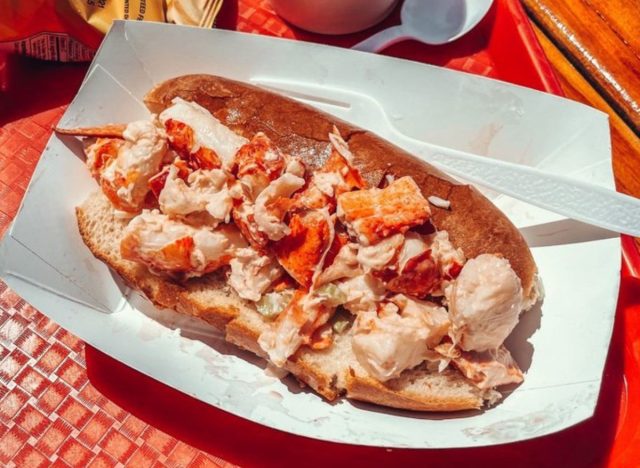 Newport is known for its top-notch seafood, so it's no wonder that it has no shortage of delicious lobster rolls. "We live close to the fishing pier, so it's easy to take a quick detour to the Newport Lobster Shack, where the boats come in with live lobsters daily," says Executive Chef Jacob Jasinski of The Chanler at Cliff Walk in Newport, Rhode Island. Jasinski leads the F&B team at The Chanler's Cara, The Café, and more.
Jasinski describes the Newport Lobster Shack as a popular and busy spot that often has long lines in the summertime. "But it's well worth the wait for the freshest lobster you can find," he says. "Seafood always tastes best when you can see the water it came from that morning."
Lobster Landing – Clinton, Connecticut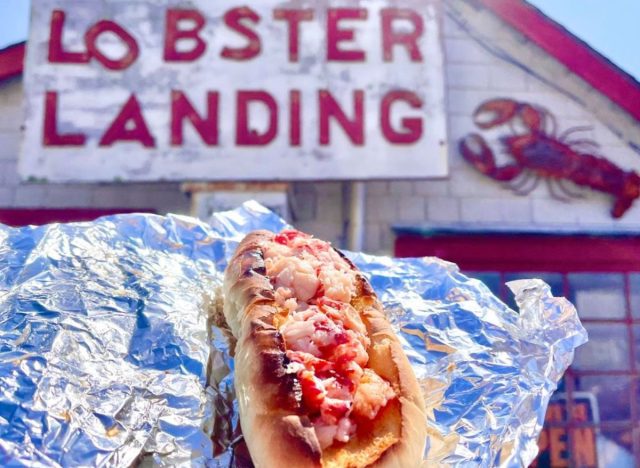 Chef Michael DeLone of Nunzio in Collingswood, N.J. says that as someone who makes authentic Italian food but loves to both work with and eat seafood, he's found the best lobster roll to be in Connecticut—and he's tried many.
"The best one, hands down, is in Connecticut at a little place right on the water called Lobster Landing," he explains. "Some people like a cold lobster salad roll and while those are good too, I always personally go for the warm, butter-kissed, lemon-scented gobs of tail, knuckle, and claw meat in a perfectly toasted split top potato hot dog bun—and that's what this lobster roll is."
And it looks like Lobster Landing isn't only a favorite of DeLone—the spot, which is opened seasonally, is highly rated on Yelp and also received a rave review from Thrillist.
"The only way to improve them?" questions DeLone. "Put an Italian twist on it by maybe adding a teaspoon or two of my homemade sun-dried tomato oil—now THAT would be worth the drive."
Jolly Lobster Food Truck Lowell, Massachusetts
Max Tucci, the author of the Amazon bestselling cookbook The Delmonico Way, shares that one of his favorite lobster rolls comes from a well-known food truck in New England.
"The best lobster rolls I've been introduced to by my friend James Beard Award Winner and Culinary Enthusiast Jennifer English, are those from Jolly Lobster food truck in Massachusetts, run by the Jolly Family," says Tucci.
The buzzy locale, currently open from Thursday to Saturday, has a menu packed with hot buttered lobster rolls, lobster salad rolls, clam chowder, and crab cake sandwiches. If you want something that strays away from seafood, try out one of their loaded hot dogs or pulled pork sandwiches.
Jordan Pond House – Acadia National Park in Maine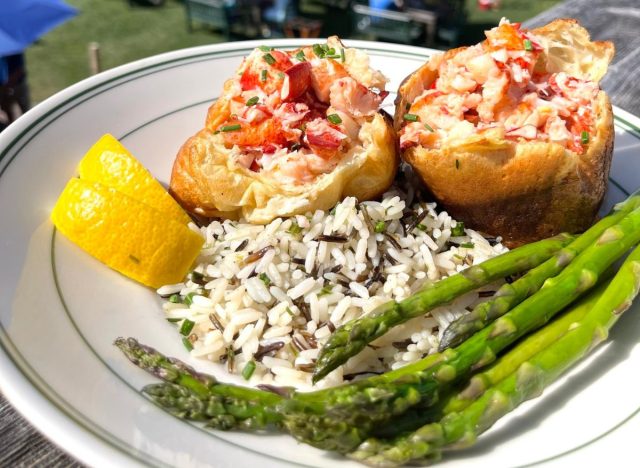 Tucci shares that another favorite lobster roll of his is the one from Jordan Pond House Restaurant. And this isn't any old restaurant, but instead, one nestled right in the middle of the beautiful Acadia National Park in Maine. (Lunch or dinner with a view? Sign us up!).
The spot serves lobster rolls, which they make with olive oil, mayonnaise, lemon, and tarragon, and lobster popovers, which are made with their specially-made warm and buttery lobster meat stuffed inside one of their famous popovers.
"Lobster Popover!!!!" Tucci exclaims. "Yes, it is that good."
Captain Frosty –Dennis, Massachusetts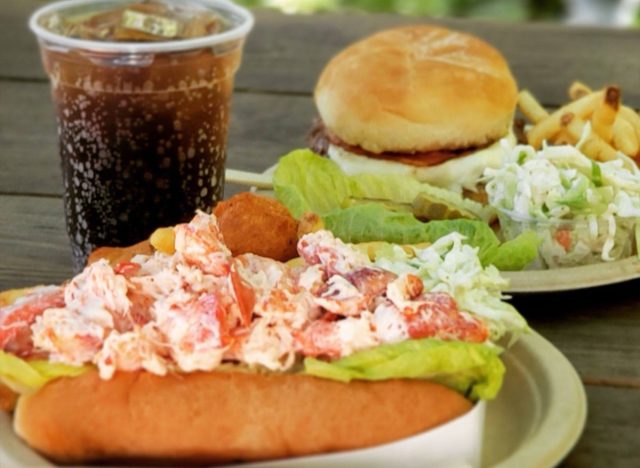 Tucci also gives the seasonal Captain Frosty in Dennis, Massachusetts, the seal of approval. "I would drive a few hours just for them, they were that good," says Tucci.
The restaurant, which began over 45 years ago, has a vintage '50s vibe and an extensive menu filled with delicious seafood dishes such clam rolls, salmon sandwiches, fried clams, sundaes, and more. It really is a must-try.