9 Best Low-Carb Pasta Brands on Grocery Store Shelves
There's a healthy way to eat low-carb, and your pasta should follow suit.
This post contains affiliate links. If you use these links to buy something, we may earn a commission.
Are you a pasta lover but concerned about the impact of all the carbs, calories, or gluten in your favorite pasta dishes on your health and waistline? There's good news! There's a growing section of supermarket aisles dedicated to low-carb pasta alternatives that offer similar versatility to traditional durum wheat pasta without compromising your health and nutritional goals.
Whether you're following a gluten-free, low-carb, keto, or other carb-restricted lifestyle, these pasta alternatives can be a great solution. Often, not only are they low in carbs, but they're also higher in protein and fiber than regular noodles. They may also have more vitamins, minerals, and other bioactive compounds compared to traditional boxed pastas.
Most low-carb pasta brands fall into a few main categories: fresh, vegetable-based, like frozen zucchini spirals; bean-based boxed pastas; and Shirataki or konjac noodles. All have distinct flavors and textures and are best when they are cooked per the package directions.
Is regular pasta "unhealthy?"
Pasta, when enjoyed in moderation and with the right dishes, can absolutely be part of a healthy diet. It's generally the portion sizes we enjoy and all the cheese, high-fat meats, and other accompaniments to pasta dishes that make it excessively high in calories and saturated fat. A 2-ounce serving (about a cup cooked) of traditional pasta has 180-200 calories, 0 grams saturated fat, 3 grams fiber, and 7 grams protein. Buying whole grain pasta will up the fiber content to about 7 grams per serving.
But if you eat pasta like an Italian with smaller portions, cook it al dente, and partner your pasta with veggies, beans, and other plant-based foods, pasta has no downsize. Eaten right, it can help you maintain a healthy weight and is considered a healthy staple of the Mediterranean diet, which is considered a gold standard for healthy eating.
A healthy serving of pasta is about the size of a baseball. If you're eating out, chances are you'll be served something closer to a softball-sized pasta portion—or more. When portions are large, split an order with a friend or ask for a box for leftovers.
Be sure to cook it right and avoid overcooking any type of pasta. The Italian term al dente literally means "to the tooth" or firm to the bite. Italians cook their pasta so that it is firm (but not too hard). This way, it not only tastes perfect, but it also has a lower glycemic index (GI) than when it's cooked to be soft. The average GI of al dente penne pasta is 50, which is even lower than the GI of oatmeal. A lower GI can help keep blood sugar levels stable so you will stay fuller, longer.
How to buy low-carb pasta
If you prefer to keep your daily load of carbohydrates on the lower side, but you don't want to give up the idea of a nice plate of pasta, low-carb pasta alternatives can provide a solution. Here's a quick reference guide for how to find the best low-carb pasta at your local supermarket:
Fiber: Check the fiber count. Look for pastas that have at least 5 grams of fiber.
Ingredients: Look for a short ingredient list. Short is great when it comes to the ingredient list for pasta alternatives. Look for those with no more than 5 ingredients.
Protein: Check the protein counts. Pasta made from red lentils, edamame, and other plant-based proteins will have as much protein as a serving of chicken. Look for pasta alternatives with at least 8 grams of protein, which is what you can obtain in regular durum wheat-based pasta.
Best low-carb pasta brands
So without further ado, below is a list of the best low-carb pasta brands you can buy! Read on, and for more, don't miss 5 Pasta Sauces That Use the Highest Quality Ingredients.
Barilla Red Lentil Penne Pasta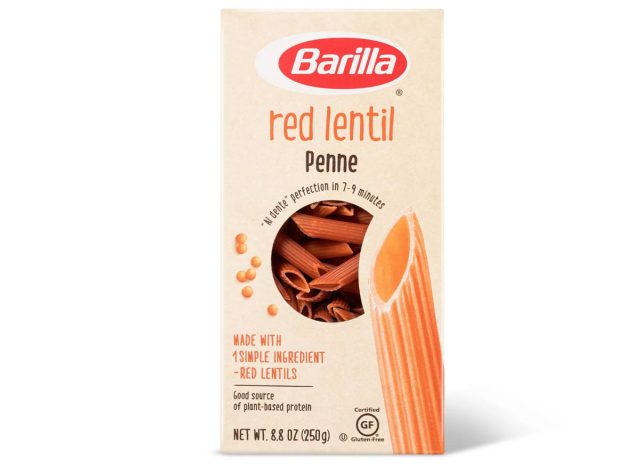 One 2-oz serving
: 180 calories, 1.5 g fat, 0 g saturated fat, 0 mg sodium, 34 g carbs, 6 g fiber, 1 g sugar, 13 g protein
One of the world's best pasta companies, Barilla, also makes one of the best low-carb options with red lentils. Since penne is so versatile, this pasta is a great option to be enjoyed in many healthy ways. According to Patricia Bannan, MS, RDN, author of From Burnout to Balance, "I'm a fan of Barilla Red Lentil Pasta, which has just one ingredient: red lentil flour." This pasta is also nutrient-rich, with high fiber and protein counts and it's also gluten-free. It's a source of plant-based protein for staying power plus it's a good source of important nutrients like zinc, iron, magnesium, and potassium," adds Bannan.
Miracle Noodle Ready to Eat Angel Hair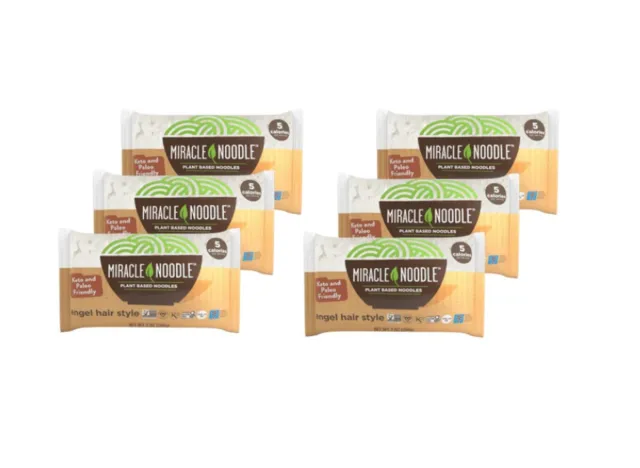 One 3-oz serving
: 5 calories, 0 g fat, 0 g saturated fat, 0 mg sodium, 3g carbs, 2 g fiber, 0 g sugar, 0 g protein
Miracle Noodles are one of my favorite Asian-style shirataki noodles. Shirataki noodles have been enjoyed for more than 1,400 years in Japan and more than 2,000 years in China! I like that they're made with just three ingredients: water, konjac flour, and citric acid. They are mostly water, which makes them extremely low in calories, carbs, and protein.
The translucent noodles are plant-based, naturally fat-free, and sodium-free. They're easy to prepare and versatile and the noodles absorb the flavors of other foods so they can be used to create delicious Asian- or Western-inspired dishes.
Explore Cuisine Organic Edamame and Mung Bean Fettuccini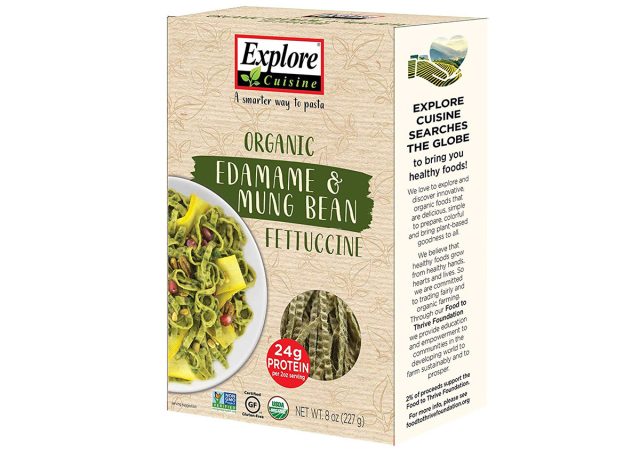 One 2-oz serving
: 180 calories, 4 g fat, .5 g saturated fat, 0 mg sodium, 20 g carbs, 14 g fiber, 31 g sugar, 24 g protein
Bannan also recommends this pasta due to the 42 grams of protein per 3.5-ounce serving, along with 24 grams of fiber. Each serving is also an excellent source of iron and potassium and a good source of calcium. It's also vegan, organic, kosher, and gluten-free. She suggests enjoying this pasta warm or cold, but due to the edamame and mung bean ingredients, it works particularly well in Asian-inspired pasta dishes, such as stir-fry noodles with mushrooms, garlic, and chili.
Palmini Linguine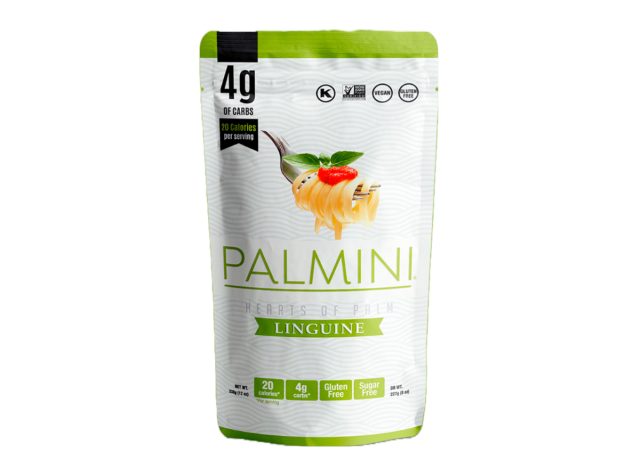 One 2.6-oz serving
: 20 calories, 0 g fat, 0 g saturated fat, 60 mg sodium, 4g carbs, 2 g fiber, 0 g sugar, 1 g protein
This pick is a fave of plant-based registered dietitian Cynthia Sass, MPH, RDN, CSSD. According to Sass, "I love that Palmini is made from hearts of palm farmed in a way that's sustainable, without harming animal habitats or ecosystems. It has a similar texture to al dente pasta in that it's hearty and still slightly firm to the tooth." While it fails to meet our fiber and protein criteria, it's still a great option. Sass enjoys Palmini hot, either tossed with white beans and a generous portion of veggies (like grape tomatoes, yellow onion, sliced mushrooms, and spinach) sauteed in extra virgin olive oil with garlic and herbs or combined with lentils and minced mushrooms in a zesty arrabbiata tomato sauce.6254a4d1642c605c54bf1cab17d50f1e
Cece's Veggie Co. Noodled Organic Zucchini Veggiccine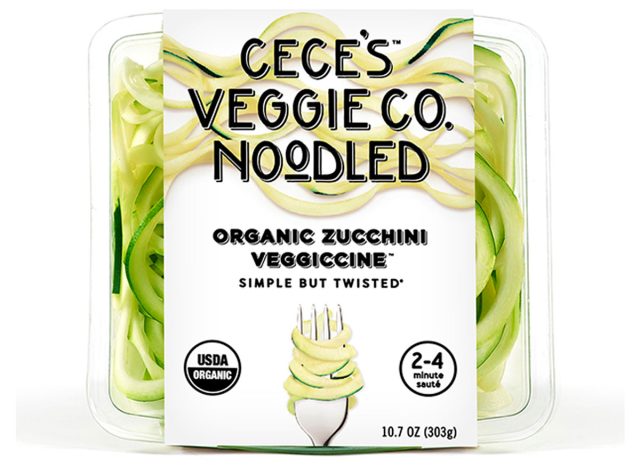 One 2.6-oz serving
: 10 calories, 0 g fat, 0 g saturated fat, 60 mg sodium, 3g carbs, 1 g fiber, 0 g sugar, 1 g protein
Sass also likes this spiralized zucchini as the perfect replacement for pasta when she wants something fresh, chilled, and veggie-based. It's also rich in vitamin C and filling with just 10 calories and 2 grams of net carb per serving. To make a chilled "pasta" salad, Sass tosses it with vegan pesto and other chopped raw veggies, like red onion, bell pepper, yellow grape tomatoes, cucumber, and chopped kale, along with cubed Pumfu (pumpkin seed tofu). It's a perfect make-ahead-and-take meal.
Banza Rotini Made From Chickpeas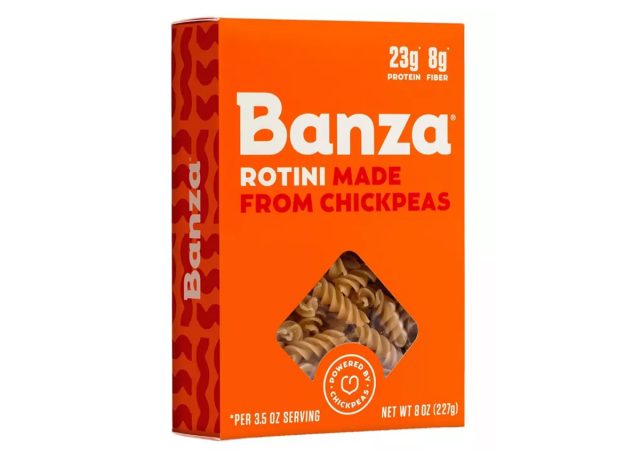 One 2-oz serving
: 190 calories, 3 g fat, 0 g saturated fat, 20 mg sodium, 35g carbs, 5 g fiber, 1 g sugar, 11 g protein
Chickpeas are one of the healthiest foods you can eat, so pasta made from chickpeas also provides a nutritional punch. Cookbook author, certified athletic trainer, and registered dietitian nutritionist Dana Angelo White, MS, RDN, ATC, recommends Banza as a pasta alternative that has fewer carbs and plenty of fiber and protein, which makes for an extra satisfying meal.
With fewer carbs than traditional pasta and more protein, this pasta is also rich in potassium and iron and provides magnesium and phosphorus. One of my favorite combos is Banza Rotini tossed with turkey meatballs, baby spinach, and pesto.
Green Giant Veggie Spirals Spaghetti Squash
One ½-cup, prepared serving
: 25 calories, 0 g fat, 0 g saturated fat, 15 mg sodium, 5g carbs, 1 g fiber, 2 g sugar, 1 g protein
You can find a lot of healthy, veggie-based pasta alternatives in the frozen veggie section of supermarkets. While these options don't always pack in the protein or fiber of the bean-based pasta alternatives, they're still nutrient-rich and flavor-packed.
One of Angelo's favorites is Green Giant Veggie Spirals Spaghetti Squash. Green Giant has other options available in zucchini and butternut squash, and they are great low-carb veggie swaps for pasta, explains Angelo. "Serve with tomato sauce, chicken sausage, and cheese or top with roasted tofu and a spicy peanut dressing," she suggests.
Veggiecraft Farms Pasta Made With Sweet Potato Penne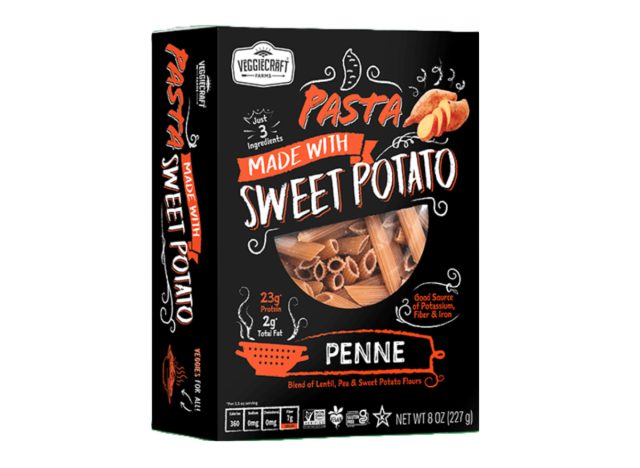 One 2-oz serving
: 200 calories, 1 g fat, 0 g saturated fat, 0 mg sodium, 35 g carbs, 4 g fiber, 2 g sugar, 13 g protein
Veggiecraft Farms pastas are made with simple, plant-based ingredients including cauliflower, sweet potato, and zucchini. Each variety is made with only three ingredients. I like the Sweet Potato Penne variety due to its good protein and fiber counts. It's also a good source of potassium and an excellent source of iron. Use just as you would regular pasta but for best results, follow the cooking instructions on the box. Another plus to this brand as it won't break the bank, compared to some of the pricier pasta alternatives.
Nün Penne Rigate Pasta Made With Chickpea & Seaweed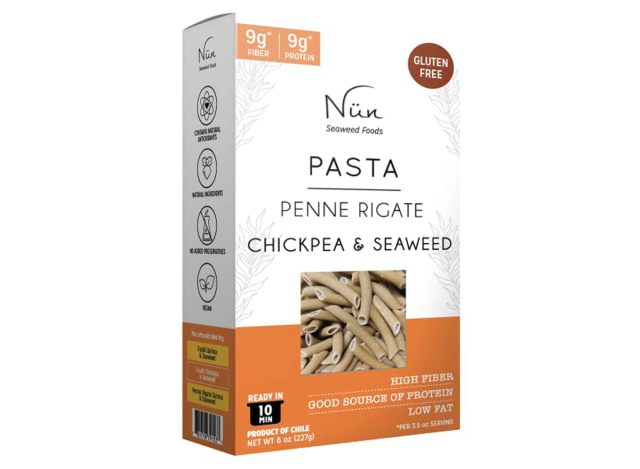 One 2-oz serving
: 196 calories, 2 g fat, 0 g saturated fat, 213 mg sodium, 40 g carbs, 5 g fiber, 1 g sugar, 5 g protein
Nun creates healthy pasta with Chilean seaweed, combined with other plant-based ingredients like chickpeas, lentils, and quinoa. The result is delicious pasta alternatives that are vegan, gluten-free, and nutrient-dense. These pastas are incredibly versatile and can be enjoyed as a stand-in for traditional pasta. Try them with veggies, poultry, and seafood, and top them with your favorite pesto or tomato-based sauce.
Julie Upton, MS, RD, CSSD
Julie Upton is an award-winning registered dietitian and communications specialist who has written thousands of articles for national media outlets, including The New York Times, US News & World Report, and USA Today.
Read more about Julie