The 10 Best High Protein Pasta Brands at Your Grocery Store
There are a ton of options.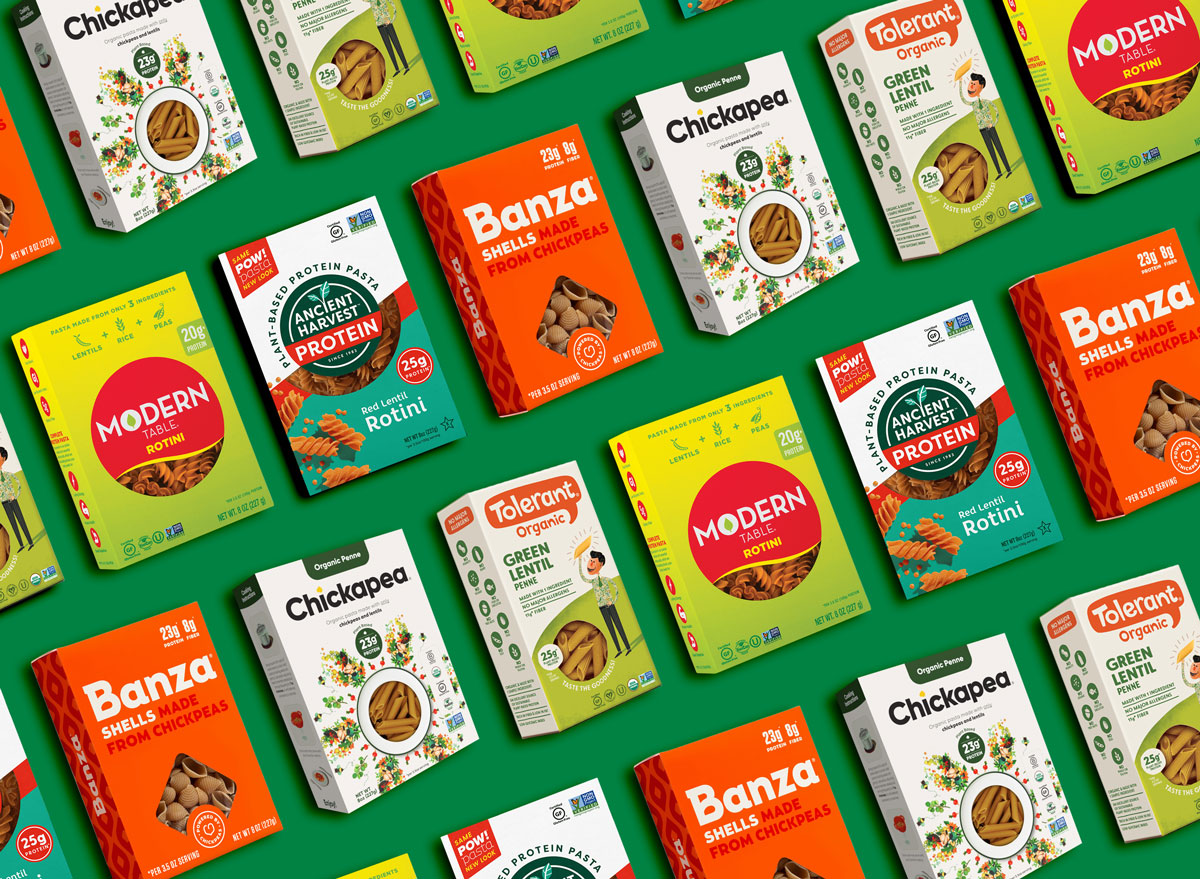 Yes, healthier pasta options do exist! These high protein pasta varieties boast higher protein than your average pasta, and they claim not to compromise on taste or texture.
Even if you don't follow a plant-based diet, you don't have to get extra protein in your diet through animal products (at least, not all of the time). Veggies and legumes can pack a major protein punch, too. Legumes have been a longtime staple in many vegetarian and vegan diets, and now they're making an appeal to the masses by hiding in plain sight in your local pasta aisle.
While many meat-eaters likely won't need to eat these kinds of pasta due to a lack of protein, it can be especially important for those who exercise regularly to have a protein-rich meal after a workout with the help of these alternatives. Plus, a majority of them are gluten-free!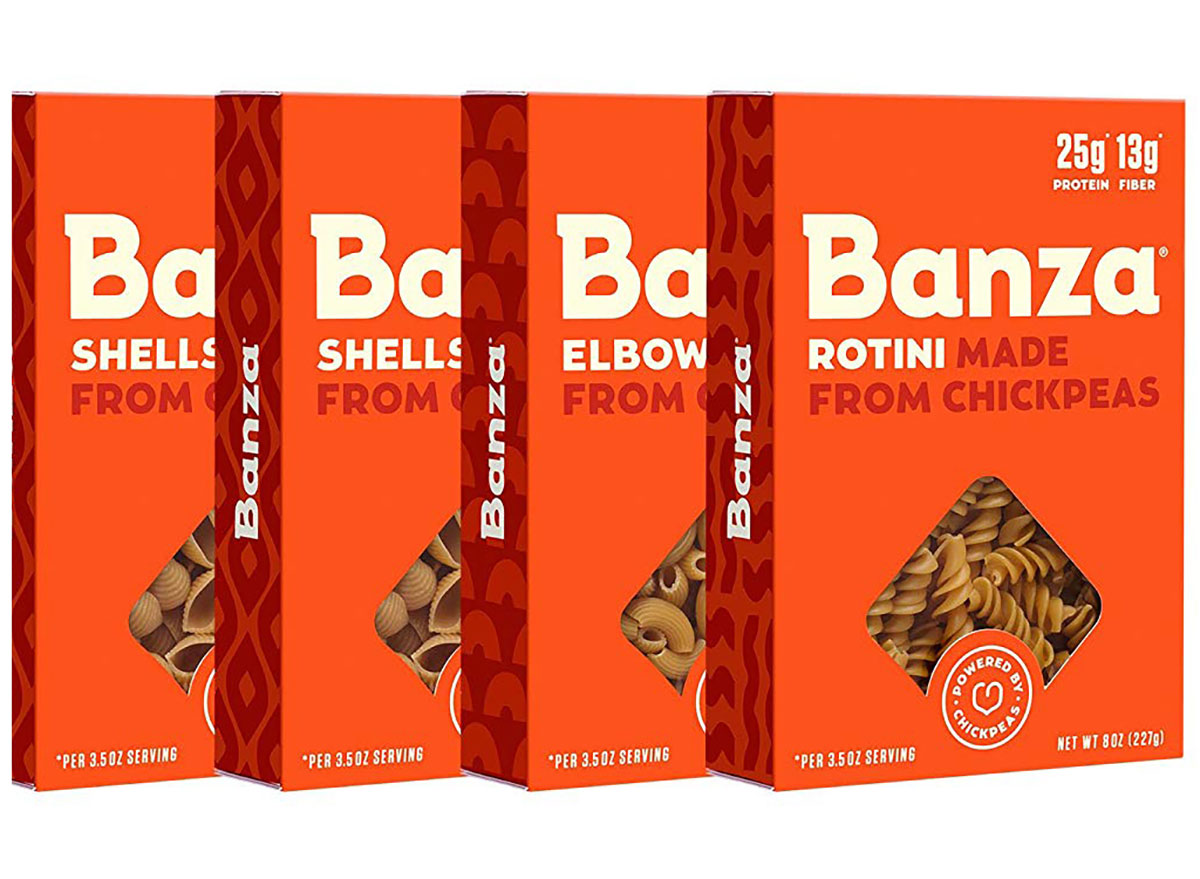 Possibly the most popular high protein pasta is Banza, which is made with chickpeas, tapioca, pea protein, and xanthan gum. Banza is available in a variety of shapes and styles for every pasta eater.6254a4d1642c605c54bf1cab17d50f1e
With an impressive 25 grams of protein per 3.5-ounce serving, Banza is a great alternative to traditional pasta. And the brand's popularity has allowed them to expand into protein-rich rice and boxed macaroni and cheese options, too.
Modern Table Meals Lentil & Pea Pasta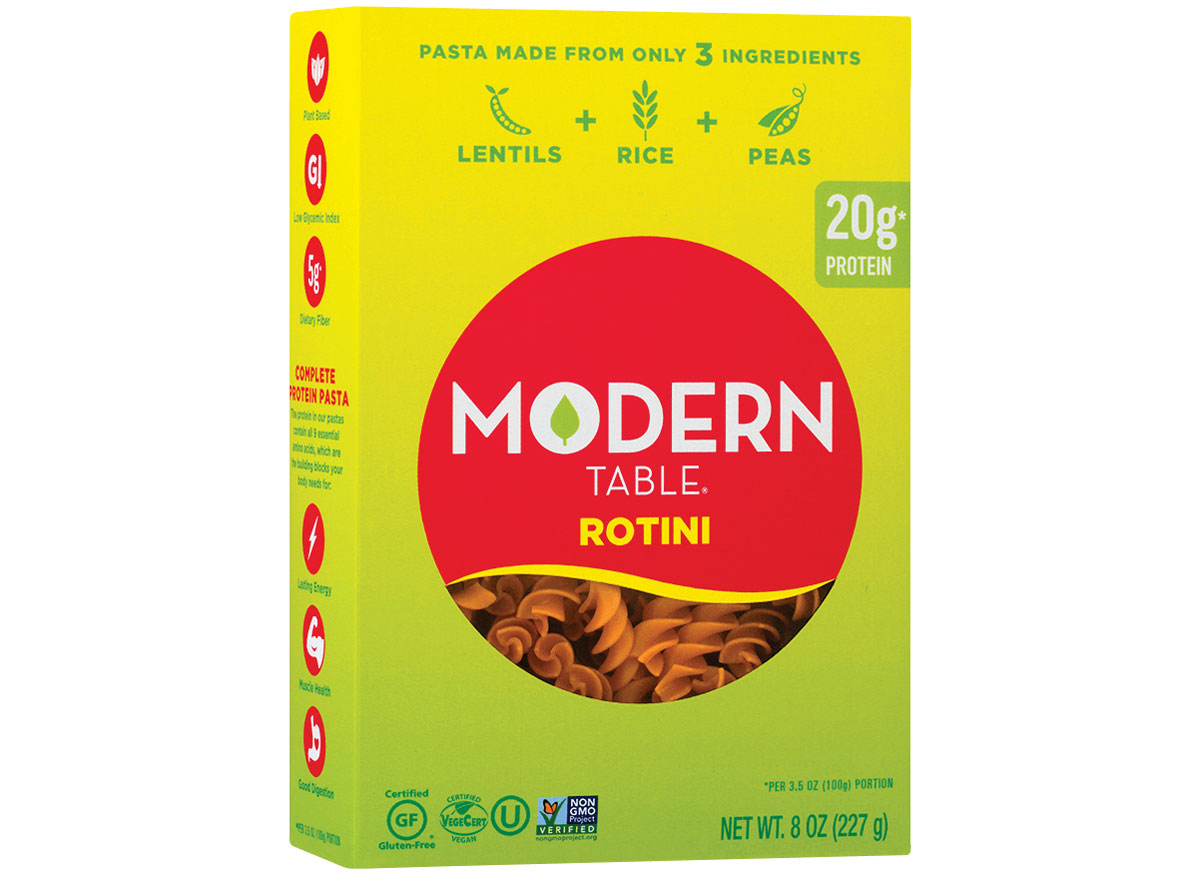 Made with a blend of red lentil flour, white rice, and pea protein, Modern Table pasta clocks in at 20 grams of protein per 3.5 oz. serving of their elbows pasta. Short on time? The brand also offers boxed meal kits and macaroni and cheese for a quick dinner option.
Tolerant Organic Lentil Pasta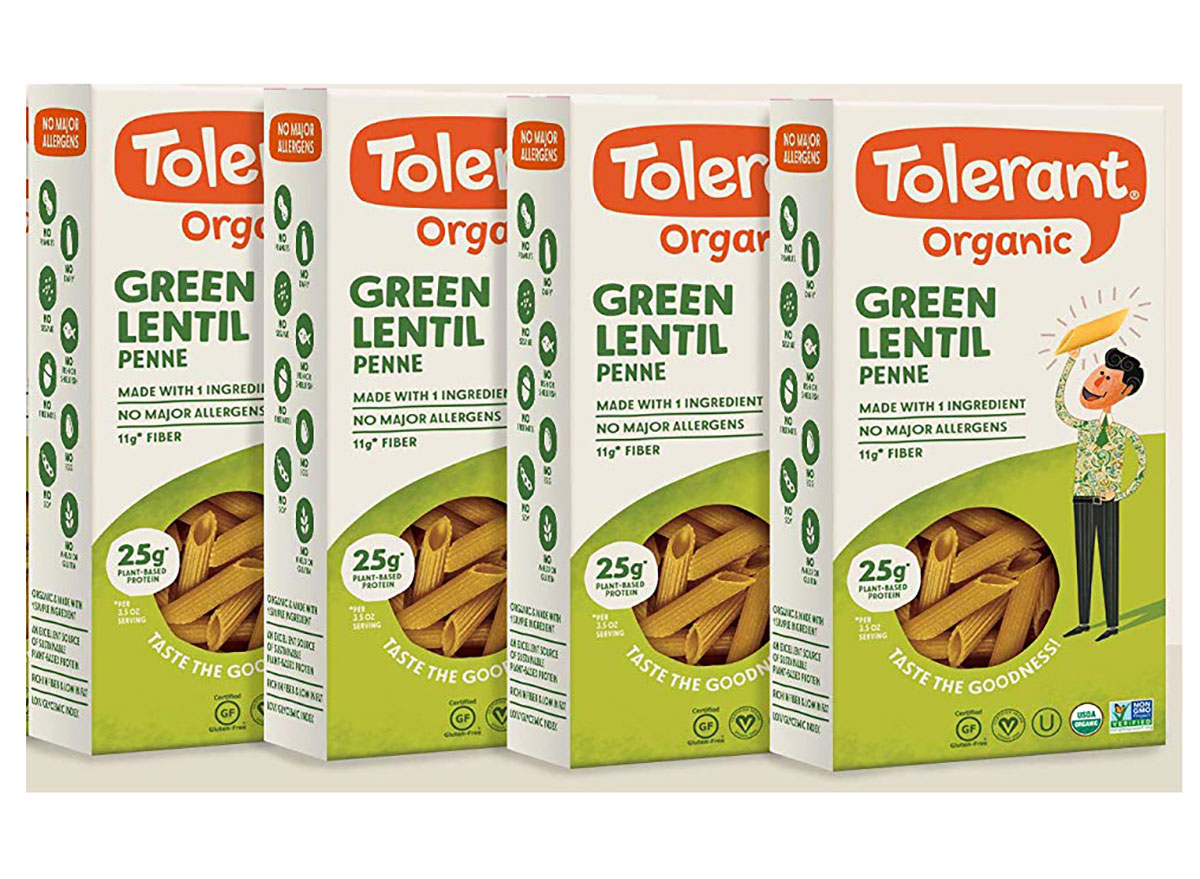 This line of single-ingredient legume pasta varieties includes noodles that are either made with chickpea, green lentils, or red lentils. The products range from 20 to 25 grams of protein per serving, depending on the type of pasta.
These versatile kinds of pasta can be easily spiced up with your favorite classic Bolognese sauce.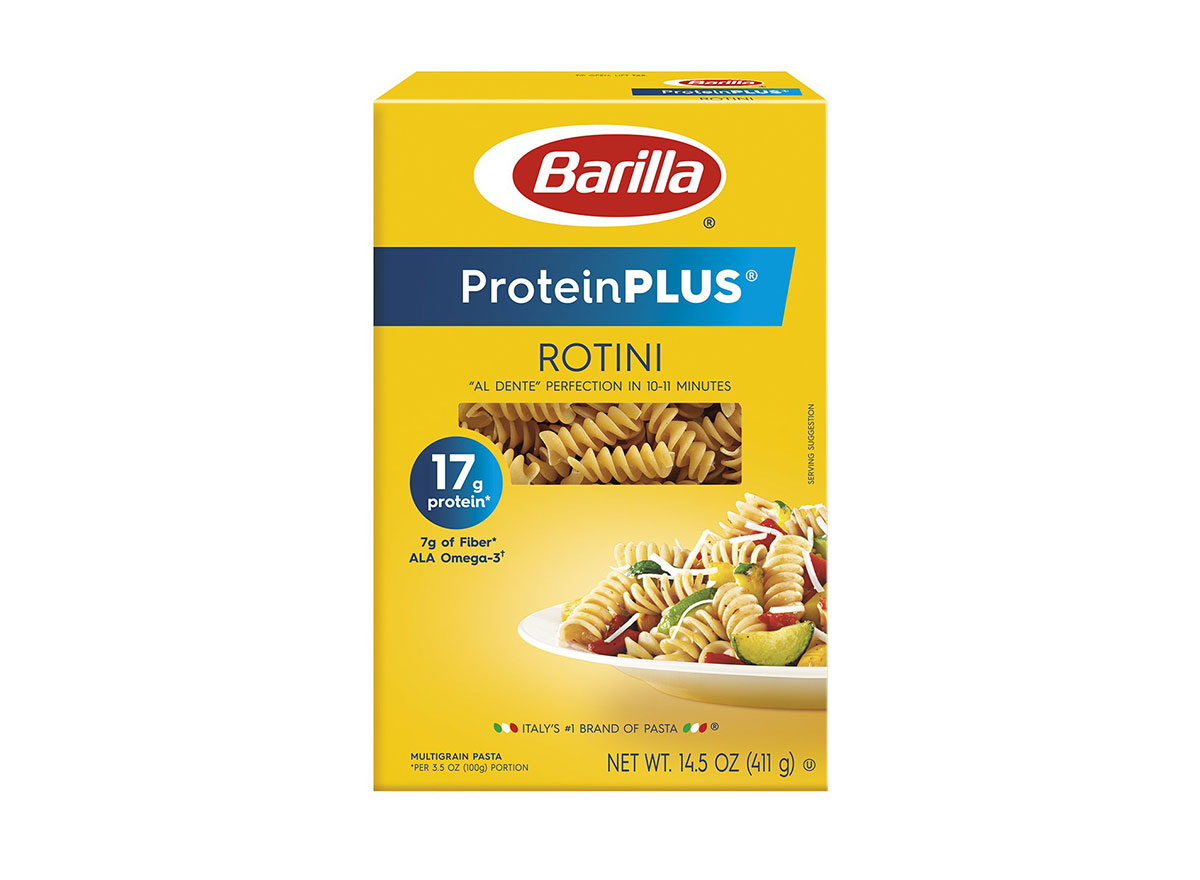 This line from Barilla can be a great first step for those looking to dip their toe into the world of protein-filled pasta. Not only is it a name you'll likely recognize, but it also has a closer taste and texture to classic pasta. And with 10 grams of protein per 2 oz. serving, you can't go wrong.
Explore Cuisine Edamame & Mung Bean Pasta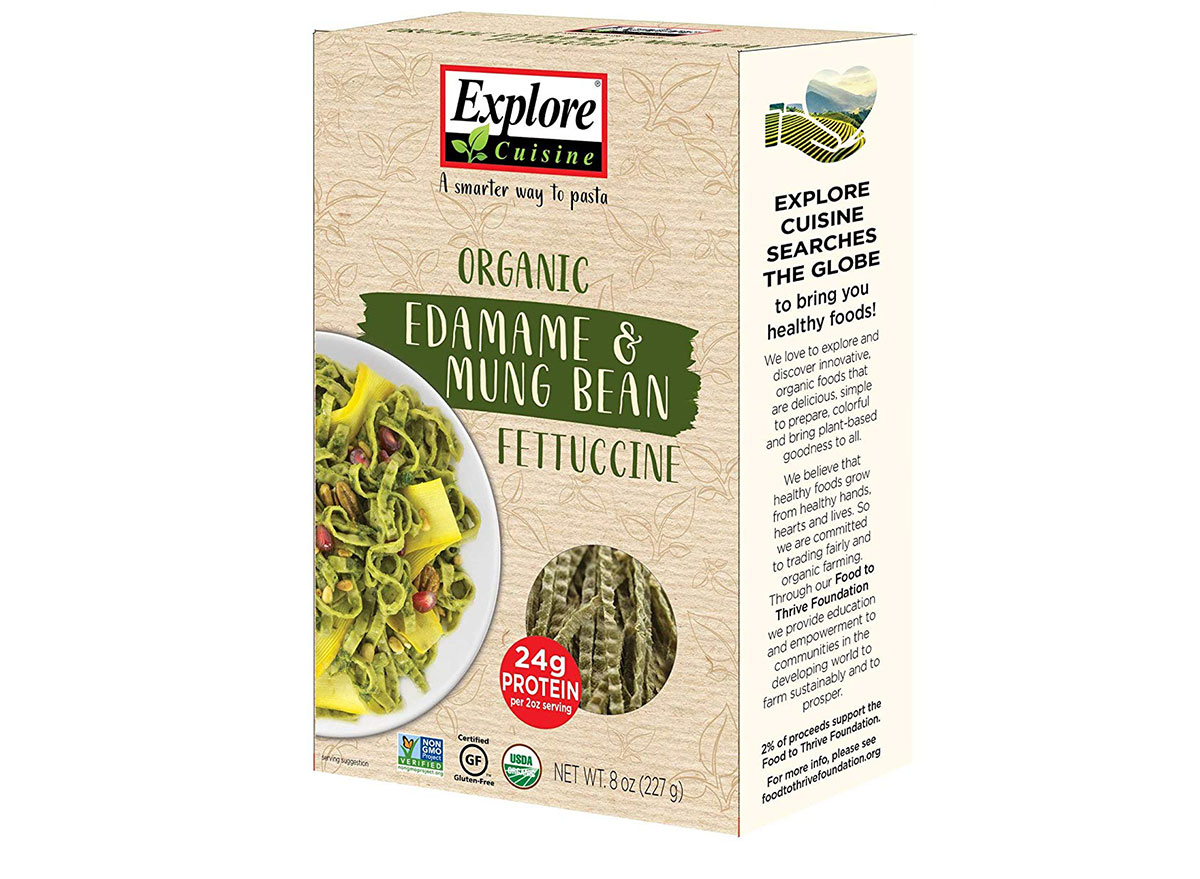 Yep, you read that right. Did you know mung beans are surprisingly high protein? It's easy eating your greens and getting in plenty of nutrients thanks to this legume-filled noodle, which packs 24 grams of protein per 2 oz. serving.
Ancient Harvest Protein Pasta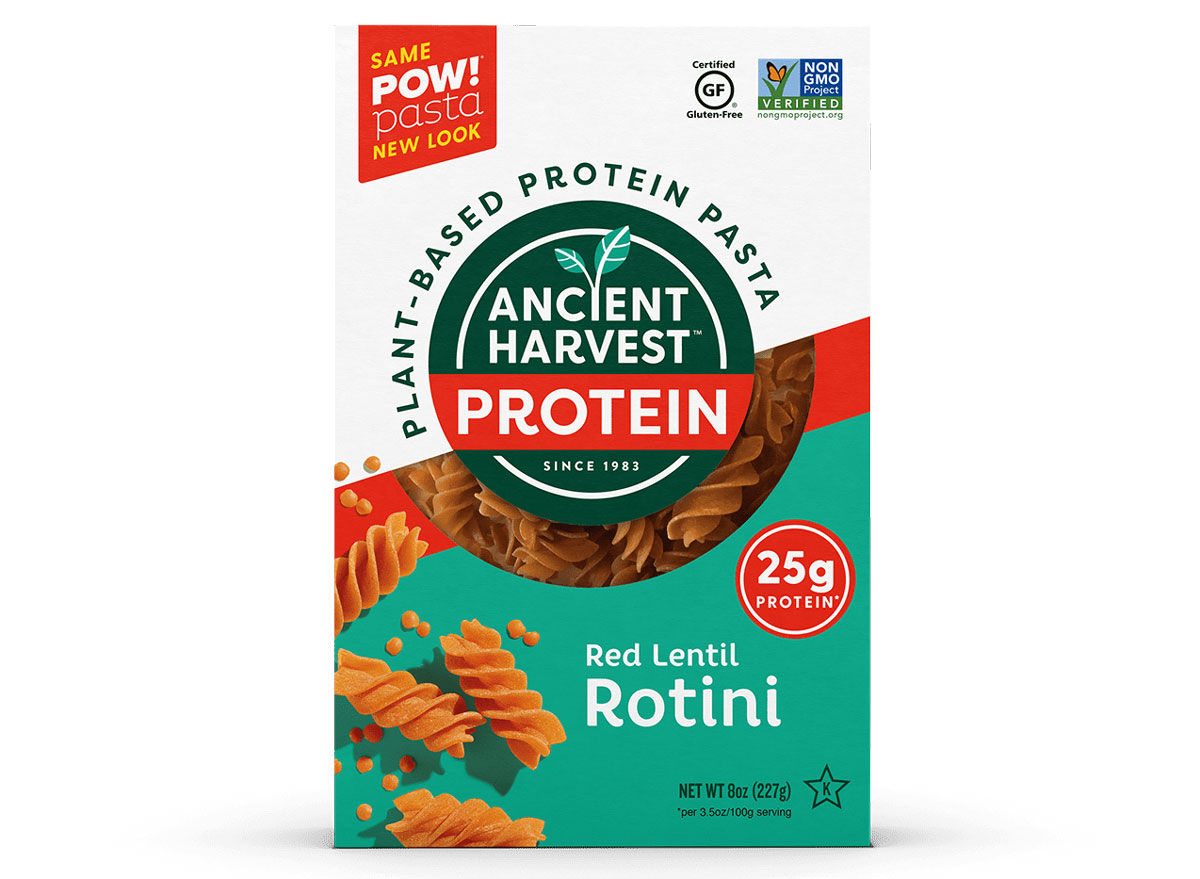 This lightly red pasta is filled with a hefty serving of fiber as well as protein thanks to the inclusion of organic quinoa flour in addition to red lentil flour. Each 3.5 oz. serving contains 12 grams of fiber and 25 grams of protein for a simple yet nutritious meal.
Barilla Red Lentil Rotini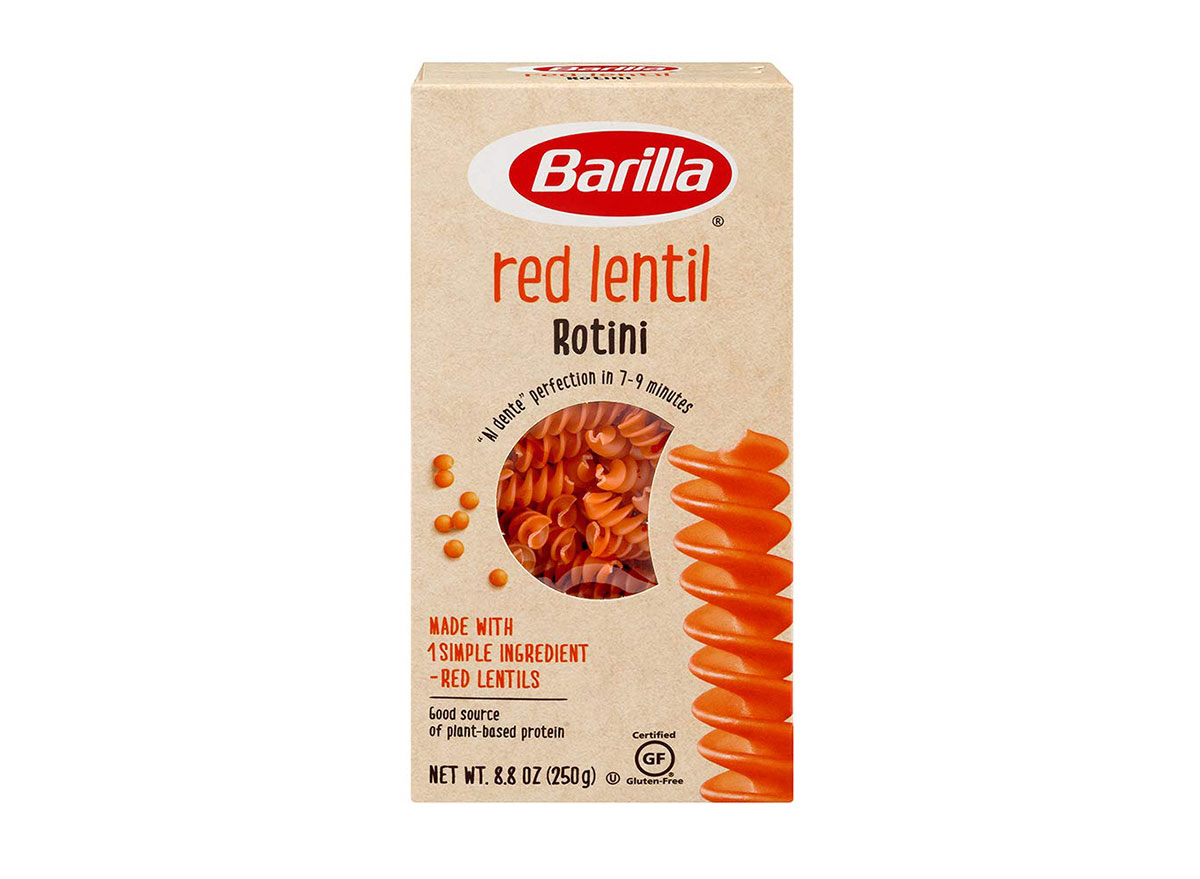 Italy's best-selling pasta brand forayed into the world of legumes with their release of lentil and chickpea-based pasta last year. Compared to the classic "blue box" rotini, which has just seven grams of protein per 2 oz. serving, this lentil rotini boasts 13 grams for the same serving size.
Chickapea Lentil & Chickpea Pasta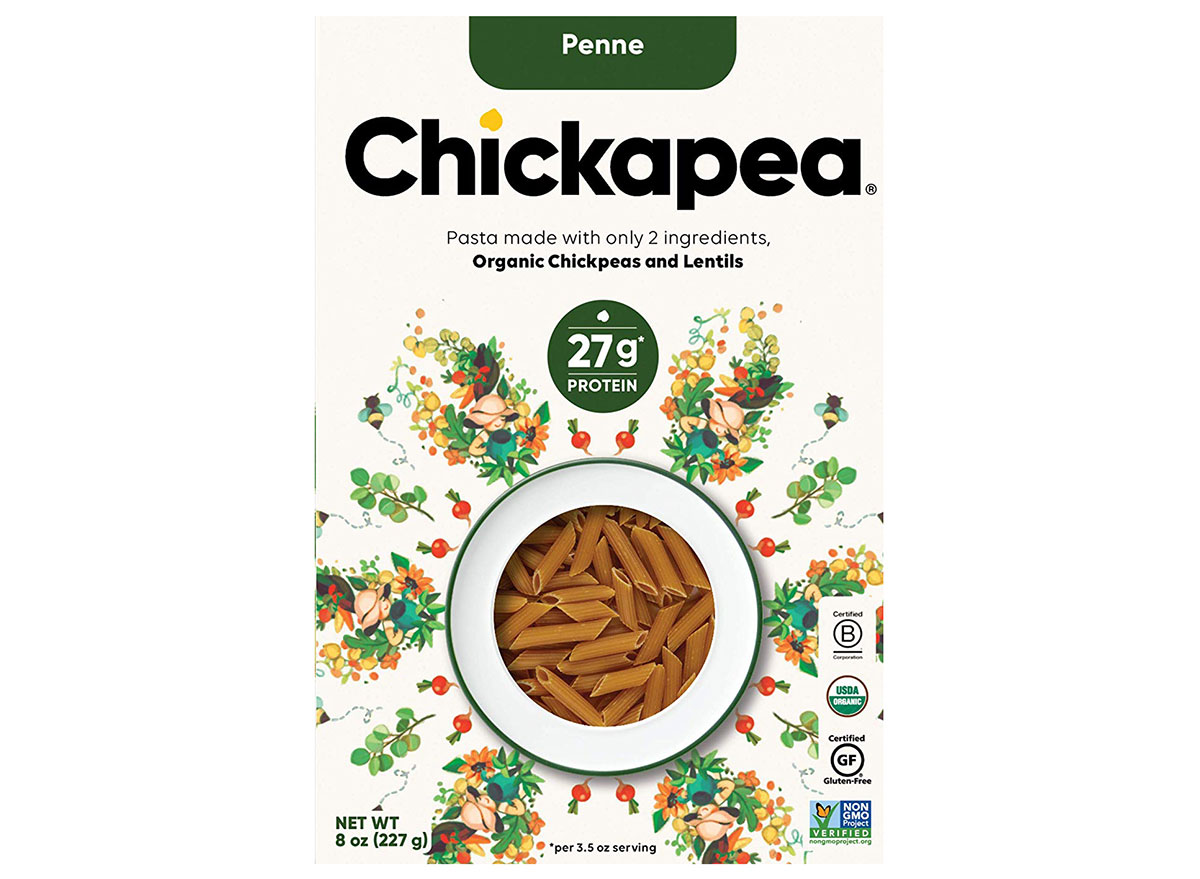 Made with organic chickpea flour and organic lentil flour, this low-glycemic option contains 27 grams of protein per 3.5 oz. serving. Plus, for every Chickapea box sold, the brand donates three cents to help provide school lunches for underprivileged kids.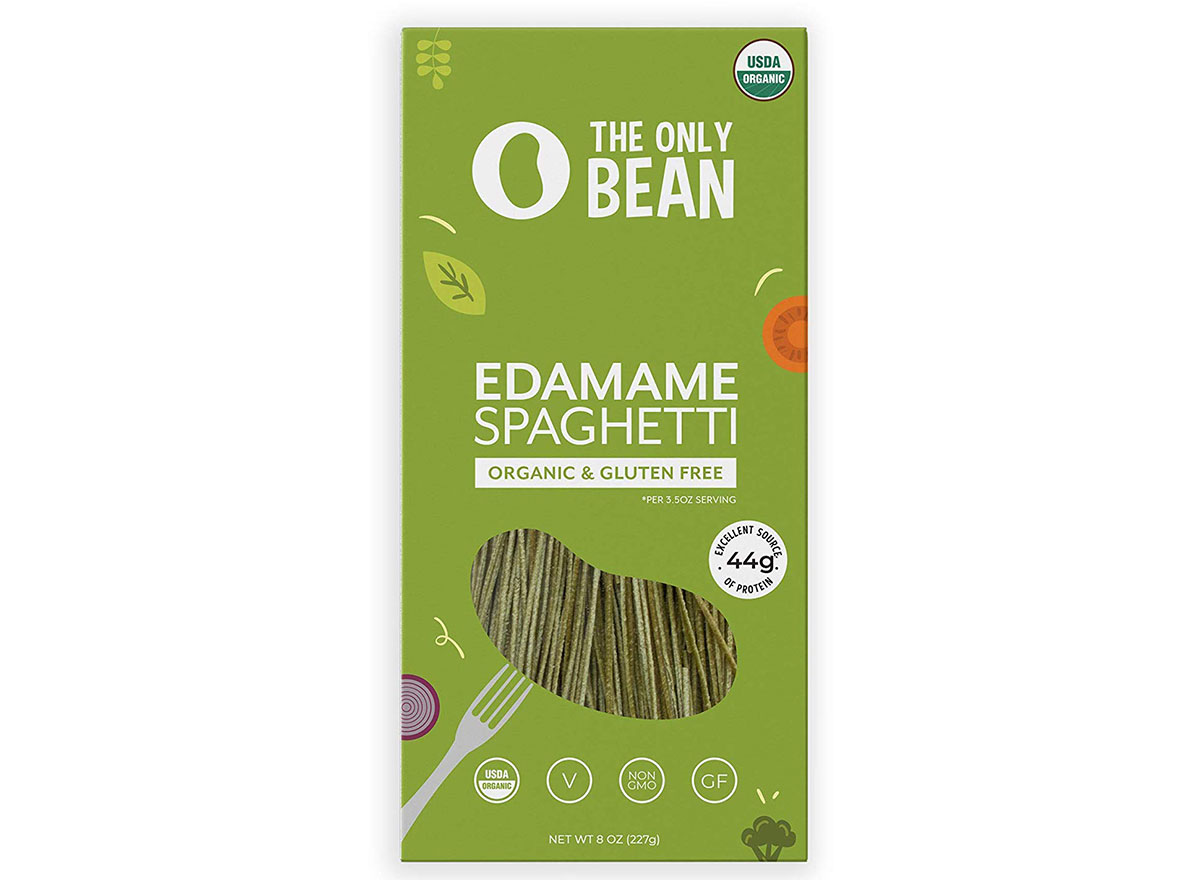 This line of black bean, soybean, and edamame pasta contains just one ingredient each per box. And each contains a whopping 43 or 44 grams of protein per 3.5 oz. serving, along with 18-20 grams of fiber each.
Cali'Flour Foods Yellow Lentil & Cauliflower Pasta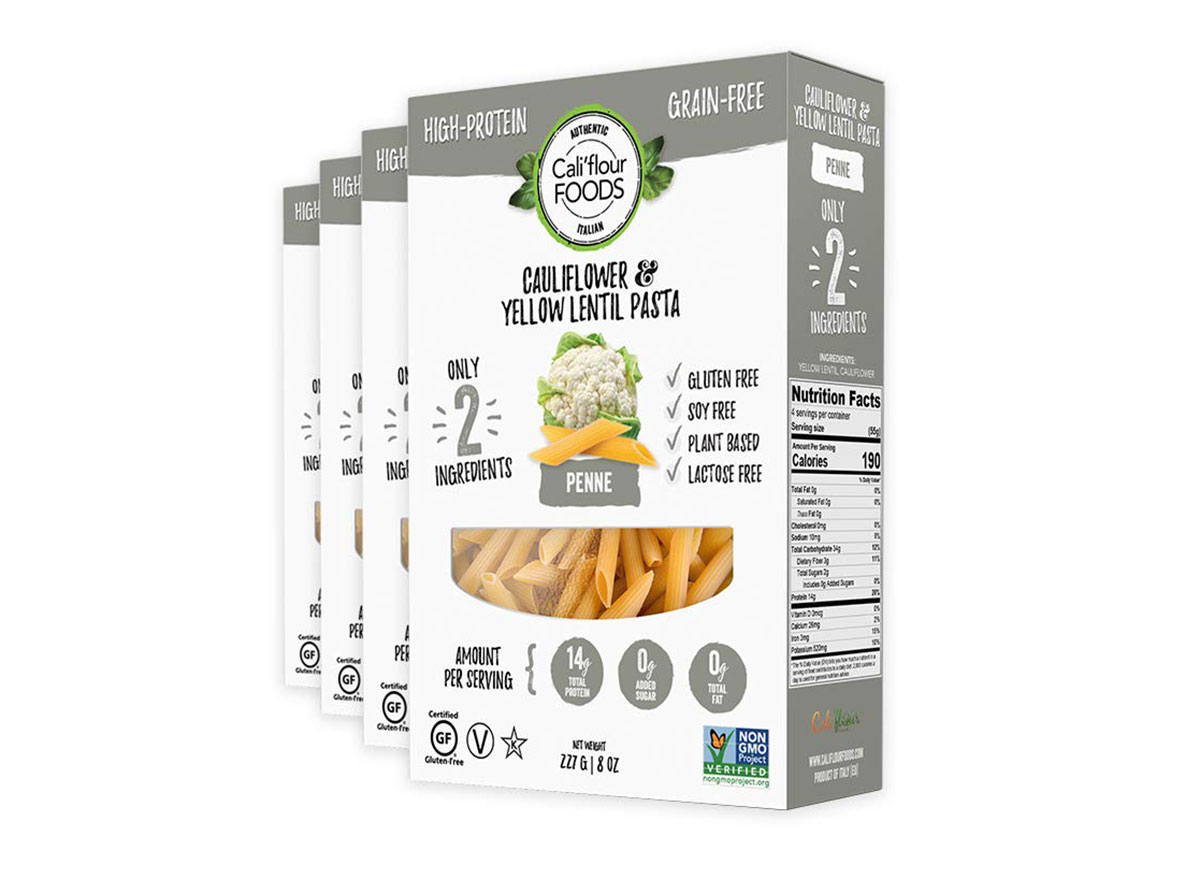 Cauliflower is just one way parents have been sneaking added veggies into snacks over the past several years, and this is another way to do so. Made with cauliflower and yellow lentil, this pasta boasts 14 grams of protein per serving.
Thanks to the recent explosion of high protein pasta options, you can sneak more protein and fiber into your diet without sacrificing taste. Now that's a win-win. Need a way to enjoy your protein-packed spaghetti? You can't go wrong with this shrimp scampi recipe.
Jacqueline Weiss
Jacqueline is a blogger and writer, passionate about making healthy eating and cooking accessible to all.
Read more about Jacqueline