We Tasted 6 Potato Chip Brands & This Is the Best!
A tried-and-true classic took home the gold in this taste test.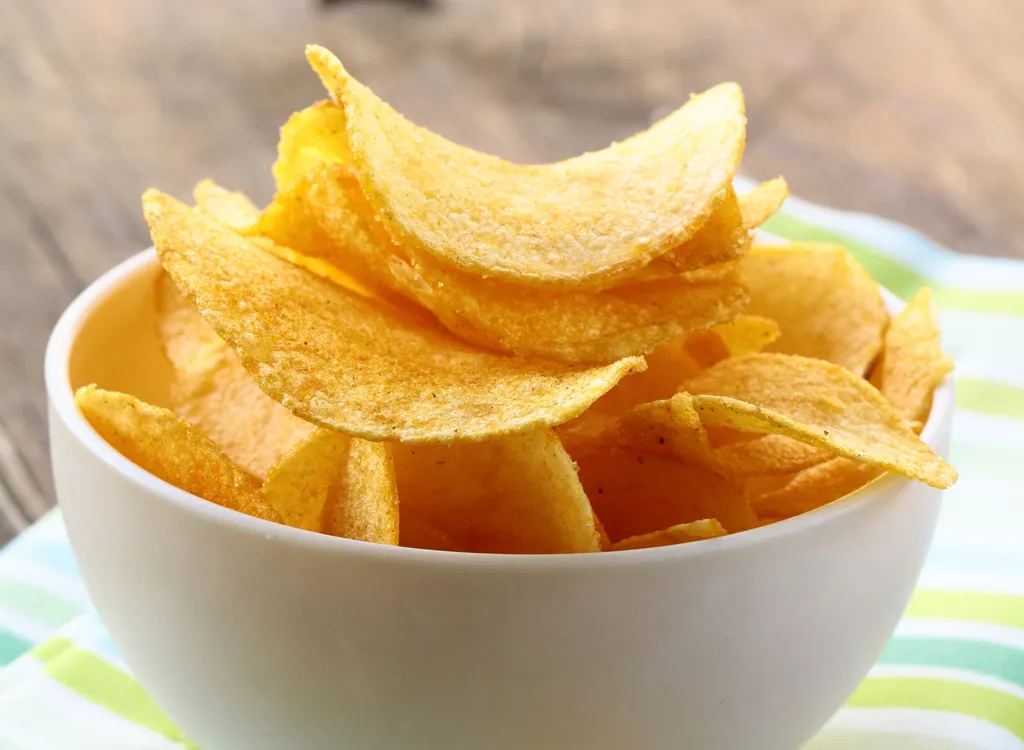 Think all potato chips are created equal? Think again. Chips may seem like a straightforward snack, but the quality can vary tremendously from brand to brand. You want a chip that has just the right amount of crunch, is salty but not too salty, and is just the right thickness. With that in mind, what brand makes the absolute best potato chip? We tasted six different ones to find out.
For this test, we stuck to original-flavored chips only. We also didn't include ridge-cut chips like Ruffles, tasting only the standard-format chips. The chips we tested included 365 Sea Salt Classic Potato Chips, Good & Gather Kettle-Cooked Sea Salt Potato Chips, Kettle Brand Sea Salt Potato Chips, Lay's Classic Chips, Market Pantry Classic Potato Chips, and Trader Joe's Ode to the Classic Potato Chip.
Here's how our nine tasters ranked the six popular potato chip brands, from worst to best. And for more, check out The Best & Worst Chips—Ranked!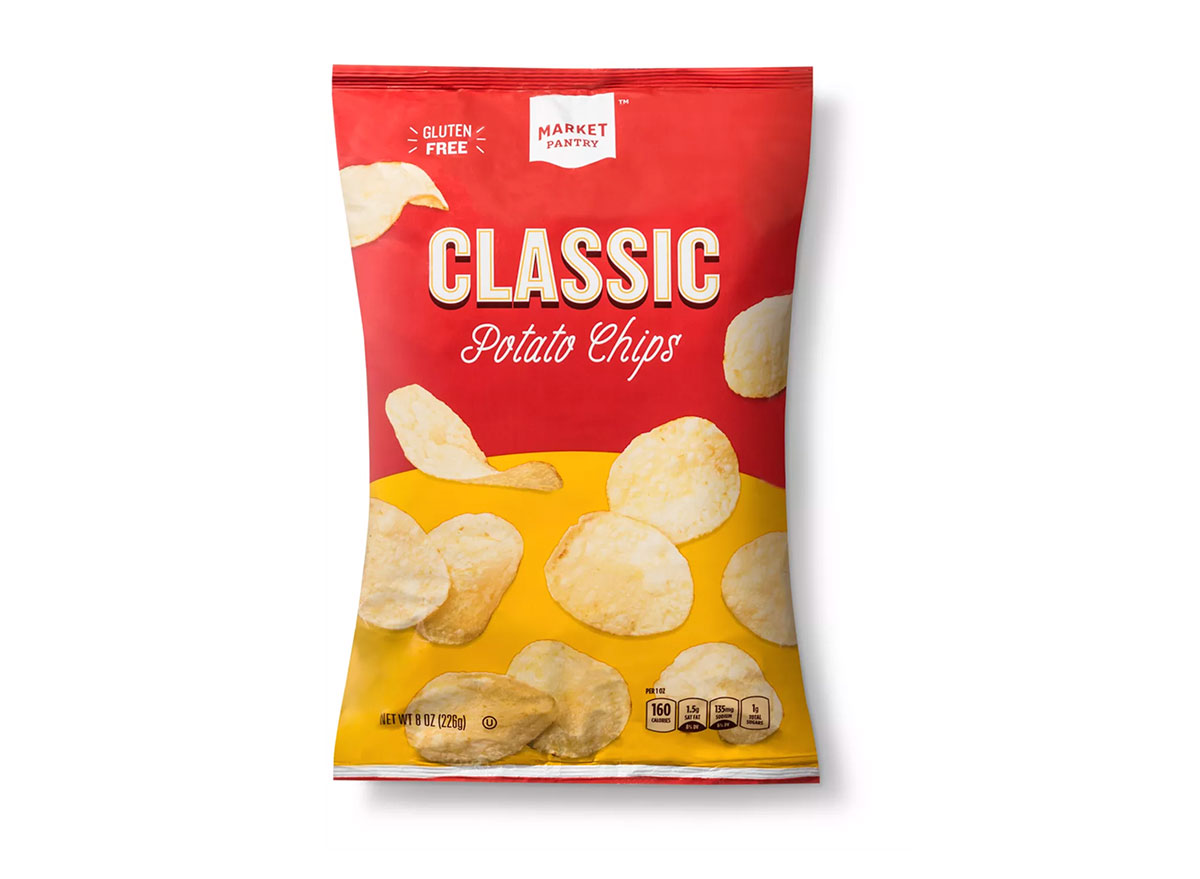 Target's classic house brand ranked last-place in our text, thanks to these chips' nondescript flavor. Our tasters described these chips as having "no crunch" and "no salt." We also docked points for how thin these chips were.
"Super bland and leaves an aftertaste of disappointment," one taster said of the Market Pantry Chips. Another editor called them "truly forgettable." Without a dip to pair with these chips, there weren't many positives to the Market Pantry option.
365 Sea Salt Classic Potato Chips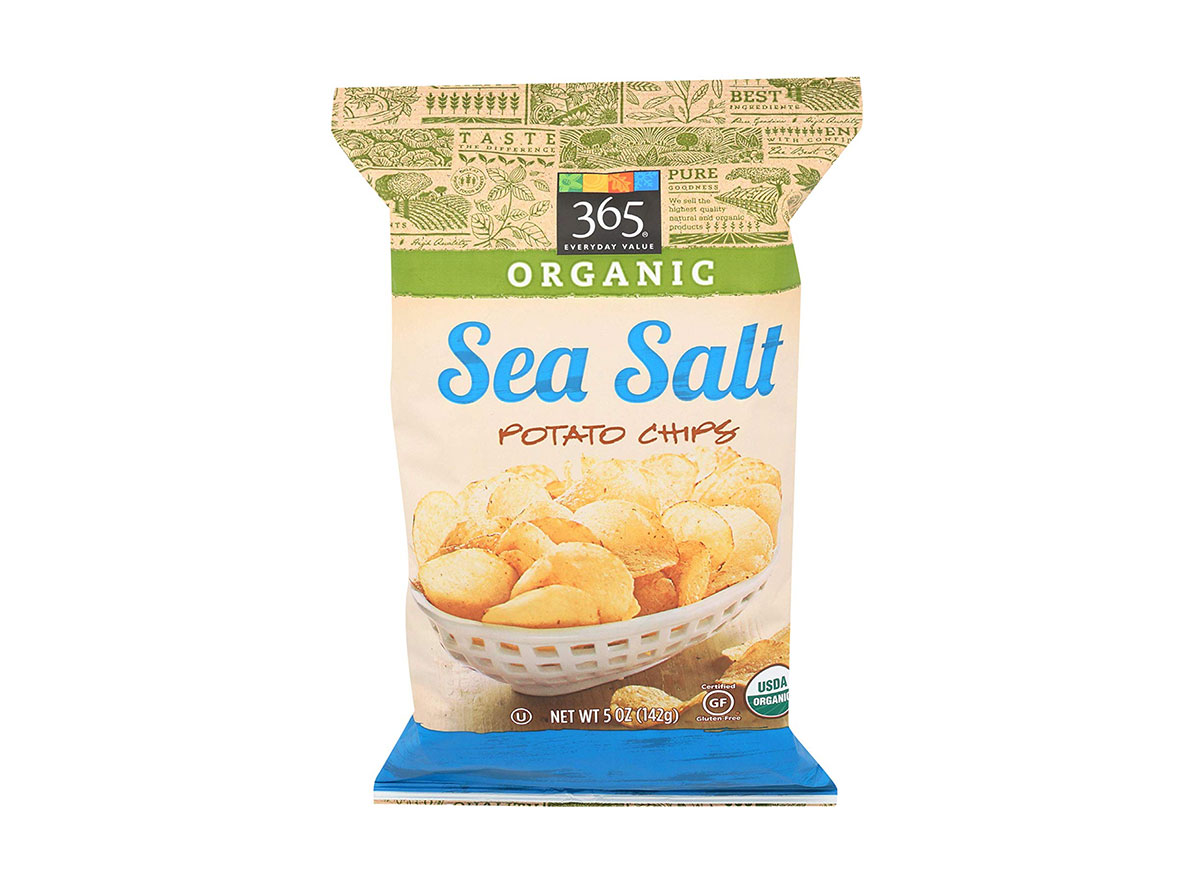 Whole Foods' house brand didn't win over our tasters. "These have absolutely no flavor," one editor said of these chips. The appearance of these chips also rubbed our editors the wrong way, with one person criticizing the chips' "inconsistent sizes" and another calling out their light color.
Another common complaint about the Whole Foods chips was a lack of crunch when compared with the other options. And several tasters mentioned these chips having an off-putting aftertaste.
Trader Joe's Ode to the Classic Potato Chip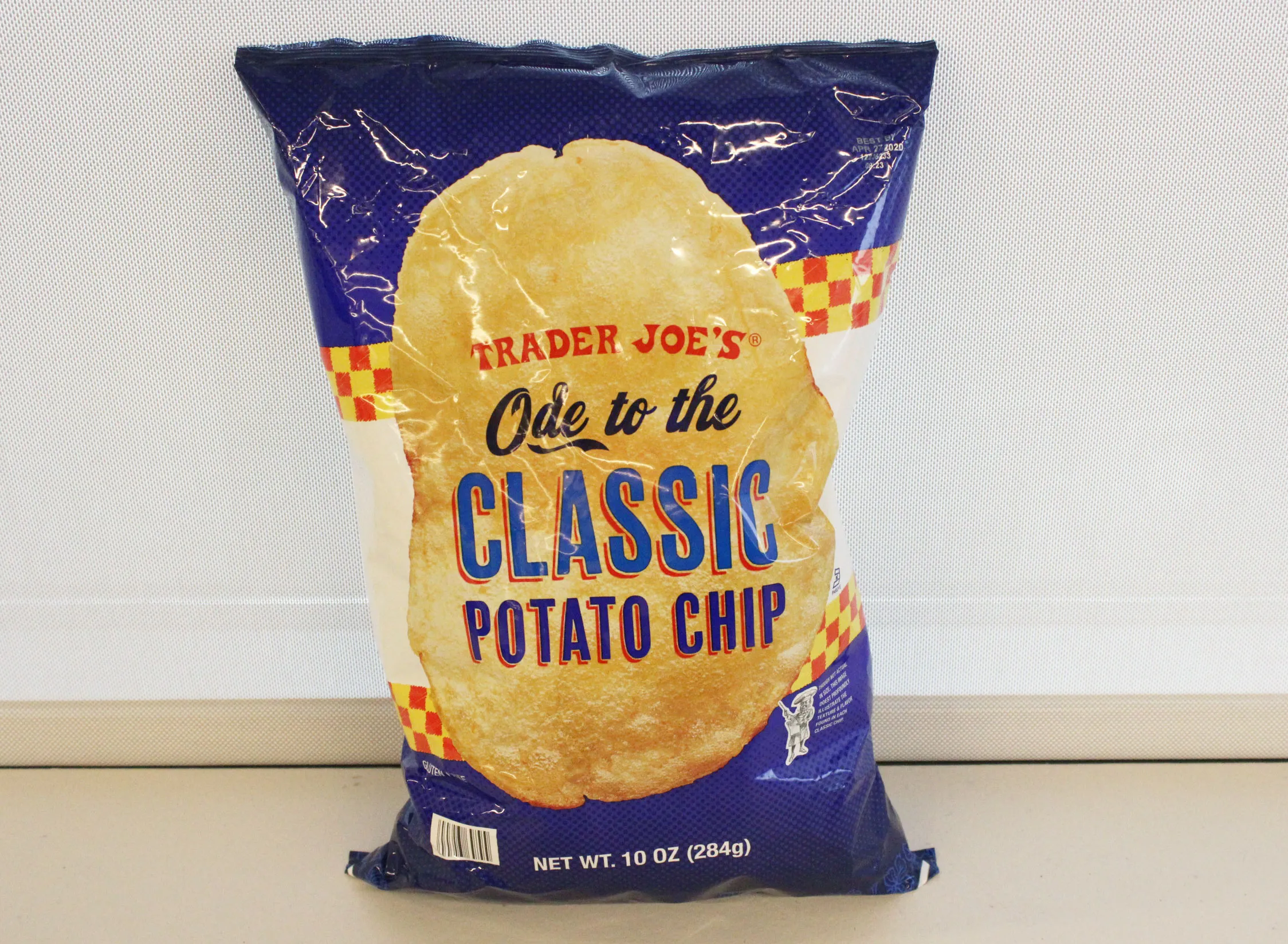 These were definitely the saltiest pick of the bunch—most of us couldn't eat more than a couple of these chips. One staffer ranked these as their top choice, but most of us thought they were too salty to enjoy.
"These leave a super oily residue on your fingers," one of our tasters said. "They taste more like salt than anything else."
Another editor said her TJ's chips included a burned one, which she wasn't thrilled about. And several tasters complained about how thin these were. But if you love a super-salty chip, this might be your new favorite snack.
Kettle Brand Sea Salt Potato Chips
These kettle chips were all over the map for our tasters, with some putting them in the top spot and others ranking them dead last. Critics of the chips thought they were too crunchy and were lacking in salt, while the chips' fans thought they were the perfect amount of salty with a nice crunch. One person diplomatically called these chips "well-done," referencing their crunchy nature.6254a4d1642c605c54bf1cab17d50f1e
"The flavor is underwhelming and they're almost too crunchy," one editor said of the Kettle chips. "Kettle Brand is great but these lack flavor."
Good & Gather Kettle-Cooked Sea Salt Potato Chips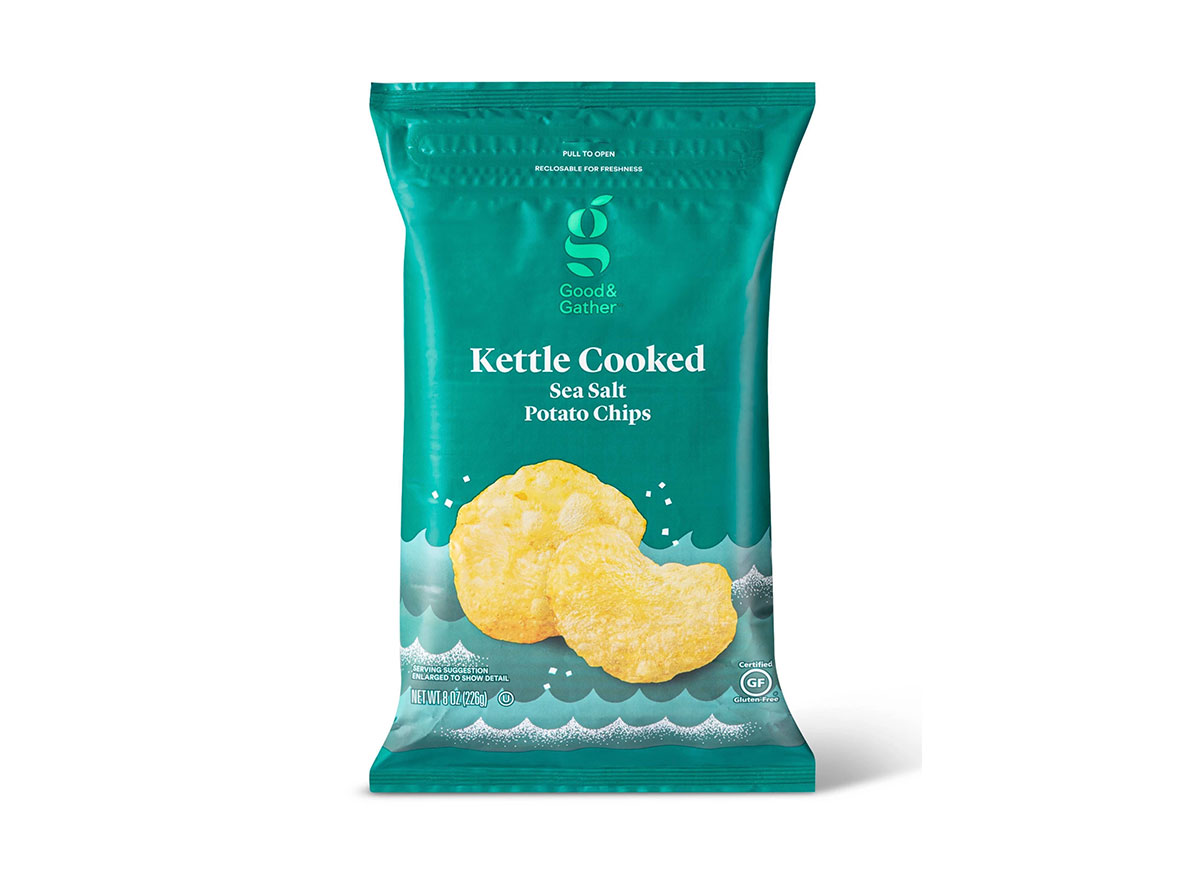 Another one of Target's house brands, Good & Gather fared a lot better in our taste test than Market Pantry did. Our staffers loved the crunch and salt level on these chips.
"These were lovely. I was into that crunch," one editor said. "The salt-to-grease ratio was perfect."
Multiple tasters also complimented the packaging on these chips, which had a bright and minimalist design. The bag was also resealable, which was convenient for saving the rest of the chips without searching for a clip.
"The packaging is lovely—the colors and font and way the bag closes is great. They are super crunchy," one editor said of these Target chips. "Overall, a solid chip option I would easily eat the entire bag of. Feels like a fancy chip."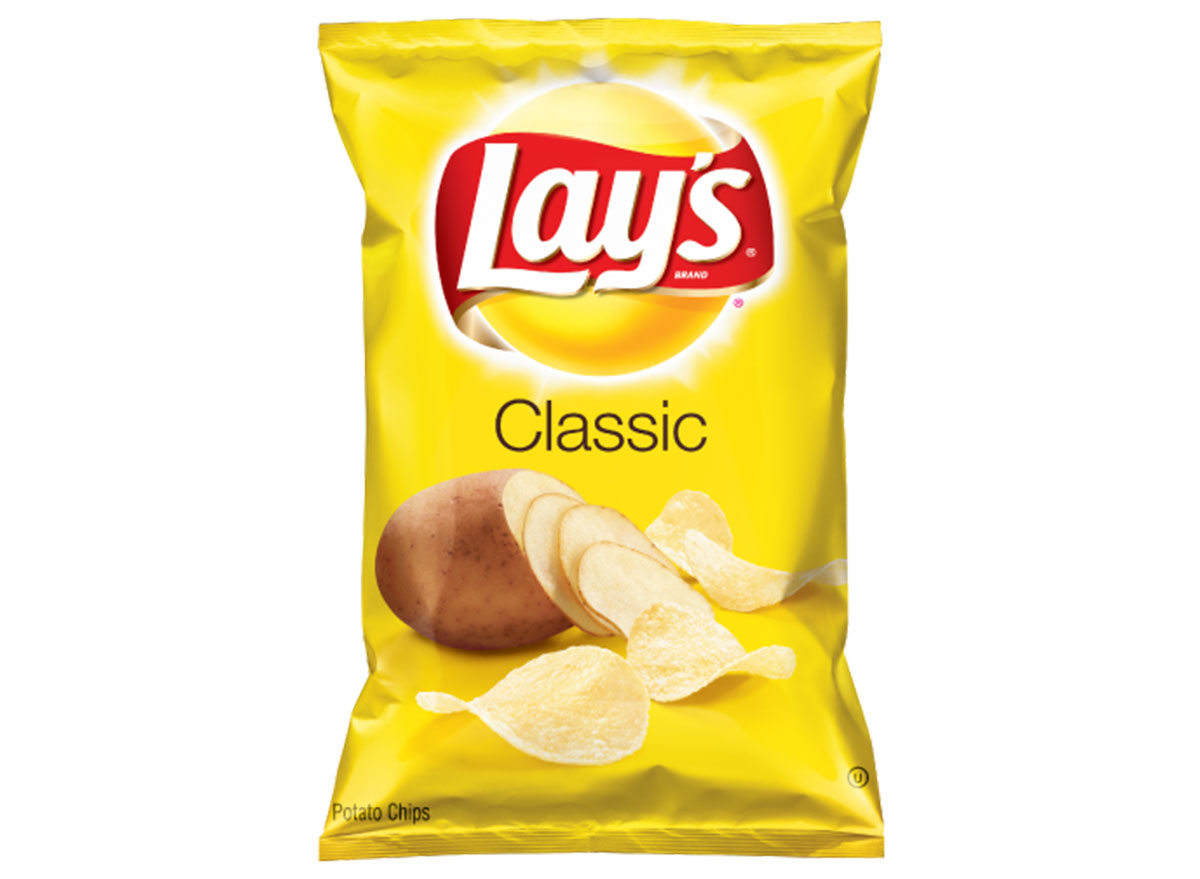 The all-time classic chip took the top spot in our taste test. Many of our testers remember having these chips in their childhood lunchboxes or in the stands at sports games. And in addition to the nostalgia factor, these held up as the perfect salty and greasy chip.
One of our tasters said the Lay's chips "melt in your mouth as much as a chip can." Another praised the "solid potato aftertaste" of this variety.
"Lay's just has that perfect combination of salt and oil that you expect from a chip," one editor said. "It's thin, flavorful, and delicious. Lay's will always be my number one."
The tried-and-true classic won this time around, and our testers couldn't stop reaching for the Lay's chips. There's a reason Lay's advertised its chips with the "betcha can't eat just one" slogan—it really is true.
Read more exclusive taste tests:
We Tasted 7 Boxed Mac-and-Cheeses & This Is the Best
We Tasted 10 Popular Light Beers & This Is the Best
Meghan De Maria
Meghan De Maria is a senior editor at
Eat This, Not That!
, specializing in food, product, and restaurant coverage.
Read more about Meghan