10 Most Unique Foods You Can Buy at Trader Joe's Right Now
The specialty grocery chain is home to a treasure trove of creative products.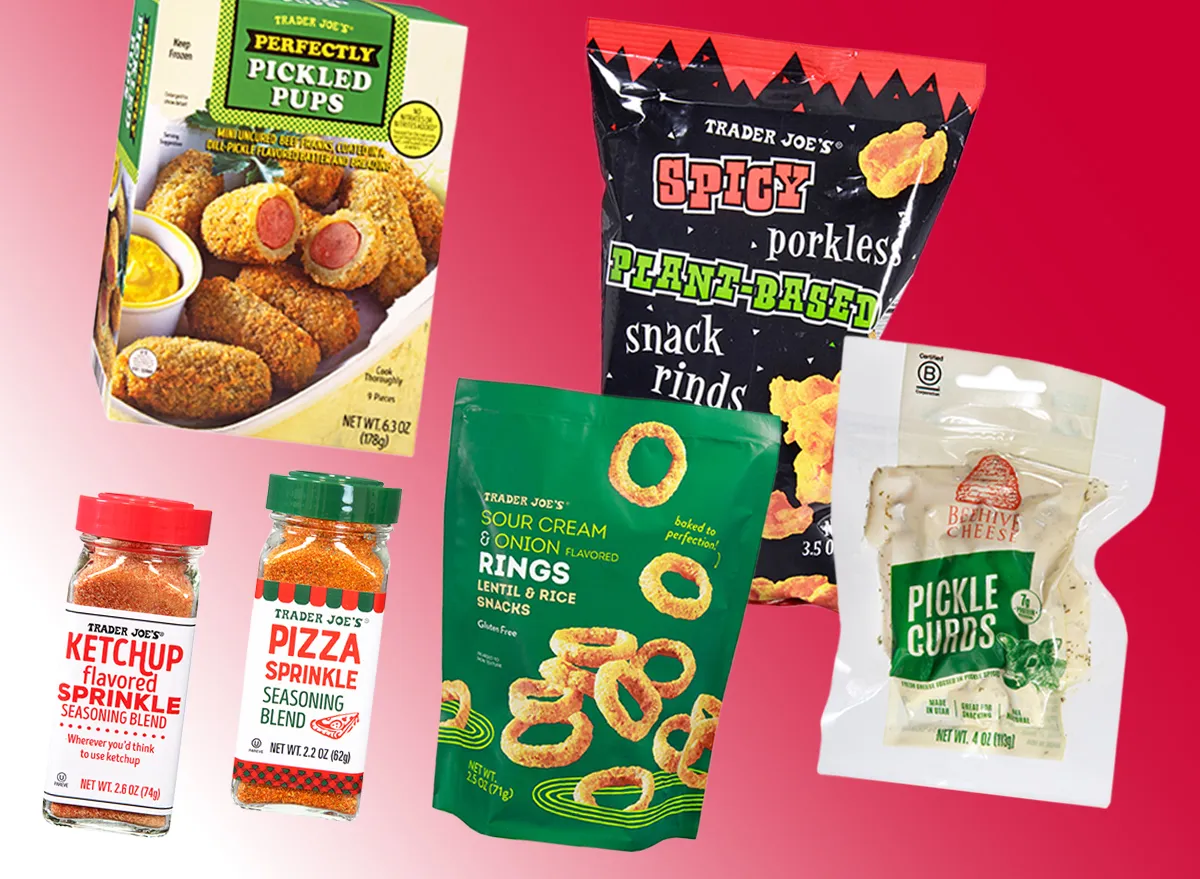 The product recommendations in this post are recommendations by the writer and/or expert(s) interviewed and do not contain affiliate links. Meaning: If you use these links to buy something, we will not earn a commission.
Walking down the aisle of Trader Joe's is unlike any other supermarket experience. Between displaying vibrant handwritten product signs, decking out the store in nautical decor, and calling its employees "crew members," the cherished grocery chain approaches grocery shopping with a notably playful attitude. This sentiment transfers over to TJ's inventory lineup, as well.
Peruse the shelves, and you'll likely come across some sort of eye-catching product name, creative food mashup, or distinctive flavor combination. While some of these imaginative foods have a permanent spot on the shelf, others just make a temporary appearance like the Watermelon Jerky, Carrot Cake Spread, and Chocolate Lava Gnocchi.
If you're interested in trying something new, we rounded up some of Trader Joe's most unique products on the shelves. Here are 10 to consider adding to your cart the next time you visit the popular neighborhood grocery chain.
Per Serving (4 pieces)
: 250 cal, 15 g fat (4 g saturated fat), 850 mg sodium, 21 g carbs (2 g fiber, 1 g sugar), 7 g protein
Trader Joe's has pickle-fied a plethora of foods, including chips, popcorn, hummus, mustard, and falafel. And this year, the grocery chain did it again. Leveraging the flavors of the beloved brine-soaked cucumber, TJ's debuted its Perfectly Pickled Pups in February.
Priced at $4.99, this frozen food features dill pickle-infused miniature beef franks wrapped in dill pickle-flavored batter and breading. Shoppers recommend pairing these pups with the usual suspects—aka ketchup and mustard—as well as ranch or the fan-favorite Dill Pickle Mustard, which is unfortunately only a seasonal item.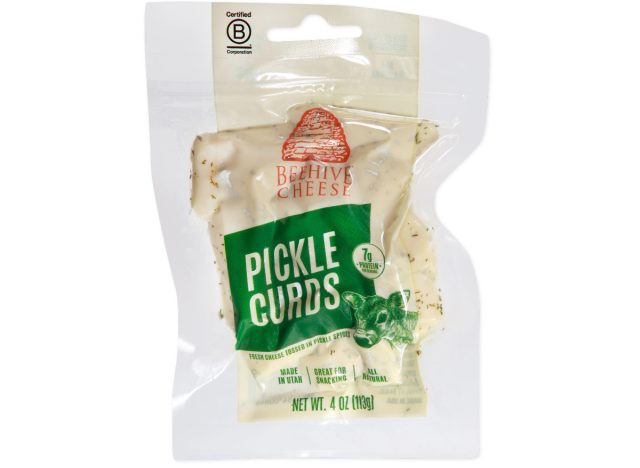 Per Serving (1 oz)
: 110 cal, 9 g fat (6 g saturated fat), 220 mg sodium, 0 g carbs (0 g fiber, 0 g sugar), 7 g protein
The pups weren't the only new pickle-y product of 2023. In July, Trader Joe's introduced its Pickle Curds, which consist of fresh cheese coated in pickle spices.
"It says 'Enjoy within seven days,' and I'm probably going to enjoy this within one-to-two days—the whole bag," Trader Joe's fan account @traderjoeslist, said in a product review, noting the cheese's "firmer" consistency.
Per Serving (about 13 chips)
: 140 cal, 7 g fat (0 g saturated fat), 270 mg sodium, 18 g carbs (0 g fiber, 1 g sugar), 2 g protein
If your pickle craving still isn't satisfied, Trader Joe's has a tangy, dilly chip option for you. Available for $2.99 per bag, these dill pickle-flavored potato chips made their initial debut on shelves in 2021. They've since made reappearances in stores, continuing to garner praise from customers.
"I absolutely love these. I will routinely buy a few bags just to have them around in case I get a craving," one fan wrote on Reddit. "Toss them on your sandwich, thank me later," another one recommended.
Spicy Porkless Plant-Based Snack Rinds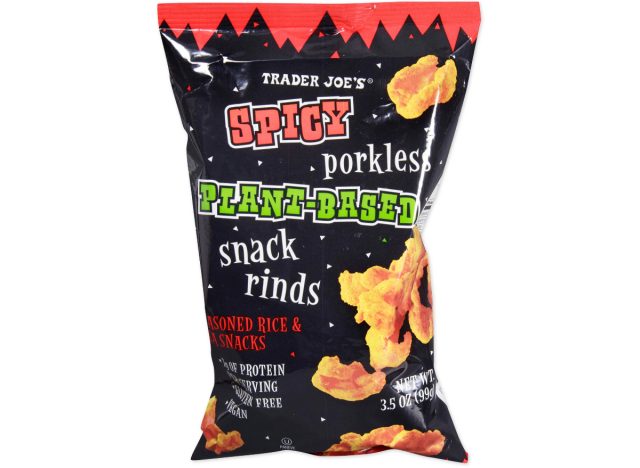 Per Serving (about 12 pieces)
: 130 cal, 5 g fat (0 g saturated fat), 170 mg sodium, 15 g carbs (0 g fiber, 0 g sugar), 7 g protein
Pork rinds are probably not the first food that comes to mind when hearing the term "plant-based." But neither are burgers—and look at the grocery store now. Unlike the traditional version, Trader Joe's Spicy Porkless Plant-Based Snack Rinds are baked instead of fried and made with rice meal, pea protein, and pea flour. For an added kick, they are then coated with paprika, cayenne, and a "pinch" of habanero pepper powder. The item costs $2.99 per bag.
"The pea flavor isn't overpowering at all so if you don't enjoy peas… don't worry," Trader Joe's fan account @mrs_traderjoescart wrote in a review shortly after the product's 2021 launch. "I definitely didn't find these to be too spicy but the heat built up as I plowed through the bag (yes, plowed)."
Sour Cream & Onion Flavored Rings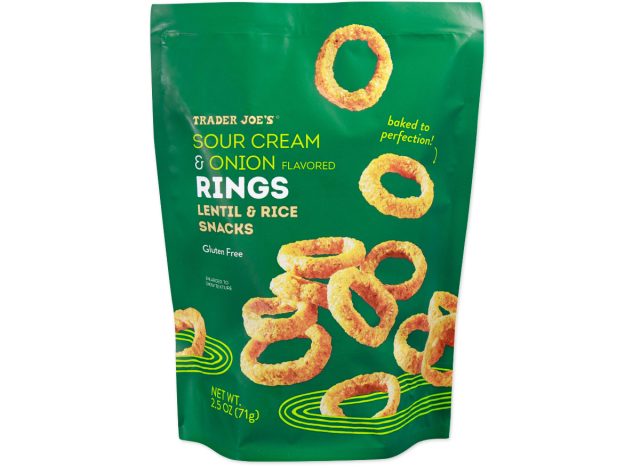 Per Serving (about 24 pieces)
: 130 cal, 6 g fat (0.5 g saturated fat), 180 mg sodium, 16 g carbs (2 g fiber, <1 g sugar), 4 g protein
Walk down the snack aisle at any supermarket, and you're bound to come across an onion-flavored product, such as Funyuns or sour cream and onion chips. Trader Joe's takes the elements of both snacks for the creation of its Sour Cream & Onion Flavored Rings, which were released in the spring of 2022.
Available for $2.49, this restaurant-style onion ring -inspired snack is baked, gluten-free, and made with red lentils, rice meal, and a sour cream and onion seasoning.
"They sort of reminded me of a Funyun, but with wayyy more flavor and seasoning," wrote Trader Joe's product review account @traderjoesfoodreview.
Ketchup Flavored Sprinkle Seasoning Blend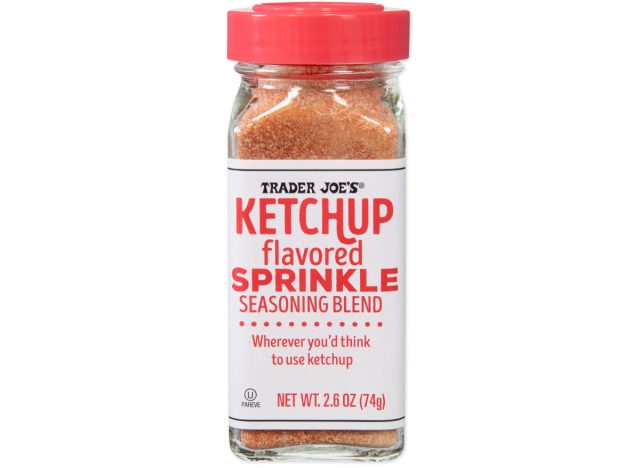 Per Serving (1/4 tsp)
: 0 cal, 0 g fat, 40 mg sodium, <1 g carbs (0 g fiber, 0 sugar), 0 g protein
At Trader Joe's, ketchup is so much more than a condiment. To kick off 2023, Trader Joe's rolled out a creative way for shoppers to transform their favorite dishes with the tomato-based grocery staple: Ketchup Flavored Seasoning.6254a4d1642c605c54bf1cab17d50f1e
The item starts with tomato powder and includes a few other seasonings, such as sugar, kosher salt, vinegar powder, onion powder, and garlic powder. As the label states, this item can be used "Wherever you'd think to use ketchup," so the food combination possibilities are endless.
Shopper suggestions range from sprinkling this seasoning blend on snacks like chips and popcorn to hot foods like eggs and roasted potatoes. The item is currently priced at $2.99.
Pizza Sprinkle Seasoning Blend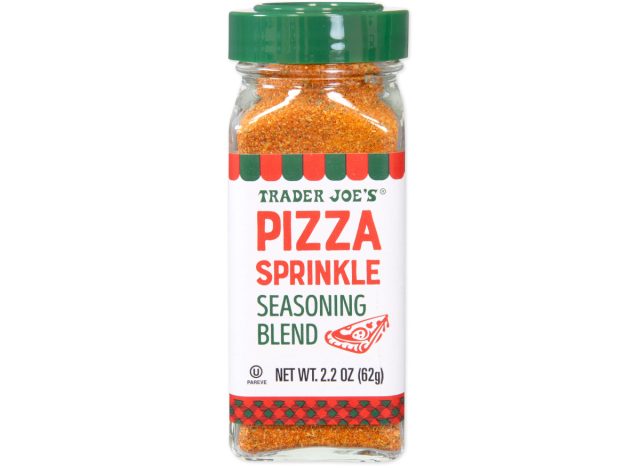 Per Serving (1/4 tsp)
: 0 cal, 0 g fat, 25 mg sodium, 0 g carbs, 0 g protein
Along with the ketchup seasoning, Trader Joe's also introduced its Pizza Sprinkle Seasoning Blend this past winter. Priced at $2.99, this item bottles up the essence of pizza by combining multiple seasonings to capture the flavors of tomato sauce and classic toppings.
Like the ketchup-flavored seasoning blend, there are no limits with this product. TJ's recommends sprinkling it over french fries, roasted cauliflower, scrambled eggs, and creamy soups, noting that it also pairs well with popcorn, pretzels, and chips.
Vegetarian Meatless Cheeseburger Pizza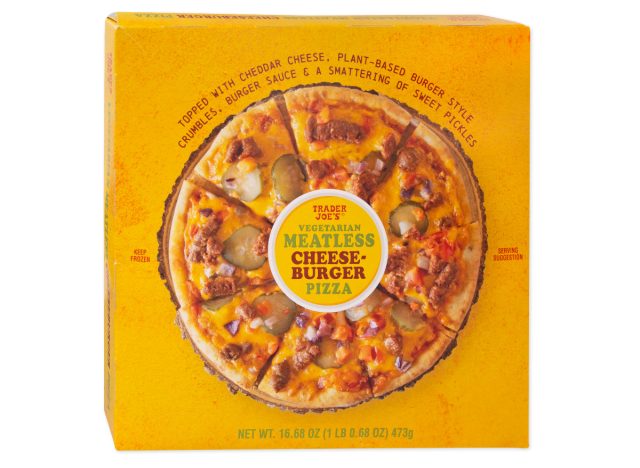 Per Serving (1/3 pizza)
: 340 cal, 15 g fat (5 g saturated fat), 790 mg sodium, 37 g carbs (3 g fiber, 4 g sugar), 14 g protein
Ground beef on pizza isn't anything out of the ordinary. But Trader Joe's takes this food combination to the next level by incorporating multiple elements of a burger into a pizza, swapping out ground beef for plant-based protein.
The grocer's Vegetarian Meatless Cheeseburger Pizza, priced at $5.99, starts with a crust (like every other pizza) and is blanketed with cheddar cheese, diced red onion and tomato, sliced sweet pickles, a tangy burger sauce, and seasoned plant-based protein crumbles.
"This one is surprisingly delicious. All flavors on point. People that were skeptical actually approved!" one fan of the item shared on Reddit.
Crunchy Chili Onion Peanuts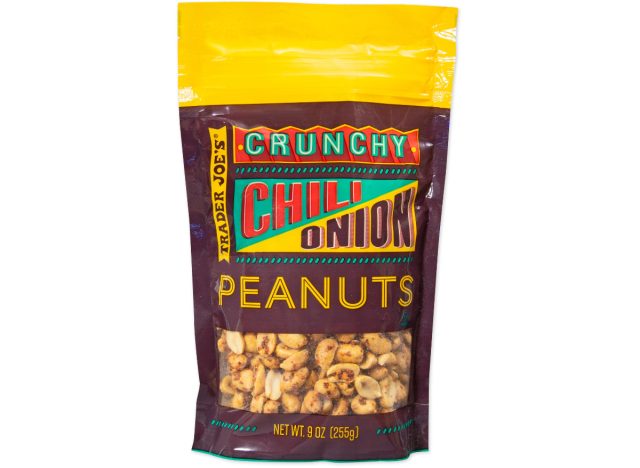 Per Serving (1/4 cup)
: 190 cal, 15 g fat (2.5 g saturated fat), 200 mg sodium, 7 g carbs (3 g fiber, 3 g sugar), 8 g protein
TJ's has drawn in customers with its iconic Crunchy Chili Onion. After seeing the overwhelming popularity of this smoky, spicy condiment, the grocery chain decided to transform it into a snack.
"…[T]he subtly savory nuttiness of peanuts provides both an ideal method of delivery for our Crunchy Chili onion, and adds yet another layer of flavor complexity to its marvelous mix of garlic, umami, and spice," Trader Joe's writes on its website.
Buffalo Style Seasoned Almonds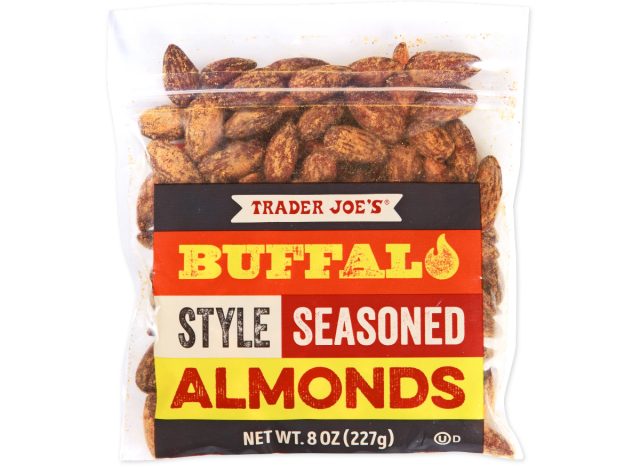 Per Serving (1/4 cup)
: 180 cal, 16 g fat (1 g saturated fat), 170 mg sodium, 6 g carbs (3 g fiber, 1 g sugar), 6 g protein
We've seen buffalo-style wings and cheese at Trader Joe's, and at the beginning of 2022, the grocery chain got creative once again by incorporating this flavor profile into nuts.
Shortly after launching its Spicy Buffalo Cheddar, Trader Joe's kept the trend going by rolling out its Buffalo Style Seasoned Almonds. According to TJ's, the almonds are California-grown and dry roasted before being coated in a buffalo-style seasoning. This consists of vinegar powder, red pepper, sea salt, garlic powder, capsicum, and paprika.
Brianna Ruback
Brianna is a staff writer at Eat This, Not That! She attended Ithaca College, where she graduated with a degree in Journalism and a minor in Communication Studies.
Read more about Brianna