8 Restaurant Chains That Serve the Best French Fries
Fast-food fries are perfectly fine, but a proper restaurant can truly elevate your spud-dipping experience.
The product recommendations in this post are recommendations by the writer and/or expert(s) interviewed and do not contain affiliate links. Meaning: If you use these links to buy something, we will not earn a commission.
French fries are a restaurant standard, the default side dish to most burgers, sandwiches, and other entrées. Embodying the perfect marriage of crunchy and salty, it's no wonder why so many diners love fries, and why it's in a restaurant's best interest to serve the best fries possible. Sure, you could buy a frozen french fry bag to bake at home yourself, but there is nothing like a piping hot heap of fries fresh out of the restaurant fryer to accompany your meal.
While French fries are plentiful at your local fast-food chain, there are also plenty of full-service restaurants that put out fantastic quality frites, too. It may be tempting to order a healthier side dish with your meal, like a baked potato or steamed vegetables. There is, admittedly, an ugly side to eating too many fries. But, when a restaurant does things the right way, you owe it to your taste buds to enjoy the crispy, starchy decadence.
If you find yourself dining at the following restaurant chains, order a plate of fries for the table–your friends will surely thank you.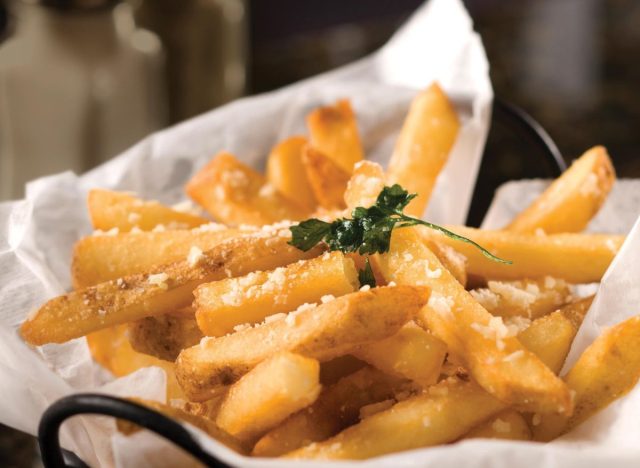 When you want an upscale restaurant vibe with a variety of meal options for the entire family, you head to Capital Grille. Its menu is filled with steak and seafood options, making it a great spot for celebrating a special occasion. You may think that a menu with entrées like Sushi-Grade Seared Sesame Tuna and a Bone-In Ribeye that is north of $70 calls for more signature side dishes. In the case of Capital Grille, French fries are the showstopper.
If you want to go all-out on your meal here, be sure to order the Parmesan Truffle Fries made with freshly grated parmesan cheese and a drizzle of white truffle oil. One TripAdvisor reviewer described the fries as a "must-order" whenever you visit Capital Grille. Not only are the fries delicious, but they are fresh, too. Each batch is cut in house.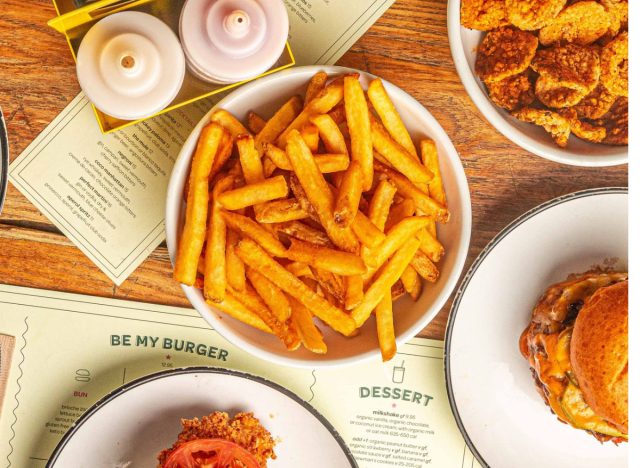 Craving a juicy burger? Customers have fallen head-over-heels for Bareburger, a small chain with most of its locations found in and around New York City. You can leave the guilt at home when you dine at Bareburger since its sandwiches are organic and all-natural. It is one of the reasons why many praise Bareburger for serving the best burgers. A great burger deserves only the tastiest french fries, and thankfully Bareburger also delivers on its side dishes.
Bareburger serves regular french fries as well as sweet potato fries, both made with all-natural ingredients. Customers can also upgrade to truffle-style fries, which come with a plate of fries doused with asiago cheese, garlic aioli, and truffle salt. Or, upgrade to spicy bacon ranch style, which comes with asiago cheese, bacon, pickled jalapeño, scallion, and jalapeño ranch. One Redditor praised the sweet potato fries in particular as "the best I've ever tasted."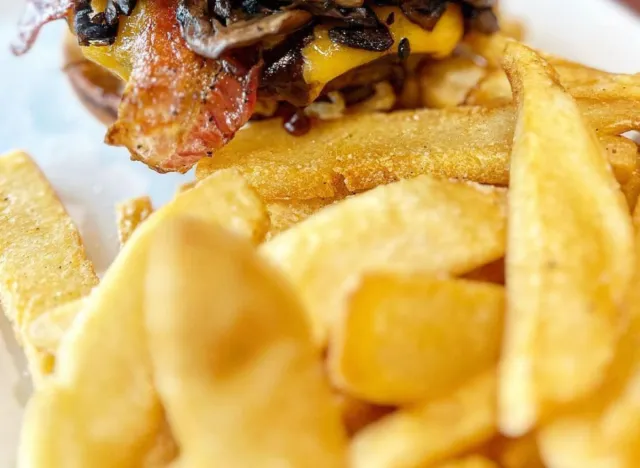 If you love steak-cut french fries, few restaurant chains make a better version than Red Robin. The juicy burgers and other entrées you'll find on the menu come with several side options, including bottomless french fries. It's a great value, especially if you are looking to split a few menu items with friends and family. In addition, you can order several different versions of its french fries, including sweet potato and garlic.
Perhaps the most enticing element of Red Robin's french fries is the seasoning. A magical blend of salt, paprika, and other spices, the fry seasoning brings Red Robin's already tasty fries to a whole new level. One Redditor even says that the seasoning adds an addictive quality to the fries, which can be quite dangerous when you can keep ordering as many refills as your heart desires. Can't get enough of the seasoning? One Redditor mentioned that you can buy a container to bring home with you. That way, your homemade french fries can taste just as addicting as the ones made at Red Robin.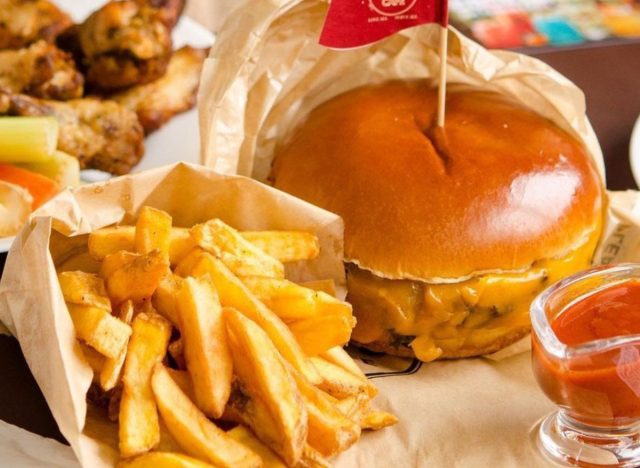 Hard Rock Cafe has been around for decades, but the long-standing global restaurant chain isn't resting on its laurels. Its burgers are award-winning, and there are plenty of other tasty menu items to back up its longevity, including simple side dishes like its french fries. Many of the burgers and other entrées you'll find on the menu come with a side of savory artisanal fries, fresh-cut each and every day.
Hard Rock Cafe has also come up with an array of delicious dipping sauces over the years for its french fries, including chipotle garlic ketchup, garlic aioli, and chimichurri mayo. As Hard Rock describes on its Facebook post, the right fries can make any meal awesome, and the restaurant definitely delivers on that claim.
People love Outback Steakhouse for its Bloomin' Onion appetizer, but that's not the only starter dish that customers cannot get enough of. While Outback's Steakhouse Potato sides include regular Aussie Fries, there is a cheese-laden upgrade you can enjoy before your steak dinner arrives.
Make sure to order a plate of Aussie Cheese Fries, which come smothered in a blend of melted Monterey Jack and Cheddar cheese as well as chopped bacon and house-made ranch dressing. The Aussie Cheese Fries are on the appetizer menu, but they also make for the ultimate side dish. One Outback employee even suggests on Reddit that customers order their fries layered with the toppings for extra cheesiness. Be warned–these cheesy fries clock in at 2,620 calories. Share them with a table of friends, however, and you may never order your fries plain again.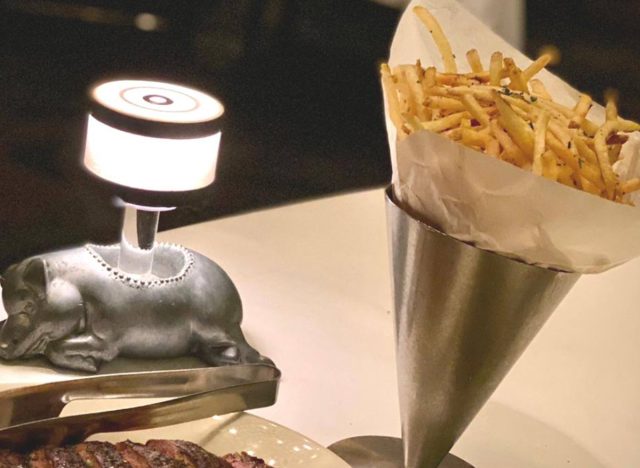 An upscale restaurant chain like Morton's The Steakhouse is probably not the first place you would think to dine at if you are in the mood for french fries. The steakhouse has plenty of other savory side dishes on its menu, like Baked Au Gratin Potatoes and Lobster Macaroni and Cheese. But do not be so quick to discount its Parmesan Truffle Matchstick Fries, also available as an accompaniment to your steak.6254a4d1642c605c54bf1cab17d50f1e
For starters, Morton's Steakhouse takes its french fries seriously and only uses freshly-cut potatoes. If you want to try these fries without breaking the bank, you can visit during Happy Hour, also known as Power Hour, as one reviewer on TripAdvisor did. If you prefer skinny matchstick-style french fries, few restaurant chains deliver quite like Morton's Steakhouse.
Cheddar's Scratch Kitchen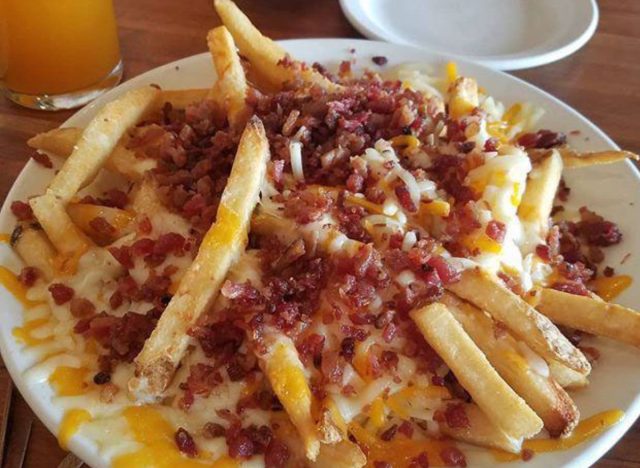 If there were a restaurant chain that truly knew its comfort food, it would be Cheddar's Scratch Kitchen. As the name implies, the food from Cheddar's has a homemade quality to it, with menu items made from fresh ingredients that are never frozen. That extends to its side dishes, which include a classic plate of seasoned French fries as well as a savory dish of Cheese & Bacon French Fries.
How can the simple addition of cheese and bacon make the fries at Cheddar's so irresistible? It seems too good to be true, doesn't it? As one TripAdvisor reviewer says, "Whoever made those cheese fries deserves a raise. Best cheese fries I think I've ever had. Layered like movie popcorn. Sheesh!"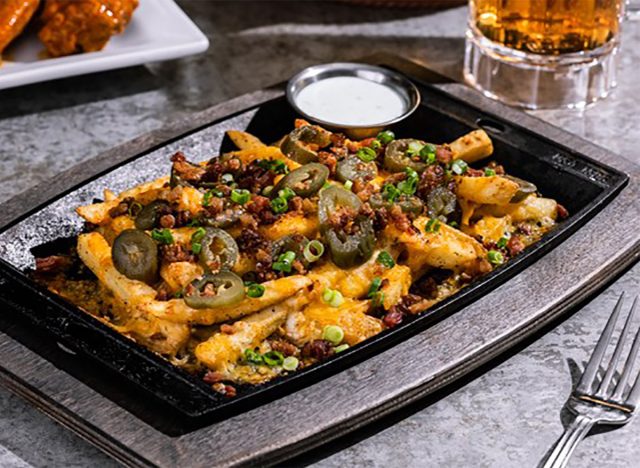 Some things in life are guarantees, like paying taxes and Chili's $5 margaritas. You may want to order a starchy side dish to soak up that tequila, and fortunately, the French fries hit the spot. A simple side dish of French fries can accompany your meal, and for just $1 more, there are over one dozen dipping sauces to add a boost of flavor, like Ranch, Honey Chipotle, and Secret Sauce.
Where Chili's really shines is its appetizer menu, which includes knock-outs like Texas Cheese Fries. This dish comes with melted shredded cheese, bacon, jalapeños, and green onions, along with a side of Ranch dressing for dipping. Redditors are hard at work coming up with replica recipes, adding to the hype that this French fry dish carries with it. Its reputation precedes itself, but order a full service of Texas Cheese Fries on your next trip to Chili's, and you will understand why.
Carly Neil
Carly Neil is a freelance writer specializing in all things food, travel, Disney, and theme parks.
Read more about Carly