22 Best Secret Menu Options at Your Favorite Fast-Food Chains
The options are seemingly endless when you veer off-menu at many popular fast-food chains.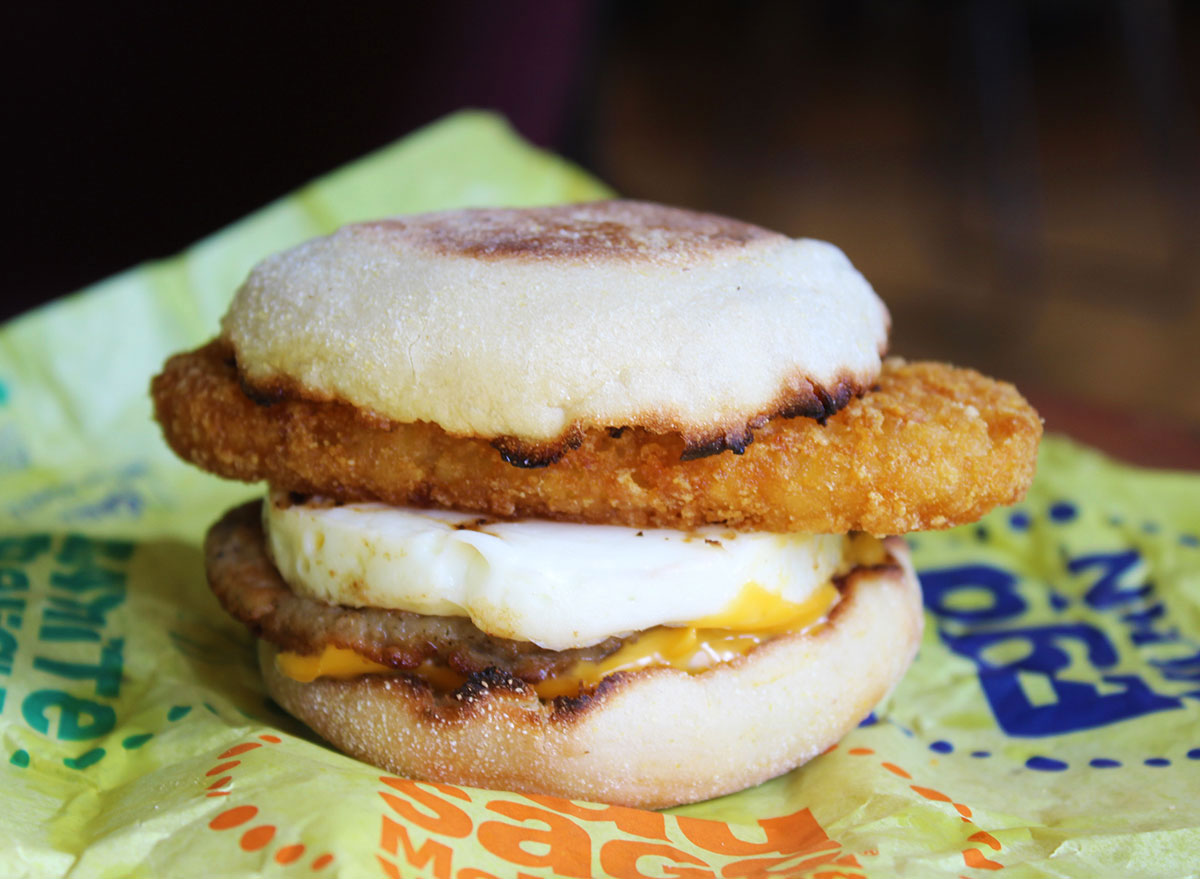 The product recommendations in this post are recommendations by the writer and/or expert(s) interviewed and do not contain affiliate links. Meaning: If you use these links to buy something, we will not earn a commission.
Fast-food chains already offer many mouth-watering options—hello, Big Macs and onion rings—but what if we told you there's a whole world of secret menu items and hacks that will make your dining experience at these popular spots even more enjoyable? We're talking next-level cheeseburgers stacked with unexpected ingredients, mind-blowing drinks, and impressively good McFlurries that stray away from the typical Oreo and M&M options.
Some of these secret menu items can be ordered by name, while others may involve a little bit more finessing. For instance, you might need to order a few traditional menu items separately and then assemble the secret dish on your own. (Don't worry—it'll be so delicious that you most likely won't mind!)
From protein-packed burgers topped with surprisingly scrumptious ingredients to a fantastic secret side dish that has gotten so popular that the chain actually might add it to the menu, here are the best secret menu options at your favorite fast-food chains. You may want to peruse our list before you make your next fast-food run.
1. Burger King Frings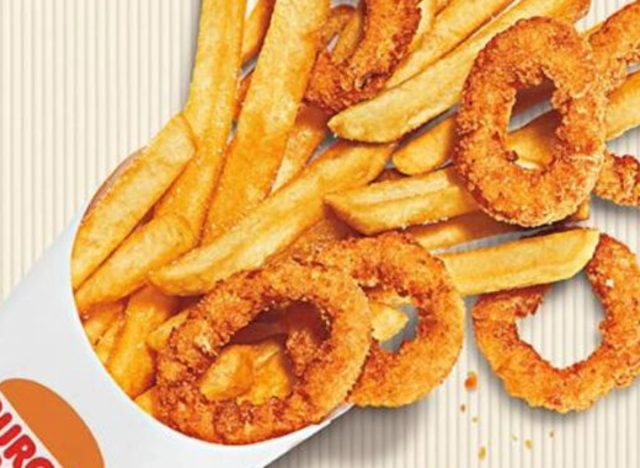 If you're at Burger King and can't decide between onion rings and fries, why not just get both? Frings are a popular secret menu item at BK that people can't get enough of, and, yes, it's exactly what it sounds like—a side of half fries, half onion rings, both served in the same container. This buzzy off-menu item became so popular that the restaurant chain this summer began testing this side as an actual menu item in select Florida locations.
2. KFC Poutine
If are familiar with poutine—the popular French-Canadian dish of fries, gravy, and cheese curds—then you'll appreciate this secret menu hack at KFC, which offers you a similarly hearty indulgence without crossing the border. The hack, which has gained traction on TikTok, involves ordering KFC's fries, sprinkling them with cheddar cheese (sorry, no curds here), covering them in the chain's signature gravy, and, voilà, you have your very own makeshift poutine.
3. McDonald's McFloat
If you are craving an ice cream float and don't have any traditional scoop shops near you, stop by McDonald's to make your own. All you need to do is order a small vanilla ice cream in a cup (fingers crossed the soft-serve machine isn't broken) and then pour fountain Coca-Cola over it. You can even try this with other soda flavors, too, such as classic root beer.
4. Chipotle Loaded Nachos
Yes, you can get loaded nachos at Chipotle; you just have to know what to ask for. To begin with, order a burrito bowl filled with as many tasty ingredients as your heart desires—diced tomato, shredded lettuce, black beans, meat, and cheese, for instance. Next, ask for a side of tortilla chips and queso blanco. Once that's all set, all you have to do is place the chips in the lid of the burrito bowl, dump the burrito bowl ingredients on top of it, pour on the cheese, and that's it—loaded nachos in no time. If you need some guidance on making this dish a reality, be sure to check out TikTok.
5. Taco Bell Enchirito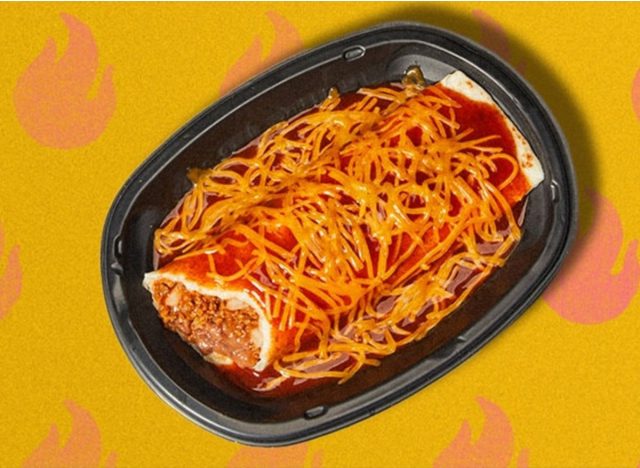 Taco Bell's relationship with the Enchirito has been a strange one. For instance, the dish was once upon a time on the chain's menu but was taken off in 2013. However, it returned for a limited time in 2022 because of a fan vote, then disappeared yet again. But, even though this option isn't available on the restaurant's menu anymore doesn't mean you can't enjoy it now. Spoon University suggests that you can simply order it by name, as most Taco Bell employees should know what it is. Or, if they don't, just ask for an enchilada with beans, beef, and cheese.
6. McDonald's McDouble "Like A Mac"
This popular secret menu, the McDouble "Like A Mac," has been making  the rounds on social media, and we can understand why—it's basically a Big Mac at only a fraction of the price. To get your hands on this tasty sandwich, all you have to do is order a McDouble and say, "like a Mac." McDonald's employees will add special sauce, lettuce, cheese, pickles, and onion to your McDouble. They might even switch out the regular bun for a sesame seed one (the only difference is that the middle bun is still the regular one). Not only is this secret menu item oh-so-tasty, but it saves you some money, too.
7. Wendy's Barnyard Burger
Meat lovers gather around—this is the secret menu item for you. The Wendy's Barnyard Burger, which is much discussed on TikTok, features a beef patty piled high with crispy bacon, a chicken patty, cheese, lettuce, and tomato, all stuffed into a bun. To get your hands on this mouth-watering treat, you can either try asking for the Barnyard Burger by name, or you can order the Asiago Ranch Chicken Club and add a beef patty.
8. Panera Value Duets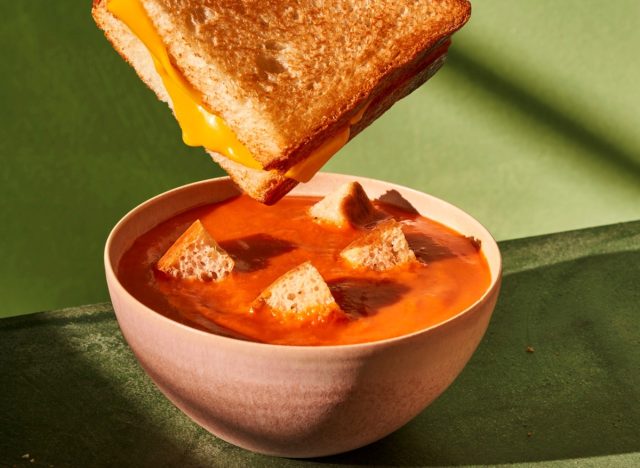 If you're a fan of Panera Bread's famous "You Pick Two" combos, then you need to hear about this next secret menu item. Beyond the "You Pick Two" options, the beloved chain also carries "Value Duets," which are essentially cheaper versions of the "You Pick Two" menu offerings. A former Panera Bread employee took to TikTok to explain that this menu option includes pre-selected combos (such as a deli ham sandwich and chicken noodle soup, or classic grilled cheese and tomato soup) that are priced around $7. "Value Duets" are technically on the menu but hidden so well that most people don't even realize they're there.
9. Five Guys Grilled Cheese Cheeseburger
If you love the popular hamburger joint Five Guys, then you'll really love this secret menu fave—the grilled cheese cheeseburger, which has everyone talking on TikTok. This secret menu hack is exactly what it sounds like—a cheeseburger sandwiched between two buttery pieces of bread. One of the best parts is that you can order this secret item by name, all you have to do is request a grilled cheese cheeseburger, and you're good to go.
10. Chick-fil-A Spicy Char
Chick-fil-A fans simply can't get enough of this tasty hack. The Spicy Char is essentially an unbreaded, grilled chicken sandwich sprinkled with spicy seasoning, served on a bun of your choice and topped with toasted dill pickle chips. "Guests can also add a slice of pepper jack cheese," according to the website Enjoy OC.6254a4d1642c605c54bf1cab17d50f1e
11. In-N-Out 4×4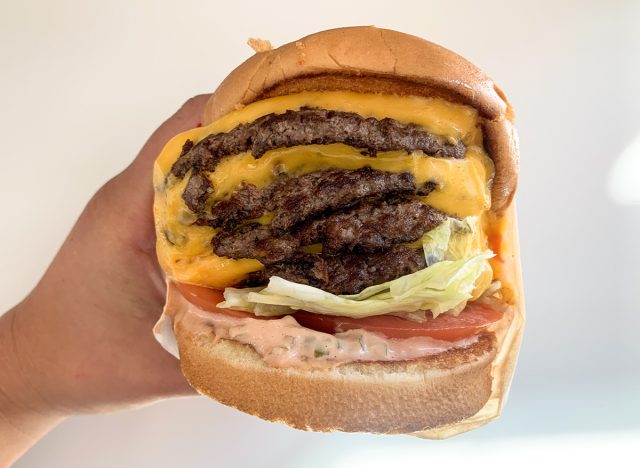 The 4×4 secret menu hack is so popular now that the beloved West Coast chain has it listed on its "Not-So-Secret Menu." The 4×4, also known as the Quad Quad, is a tasty burger stacked with four beef patties, lettuce, tomatoes, sauce, four pieces of American cheese, and onions (but feel free to nix these if you're not in the mood).
12. McDonald's Grilled Cheese
Did you know you can get grilled cheese at McDonald's? Perfect for vegetarians, this sandwich is one of the chain's most popular secret menu items and involves one or two pieces of American cheese grilled between two hamburger buns. You can even ask for tomato slices on it if you'd like.
13. In-N-Out Animal-Style Burger
Another of In-N-Out's top-rated not-so-secret menu items is the Animal-Style Burger, which fans cannot get enough of. This delicious burger is stuffed with mouth-watering ingredients, including a mustard-cooked beef patty, lettuce, tomatoes, extra sauce, grilled onions, and plenty of pickles.
14. McDonald's Chocolate Chip Cookie McFlurry
How good are the McDonald's McFlurries? These tasty ice cream treats, made with smooth, soft-serve vanilla, always seem to hit the spot. If you've grown tired of the chain's Oreo or M&M offerings, try out this next secret menu item—the Chocolate Chip McFlurry. For this one, all you have to do is order a plain McFlurry with a chocolate chip cookie mixed in. Delicious.
15. McDonald's Hashbrown McMuffin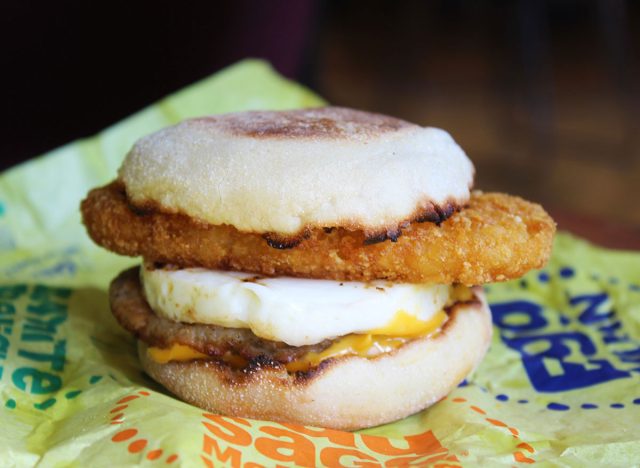 Want a tasty and quick breakfast dish that is bursting with texture and flavor? Two words: Hashbrown McMuffin. This lip-smackingly good mashup combines two iconic McDonald's menu items: the Egg McMuffin and a hash brown. That's all there is to it.
16. Starbucks Matcha Tea
If you're a huge fan of Starbucks but want to take a break from coffee, why not try the chain's matcha tea in hot or iced form? Technically hot and iced matcha lattes are already on the coffee shop's usual menu, but the secret comes to play if you don't want your matcha to be a latte.
17. McDonald's Surf & Turf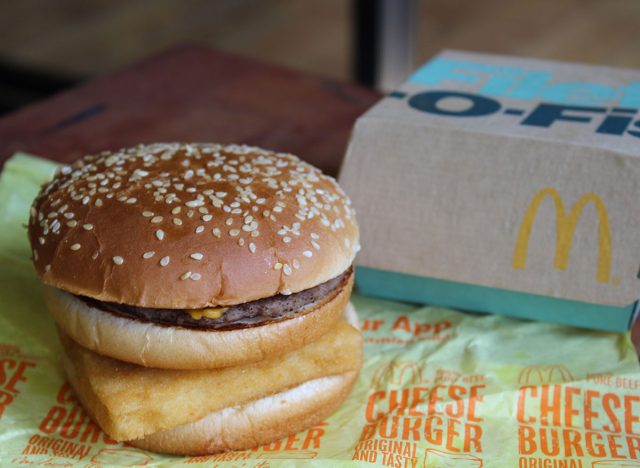 If you're indecisive about what to order at McDonald's but know you want to get a lot of protein, try this next secret menu item—the McDonald's Surf & Turf. All you have to do to create this popular hack is order a Filet-O-Fish and cheeseburger, take away two buns, combine ingredients, and you're ready to dive in.
18. Starbucks Espresso-Banana Protein Smoothie
Yes, you can even order protein smoothies at your local Starbucks—you just need to know what to ask for. You might need to walk your barista through the ingredients for this one, but don't worry; it's not too complicated. Simply ask for whey protein, a banana, a shot of espresso, ice, and water—that's all!
19. McDonald's Apple Pie McFlurry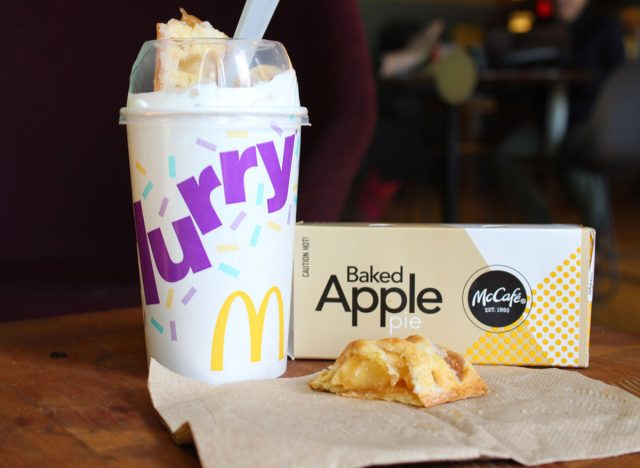 Is there anything that sounds more delicious than an Apple Pie McFlurry? We think not. This one is pretty straightforward—it's just an apple pie mixed into a plain McFlurry. You can ask for this secret menu item by name, or if your server doesn't seem up to it (or you're too shy), just order a plain McFlurry and an apple pie and do the mixing yourself!
20. McDonald's Orange Creamsicle
This next secret menu item is a total game-changer. Part drink, part dessert, this tasty treat is one you have to try ASAP. For this one, all you need to do is order a soft serve vanilla in a cup and then head over to the DIY fountain drinks machine. Pour some orange soda over it, and you're good to go.
21. McDonald's Land, Sea, & Air Burger
You already know about McDonald's Surf & Turf burger. Now, check out the Land, Sea, & Air Burger. It's stuffed with so many delicious McDonald's ingredients that it's hard to even know where to start. For this one, you just need to combine a Filet-O-Fish, McChicken, and cheeseburger for a delectably good combination you probably won't be able to order just once.
22. McDonald's McBrunch Burger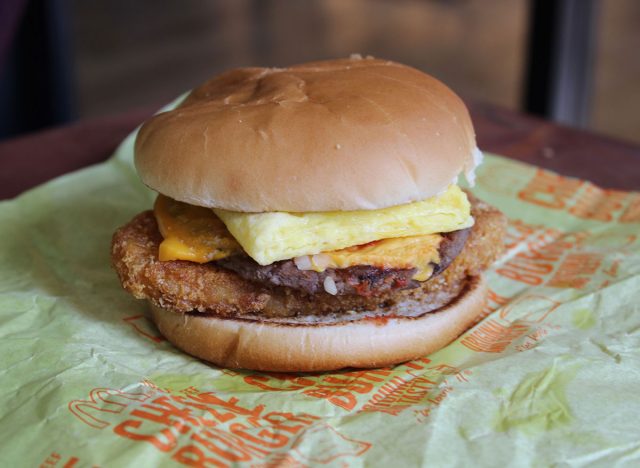 In the mood for brunch? Try out the McBrunch Burger that you can put together in a cinch. This one involves a tasty cheeseburger topped with an egg and hashbrowns. It's like a whole brunch menu combined into one super flavorful dish.