15 Absolute Best Self-Care Gifts for Your Valentine, According to Our Editors
Consider your shopping situation totally saved.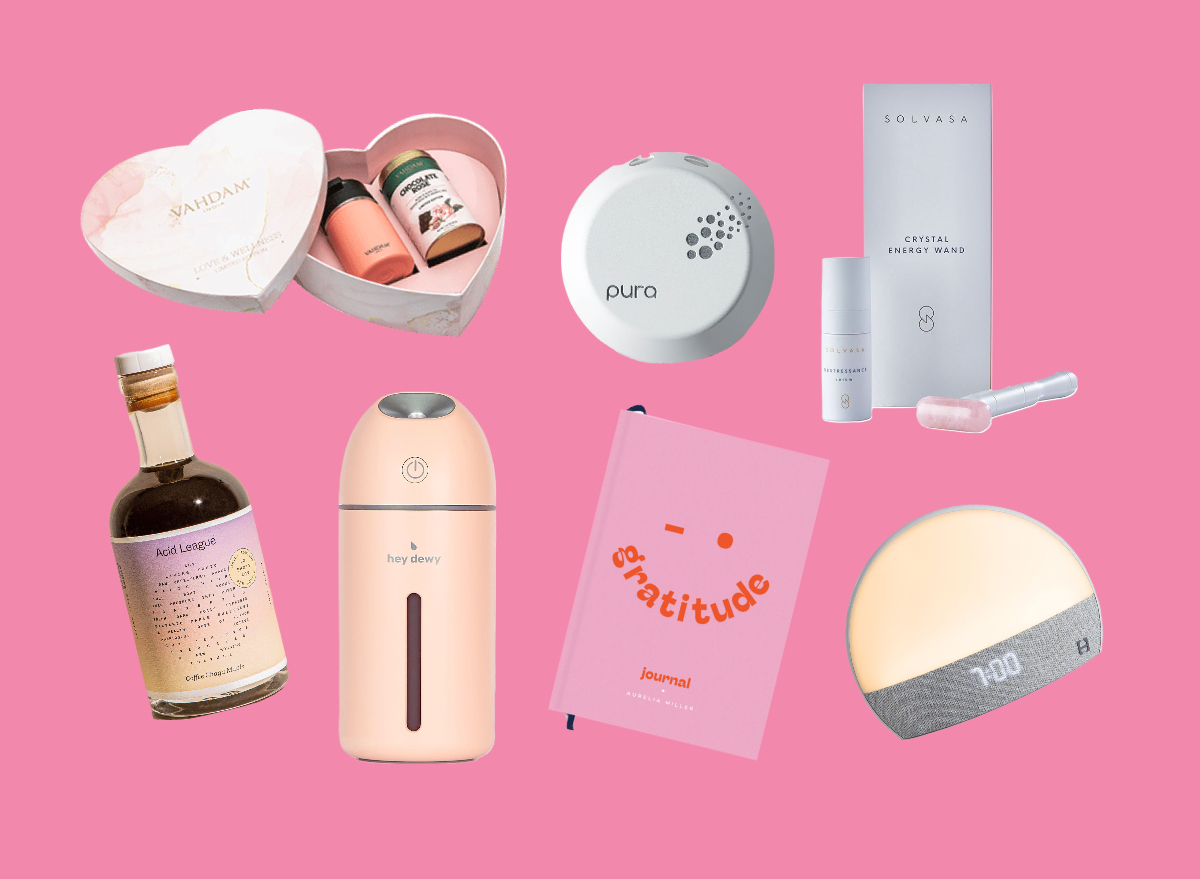 Whether you're shopping for yourself or the health and wellness-minded one you love this Valentine's Day, it's time to think outside of the candy box. There are plenty of super thoughtful, healthy ways to show your partner just how much you love them. Of course, you can never go wrong with a fresh bouquet of blooms—they will forever be a classic and beautiful gesture of the holiday. (Plus, blooms are known to generate a plethora of health benefits—they can enhance sleep, lift spirits, and even promote positive mental health. Talk about a well-rounded present!)
But if you're looking for something a little more untraditional, consider your shopping situation, well, totally saved. From skincare products to wellness-inspired gadgets to healthy eats, and of course, everything in between, we've rounded up the absolute best self-care gifts that will make your Valentine feel great from the inside out. Browse our selection below, and next up, check out The 6 Best Exercises for Strong and Toned Arms in 2022, Trainer Says.
Papier's "Gratitude Attitude" Journal
Studies have proven that journaling greatly benefits your overall health and well-being in more ways than one. Expressing your thoughts by writing them out a few times each month can help reduce blood pressure. Journaling can also help you self-reflect, keep your memory sharp, and so much more.
There are many styles to choose from, such as this "Gratitude Attitude" Journal by Papier that's so pretty in pink. Keeping track of what you are most grateful for is a fun new pastime anyone can start at any time in life. In this journal, there's room for your loved one to note their feelings, thoughts, and lessons learned for each and every month. There are motivational mottos and affirmations, in addition to fun activities that will help your Valentine practice gratitude on a daily basis.
Pura Smart Device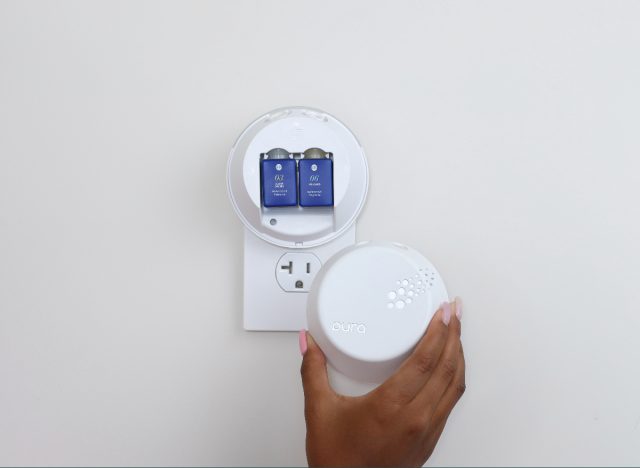 If you like the idea of gifting aromatherapy, a fragrance diffuser is such a lovely choice. Basically, diffusers release essential oils into a space, providing a calm and soothing environment. Your Valentine can enjoy better sleep, less stress, and an improved living area with Pura's smart fragrance diffuser. Choose whatever fragrance (like midnight tulip or sugar blossom) you'd like to personalize this Valentine's Day gift even more. The coolest part is, the scent intensity can be controlled from an app on your Valentine's phone, and they can even set a custom schedule for it. Whether your special someone sets it up by their cozy bed or in the bathroom to enjoy while soaking in a bubble bath, the theme for this gift is certainly "relax and enjoy."
myAir Nutrition Bars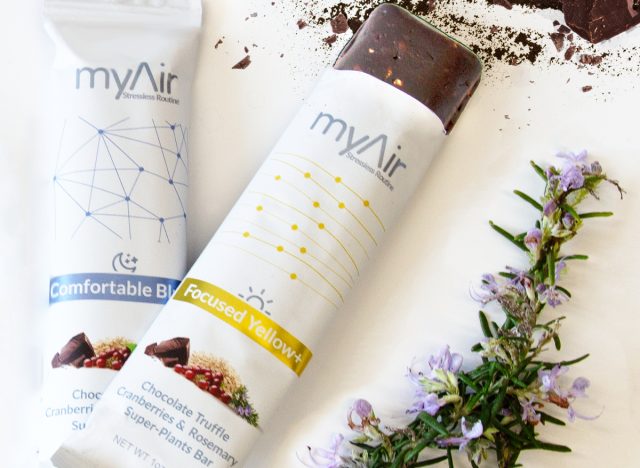 These nutrition bars are quite possibly the coolest nutrition bars of all time, and your Valentine will certainly agree. They're tailored specifically to the user and their own personal stress profile—there's even a fun, science-backed questionnaire to complete so the company can determine the user's needs, aka "your two main stress effects." For example, "The Sweet Dream" (which will help you get a great night's sleep) and "The Daytime Zen Master" (which will make you feel calm and enhance your cognitive function) are just a sampling of the brand's bars.
The healthy snacks are gluten-free, vegan, non-GMO, and they have no added sugar. Each bar contains less than 100 calories, and they're quite tasty. Research shows that myAir bars improve anxiety, reduce stress, and promote better sleep.
(Note that prices vary; a one-time purchase of a box of 20 bars is $50, and a monthly subscription is $40.)
Related: 14 Absolute Best Valentine's Day Treats, Ranked by Sugar
An Inner Dimension TV Subscription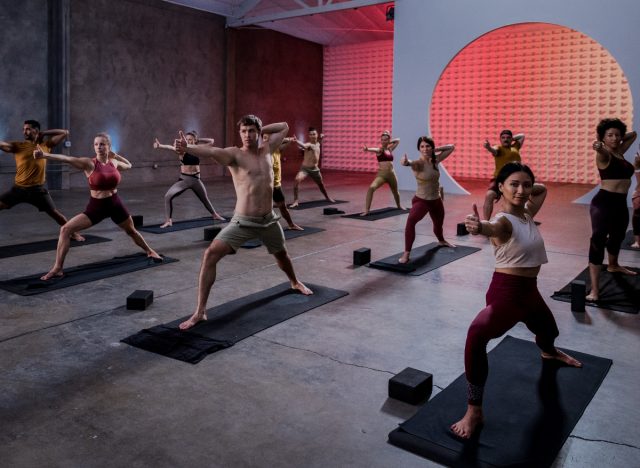 Gift your significant other a subscription that will provide amazing benefits to the mind and body in so many splendid ways. With an Inner Dimension TV subscription, your Valentine will have access to restorative, prenatal, power, gentle, and yin yoga classes, in addition to amazing programs, meditation classes, and daily wisdom chats.
According to Harvard Health Publishing, yoga can increase flexibility and help decrease pain. Research has indicated it may also be beneficial for mobility, balance, fibromyalgia, migraines, lower-back pain, and more. This would make for the perfect date night activity!
(Note that a subscription costs $17 per month, with a 10-day-free trial period.)
Hey Dewy Wireless Facial Humidifier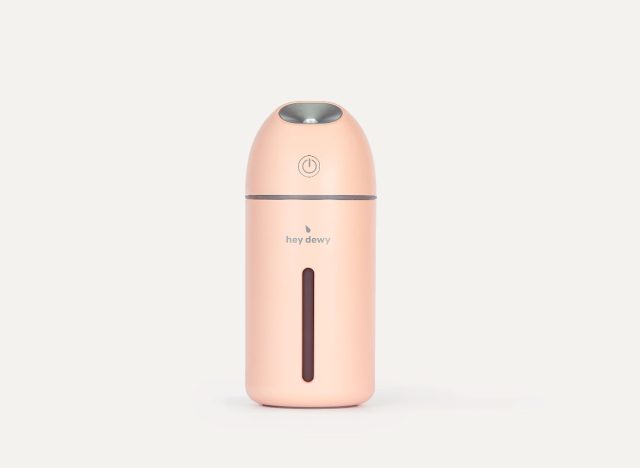 With this facial humidifier on deck, your loved one can keep their skin hydrated, glowing, and totally refreshed all day long. This wireless, rechargeable, and adorable device is perfect to take on-the-go, so wherever your Valentine is headed, they can put their self-care first. Plus, they'll get up to an 8-hour mist with just one charge. Choose from pearl, blush, or charcoal—you know your Valentine's aesthetic best of all!
A Sunbasket Subscription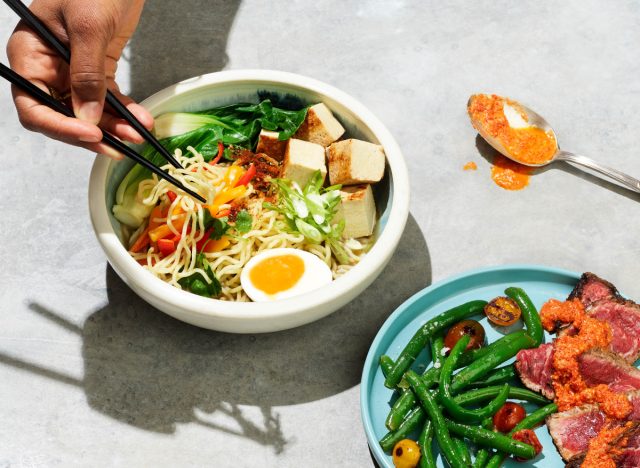 If your Valentine loves whipping up healthy meals, but they don't necessarily have the extra time to grocery shop every week, they'll certainly appreciate a subscription to Sunbasket. They will have so much fun getting creative in the kitchen with organic and fresh produce that will conveniently be delivered right to their doorstep. And according to John Hopkins Bloomberg School of Public Health research, individuals who prepare their own meals are eating more nutritiously with less calories than people who don't cook frequently.
You can customize your Valentine's meal delivery to fit their lifestyle, too. If they are vegetarian, paleo, gluten-free, would like to eat lean and clean, and more, there are plenty of tasty choices to choose from. This meal delivery company's dietitian-approved, healthy recipes will give your special someone all the heart eyes. All you have to do is select how many dinners per week you'd like to gift your Valentine. (For example, 2 Meal Kits for 2 people—a total of 4 servings—comes out to $15 per serving.)
LSKD's Overtime Oversized Sweater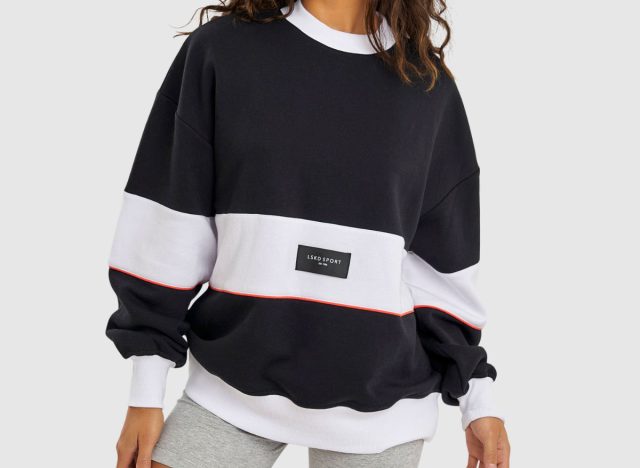 If your Valentine loves the cozy life—and they essentially live in loungewear on the reg—then consider gifting them something they'll really look forward to putting on, like this oversized sweater. LSKD is all about chasing the vibe, and the brand's goal is to inspire others to chase it, too. Your special someone can pair this sweet sweater with their favorite workout leggings, biker shorts, or sweatpants. And the best part is, they'll feel good whether they're hitting up the gym, working from home, or cuddling up on the couch with a juicy read.6254a4d1642c605c54bf1cab17d50f1e
Hatch Restore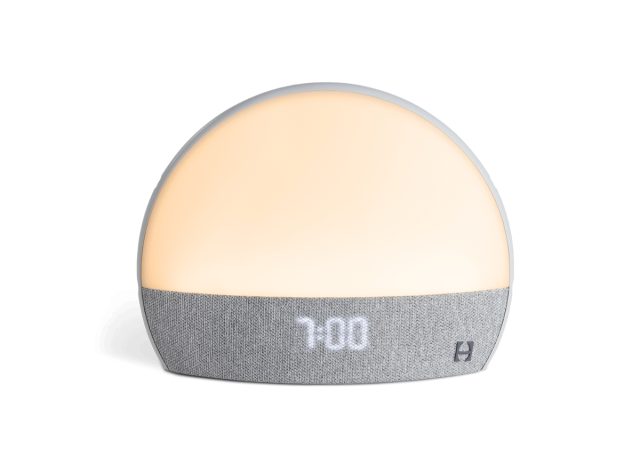 Does your Valentine always complain about how harsh their alarm is in the morning? It's all too relatable, and this clock features a really cool "sunrise alarm" that gradually lights up so your loved one can wake up peacefully rather than frantically. And it's not just your typical alarm clock—this smart sleep assistant is also a sound machine, meditation app, and smart light.
Acid League's Living Tonics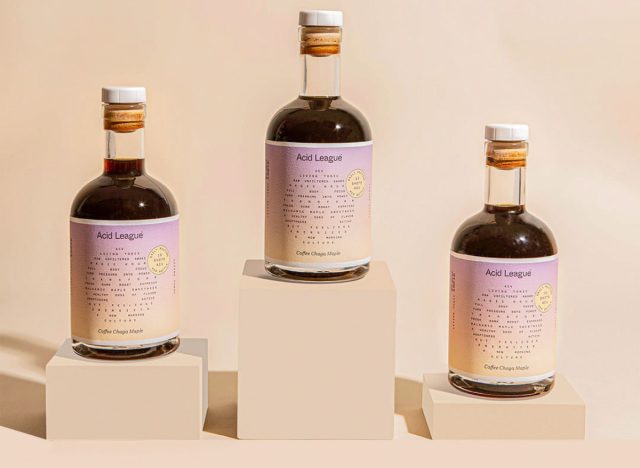 These tasty tonics give your Valentine's daily apple cider vinegar shot an update they'll fall head over heels for. All of Acid League's tonics are "alive," which means every bottle features living vinegar mother, making them chock-full of health benefits. By gifting your Valentine a set of living tonics, they can expect "apple cider vinegar that tastes as good as it makes you feel." If you choose the Coffee Chaga Maple Set, your loved one will reap the benefits of chaga mushrooms—they are known to lessen inflammation and ward off harmful bacteria. However, you can opt for Vanilla Mānuka Spice or Passion Fruit Oolong … or gift your SO all three!
(Note that a one-time purchase of 3 living tonics is $60, and a monthly subscription is $51 per month.)
UNREAL's Dark Chocolate Peanut Butter Cups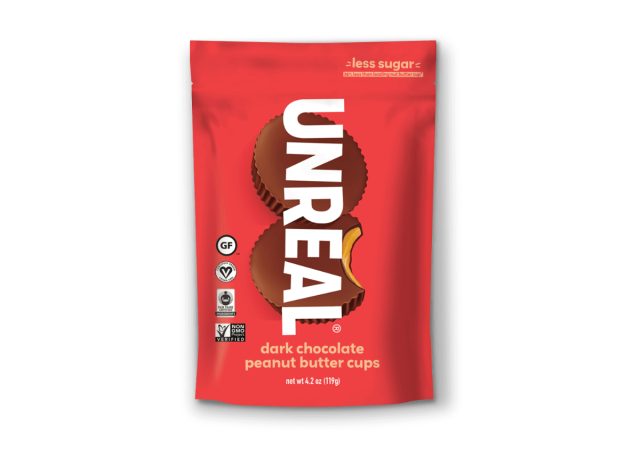 Real talk: Can you actually call it Valentine's Day if there's no chocolate involved? If your Valentine has a sweet tooth, we can't say we blame them, and we have just the perfect—and healthy—delight they'll totally love. (Because let's be honest: Indulging in healthy treats is definitely a form of self-care.)
Not only will they enjoy all the creamy peanut butter and dark chocolatey goodness that comes with this beloved candy, but they'll also feel good knowing it's Non-GMO Project Verified and Certified Vegan. The peanut butter cups are also free of dairy, gluten, corn, soy, artificial flavors, preservatives, and dyes. What's a better treat than that?
(Note that your one-time $33 purchase comes with 6 bags of UNREAL dark chocolate peanut butter cups. You can also select 3 bags for $19, 12 twin packs for $21, or a 40-cup caddy for $32.)
Solvasa's Crystal Energy Wand And DeStressance® Serum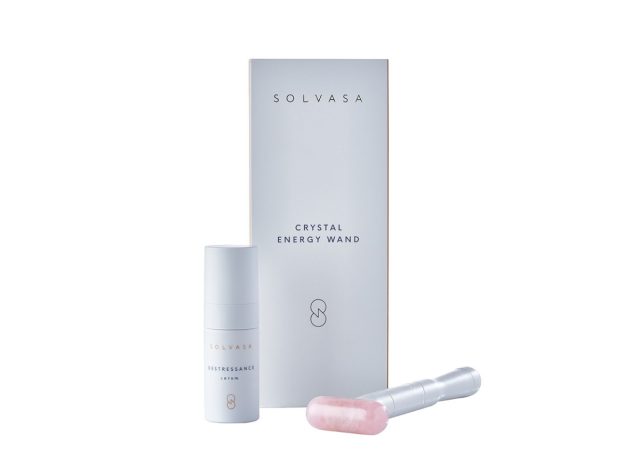 Your Valentine will absolutely love this pampering update to their daily skincare regimen. Solvasa's crystal energy wand is made of genuine rose quartz crystal and was designed specifically to be used with the brand's DeStressance® Serum. Together, this powerhouse duo de-puffs and nourishes facial skin, reduces wrinkles and fine lines, and all-around makes the skin look radiant. With this skincare set on deck, your Valentine will feel like they're getting a rejuvenating facial on the daily.
Related: 10 Affordable Valentine's Day Gifts for the Foodie In Your Life
FlexiSpot's Comhar Standing Desk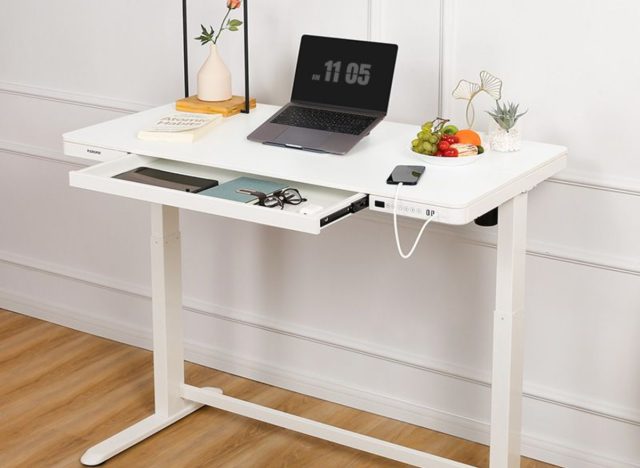 We all know that sitting too much can wreak havoc on your body and overall health—it can lead to increased pain, stiff joints, and tightened muscles, just to name a few examples. So, if your Valentine works from home or has a hybrid work situation, they'll likely really appreciate a standing desk such as this one from FlexiSpot, so they aren't sitting all day long.
This multi-functional desk can be raised from 28.3" to 47.6", and it's complete with four programmable height presets, three USB charging ports, and a pull-out drawer that can be home to all of your Valentine's work supplies. Choose from a selection of colors, including chipboard white (pictured above), chipboard maple, and chipboard black. The price point of this gift is on the higher side, but it's well-worth it, as a standing desk is something your special someone will get much use out of and appreciate on a regular basis.
Le Wren's Menopause Support Gift Box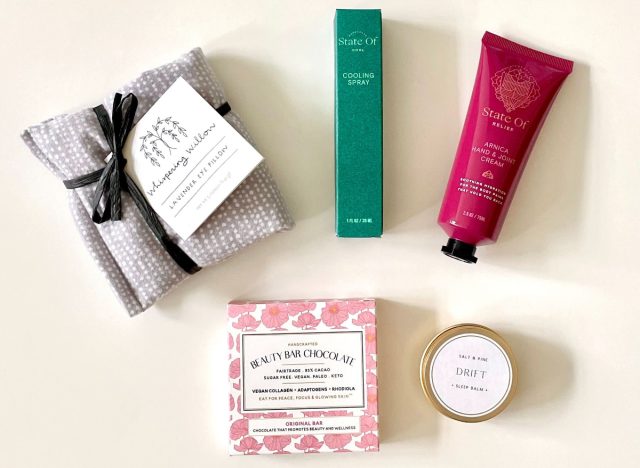 This is a very thoughtful surprise for the female who is going through that tough time in life. Show her all the love with a box of luxury items for self-care and ultimate pampering, including a cooling spray that she can take on-the-go, essential oil lip balm for a relaxing bedtime routine, hand and joint cream, a lavender eye pillow, and a delicious bar of chocolate that's vegan, paleo, sugar-free, and keto-friendly.
VAHDAM® India's Box Of Love Gift Set: Valentine's Limited Edition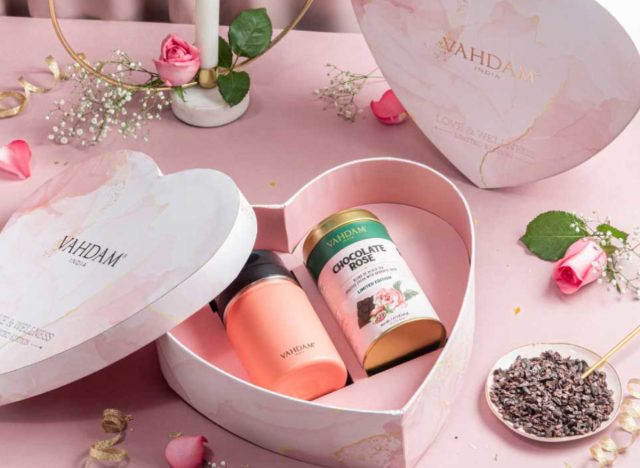 If your love bug loves sipping tea, they will be obsessed with VAHDAM® India's amazing selection. The L.O.V.E Edition, specifically, is too darn sweet for words. This limited edition heart-shaped gift box is complete with a Chocolate Rose Black Tea Tin Caddy (20 tea bags) and a pink Vitality Flip Bottle so your Valentine can sip their tea in style. Plus, black tea is known to have a plethora of health benefits, including lessening one's risk of developing heart disease and enhancing gut health. It also may aid in lowering blood sugar and blood pressure.
In addition, your Valentine might appreciate VAHDAM® India's 15 Day Turmeric Wellness Starter Kit ($43), which comes with 4 Turmeric Blends (60 Cups) and a hunter green Drift Mug, or the brand's Tea Assortment Private Reserve ($45), which comes with a selection of 24 best-selling loose leaf teas. Choose whichever tea gift best suits the one you love.
Kosterina's Extra Virgin Hydrating Face Oil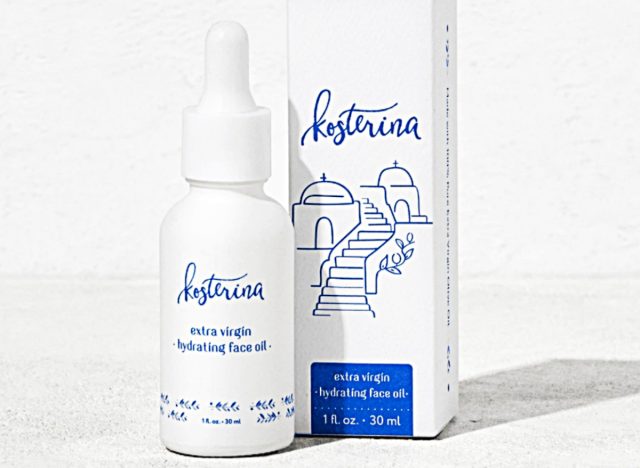 This extra virgin hydrating face oil will be such a treat for your partner to work into their daily pampering sesh. In addition to being moisturizing, lightweight, nourishing, and oh-so rejuvenating, the product is made with Kosterina's signature extra virgin olive oil and lachestim. If you haven't heard of lachestim before, it's a therapeutic oil that exclusively comes from trees on the Greek island of Chios. Your significant other can use this oil on their face, neck, hands, or really anywhere on their body they'd like to pamper with a little bit extra hydration.
Alexa Mellardo
Alexa is the Mind + Body Deputy Editor of Eat This, Not That!, overseeing the M+B channel and delivering compelling fitness, wellness, and self-care topics to readers.
Read more about Alexa