5 Best Smoothie Combinations for a Longer Life, Says Dietitian
Blend these up for healthier days!
Sipping on a smoothie can be a lifesaver on busy days when you need something quick and healthy in your belly. Typically loaded with good-for-you ingredients, smoothies are a perfect solution for people who live on-the-go lifestyles.
But not all smoothies are created equal. While smoothies made with fruits, veggies, and other nutrient-dense foods can help people live healthier lives, and may even help them live longer lives, leaning on sugary additions or items that are void of important nutrients may cause more harm than good.
Living a longer life is a common goal that many people share. If you are among the many people who want to live well into their golden years and you are a smoothie-lover, here are the five best smoothie combinations for a longer life.
Envy apples, cinnamon, and milk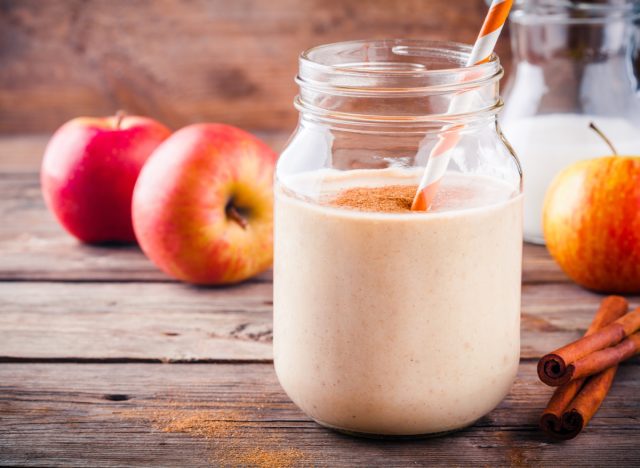 Apples aren't always top of mind when considering smoothie ingredients, but they should be! Apples are a natural source of fisetin, or a dietary antioxidant that may help people experience a longer lifespan.
According to data published in the Journal of Functional Foods, apple extract consumption is linked to slower aging, extended lifespan, and enhanced resistance to stress, making the tip to eat an apple a day even more appealing.
Using Envy apples in smoothies provides a unique and balanced sweetness to the smoothie concoction. Bonus? If you are pre-prepping your ingredients, these apples stay white longer, allowing for the critical chopping to occur before you actually blend. Mixing this fruit up with a sprinkle of cinnamon and some milk (dairy or non-dairy alternative) in a blender makes for a simple nutrient-packed smoothie that people of all ages will love.
Watermelon, Greek yogurt, and mint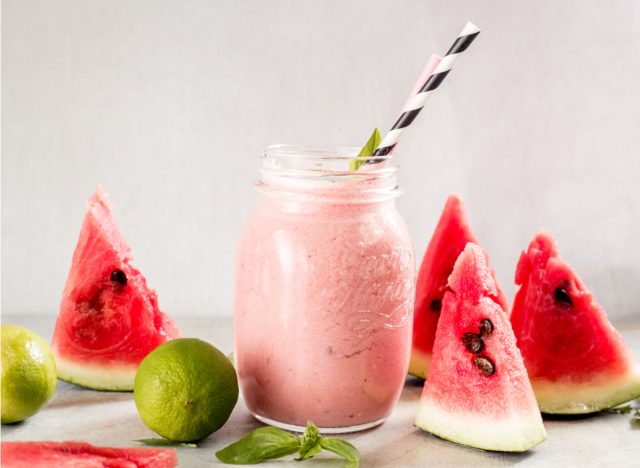 Watermelon is a naturally sweet addition to smoothies that has no added sugars while being a source of vitamin C and other important micronutrients. Plus, this fruit naturally contains lycopene, a carotenoid that contributes to cognitive longevity. A combo of watermelon, yogurt, and mint makes for a nutrient-dense smoothie that is light and refreshing—and drinking it may help you live a longer life too!
Riced cauliflower, frozen berries, and milk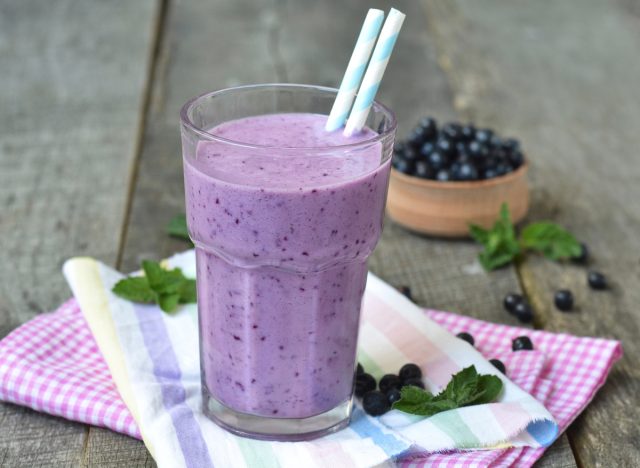 Eating cruciferous vegetables, like cauliflower, is linked to a reduced risk of experiencing early death. Adding riced cauliflower to your smoothie gives it a nice nutritious boost without compromising on flavor. Eating berries is linked to many benefits when it comes to supporting long-term health, and ultimately supporting longevity, like a reduced risk of cardiovascular disease and protection against cancer.6254a4d1642c605c54bf1cab17d50f1e
Oats, strawberries, bananas, and milk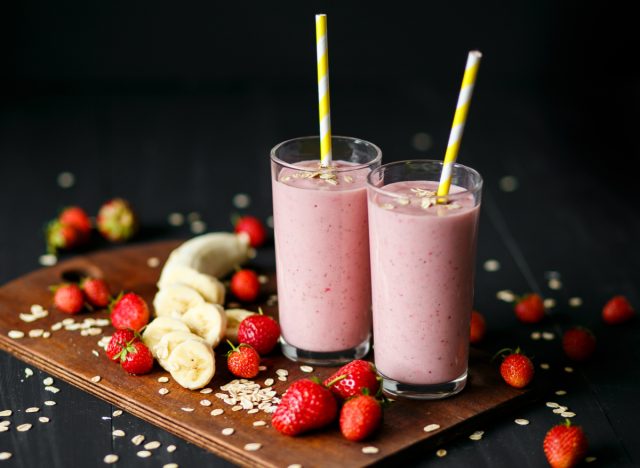 Oats are a whole grain that can be a fantastic addition to smoothies. One review study showed that including three servings of whole grains per day, like oats, was associated with a 25 percent lower risk of dying of cardiovascular disease when compared to those that ate fewer servings per day. Combining oats with fruit and milk makes for a creamy, satisfying, and fiber-rich concoction.
Chickpeas, almond milk, frozen banana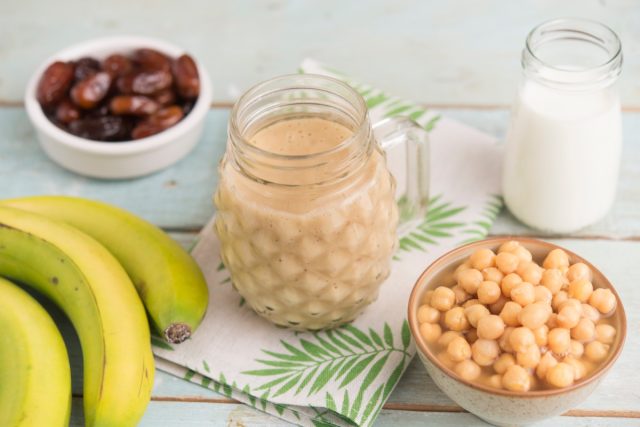 Diets higher in plant foods and lower in animal foods are associated with a lower risk of cardiovascular morbidity and mortality. Chickpeas are a versatile plant-based protein source that adds antioxidants, fiber, and protein to your smoothie, along with a bit of richness that makes for a creamy drink. Mix your drained and unsalted chickpeas up with almond milk and a frozen banana for a protein-packed smoothie that will be totally satiating and delicious.
Lauren Manaker MS, RDN, LD, CLEC
Lauren Manaker is an award-winning registered dietitian, book author, and recipe developer who has been in practice for almost 20 years.
Read more about Lauren