The Best Sports Bar in Every State
See where everyone's going to watch the big games in your state!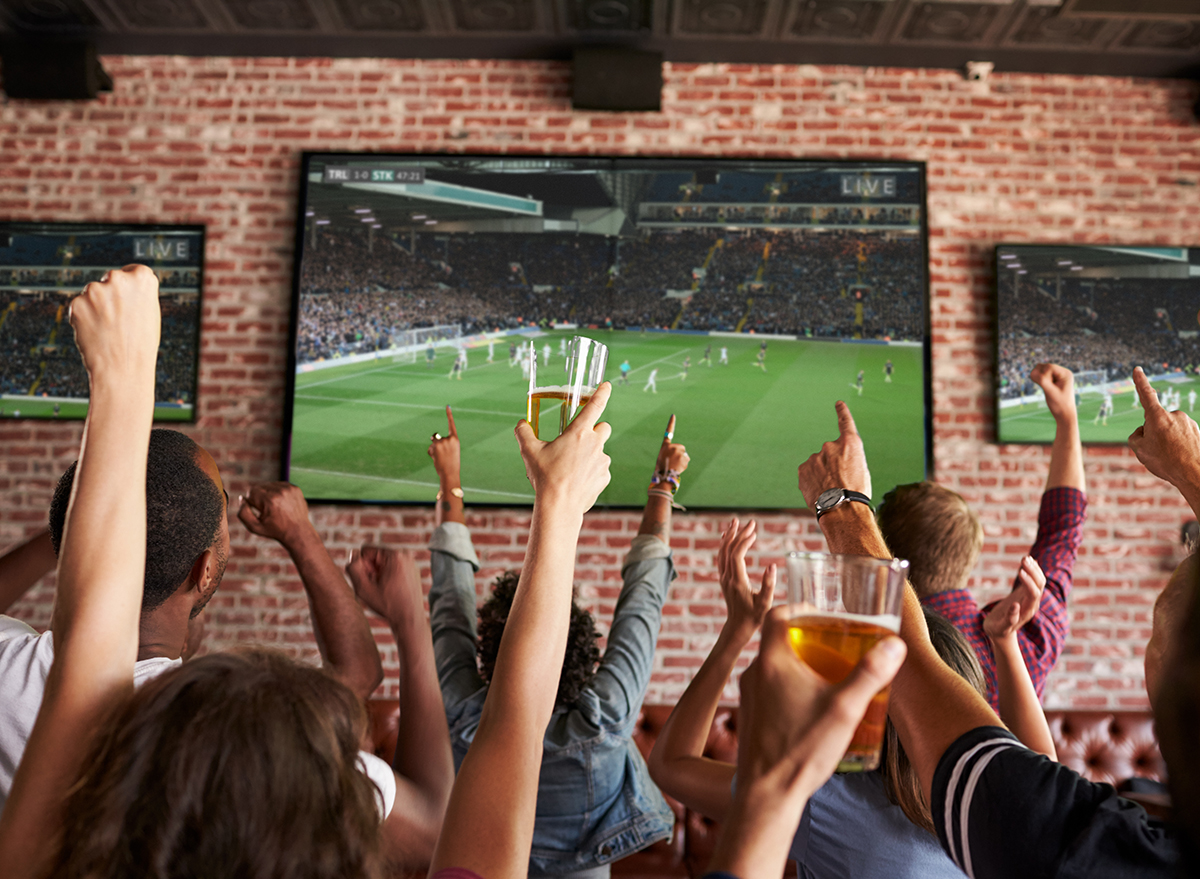 Whether you enjoy watching baseball, basketball, ice hockey, football, soccer, tennis, or all of the above, one thing typically remains consistent among all types of sports fans: the energy that generates from being encircled by a crowd of like-minded fans. There's nothing quite like rooting for your favorite sports team alongside friends and complete strangers alike as you collectively hoot, holler, and shout for them to take home the gold. Add delicious grub and alcoholic beverages into the mix, and you've got yourself a party.
In honor of such a special experience, we decided to call up our friends at Yelp to help determine the best sports bar in every state so that you know exactly where the most treasured place to catch a game in your home state resides.
Methodology: This is a list of the best sports bars in every state, according to Yelp. We identified businesses in the Sports Bar category on Yelp. "Best" is measured using an algorithm that looks at the number of reviews and star rating for a business.
We asked Yelp to send us the top three sports bar options for each state. If the first option didn't appear to be a true sports bar or at least a bar that screens games, we removed it and went to the next in line.
Now, here's the best sports bar in each state.
ALABAMA: Paramount Bar in Birmingham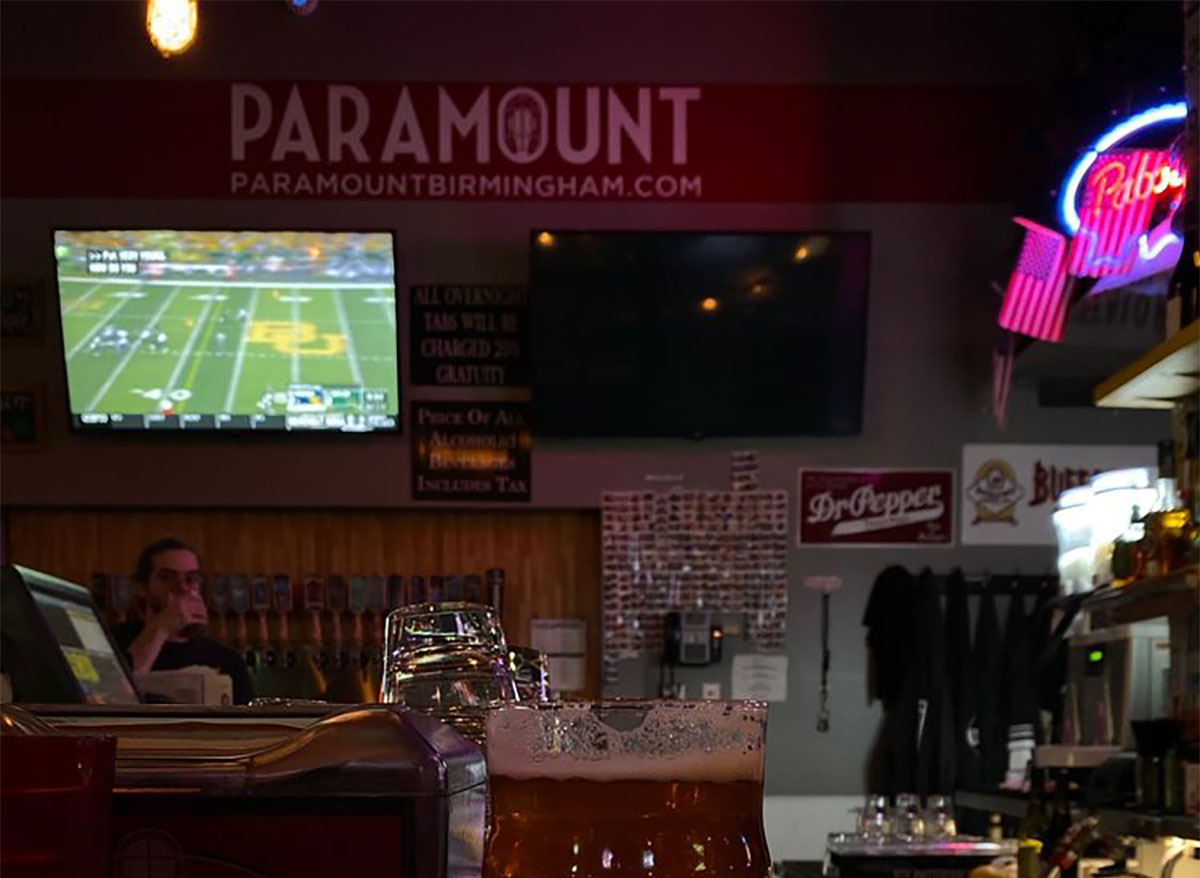 According to Yelp's algorithm, Paramount Bar is the best sports bar in all of Alabama. Why? Not only does this bar allow you to catch your favorite team playing on the big screen, but it's also equipped with plenty of arcade games, including The Simpsons, Aerosmith Pinball, and Skeeball.
A few reviewers on Yelp also raved about the wings, especially the rosemary, lemon, and pecorino flavors, with bleu cheese and ranch dipping sauces.
ALASKA: Lavelle's Taphouse in Fairbanks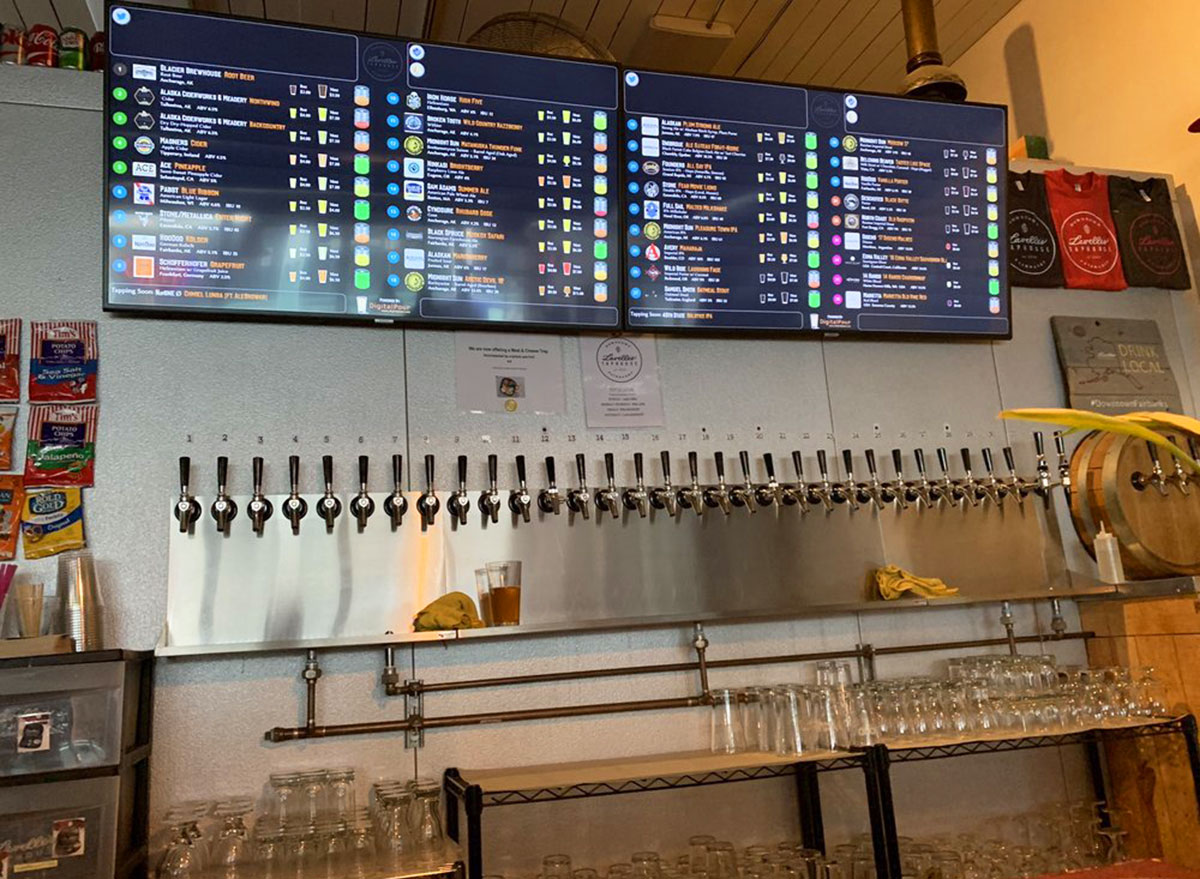 Both the beer and the atmosphere at this taphouse in Alaska is described as hipster on Yelp. With 36 tap beers, ciders, and even a few wine selections on rotation, Lavelle's Taphouse is the place to be on a Saturday night with a group of friends watching a game. You can even pop in on a weekday afternoon and pick out a board game to play with your pals as you sip on your brew.
ARIZONA: Fox Cigar Bar in Scottsdale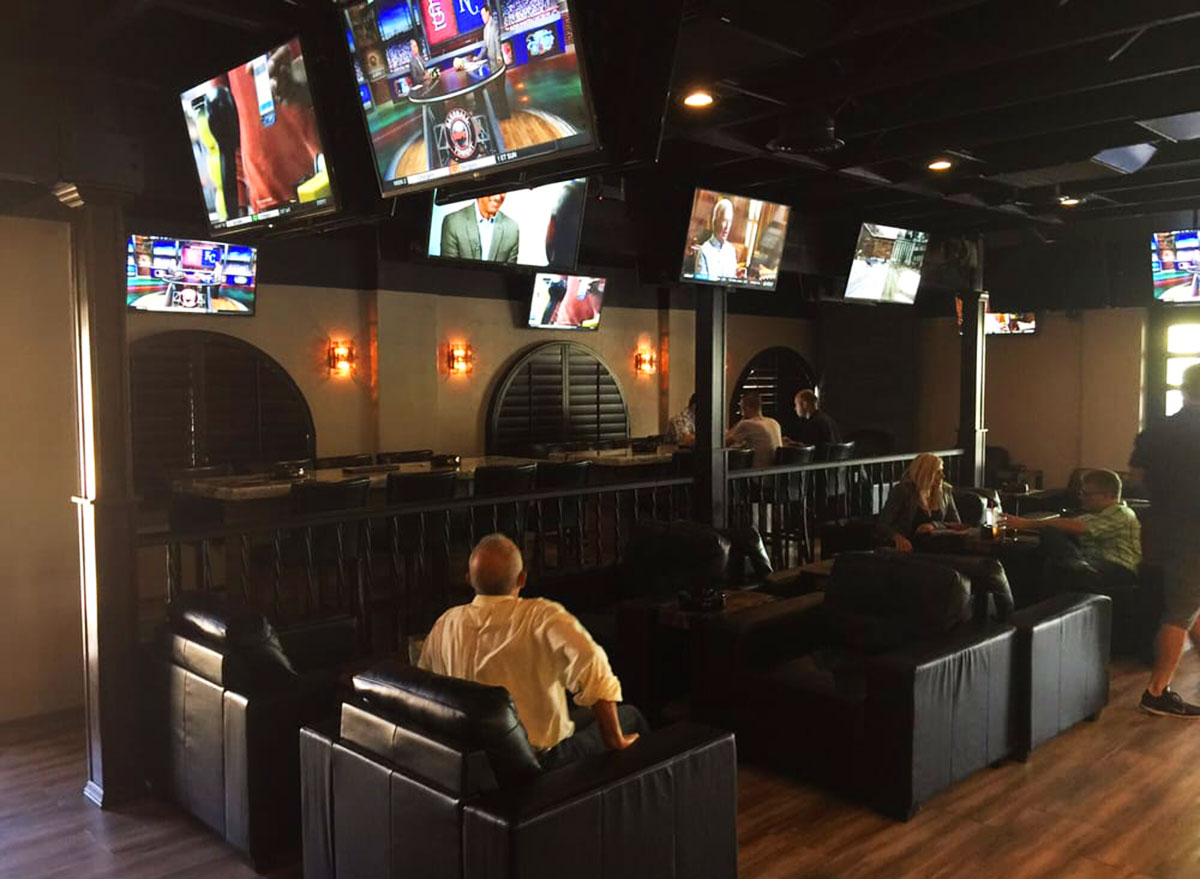 At Fox Cigar Bar in Scottsdale, you can light up a cigar, order your favorite cocktail, watch your favorite team compete, and even bring your dog out to the patio.
ARKANSAS: The First Seat in Bentonville
"Great bar in a perfect hideaway spot in downtown Bentonville," wrote one Yelp reviewer.
Aside from the great service and ample game coverage, The First Seat offers a lineup of seemingly delicious signature burgers, including the Jack the Ripper and the Woo Pig.
CALIFORNIA: Grinderz in Huntington Beach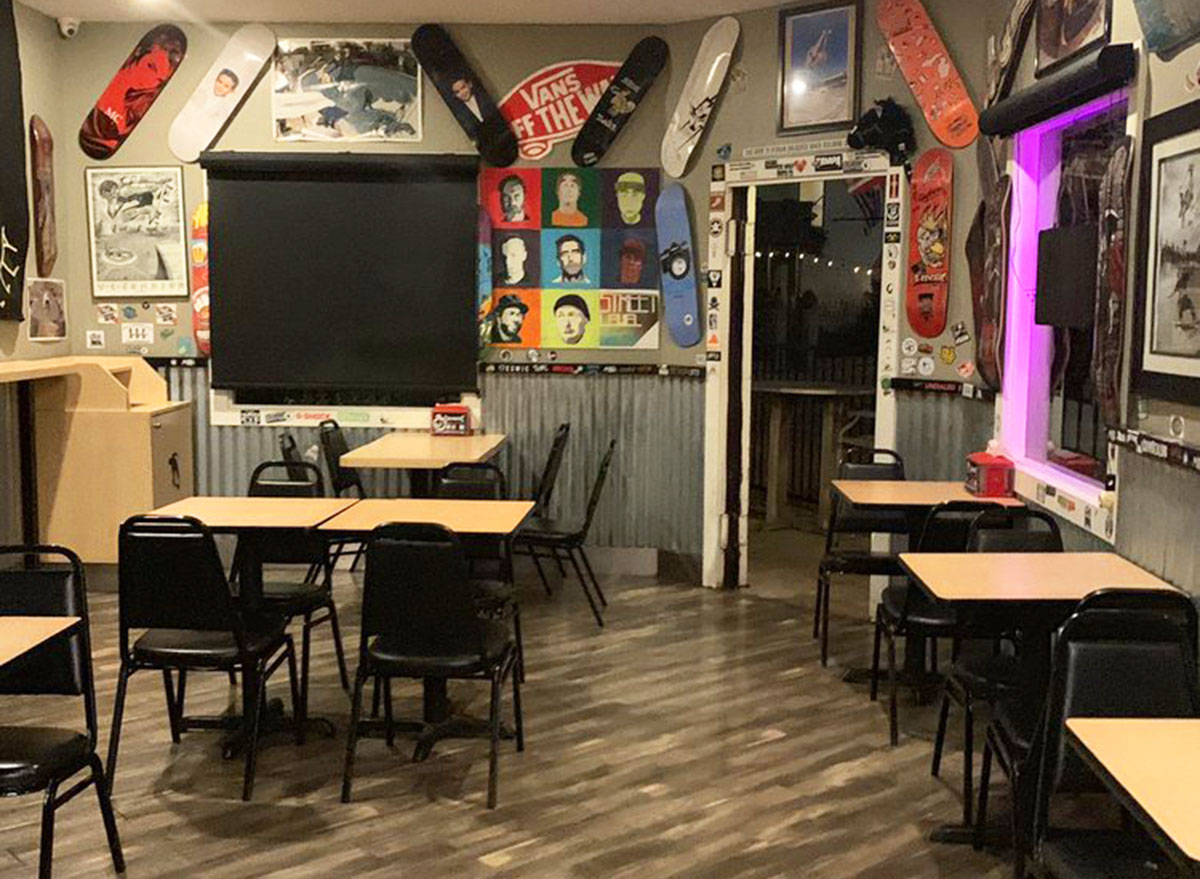 Head to Grinderz for a juicy burger as you work up an appetite rooting your beloved team along on the TV screen. The best burger on the menu? While that's hard to assess based only on Yelp reviews, it appears the Pigsty Burger is a hit. It's a beef patty that's stacked with avocado, grilled onions, bacon, and yes, even beer-battered fries. Yum! The interior of Grinderz is also worth a shout-out, as it's designed to resemble a skateboard shop.
COLORADO: The Colorado Room in Fort Collins
"The menu items are super creative, well-developed and super tasty," one Yelp reviewer wrote of this Fort Collins spot. "They use a ton of locally sourced products and have something for everyone." The menu really does have an extensive selection, too, from bison sandwiches to poutine to oysters.
CONNECTICUT: The Blind Rhino in South Norwalk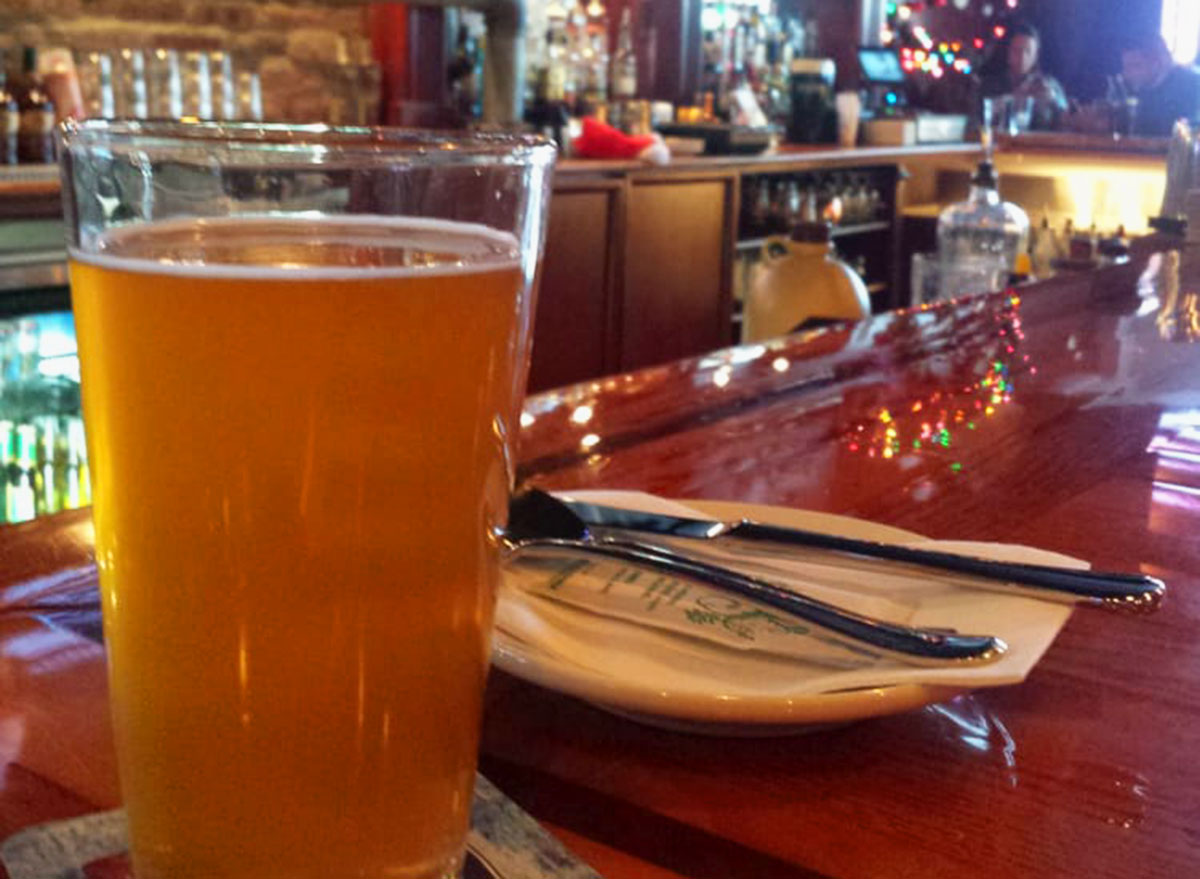 Um, how fun is the name of this sports bar, the Blind Rhino? Come on, that's as quirky as they come! On the website, you can see which sporting events are on deck to be screened that day so you get an idea of how boisterous the bar-goers will be. Split wings and nachos with your pals as you root and holler the evening away.
DELAWARE: Rocco Italian Grill & Sports Bar in Wilmington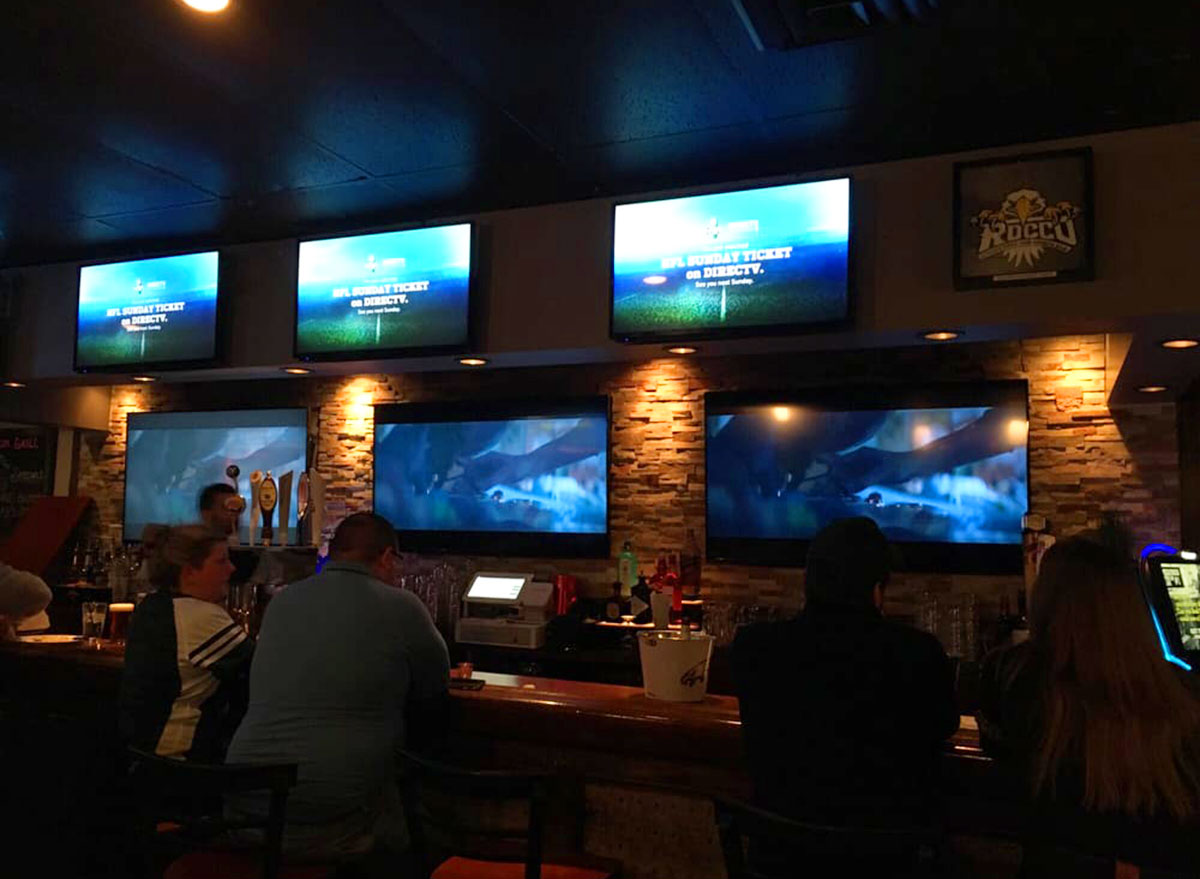 What other sports bar offers baked burrata and crab diablo? At Rocco Italian Grill & Sports Bar, you won't be ordering traditional pub grub. Prepare to indulge in an Italian-style feast as you catch an evening game. Catching a daytime football game? Pop into this place between 11 a.m. and 3 p.m. on the weekend for brunch and happy hour.
FLORIDA: The Social Lounge in St. Augustine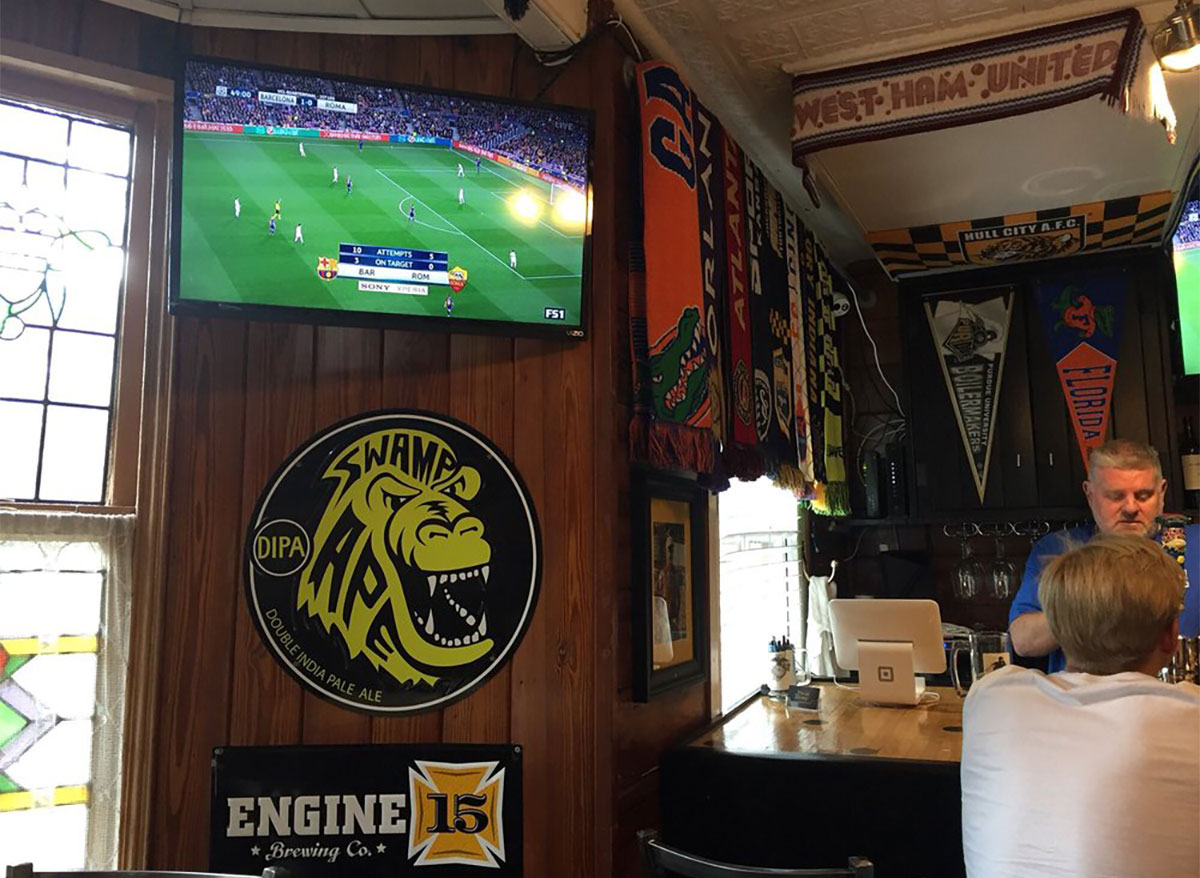 The Social Lounge is a tight-knit space, but they use it well. Plus, the staff all seem to be super friendly.
"WOW this is one of the best service experiences I've ever had," wrote one reviewer. "This tiny bar in historic St. Aug (off the main strip, less busy!) is packed with locals and visitors enjoying a beer or wine and free popcorn. Servers come to you (so refreshing!) to take your order if you aren't right next to the bar and are super friendly."
GEORGIA: Stone Mountain Public House in Stone Mountain
Formerly known as Cafe JAYA, Stone Mountain Public House is the place to grab a cup of Joe to wash down your dessert crepe or catch a game while taking sips from a tall glass of frothy beer.
HAWAII: TJ's Pau Hana Hale in Kailua-Kona
At this sports bar, you can watch one of six TVs as you nosh on tater tot nachos and sip on classic cocktails such as an Old Fashioned.
IDAHO: Scooter's Chillin'-N-Grillin' in Twin Falls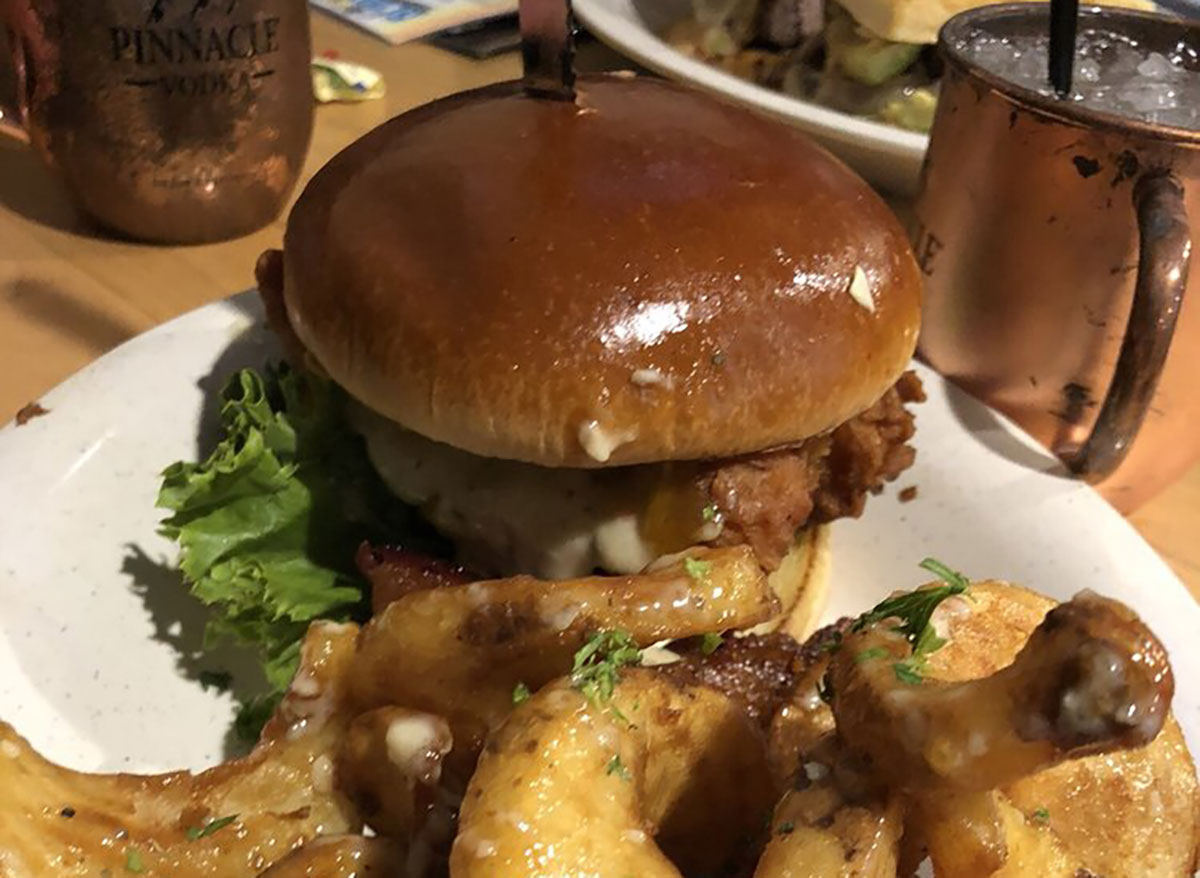 With its crispy waffle fries, cheesy quesadillas, and parmesan garlic fries, Scooter's is the place to be on game day.
ILLINOIS: Humboldt Haus Sandwich Bar in Chicago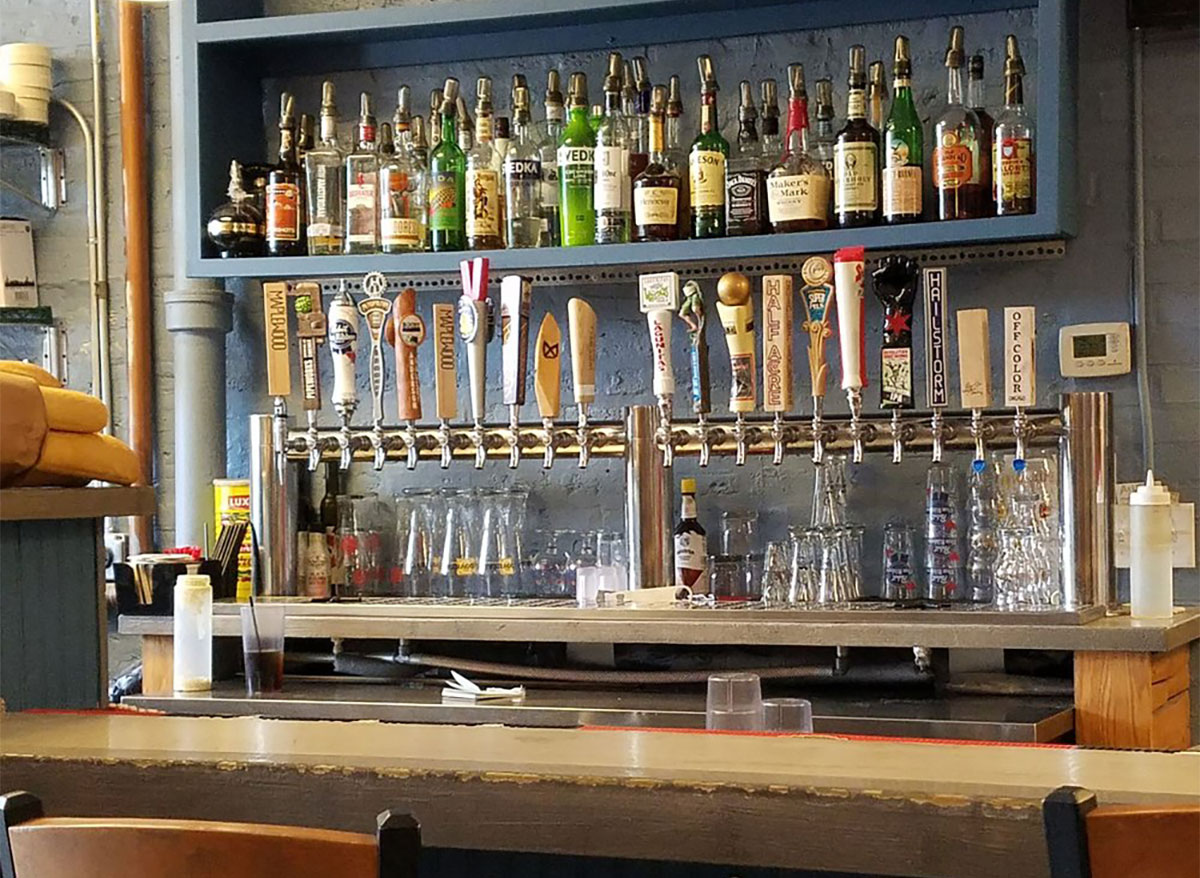 Not in the mood for a burger? Visit this sports bar, which serves sub-style sandwiches in a cozy bar atmosphere.
INDIANA: Jamaican Breeze Sports Bar & Grill in Indianapolis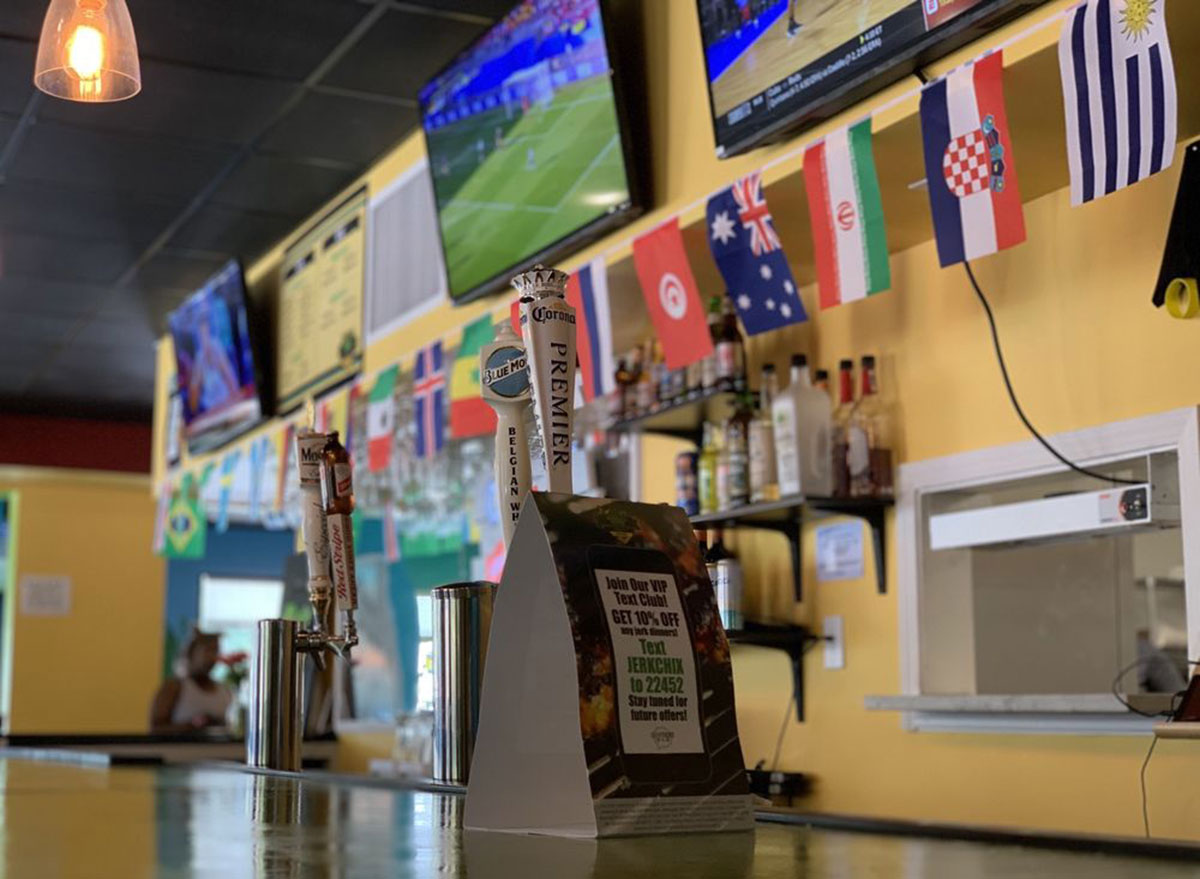 Come to this spot for authentic Caribbean cuisine, reggae music, friendly customer service, and a selection of alcoholic beverages including a guava lime brew and even a housemade wine cocktail called Jbreeze Sangria.
IOWA: Francies in Des Moines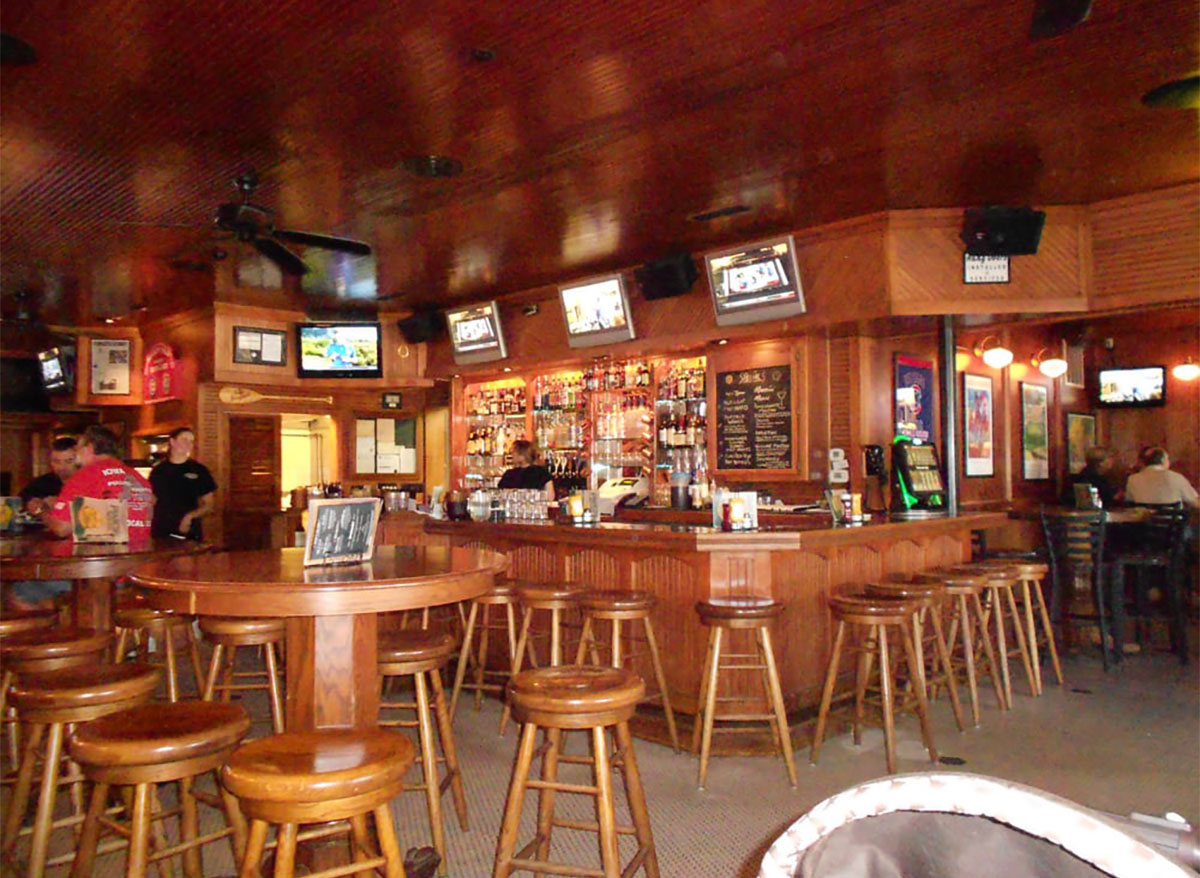 Crinkle-cut fries and tasty burgers? Sign us up! Francies is known for its bar food and great customer service, which is exactly what you need from a local sports bar.
KANSAS: The Peanut in Overland Park
Stacked sandwiches, loaded nachos, crisp sweet potato fries, and giant chicken wings—what more could you need on game day? Head to The Peanut on a Tuesday afternoon to enjoy a $2.50 well drink.
KENTUCKY: Harry's Hamburg in Lexington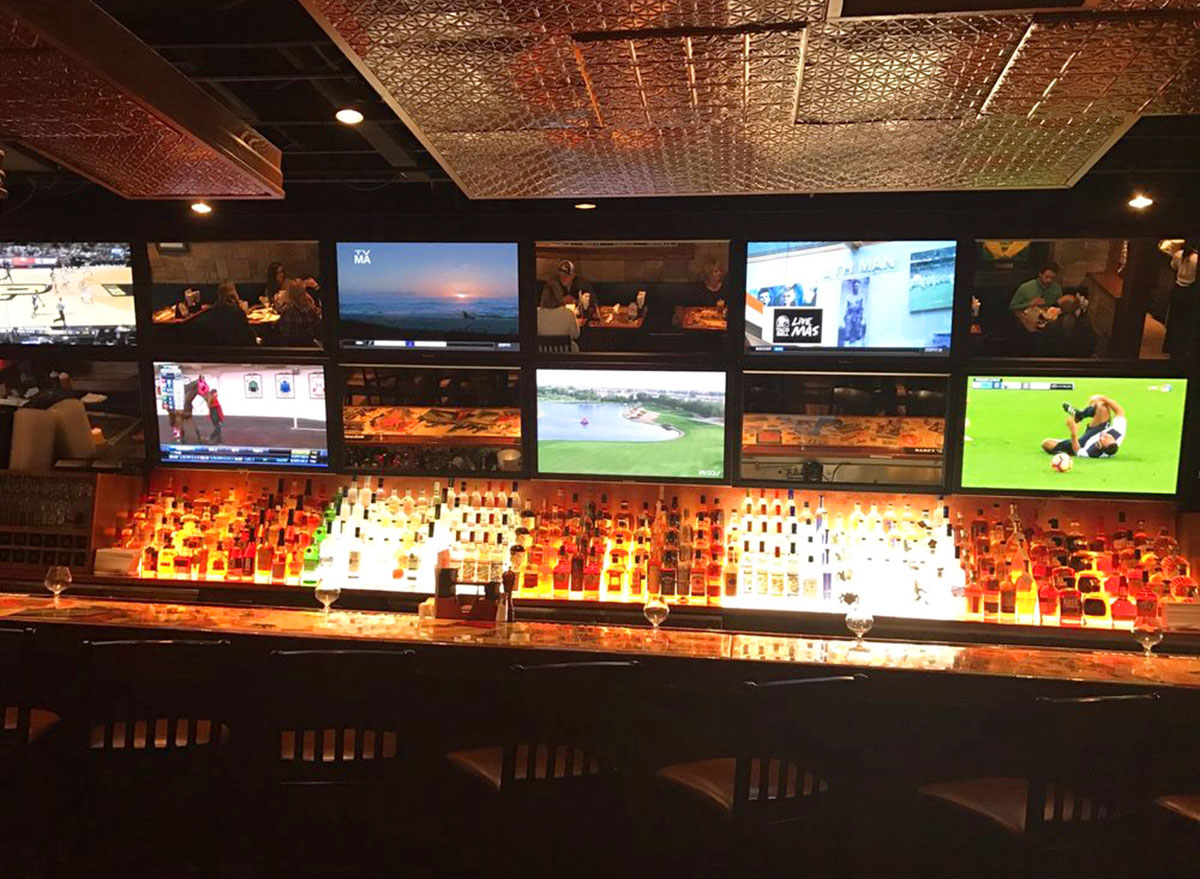 This sports bar appears to be a three-restaurants-in-one kind of experience.
"Harry's is [a] more casual bar/pub food, Aqua is the sushi bar, and Malone's is the more upscale dining steakhouse," wrote one reviewer.
Located inside of Malone's, Harry's offers diners the option to opt out of the steak dinner and order the Juicy Lucy burger, which is two beef patties with American cheese that's smothered in parmesan-garlic mayo and served with coleslaw and fries.
LOUISIANA: Bullet's Sports Bar in New Orleans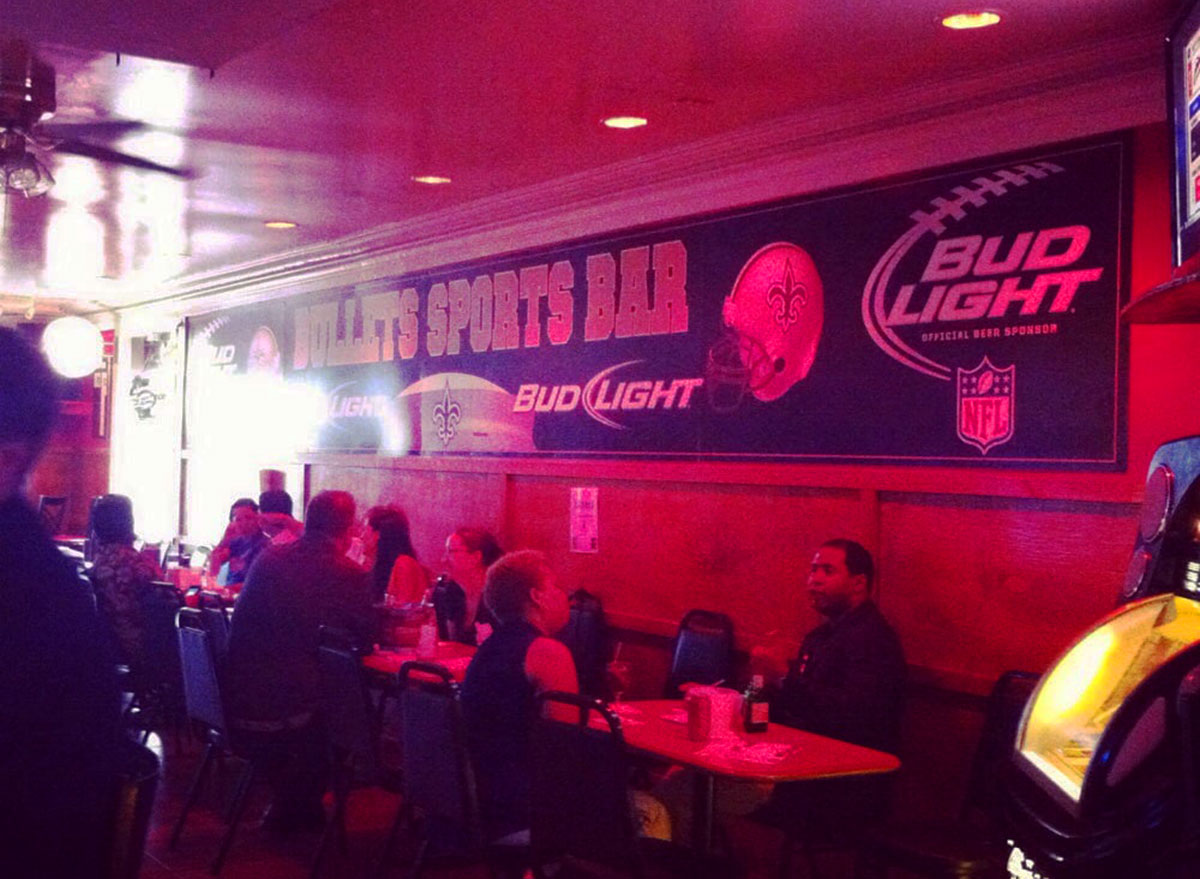 Bullet's Sports Bar doesn't just allow you to kick back and view a game—they also give you opportunities to be serenaded by local brass bands.
"FAVORITE place in New Orleans to date. Went on Friday night so got to hear the brass band, who were wonderful! Everyone in the building was having a good time," wrote one reviewer.
MAINE: Tap & Barrel in Bar Harbor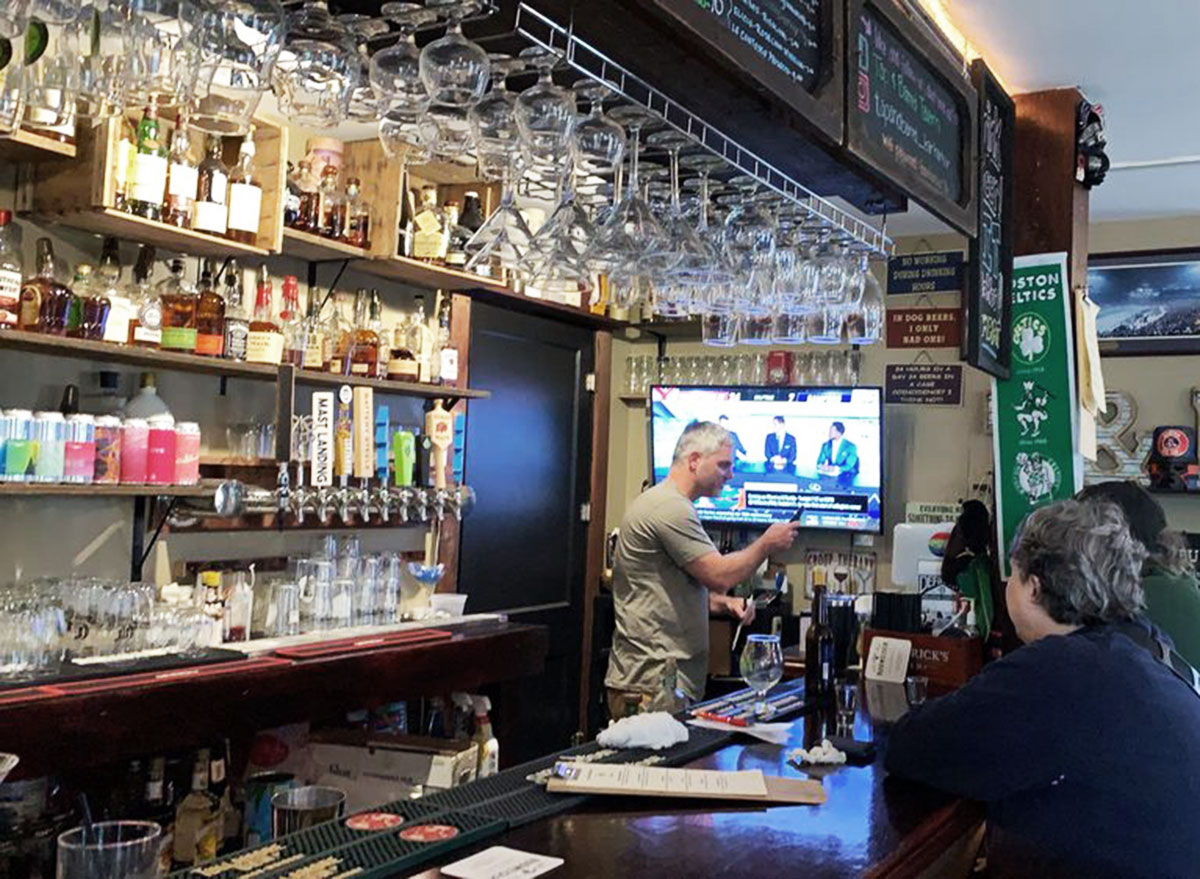 "Yes yes yes. Great place to come and have a cold craft beer and watch a soccer game on TV. Very nice service and the food was awesome. The Lobster Grilled Cheese sandwich with Onion Rings was out of this world good," wrote one reviewer on Yelp.
MARYLAND: The Hideaway in Odenton
The Hideaway is the place to be during football season, especially if you're a fan of the Redskins and Ravens. Order a bucket of beer, a bowl of buffalo chicken dip, and maybe even a brisket sandwich to get the full experience.
MASSACHUSETTS: Parlor Sports in Somerville
According to several Yelp reviews, Massachusetts residents can expect to watch their favorite soccer game compete as they sip on brews and cocktails.
"In particular, it's one of the only bars that reliably shows soccer (though that's far from their only event—they have a ton of TVs for a relatively small space, and there's always a bunch of games on!)," wrote a Yelp user.
MICHIGAN: Avenue American Bistro in Wayne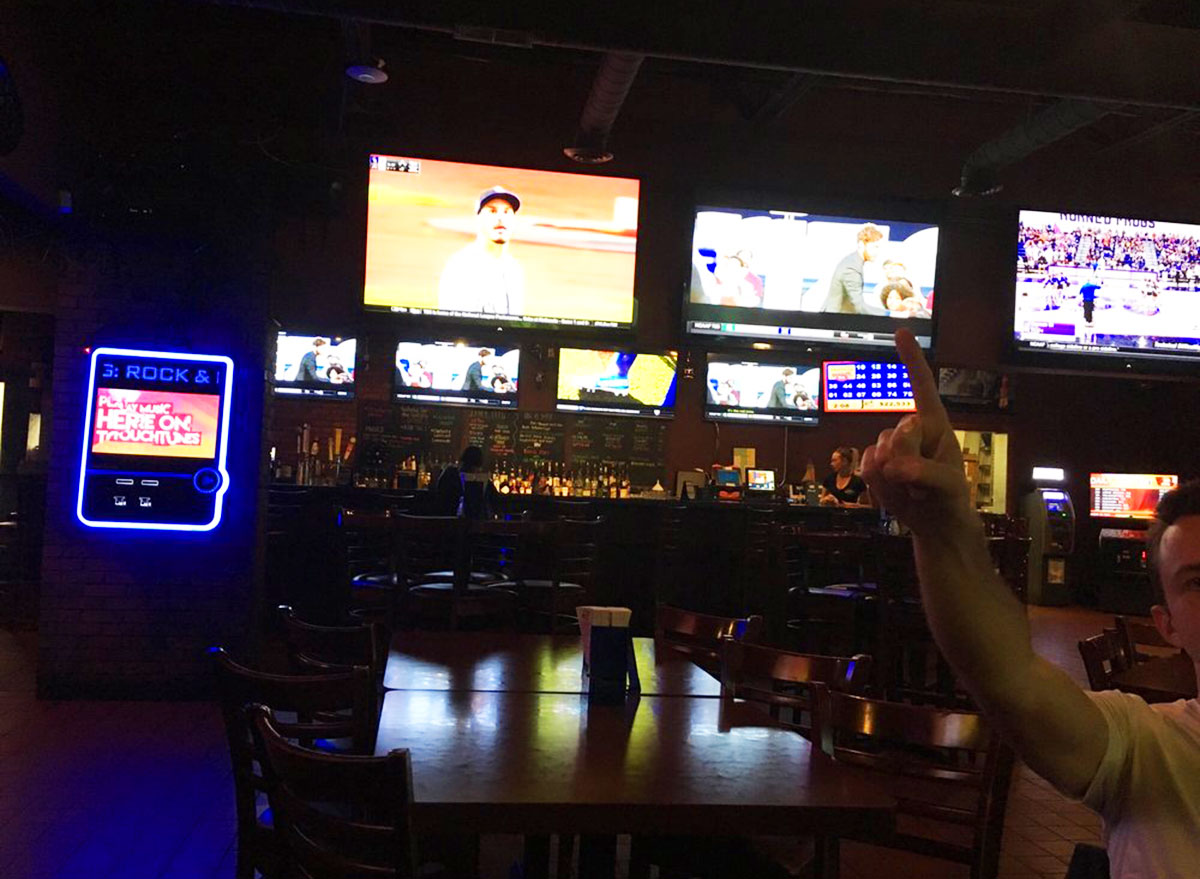 Sure, you come to a sports bar primarily to watch the game, down a few beers, and maybe even kill a plate of wings, but when the service is great too, the place becomes that much more memorable and unrivaled. At Avenue American Bistro, the service sounds top-notch.
"Whole experience blew us away! After constantly receiving sub par service from other places, this place was a breath of fresh air! Service was amazing from start to finish…." wrote one reviewer.
MINNESOTA: Bar 209 in Bemidji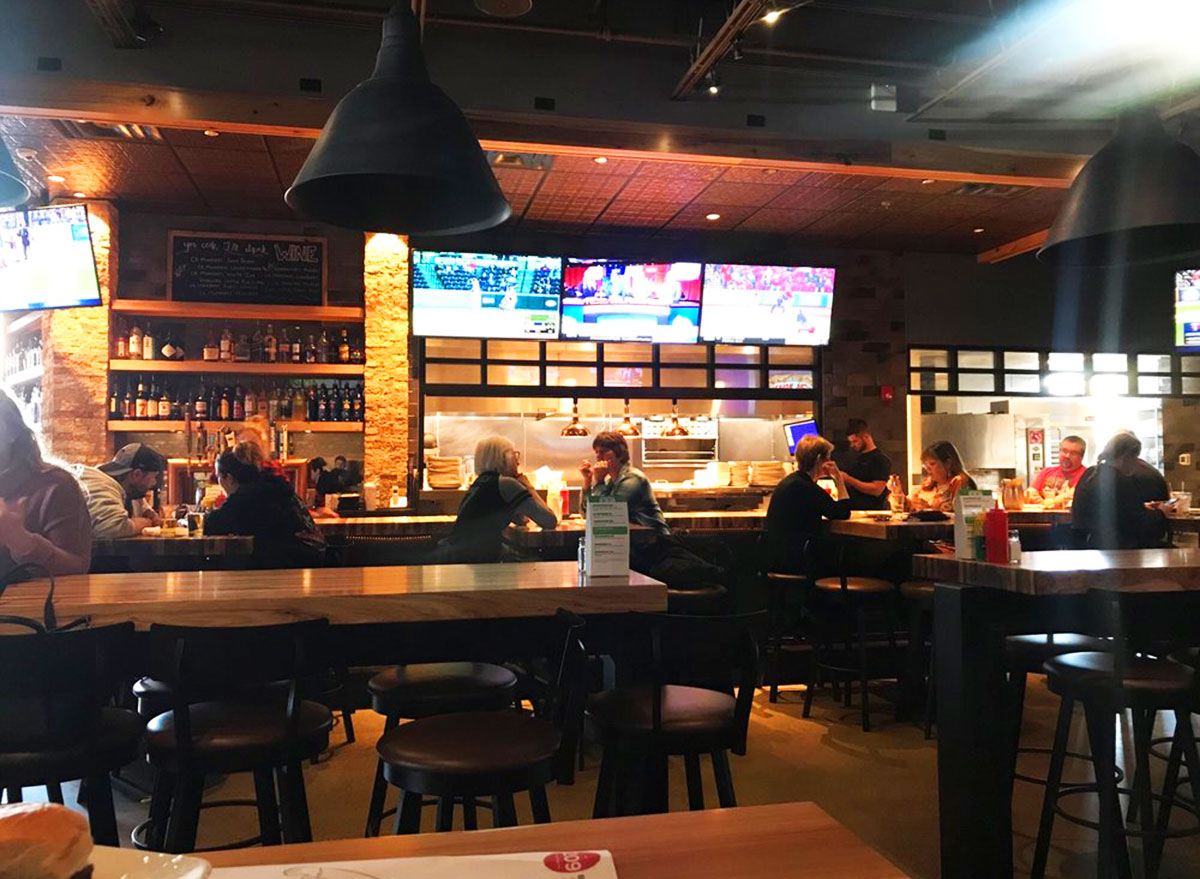 Cruise into Bar 209 for plump cheese curds, a giant soft pretzel, and even a pork Bahn Mi sandwich. Enjoy happy hour from 4-6 p.m. and again at 10-11 p.m. as you catch the tail end of a game.
MISSISSIPPI: Rum Kitchen in Waveland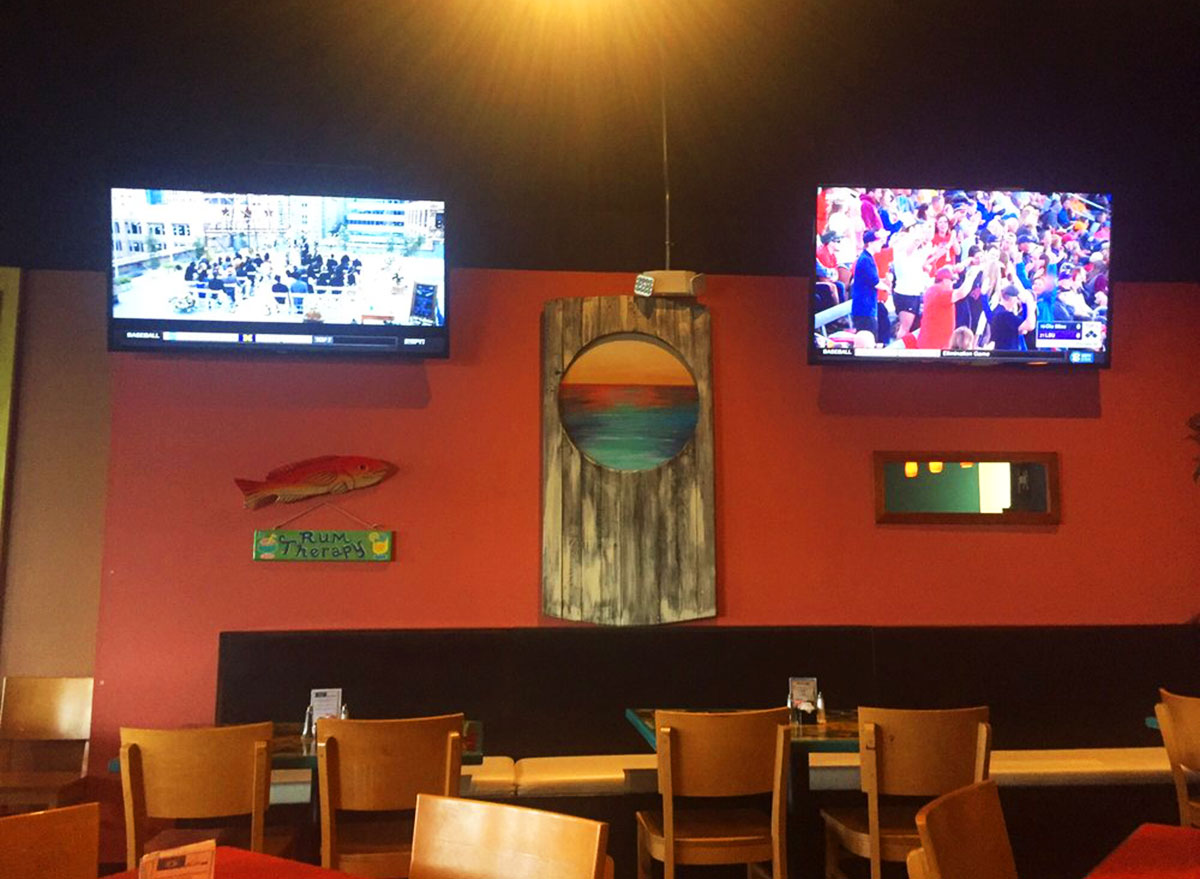 At Rum Kitchen, you can "embrace the flavors of the Caribbean Rum Islands and bring the essence of the Islands to you," all while watching your favorite team play from start to finish.
MISSOURI: Scooter's Sports Grill in Branson
At Scooter's Sports Grill, you can watch a game of golf or you can play a game yourself…of mini-golf, that is. Try the Dragon Eggs, a popular appetizer consisting of jalapeño and cheese bites that are then wrapped in bacon.
MONTANA: The Stein Haus in Great Falls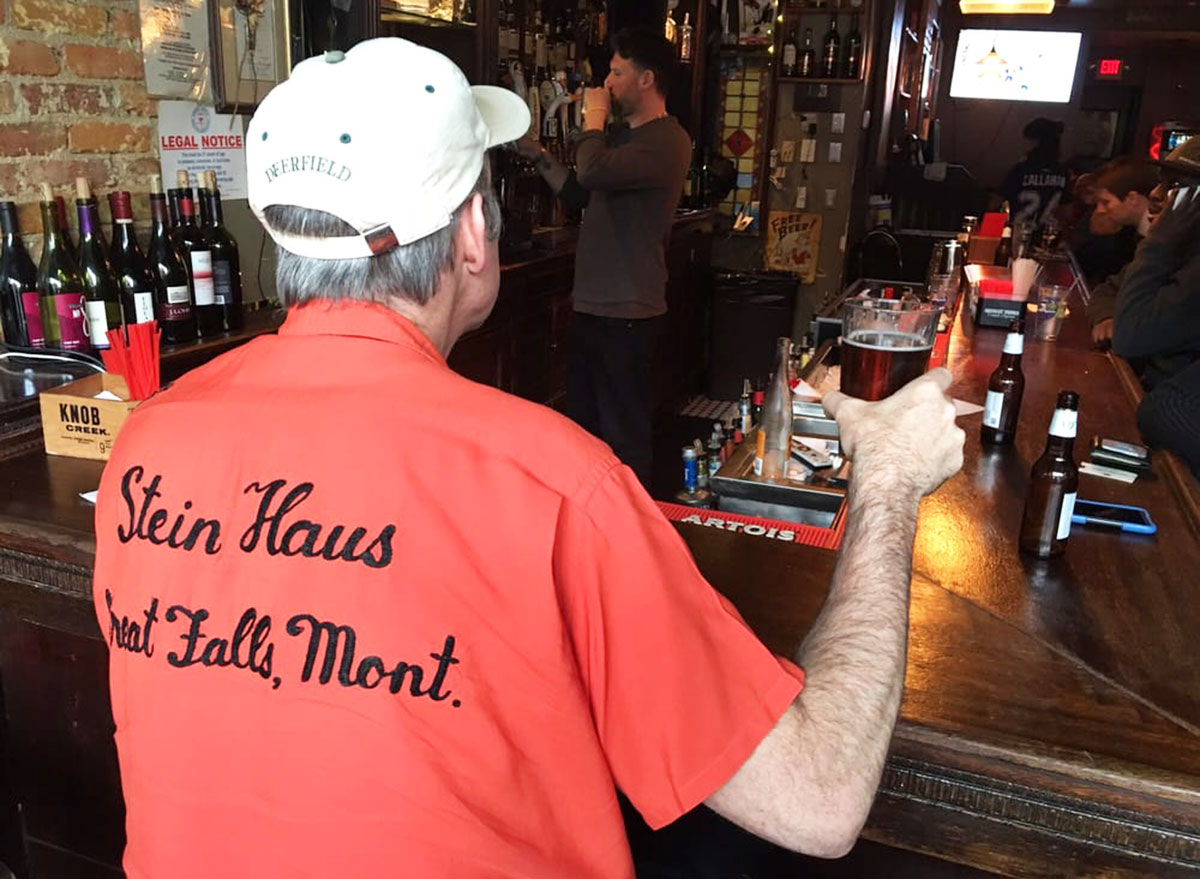 At The Stein Haus, expect to see a lot of Montana microbrews on tap. What better way to watch a game than with craft brews and local pizza?
"All I can say is beer and pizza. Great little hole it the wall. Jukebox and a nice fire to sit by while you play some pool," wrote one Yelp reviewer.
NEBRASKA: Oscar's Pizza & Sports Grille in Omaha
Ever since 2004, Oscar's Pizza & Sports Grille has been dishing up pizza, wings, and cold beer to those looking to watch a game and those who just want to come in and dine. Try their signature pizza The Big "O," which is topped with hamburger, sausage, pepperoni, onions, and green pepper.6254a4d1642c605c54bf1cab17d50f1e
NEVADA: A Pizza Melody in Las Vegas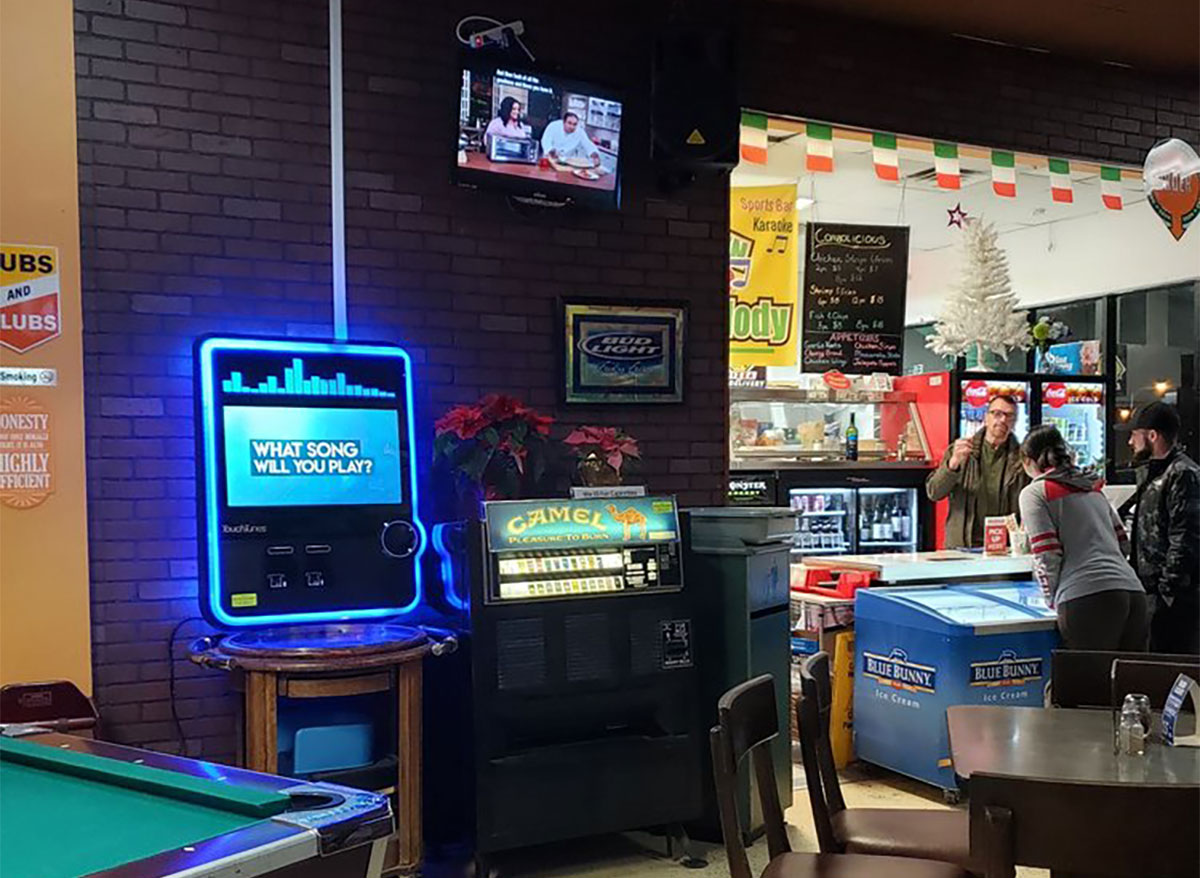 Pizza, karaoke, and a sports bar all in one? Sign us up! This charming Vegas spot truly has it all.
NEW HAMPSHIRE: O'Brien's Sports Bar in Nashua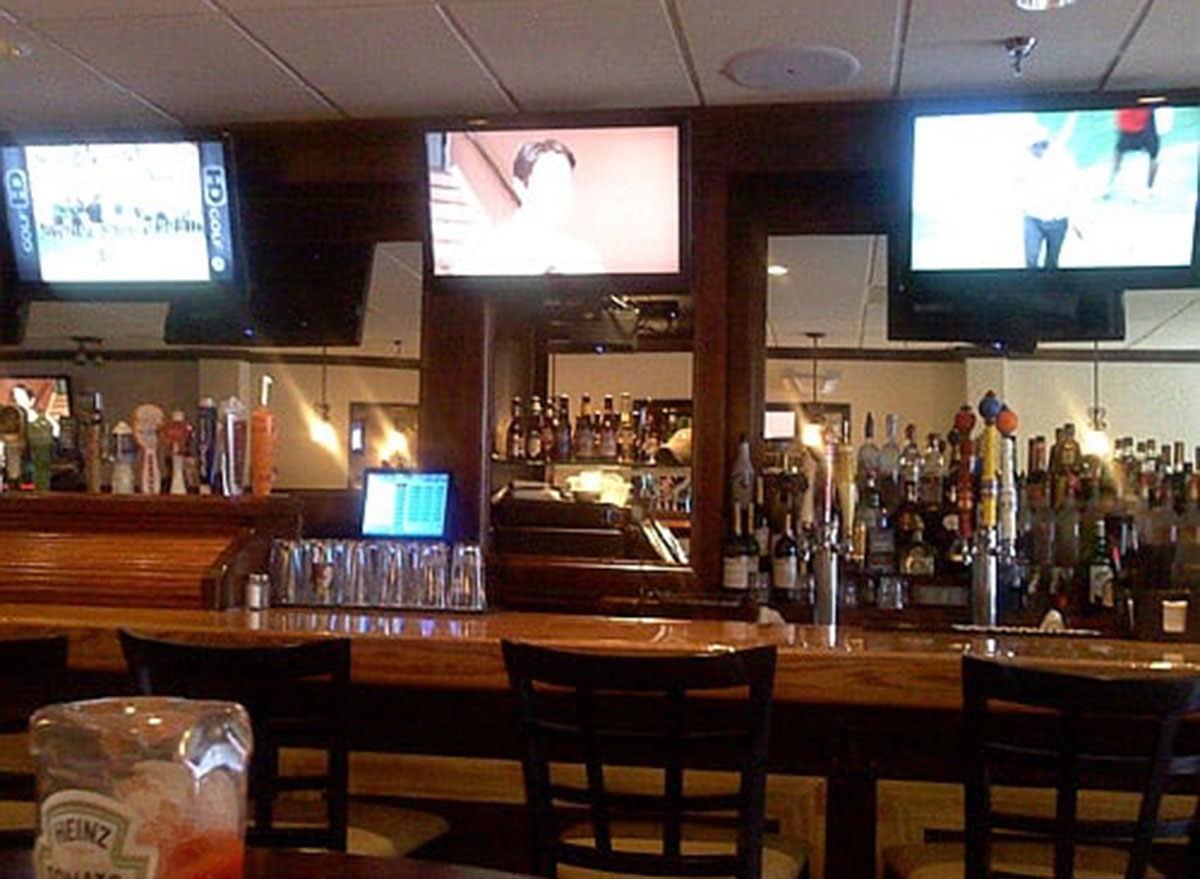 If you're worried about not having a TV to watch your team play, don't be, because O'Brien's Sports Bar is equipped with 12 HDTVs. Not to mention, you can choose from more than a dozen draft beers and indulge in scrumptious appetizers, including Reuben Egg Rolls.
NEW JERSEY: Vinnie's All-Star Bar & Grill in Harrison
Vinnie's is known for its sangria, so make sure to get a glass as you root and holler for your beloved sports team.
"My family and I have been going to Vinnie's for many years. This is a nice neighborhood bar/grill where locals tend to gravitate to. They have your typical Portuguese lunch menu with sandwiches and wraps as well," wrote one Yelp reviewer.
NEW MEXICO: Boxcar Bar and Grill in Santa Fe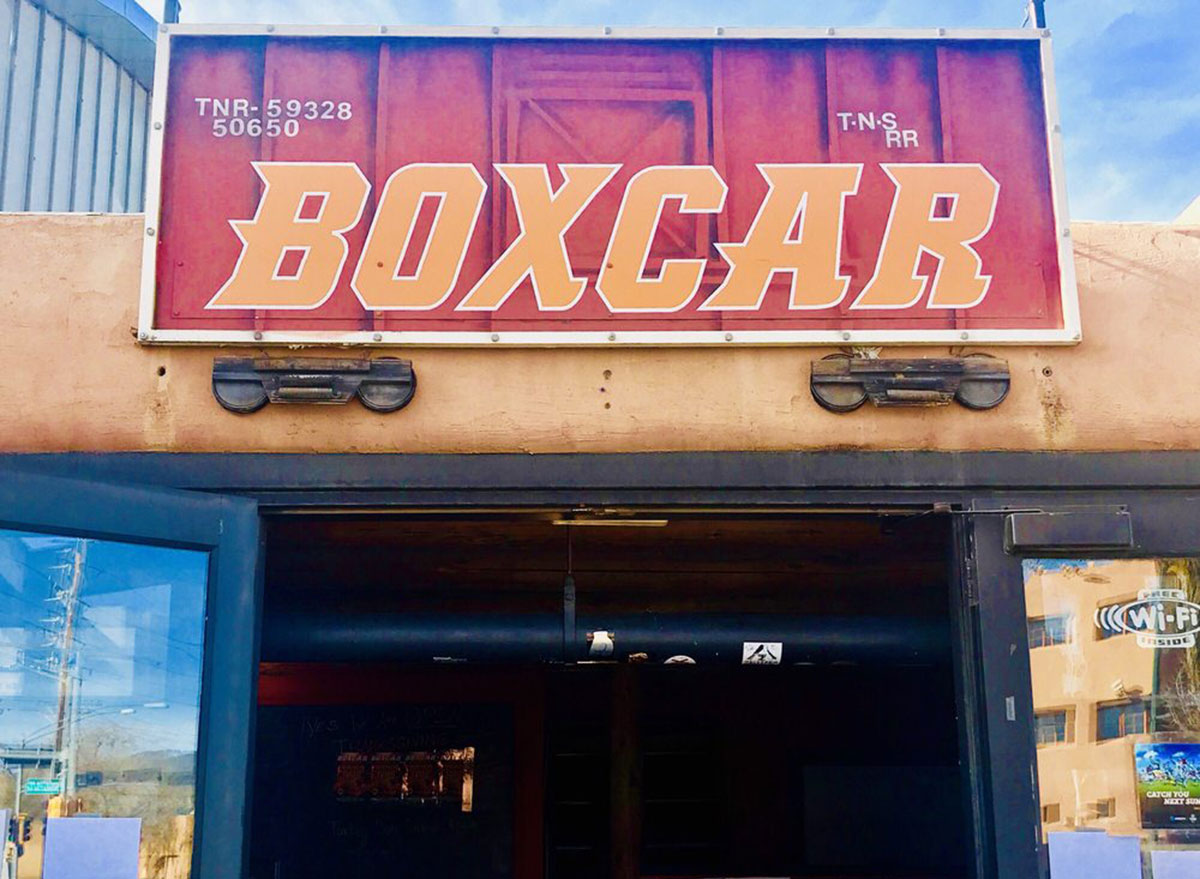 According to the description under the "About the Business" on Yelp, Boxcar Bar and Grill swears by "sports in the daytime, live music in the night time, and great food all the time." Try the Maestro Margarita, and because you're in Santa Fe where no meal is complete without chiles, try the Green Chile Mac & Cheese.
NEW YORK: Tap Haus 33 in New York City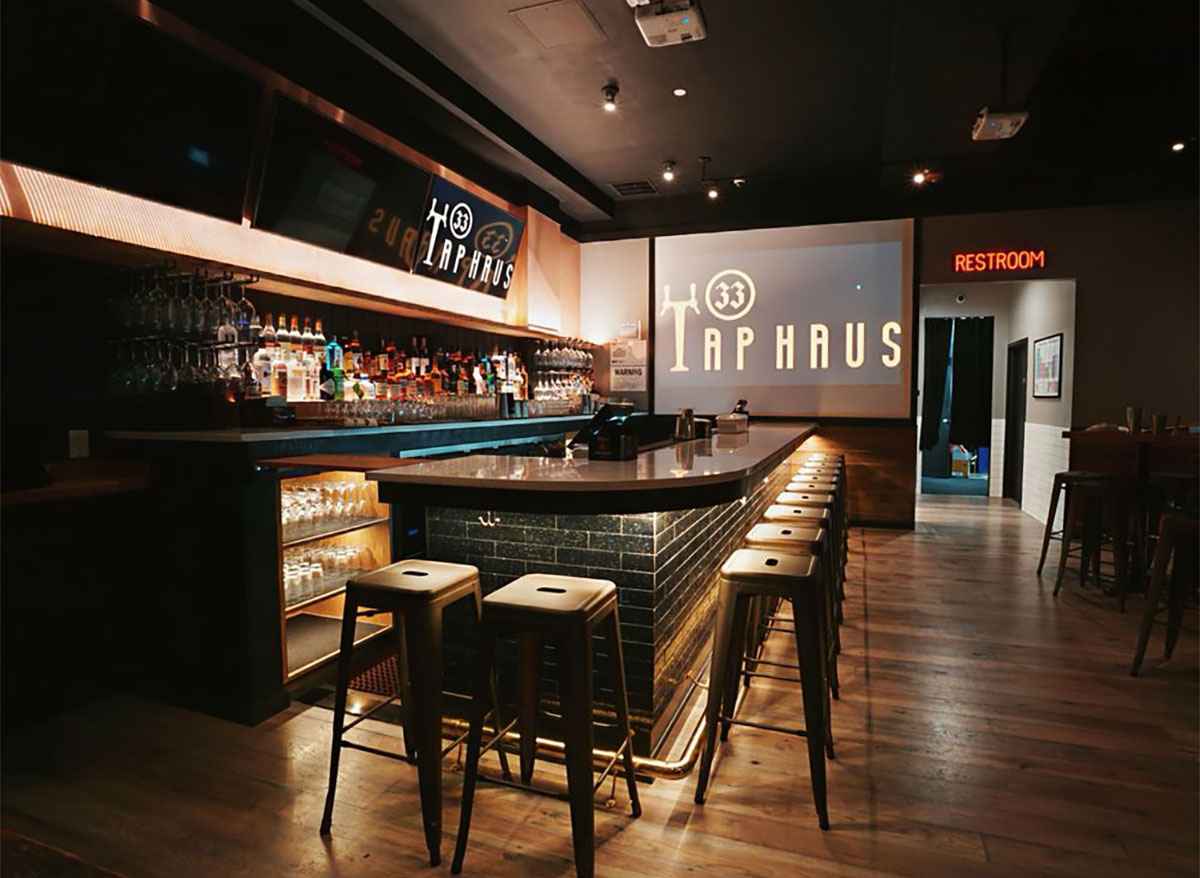 This Koreatown bar has self-serve taps, so you don't have to wait for a bartender to hand you a drink. You'll pay by the ounce, the way you would at a frozen yogurt joint. It's a revolutionary concept that's worth trying if you're in Manhattan!
NORTH CAROLINA: Jax 5th Avenue Deli & Ale House in Wilmington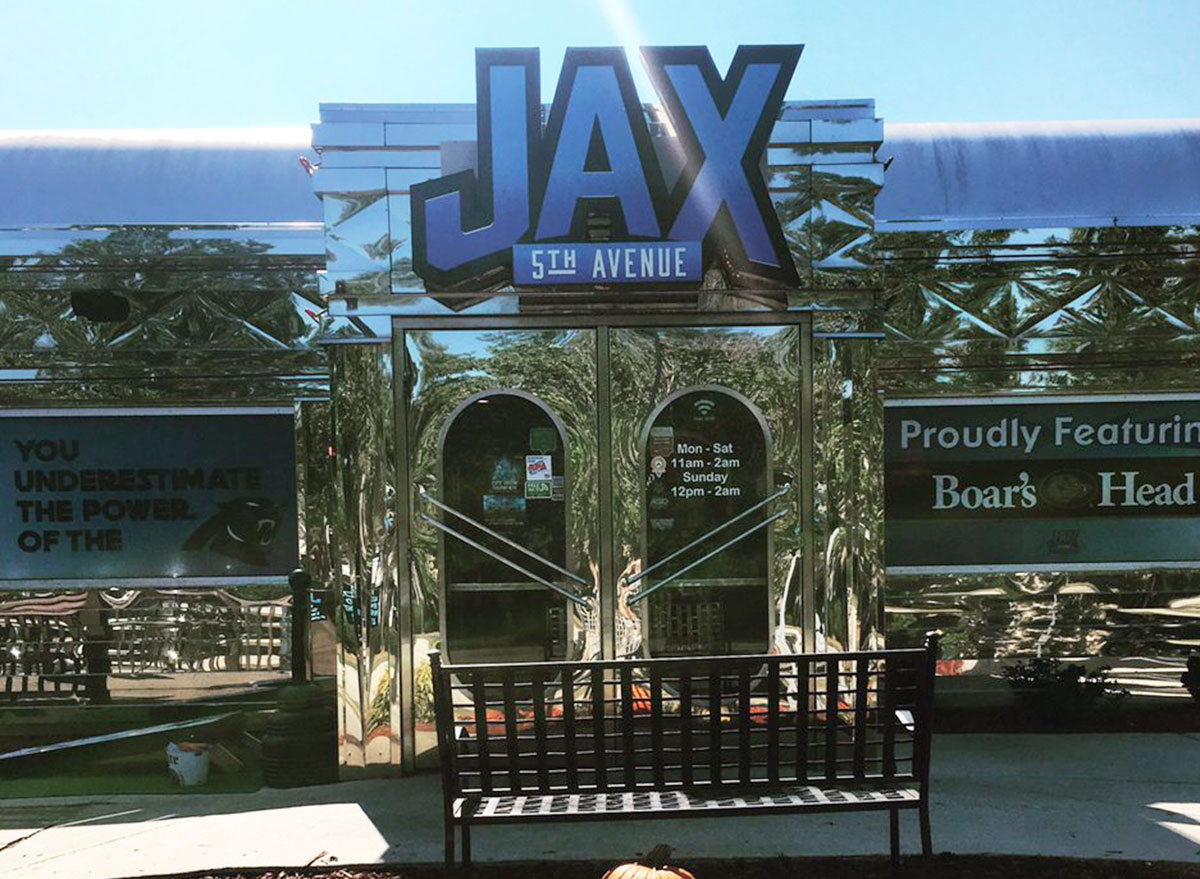 Patrons like to frequent Jax's to catch a game and for some pickles, too.
"Jax is unquestionably one of the best sandwiches places I've run across in recent memory. After you sit down, they immediately bring you a jar of pickles to snack on," wrote one Yelp reviewer.
NORTH DAKOTA: Blue 42 Sports Grille & Bar Dickinson, North Dakota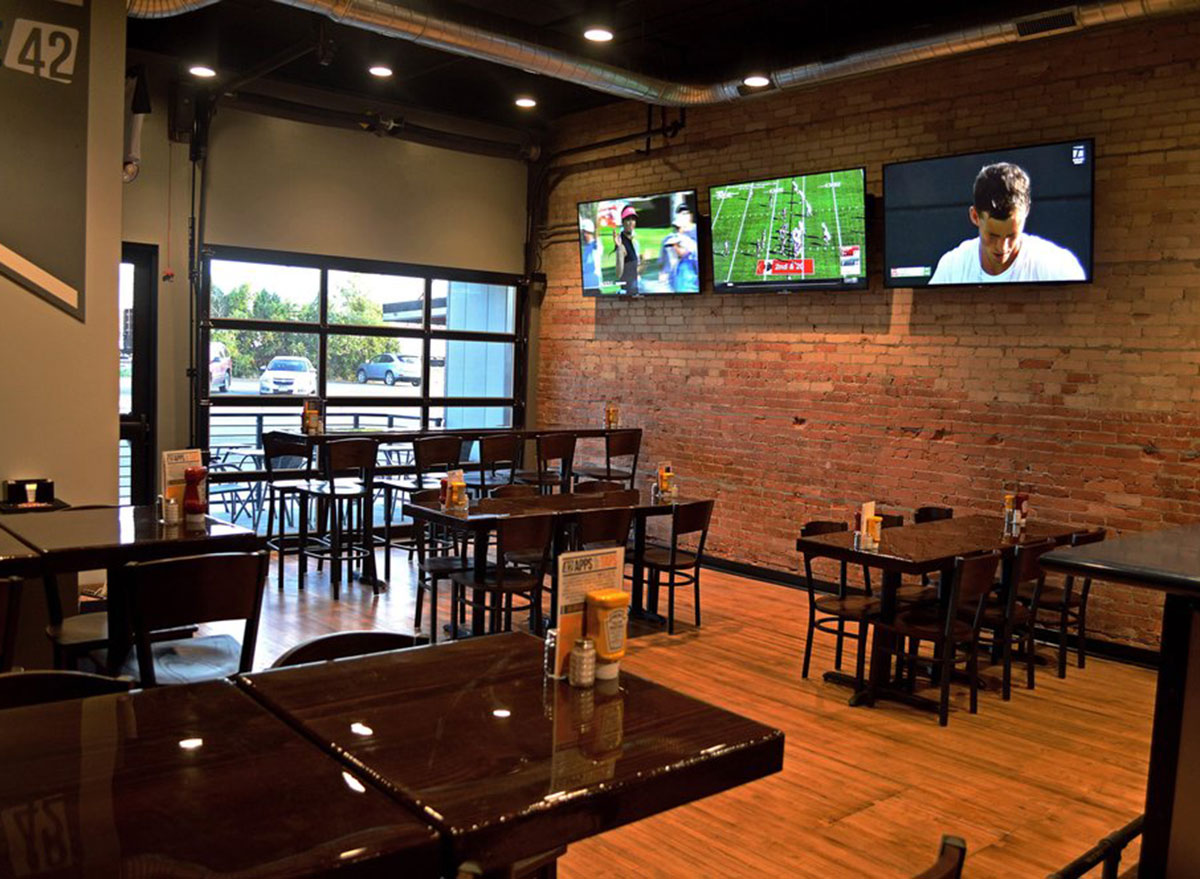 From bite-size pinwheel sandwiches to baked brie cheese, Blue 42 Sports Grille & Bar serves up delicious food and allows you to watch your favorite team compete for the win in a clean, brightly-lit setting.
OHIO: Higher Gravity in Cincinnati
Higher Gravity is known for its selection of craft brews, game coverage, and a pretzel rod and animal cracker dispenser.
OKLAHOMA: The Garage Burgers and Beer in Oklahoma City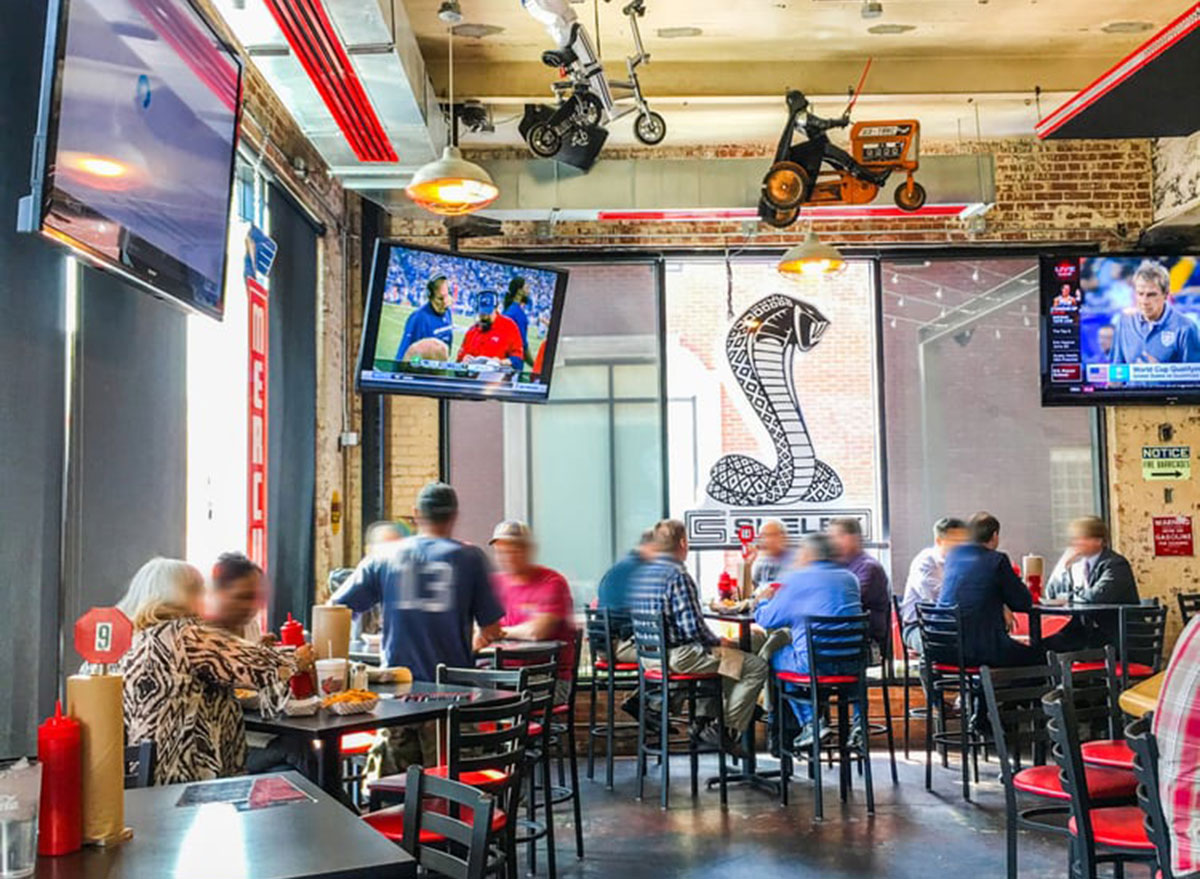 This chain restaurant whips up a mean list of hamburgers, including the Egg-o-Nater and the Kitchen Sink. With natural light streaming in from all angles, this place is a gem for daytime games.
OREGON: Cully Central in Portland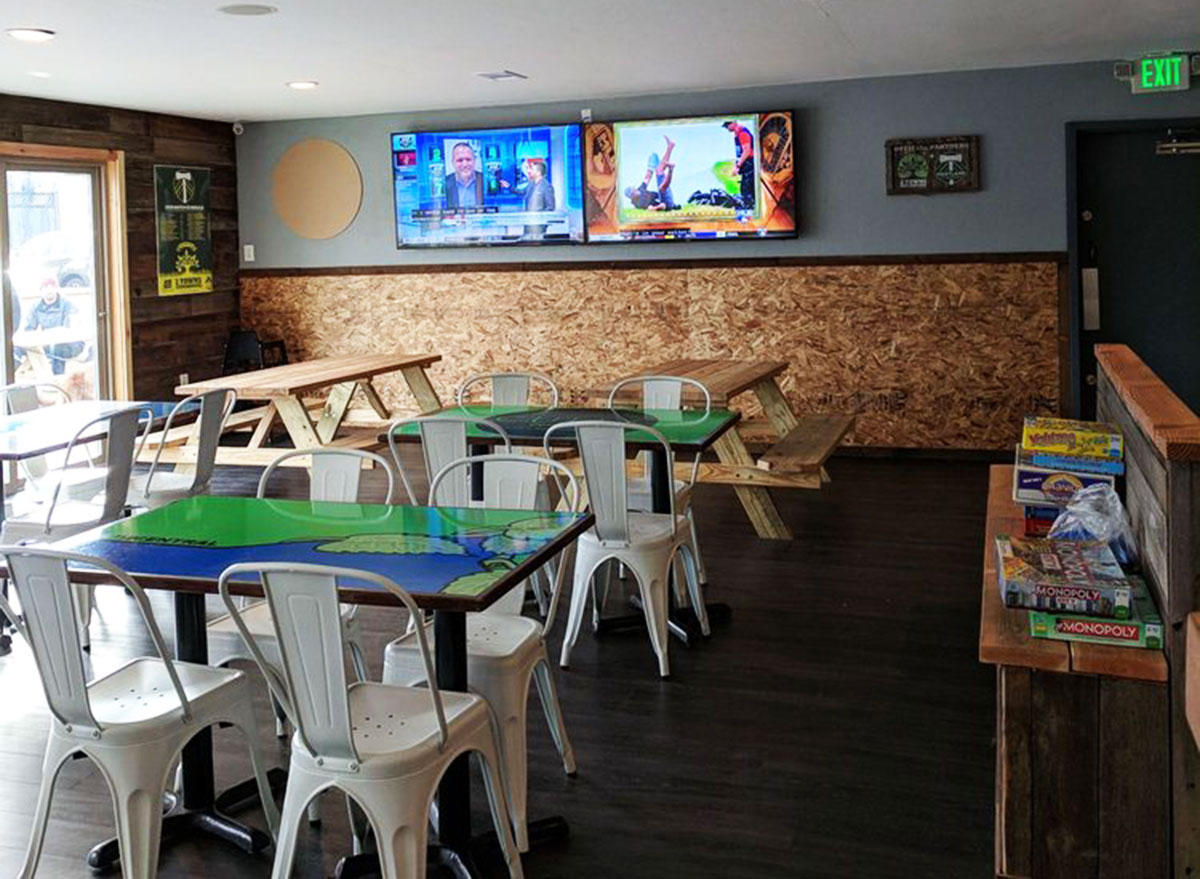 Cully Central offers authentic Lao food and several microbrews. Order a piping hot bowl of Sukiyaki noodle soup to pair with your IPA as you catch a game with your friends.
PENNSYLVANIA: Bridgetown Taphouse in Ambridge
Head into this taphouse to watch a game and to sink your teeth into a giant juicy burger such as the Bridgetown, which packs beef, strips of bacon, a fried egg, green chiles, muenster cheese, sauteed onion, and burger sauce all in between a bun.
RHODE ISLAND: Ivy Tavern in Providence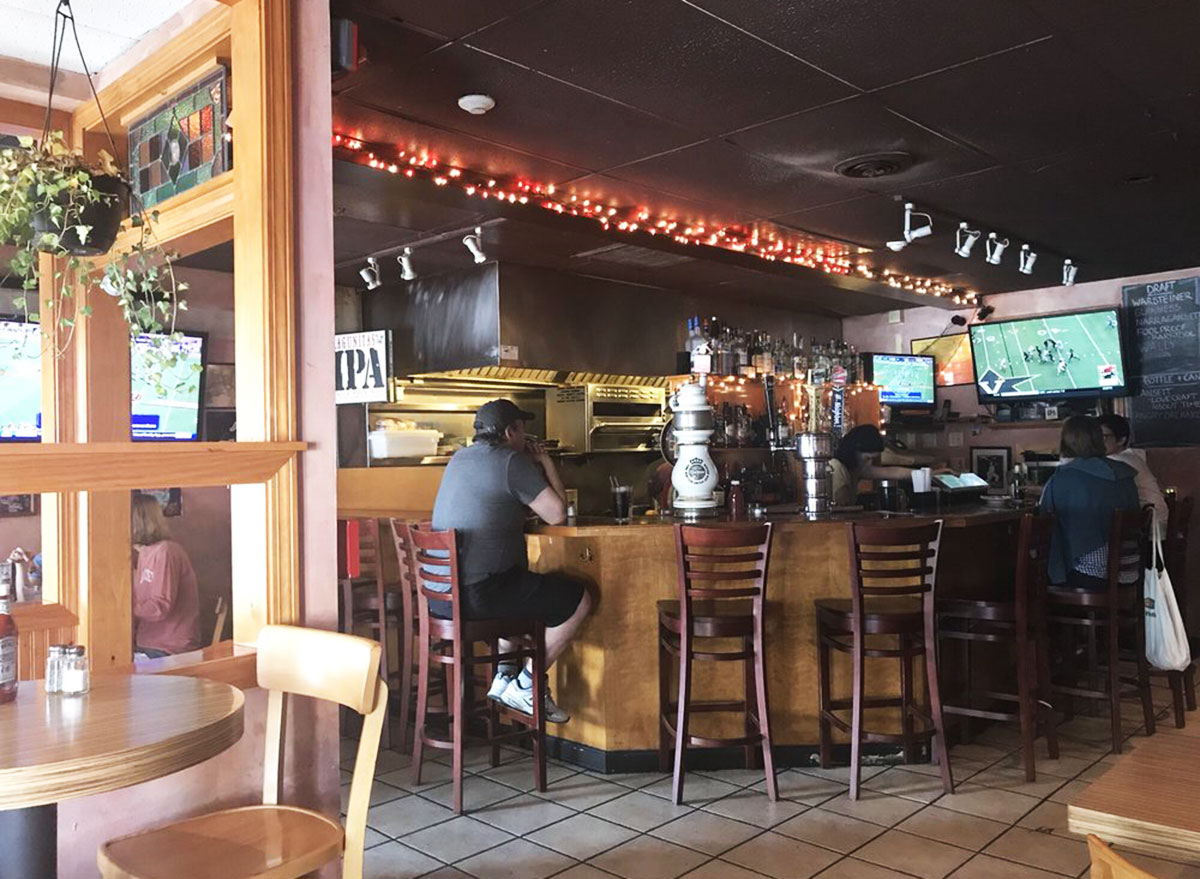 From pub fare like burgers to Korean dishes such as Bibimbap, the offerings at Ivy Tavern aren't what you'd find at a typical sports bar.
"Pleasantly surprised about this gastropub. They have unique foods that are not like other pub food," wrote one Yelp reviewer. "Overall, I'll come back here to watch a game or if I'm craving beer and good food."
SOUTH CAROLINA: Dagwood's in Surfside Beach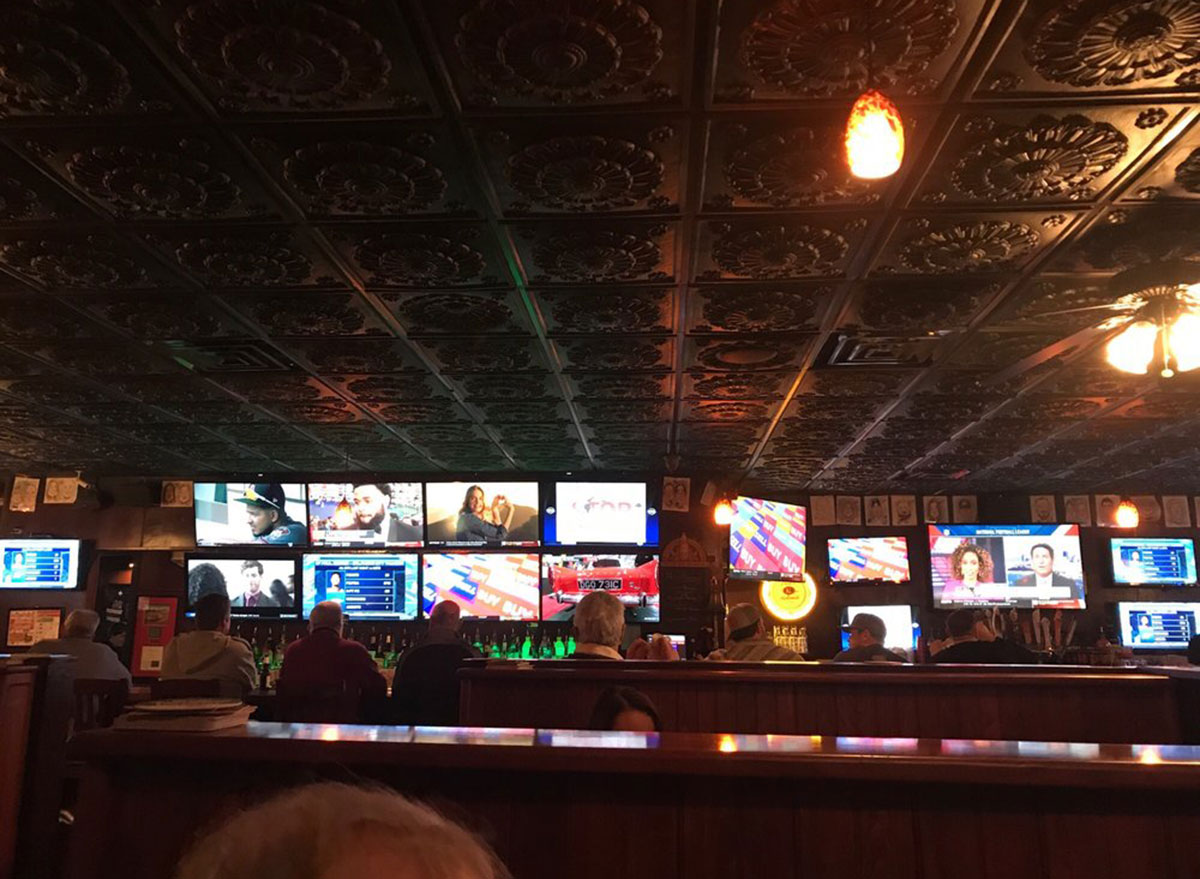 From burgers to sandwiches to French fries, you can't go wrong with any classic meal option on Dagwood's menu, according to Yelp reviewers. And while there are plenty of televisions lining the walls to catch some games, the sports bar is known for its incredibly welcoming wait staff. Make sure you come here hungry too, as you get plenty of food no matter what you order.
SOUTH DAKOTA: Lupulin Brewing in Sioux Falls
If you're a craft beer fan, then this is the place you want to visit when you're traveling through Sioux Falls. As one Yelp reviewer explained, "Service is good. The patrons are friendly. The beer is plentiful. They've got about 24+ beers on tap. Something for everybody." Can't really go wrong with that!
TENNESSEE: Crafter's Brew in Oak Ridge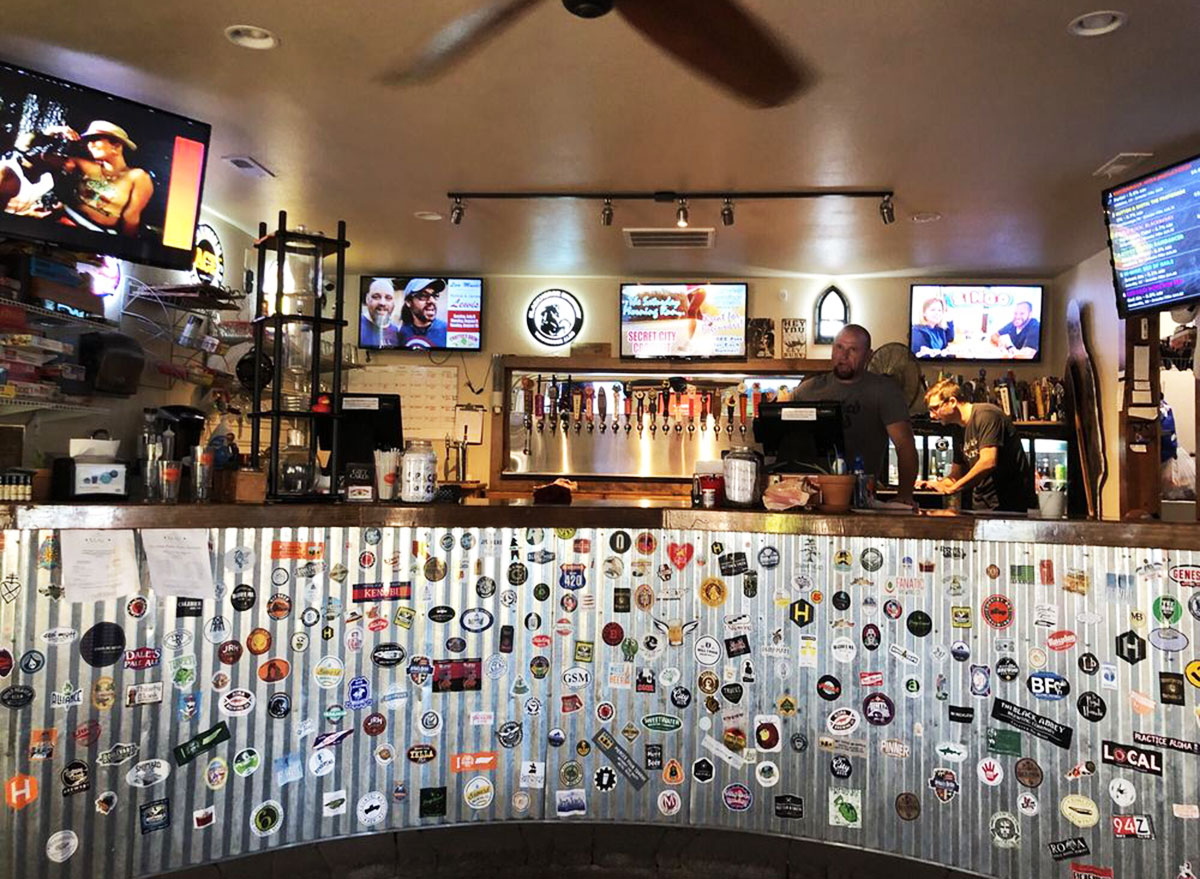 Crafter's Brew is rather unique, as it's a sports bar, pub, and casual backyard hangout spot all rolled into one. Rumor has it the bar used to be a pool store as there are small in-ground pools outside (sorry, they're for decoration only, not for swimming!). And with plenty of craft beer selections, there is often live music and trivia/game nights. There is a beloved food truck right outside too, from which one Yelp reviewer recommends ordering the "pulled pork sandwich with coleslaw."
TEXAS: Underdogs Pub in Houston
Any sports bar that is dog-friendly automatically makes its way to the top of anyone's "best" list, right? At Underdogs Pub, there are plenty of pups roaming around both inside and outside. There are water bowls for the pups to drink from, too! And for the humans coming out for a drink and to watch a game, the whiskey selection seems to be a hit, along with their signature pie shots, which yes, actually taste like a yummy slice of pie.
"If there is one place you'd love to indulge specialty whiskey concoctions, it's here. Try the maple bacon… Yes. Bacon. Also, the PIE SHOTS. MMM PIES…. ALL KINDS OF PIES…. BUT IN A SHOT…. THANK ME LATER," one Yelp reviewer wrote.
UTAH: Midway Mercantile in Midway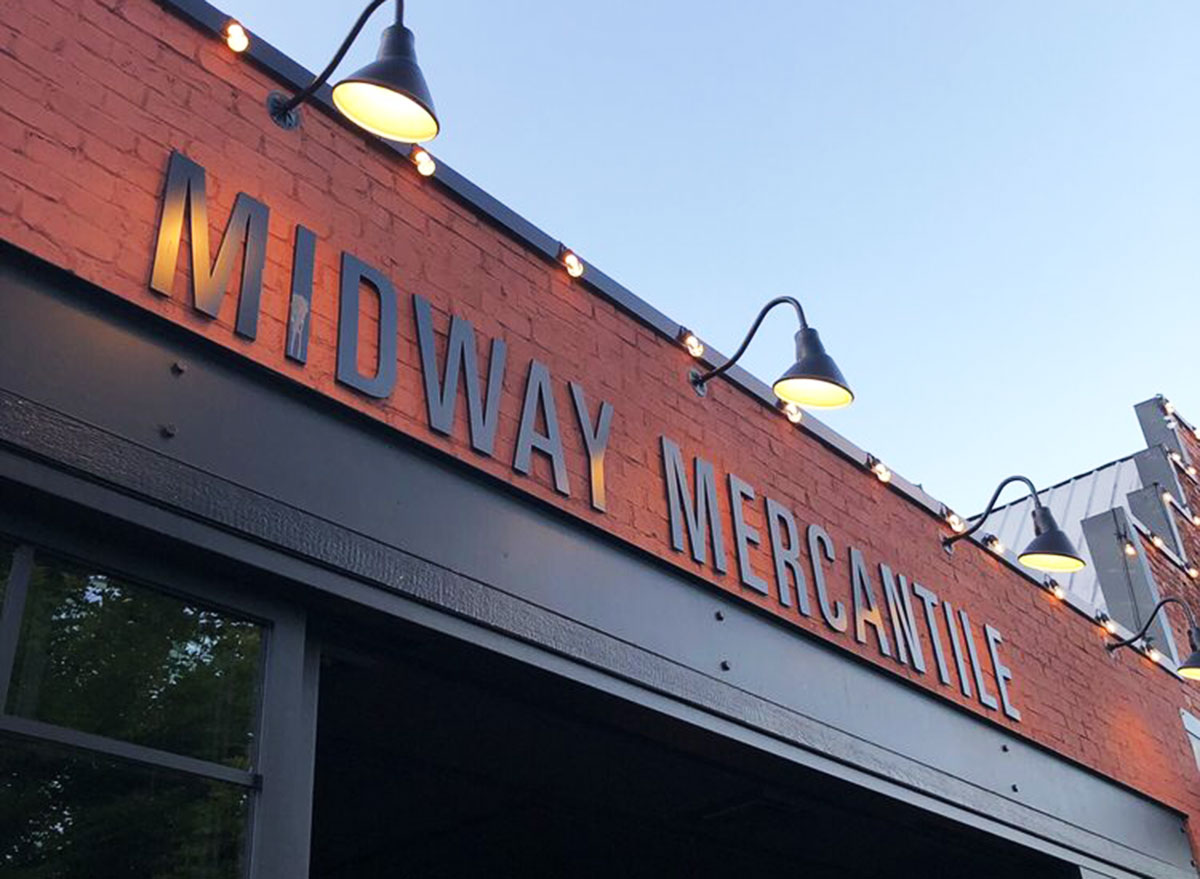 While Midway Mercantile has more upscale menu options, you can still dine in, sip on some beer or a cocktail, and watch a game while indulging in some classic pub fare (salad, pizza, burgers) that have all been taken up a notch to a more artisan level. "The menu has a lot of different options—many unique combinations of flavors and new twists on American homemade favorites," one Yelp reviewer wrote. The cornflower dusted calamari and goat cheese and pear pizza appetizer jumped out at us from the menu.
VERMONT: The Reservoir in Waterbury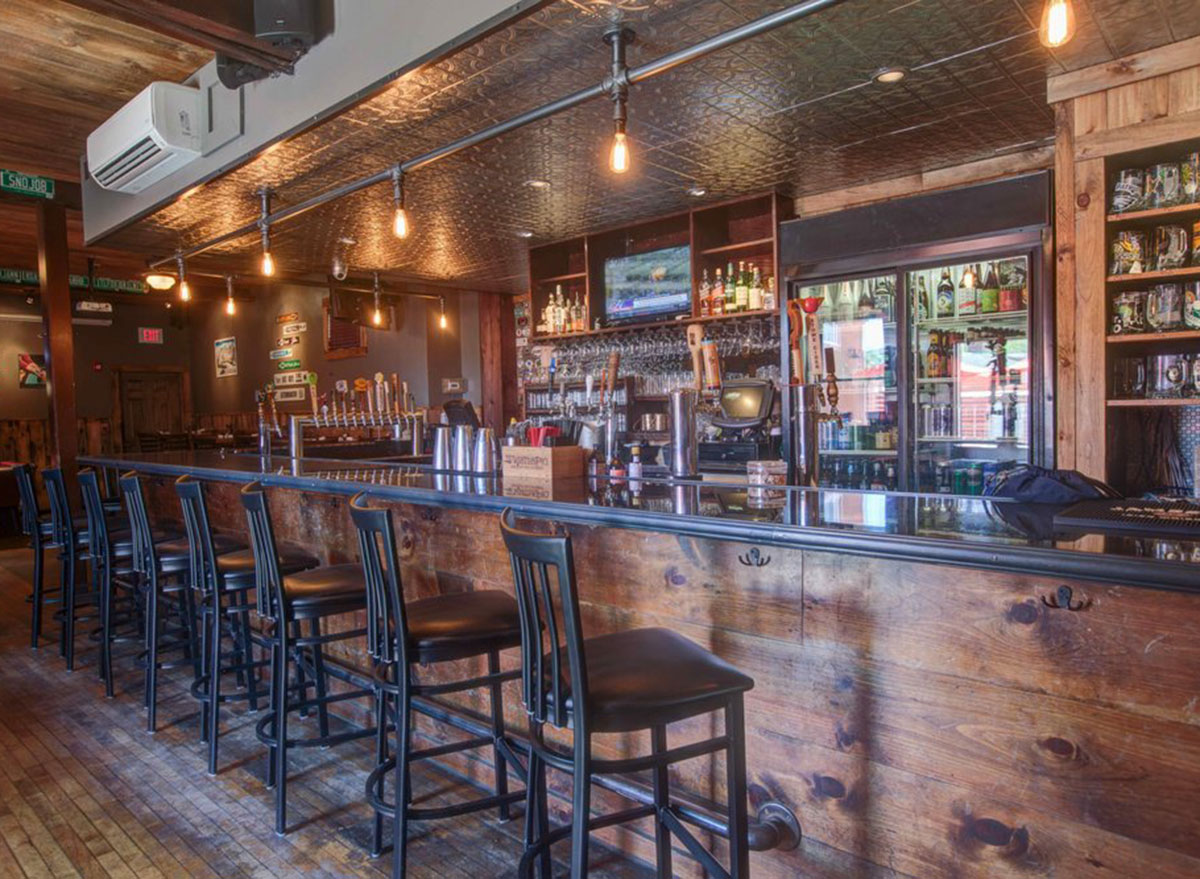 As one Yelp reviewer raved, "The Reservoir feels like home. Good food, good people, good prices. If you're looking for a casual atmosphere you can't beat the Rez. From the beer selection to the pool table, it has everything you could want. Burgers, wings, pretzel bites, and any special you can get you won't [be] disappointed."
Now if that doesn't convince you to stop at The Reservoir to grab a beer and some fries while you watch a game, we don't know what will!
VIRGINIA: The Cue Club in Annandale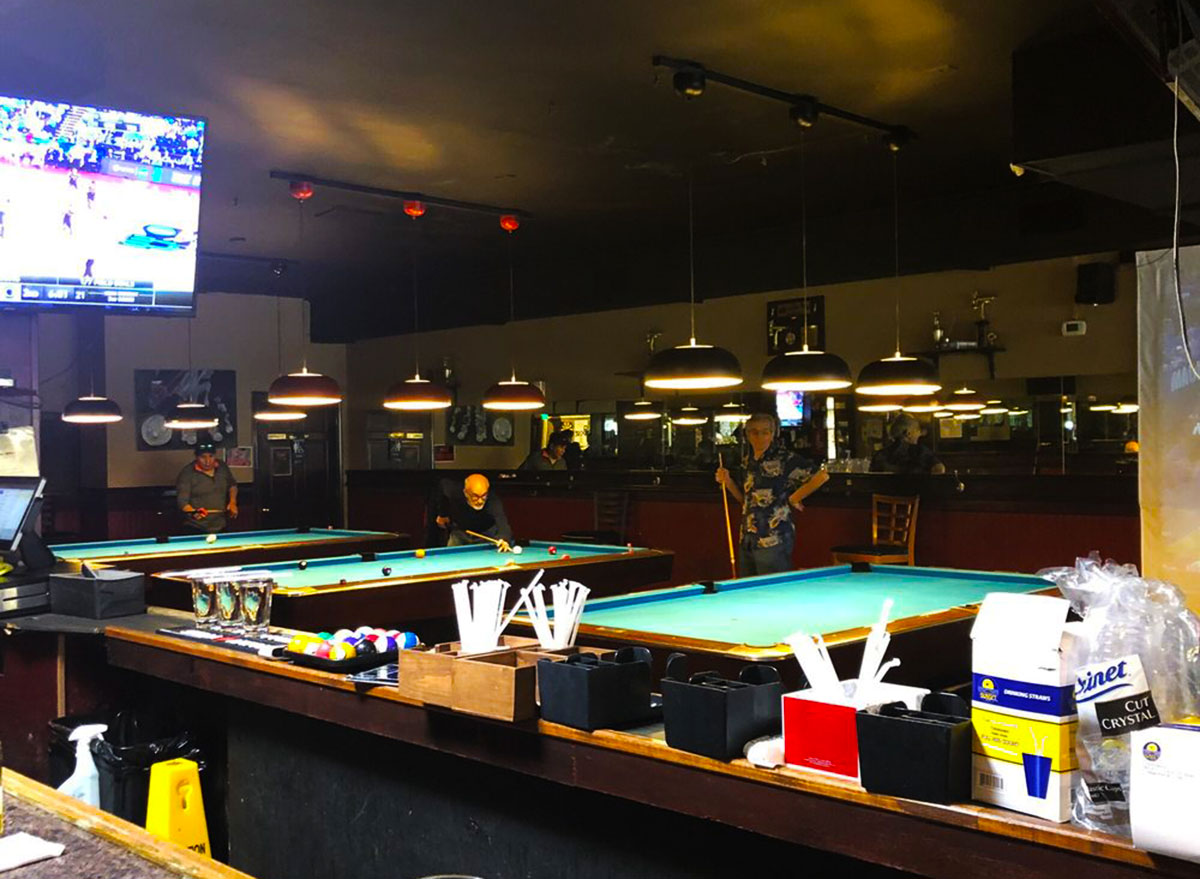 This sports bar seems to be the gem of Annandale. Not only are there dartboards and pool tables and a large projector screen airing sports games, but there is plenty of tasty beer and meal options too, including the highly recommended Bulgogi Sub.
"You will experience some of the best vibes here. The upbeat music, friendly staff, and great tasting beer and food will definitely make your time here great. Speaking of food, the meals here definitely do not disappoint. Whether it's the Korean food or the typical bar food like tater tots and nachos, everything tastes so fresh," one Yelp reviewer wrote.
WASHINGTON: Hellbent Brewing Company in Seattle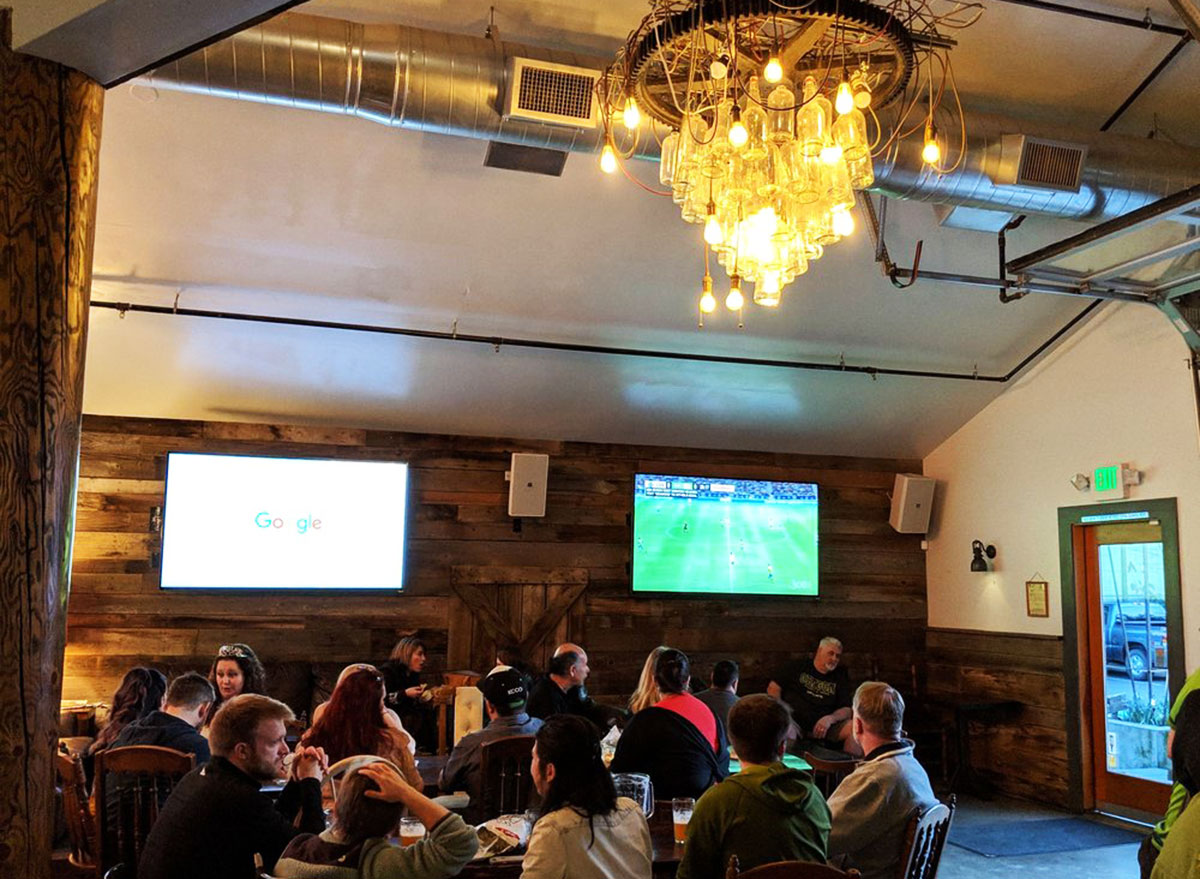 This is another dog-friendly pub, so while you're watching a game, there's a good chance you'll see plenty of furry guests hanging out on the outside patio area. Both inside and outside seating features comfy couches, and there are plenty of food trucks on hand to order from while you enjoy a beer.
WEST VIRGINIA: Maloney's in Summersville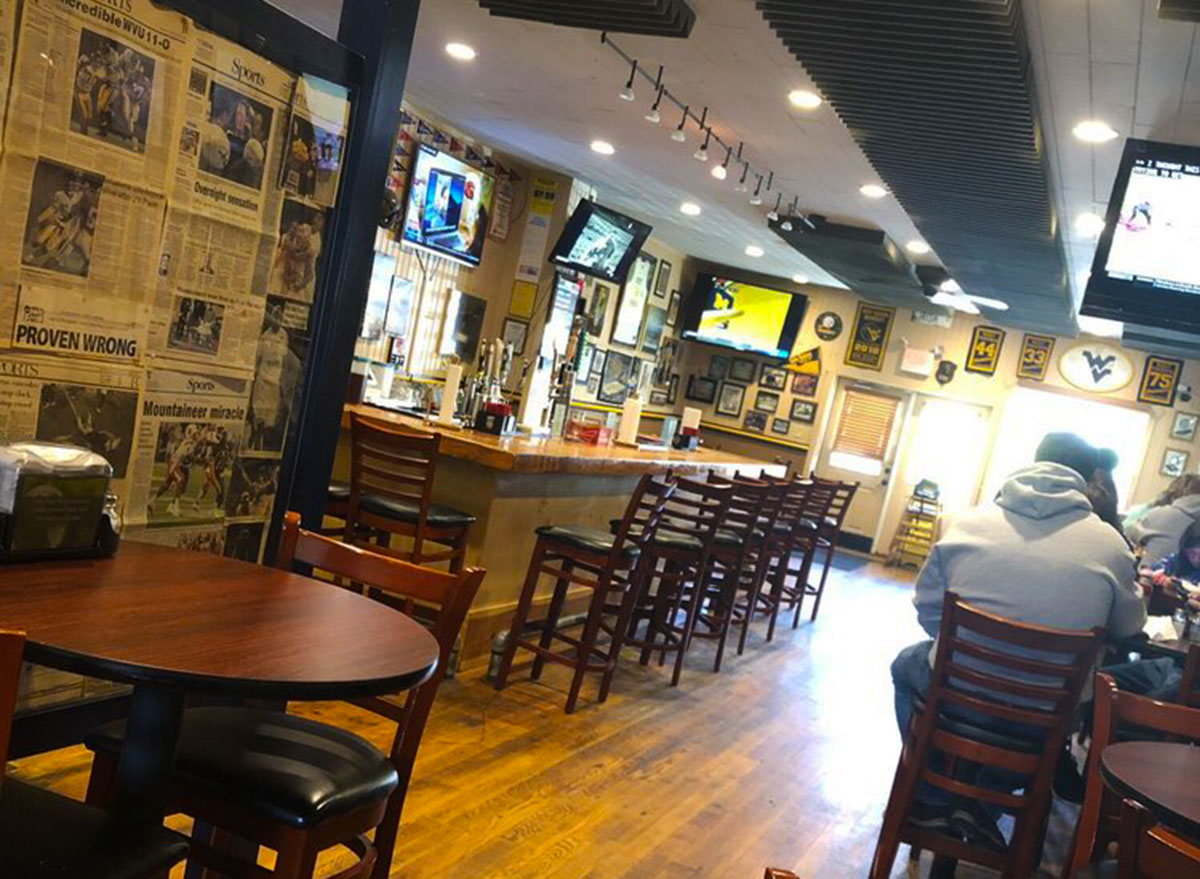 If you're looking for a more small-town feel, this is the spot to stop by. Known for always playing classic rock and showcasing live music on the weekends, Maloney's is known for its atmosphere and tasty wings that pair perfectly with a craft beer that comes in a frosted mug. Can't beat that!
WISCONSIN: Remi's Thirsty Moose in Poynette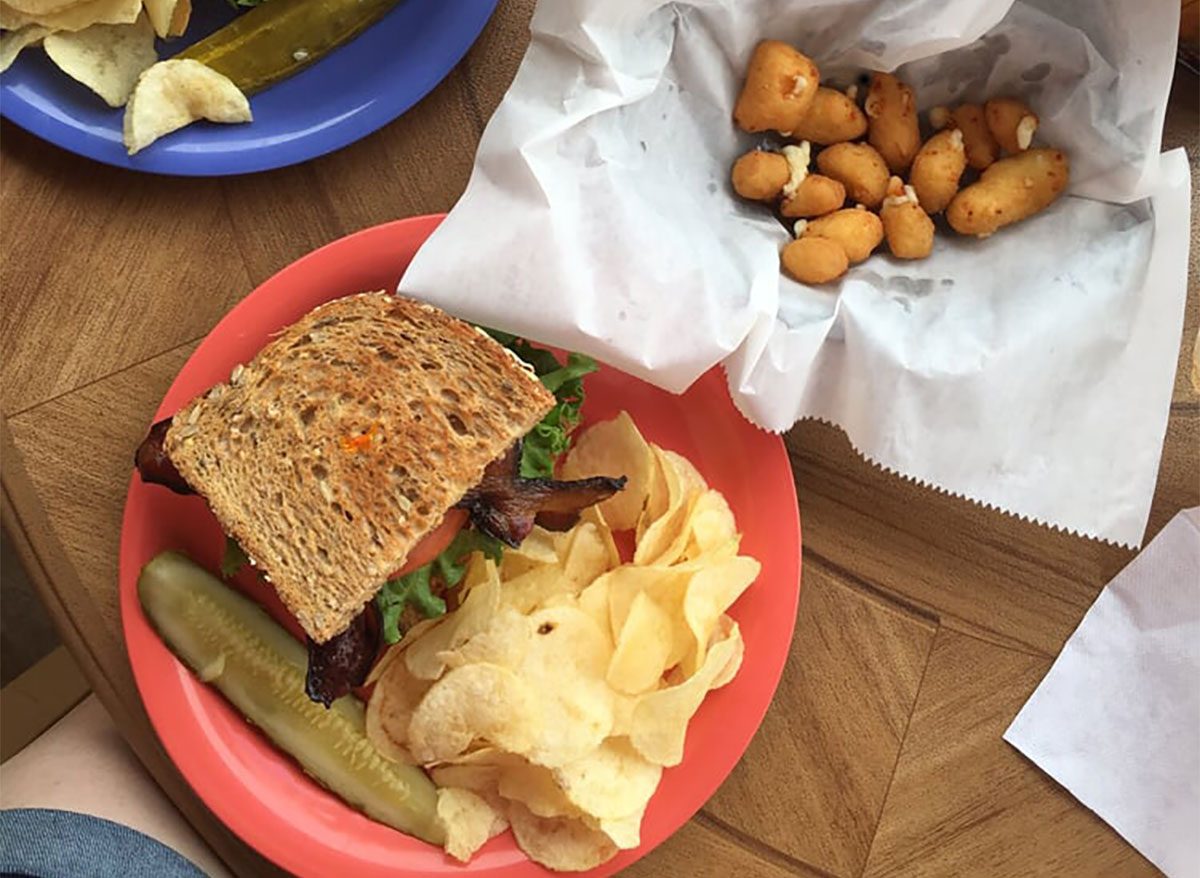 This Wisconsin bar has a mounted moose skull on the wall, as you might expect from the name. The menu features plenty of sandwiches and burgers, along with bar classics like pretzels and wings.
WYOMING: Lincoln Highway Tavern in Evanston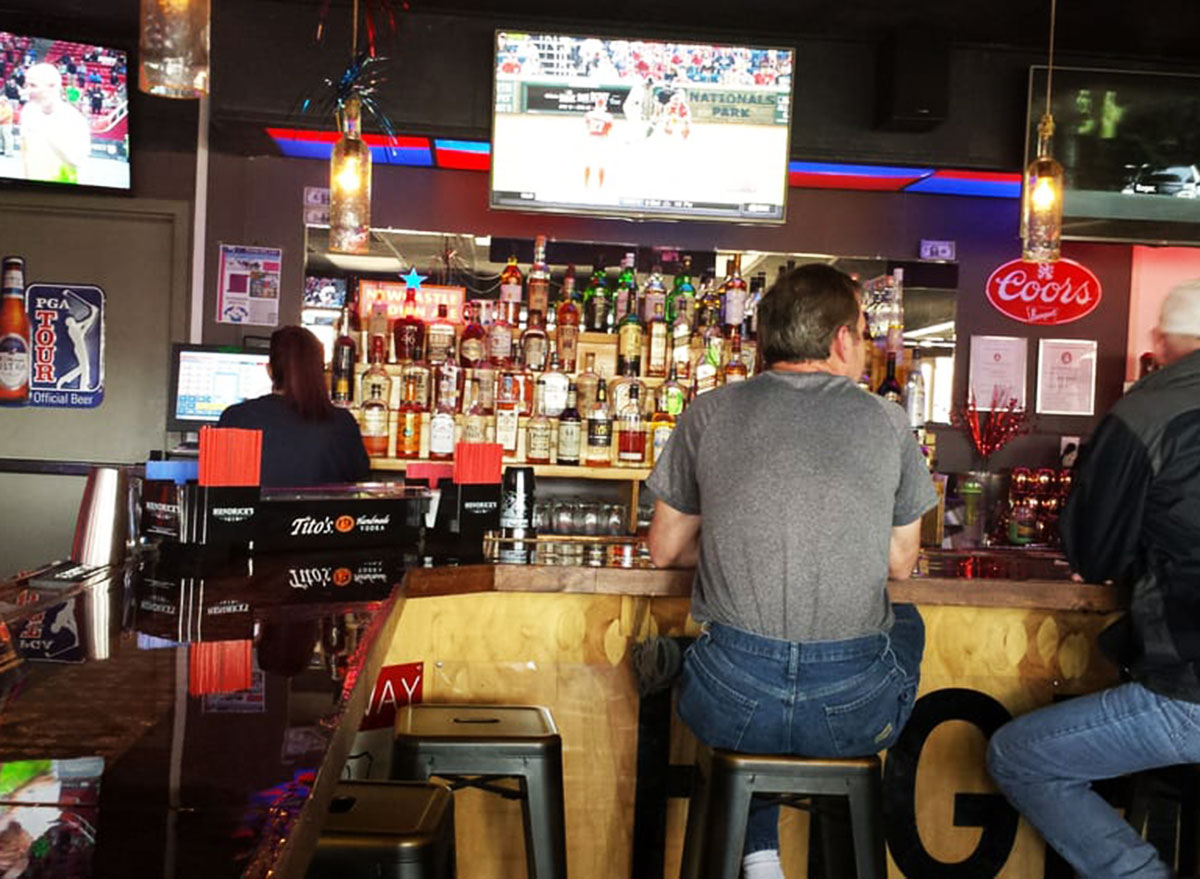 At Lincoln Highway Tavern, you'll find a rather extensive beer selection and bison burgers that Yelp reviewers have all said seem to be always be cooked perfectly. If you're traveling through Wyoming, this is one sports bar you'll have to try out, even if it's just to taste their homemade ranch that pairs perfectly with an order of French fries.
"The staff [is] great and a ton of fun. Great people. Quality bar food and plenty of cold beer. Highly, highly recommend," one Yelp reviewer wrote.