20 Best Super Bowl Snack Recipes
Stack your game day menu with these snacks for a rip-roaring (and delicious) time.
Whether you're a sports fan or just like to be remembered as the person with the best snacks, Super Bowl Sunday is the time to serve a killer spread of snacks and appetizers. And while this year's festivities will look different thanks to the pandemic, you can still celebrate with your family members or roommates in style.
We all know the best snacks are the bite-sized ones because they're easy to eat when you're watching the game, so we found the best snackable-sized treats to keep everyone satisfied. Plus, it makes it easier for people to load up on a variety of foods!
Hit the grocery store, put your apron on over your football jersey, and then get to cooking with these fun bite-sized Super Bowl snack recipes. Ready, set, hike!
And for more, don't miss these 15 Classic American Desserts That Deserve a Comeback.
Cheetos Flamin' Hot Crunchy Fried Mac and Cheese Balls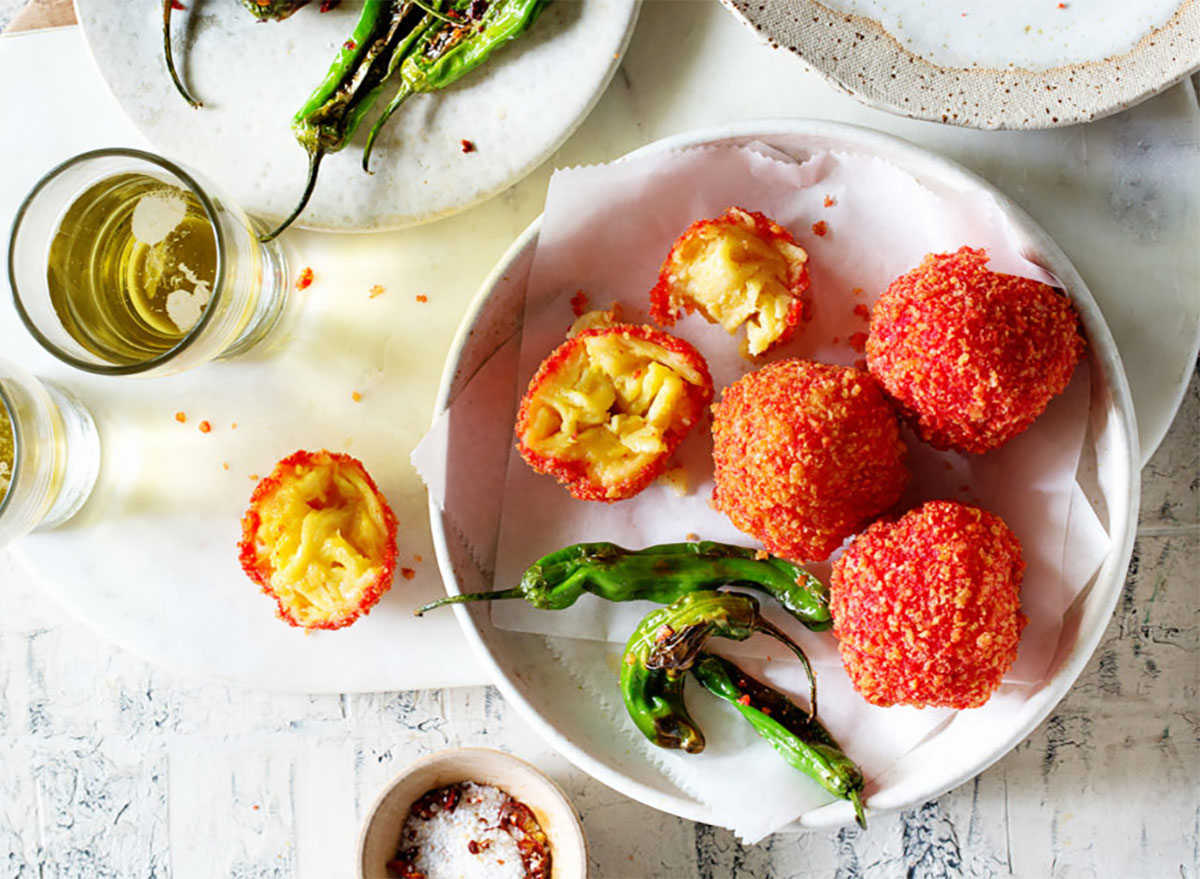 As if the game day isn't heated enough, wait until you toss these fiery bite-size cheese balls into the mix. What your eyes are feasting on are some mac and cheese balls coated in one of America's most popular snacks, Flamin' Hot Cheetos. That's right, this recipe crushes the spicy, salty snack by using a food processor and blending it with Panko crumbs to form that crispy shell around that golden mac and cheese.
Get the recipe from Real Food By Dad.
Sticky & Crispy Sesame Cauliflower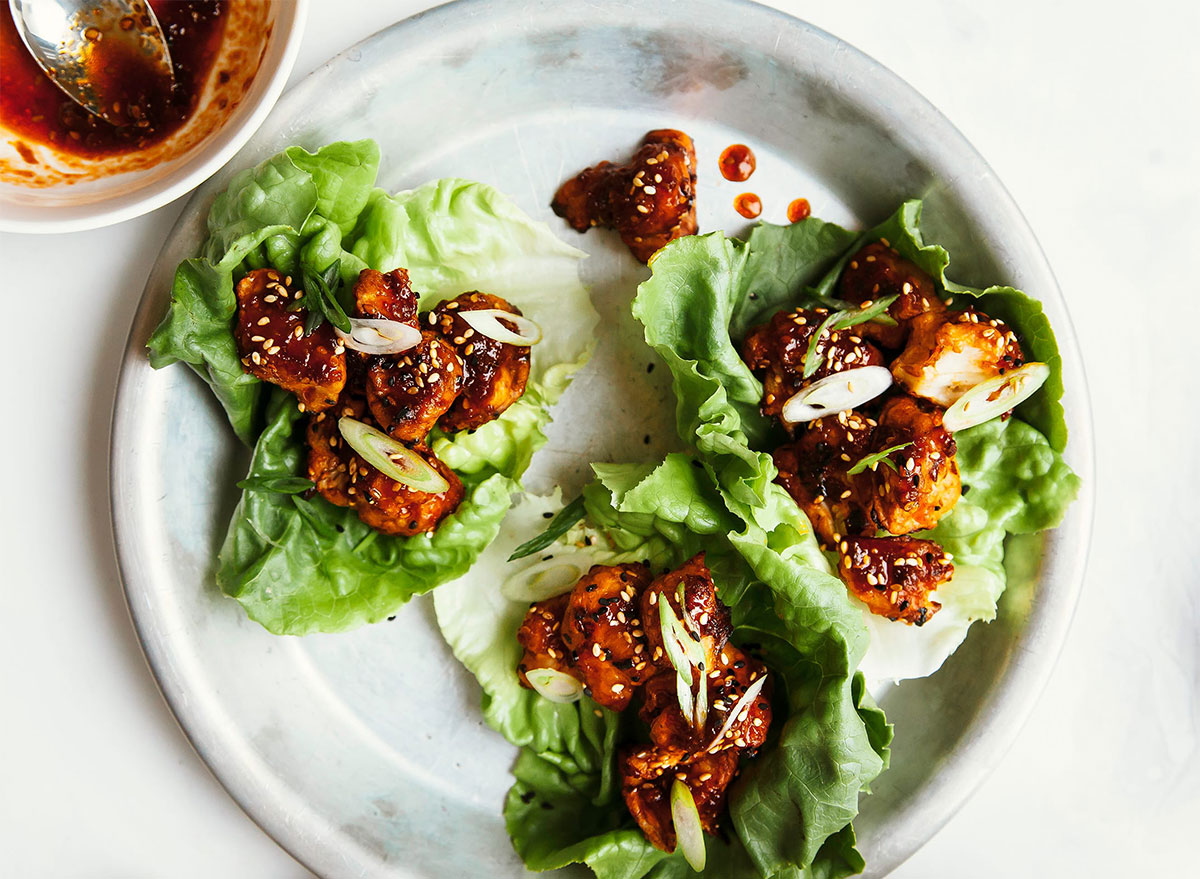 Glazed cauliflower is a great swap for chicken, especially for those who are vegetarian or vegan but want to partake in the same sticky finger mess that ensues after eating countless chicken wings. Either wrap a few into a leaf of lettuce or grab a toothpick and start munching away. We can already tell these bite-sized bits of cauliflower will be a huge hit!
Get the recipe from The First Mess.
Easy Football Cupcakes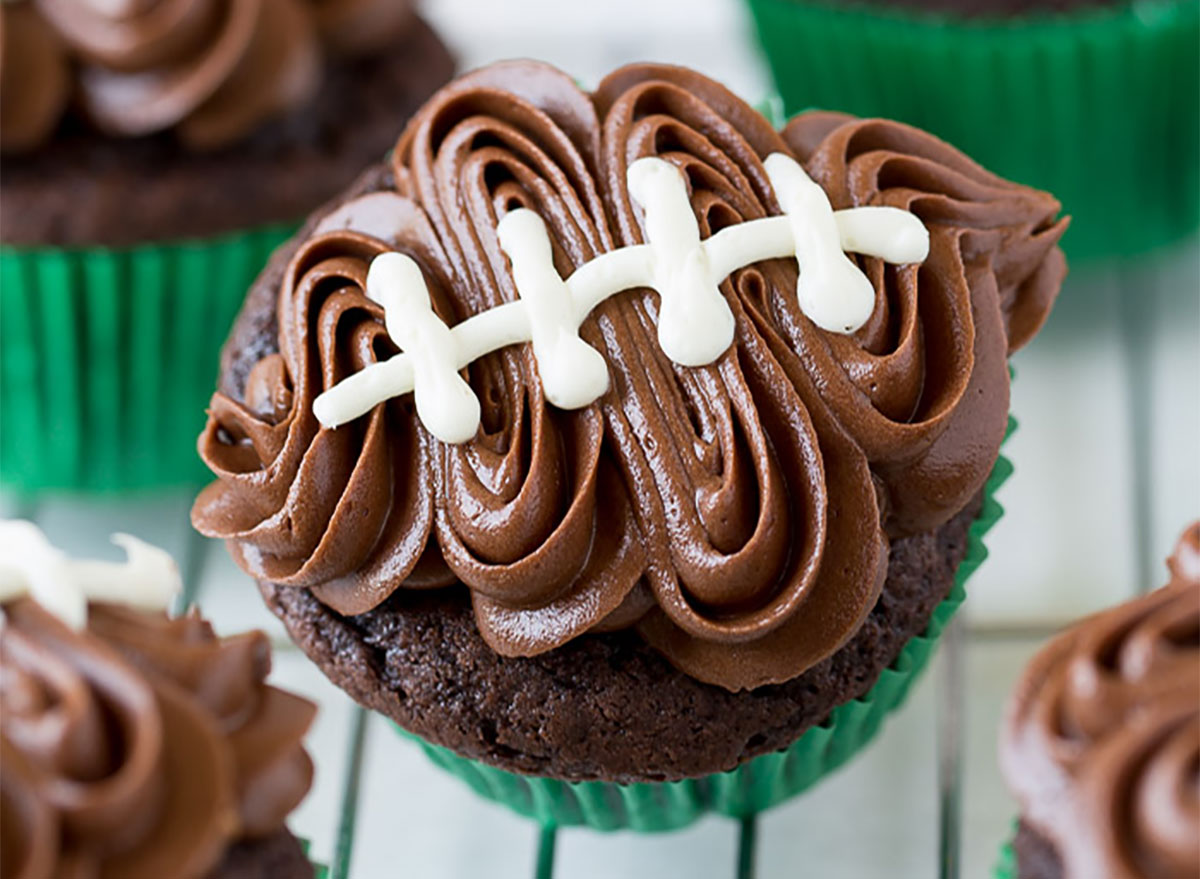 "Hut! Hut! Hike!" You don't have to be a seasoned quarterback to throw one of these adorable bite-size football frosting cupcakes into the end zone. And yes, we mean your mouth!
Get the recipe from Your Cup of Cake.
Sausage Stuffed Jalapeños
If the Flamin' Hot Cheetos mac and cheese balls weren't hot enough for you, we can guarantee these jalapeño poppers will cause the tears to well up. Crumbles of sausage, parmesan, and cream cheese are what fill this jalapeño half to the brim. The only hassle to prepping this dish is seeding the spicy pepper, but think about it this way: It's worth having the most praised dish on game day, right?
Get the recipe from Taste and Tell.
White Cheddar Gougères with Apple Butter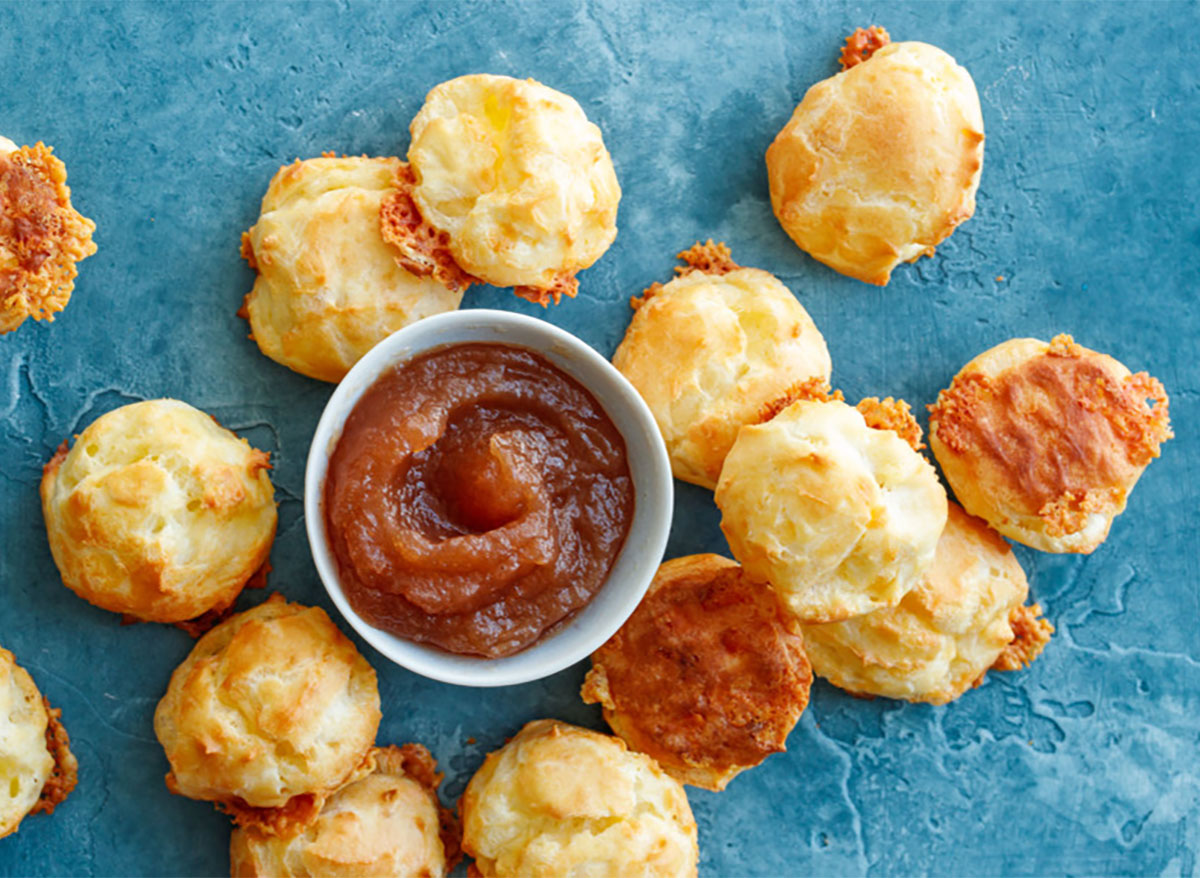 What are gougères? They're what's called a French choux pastry, which indicates they're made with a light dough. The blogger who created these little works of art describes the pastry as "like fluffy, cheesy clouds with crispy toasted cheese bottoms, these savory white cheddar cheese puffs make a perfect party appetizer!" We couldn't agree more.6254a4d1642c605c54bf1cab17d50f1e
Get the recipe from Love and Olive Oil. 
Easy French Dip Sliders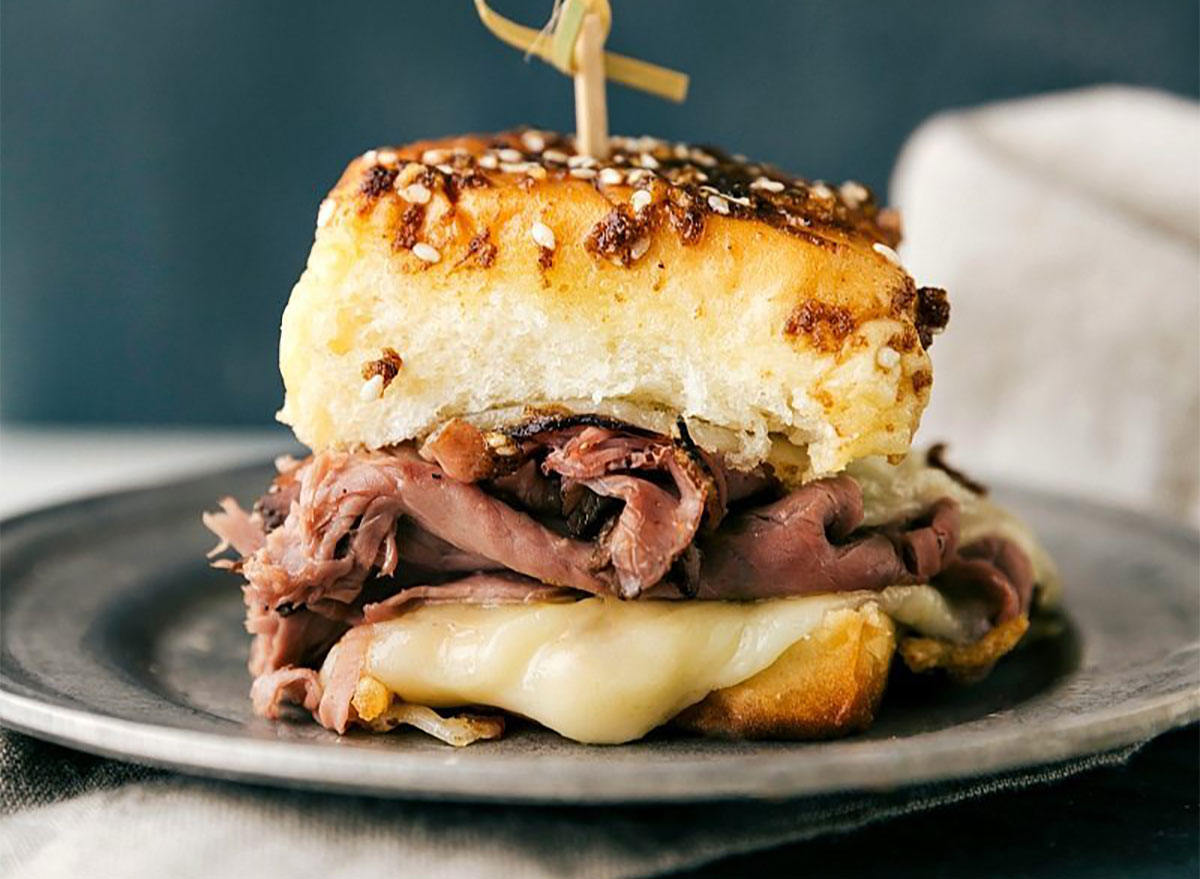 These aren't your typical game day sliders. If getting gourmet with your Super Bowl appetizers is what you're aspiring to achieve, this recipe is for you. The best part—aside from impressing your family—is total preparation time only amounts to 30 minutes. Sold!
Get the recipe from Chelsea's Messy Apron.
Honey Garlic Meatballs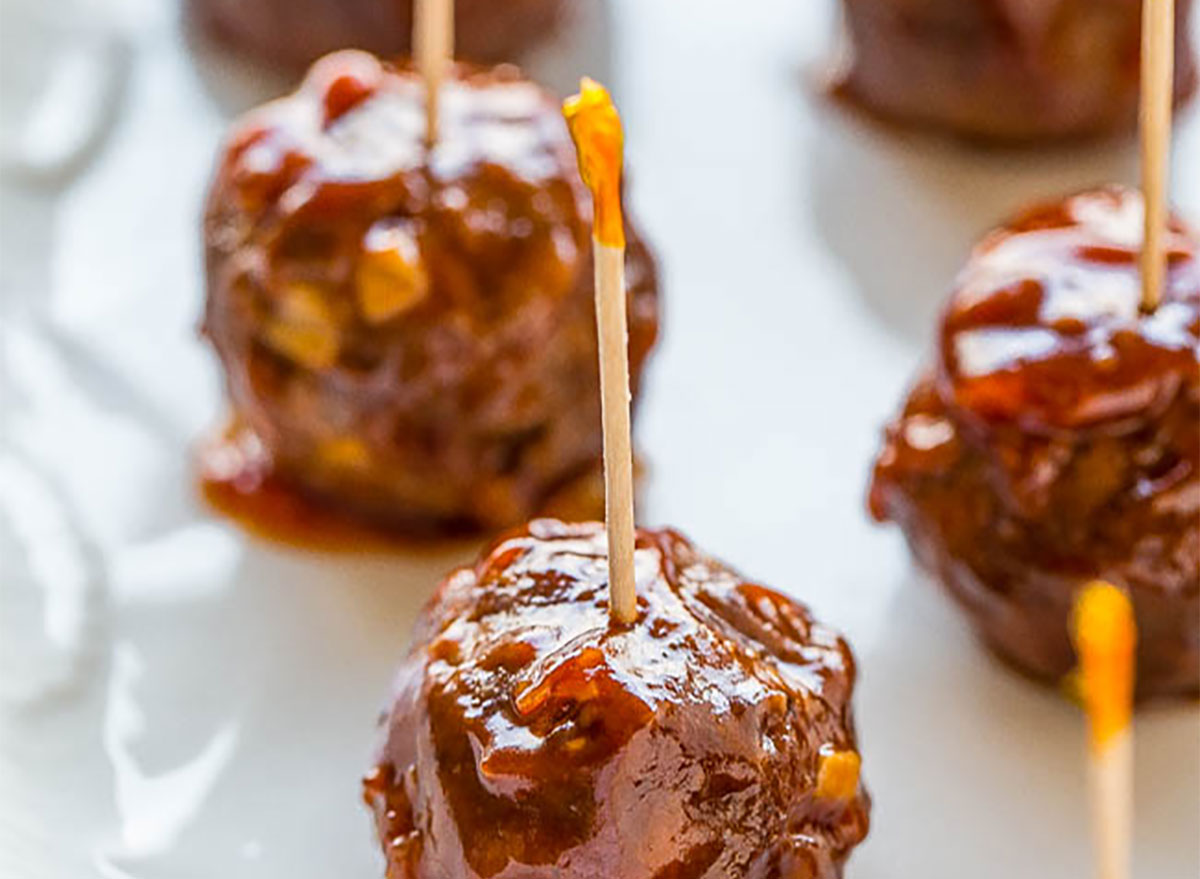 Not a single Super Bowl game can be enjoyed without scarfing down cocktail meatballs. Need we say more?
Get the recipe from Averie Cooks.
Macaroni 'N Cheese Cups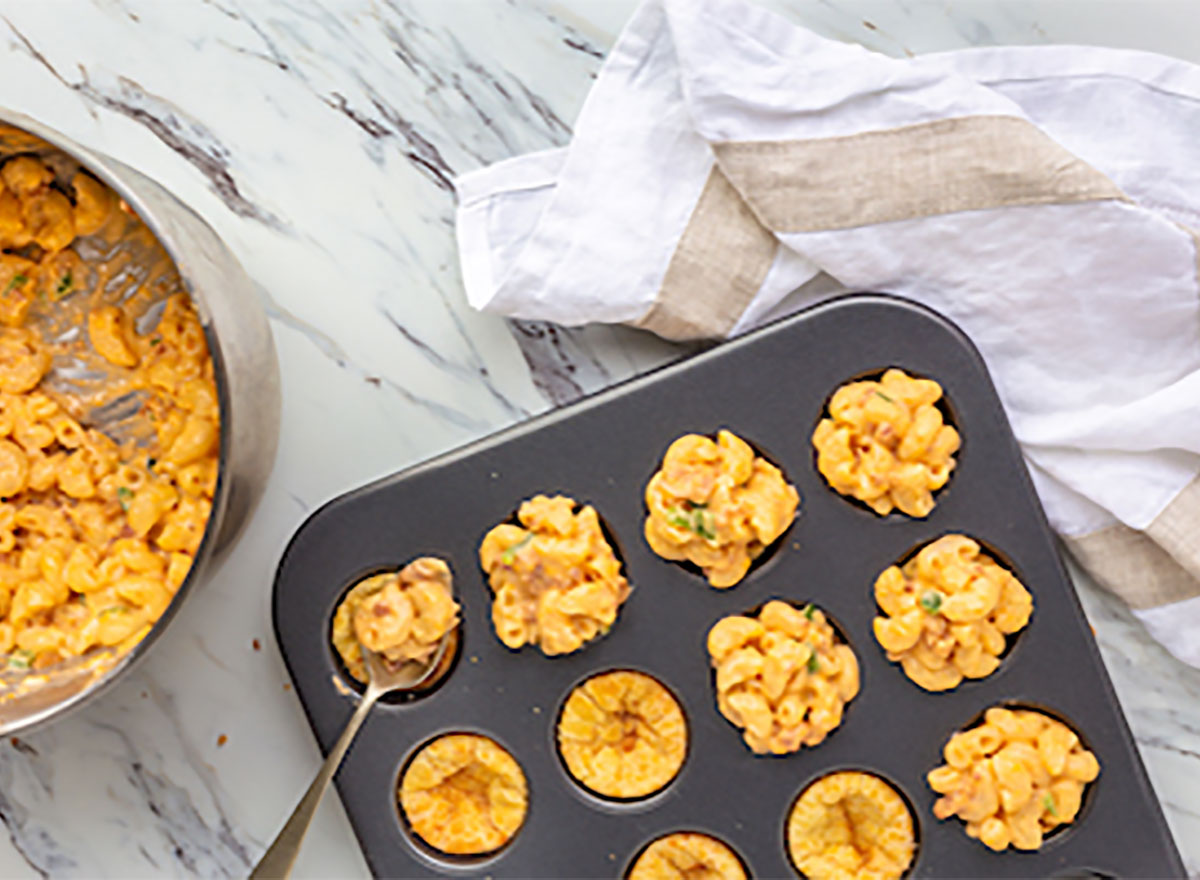 These mac and cheese cups are the perfect recipe for people craving a cheesy bite during commercial breaks. Brazi Bites Cheese Bread is naturally gluten-free, so all you have to do is pick out your fave gluten-free macaroni pieces, and boom—you've got a dish that every eater can appreciate.
Get the recipe from Brazi Bites.
Easy Cheese Stuffed Mushrooms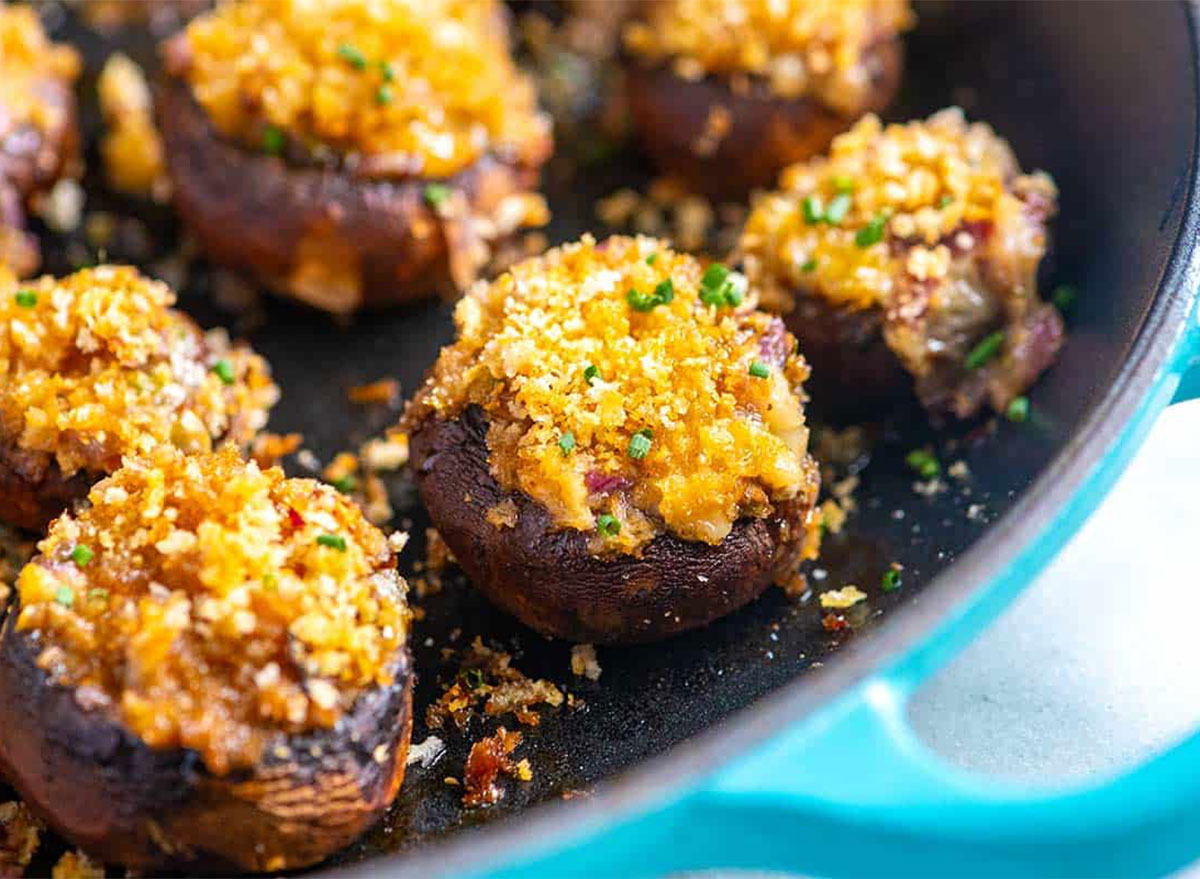 Inspired Taste's mushroom caps look absolutely sensational. The blogger suggests incorporating up to three cheeses of your choice into this recipe, with the suggested ones being sharp cheddar, mozzarella, and Swiss.
Get the recipe from Inspired Taste.
Ultra Crispy Smashed Potatoes
Imagine sinking your teeth into a crisp yet soft, warm potato-y treat that tastes like a thick truffle french fry. OK, now break that trance and start smashing some potatoes to make it happen!
Get the recipe from Recipe Tin Eats.
Cajun Cauliflower Poppers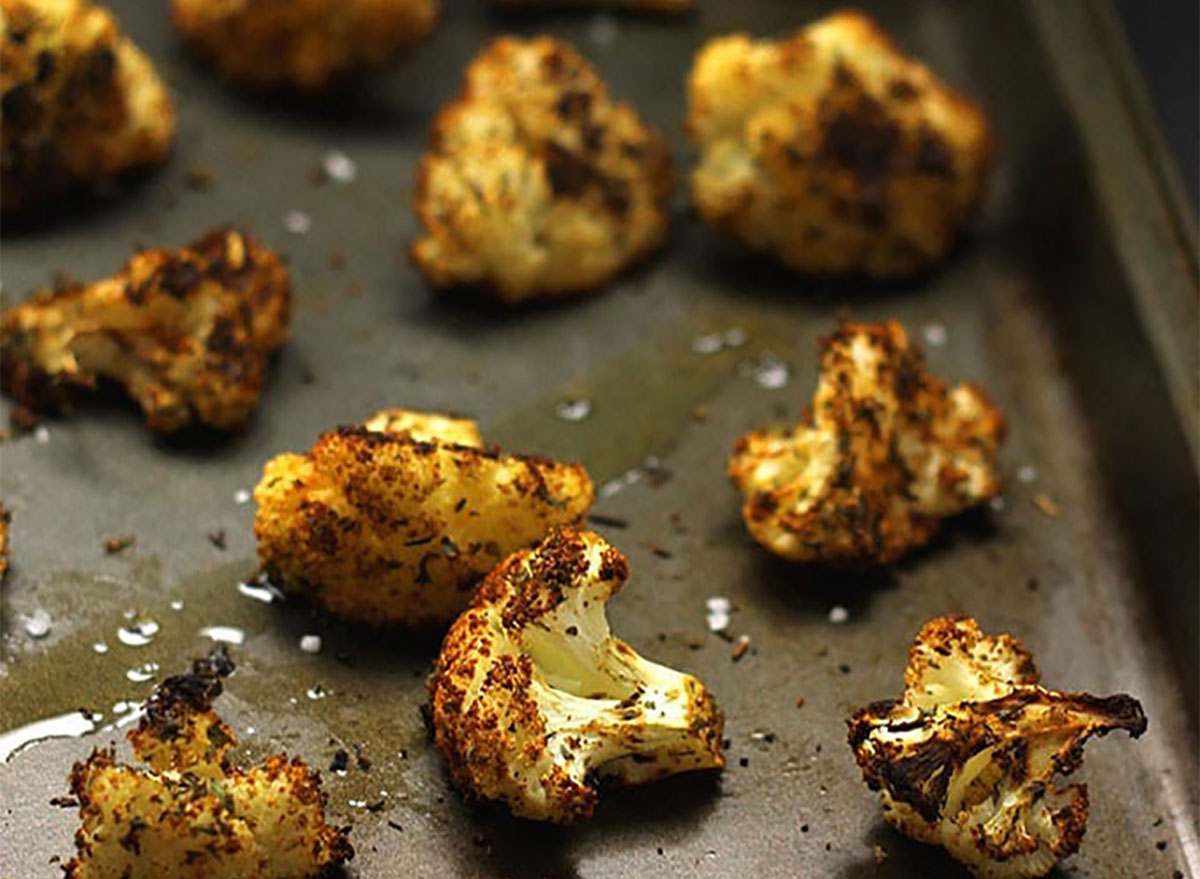 Cajun Cauliflower Poppers may be one of the easiest dishes to make on this list. If you already know you're going to be in a pinch on game day, cooking this recipe may just be the move for you—it's just roasted cauliflower with seasoning!
Get the recipe from The Healthy Maven.
Buffalo Chicken Dip Cups
Buffalo chicken dip is a must-have appetizer on game day. Avoid the mess of potentially having a vat of dip spilled on your couch and instead opt for stuffing a ration of it into a crisp wonton cup. Trust us, you won't miss broken chips—or a stained couch.
Get the recipe from Real Food by Dad.
Prosciutto Wrapped Apples with Manchego Cheese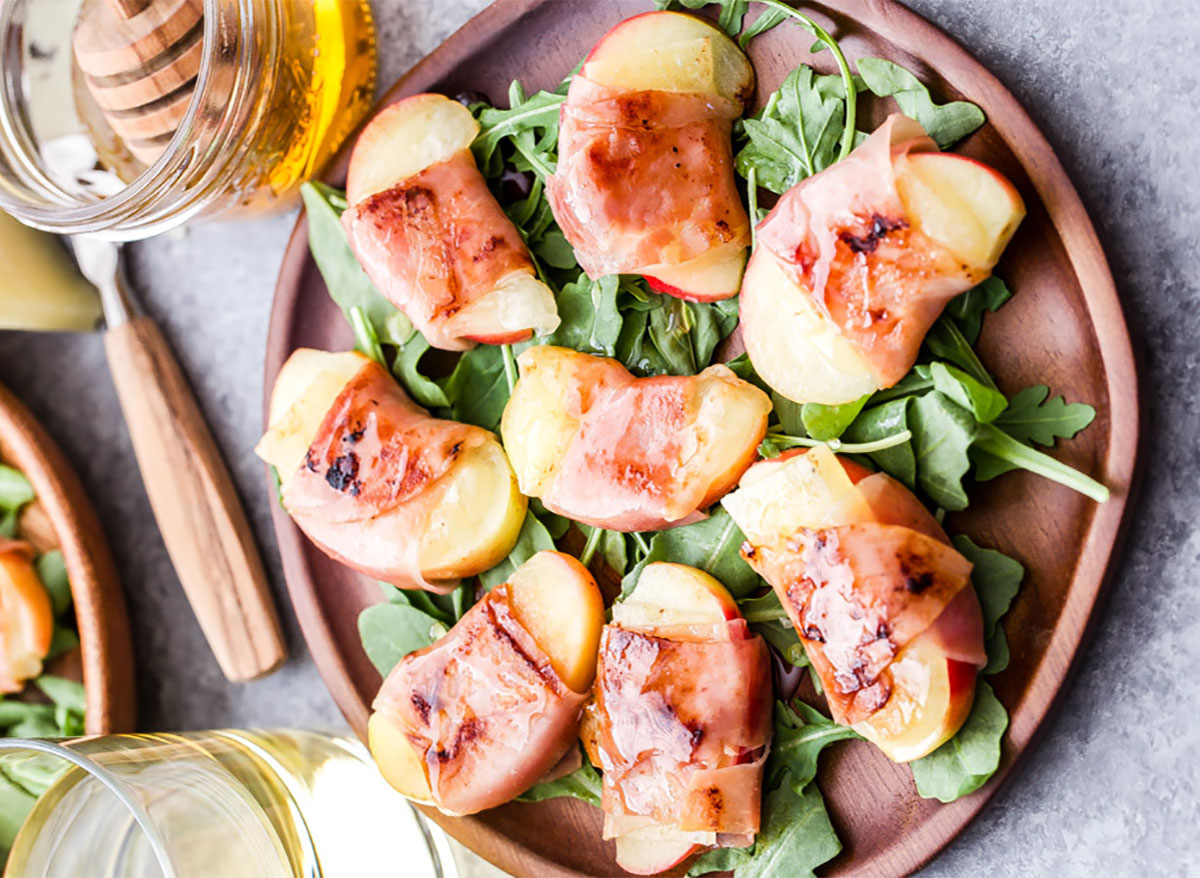 Oftentimes, fried foods are at the forefront of a game day menu. Shake up this routine and offer a more refreshing plate such as apple slices wrapped in thin prosciutto with a tiny slab of Manchego cheese. It's a delicious sweet and salty combo!
Get the recipe from Recipe Runner.
Cheesy Apple & Bacon Phyllo Cup Appetizers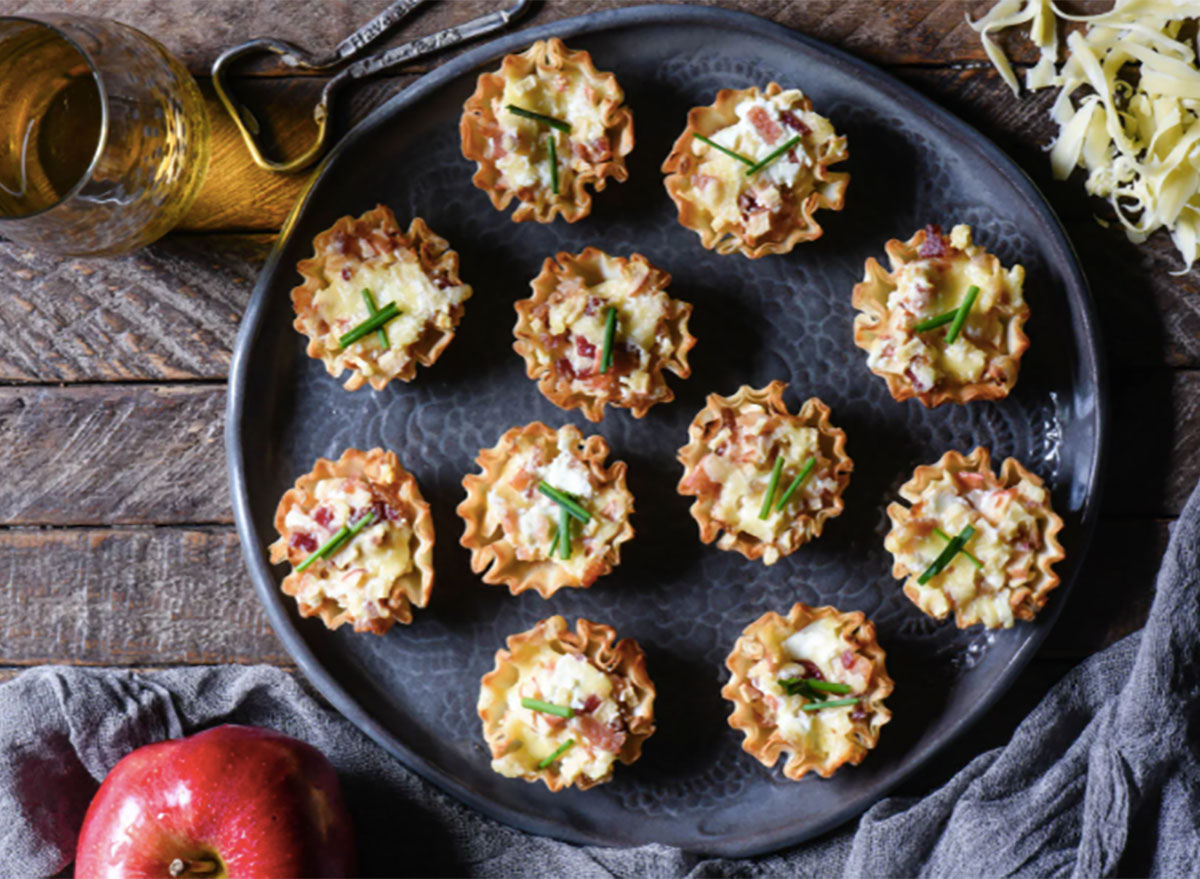 Goat and Gouda cheeses join forces with bacon, chive, and phyllo dough to create this mouthwatering snack.
Get the recipe from Foxes Love Lemons.
Copycat Taco Bell Mexican Pizza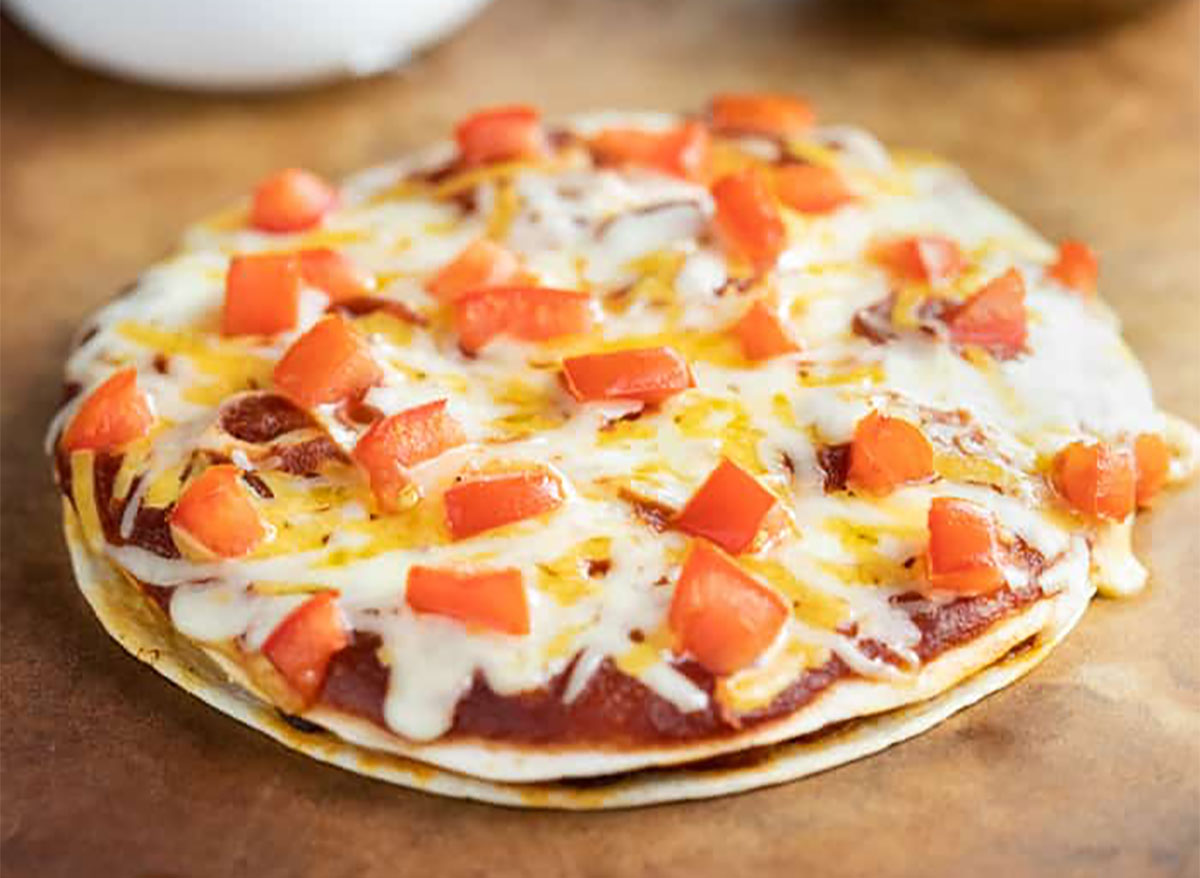 This recipe is for all the Taco Bell enthusiasts in the living room. The tortilla-based pizza with layers of ground beef, refried beans, and cheese makes for a great snack at any group gathering. Make the mini pizza bite-sized by slicing it into three or four triangles, and people can easily grab a bite in between touchdowns!
Get the recipe from The Cozy Cook.
Parmesan Shortbread Crackers with Herbs
Crackers are an essential snack, and these parmesan shortbread ones, seasoned with a handful of herbs, will make a packaged box of crackers look amateur.
Get the recipe from Savory Simple.
Loaded Vegan Quesadillas with Homemade Guacamole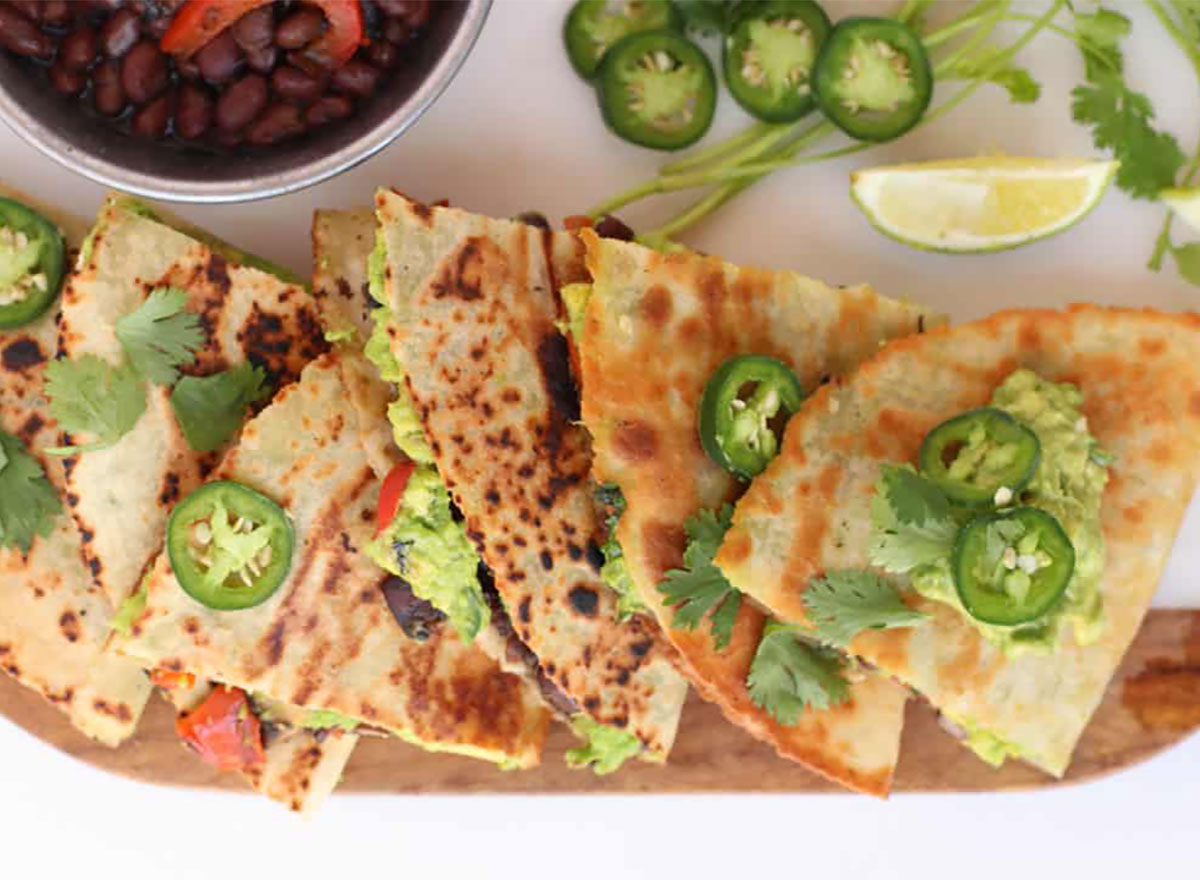 Yes, vegans can enjoy quesadillas too, with various dairy-free cheeses out there. However, this quesadilla doesn't call for any such product, so everyone can enjoy this quesadilla. The creamy inside is emulated through a dollop of freshly made guacamole. A mixture of kidney beans, mushrooms, and red bell pepper also fill out the insides. Cutting this quesadilla into small triangles is key for making this appetizer bite-size.
Get the recipe from My Darling Vegan.
Sweet & Spicy Honey Chex Mix
A snack that only consists of nuts, pretzels, and Chex pieces? Yes, please!
Get the recipe from Sally's Baking Addiction.
Tortilla Chip-Crusted Baked Jalapeño Poppers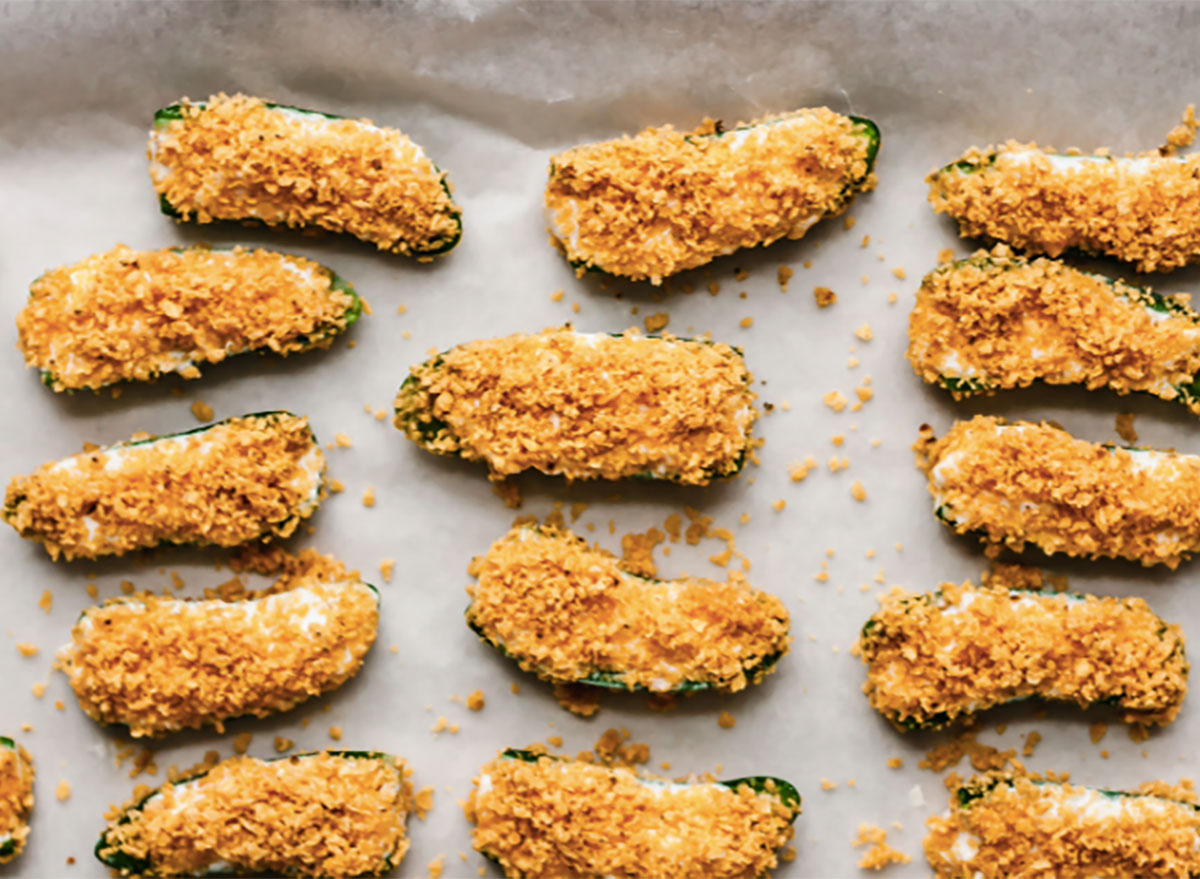 If you can't handle the heat, don't pick up a jalapeño popper. But if you can, opt for this baked version that's crusted with crunchy tortilla chips. We bet you can't eat just one.
Get the recipe from Ambitious Kitchen.
Chinese Chicken Salad Wonton Cups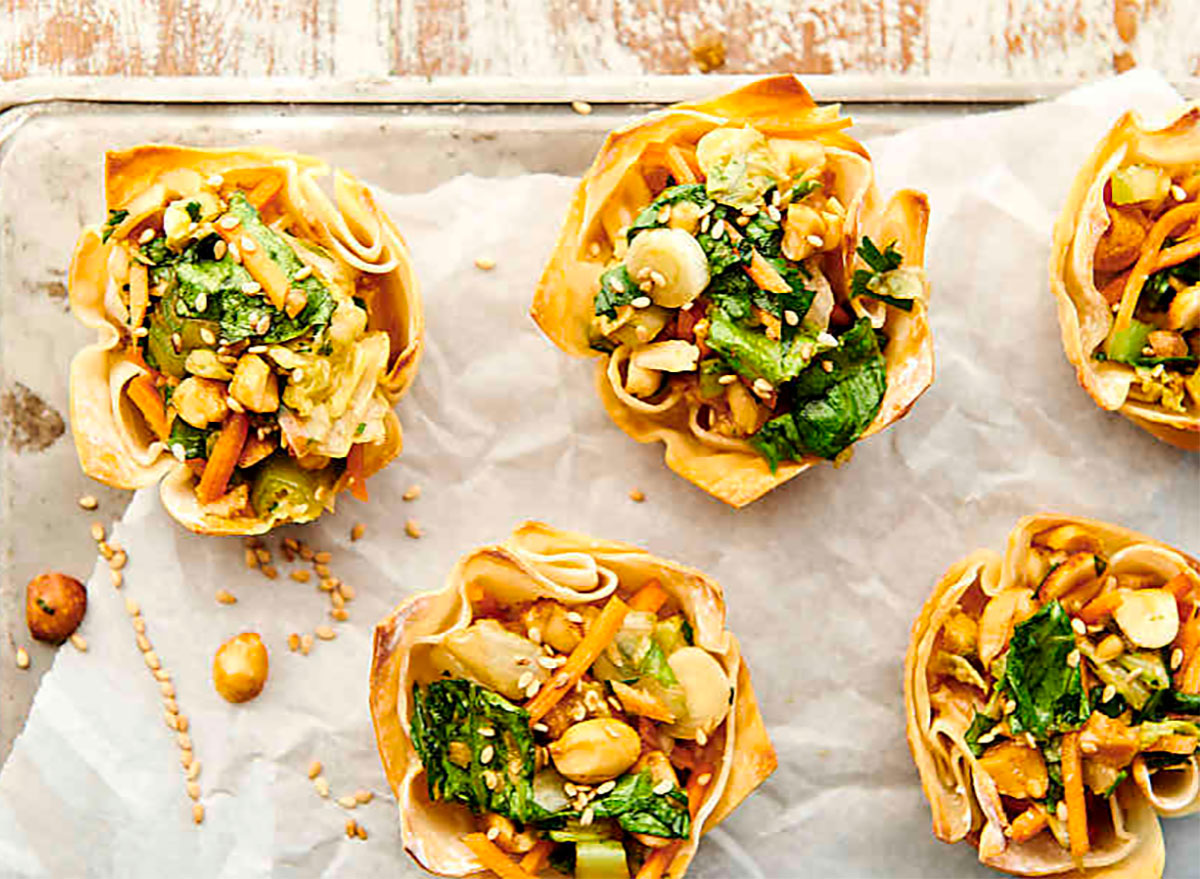 Recipes with wonton cups are ideal for bite-sized treats, which is exactly what you want as you're sitting for hours, intently looking (and likely yelling) at the TV. This isn't your mom's chicken salad, either—the unique spices really step up the flavor to take the chicken salad from basic to next-level.
Get the recipe from Show Me the Yummy.