Best Supplements For Energy, According to Dietitians
Time to put down those energy drinks and endless cups of coffee.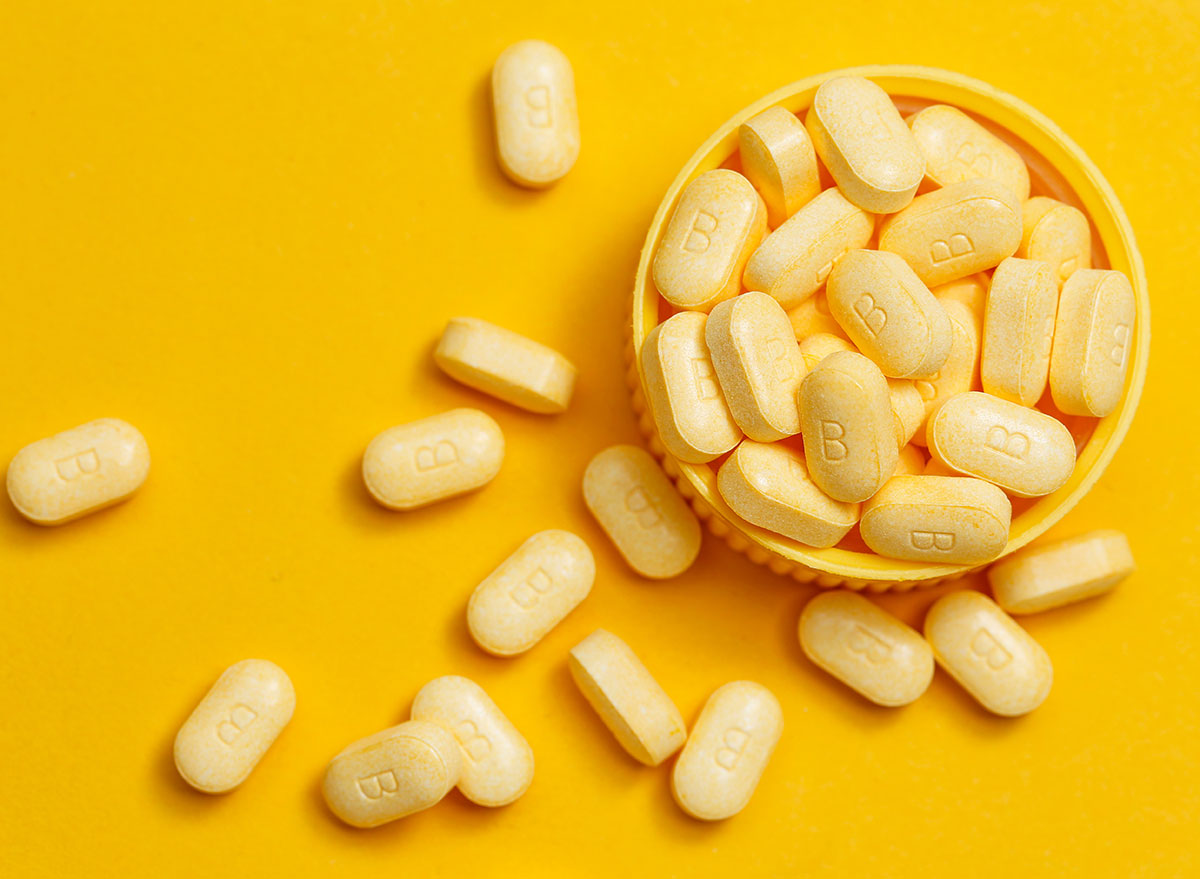 Maintaining your energy levels can sometimes be the most challenging part of the entire day. The afternoon slump is real—and even though eating lunch with energy-boosting foods like steel-cut oats or Greek yogurt may help, sometimes you need a bit more.
Dietary supplements can be a great way to get sufficient amounts of essential vitamins and minerals in order to really start to see a difference in your energy as you work through the day. Not only are these options all-natural, but they're also incredibly easy to incorporate into your daily routine, so you can kick the energy drinks and endless cups of coffee and go for a healthier option.
We consulted expert dietitians to find out exactly what you should be looking for in a supplement to keep you energized throughout the day. And while you're at it, be sure to stock up on The 7 Healthiest Foods to Eat Right Now.
Probiotics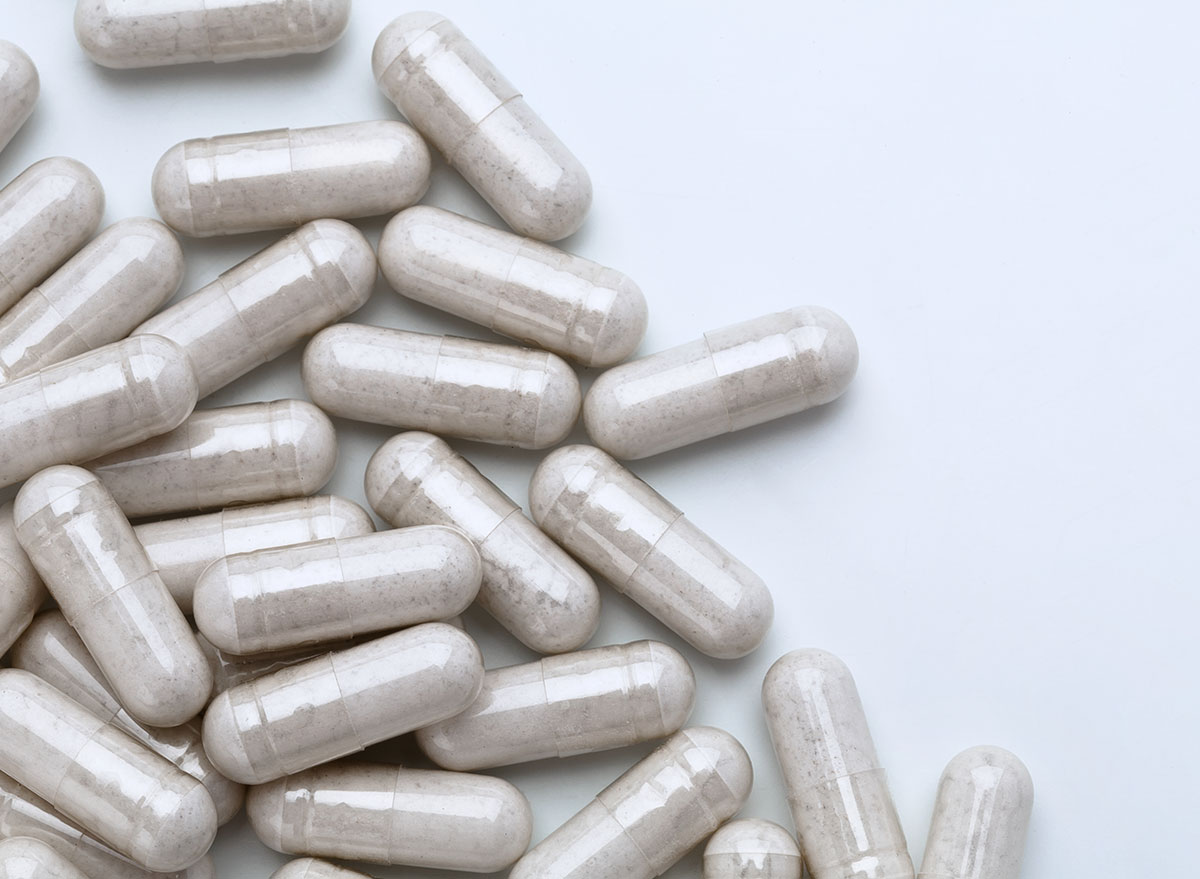 If your gut health is out of whack, your energy levels may take a dive. That's because "when the gut is out of balance, it can lead to inflammation and ultimately poor energy as the body is unable to process and utilize nutrients to its best ability," according to Trista Best, MPH, RD, LD a registered dietitian from Balance One Supplements.
And one of the ways you can rebalance your gut is by taking probiotic supplements. "Probiotics are 'good bacteria' that promote gut health and improved digestion," according to Mackenzie Burgess, RDN, registered dietitian nutritionist and recipe developer at Cheerful Choices. While there are some food sources that contain probiotics, such as kefir, kimchi, and yogurt, supplements are some of the best ways to consume probiotics, as levels of bacteria can vary significantly in food depending on preparation and handling.
Not only do probiotics impact your energy levels, but Maggie Michalczyk, RDN, founder of Once Upon A Pumpkin notes that they're also connected to everything from your mood to your immune system, and more! So, if you're looking for a supplement that truly does so much for the body, a probiotic should be your go-to.
Vitamin B12
Vitamin B is essential to creating energy in the body, and if you're not getting enough through the foods you eat, then a supplement is definitely key. "[This vitamin] helps our cells convert the food we eat into energy, and when we are deficient we tend to feel weak, tired, and lightheaded," says Michalczyk.
If all that isn't enough, Best told us a little-known fact about Vitamin B that will likely get you on the bandwagon. "A B12 deficiency can also lead to a type of anemia known as pernicious anemia. The anemia most think of when they hear the word is related to an iron deficiency, but pernicious anemia is rooted in a B12 deficiency," says Best. But, here's the kicker—this form of anemia causes low energy and fatigue, so ensuring that you have sufficient Vitamin B in your diet is essential to maintaining your energy.
Ashwagandha
If you're looking for one of the most natural supplements for energy, ashwagandha is it. "[It's] an herb that has been used for centuries for its many medicinal purposes, specifically helping with stress by managing cortisol levels," says Best. If you're wondering where the help with the energy comes in, "Ashwagandha naturally reduces cortisol levels, especially those elevated due to ongoing and uncontrolled stress. Improving mental fatigue and stress can lead to improvements in overall energy."6254a4d1642c605c54bf1cab17d50f1e
So, if you're someone who is often stressed, it could be impacting your energy levels, and ashwagandha could be the supplement you need to begin to regulate your anxiety and boost your energy.
Protein Powder
For people who love smoothies and shakes, protein powder could be a simple addition to boost your energy. Burgess recommends Designer Protein Powder in particular because "it packs in over 20 grams of protein per serving along with 23 essential vitamins and minerals." Protein powders like this one are rich in vitamin B, and we know how essential that is to maintain our energy. To take your breakfast to the next level, Burgess suggests pairing protein powder with a carbohydrate source like a banana or granola bar for long-lasting energy. For some inspiration, check out these 22 High Protein Smoothie Recipes from Diet and Fitness Experts.
Rachel Linder
Rachel is an Associate Editor responsible for compiling the daily Eat This, Not That! newsletter, making TikTok and YouTube videos for the brand, writing articles for the site, creating original graphics and providing direct assistance to the editors when needed.
Read more about Rachel