The #1 Best Sushi Takeout Order, Says Dietitian
Ordering sushi for dinner? This filling meal is packed with the nutrients your body needs!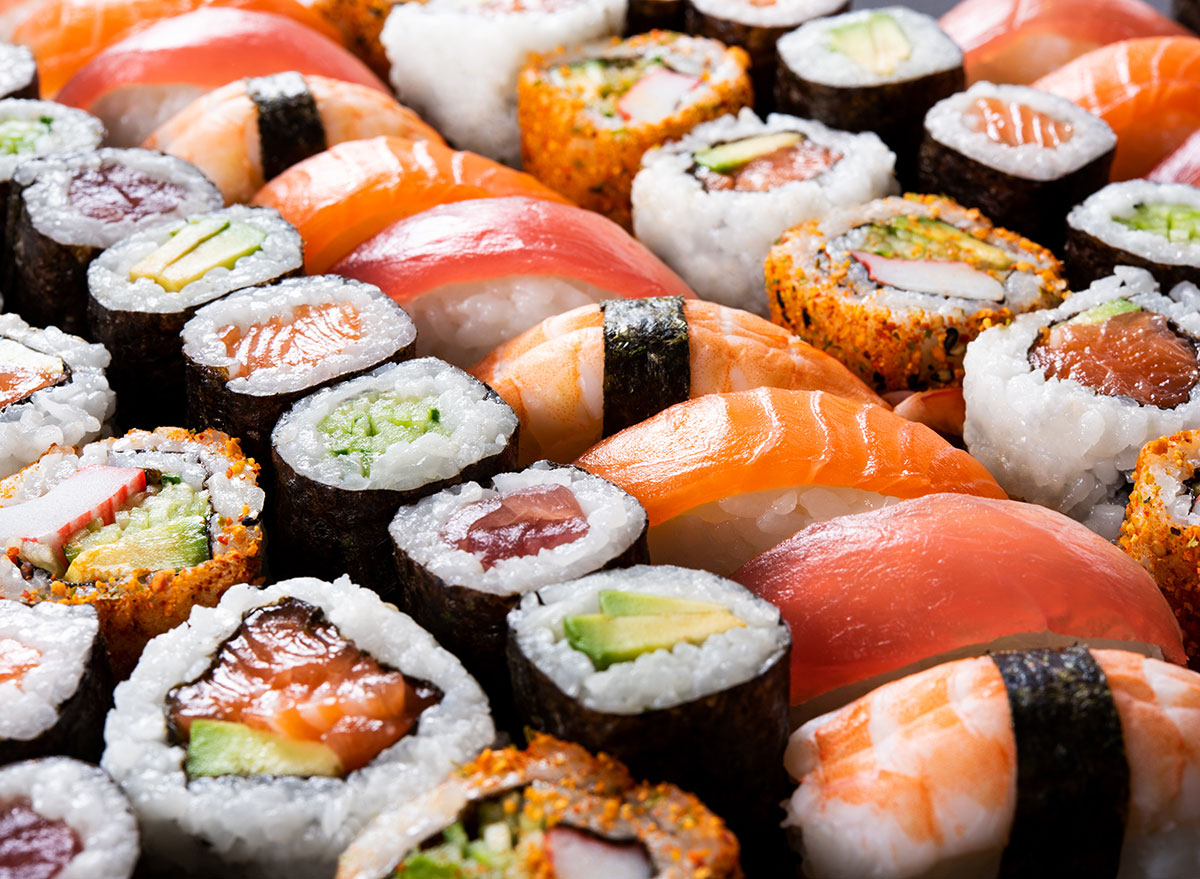 When some hear sushi they might think of outrageous rolls full of tempura flakes, multiple cuts of fish, and creamy spicy sauces. Unfortunately, menu items like that are not the healthiest, nor the most authentic options available to diners. When kept simple, Japanese food (specifically sushi) is a nutrient-rich powerhouse full of protein, carbohydrates, brain nourishing minerals, and modest amounts of fat. With options available to all types of eaters (pescatarian, vegetarian, paleo, etc.) it is easy to keep your takeout order healthy and tasty.
Our best sushi takeout order for those without dietary restrictions is a miso soup and green salad to start with a salmon avocado roll and multiple pieces of sashimi as the main. For vegetarians, the ideal order is miso soup, edamame, one or two vegetable rolls with avocado, and/or if available, one to two pieces of Inari (tofu sushi).
Many times, clients will ask me if they should order brown rice instead of white rice. My answer to this is always to order what you enjoy the most. The nutritional difference between these two types of rice is really negligible and it is not wise to sacrifice satisfaction for one more gram of fiber or protein.6254a4d1642c605c54bf1cab17d50f1e
Another common question I receive from clients is how to feel more full after sushi. This is where the lack of fat in traditional sushi can become problematic. Fish is a rich source of protein, however, unless you choose a fatty fish like salmon or mackerel, it is not a good source of fat.
Similar to fish, sushi rice lacks fat and is only a rich source of carbohydrates. For this reason, it is ideal to order a roll with avocado or enjoy an appetizer that features a good source of healthy fat. The combination of protein, carbohydrates, and fat is what will boost satisfaction and keep you fuller, longer.
As you enjoy your sushi, try to keep your soy sauce dips light, doing so will keep sodium intake and any puffiness that might follow to a minimum. A final word of wisdom, feel free to go wild on the ginger that is given to you. Ginger is great for refreshing your palate and aiding digestion. Bon appetit!
Sydney Greene, MS, RD
Sydney Greene is a registered dietitian specializing in nutrition for addiction recovery, disordered eating, and body image, as well as chronic digestive issues.
Read more about Sydney