One Major Effect of Eating Edamame, Says Dietitian
Edamame is a salty and delicious snack, but you may not have realized that it's packed with protein.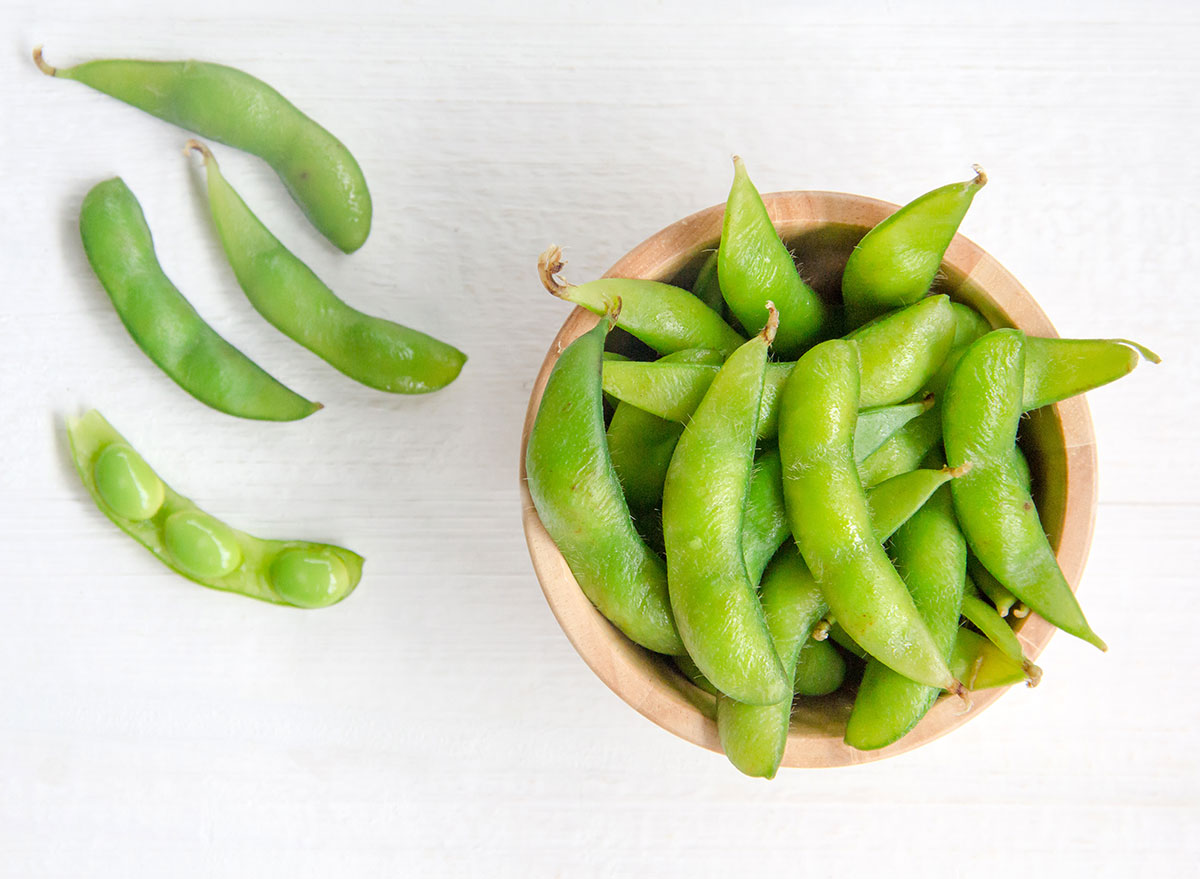 When there's a bowl of warm edamame at the table, it's nearly impossible not to eat the whole thing. This snack, which was a popular diet staple in China as far back as over 2,000 years ago, is more than just a salty treat and much healthier than some people may realize.
Edamame is in the soy family and is sometimes referred to as "immature soybeans." Because they're in the same family, edamame's health benefits are similar to that of other soy products.
For example, edamame and soybeans have been known to help lower cholesterol, provide a rich amount of vitamins and nutrients, and even potentially reduce the risk of certain cancers.
Edamame also makes an easy, healthy snack because of its high protein content. "One of the effects of eating edamame is that you'll get a good source of plant-based protein," says registered dietitian Amy Goodson, MS, RD, CSSD, LD author of The Sports Nutrition Playbook and member of our expert medical board, "which is especially great for all the vegetarians and vegans out there who can't get their protein from animal products."
Edamame and protein
Protein is necessary for everyone. According to Scientific Reports, not getting enough daily protein often leads to overeating, weight gain, and an increase in body fat. It's also been proven that protein deficiency can lead to weakened immunity, loss of muscle mass, and a greater risk of severe disease6254a4d1642c605c54bf1cab17d50f1e
It's important to know that not all protein is created equal, however. The USDA Dietary Guidelines warn that just because something is packed with protein doesn't mean it's "healthy," as it may be loaded with fats or added sugar. This is why foods like edamame make great protein-heavy snacks.
Although you'll get more protein from certain types of animal products, edamame still has high levels for a plant-based food at about 18 grams per cup and has more protein than other soy or legume products like soybeans, snap peas, green peas, and even tofu!
"The protein in edamame isn't considered as 'high quality' as animal proteins," says Goodson, "but they are still a 'whole' protein, meaning they provide you with all nine essential amino acids that your body cannot make."
"Edamame can be eaten by itself as a snack, mixed into salads, soups, grain bowls, and more," says Goodson. You can also try making this delicious, savory porridge with edamame and mushrooms!
Read these next: