The #1 Taco to Order at 7 Major Fast-Food Chains, According to Chefs
Take it from the pros: there's nothing quite like a fast and convenient taco, and these spots do it right.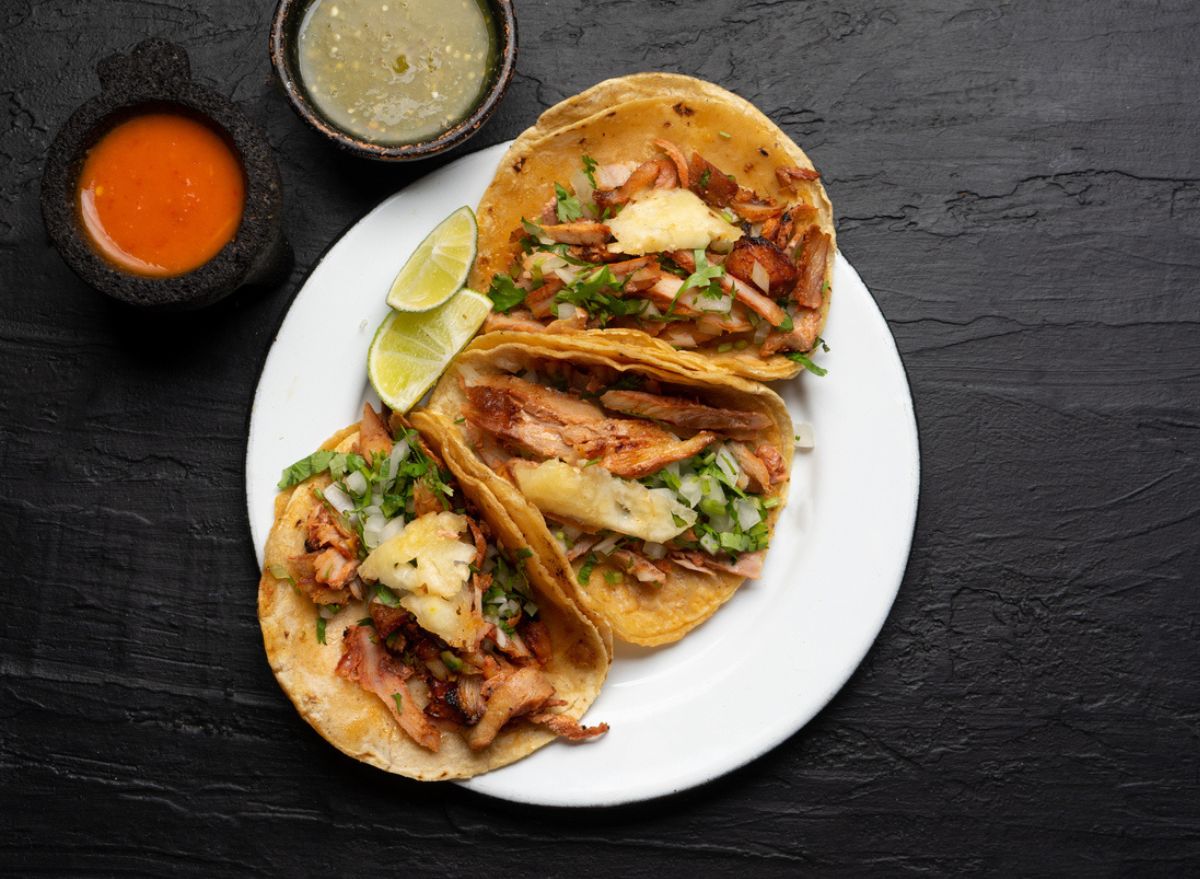 The product recommendations in this post are recommendations by the writer and/or expert(s) interviewed and do not contain affiliate links. Meaning: If you use these links to buy something, we will not earn a commission.
Of all the foods that have made their way from Mexico, tacos have won over the hearts of American diners—some might even call it a taco obsession. With seemingly endless toppings and twists on the taco, it's no wonder fast-food taco chains are a staple in virtually every small town and roadside pitstop.
Tacos are quintessential Americana cuisine; there are tons of Mexican, Mexican-inspired, and Tex-Mex fast-food chains in the U.S. and each eatery has its own take on flavors and presentation. But just like fast-food sandwiches, not all tacos are created equally.
And yes, it's worth noting that there are heaps of authentic Mexican taquerias across the U.S. that turn out incredible flavor-bomb tacos. But this is a roundup of the widely available chains that serve Mexican-inspired fast food—perhaps not authentic food, but still a delicious and convenient option.
To help sort the best from the rest, we asked the pros: chefs! When they're not busy turning out mouth-watering meals, some have been known to hit the drive thru for a little fast-food guilty pleasure moment. And so, when it comes to the best tacos to try out at fast food chains, these are chef-approved orders.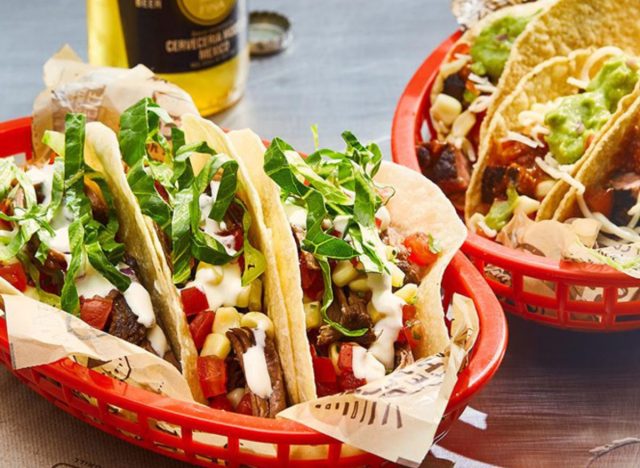 Chicken al Pastor
: 200 cal, 11 g fat (3 g saturated fat), 820 mg sodium, 4 g carbs (0 g fiber, 2 g sugar), 23 g protein
It's no surprise that many chefs picked Chipotle as their top taco spot. It's a reliable option for anyone looking for a quality meal on the go. And while the fast-casual Mexican-inspired joint may be better known for serving up burritos and burrito bowls, don't sleep on the tacos.
Will Brady, executive chef of YŪGŌ Oxford in Oxford, Miss., says his current favorite is Chipotle's new Chicken al Pastor, just launched this year. It has flavors of adobo, morita peppers, and ground achiote with a hint of pineapple and fresh lime. "I'm always looking to try any new flavors they're whipping up," he says. "With fresh flavors and quality meats, it makes a delicious favorite that delivers on taste and quality every time—and a side of their queso blanco tops any taco off perfectly!"
Gen La Rocca, professional chef and recipe developer at Two Cloves Kitchen, also loves the new Chicken al Pastor. "The chicken is marinated in a super flavorful combination of adobo, morita peppers, pineapple juice, and fresh lime. I like to order it with fajita veggies and any of their four salsas." A go-to for two chefs? Definitely worth trying.
Meanwhile, Camilo Aguirre, executive chef at Alma Cocina Buckhead in Atlanta, says the king of street food taco is the carne asada taco. "Whether it be from a food truck, fast food restaurant or local taco joint, it will always be my pick," the chef explains. He hits up Chipotle for the carne asada. "You want meat that is well seasoned and cooked fast and hard on a hot flat top." Aguirre suggests topping the taco with fresh onions, cilantro, and a squeeze of fresh lime. "Don't forget to accompany it with some spicy salsa," he says.
Soft Taco With Beans (No Meat)
: 170 cal, 5 g fat (2.5 g saturated fat), 430 mg sodium, 24 g carbs (5 g fiber, 2 g sugar), 7 g protein
Taco Bell is a classic, and the top pick for Susana Rodriguez, chef at Tacotarian, a plant-forward taqueria in Las Vegas. "With tacos it's all about balance," Rodriguez says. "There needs to be a good mix of protein, toppings and a solid salsa. If it's all protein and no toppings or vice versa it doesn't work." When she's traveling or on-the-go, she opts for Chiptole's sofritas, but when that late-night craving hits, it's gotta be Taco Bell. "I love doing fresco style and then swapping the meat for beans. It makes a guilty late night meal slightly less guilty," she says.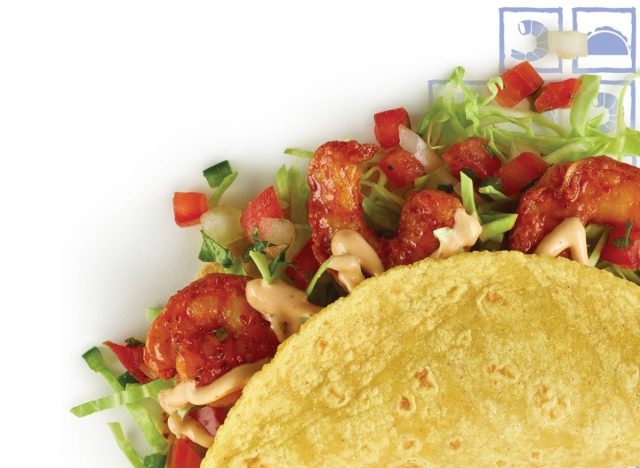 Baja Shrimp Taco
: Nutritional information unavailable
El Pollo Loco is so hot right now. Since 1980, the nation's leading fire-grilled chicken restaurant has been steadily opening restaurants in Arizona, California, Colorado, Nevada, Texas, Utah, and Louisiana, and the chain keeps adding more. It's also a favorite among chefs: Adam Miceli, head chef of Pomodoros American Italian Cafe in North Carolina, says the Baja shrimp tacos can't be beat. "I'm not a huge fan of shrimp tacos but I will always order them when I'm out west," Miceli says of El Pollo Loco's seasonal menu option.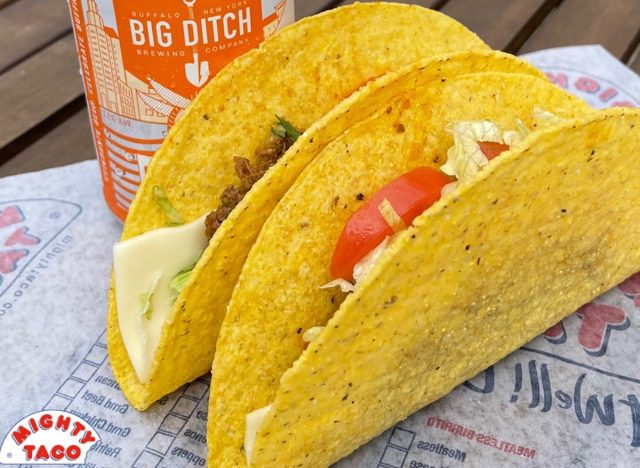 Mighty Taco With Flour Tortilla (small)
: 210 cal, 10 g fat (4.5 g saturated fat), 360 mg sodium, 17 g carbs (2 g fiber, 2 g sugar), 13 g protein
Mighty Taco is a Mexican-style fast-food restaurant chain in the Buffalo, N.Y., area that has caught the attention of two chefs. According to John Rudolph, executive chef at The Royal Sonesta Chicago Downtown, it's simply the best fast-food taco. "Whenever I travel I seek out local Tex-Mex fast food to see if the local places can rival Mighty Taco, and so far none have matched it," Rudolph says.6254a4d1642c605c54bf1cab17d50f1e
He orders the signature Mighty Taco, in either a crunchy corn shell or soft flour tortilla. Similar to other tacos, it features seasoned beef, iceberg lettuce, tomato, and cheese—but what sets them apart from other chains is how they cut the lettuce and tomato. "The tomatoes are not diced, but rather Roma tomatoes that are sliced about one-quarter inch and cut in half, so you have more texture in the bite," he explains. The shredded lettuce is cut thick so it doesn't wilt under the heat from the beef.
Chef Miceli loves Mighty Taco, too. "It's always three beef super Mightys with extra sour cream and onion for me," he says. Plus there's the nostalgia-factor: "When I first started cooking, I'd get off work late and that was the only thing open near me. It was always delicious."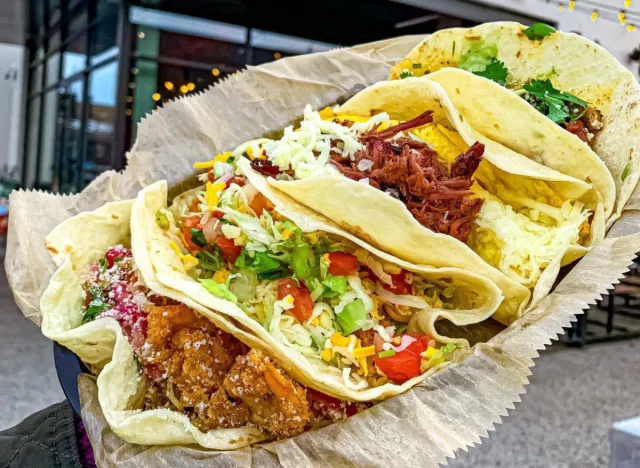 Trailer Park On Flour With Poblano Sauce
: 331 cal, 19 g fat (5 g saturated fat), 777 mg sodium, 22 g carbs (1 g fiber, 3 g sugar), 18 g protein
With locations in 14 states, Torchy's Tacos is a must-try taco joint. Joseph Stafford, a freelance catering chef with years of kitchen experience, says the secret menu is amazing. He orders the Trailer Park Hillbilly Style taco, featuring hand-battered fried chicken, chorizo, and bacon, and the Ace of Spades, a mix of jalapeño cheddar sausage, smoked beef brisket, and fried egg.
slidetitle num="6"]Taco Cabana[/slidetitle]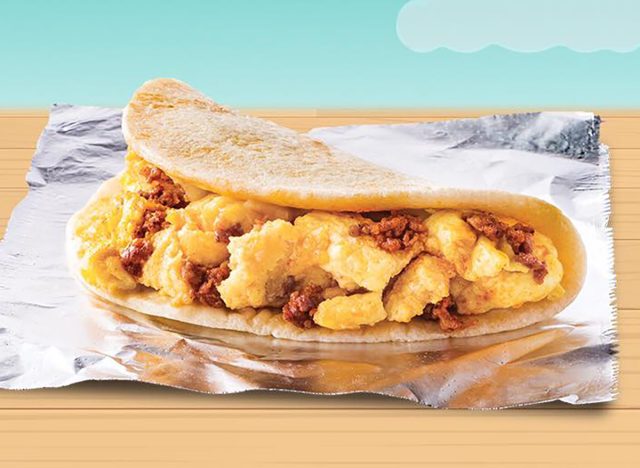 Chorizo & Potato Breakfast Taco
: 320 cal, 20 g fat (7 g saturated fat), 720 mg sodium, 27 g carbs (2 g fiber, 1 g sugar), 7 g protein
At venerable Texas-based chain Taco Cabana, Stafford opts for the chorizo and potato breakfast taco, and adds on an order of the flautas and a side of guacamole with queso for good measure. "The fresh salsa bar is a must," he says. "Not a lot of people know you can get a dozen fresh tortillas for under three dollars." And, if you want to make friends at work, Stafford suggests ordering a dozen breakfast tacos for around $17. "It's hard to find a fast food meal that'll comfortably feed four to six people at that price."
Chicken Wanton Tacos
: 600 cal, 26 g fat (5 g saturated fat), 1530 mg sodium, 58 g carbs (3 g fiber, 27 g sugar), 32 g protein
Okay, this isn't really fast food, but Applebee's is definitely a chain, with nearly 2,000 locations in the U.S. "When discussing quick service restaurants, you have to consider express curbside take out from most casual dining restaurants," says Christopher Lindsay, a chef-instructor at the University of Nevada. Convenient mobile apps and quick pick-up options have made ordering from restaurants a breeze.
Lindsay's go-to taco order is Applebee's famous Chicken Wonton Taco, featuring a crispy wonton shell stuffed sweet asian chili marinated chicken and crispy asian slaw. "The hints of sesame and ginger are outstanding," he says. Don't forget the squeeze of lime or a couple drops of sriracha. "It's seldom that I even make it out of the parking lot," he says.