6 Healthiest Fast-Food Tacos to Try Right Now
These healthier fast-food tacos are relatively low in saturated fat, sodium, and calories.
When the craving for tacos calls, you almost always have to listen. Whether you're a fan of a classic beef taco, one made with zesty fried fish, or a vegetarian taco filled with beans and cheese, you know just how satisfying it can be to chow down on your favorite taco (or three). While this food is fairly easy to make at home, there isn't always time or energy left in your day to make it happen. For these moments, pulling into a nearby drive-thru can help you satisfy your cravings in a matter of no time. And for those who want to enjoy tacos without completely derailing their health goals, we've gathered a list of healthy fast-food tacos you can try right now.
The terms "healthy" and "fast-food" don't often coexist in the same sentence, since fast food, by nature, is going to be on the unhealthier side. This type of food is often loaded with fat, calories, saturated fat, and sodium, and is usually low in fiber and nutrients. In fact, research shows that regularly eating fast food can contribute to a number of serious diseases and even shorten your lifespan. But even though fast food is generally considered to be bad for your health, some restaurants provide options on the healthier side for you to choose from. This way, if you're even in a bind and need to grab a fast meal on the go, you don't have to completely ruin your nutrition goals for the day. But what do "healthy fast-food tacos" really entail?
"When it comes to healthier fast-food tacos, it's important to note that the term 'healthy' can vary depending on individual dietary preferences and nutritional needs," says Mary Sabat MS, RDN, LD. Some examples would be items lower in sodium, saturated fat, and calories, and higher in fiber or other helpful nutrients.
Read on to learn more about some dietitian-recommended fast-food tacos to try right now, and for more fast-food tips, check out the 13 Best & Worst Fast-Food Breakfast Sandwiches, According to Dietitians.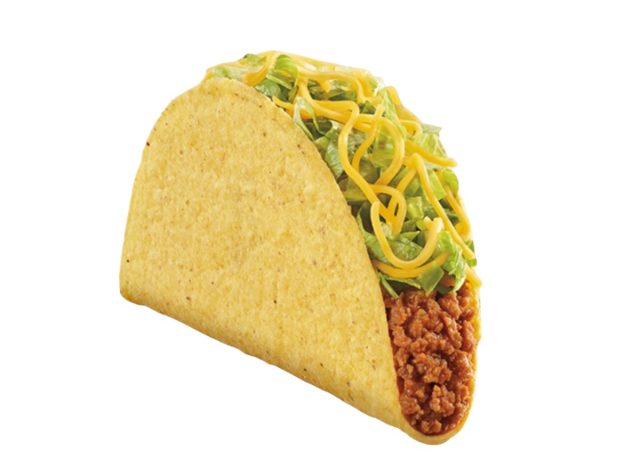 Per taco
: 170 calories, 10 g fat (3.5 g saturated fat), 300 mg sodium, 13 g carbs (3 g fiber, <1 g sugar), 8 g protein
One of the benefits of choosing Taco Bell is that they offer relatively simple tacos that are easy to personalize. If you opt for a crunchy taco, you'll be able to keep your saturated fat and sodium on the lower end compared to some of their other options. You can also choose to remove the cheese and add beans for extra fiber and protein, or remove the beef and add chicken for even less saturated fat.
Beef Soft Taco Supreme, Fresco Style From Taco Bell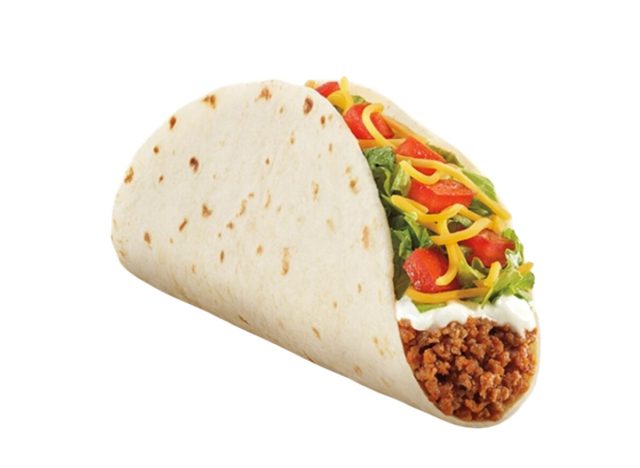 Per Soft Taco Supreme, Fresco Style
: 160 calories, 6 g fat (2.5 g saturated fat), 450 mg sodium, 18 g carbs (3 g fiber, 2 g sugar), 7 g protein
Taco Bell has its signature soft shell tacos—one of which is the Beef Soft Taco Supreme, as depicted here. But they also provide a "Fresco Style" option for every one of their taco options. This means they remove the sour cream and shredded cheese and add in tomato-based salsa. So although the standard Beef Soft Taco Supreme comes in at 210 calories and 10 grams of fat, ordering it Fresco style is only 160 calories and will keep the saturated fat at only 2.5 grams.
"One of the healthiest taco options is the Fresco style at Taco Bell. This simple modification significantly reduces the calorie and fat content of the taco while adding a burst of flavor and essential nutrients," says Trista Best, MPH, RD, LD, at Balance One Supplements,
On top of including low-calorie salsa, Taco Bell's Fresco style tacos  "provides vitamins and antioxidants from the tomatoes, onions, and spices used in its preparation," says Best.
Del Taco Soft Chicken Tacos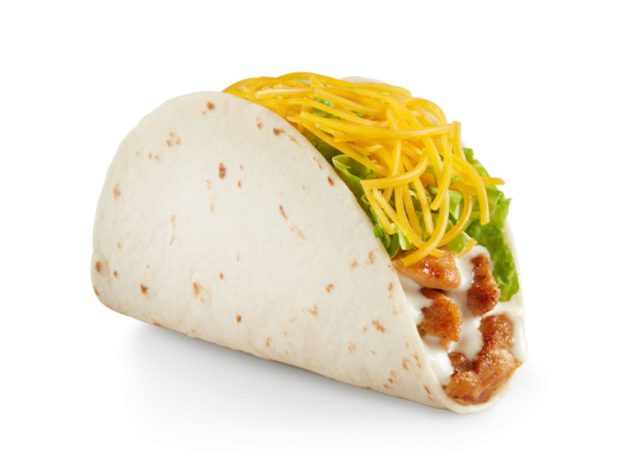 Per taco
: 210 calories, 12 g fat (3 g saturated fat), 510 mg sodium, 15 g carbs (1 g fiber, 1 g sugar), 11 g protein
When it comes to fast-food taco joints, Del Taco is certainly not known for its healthy options. However, you can make your trip there as nutritional as possible if you make a few intentional choices. For example, you can choose its grilled chicken tacos instead of fried chicken or beef taco iterations.
"Del Taco's Soft Grilled Chicken Tacos are made with grilled chicken, which is a healthier choice compared to fried options," says Sabat. "They are also topped with lettuce and tomatoes, providing additional nutrients."
This taco is great for those who are watching their saturated fat because it has only three grams of saturated fat, which is relatively low for fast-food items. However, if you're trying to eat less sodium, this choice may not be the right one for you. Note that it has over 500 milligrams of sodium, which accounts for over 20% of the daily recommended intake of this mineral in a single taco.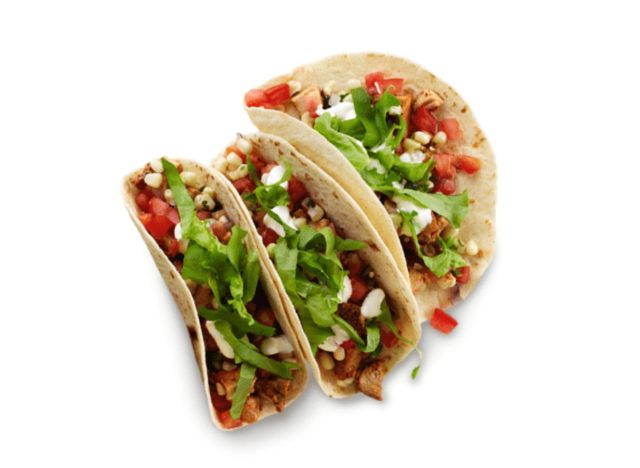 Per chicken taco with beans, cheese, and veggies
: 215 calories, 8 g fat, 19 g carbs, 16 g protein
Chipotle may arguably have the most adjustable menu, as it allows you to build your tacos from the ground up. Sabat suggests going for their soft corn tacos, "which can be filled with various ingredients like grilled chicken, steak, or their vegetarian options."
"Opting for whole-grain corn tortillas can provide more fiber and nutrients compared to flour tortillas," says Sabat.
For one of the healthier taco choices at Chipotle, choose their corn tortillas with chicken, cheese, salsa, and fajita veggies, and skip over the cheese and sour cream if you can.
Taco Bell Black Bean Chalup Supreme
Per taco
: 320 calories, 16 g fat (2.5 g saturated fat), 400 mg sodium, 35 g carbs (6 g fiber, 4 g sugar), 9 g protein
The Black Bean Chalupa Supreme may not be as healthy as some other Taco Bell menu options. Still, this vegetarian-friendly option keeps the saturated fat low and provides 6 grams of helpful fiber per taco.6254a4d1642c605c54bf1cab17d50f1e
"It allows for a lot of options while still getting the taco feel and taste you prefer," says Bess Berger, RDN, CDN, CLT, a registered dietitian specializing in PCOS and menopause and owner of Nutrition by Bess. "For example, I recommend keeping choices to three to four add-ons and two sauces," suggests Berger. "This keeps the calories from getting out of hand but also allows you to choose your preferences and what you're in the mood for, and it gives one the opportunity to add some extra vegetables to the taco if they choose."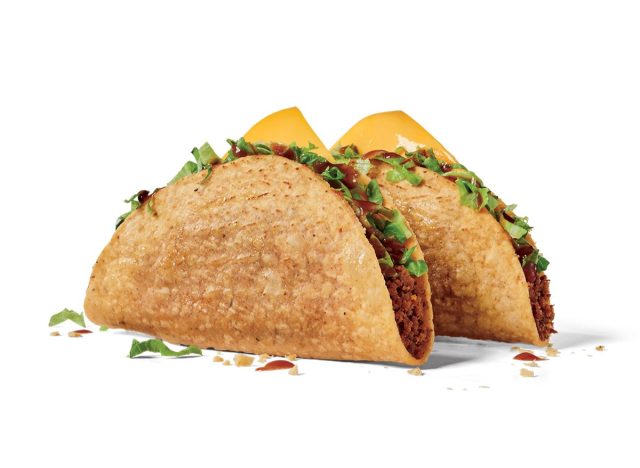 Per taco
: 170 calories, 9 g fat (3 g saturated fat), 360 mg sodium, 16 g carbs (2 g fiber, 1 g sugar), 6 g protein
You may not instantly think "tacos" when you think of Jack in the Box, but this fast-food restaurant serves up a couple of taco options, with one, in particular, being on the "healthier" side. At only 99 cents per order, Jack in the Box's regular tacos comes with cheese, shredded lettuce, and their signature taco sauce. This simple combination of ingredients amounts to an overall low-calorie count per taco (170) compared to other fast-food taco options, as two of these is the same amount of calories as one Black Bean Chalupa from Taco Bell. With 6 grams of protein and 2 grams of fiber per taco, this order is also easy to fill up on—perhaps even before finishing both! But whether you eat one or two, you know that this healthy taco order will keep your saturated fat and calories on the lower end.
Sources referenced in this article