9 Fast-Food Restaurants That Serve the Best Tacos
Many of the best fast-food taco chains offer their own delicious and customizable options.
Fast-food tacos are more than just a delicious meal option. Since 1962, Taco Bell, now the world's largest taco chain, has been offering unique takes on this Mexican dish, diversifying our taste palates with each crunchy bite. While the taco's roots, of course, go back generations in Mexico's culinary history, Americans have been able to successfully market tasty tortilla-filled menu items with as much esteem as the drive-thru burger or takeout pizza.
From Taco Bell's cult following and Jack in the Box's affordable deals, to Torchy's Tacos' creative options and Chipotle's high-quality ingredients, there are plenty of choices for taco lovers of all preferences. Many of the best fast-food taco chains offer their own delicious and customizable options, catering to a wide range of tastes and dietary preferences.
Fast-food tacos continue to be a popular choice among diners, offering convenient and flavorful options for those craving a quick and satisfying meal. Even the most prestigious of foodies find themself falling for a mix of beef, cheese, or veggies wrapped in crunchy or soft shells every once in a while. From executive chef picks to taco fan favorites, these are the chains that serve the best fast-food tacos.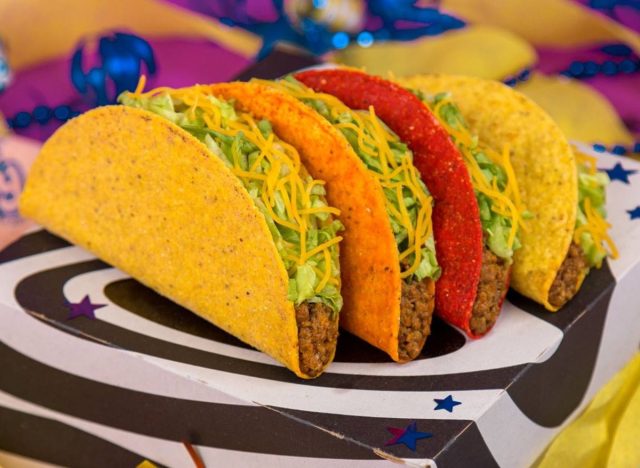 The quintessential fast food taco title definitely goes to Taco Bell, which has been dishing out Mexican-inspired meals since 1962. The brand's popularity has ebbed and flowed thanks to issues like E.coli outbreaks, but Taco Bell's cult following has seen a definite resurgence in the last few decades, particularly with Millennial and Gen Z customers.
Even professional chefs are fans of the chain's innovative takes on tacos like Crunchwraps, Chalupas, and Gorditas. While Nacho Fries have been crowned the most popular menu item in the restaurant's history, the side merely complements the many taco and taco-like items that the chain sells. The chain even has its own innovation lab where it tests its creations before they are experienced by the public.
While burgers are the star of this fast-food restaurant's menu, the chain's Two Tacos for 99 cents deal is what keeps many customers coming back for more. Tacos have been part of its menu since the 1950s, and the Wall Street Journal once reported that the fast-food brand sold over 554 million tacos annually, so tacos are obviously big part of the chain's success.
The simple construction and ingredients of Jack in the Box's tacos offer customers a surprisingly healthier option to a burger. Two tacos in yellow corn shells with American cheese, shredded lettuce, and taco sauce are just 340 calories.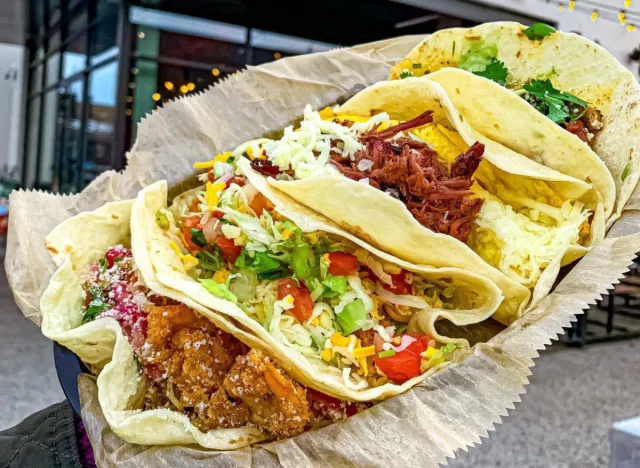 If you're lucky enough to be in a state where a Torchy's Tacos exist, you'll understand why this fast-food joint, which grew out of an Austin-based food trailer in 2006, has become a taco fan favorite.
Diners love how this brand doesn't skimp on fresh, locally-sourced ingredients, which have built some of the most creative taco options. For instance, the popular Trailer Park is made with fried chicken, green chiles, lettuce, pico de Gallo, cheese, and poblano sauce. The Green Chile Pork Taco is a combination of soft and crispy taco shells, pork carnitas, green chiles, cotija cheese, and extra fresh toppings.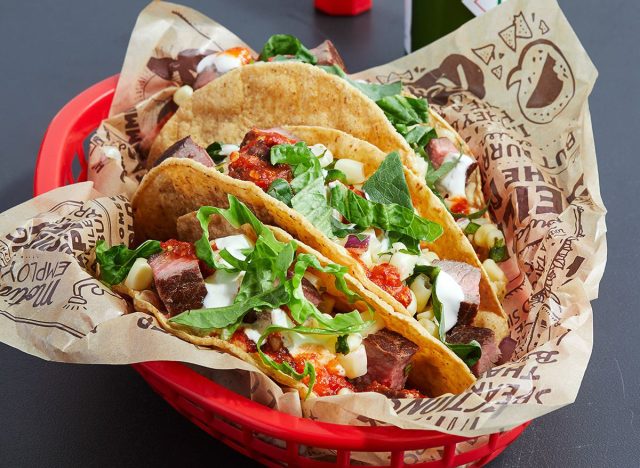 Eaters adore Chipotle Mexican Grill for its jam-packed burritos, but insiders know their taco menu is quality too. Diners can get tacos with all of the same great, high-quality ingredients used in a burrito, popped into soft flour or crispy corn tortillas for an easier handheld option. And because you can build the taco of your dreams with ingredients of your choice, it's a healthy choice according to dieticians, who share tips on how to make the most out of the sustainably-sourced ingredients on offer. K.C. Gulbro, chef and owner of FoxFire and Copper Fox in Geneva, Ill., also praises the company's taco salads, with barbacoa as their protein of choice.
739 QDOBA restaurants currently exist, and they've pulled in over $878 million since 2021 according to Restaurant Business Online. QDOBA's tacos make mealtime easy, featuring fresh veggies and salsas for vegetarian and vegan options, and slow-cooked fillings like brisket, pork, and steak for the meat lovers.
Customers like the restaurant's highly customizable menu, which tries to avoid artificial colors, MSG, and additives, all important as the chain continues to prioritize developing a completely clean menu through 2023. "We want to feed our guests the way we feed our families," Chef Katy, QDOBA's corporate executive chef, told Eat This, Not That! exclusively. "With high-quality ingredients, we feel good about."
Qdoba has become a go-to spot for quality fast-food tacos, and is a fan favorite for healthy eaters especially, who can really make the most out of their meals with corn tortillas and taco bowls.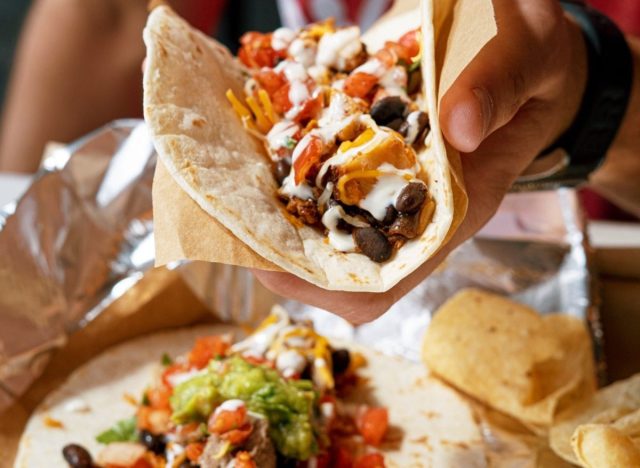 Moe's is known for bringing Tex-Mex food to a whole new level, offering diners menu items named after pop culture references set in a quirky atmosphere. The company's history is almost as fresh as its ingredients, with the first location opened in 2000. Since then, their taco-based Stacks have become incredibly popular, a relatively healthy option featuring two crispy corn tortillas filled with cheese and toppings, wrapped in a soft flour tortilla.
For a more customizable option, customers can build their own traditional tacos using any of the famous Moe's ingredients, like seasoned grilled chicken, spicy tofu, juicy shredded pork and more. The company also makes an effort to really get to know its customers and alters its menu and dining experiences based on their desires.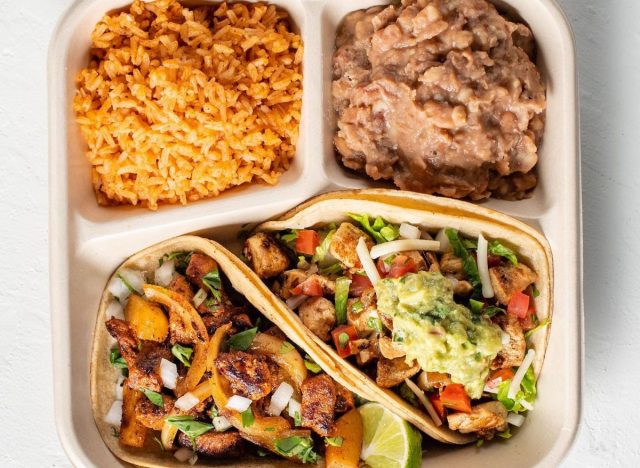 Chronic Tacos has swiftly grown from its original Newport Beach, Calif. location to over 60 locations globally (in the U.S., Canada, and Japan), all in the last 20 years. Carne asada, pollo asado, carnitas, and al pastor make up the traditional meat options, while mahi mahi and shrimp allow diners to do a little surf 'n turf if they please.6254a4d1642c605c54bf1cab17d50f1e
While the West Coast-inspired menu is largely customizable, the chain offers suggestions on how to mix and match its ultra-fresh ingredients, with toppings like Street Style (lime, onions, cilantro, and salsa), and Baja-Lime (cabbage, cheese, pico de Gallo, and Baja sauce). Veggie lovers can indulge in grilled vegetables, crispy tofu, or their simple yet delicious mashed potato taco.
Chef Tucker, a Sweet Earth culinary innovation and development chef, let Eat This, Not That! know it's his fave place because "their menu includes several plant-based options, making it a convenient go-to no matter who I'm dining with."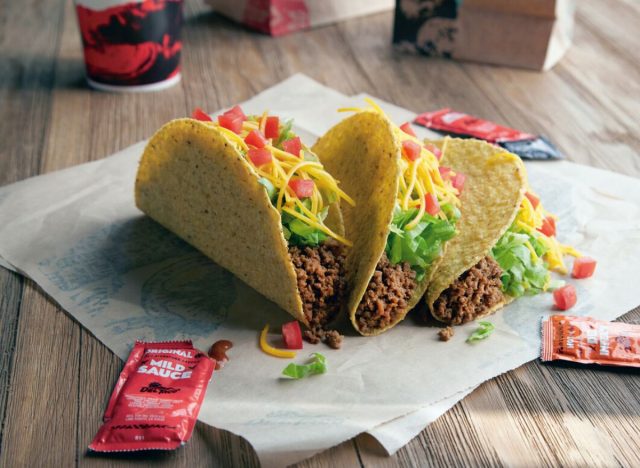 Del Taco is Taco Bell's biggest rival, with eerily similar menu items, ingredients, and promotions. Though it's creeping further east, the chain is famous on the West Coast. It's an establishment that keeps fans coming back for more despite the distance.
The brand loves playing up on pop culture in its promotions, and isn't afraid to poke fun at its value menu as a marketing tool. It's clearly good enough for executive chefs like Barleymash's Kevin Templeton, whose favorite item is "the Del Taco—an OG on the menu," and is made up of seasoned beef, grated cheddar cheese, shredded lettuce, diced tomatoes, and served in either a crunchy or soft taco shell. It will also be interesting to see how the brand changes under its new owner, Jack in the Box who bought it in March 2022 (maybe the parent company's tacos will get even better?)
From a humble taco stand in Wyoming, Taco John's has expanded its fast-food empire to over 400 restaurants in 23 states. Diners enjoy a basic offering with a few twists, most notably the company's Fried Chicken Tacos, with crispy, all-white meat chicken tenders topped with either their zesty chipotle lime or spicy jalapeño ranch sauces, along with shredded lettuce, and cheddar cheese, served in a soft flour tortilla. Their Street Tacos elevate the menu with ingredients like sirloin steak and grilled chicken, garlic lime sauce and crumbled Mexican cheese. Those on a budget can explore some mini tacos on their Valuest Menu.
Taco John's fans are really there for their favorite fast-food taco chain, with Reddit stories like, "growing up in Montana, Taco John's is a regional thing that has always been there. It reminds me of home and is a comfort food for me" and "My family would go to taco johns when I was younger and they'd always get me a soft shell chicken taco. Now a days I enjoy other menu items, but the soft shell chicken taco is home for me."
Katka Lapelosova
Kat is a born and raised New Yorker exploring the world as she writes, eats, and everything in between.
Read more about Katka