The #1 Best Breakfast to Order at Taco Bell, Says Dietitian
Finding a quick and healthy breakfast to eat at this popular chain is a lot easier than you think.
You can probably already picture it—it's a weekday morning, and you're already on the run. You're getting sick of ordering the same thing at Dunkin or Starbucks all the time and you want something different. But your options are still limited to the regular ol' chains around the corner—like Taco Bell. However, while Taco Bell may not seem like the best option for a well-rounded breakfast, it is home to one of the best fast-food iced coffees on the market and has been rated the healthiest fast-food chain. Dietitians even confirm a trip to the Taco Bell drive-thru can still result in a healthy, well-rounded morning meal.
According to, Amy Goodson, MS, RD, CSSD, LD, author of The Sports Nutrition Playbook and a member of our medical expert board, the best Taco Bell breakfast order would be the Cheesy Toasted Breakfast Burrito with Sausage.
Read on, and for even more healthy fast-food choices, check out our list of 8 Healthiest Fast-Food Breakfasts, According to Dietitians.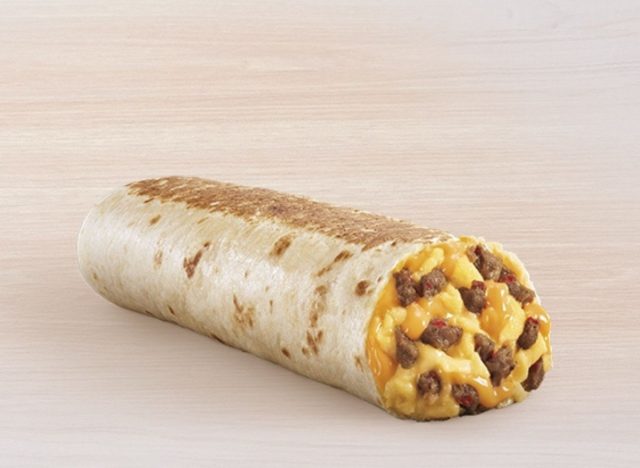 "Coming in with the lowest calorie count, the Cheesy Toasted Breakfast Burrito with Sausage has 350 calories and is lower in saturated fat and sodium than many of the other breakfast options at Taco Bell," says Goodson. "With 6 grams of saturated fat and 770 milligrams of sodium, it's not a low-sodium food, but lower than others."
Goodson notes that "as a registered dietitian, I would not recommend this amount of sodium every day for breakfast, but if you are in a hurry and headed to the 'Bell,' this is your best pick!"
The burrito also clocks in at 10 grams of protein. Eating protein not only helps with building and repairing muscle, but it aids with digesting food and helps to keep your body fuller for longer.
To make it a well-rounded breakfast, Goodson suggests adding a side of guacamole for dipping for an extra kick of healthy fat for just 80 calories. The avocado in the guacamole has monounsaturated fats, which help decrease cholesterol and increase the satiety of meals. Guacamole also adds 3 grams of fiber to the burrito, which also helps with feelings of fullness.
"Pair this with a black coffee (hot or cold) and a shot of cream and you have a breakfast under 500 calories on the go!" Goodson exclaims. Sounds like a trip to Taco Bell is in order!