8 Restaurant Chains That Serve The Best Ice Cream Sundaes
For a refreshing after-dinner treat, these spots dish up the coolest scoops with all your favorite toppings.
The product recommendations in this post are recommendations by the writer and/or expert(s) interviewed and do not contain affiliate links. Meaning: If you use these links to buy something, we will not earn a commission.
Dining out at a restaurant chain is often fun, but you know what's even better? Finishing your experience with a mouthwatering ice cream sundae. It's the best of both worlds—a delicious meal and a tasty dessert without worrying about cleaning any dirty plates.
Even though there are countless places to pick up ice cream, whether it's a specialty ice cream shop or the dessert-stocked freezer aisle at your local supermarket, there's nothing quite like ordering a sundae at a restaurant to top off your meal. That's because many restaurant chain sundaes are expertly prepared using top-notch ingredients, including fresh whipped cream, fresh fruit (like sliced bananas), cinnamon roasted pecans, crushed candy pieces, and so much more. While some chains prepare more traditional sundaes, such as the classic vanilla ice cream with hot fudge sauce, others have more exciting options, too. Some even incorporate unexpected ingredients, like breakfast cereals and tropical fruit-based sauces.
If you're in the mood for an ice cream sundae that you don't have to worry about throwing together yourself, keep reading. From a steakhouse that serves up gigantic sundaes to an iconic restaurant that's known for its creative ice cream constructions, here are eight restaurant chains that serve the best ice cream sundaes. You never know. One may be right nearby.
The Cheesecake Factory
Hot Fudge Sundae
: 1280 cal, 86 g fat (51 g saturated fat), 220 mg sodium, 116 g carbs (6 g fiber, 97 g sugar), 20 g protein
The Cheesecake Factory isn't just a great place for cheesecake. It also makes an excellent sundae. In fact, the popular California-based chain offers two different mouthwatering sundaes offered on its menu. There's a traditional hot fudge sundae, made with thick chocolate fudge, whipped cream, sliced almonds, and a cherry on top. Then there's the Godiva Chocolate Brownie Sundae, which serves two to four people. It's made with Godiva chocolate brownies, vanilla ice cream, a pool of hot fudge, whipped cream, and toasted almonds.
Friendly's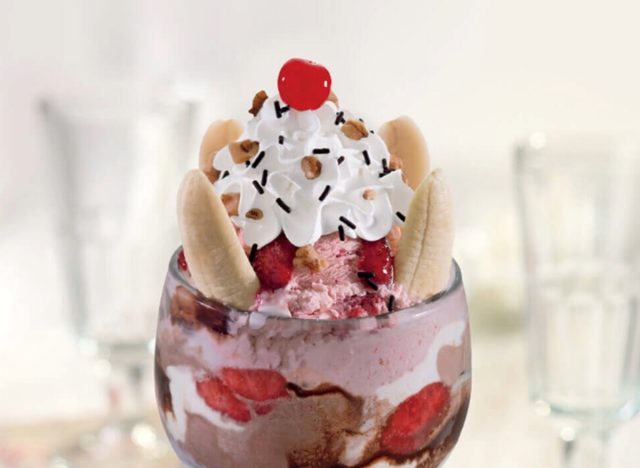 Jim Dandy Sundae (1 serving)
: 1120 cal, 50 g fat (30 g saturated fat), 280 mg sodium, 160 g carbs (10 g fiber, 120 g sugar), 20 g protein
There's a reason why Friendly's has become synonymous with delicious ice cream sundaes—it's because the restaurant chain serves some of the best ones out there.
Over a dozen ice cream sundae options are available here, starting with the Mint Cookie Crunch, which is a scrumptious sundae made with Friendly's signature mint chocolate chip ice cream, crushed Oreo pieces, hot fudge, whipped cream, and a maraschino cherry on top. There's also the Strawberry Shortcake Sundae, which has shortcake and vanilla ice cream, fresh strawberry topping, and whipped cream. Then there's the Jim Dandy Sundae that's prepared with strawberry, vanilla, and chocolate ice creams, all enrobed in chocolate sauce, strawberry topping, and marshmallow creme. Oh, and that's not all. This one is also topped with whipped cream and served with a fresh split banana, sprinkles, and a cherry on top.
Hard Rock Cafe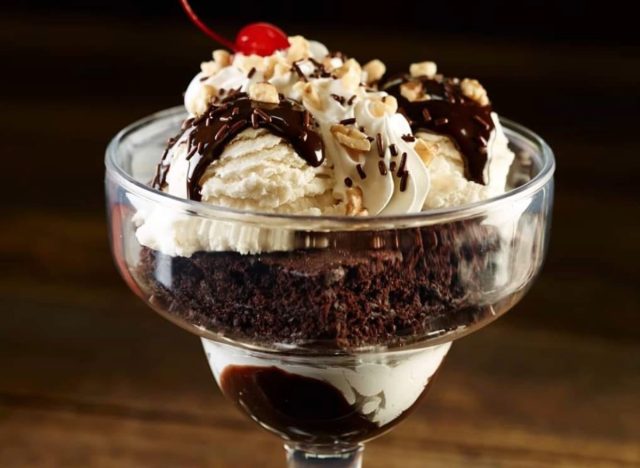 Hot Fudge Sundae
: 1801 calories (additional nutrition information unavailable)
Hard Rock Cafe, the rock and roll-themed restaurant with locations throughout the world, not only offers fun dinner options like tasty chicken sandwiches, crispy salads, and specialty entrées, including Cowboy Ribeye and New York strip steak. The chain also serves a pretty good sundae, too. The restaurant makes a lip-smackingly good traditional one layered with chocolate brownies and vanilla bean ice cream, topped with fresh whipped cream, sprinkles, and a cherry.
Big Boy
Dessert Sundae Hot Fudge
: 550 cal, 24 g fat (15 g saturated fat), 250 mg sodium, 42 g carbs (4 g fiber, 55 g sugar), 5 g protein
If you haven't enjoyed an ice cream sundae from Big Boy yet, you're missing out. The popular restaurant chain, founded in the 1930s, started as a hamburger stand in Glendale, Calif., and now has around 60 locations in states such as Nevada, Michigan, Wisconsin, and Ohio. The popular spot was featured in a few scenes of the 1995 film Heat and appeared in Austin Powers: International Man of Mystery a couple of years later. The Beatles also visited the restaurant in the 1960s, when the British band came in to enjoy a meal at the chain's Burbank, Calif., location.
The chain's offerings include delicious options like a mini sundae made with hot fudge, whipped cream, and a cherry on top, and a tasty full-sized sundae served with brownies and chocolate sauce. The restaurant also carries other sweet treats, including coconut cream pie, hand-dipped ice cream, and cheesecake.
Morton's The Steakhouse
MORTON'S LEGENDARY SUNDAE
: 2230 calories (additional nutrition information unavailable)
The next time you pay Morton's The Steakhouse a visit and enjoy one of its steaks, be sure to end your meal with one of the chain's delicious sundaes, dubbed "Morton's Legendary Sundae." This larger-than-life ice cream dessert is piled high with fresh whipped cream, freshly baked brownies, caramel sauce, and a cherry on top. It's big enough to share with family and friends but can be enjoyed alone, too, if you're an ice cream enthusiast.
Morton's The Steakhouse, which started in Chicago in 1978, currently has over 70 locations throughout the United States in places like Arizona, California, Washington, D.C., Florida, Georgia, and Illinois, among others.
Bubba Gump Shrimp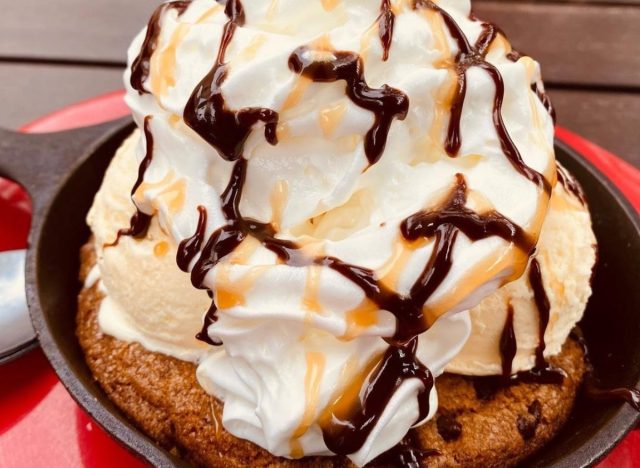 Chocolate Chip Cookie Sundae
: 1680 calories (additional nutrition information unavailable)
You may be familiar with Bubba Gump Shrimp, the popular seafood restaurant chain inspired by the famous 1994 movie Forrest Gump. The chain makes delicious scratch-made Southern-style food, like fried chicken, gumbo, shrimp scampi, and po'boys, and also offers delicious sundaes on its menus. One standout is its chocolate chip cookie sundae that features vanilla ice cream, chocolate sauce, caramel sauce, crunchy peanuts, and pillowy whipped cream, all piled high on a giant freshly baked cookie.
Swensons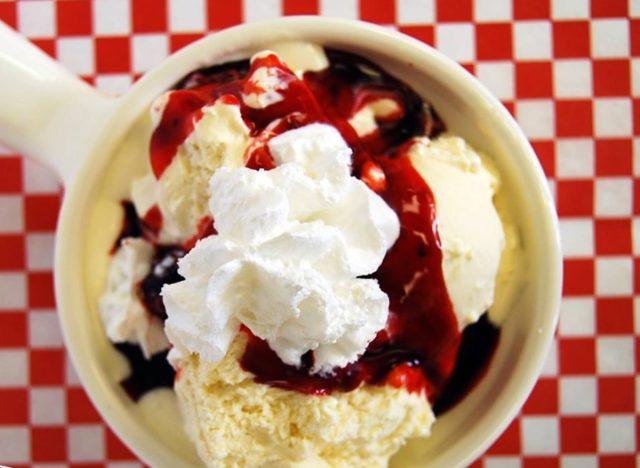 Brownie Sundae
: 790 cal, 43 g fat (20 g saturated fat), 388 mg sodium, 95 g carbs (2 g fiber, 76 g sugar), 9 g protein
Since 1934, Swensons has been whipping up deliciously good burgers, sandwiches, soups, chicken nuggets, potato puffs, onion rings, fried shrimp, milkshakes, and so much more.6254a4d1642c605c54bf1cab17d50f1e
Besides serving lunch and dinner dishes that hit the spot, the chain also has some great ice cream sundaes that include innovative ingredients. For instance, Swensons makes a Xango sundae, which is Xango (a piece of cheesecake rolled in a flaky pastry tortilla), topped with ice cream and served with whipped cream. Then there's also the brownie sundae, which includes a tasty brownie topped with ice cream and whipped cream, and a hot fudge or caramel sauce sundae option that's also topped with whipped cream. You can also add additional toppings to your ice cream dish, such as strawberry or pineapple sauce, if you'd like.
Carrabba's Italian Grill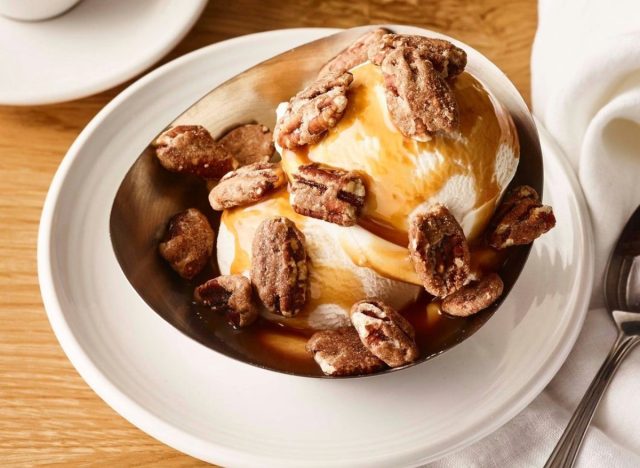 John Cole Sundae
: 870 cal, 46g fat (17 g saturated fat), 580 mg sodium, 108 g carbs (3 g fiber, 86 g sugar), 11 g protein
No meal at Carrabba's Italian Grill is complete without one of its delicious desserts, such as the chain's lip-smackingly good John Cole sundae. This mouthwatering ice cream treat is something else—it's made with smooth vanilla ice cream drizzled with caramel sauce and then topped with roasted cinnamon rum pecans. It's the perfect combination of taste and texture, with the pecans giving this sweet treat an appealing crunch.
Carrabba's, which has been a popular spot for people to get lunch or dinner since it opened its first location in the 1980s, currently has over 200 locations throughout the country in states including New York, Pennsylvania, Florida, and more.