8 Fast-Food Milkshakes That Are Made With Real Ice Cream
Skip the soft serve and treat yourself to one of these milkshakes made with 100% real ice cream.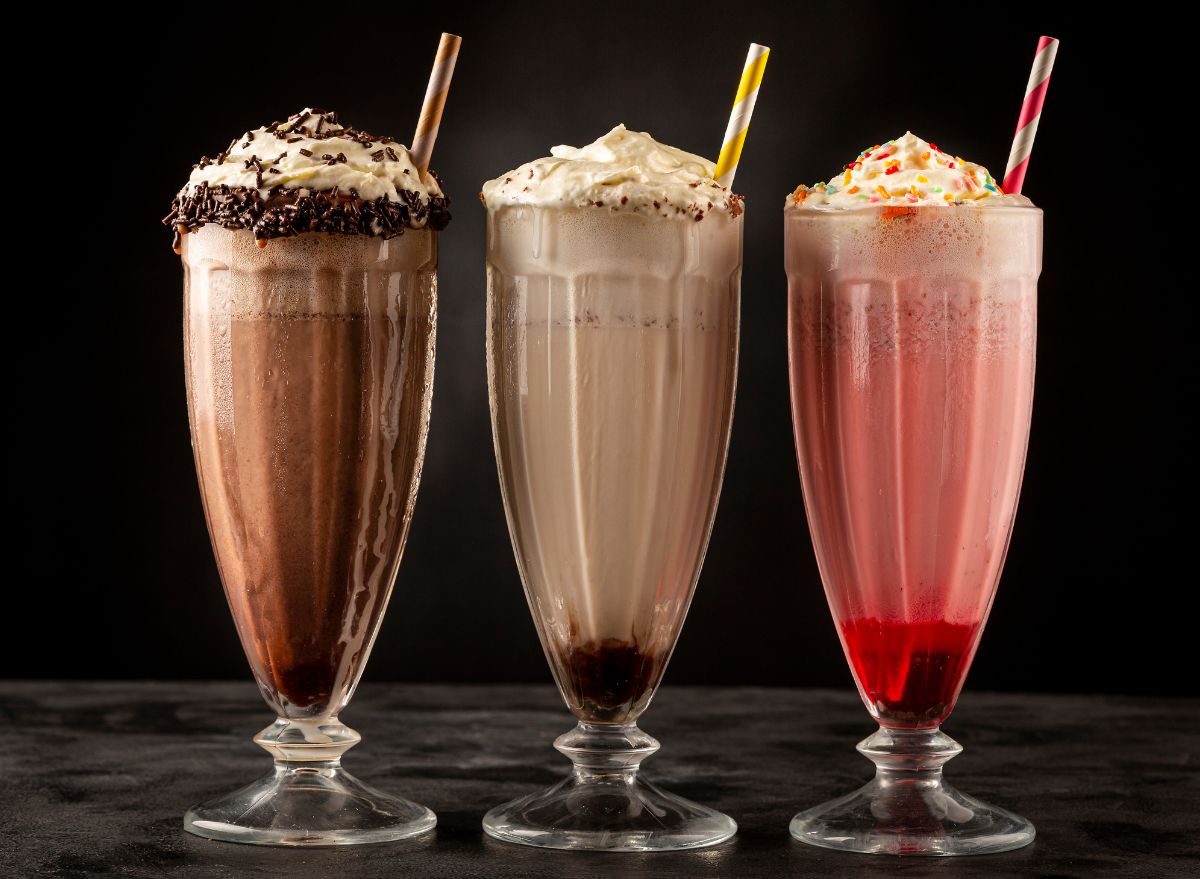 Milkshakes are believed to have originated in the United States around the turn of the 20th century. Since then, ice cream lovers have been able to sip on their favorite ice cream flavors—blended with milk and topped with whipped cream and a cherry—instead of eating it with a spoon or in a cone. Talk about serious dessert innovation! Since then, milkshakes have become so popular that you can get them at virtually every ice cream shop and most major fast-food chains. But even though they're easy to find, you may be surprised to learn that shakes aren't always made with real ice cream.
In fact, many of the most popular and widely available fast-food milkshakes are made with ingredients other than real ice cream. For instance, McDonald's, Burger King, Wendy's, and Chick-fil-A also use some form of soft serve, which according to the FDA's definition is not considered real ice cream.
There are, however, plenty of fast-food chains that are committed to using real, hand-scooped ice cream in their milkshakes. Of course, that doesn't necessarily mean that these shakes are any healthier; it's important to take into consideration how much saturated fat and added sugars are in these treats if you're eating them regularly. But if you're going to splurge, you still want to know what you're actually putting in your body, and that's where we come in. Read on to discover eight fast-food milkshakes that are made with 100% real ice cream—not that fake stuff. And if you're wondering about how restaurant chains stack up, we've got you covered with 7 Restaurant Chains That Use Real Ice Cream in Their Milkshakes.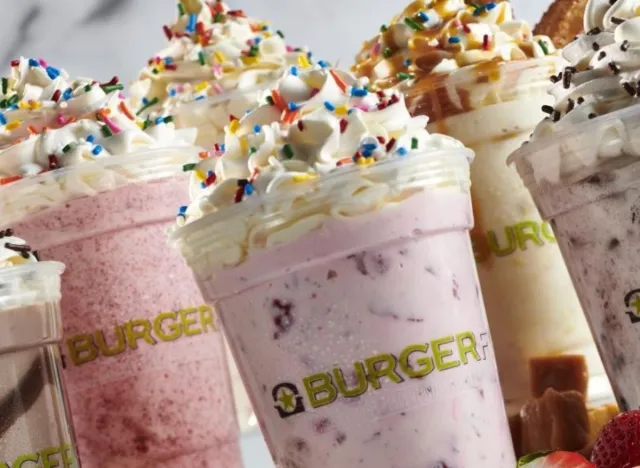 As the name suggests, Burger Fi is primarily known for its delicious burgers. This fast-food restaurant uses "all-natural Angus beef free of steroids, antibiotics and hormones," and claims to hold themselves to "ridiculously high standards." But do these high standards translate to all corners of their menu, including their shakes? The answer appears to be yes.
You can have your pick of flavors (depending on which location you visit) from options like Strawberry, Red Velvet, Cookies + Cream made with Oreo, Banana Churro, or Coffee Mocha, all of which are made with real ice cream and not soft serve.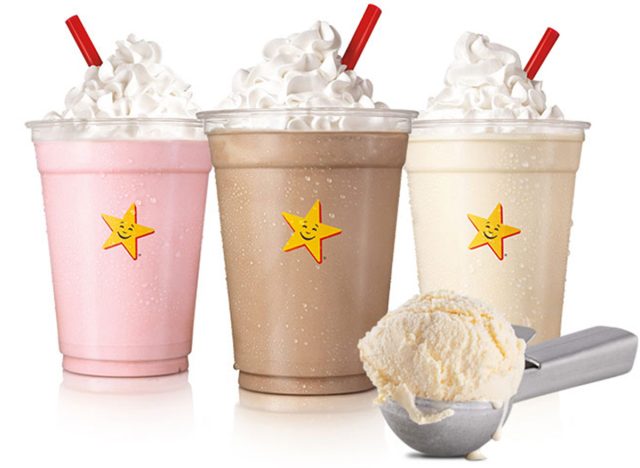 The difference between Carl's Jr. and Hardee's is just that the West Coast locations are called Carl's Jr. and the East Coast locations are called Hardee's. This name variation may cause confusion for some customers, but what is crystal clear about this fast-food restaurant is that its milkshakes are made with quality ingredients.
Regardless of what it says next to the recognizable yellow smiley-face star, when you order a milkshake at Carl's Jr. or Hardee's, you'll be getting real, hand-scooped ice cream—which you'd expect, given that the brand has trademarked the offering: Hand-Scooped Ice Cream Shakes.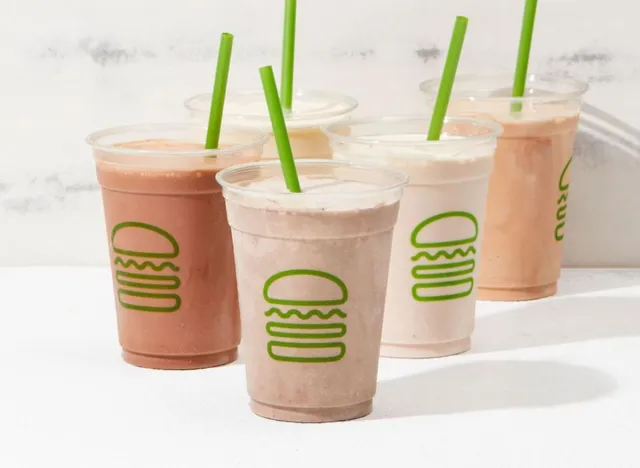 You'd hope that a fast-food joint known for its shakes (and with "shake" in the name) would use the best quality ingredients in its shakes, and Shake Shack does not disappoint. Unlike places such as Dairy Queen, which is known for its Blizzards and cones but uses soft serve instead of real ice cream, Shake Shack uses "Soft, premium ice cream, made in-house daily only with the good stuff: real cane sugar and cage-free eggs," per their website. (For the record, Shake Shack's custard counts as ice cream according to the FDA, so don't be thrown by the description!)
Whether you're in the mood for a classic flavor like vanilla, chocolate, or strawberry, or are feeling more of a specialty treat like their Oreo Cookie Funnel Cake Shake, you can rest assured that you're getting the real stuff in any of the flavors you choose.
Fatburger calls itself the "Last Great Hamburger Stand," and whether or not this is actually true, the chain is certainly sticking to its promise of using "never frozen beef patties" and "scratch-made onion rings." And when it comes to the shakes—which come in flavors like Vanilla, Chocolate, Strawberry, or Banana—Fatburger promises to deliver "milkshakes made with 100% premium ice cream."
Another perk of heading to Fatburger for a shake is that you'll find plenty of vegan options too (of course, those aren't made with real ice cream!).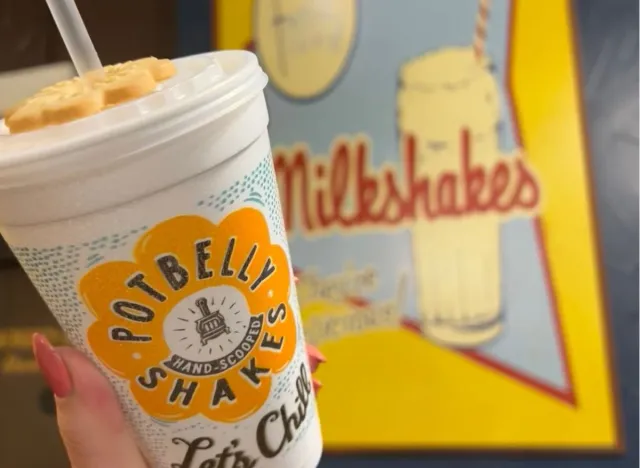 Potbelly may not boast as many locations as Subway or Firehouse, but if you have access to one, you'll want to stop by. Not only do they offer almost 20 different types of subs, as well as salads, mac and cheese, and soups, but they also sell creamy shakes made with real, hand-dipped ice cream.
Stick to the classics like Chocolate or Vanilla, or choose one of the limited-time offers like the Cookie Butter Shake. Another plus? Potbelly serves their shakes with a cookie! (Again, we didn't say it would be healthy!)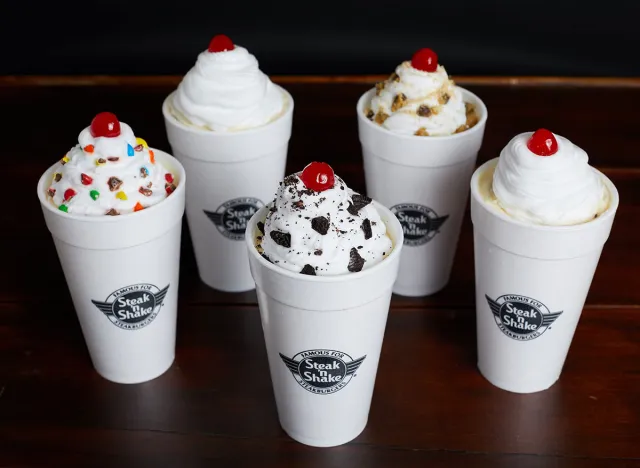 Again, it would be quite a disappointment if it turned out that a classic chain with the word "Shake" in its name didn't use real ice cream in their milkshakes. Thankfully, Steak 'n Shake has used real ice cream since the very beginning. According to their website, "Since 1934 we've been hand-making delicious shakes with real ice cream and fresh milk, topped with whipped cream and a cherry." If they've been doing it for close to a century, it's safe to say they know what they're doing.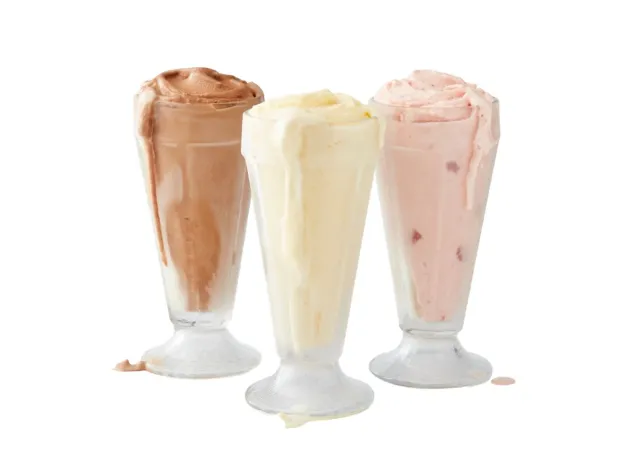 You'll find real ice cream in your milkshake when you order from Jack's—which is not to be confused with Jack in the Box, a fast-food chain that does not use real ice cream in its shakes.6254a4d1642c605c54bf1cab17d50f1e
Jack's, a fast-food burger joint born in Homewood, Alabama, offers a variety of milkshake flavors like Cookies & Cream, Vanilla, Chocolate, Moose Tracks, and Smokey Mountain Fudge—all of which are made with "hand-dipped, hand-mixed scoops" of ice cream.
East Coasters head to Shake Shack for a fast-food milkshake, while West Coasters turn to In-N-Out. These dueling burger chains are often compared to one another, and deciding which is better really just depends on who you ask. While you won't get the same type of "specialty" shakes that Shake Shack offers, In-N-Out provides the classic trio of Chocolate, Strawberry, and Vanilla, all three made with real ice cream—and all three absolutely delicious.
Sources referenced in this article