50 Vintage Recipes to Bring Back This Summer
Spice up your summer meals with these time-tested treats.
When you think of summer foods, you might envision days by the pool or cookouts with friends. After spending so many cold months indulging in heavy stews and roasts, we're itching to dig into fresh fruits, vegetables, and lighter fare this summer. And even with some time-tested favorite recipes in your back pocket, updating your summer menu keeps everyone looking forward to any meal.
If it feels like you have your summer menu on repeat, take some inspiration from classic recipes of yesteryear to rediscover childhood favorites and find your new favorite flavor combos. If you don't have the time to dig through old cookbooks to search out your new favorite meals, fret not! We've rounded up the ultimate collection of vintage summer favorites that are sure to please everyone.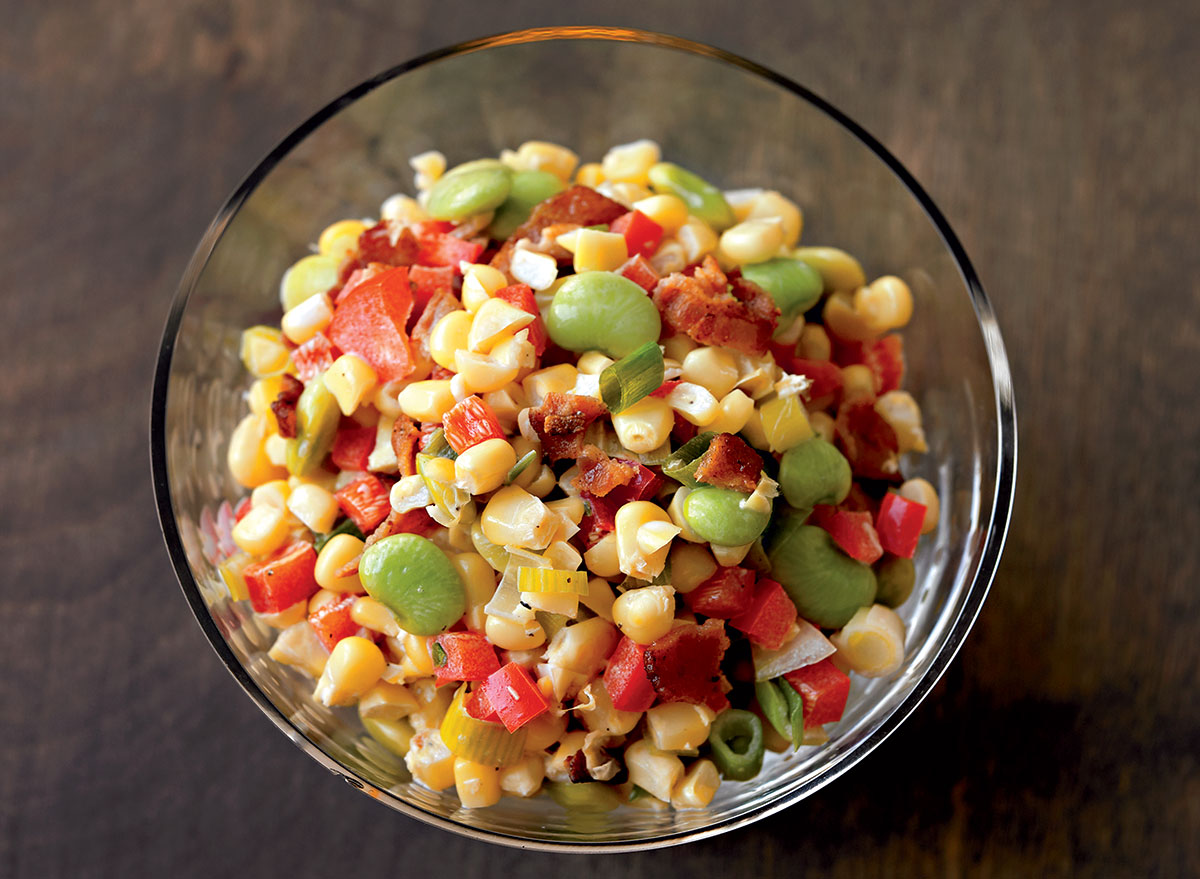 Nothing says "summer" like a vibrant plate of succotash! This melange of red bell pepper, fresh corn, scallions, and bacon makes good use of all the fresh produce we can finally get in summer, and it will please even the pickiest eater. With a short prep time and tasty ingredients, this throwback favorite deserves a spot in your meal rotation.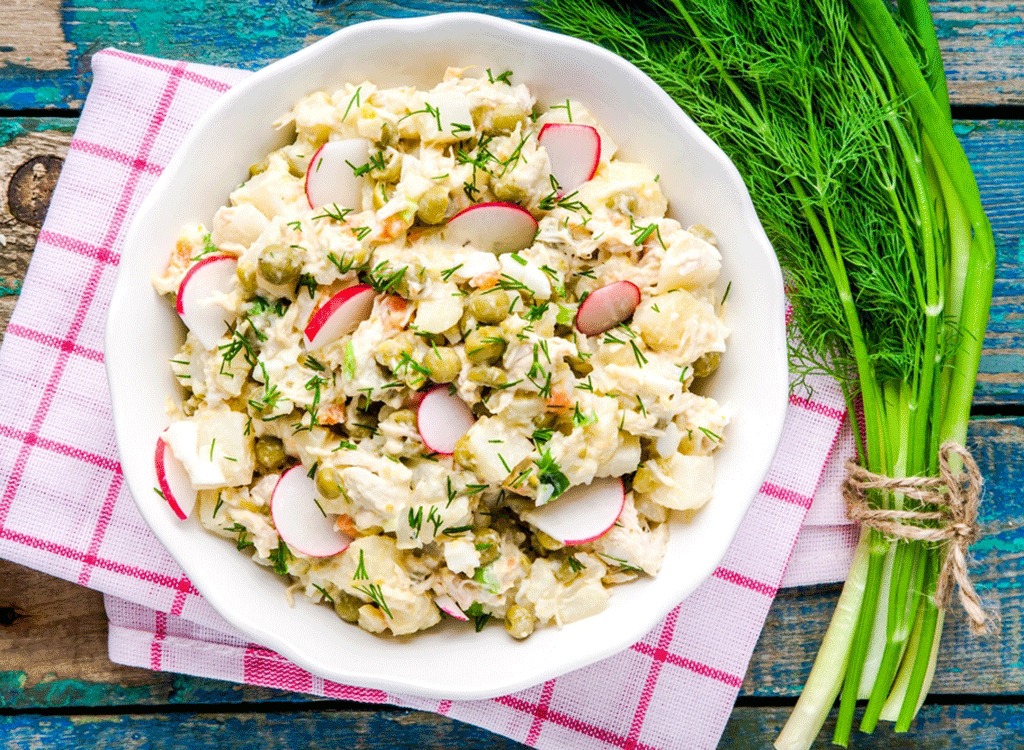 Who doesn't love this summertime staple? Whether you're with family members or you just want a nostalgic classic for yourself, this take on the traditional potato salad will leave you floored. If you've only ever bought pre-made potato salad, treat yourself to the homemade real deal and see what caused the dish to get so popular in the first place.
Get our recipe for Potato Salad.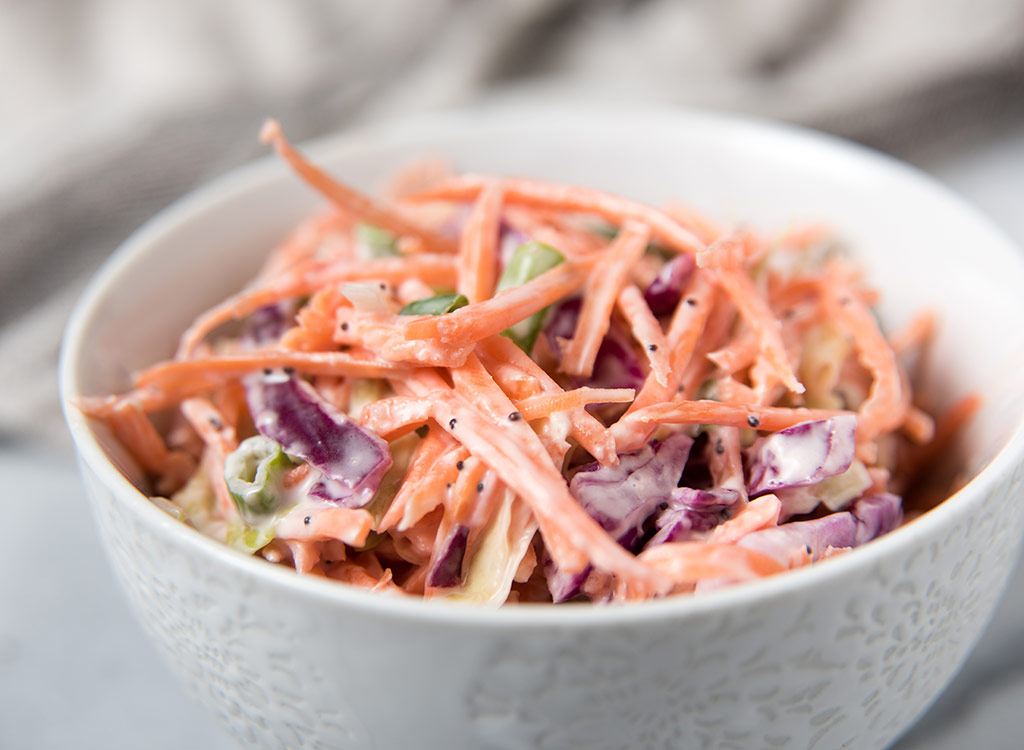 When you want to evoke summer, this crispy, luscious side holds its own against kebabs, hot dogs, ribs, or any other summer classic. With a homemade dressing and finely chopped cabbage, this ubiquitous side has stuck around for a reason. Just make sure to leave room for seconds!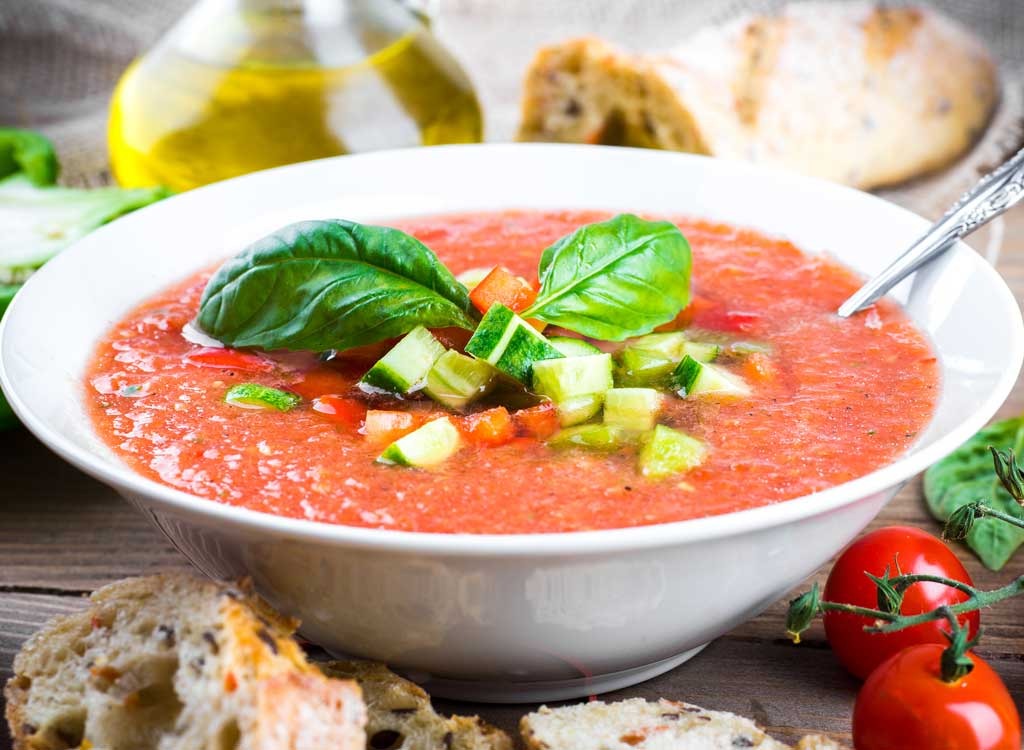 When you just want a light meal to cool you off, gazpacho can do the trick. This chilled Italian tomato soup takes no time at all to whip up and easily impresses anyone who takes a sip. With such a classic dish at your fingertips, dreams of Italian summers can be yours, even if you never set foot in Europe!
Get our recipe for Gazpacho Soup.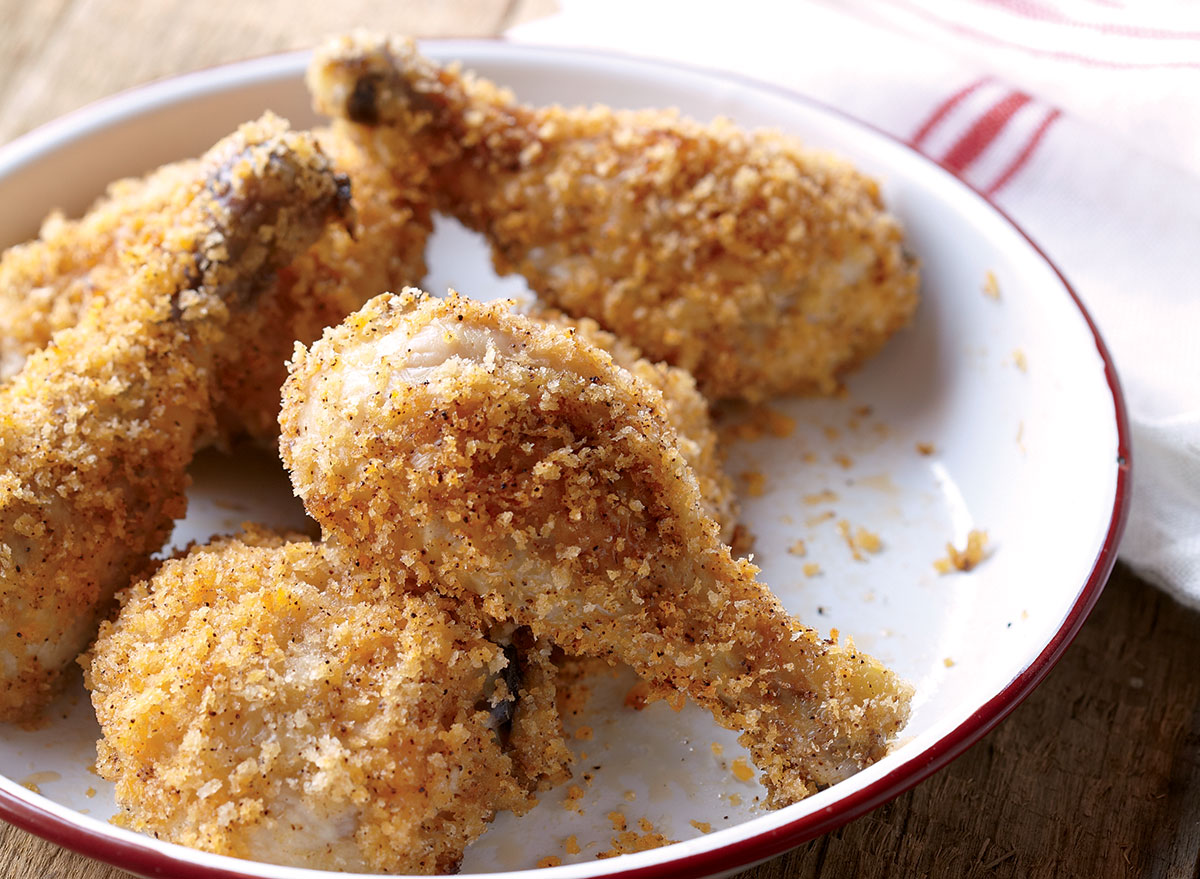 Nothing throws you back to childhood like a plate of fried chicken. If you thought that preparing this dish falls outside of your skill range, just wait till you try this easy recipe anyone can whip up at home. When it comes to celebrating summer, nothing does it like a steaming plate of crispy, fall-off-the-bone fried chicken.
Get our recipe for Fried Chicken. 
When you think of an American picnic, someone in the scene is probably enjoying egg salad. This luscious delight made its debut generations ago and has held on for good reason. With a touch of curry, each bite of this sandwich will send you back to the '50s and keep you in the summertime spirit.
Get our recipe for Curried Egg Salad.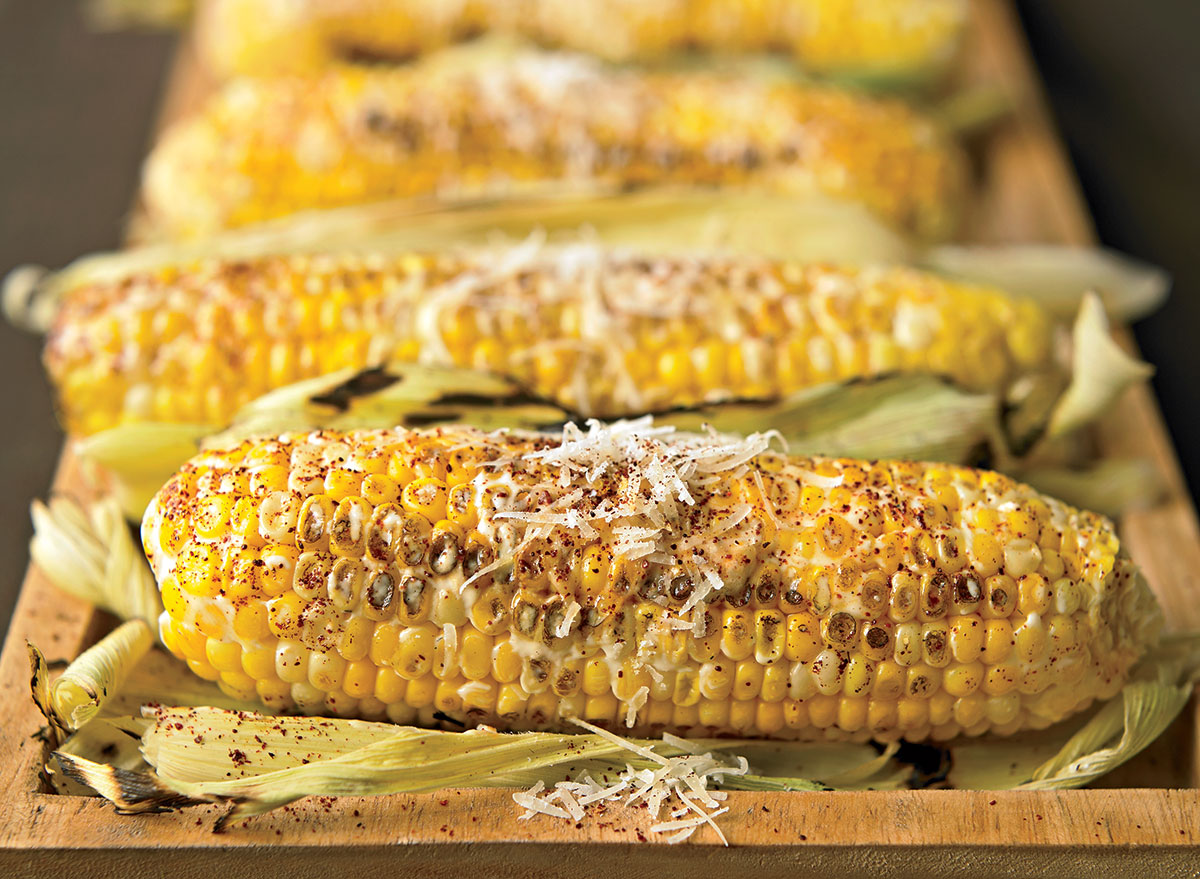 Why should meat get all the attention when it comes time to grill? Grilled corn completes any meal, and with so many vegetables available this time of year, it would be ridiculous to not indulge in this summertime favorite. For a fun twist on the classic, Mexican grilled corn spices things up a notch. This recipe has been time-tested all across the American Southwest for ages— if you've never tried it, there's no better time to start.
Get our recipe for Grilled Corn. 
Southern-Style Banana Pudding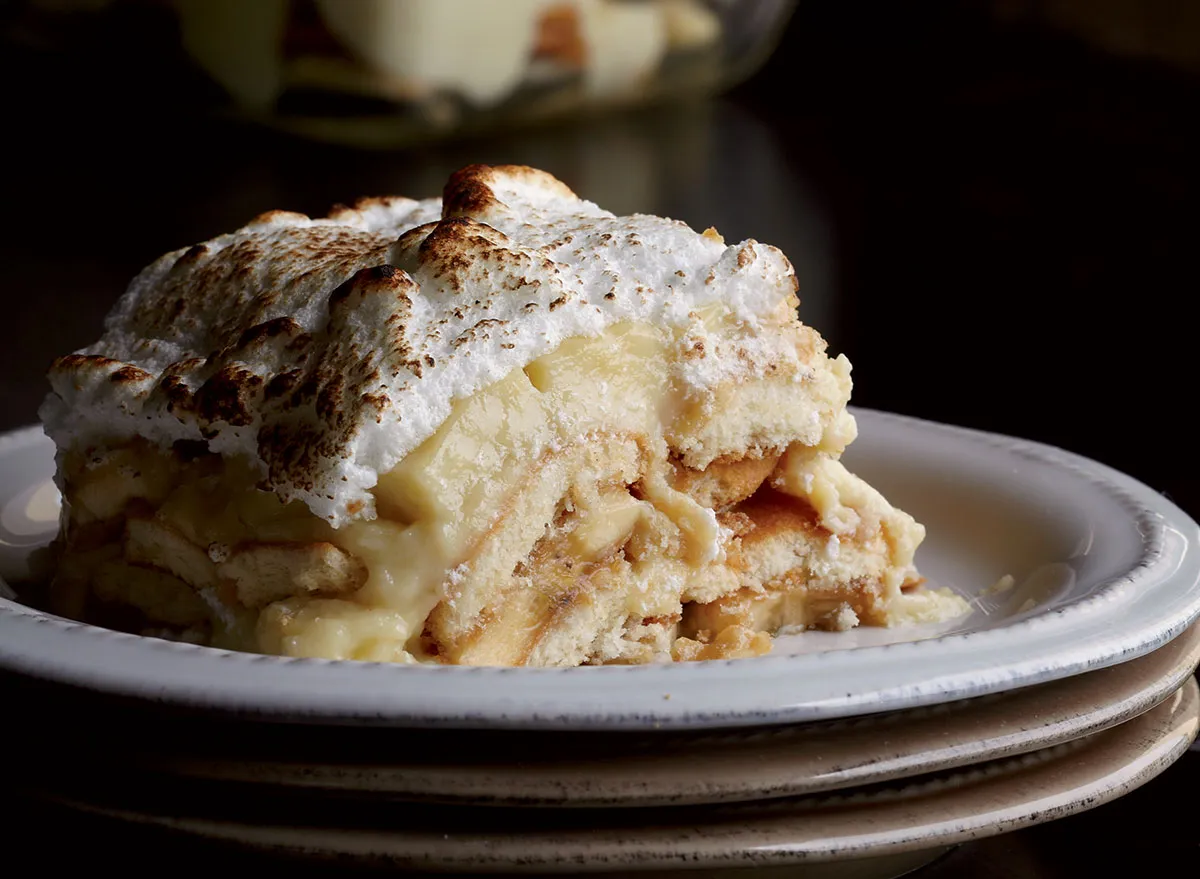 Summertime means pulling out all the stops when it comes to sharing desserts with friends and family. No recipe does it better than this no-frills, classic Southern recipe. Even if you haven't delved deep into making puddings before, this foolproof recipe guarantees to leave you remembering why this recipe has grown so beloved.6254a4d1642c605c54bf1cab17d50f1e
Get our recipe for Southern-Style Banana Pudding.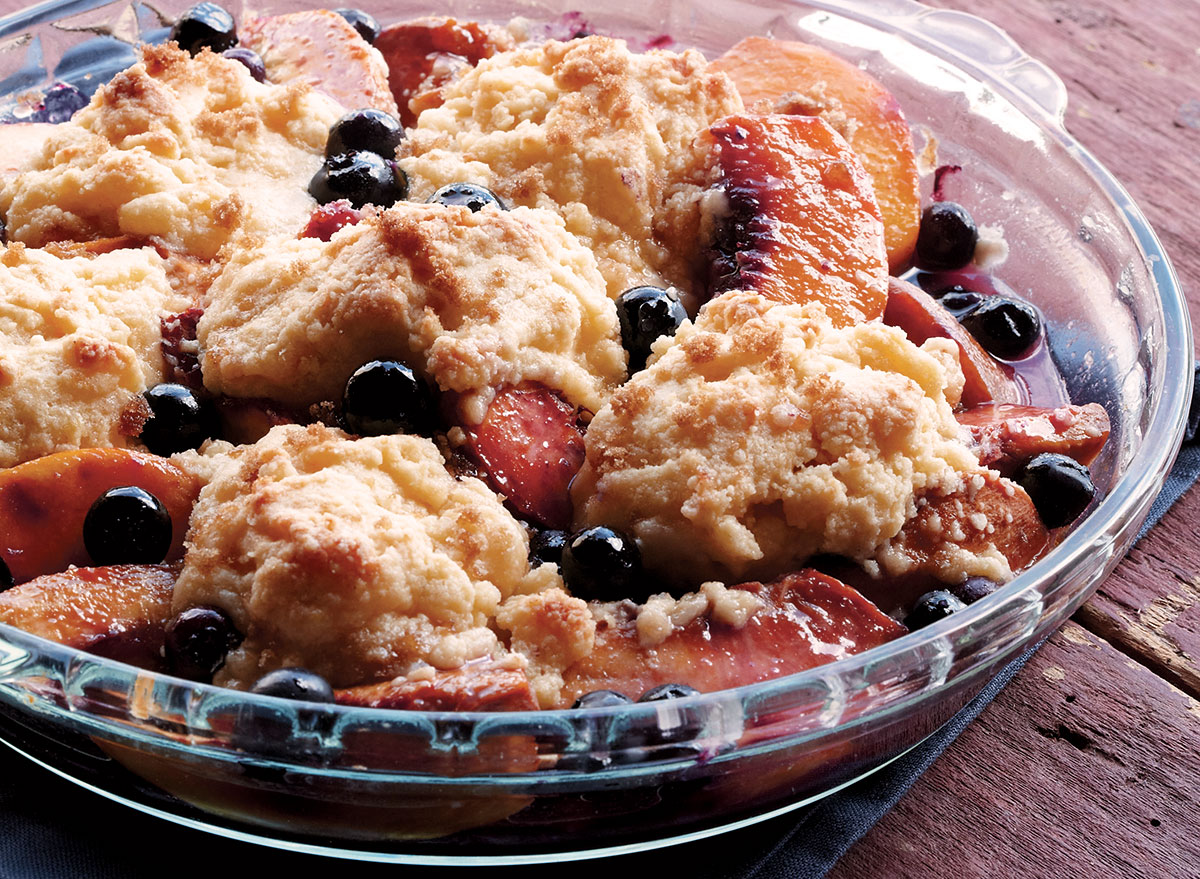 If you live in an area where you can make a day trip to get some fruit from a local farm, why not put those fresh picks to good use? This time-tested cobbler hits everyone's sweet tooth, and you get to indulge in some seasonal fruit, too.
Get our recipe for Blueberry Peach Cobbler.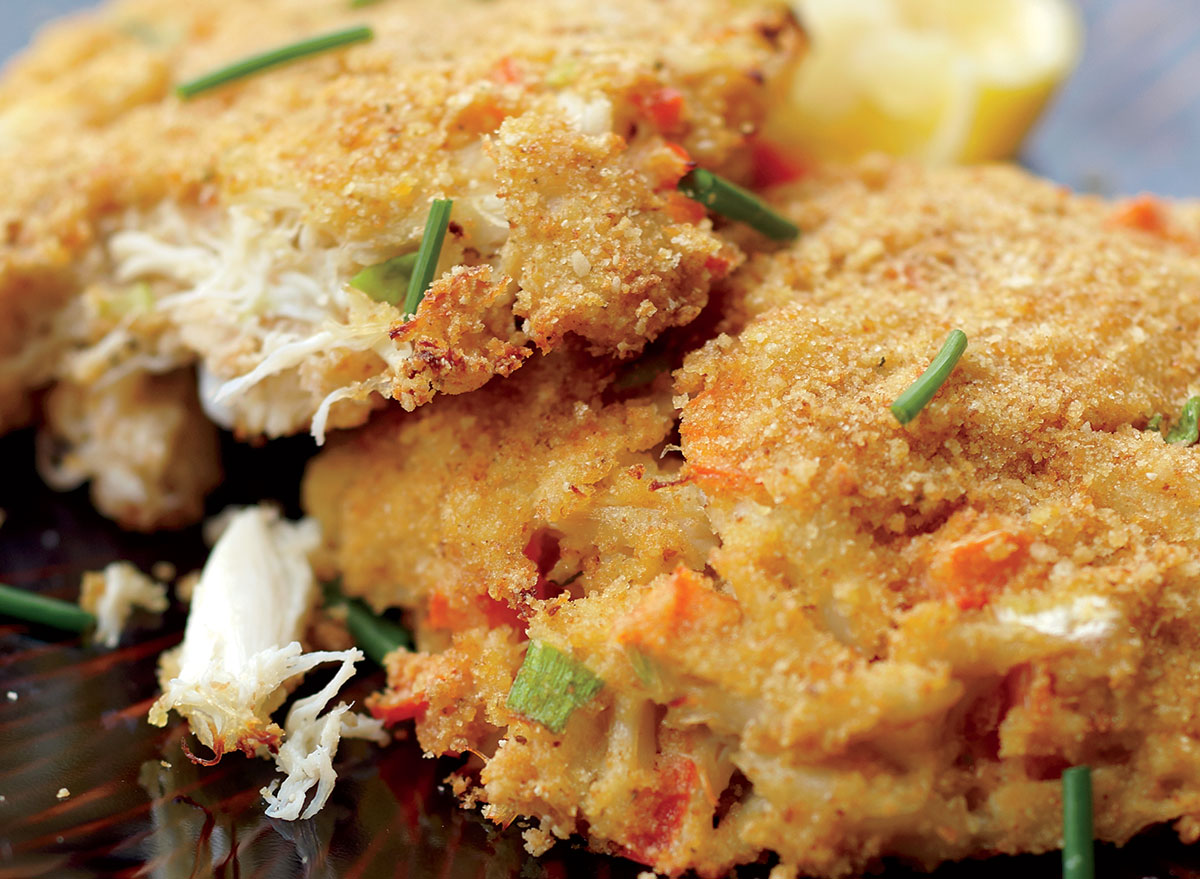 The legacy of crab cakes goes back for years. These flakey, luscious favorites epitomize a great meal after having (socially distant) fun in the sun. And when they're so easy to make at home, nothing can stop you from taking on these east coast classics. The recipe for the crab gets a shakeup with a mango-avocado salsa that leaves your mouth watering, but you can always opt to serve the meal with a traditional tartar sauce if you want to evoke that classic vibe.
Get our recipe for Crab Cakes. 
When was the last time you whipped up some rhubarb for your family? If you haven't ever cooked up this summer staple, this shortcake recipe lets you try something fun and new that everyone loves. In an age when everyone expects the same old chocolate and vanilla treats, this blast from the past is sure to be an instant classic in your house!
Get the recipe from The View From Great Island. 
Brown Sugar Peach Crumble Pie
For hot days and cool nights, nothing sounds better than a sweet peach crumble to evoke the best memories of summer. Even If you don't consider yourself an expert baker, this take on the Georgia classic isn't too hard to whip up. Make some new memories while holding onto your favorite tastes of yesteryear with this retro classic.
Get the recipe from Sally's Baking Addiction.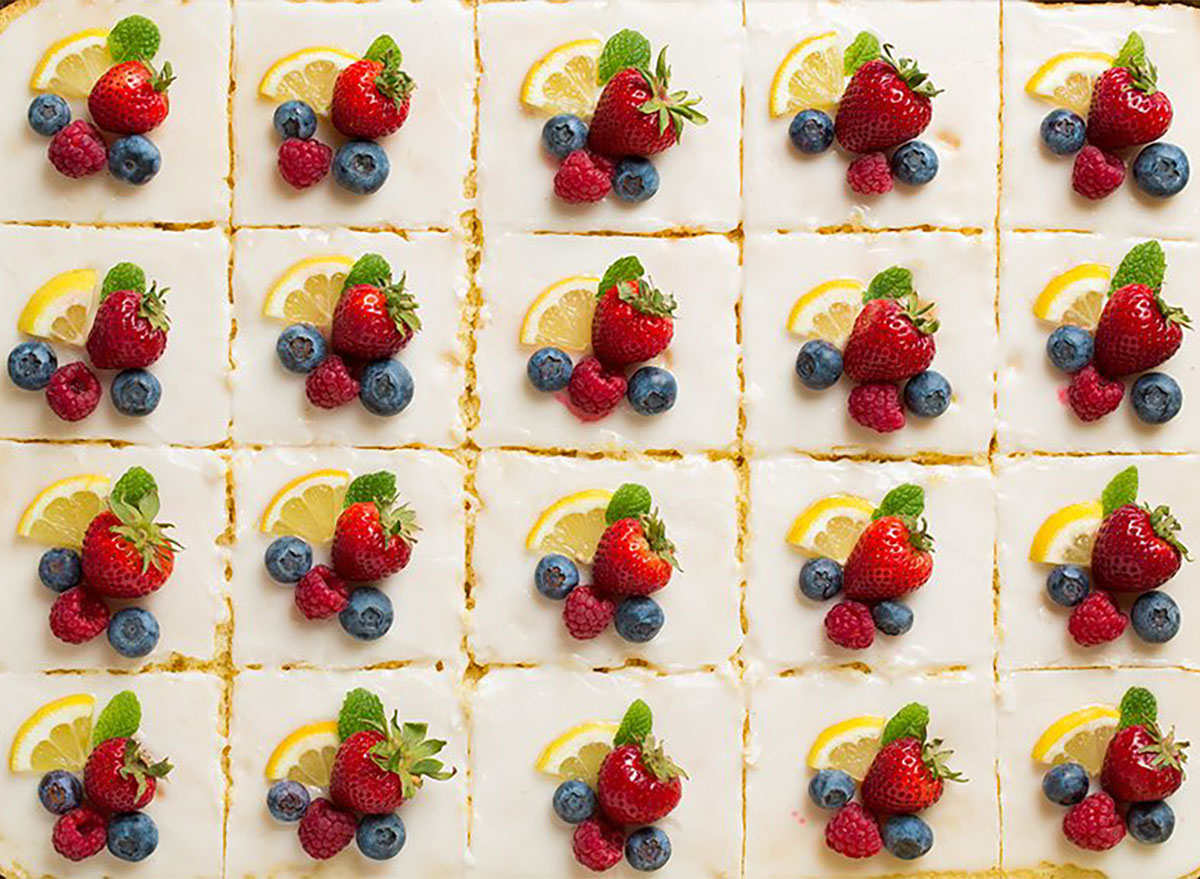 Summer means lemon season, so it's time to make extra use of this bright fruit. And what better way to use lemons than by making a lemon sheet cake? Tempt your loved ones with this tart and sweet summer staple—there's a reason it's stood the test of time.
Get the recipe from Cooking Classy. 
Scalloped Corn and Broccoli
You've probably had scalloped potatoes before, but if you never tempted your tastebuds with this all-time summer classic, you don't know what you're missing! Fresh sweet corn and broccoli are baked with cheese to form a side dish that pairs well with any rich meat. For a recipe to show off summer produce with a flair your grandparents could love, this dish deserves a regular place in your weekly family meal plan.
Get the recipe from Taste and Tell.
Grilled Chicken Waldorf Salad
When you crave a cool salad that fills you up, you might not immediately think of this staple that your great-grandparents may have enjoyed on hot days. But this cool blend of apples, grilled chicken, pistachios, and grapes, tossed in a mayonnaise dressing, feels refreshing on any summer day. For a classic dish that won't weigh you down, don't pass up a Waldorf salad.
Get the recipe from Recipe Runner.
Asparagus and Brie Quiche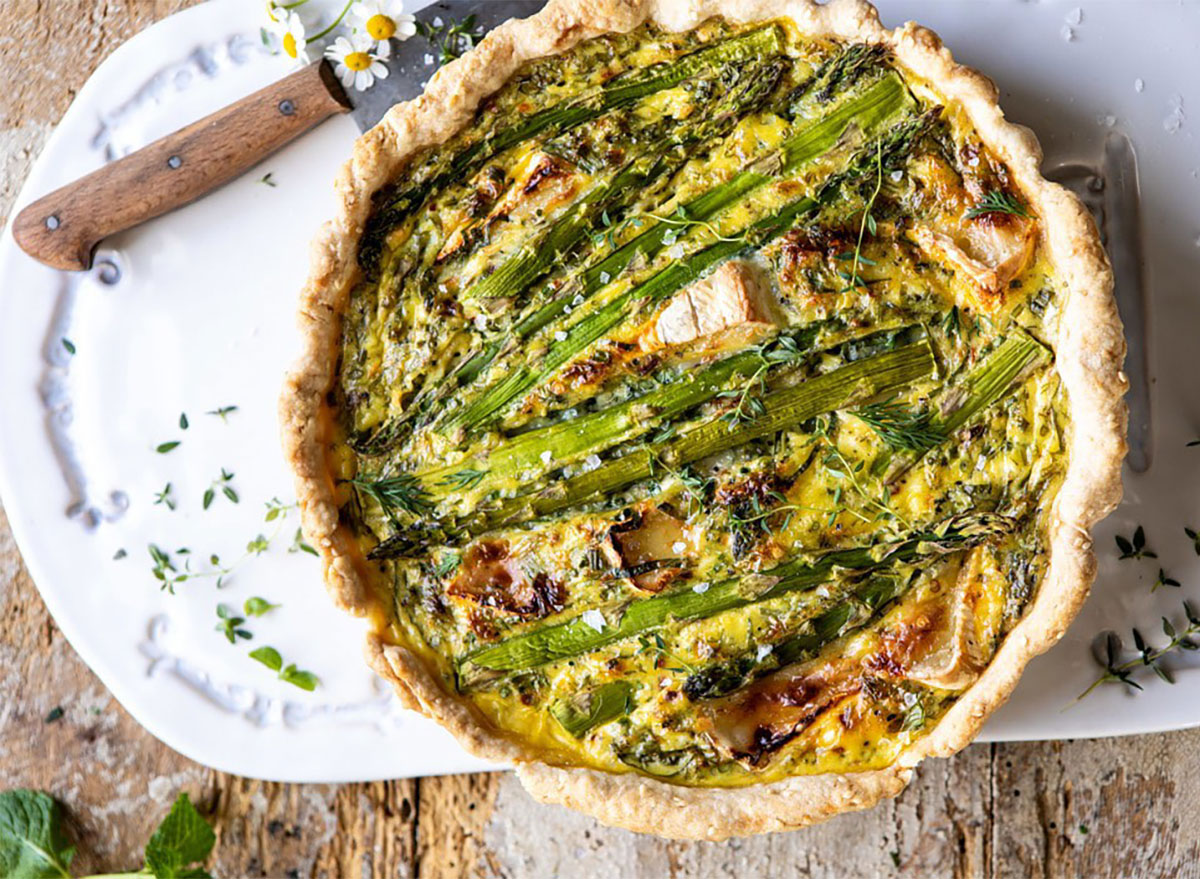 Fresh asparagus tastes like nothing else, and when you can get bushels of fresh spears of the vegetable, you have to put them to good use. What better way to try out new recipes with fresh ingredients than this retro classic the whole family will love? Roasting the asparagus with brie cheese in a quiche brings out a menagerie of flavors as few other recipes do, and it guarantees you'll find another reason to love quiche.
Get the recipe from Half Baked Harvest.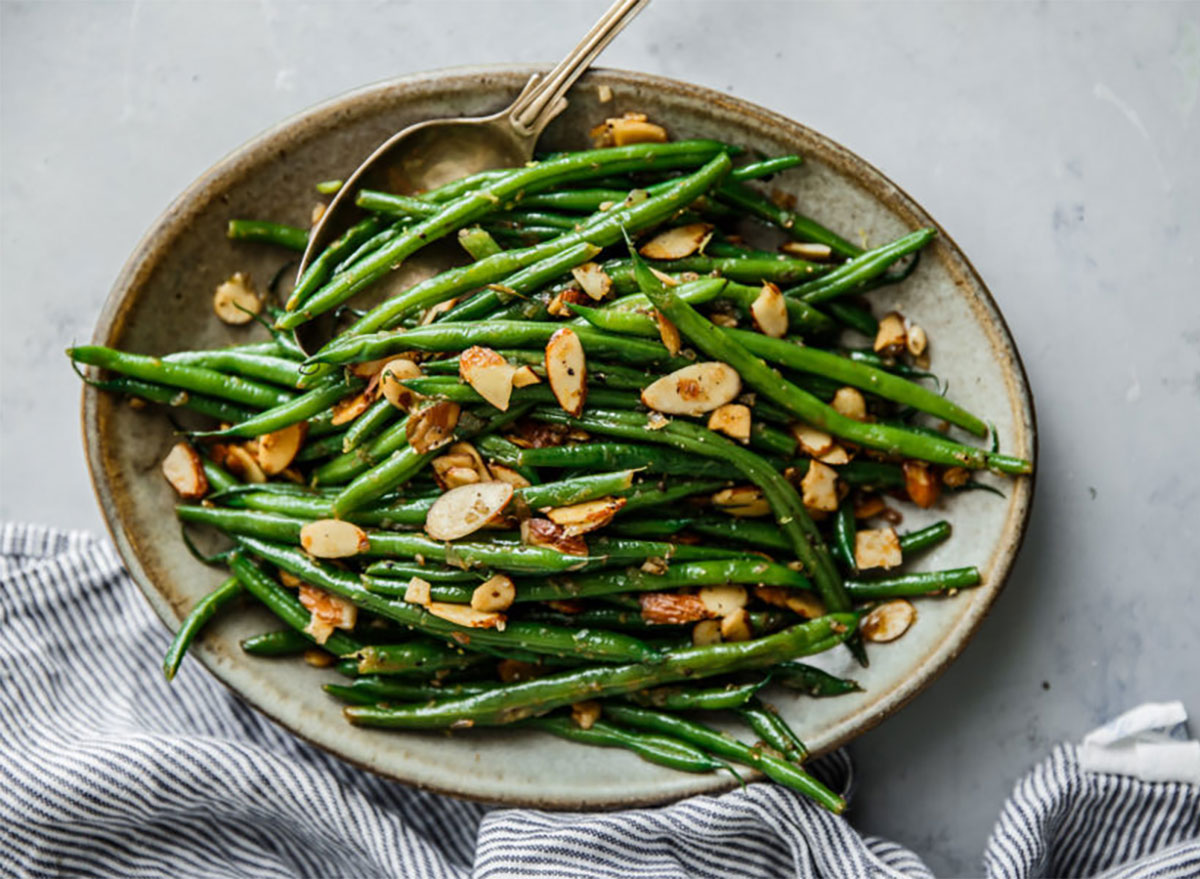 Green beans are cheap, healthy, and tasty. Best of all, they're in season during the summer, and a lot of vintage recipes exist that feature this vegetable. If you've never heard of almondine before, this old-school favorite used to grace restaurant menus nationwide for a reason. The French classic elevates simple green beans by cooking them with shallots, garlic, and almonds to create a bright side dish that was once the height of luxury. Just make sure to use fresh green beans and not canned ones!
Get the recipe from A Beautiful Plate.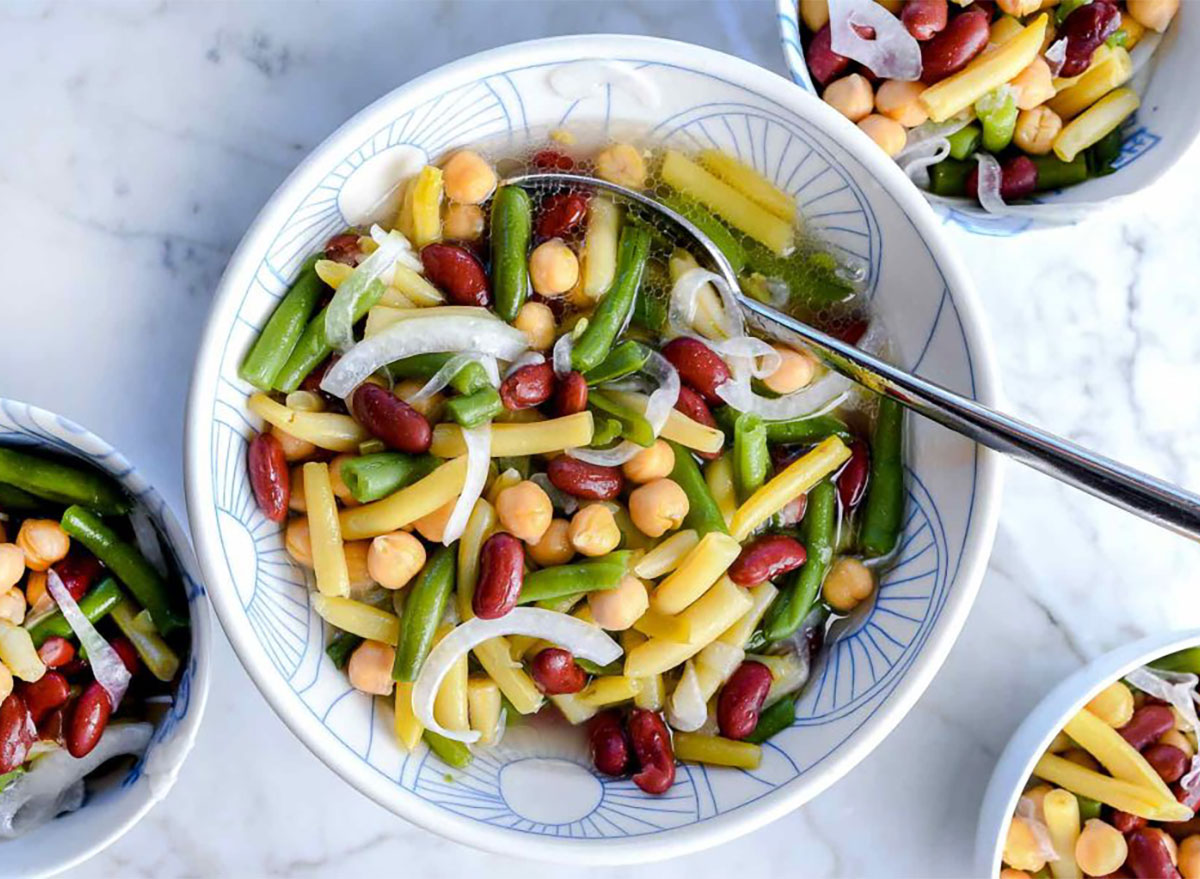 When you whip up a cool three-bean salad for a summer meal, life couldn't be easier. This blend of garbanzo, kidney, wax, and green beans traces its lineage back for decades. And with such minimal prep time, this recipe is super easy to throw together. With so much flavor and nutrients packed in, it just might become your new favorite side dish.
Get the recipe from Foodie Crush.
Summertime means combatting the heat with light takes on classic ingredients. With cucumbers in season, the time has come to indulge in some extra-hydrating staples. These fresh, crispy cucumber slices pair with a balsamic vinegar marinade that makes them the perfect complement to any rich food. If you've never tasted this old-time standard, get ready to find your new favorite recipe.
Get the recipe from Cookie and Kate.
Pies seem intimidating to make, but they don't have to be! When you have fresh seasonal lemons, no one can resist this classic take on a chess pie. It sets in the refrigerator, making it a perfect way to cool down after a hot day outside, giving you even more reason to try it out.
Get the recipe from Taste and Tell.
When wedge salads began appearing on steakhouse menus in the 1950s, Americans loved this new way to make salads fun. The wedges of iceberg lettuce are topped with a homemade bleu cheese dressing, seasonal vegetables, and bacon bits, all adding up to a scrumptious meal that's brought to life with fresh produce.
Get the recipe from The View From Great Island.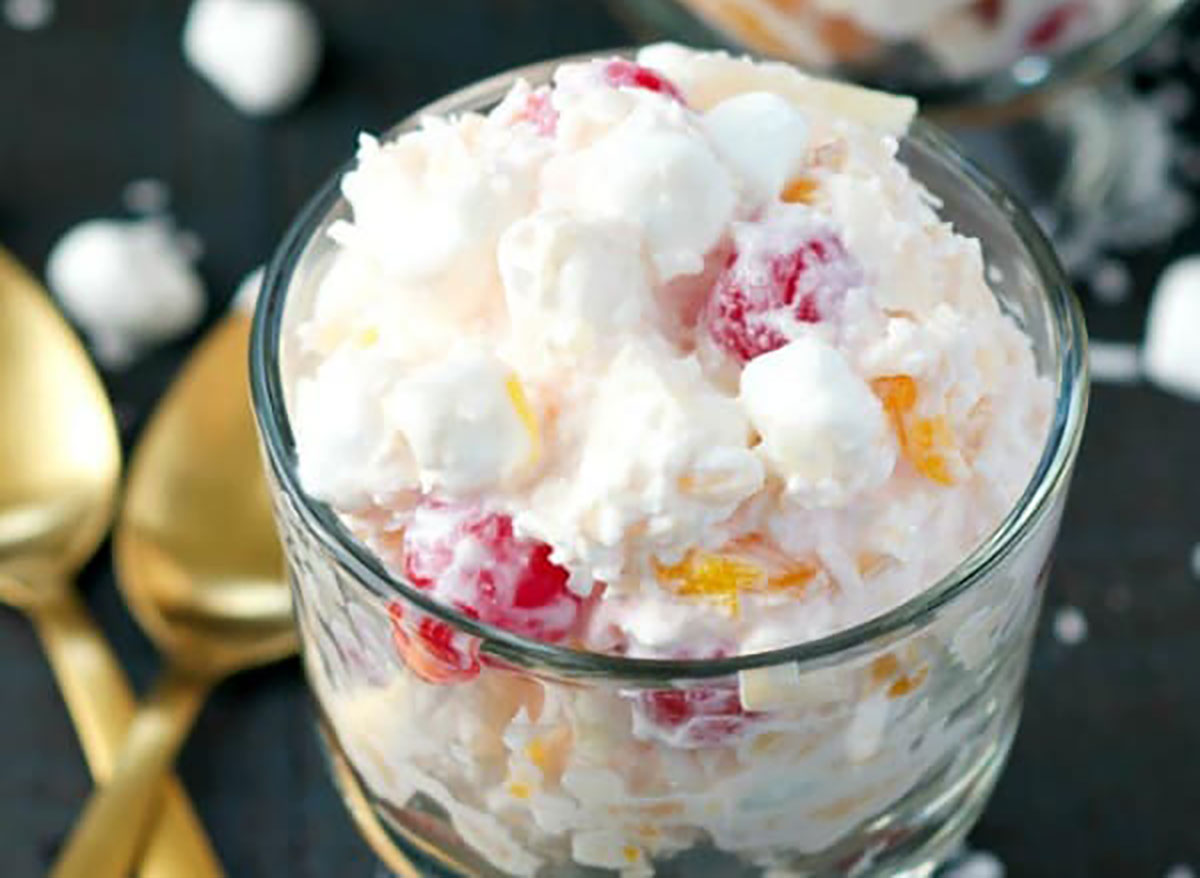 If you never had an ambrosia salad, the time has arrived to give this vintage standard a second chance. Pineapple, cherries, oranges, and more are combined with marshmallows and coconut, making for a dessert that can please the child in any of us. For a classic take on fresh fruit, nothing else compares.
Get the recipe from The Seasoned Mom.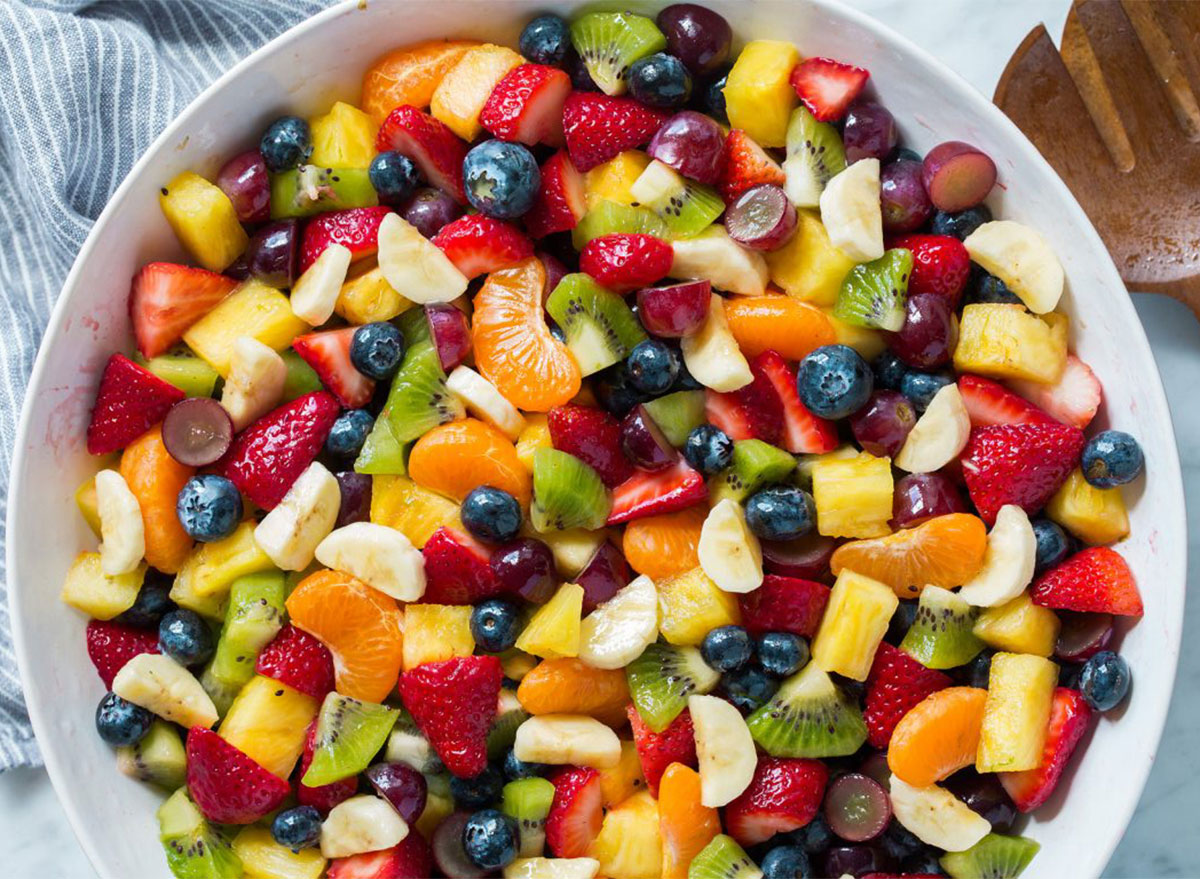 Who doesn't love the classic combo of seasonal fruits blended together? Even if you have a fruit salad recipe you generally use, get ready for your socks to be knocked off with this take on an age-old classic. This recipe packs in the nutrients and will keep you cooled off on sunny days.
Get the recipe from Cooking Classy.
Everyone knows fresh tomatoes can do wonders for any recipe, but if you've never made green tomatoes, you don't know what you're missing out on. Take advantage of unripe tomatoes by coating them in a light, crispy batter and frying them until they're golden brown. If you've never fried vegetables at home before, this is a perfect starting point. With in-season produce, you can't go wrong.
Get the recipe from Foodie Crush.
Roasted Summer Squash and Zucchini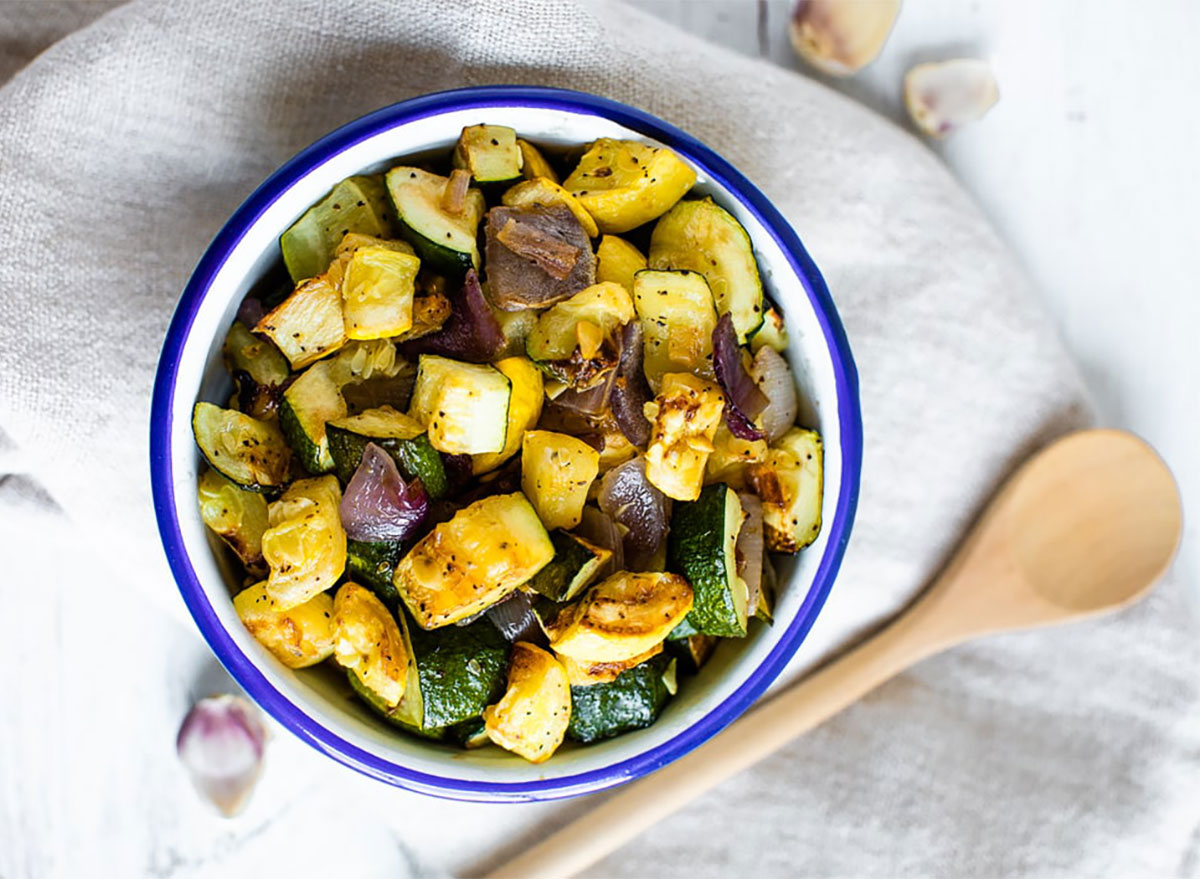 Summer is squash season, and if you can get your hands on fresh summer squash and zucchini, this recipe brings out the best in both vegetables. If you haven't used these ingredients in a while, get ready to have your mind blown away by the taste of fresh, seasonal produce.
Get the recipe from Eating Bird Food.
If you start to run out of culinary ideas, why not take a page from your grandparents' cookbooks and roast these summer staples in the oven, stuffed with all of your favorite fillings? This recipe packs in fresh, sweet corn and basil alongside rice and cheese to make the perfect all-in-one dish that will send your taste buds on a journey to the past. Just make sure to save some room for seconds!
Get the recipe from Pinch of Yum.
Southern Squash Casserole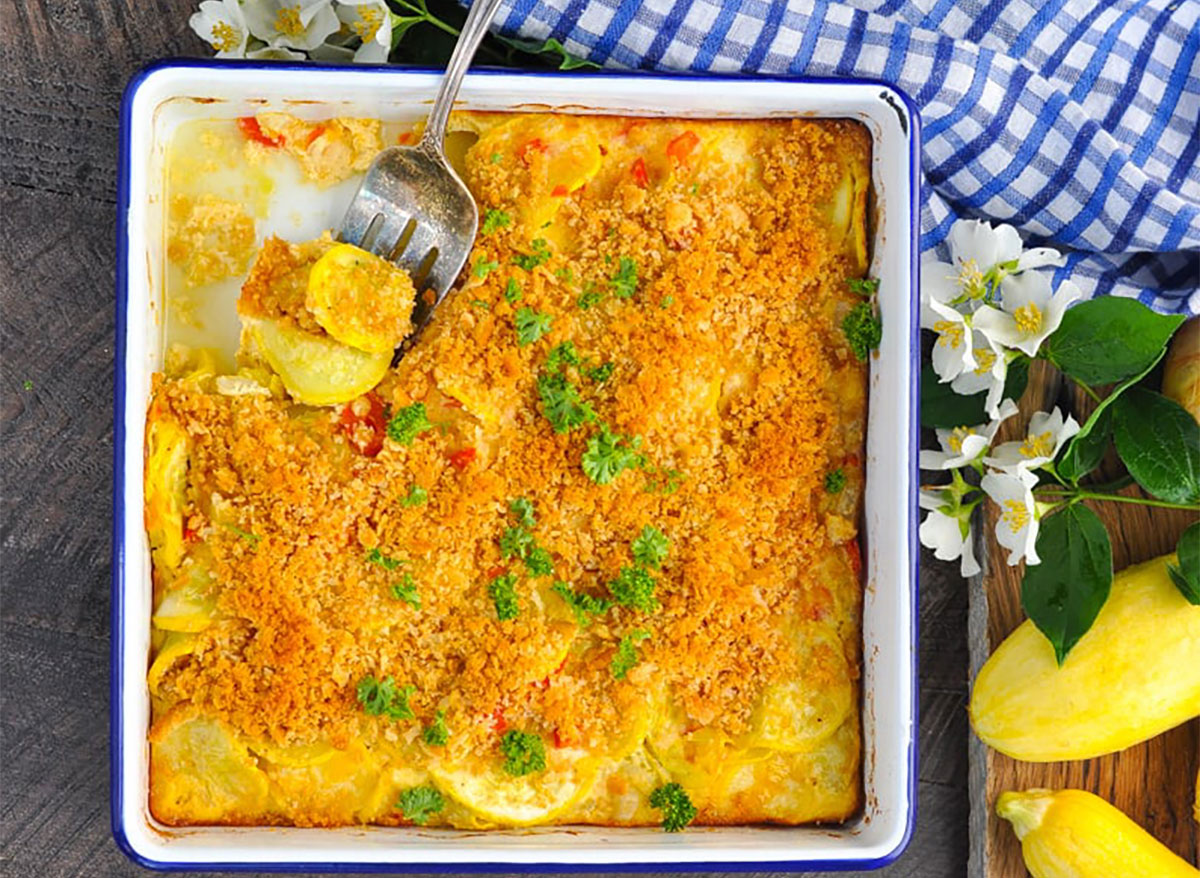 Nothing conjures up the spirit of Southern cooking like a good old-fashioned squash casserole. The creamy texture of the squash pairs excellently with the crispy topping, making for a quick and tasty casserole like you've never had before.Take advantage of seasonal squash to whip up this generations-old staple that has been pleasing folks in the South for years.
Get the recipe from The Seasoned Mom.
Pineapple Upside-Down Cake
With pineapple prices at their best during summer, get ready to pick up the juiciest-looking pineapple at your local farmers market and make the best pineapple upside-down cake you've ever had. The tart juices of the pineapple cut through the sweetness of the cake, and not even canned fruit can compare. If you've only heard rumors of this vintage dessert, now's the time to try it.
Get the recipe from Averie Cooks.
Summer Tomato Pie with Cheddar-Herb Crust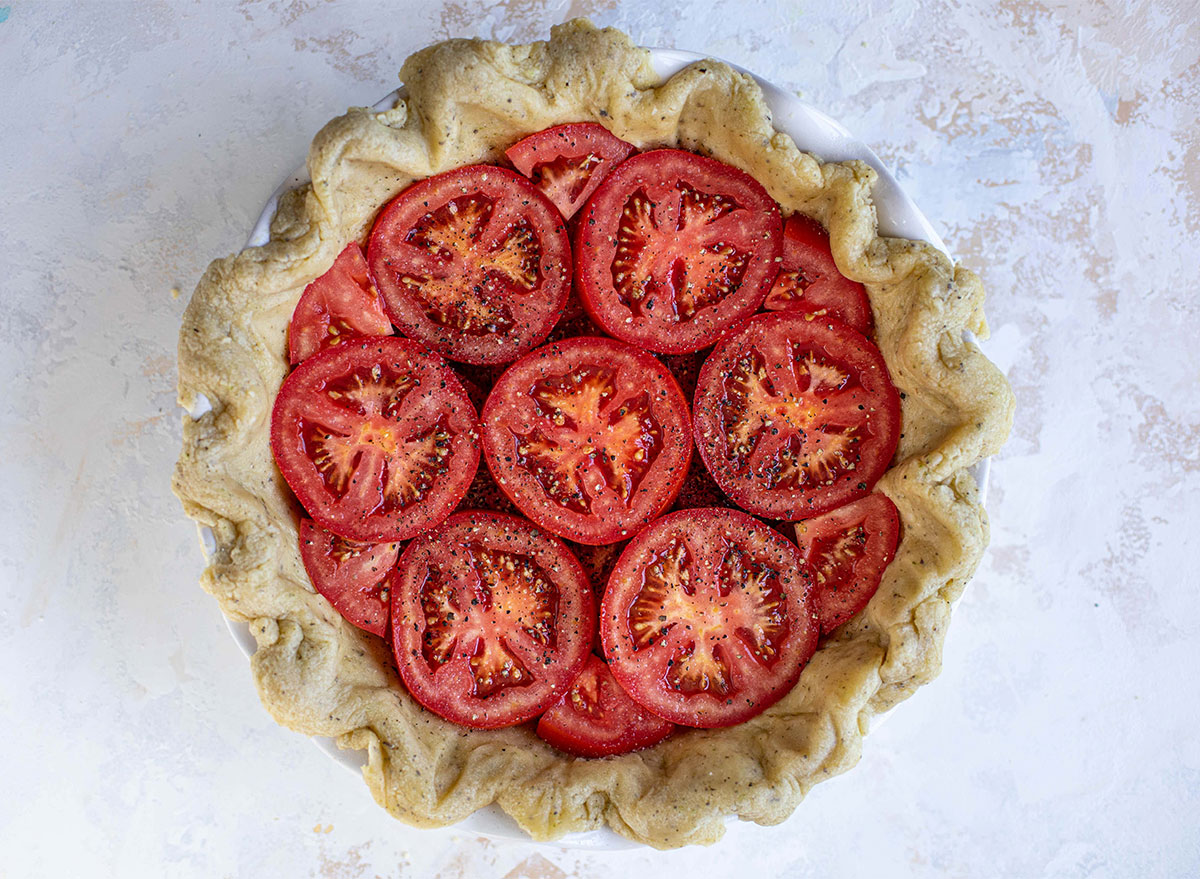 Pies once dominated weekday cooking, and savory pies used to grace tables just as often as dessert pies. Why not tap into this tradition by whipping up a tomato and cheese pie? With flavors that evoke pizza, this cheese pie will please even finicky eaters. If you find yourself with excess tomatoes, this pie can hold its own on any table.
Get the recipe from How Sweet Eats.
When you host a garden party or just want to serve up some light hor d'oeuvres, crab salad packs in a refinement like no other summer dish, and by serving them up on toasts, you can tap into a tradition that goes back a century. These delicious and creamy crab morsels taste smooth and rich against crunch toasts and make for excellent finger food at your next soiree.
Get the recipe from How Sweet Eats.
Summer Polenta with Sauteed Peas and Corn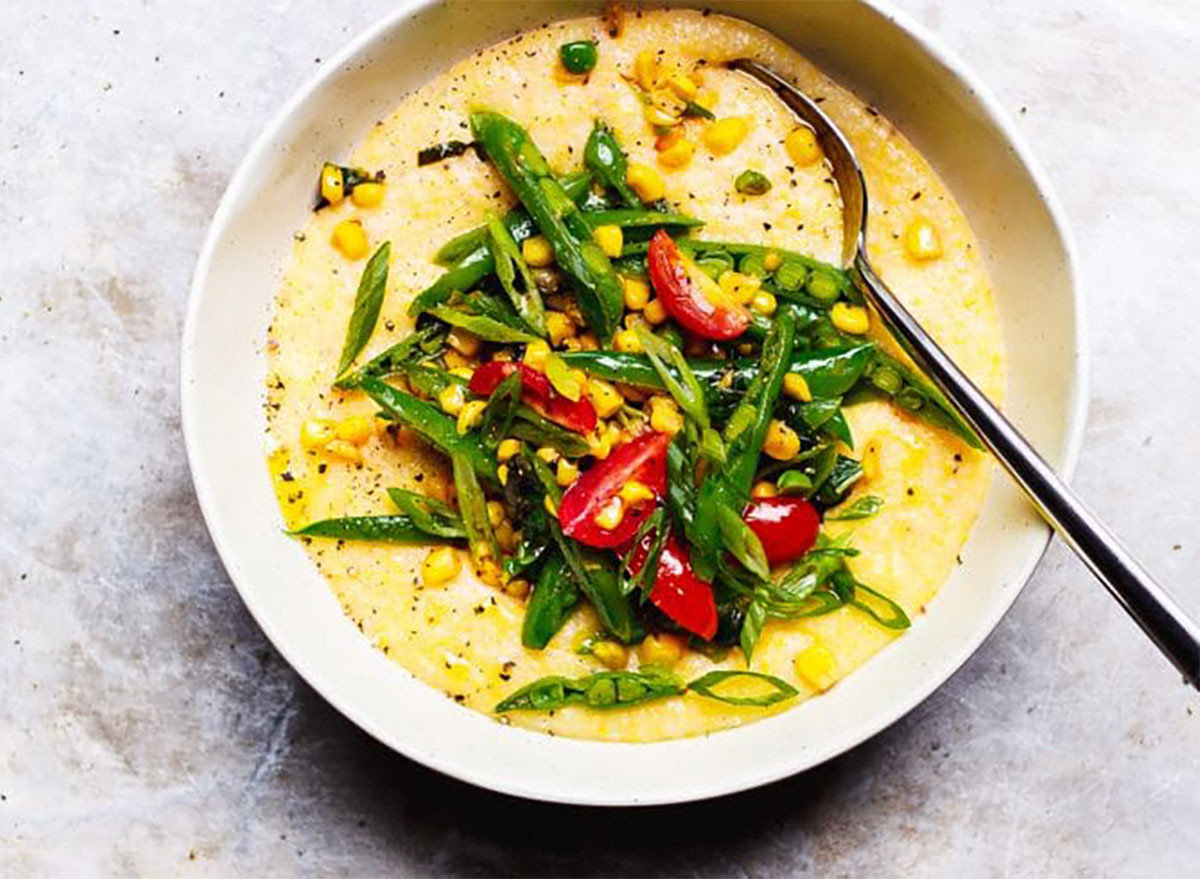 If you like grits, you'll love this polenta recipe that traces its roots back to Italy. A soft bed of creamy polenta gets topped with sweet sauteed peas and field corn straight off the cob, tasting like nothing else you've had before. With this great way to eat your seasonal vegetables, you'll be in for a treat next time you sit down to dinner with this one.
Get the recipe from With Food and Love.
Fresh corn should find its way onto any menu in the summer, and this salad knows to take advantage of it. Radishes, onions, jalapeños, and more come together to serve as the basis of this fresh vegetable mix that goes back for years. When you want to take your tastebuds on a crisp journey, this one's for you.
Get the recipe from Cookie and Kate.
With afternoon temperatures rising, nothing soothes like a slice of icebox pie. This retro recipe takes the best that lemons have to offer and lets you whip up a classic dessert perfect for an afternoon on the porch or a night in. The only thing easier than cooking this pie is eating it!
Get the recipe from Lil' Luna. 
Putting veggies into pies goes way back, and this zucchini dish epitomizes the best that savory pies have to offer. This buttery, flaky masterpiece taps into the sweet notes of zucchini and pairs them with Parmesan and onions to form the basis of a meal your family will clamor for. Even if pies scare you off, you can make the crust with a store-bought frozen crust to save some time and mental energy.
Get the recipe from The Seasoned Mom.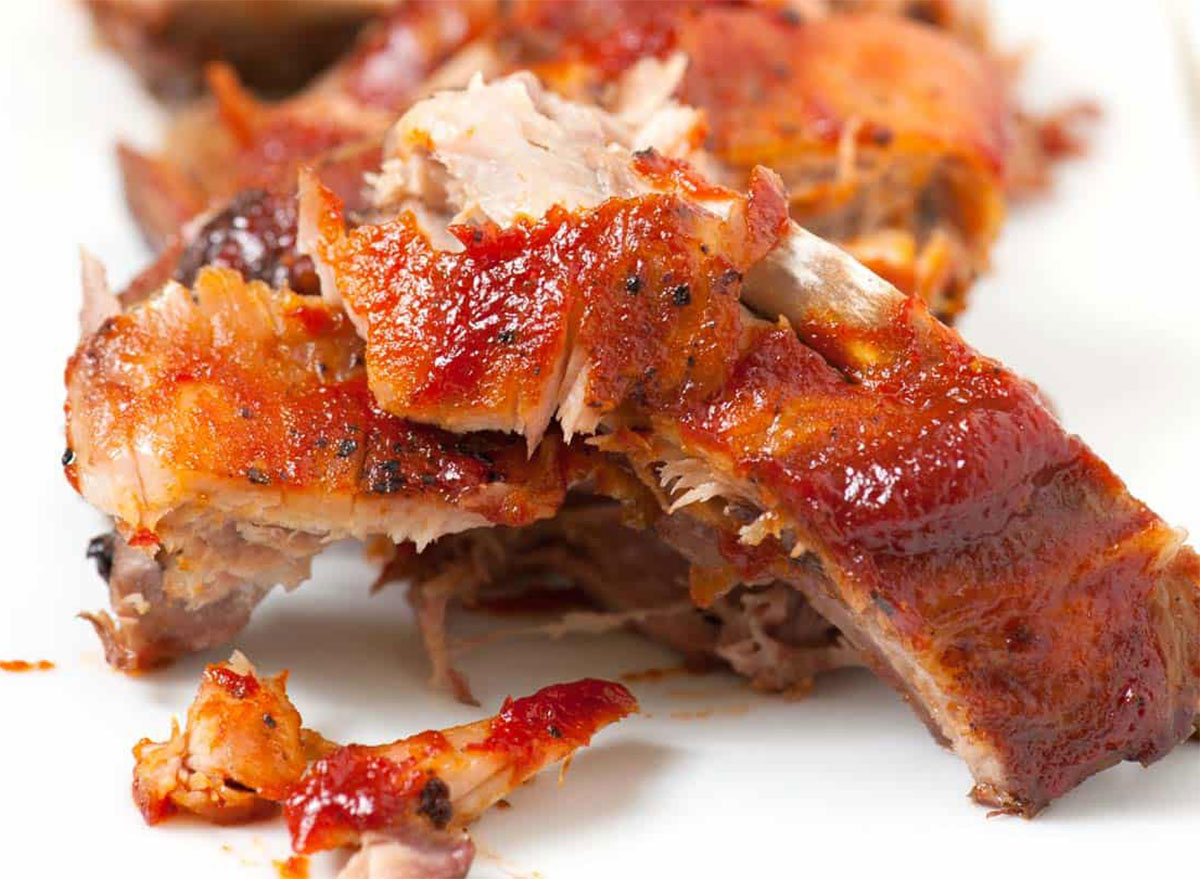 Summer means barbecue season, and nothing compares to the smoky, sweet taste of baby-back ribs. For those of us who don't own outdoor smokers, this take on ribs in the oven will do just fine and has the pedigree to prove it. Try it out and you'll leave the table a believer.
Get the recipe from Inspired Taste.
If you never had a deep-fried pickle dipped in your favorite sauce, you don't know what you're missing. As long as we've had fried food at home, we have served up these fried delectables. When you serve them with fish or meat, the tartness of the pickles cuts through the richness of your main course, leaving you with a side dish that leaves you hooked. You can make your own pickles or use store-bought varieties.
Get the recipe from Lil' Luna.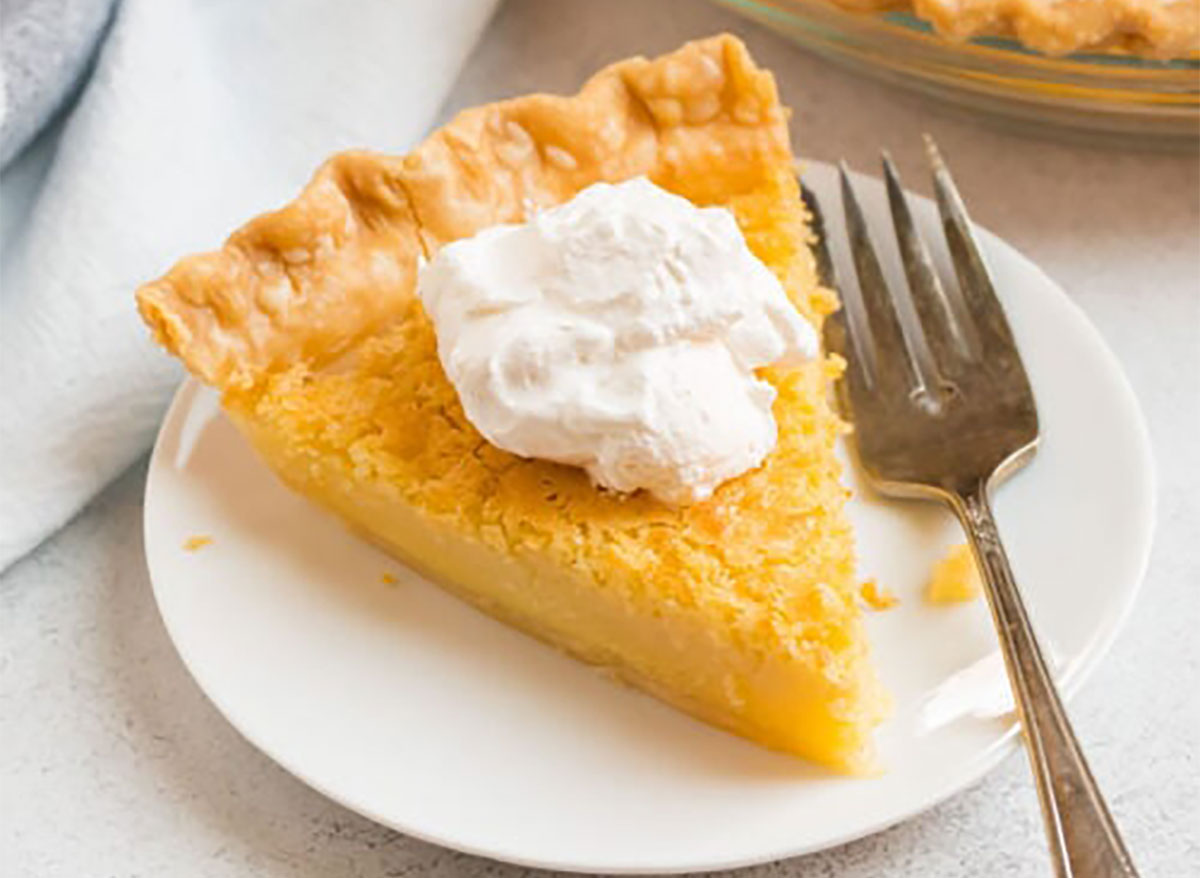 This outrageously easy pie serves as the perfect complement to any dinner, and by using some fresh lemon zest, you take the recipe to a whole new level. You could make variations on this recipe other times this year, but when you have fresh lemons to work with, why wait on this southern classic?
Get the recipe from Well Plated.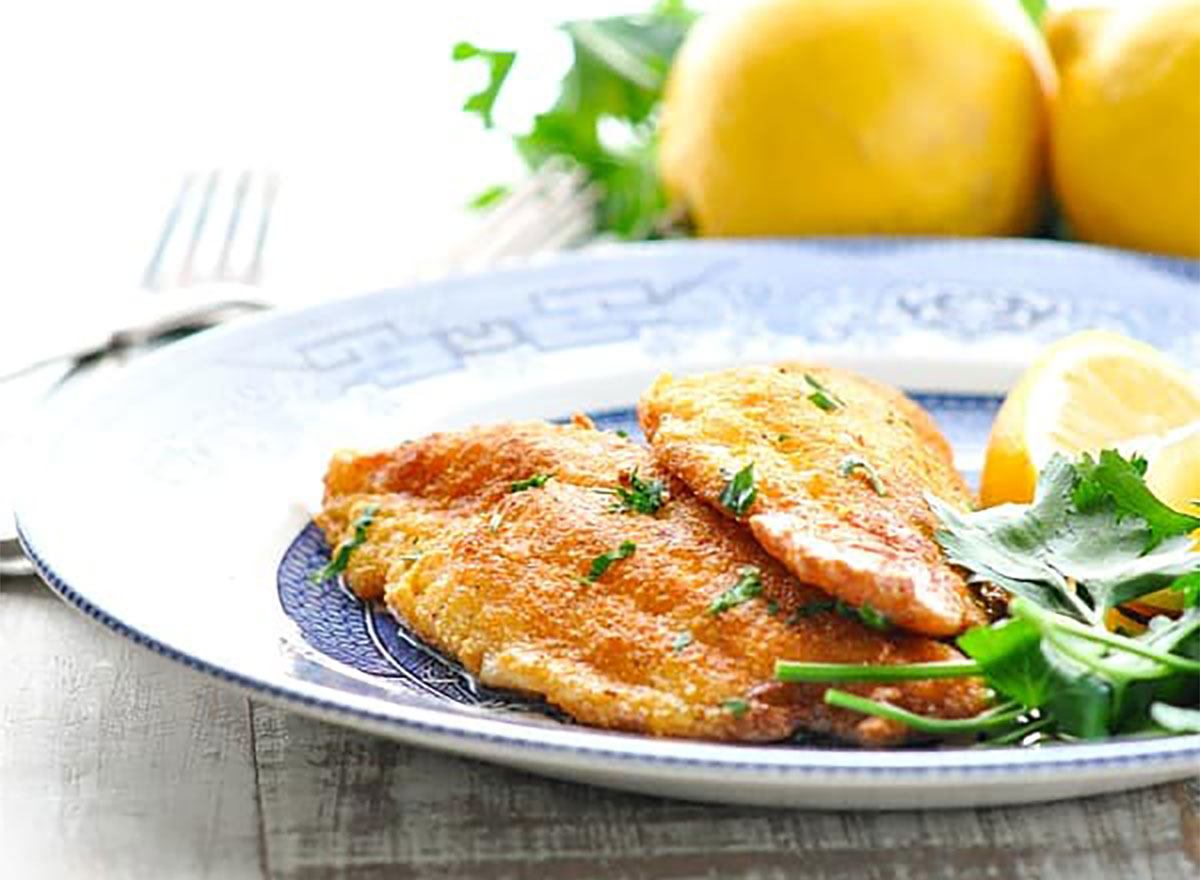 Fish fries and catfish go hand in hand. Honor this long-standing tradition with your very own take on southern fried catfish. This rich and flaky fish spruces up any meal and it's versatile enough where you can serve it as a sandwich or standalone meal. For a good all-around summer fish that won't let you down, you should stop you from trying out this vintage favorite.
Get the recipe from The Seasoned Mom. 
Grape tomatoes come into season during the summer, and there's no better way to take advantage of their tart and juicy flavor then by pairing them with buttery, flaky pastry. These tarts serve as the perfect finger food to snack on over the course of a day. When you want to treat yourself, these easy-to-make vintage staples take you where you want to go.
Get the recipe from Sweet Phi.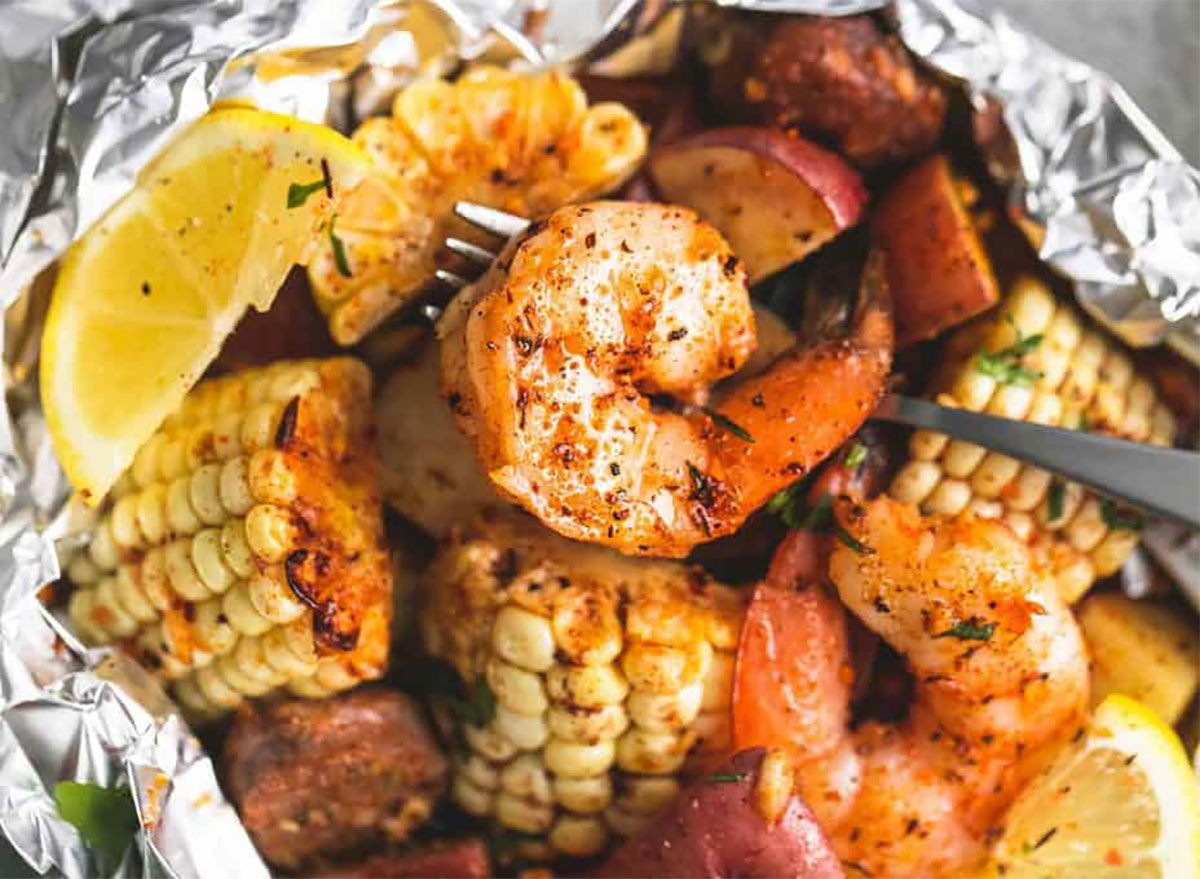 Even if you don't live along the Gulf Coast, you can still get a taste of the summer tradition of a seafood boil. By using shrimp instead of crawfish or crab, you can cut down on costs. And by wrapping all of your goodies in one foil pack, you know each portion contains the perfect balance of veggies to shrimp. When you can get your hands on seafood like this, take full advantage of it with this recipe that has become a classic.
Get the recipe from Le Creme De La Crumb.
Strawberry Lemonade Icebox Pie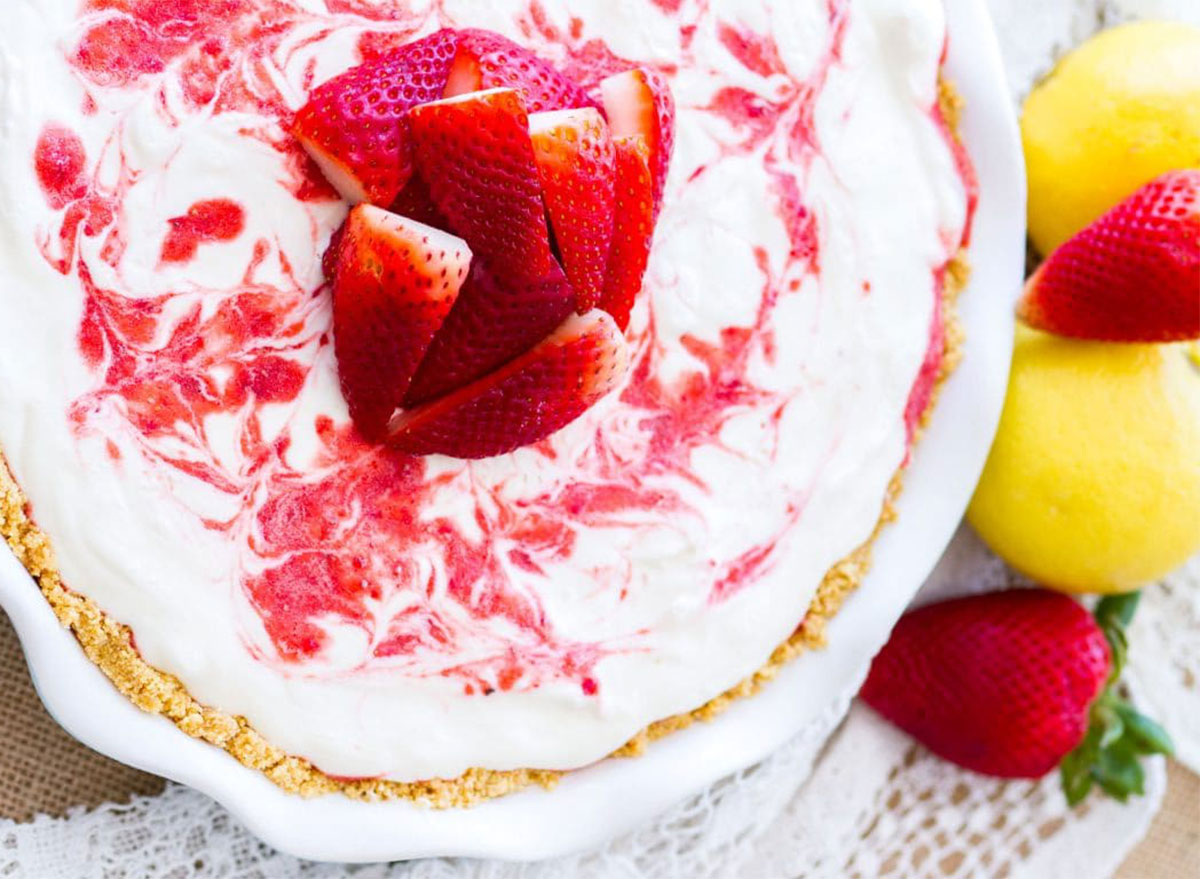 Strawberry lemonade makes any sunny day better, and the same holds true for this icebox pie. This dessert hits just the right level of sweetness and keeps the heat off of you even on the toughest days. With such an easy recipe to follow, even pie novices won't have a hard time getting behind this one.
Get the recipe from Julie's Eats and Treats.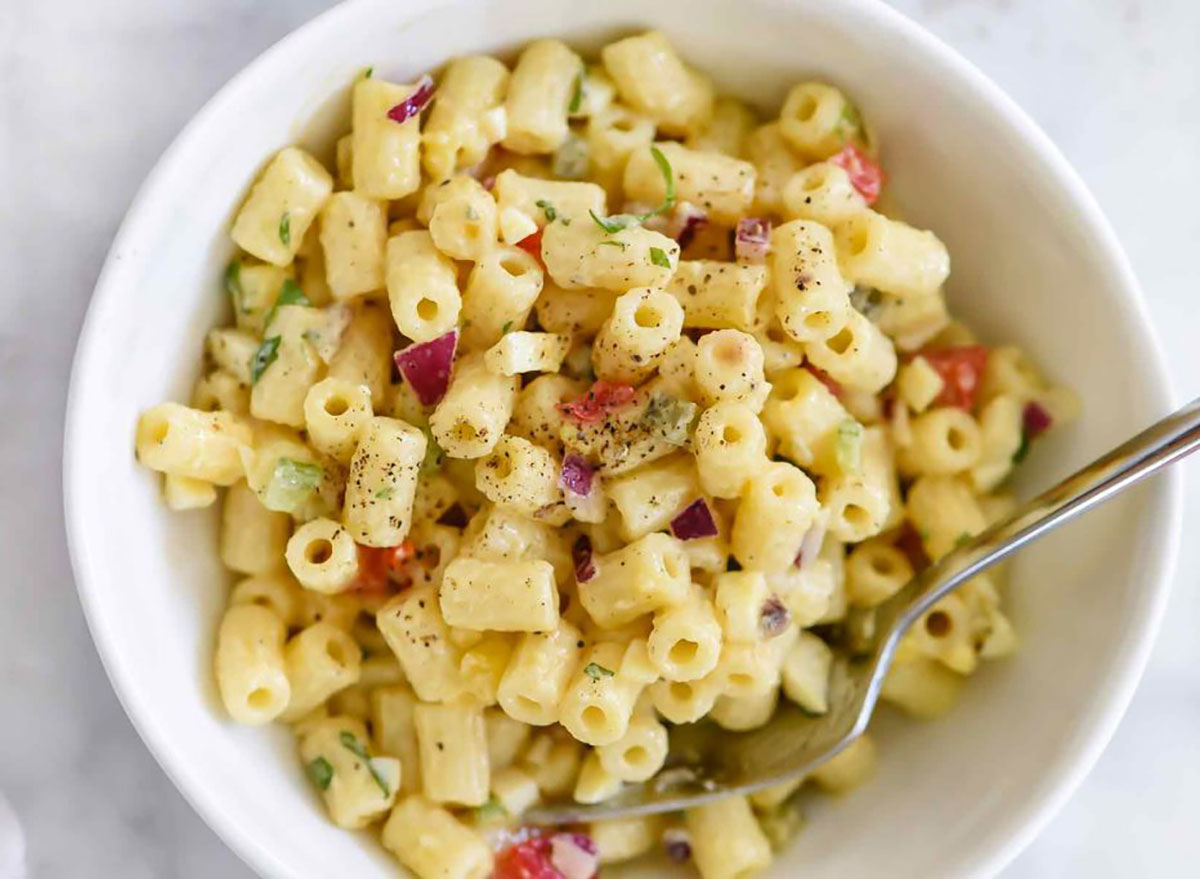 Macaroni salad goes hand-in-hand with summertime. If you have only tasted pre-made versions of this favorite recipe, now's the time to try your hand at an American staple.
Get the recipe from Foodie Crush.
Baked beans can save any meal when you need to find a quick and easy side dish that everyone will love. This classic take infuses the dish with the age-old taste of hickory and pairs against the toughest meats you can throw at it. With a dish so good, it's a crime to eat any other version.
Get the recipe from Minimalist Baker.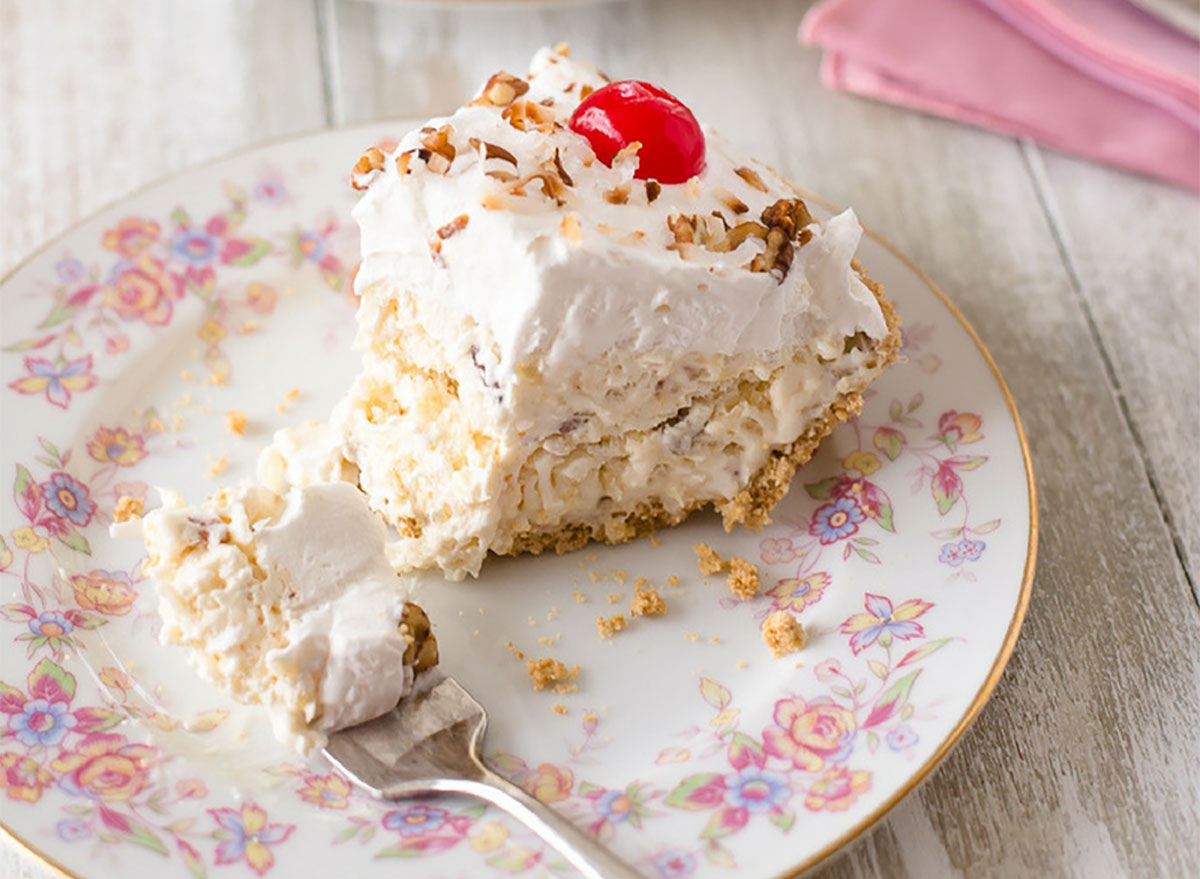 Million-dollar pie has been served up as a dessert for ages for a reason. This light and fluffy pie relies on cherries, pineapple, and tons of whipped cream to make for the fluffiest dessert experience perfect for any summer day. This recipe graced tables through the '50s, and now is the time to revive it and remember what made it a hit in the first place.
Get the recipe from Flour On My Face.
Summertime means grilling season, and this super-easy BBQ chicken can't be beaten when you need to serve your family dinner with flavors your grandparents loved. You could never ask for a juicier bird, and you'll love the minimal cooking and prep time even more than the meal itself.
Get the recipe from Foodie Crush.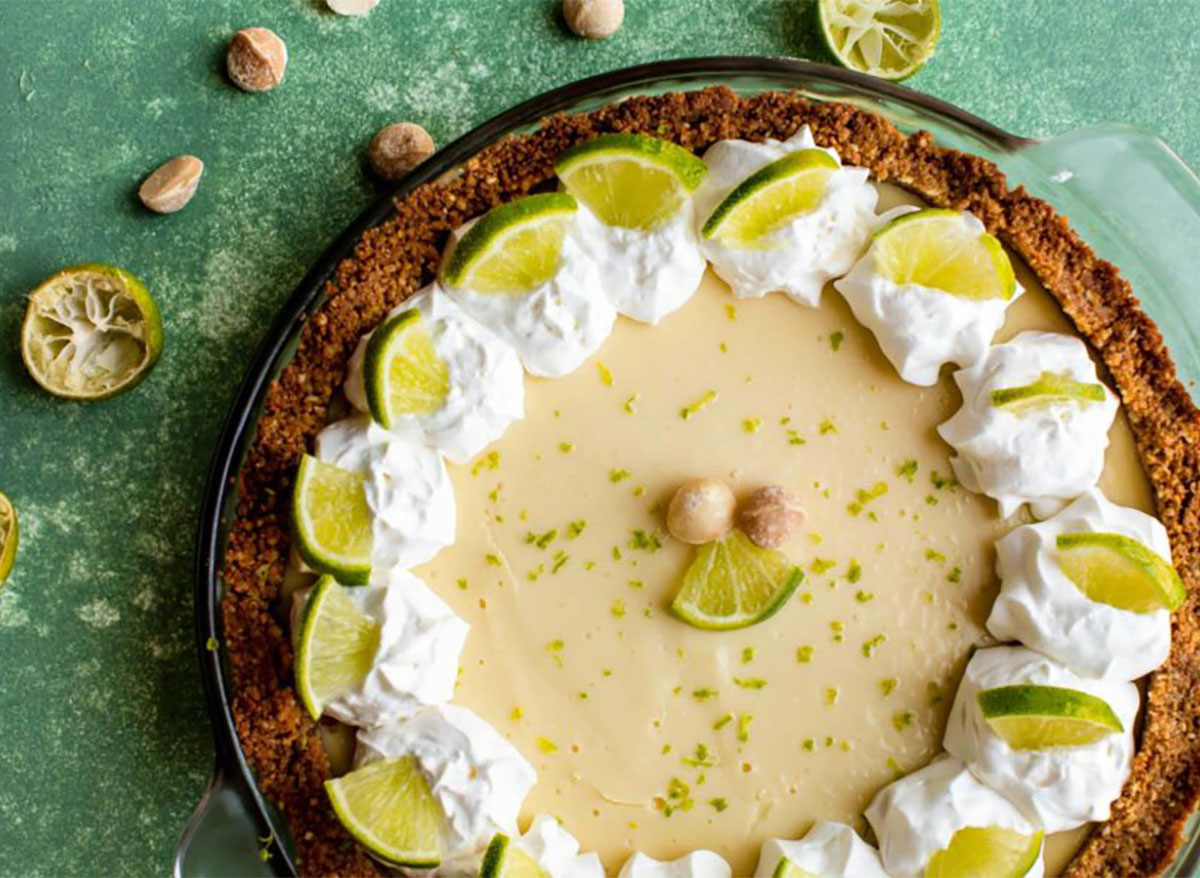 Key limes come into season during the summer, and if you can get your hands on these smaller, more sour limes, nothing compares to a key lime pie. With the extra heat upon us, each slice can help keep you cool on any occasion. You'll be begging for that second (or fourth!) slice.
Get the recipe from Sally's Baking Addiction.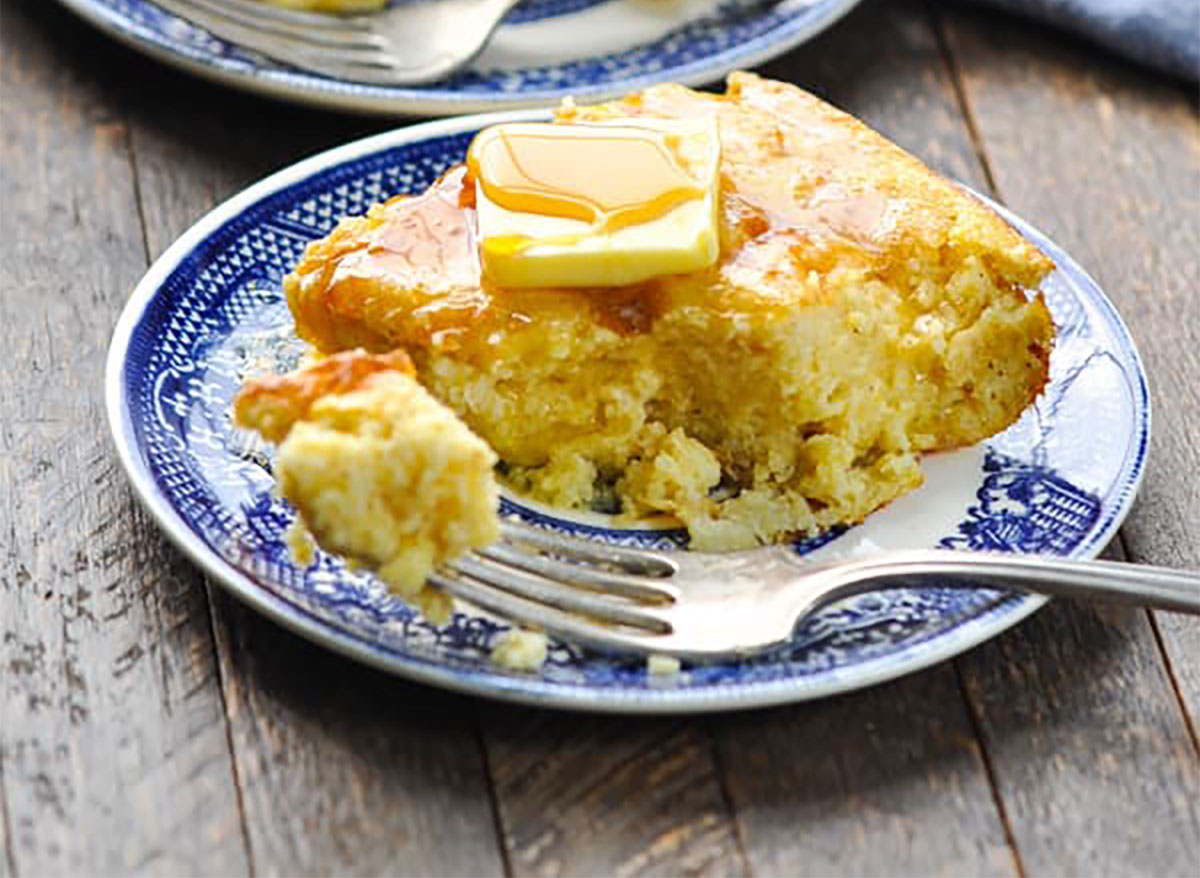 Spoonbread is a variation on cornbread, and with fresh corn in season, now's the time to start experimenting with this recipe. If you never tasted this standard before, get ready to discover the wide variety of main course pairings that spoonbread goes great with. When you need a quick summer side for a family meal, this bread is the ultimate comfort food option.
Get the recipe from The Seasoned Mom.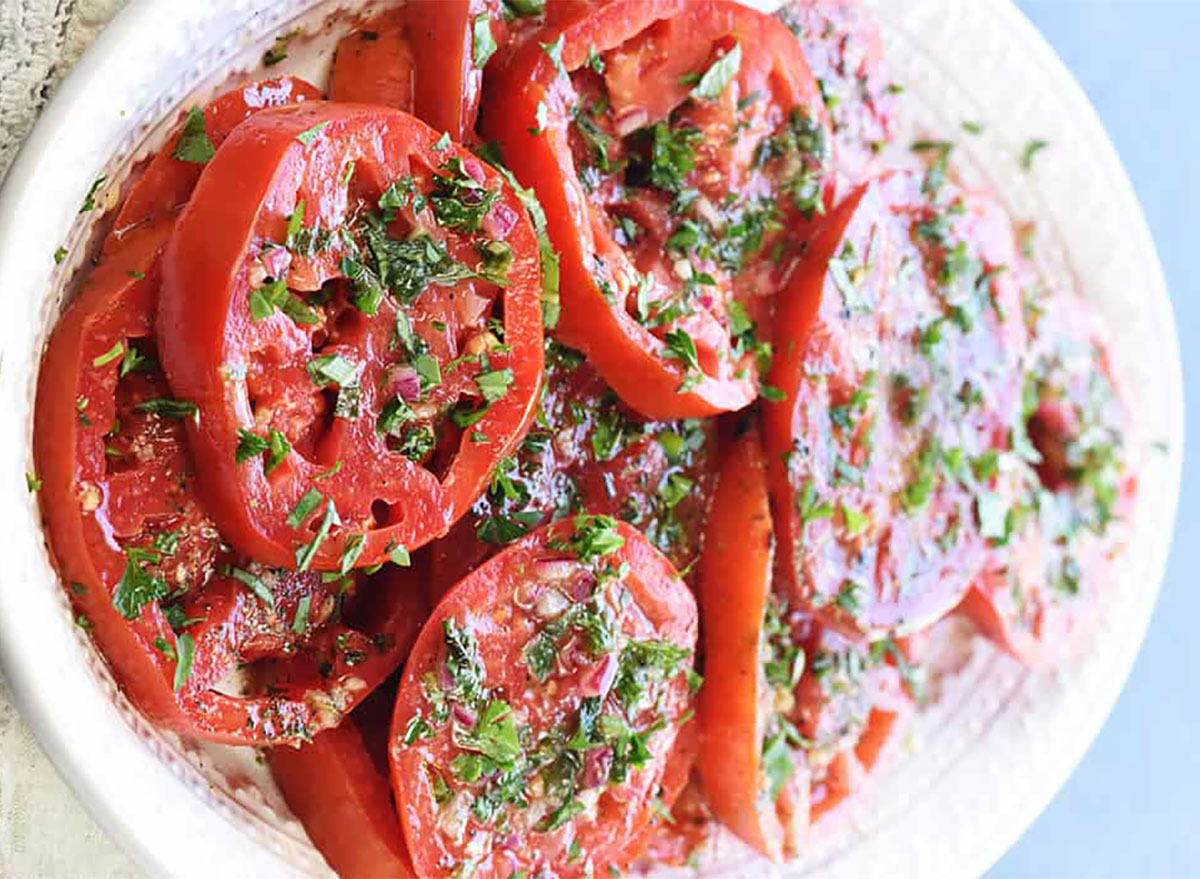 If you love gardening and have extra tomatoes on hand but ran out of recipe ideas, what could be better than marinating them and enjoying them straight off the vine? This century-old recipe has held up for a reason—the rich juicy flavor of fresh tomatoes compares to nothing else. You'll be hitting yourself if you don't get to enjoy their signature taste at least once this coming season.
Get the recipe from Five Heart Home.
When you can get fresh peas and asparagus, you can make a classic flavor pairing that goes back for generations. This asparagus and pea soup strikes the perfect balance between the two and will make you come back for seconds.
Get the recipe from The Minimalist Baker.
Fried okra is a staple in the South for a reason. This crunchy take on the vegetable makes the produce taste just like fried green beans, and with a fun texture, you can get the pickiest eaters to love this seasonal staple. Even if you hate okra, this recipe can win you over in an instant.