The 13 Best Walmart Foods To Buy Right Now, Say Dietitians
You'll want to head straight to Walmart to grab these delicious, dietitian-recommended snacks.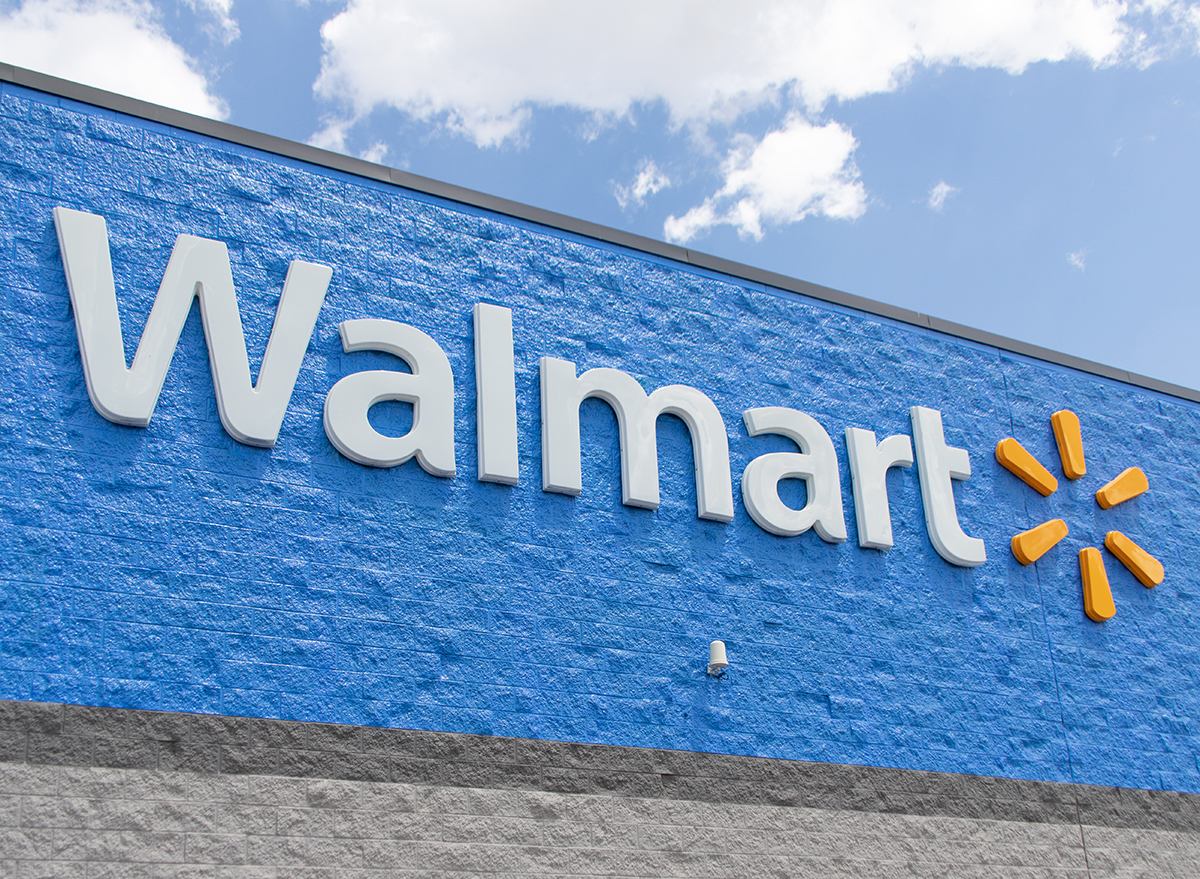 Shopping at Walmart offers huge budget savings, but did you know that they also carry tons of healthy products too? We spoke to registered dietitian experts to recommend exactly which products you should buy at Walmart right now. When we categorized these best Walmart foods, we took a look at the different healthy options on the market. Some of the products are a good source of protein, high in fiber, or maybe offer an easy way to get in fruits and veggies. We were sure to include items that not just you but your whole family would love as well.
Whether your goal is weight loss, better health overall, or something more specific, we think these products will be a good fit for you. Overall, we wanted to bring you a comprehensive list of the best foods you can buy at Walmart today. Whether you are shopping online from their app or in the store, you will love these products.
So, let's find out exactly which products the experts recommend! Then, make sure to check out 15 Trader Joe's Foods To Stock up On, According to Dietitians.
Fresh Cravings Salsa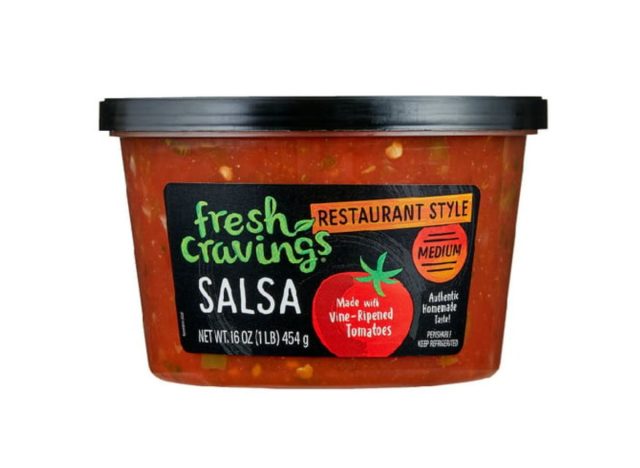 Fresh Cravings has a new line of salsa, hummus, and salad options at Walmart. We recently tried their salsa, and loved how fresh it was for an afternoon snack or pre-dinner appetizer. Paired with some tortilla chips, or drizzled on top of tacos or burrito bowls, you'll find this salsa versatile and delicious in the kitchen.
Ithaca Hummus
Ithaca Lemon Dill Hummus is one of the best products you can buy at Walmart right now, as it is high in fiber and a super filling snack for you and the family. Whether you decide to dip chips, carrot sticks, or celery into your hummus, the lemon flavor pairs perfectly with them all. Best of all, you can buy this delicious hummus in bulk at Walmart—it's only around $70 for a case of six 10 oz. hummus tubs.
Whisps Parmesan Cheese Crisps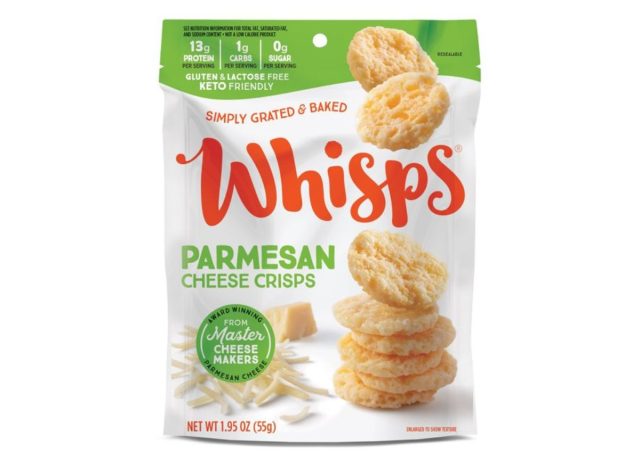 "I love these Whisps Parmesan Cheese Crisps when you are craving a snack. They provide you with the salty crunch of a chip, but are made with 100% real cheese, meaning you get to satisfy your salty craving, but also get a good source of protein and fat to keep you fuller, longer," says Marissa Meshulam, RD, registered dietitian nutritionist and founder of MPM Nutrition.
Kodiak Cake Flapjack Mix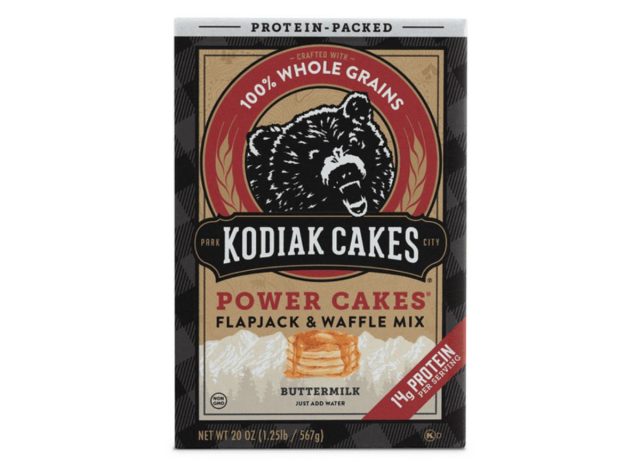 Kodiak Cake is on a roll to create higher-protein, higher-fiber products in an industry that does not always pay attention to those ingredients. Made with a unique blend of grains and fiber, Kodiak Cake's Flapjack Mix is a huge favorite. With the ability to turn it into pancakes, waffles, or even blueberry muffins, we love this brand. With 5 grams of fiber per serving and 14 grams of protein, you will be hard-pressed to find a superior pancake mix on the market.
Great Value No Salt Added Black Beans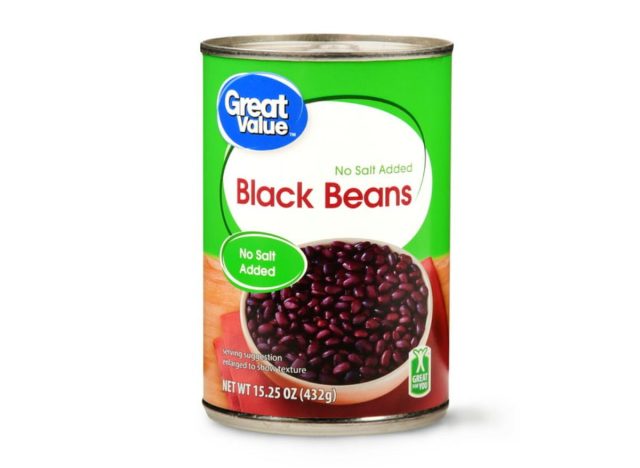 Ashley Petrie, RDN, LDN of Everyday Homemade shares one of her favorite Walmart buys. "Black beans are an inexpensive and convenient pantry staple to stock up on at Walmart. Full of fiber and plant-based protein, adding beans to your meals is a great way to stretch your food budget. Pair them with tacos, burrito bowls, or quesadillas for a hearty, nutritious, and filling dinner," she says.
Delicious Kitchen Thai Brown Jasmine Rice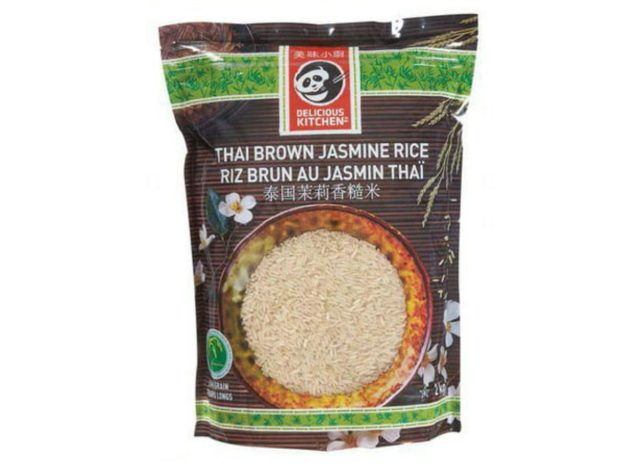 Compared to white rice, brown rice has the same amount of carbohydrates, but more fiber for extra staying power after your meal. Bri Bell, RD of Frugal Minimalist Kitchen agrees. "Delicious Kitchen Thai Brown Rice is a great find at Walmart. It has all the fiber and nutrition of long grain brown rice, but it cooks over 15 minutes faster than regular brown rice. Plus, it has a subtle hint of jasmine that makes everyday meals feel a little special," says Bell.6254a4d1642c605c54bf1cab17d50f1e
Organic Great Value Ground Flaxseeds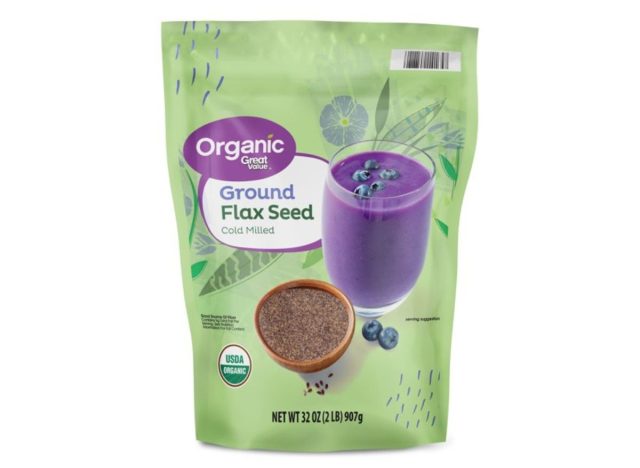 Flaxseeds are a small but mighty nutrition powerhouse that you can add to so many recipes. From oatmeal to smoothies, ground flaxseeds blend well into these dishes. "Ground flaxseeds are extremely versatile and easy to use on a daily basis. I frequently add them to smoothies, oatmeal bowls, yogurt parfaits, baked goods, etc. Not only are they versatile, but they're also very nutrient dense! Ground flaxseeds are a great source of anti-inflammatory omega 3's, and they are also high in both soluble and insoluble fiber, making them a good option in terms of gut health," says registered dietitian and gut health expert, Julie Balsamo, MS, RDN.
Harvest Snaps
This dried vegetable snack offers a great way for the whole family to increase their veggies throughout the day. Dried, lightly salted, and super flavorful — this product is a great snack for kids on the go.
Amy Gorin, MS, RDN, a plant-based dietitian in Stamford, CT and a nutrition partner with Harvest Snaps shares why she loves this product. She says, "I love to pick up a bag of Harvest Snaps Lightly Salted whenever I'm at Walmart. The first ingredient is vegetables, and per 1 ounce (about 22 peas), you get 5 grams of protein and 4 grams of fiber to help keep you fuller for longer. They also contain no added sugar and are low in sodium. Plus, they're great for snacking on their own or paired with dips like hummus or salsa!"
Ezekiel 4:9 Cereal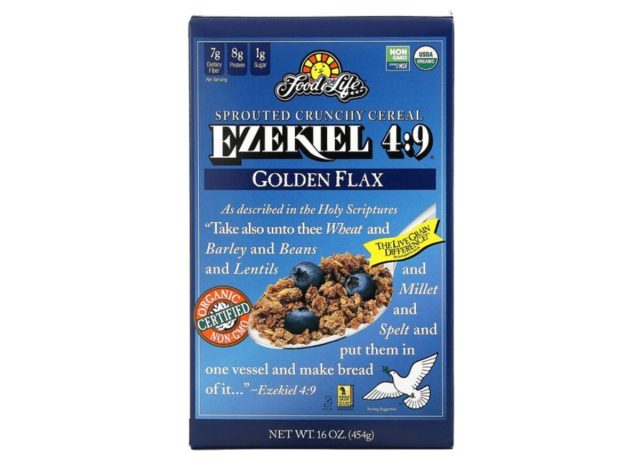 Sheri Berger, RDN, CDCES The Plant Strong Dietitian recommends this sprouted grain cereal product. "Ezekiel 4:9 cereal is another one of my favorites. The Golden Flax cereal contains no added sugar and a high amount of protein and fiber. The minimal to no added sugar content of Ezekiel cereals makes them unique from most other breakfast cereals," Berger shares.
That's It Fruit Bars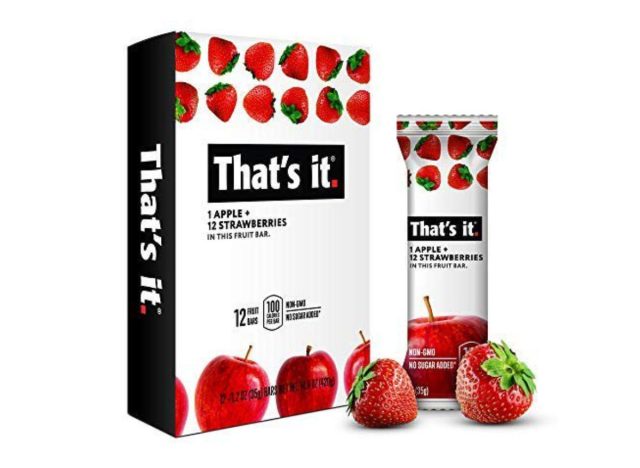 "Unlike many bars that are filled with inflammatory ingredients, these bars are made with just real fruit, which provides a ton of antioxidants that work to keep our cells healthy and fight inflammation. They are a perfect convenience item for days when you haven't made it to the store yet but want to add some fruit to your snack or lunch bag," shares Meshulam.
Applegate Turkey Breakfast Sausage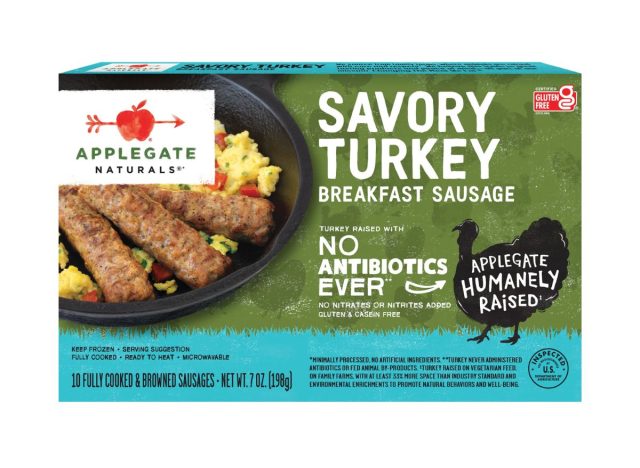 Meshulam adds another of her favorites at Walmart: "I love these as a quick go-to protein addition to a breakfast or snack. They are made with just turkey and some spices, making them a nutritious protein boost."
Turkey breakfast sausage is a great way to start your day with protein and boost your energy levels. With significantly less fat than traditional breakfast meats, this is a protein option you can feel good about eating.
Dole Strawberries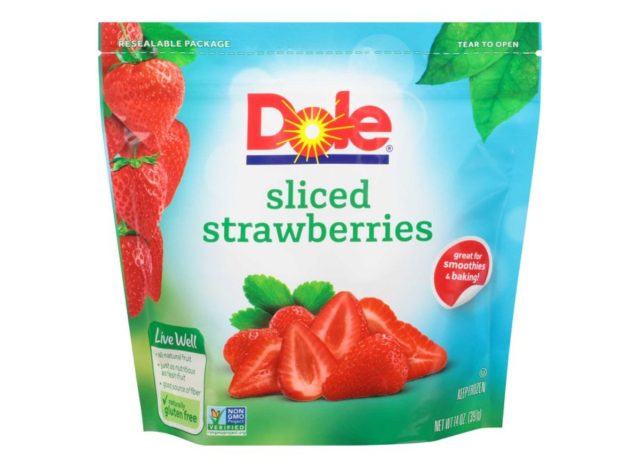 Melanie Marcus MA, RD a Nutrition and Health Communications Manager for Dole Food Company shares her love of Dole produce at Walmart. She says, "I never leave Walmart without a box or two of Dole strawberries. They are reasonably priced and the quality is excellent because they have such a busy produce department. Nothing sits for long, so I don't have to worry about them turning fuzzy within a day or two of purchase! Nutritionally, they're loaded with vitamin c, manganese and fiber, nutrients that support immunity, brain and gut health respectively. They are also a source of powerful bioactive compounds which offer protection from memory loss, certain cancers, and cardiovascular disease."
Or, if you prefer buying frozen fruit that won't go bad for a while, Walmart also sells frozen Dole strawberries, as well as other frozen Dole fruit.
Green Giant Frozen Veggies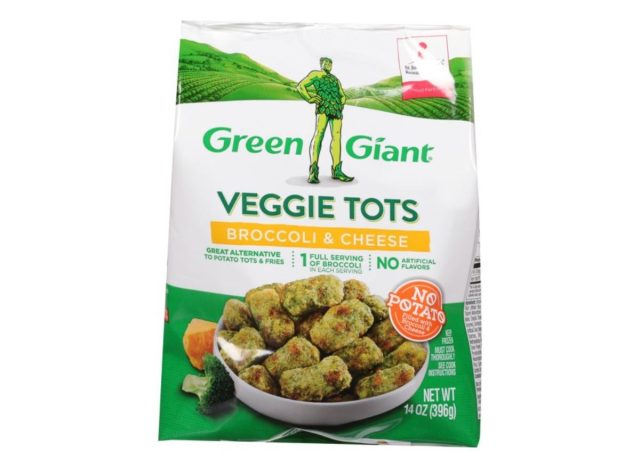 Dani Lebovitz, MS, RDN, a kids' food and body positivity expert based in Franklin, TN, and author of Where Does Broccoli Come From? shares her favorites from the freezer section at Walmart: "As a pediatric dietitian specializing in helping families explore new foods, I'm obsessed with Walmart's massive frozen Green Giant veggie selection because it's stocked with kid-approved options like Green Giant Veggie Fries Zucchini Garlic & Parmesan, Green Giant Veggie Tots Broccoli & Cheese, and Green Giant Restaurant Style Honey Glazed Carrots with Sage Butter. Each of these veggie-loaded side dishes offers a quick, easy, and delicious way to get nutritious vegetables on a plate (and enjoyed) while also providing protein, fiber, and the same vitamins and minerals you'd expect from eating fresh produce."
Caroline Thomason, RDN
Caroline is a women's health Registered Dietitian and diabetes educator based in Northern Virginia.
Read more about Caroline