21 Trader Joe's Products That Are Dietitian-Approved
See what health experts are putting in their shopping carts at Trader Joe's.
For many, Trader Joe's is the grocery store of choice, with its affordable healthy options that spotlight ingredients from all over the globe. While you probably already have your favorite Trader Joe's products on lockdown, we wanted to ask a few of our trusted registered dietitians what their go-to picks are to see how we could maximize the nutrition of our grocery hauls.
Here are 21 Trader Joe's products that six dietitians love.
Trader Joe's Green Goddess Dressing
How many times have you perused the salad dressing aisle only to find that nearly every single salad dressing was chock-full of unwarranted sugar? Sydney Greene MS, RDN, has seen her fair share of sugar-laden salad dressings, which is exactly why she appreciates Trader Joe's Green Goddess Dressing.
"Why I love it? [There's] no added sugar! So many dressings contain sneaky sources of sugar, and some may have as much as 1 packet's worth of sugar (4 grams) in 1 tablespoon, [and] this dressing has none," exclaims Greene. "Also, instead of pro-inflammatory oils like canola or soybean, the base of this dressing is olive oil."
Trader Joe's Gone Bananas
"These dark chocolate frozen banana bites make [for] a great midday or evening treat you can feel good about! The dark chocolate shell over the frozen sliced banana tastes like ice cream, but makes for the simplest, wholesome ingredient dessert," says Taylor Johnson, RDN, LDN, Founder and CEO of Roots Reboot. "I love that you get a combination of fiber and naturally-occurring sugar from the banana and little antioxidants from the dark chocolate that's also portioned into bite-size pieces, helping you stay mindful. I always recommend this one for clients!"
Trader Joe's Crunchy Unsalted Peanut Butter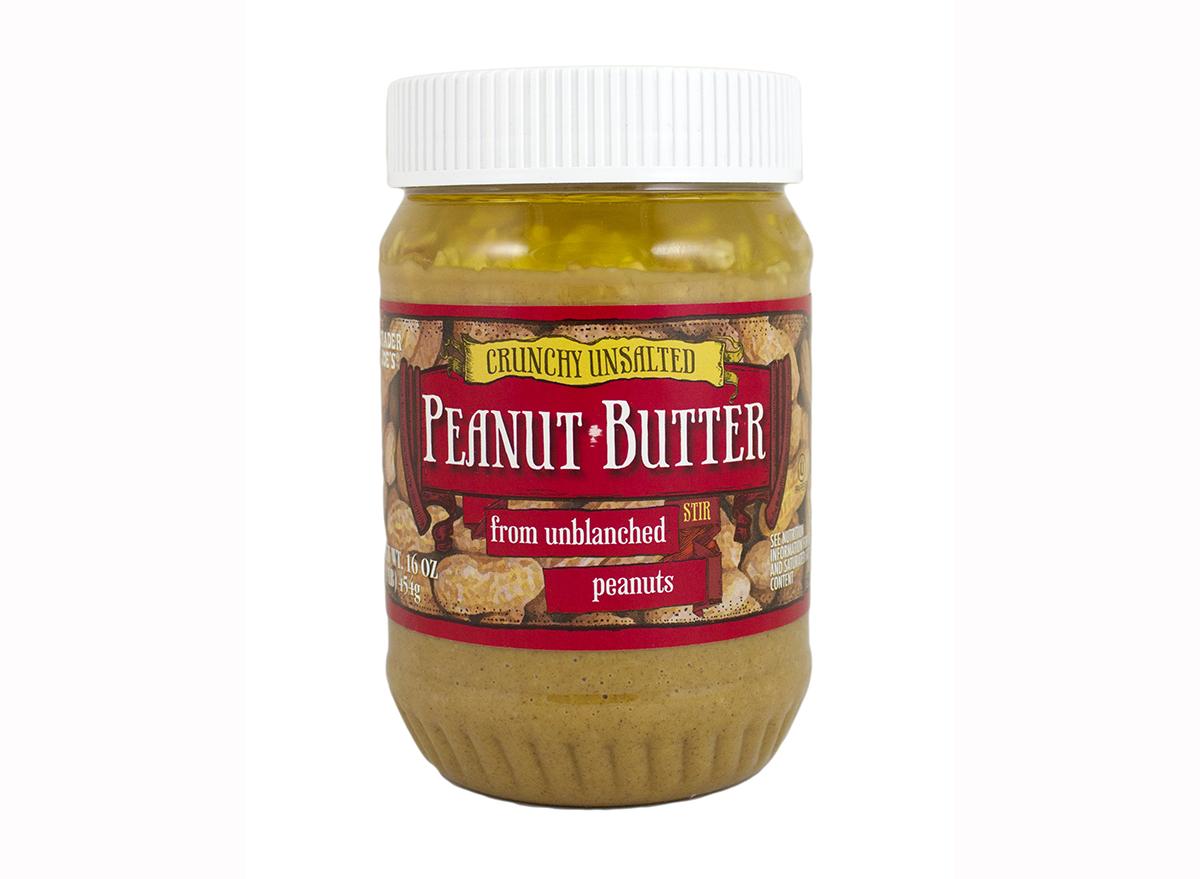 Unlike many conventional peanut butter brands on the market, Trader Joe's natural peanut butter only contains one ingredient.
"Take a look at the ingredient list; it's simple, dry roasted peanuts. That's it—no added sugar, salt, or partially hydrogenated oils," says Sakiko Minagawa, MS, RDN.
Partially hydrogenated oils are created by pumping hydrogen atoms into normal oil, which then turns into trans fat. Minagawa says manufacturers chemically alter oil to give products, such as peanut butter, a longer shelf life.
"According to the American Heart Association, trans fat increases LDL, the type of cholesterol that makes your arteries hard and narrow, and lowers HDL, the good cholesterol that picks up cholesterol from your body and takes it to the liver to be removed from the body," she adds.
Trader Joe's Riced Cauliflower Stir Fry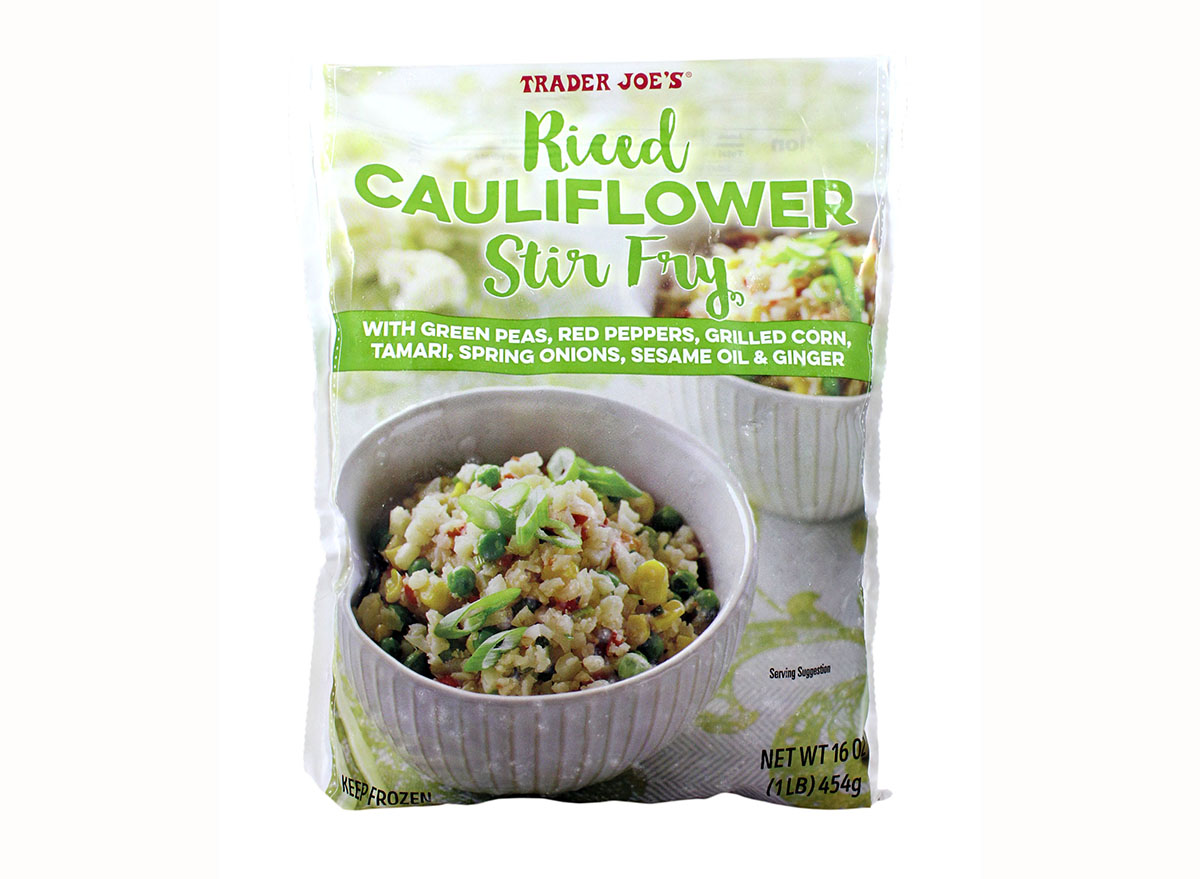 "My absolute favorite Trader Joe's product is their riced cauliflower stir fry," Chelsea LeBlanc, RDN, LDN, says. "Not only is it delicious, but it's full of veggies like green peas, red peppers, corn, and sweet onions. You can even eat half the bag for less than 20 grams of carbs. I keep my freezer stocked with these to take out when I'm pressed for time."
To incorporate this stir fry into a complete meal, LeBlanc recommends adding a protein such as chicken, shrimp, or edamame to the top of the riced cauliflower and drizzle with sriracha.
Trader Joe's Everything but the Bagel Sesame Seasoning Blend
Trader Joe's trademark Everything but the Bagel Sesame Seasoning Blend is arguably one of the company's most well-known products among foodies and dietitians alike.
"Sprinkle the Everything but the Bagel Sesame Seasoning Blend from Trader Joe's—which contains white and black sesame seeds, dried garlic and onion, poppy seeds, and sea salt—to add more flavor and, at the same time, increase the nutritional content of your meal," says Minagawa. "Sesame seeds are an excellent source of copper, an essential trace element for proper body function. It also functions as an antioxidant, decreasing the production of free radicals, [which] damage cells."
The dietitian likes to sprinkle this seasoning blend on top of avocado toast, eggs, and grilled chicken, but the options are endless!
Trader Joe's Pre-Cooked Lentils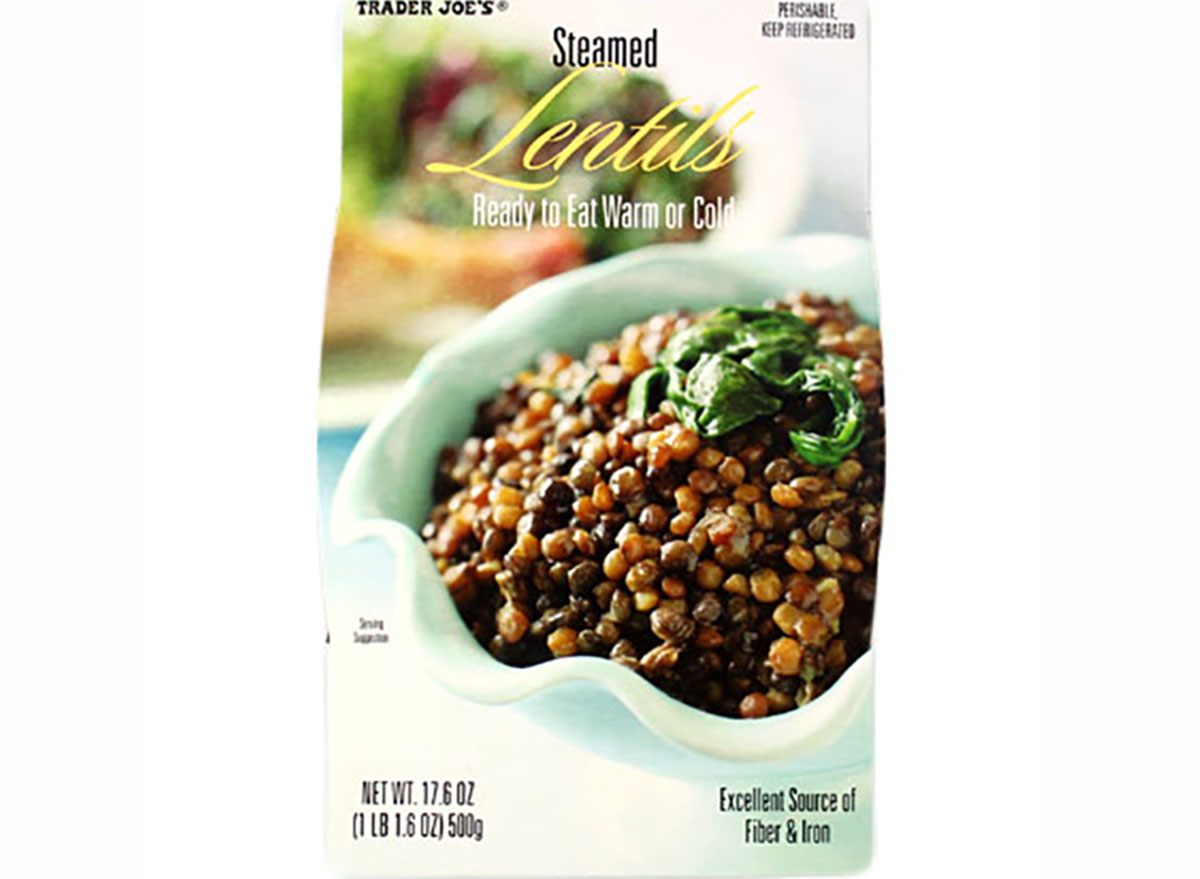 6254a4d1642c605c54bf1cab17d50f1e
"I can honestly say, I use these lentils almost every day! They are super versatile, and an easy, convenient way to add a great source of plant-based protein (18 grams of protein per cup to be exact), cholesterol-lowering fiber, and iron (6.5 milligrams) into your diet," says Johnson. "They also have a wonderful smoky flavor, making a great plant-based alternative for ground beef or turkey in recipes."
She loves adding Trader Joe's lentils into salads, grain bowls, wraps, soups, and even on top of avocado toast.
Trader Joe's Frozen Turkey Burgers
"The frozen turkey burgers are a great staple to have on hand for a busy weeknight, [because] they are quick to prepare and are a great source of lean protein," says Lauren Hoover, RD, MS at SHIFT in Chicago. "I like to eat them the traditional way on a bun, but you can alternatively add them to salads, grain bowls, or put them up in a lettuce wrap."
Trader Joe's Corn, Pea, Bean & Quinoa Crisps
"I always look for a good source of fiber and protein in a chip to balance out the carbohydrates in the chip, helping to mediate blood sugar spikes, have more steady-state energy, and keep you feeling fuller, longer," says Johnson.
She says that per 1-ounce serving, these whole-grain crisps pack three grams of fiber and three grams of protein. For comparison, a 1-ounce serving of Lay's potato chips contains one gram of fiber and two grams of protein.
"The ingredients in these crisps are also whole food sources such as yellow corn, split peas, black beans, quinoa, and seasonings; not to mention the flavor and crunch is perfect," she adds.
Trader Joe's Everything But the Bagel Seasoned Smoked Salmon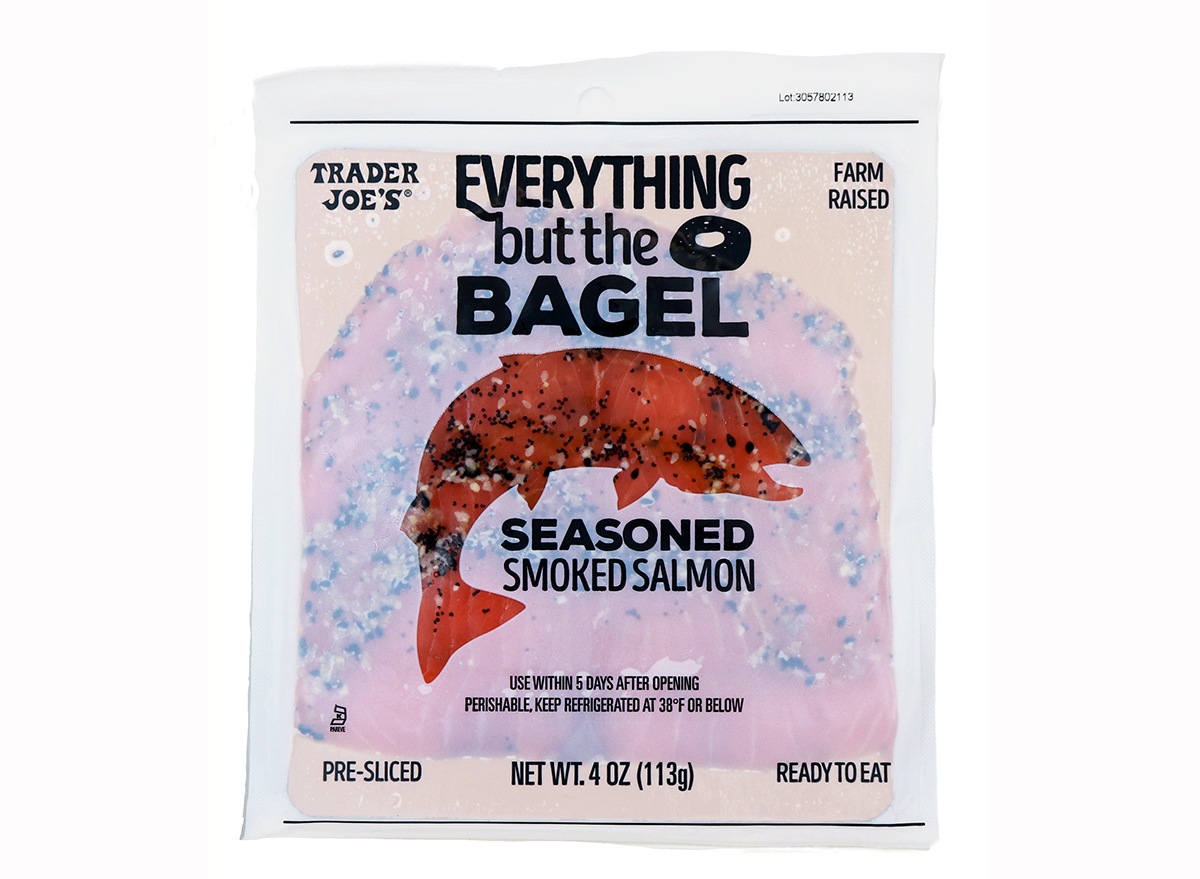 "Everything But the Bagel Seasoned Smoked Salmon is a top pick for taste and nutrition. Getting enough omega-3s is hard enough with people not eating enough fish, or the right kind of fish," says Patricia Bannan, MS, RDN, and a nationally recognized nutritionist and healthy cooking expert. "Research shows EPA and DHA omega-3s, in fatty fish like salmon, are the most important types of omega-3s for overall wellness, including heart, brain, and eye health. Thankfully TJ's has taken their cult-favorite seasoning blend and added it to salmon, meaning you can boost your omega-3s at breakfast with a smoked salmon and cream cheese bagel, or at lunch tucked away in a sandwich. The possibilities are endless."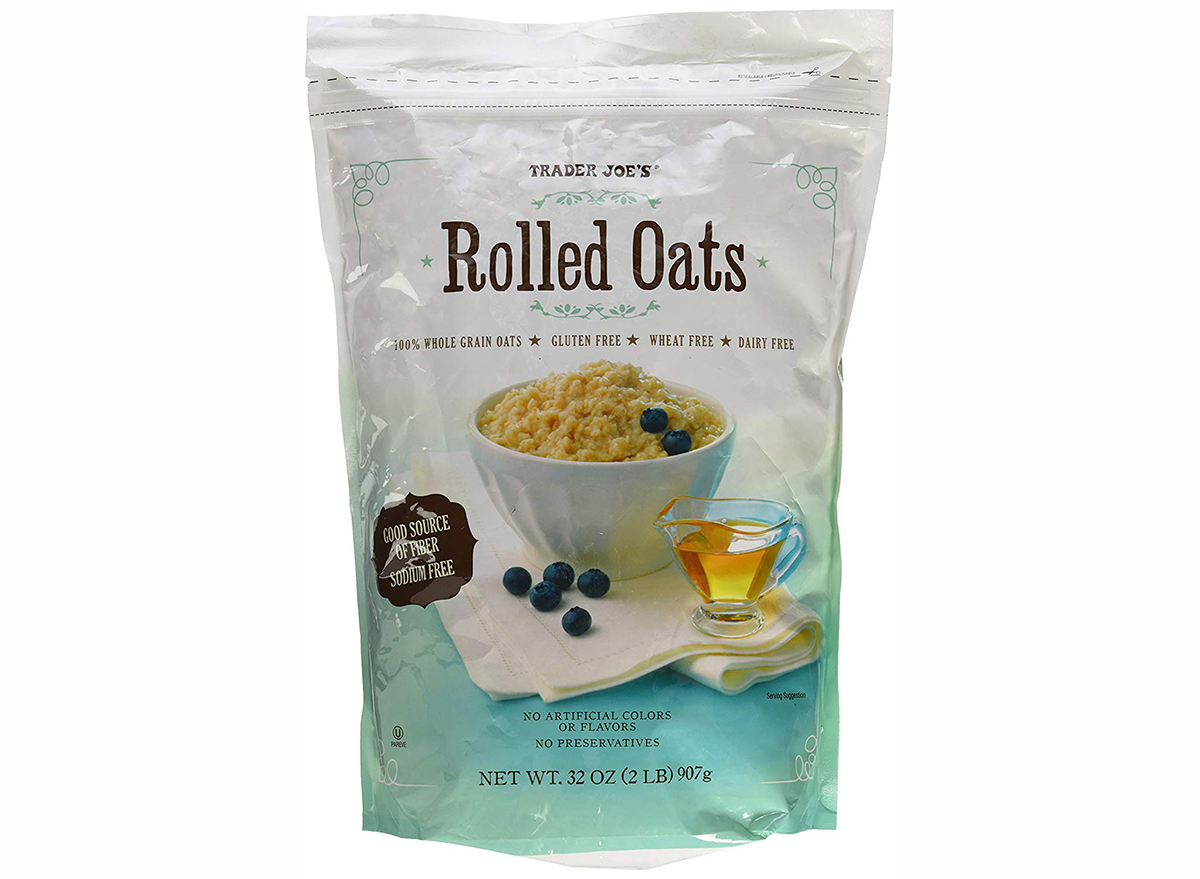 "Although oats are considered gluten-free, it is frequently contaminated with gluten because it is processed in the same facilities as wheat, barley, or rye. However, Trader Joe's rolled oats are gluten-free," says Minagawa. "They are grown in a dedicated oat field and processed and packaged in a gluten-free facility."
Whether you use them to whip up a hearty bowl of oatmeal, mold them into cookies, or grind them up and make oat flour, Minagawa says this is a staple item at Trader Joe's.
Trader Joe's Crushed Garlic Cubes (Frozen)
"When you don't want to mess around with peeling, mincing, or chopping garlic (because who does), these are my go-to [for] making healthy meals easier," says Johnson. "They make for a quick and easy way to add more garlic into a dish. Just pop a single-serving garlic cube out and add it into a stir-fry, soup, or pasta dish. Also, because it's frozen, it will last and store longer than fresh [crushed garlic]."
Trader Joe's Cauliflower Gnocchi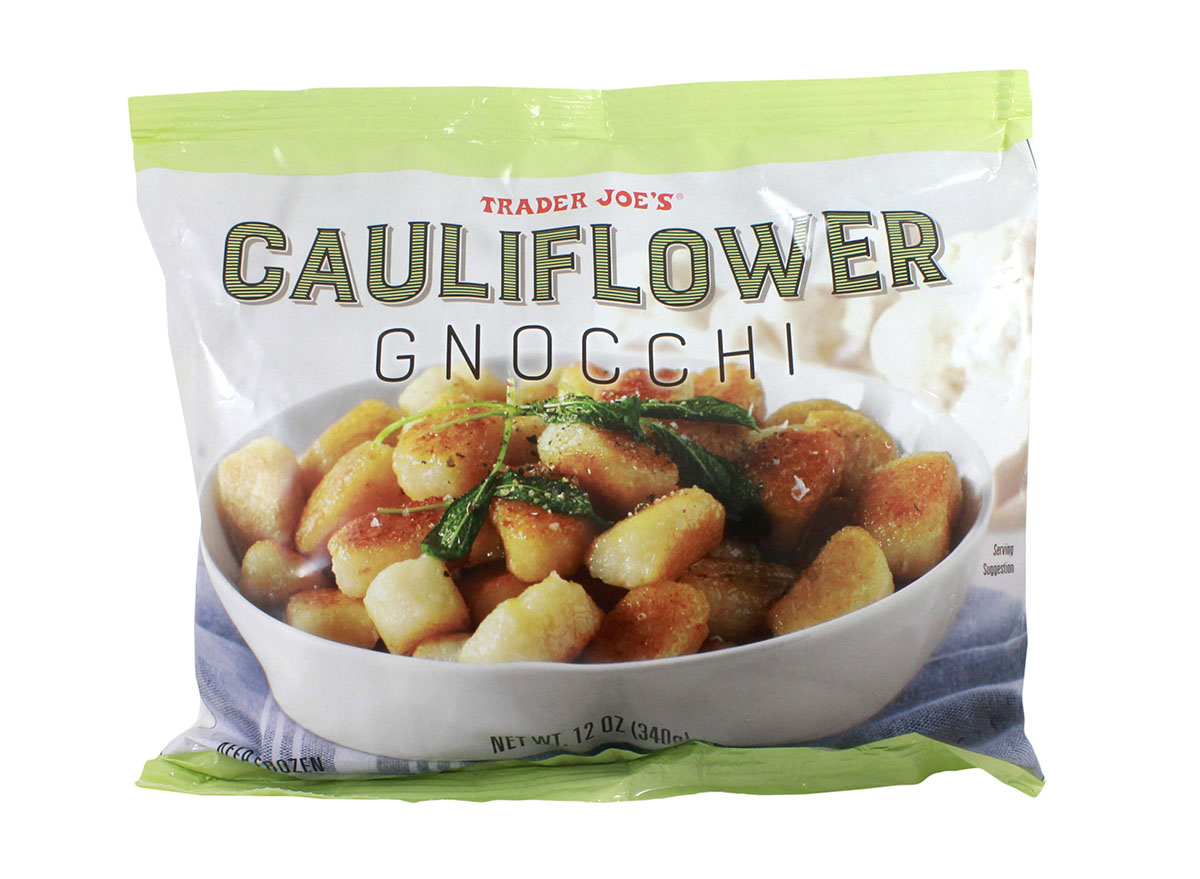 "No TJ's list is complete without mentioning cauliflower gnocchi. This is a favorite for so many reasons: it's versatile, it's a great freezer staple, and while it's not low-carb per se by the standards of people following a keto diet, it's lower in carbs than most traditional gnocchi products, and these go great with marinara, olive oil, and garlic-based sauces, pesto, cream sauces, you name it," says Maryann Walsh, MFN, RD, CDE.
Trader Joe's Pre-Cooked Quinoa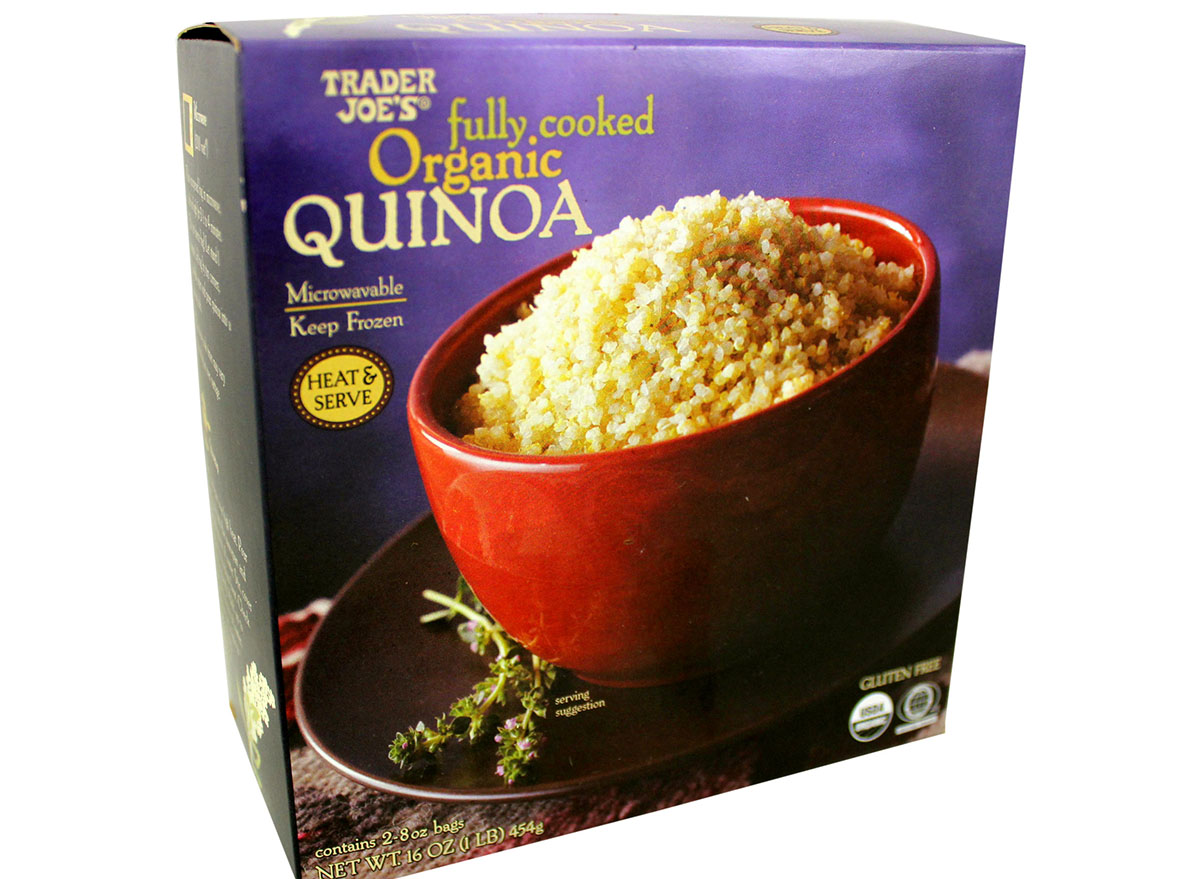 "I love the frozen quinoa because it makes adding a complex carb to a meal super easy. Whether you are adding a scoop to your lunch salad or pairing with a protein and vegetable at dinner, having the option to microwave the grains drastically cuts down preparation time," says Hoover. "I love having these on hand for when I'm in a pinch or short on time."
Trader Joe's Organic Red Lentil Sedanini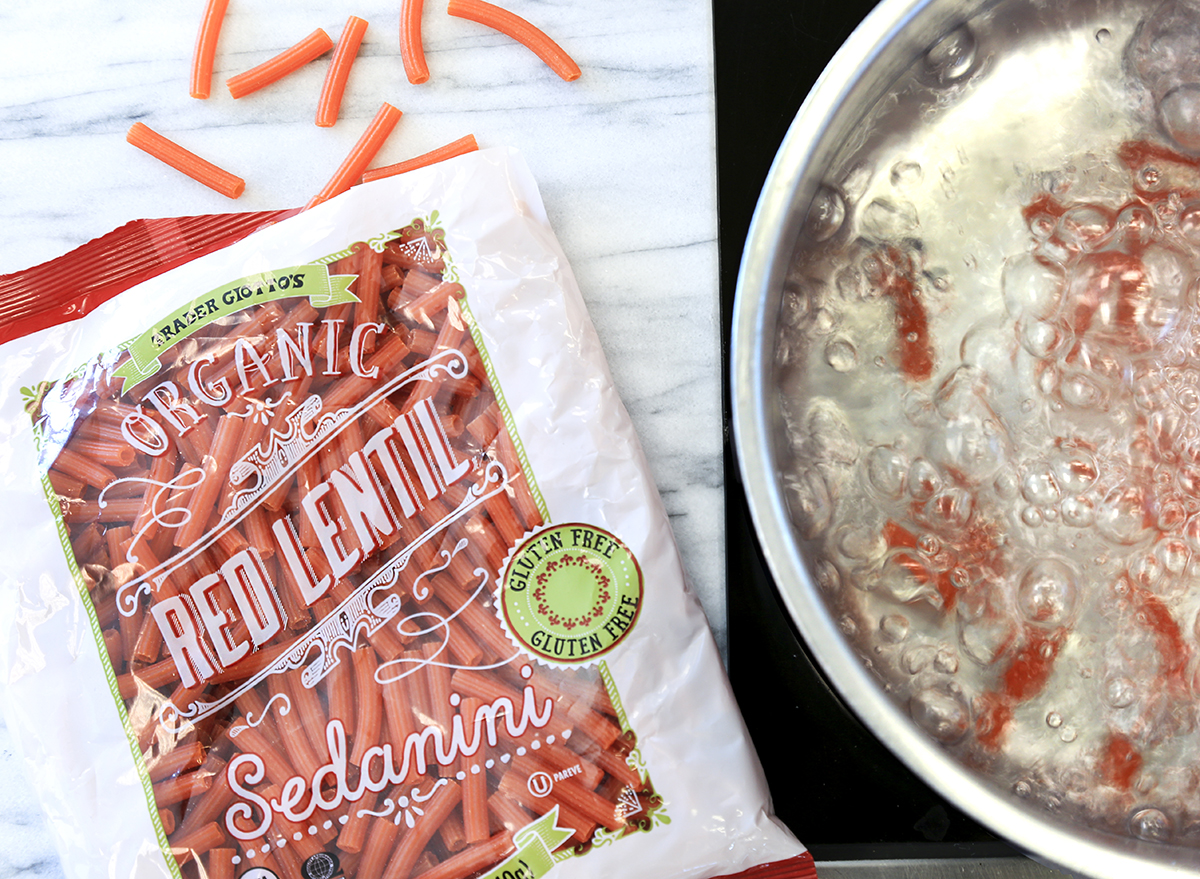 "Unlike whole wheat pasta, pasta made out of legumes like lentils is packed with plant-based protein," says Greene. "One serving of this pasta contains 13 grams of protein. Also, this pasta only has one ingredient, is organic, and is less expensive than many of the other lentil pastas out there."
Trader Joe's Spinach & Kale Greek Yogurt Dip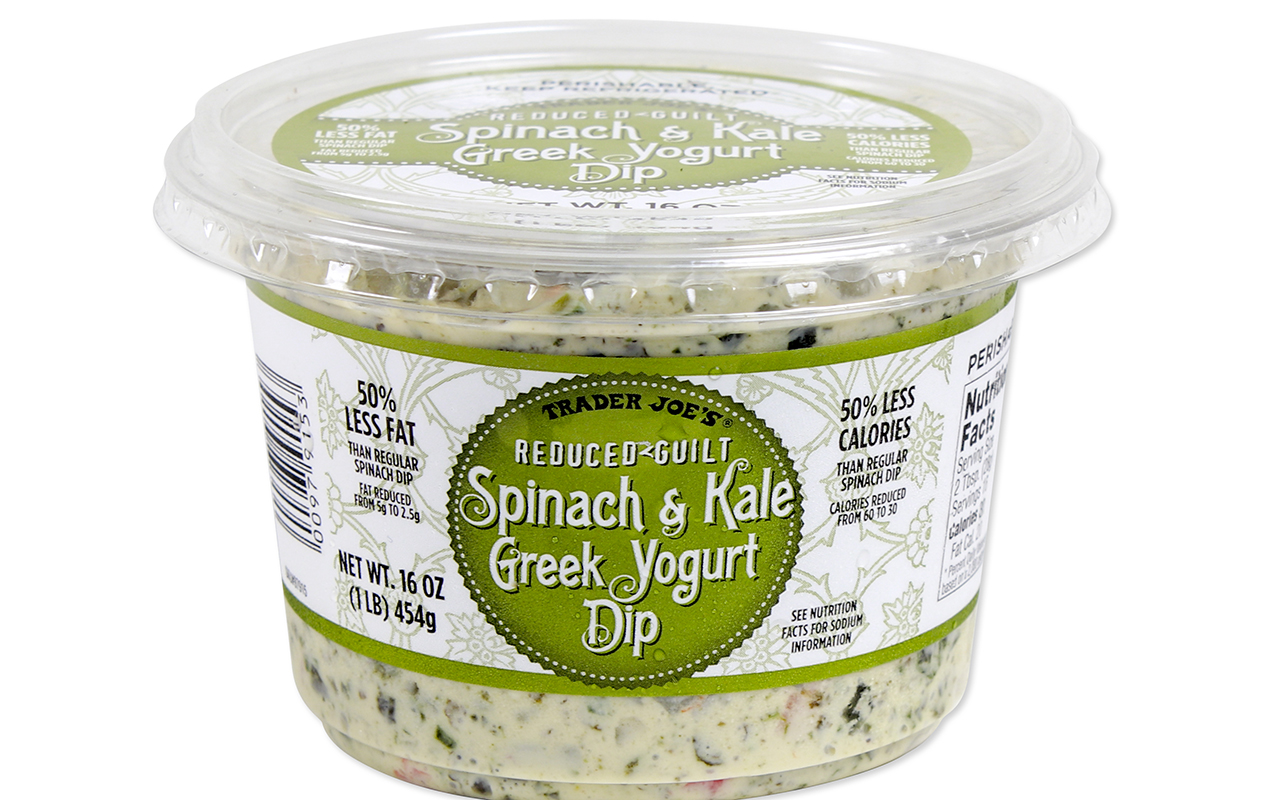 "The Spinach & Kale Greek Yogurt Dip is a delicious alternative to a higher calorie dip. Two tablespoons of this dip are just 30 calories, as compared to twice the amount in a sour-cream based dip," says Bannan. "Boost your nutrition further by using it as a dip with veggie sticks, as a condiment in a wrap instead of mayo, or on a bagel instead of cream cheese."
Trader Joe's Unsweetened Organic Açaí Puree Packets (Frozen)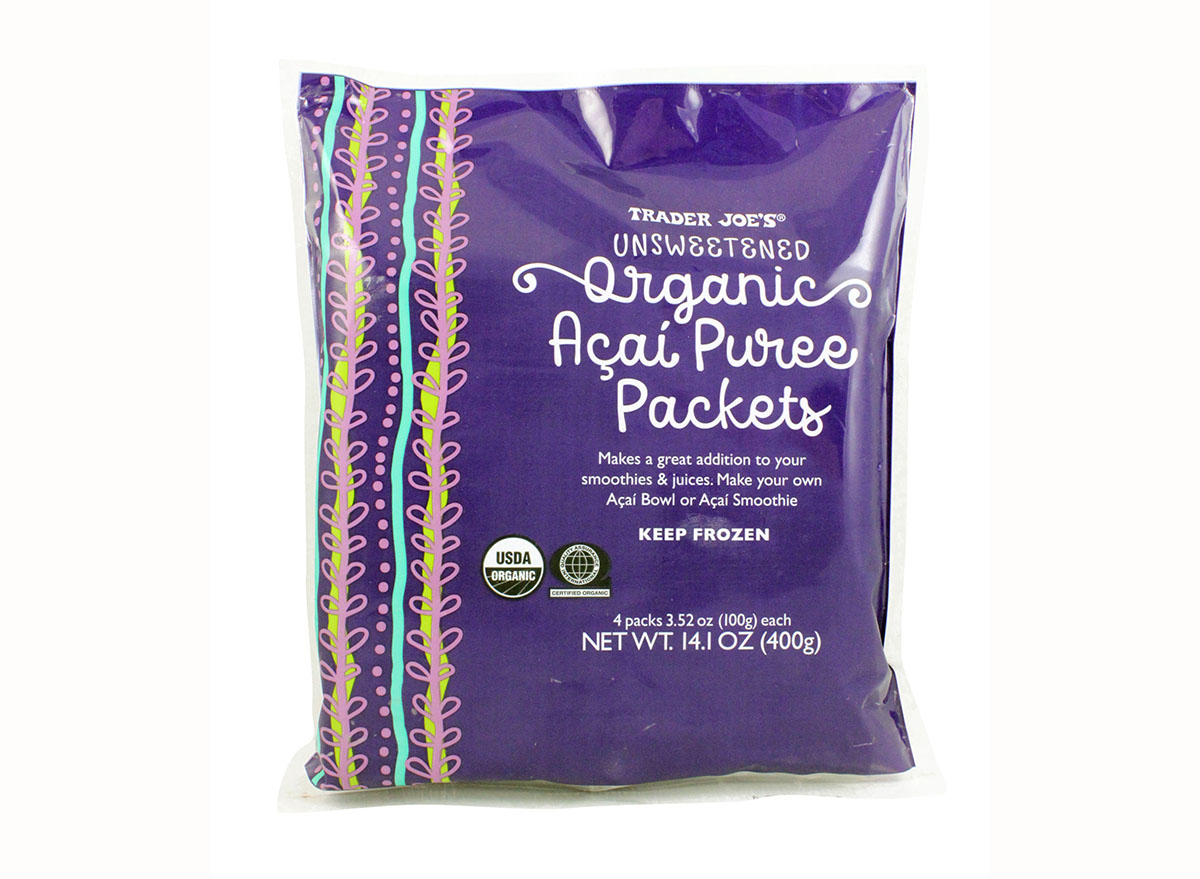 "I love TJ's açaí packets because they are single-serving packets; easy to add into a morning smoothie; organic; and nutrient-dense with a boost of fiber, antioxidants, and flavor," says Johnson.
Trader Joe's 21 Seasoning Salute
"I love this salt-free seasoning blend from TJ's because it's packed with flavor from seasonings such as black pepper, orange peel, cumin, and garlic, which all come together harmoniously in this awesome blend that is great on chicken, potatoes, veggies, you name it," says Walsh. "The fact that it's salt-free means you can add liberally without having to worry about going overboard on sodium. It's a great everyday seasoning to add to your pantry."
Trader Joe's Instant Oatmeal Cups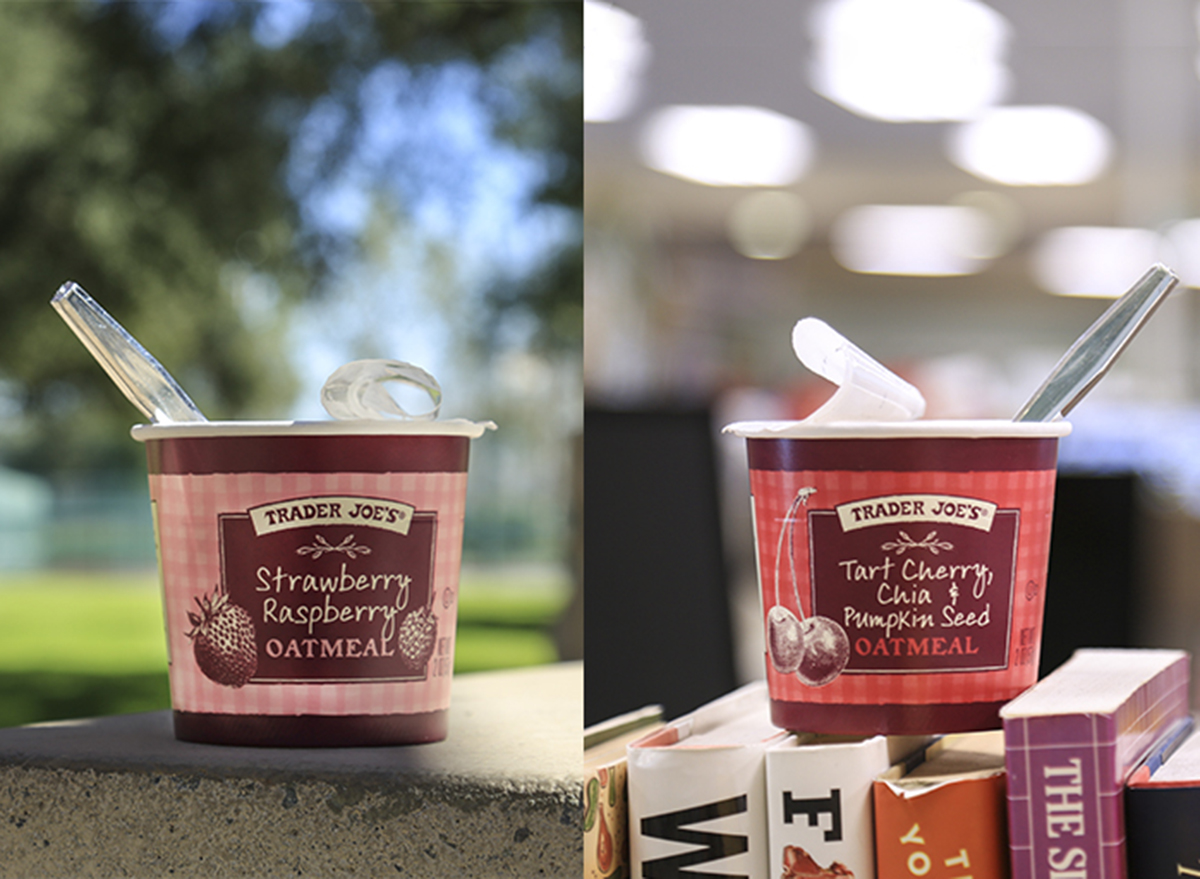 "I love to have oatmeal in the mornings, so I especially love the convenience of these Oatmeal Cups. These are great to take if you are traveling and want to be consistent with your breakfasts," says Hoover. "The TJ's versions don't contain any added sugar, so I just like to top with a spoonful of nut butter for some added protein and healthy fat to make it a more balanced breakfast. Oatmeal is high in soluble fiber and makes for a filling and nutritious breakfast or even afternoon snack."
Trader Joe's Omega Trek Mix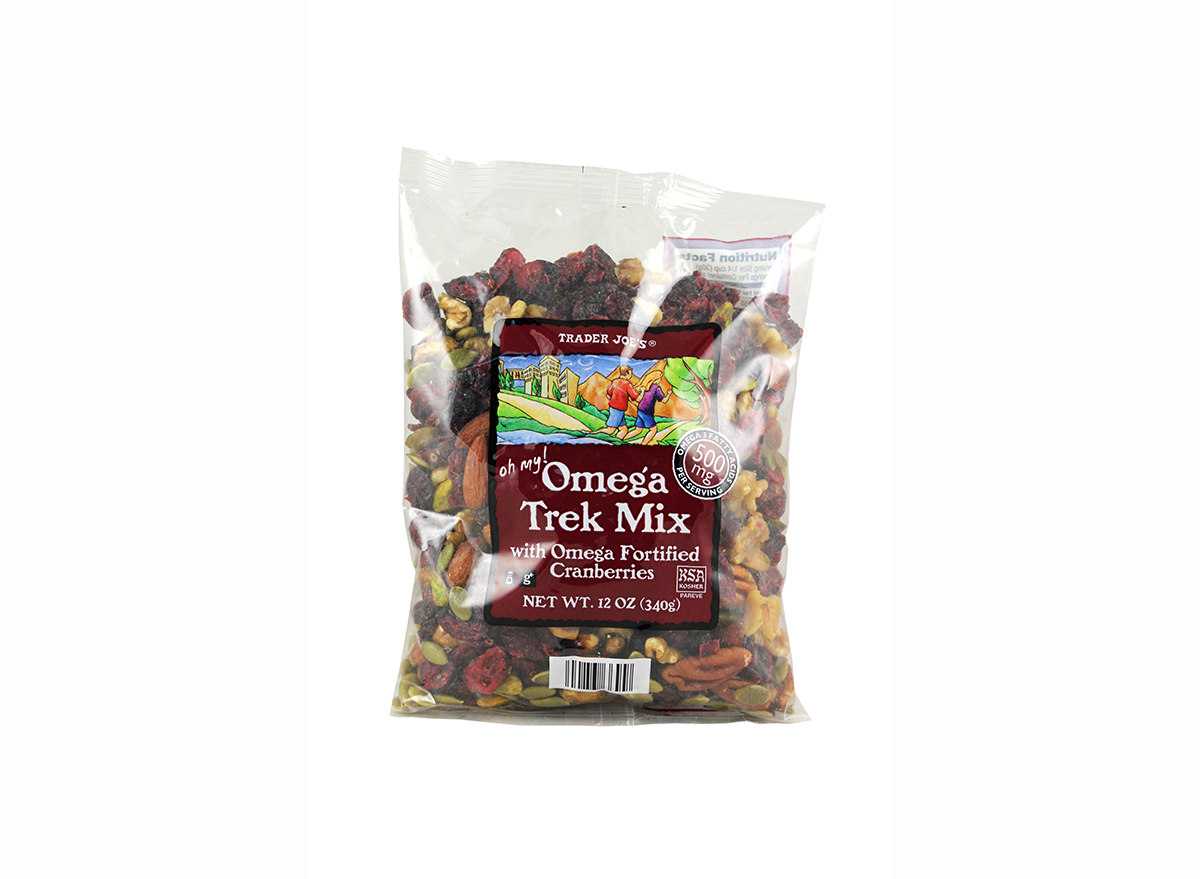 "This single pack trail mix contains heart-healthy nuts: walnuts, pumpkin seeds, almonds, pecans, and pistachios, as well as dried cranberries for a hint of sweetness," says Minagawa. "Keep these on hand wherever you go so you can have a little snack full of healthy fats and protein to keep you energized all day."
Trader Joe's Dehydrated Beet Chips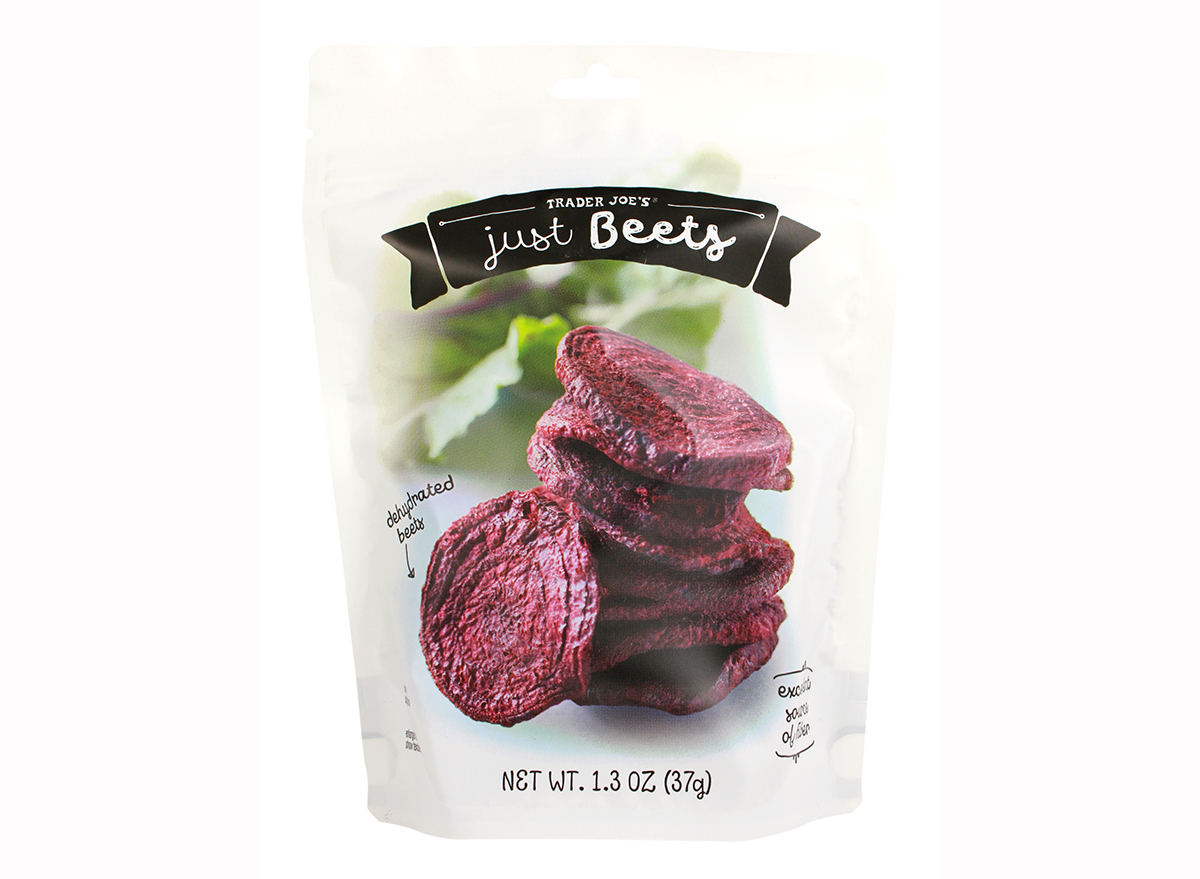 Greene loves how you can eat the whole bag of Trader Joe's Just Beets guilt-free.
"One serving equals the whole package, which is good news for snackers who have trouble with portions. Pair them with two tablespoons of guacamole, hummus, or a drizzle of tahini for an energy-boosting snack," she says.
Trader Joe's Pre-Cooked Grilled Chicken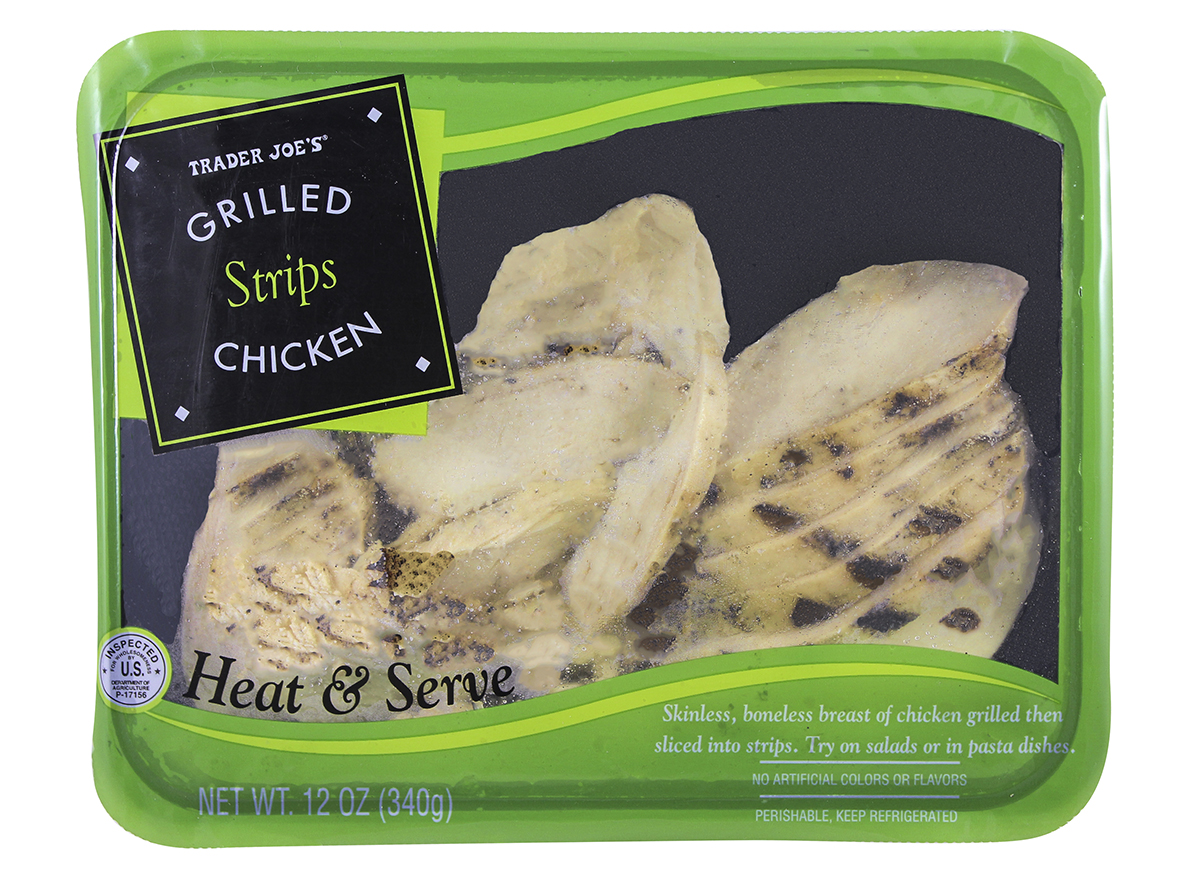 "These are super convenient to have on hand for meal prep and quick lunches and dinners. The texture and taste are [also] great, which is sometimes tricky with pre-cooked meats," says Walsh. "They have a few flavor options as well, like Lemon Pepper and Balsamic."
Now, who's ready to get to Trader Joe's and start meal-prepping?