How to Choose the Best Wine at the Grocery Store, According to Sommeliers
Select the right bottle at the supermarket by following these tips from three expert sommeliers.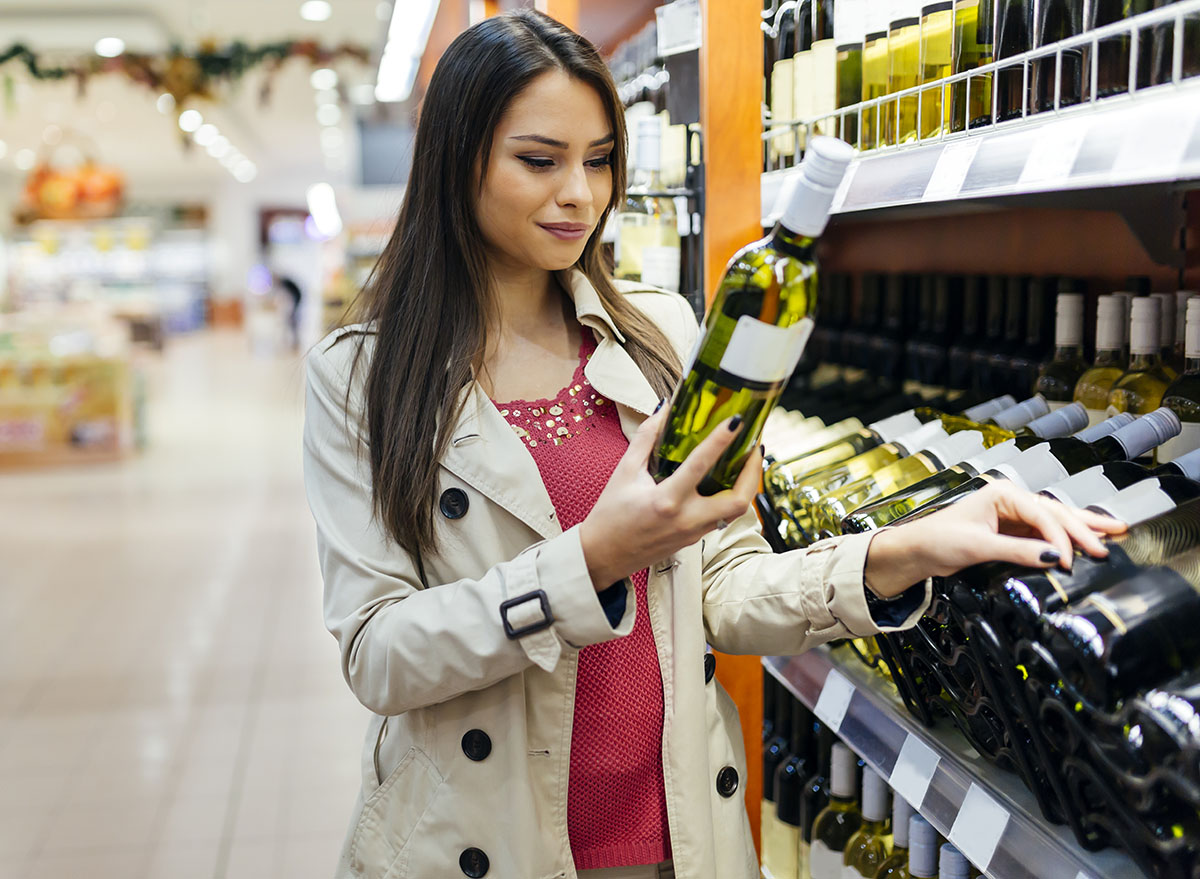 Supermarkets have long been a one-stop shop for all your essentials, and in most states, that can also mean alcohol, including wine and beer. 
Major grocery chains like Costco, Target, Walmart, Whole Foods, Trader Joe's, Publix, and Aldi offer a substantial wine selection at affordable prices. In fact, several of these retailers got into the wine game themselves with their own private-label bottles.
Many experts recommend shopping at smaller boutique wine shops because the staff is more knowledgeable and the selection is more eclectic. But picking out wine at the grocery store has two perks: affordability and convenience. 
"The convenience at a grocery store, that you can do one-stop shopping, cannot be ignored," says David Glancy, master sommelier and certified wine educator at the San Francisco Wine School.
You can find hidden gems in the vast sea of supermarket wines if you follow this advice from three expert sommeliers. 
Read the label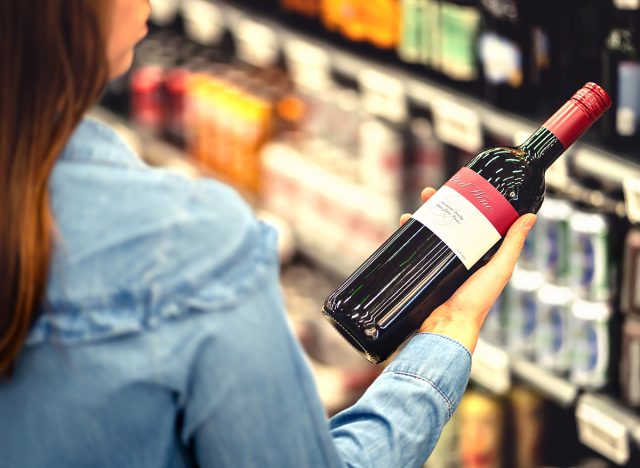 "I sell a lot of wines that are available at grocery stores that I totally can get behind," says Casleah Herwaldt, a certified sommelier based in Redondo Beach, Calif., who writes about grocery store wines on her blog. "Start by looking at the label."
Sommeliers say the more details a label includes about where the grapes come from, how they're sourced, or who makes the wine, the better. "Specificity on the labels is a good indication of quality," Glancy says. "If it says 'red wine,' and you turn around the bottle to look at the back label, and it tells you nothing more, that to me is a warning sign."
A wine that is labeled "California" doesn't tell the shopper much about where the grapes are sourced. However, if the label says exactly where the grapes are grown, like "Monterey County" or "Santa Lucia Highlands," that's a good sign of a higher quality wine, according to Glancy.
Labels may also give some information about the family who grows the vineyard, or how long it has been in operation, Herwaldt says. You can learn more about the wine region and what the company is all about, like a commitment to organic growing methods or sustainability efforts. This information can help you feel confident buying a wine. If you find a bottle you like, it's a safe bet to try different wines from the same producer.
Pay attention to the shelves
Moderately priced grocery store wines are typically placed at waist-level to eye-level on the shelves, with cheaper wines on the bottom and more expensive wines on the top, Glancy says. If you're shopping for a special occasion, look at the top shelf. If you're on a budget, scan the rows below waist-level.
Some grocery stores also do cross-merchandising, placing selected bottles of wine next to their seafood counter, for example. If they have a sale on salmon, they may put a bottle of rosé or pinot noir next to the display to go with it. Glancy says grocers who take this approach, like Whole Foods or Draeger's in California, make it easy to know which wines pair well with meat, fish, or poultry.
Stick to the $10 to $15 range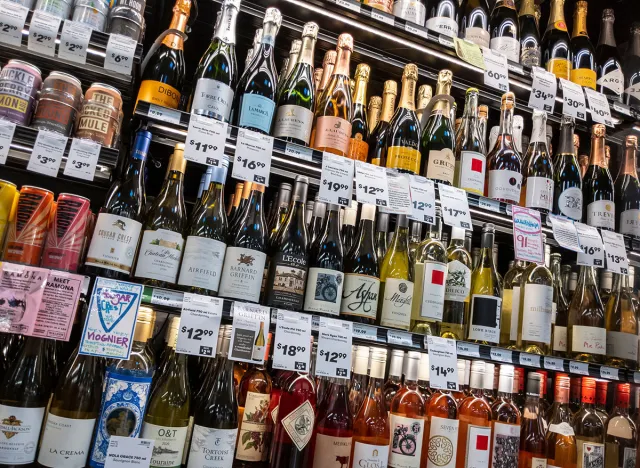 "This is the popular premium category where the wines will be technically well made. A merlot will still taste like a merlot," says Erin O'Reilly, a wine educator and blogger at Terravenos. "If you can move up to the $15 to $20 bracket, you'll start to see more craftsmanship and layered flavors in your wine." O'Reilly says grocery stores often have wine sales, so you can score a $20 bottle selling under $15 with some patience and a bit of luck. 
With this price range in mind, experts say to seek out regions that are less well-known. "South American wines tend to get overlooked, but they offer fantastic quality for value thanks to favorable exchange rates," O'Reilly says. "Look for cabs and malbec from Argentina. Chile has a coastline that mirrors California's famous winegrowing regions, so of course they're making wine. Chile's wine industry has a handful of companies that dominate the wine market; these wines get exported to the US and end up on our grocery store shelves. They're bargains."
Herwaldt has similar advice. "I always say the countries to get the best bang for your buck, as far as quality to price ratio, are going to be Spain and Argentina," she says. "I would rather have a premium wine from Spain for $15 than a cheap wine from Napa Valley for $15. The problem with getting a cheaper wine from Napa Valley, or other expensive regions like Bordeaux or Burgundy, is that they may have cut corners somewhere in order to get it at that price point." 
Do a quick search
Shutterstock
Once you've selected a bottle with detailed information on the back of the label, you may want to do an internet search to learn more about the type of grape, the region it comes from, the vineyard that grows it, or what kinds of meals it pairs well with. Wine education can be as simple as a Google search.
"Wine education does not have to be snooty or painful," Glancy says. "Anyone can learn it. You don't have to be gifted." 
When Herwaldt first started learning about wines, she downloaded the Vivino app, where users can read more about a wine and look up reviews. "I also highly, highly, highly recommend the Wine Folly book, if you want to learn more about wine and understand what's in your glass," she says. "If I'm drinking Barbera, I can learn about the tasting notes, what other regions grow Barbera. The next time I go to the store, I can look for other wines from that region."
Try the big store brands
Stores like Target, Costco, and Walmart have store brand wines, called private labels. O'Reilly says it's worth taking a chance on these. "The store's reputation is on the line, so the wines need to be solid. Often, the wineries themselves also have wines under their proprietary names sitting on the shelf next to the store brand. You're getting wines from the same winemaker and the same lots of grapes, but at a reduced price because it's the store label," she says. 6254a4d1642c605c54bf1cab17d50f1e
Pick younger winess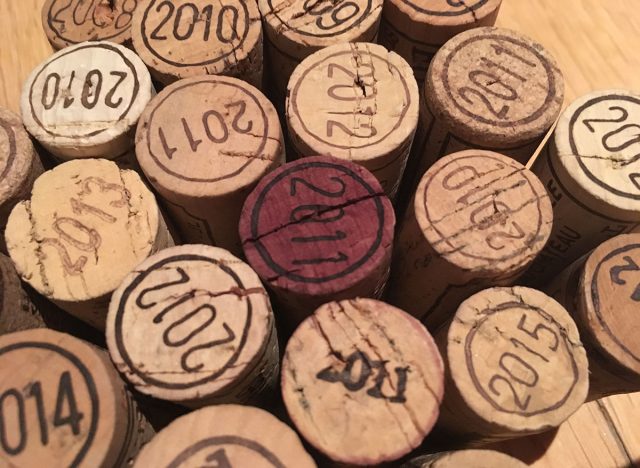 At the grocery store, throw out the idea that aged wine is better.  "Grocery store lights and shelving set-ups are a far cry from a temperature-controlled stone-walled wine cellar in the Italian foothills," says O'Reilly. "If you have the option between picking a wine from the current vintage or from an older year, always go with the younger bottle."
Without proper wine storage, it's best to buy a more recent vintage. That way you know it wasn't sitting in substandard condition for years, exposed to harsh lights and fluctuating temperatures. Plus, an older wine is not always an indication of higher quality. "Not all wine was meant to age anyway," Glancy says.