15 Delicious Meals To Pair With a Bottle of Wine
Wondering what meal will go well with that bottle of wine? Here's an easy guide!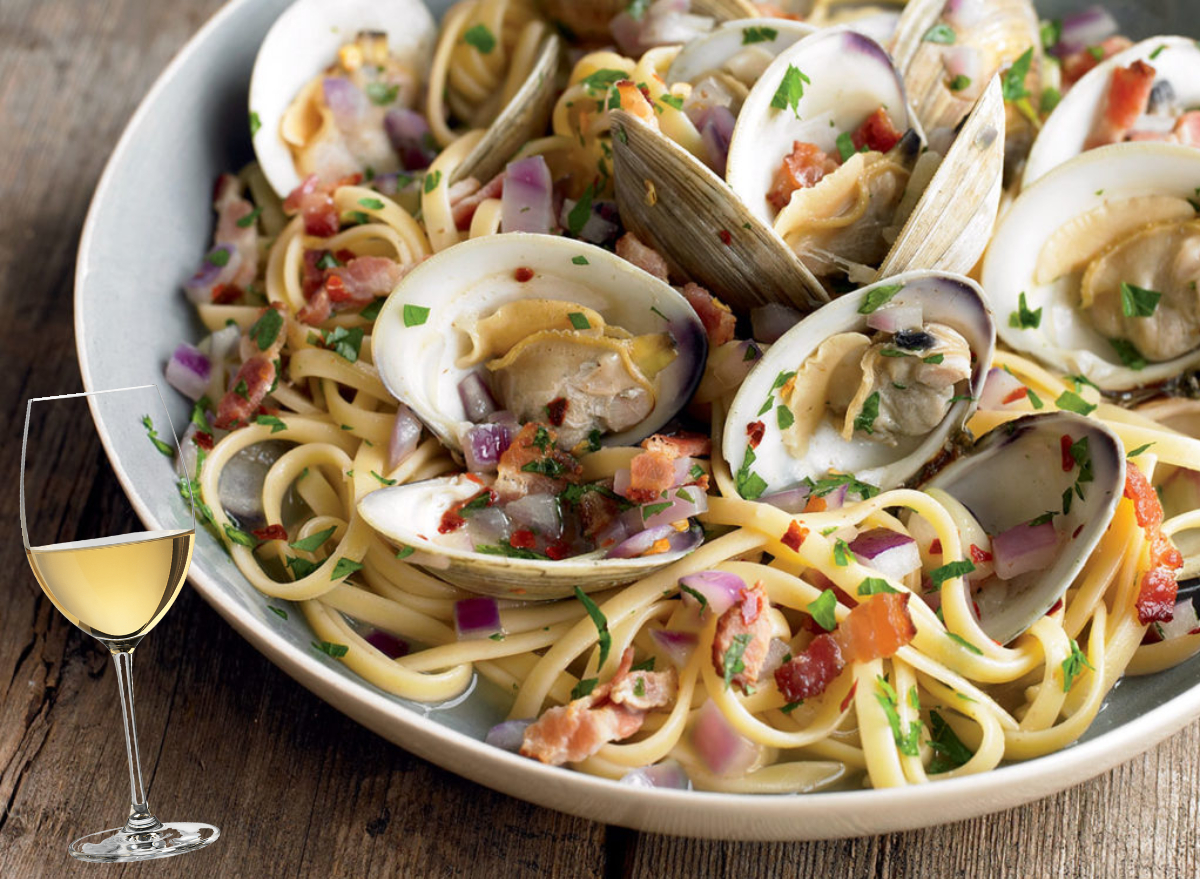 What's a home-cooked meal without an equally palate-pleasing bottle of wine to pair with it—or vice versa? Some dishes just seem to taste even more delicious when they're accompanied by the right vino, but finding the perfect bottle to complement your meal isn't always easy. Not only do you have to think about the weight and richness of the food, but you also have to consider the pungency and flavor profile of the individual ingredients. Fortunately, we've rounded up a handful of no-brainer combinations that allow both the dish you cooked and the wine you're pouring alongside it to shine. That way, next time you're dining at home—whether solo or with company—you can focus on enjoying the fruits of your labor rather than stressing over what meals to pair with wine.
So if you're not sure what to cook up that will go with that bottle of wine you have, we have the easiest guide for you right here. From Asian and Mexican-inspired meals to classic Italian desserts, here are some tasty recipes you'll want to whip up pronto—plus pro tips on the specific wines to sip, swirl, and savor with them. Of if you need to snag a bottle, here are the best 15 "cheap" wines you can buy.
Albariño: Chipotle Shrimp Quesadilla
In general, the most successful wines to pair with a Mexican feast are refreshingly crisp and acidic. While Sauvignon Blanc is a fine choice for this chipotle shrimp quesadilla, we suggest an Albariño—and not just because this varietal typically hails from Spain, but also because its refreshingly citrusy flavor profile will nicely offset the heat from the peppers.
Get our recipe for Chipotle Shrimp Quesadilla.
Riesling: Asian Tuna Burgers with Wasabi Mayo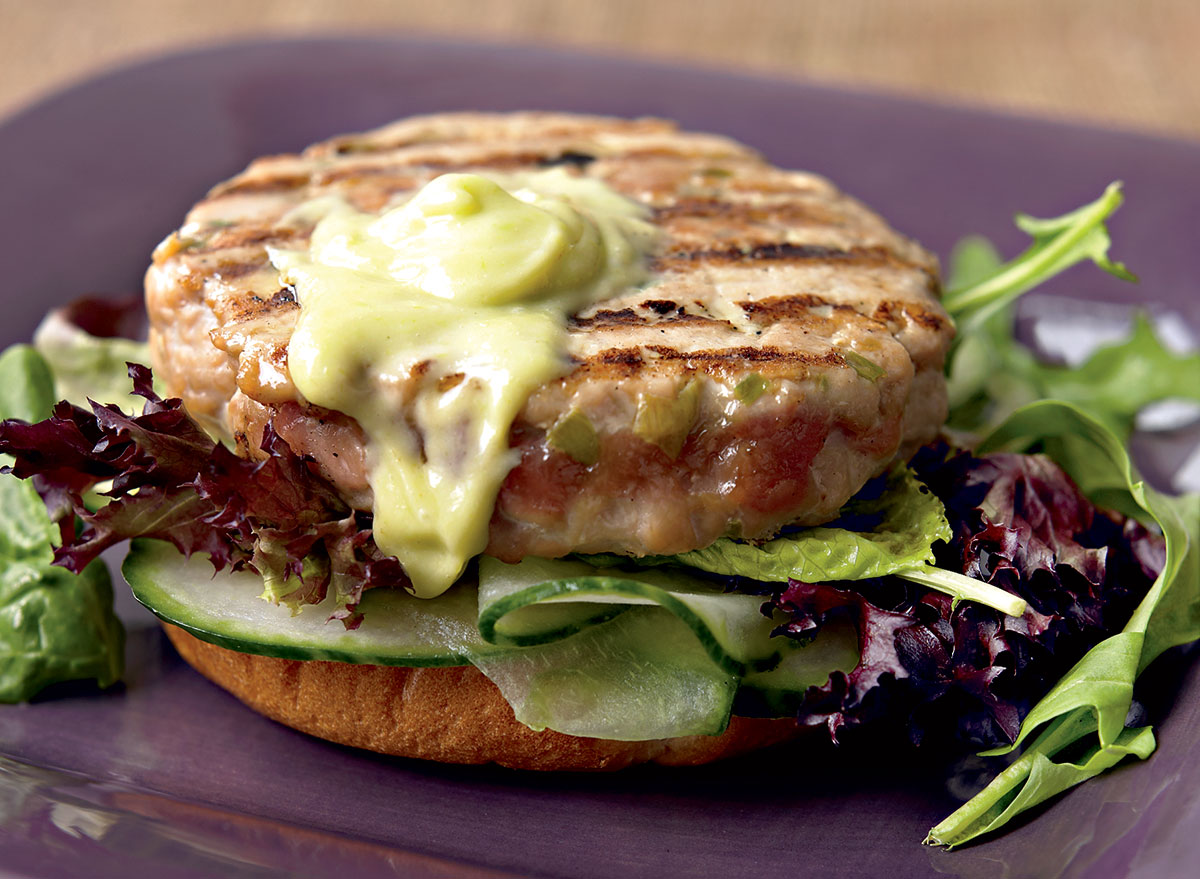 This tuna burger with wasabi mayo has a kick in every bite, thanks to the horseradish-laden condiment its slathered with. Off-dry riesling is a no-brainer with not only spicy cuisine but also Asian cuisine in general as well—in part because of its ripe acidity and subtle sweetness, which helps to carry the flavors of the dish.
Get our recipe for Tuna Burgers with Wasabi Mayo.
Chardonnay: Chicken Under a Brick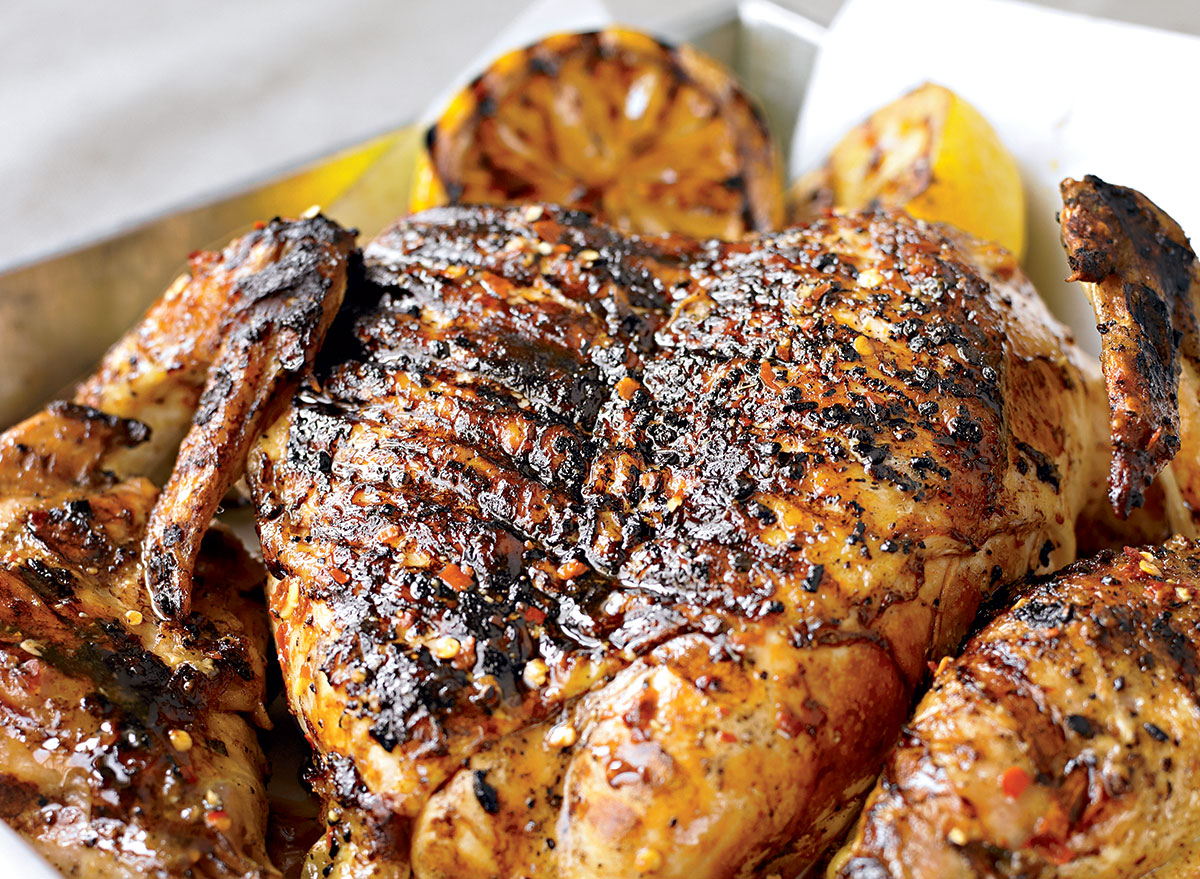 You might be surprised at just how versatile chicken under a brick is when it comes to wine pairings—this simple Italian dish is well complemented by whites and lighter reds alike. One thing's for certain, though: You can't go wrong with a full-flavored California chardonnay, which is a classic match for poultry. Consider choosing one that's unoaked or lightly oaked, since oaky versions are better suited to rich, creamy chicken recipes.
Get our recipe for Chicken Under a Brick.
Sauvignon Blanc: Grilled Caesar Salad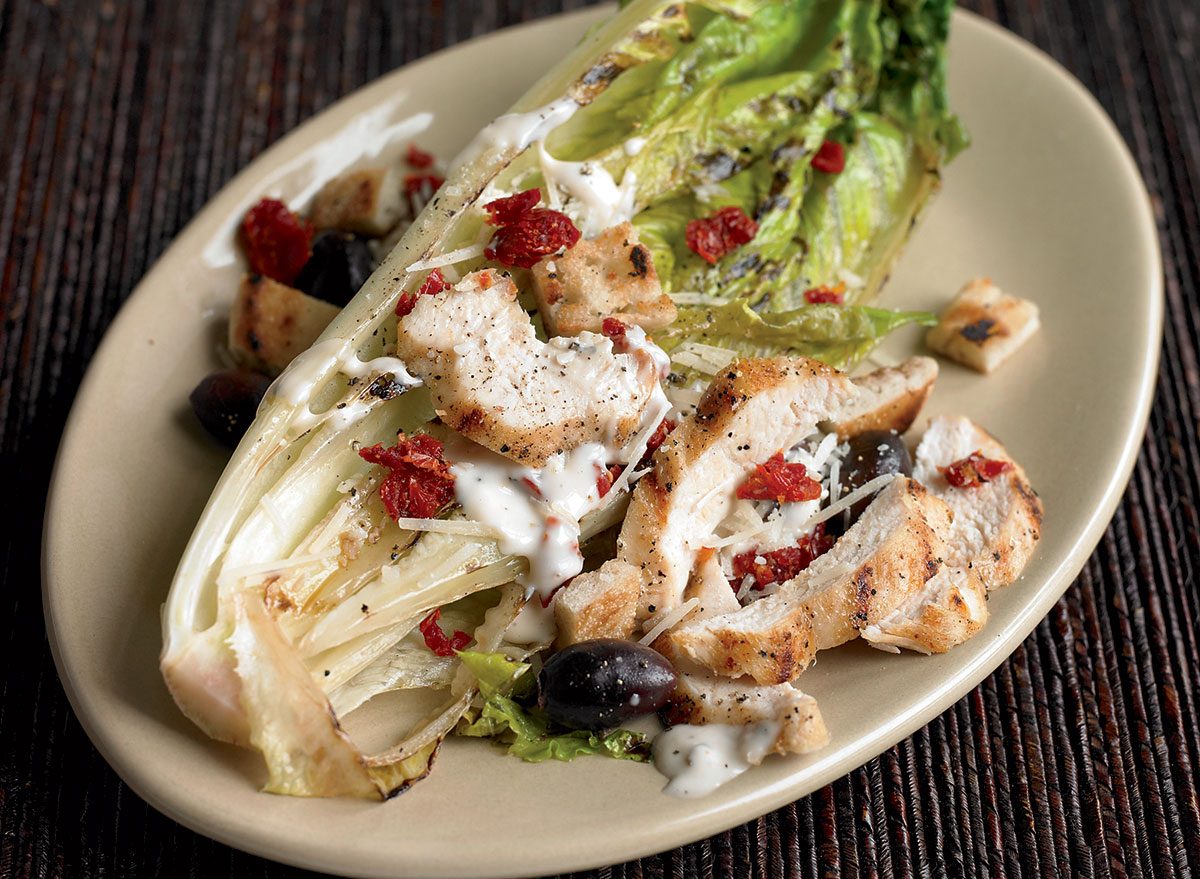 This grilled caesar salad is the kind of meal you'll crave on a hot summer's night—and it calls for a wine that's equally light and refreshing. Try a New Zealand sauvignon blanc, as its pungent herbal notes are a nice accompaniment to vegetables and herbs, and its dry, light body won't overwhelm the delicate flavors of the delicate romaine. If you can find it, Arneis—a nutty white from Italy's well-respected Piedmont wine region—is also an excellent complement to parmesan cheese and tangy dressings.
Get our recipe for Grilled Caesar Salad.
Cabernet Sauvignon: Molten Chocolate Cake
The key with pairing wine and chocolate is to consider the level of sugar and dairy fat—what goes nicely with milk or white chocolate simply wouldn't work for a darker, semi-sweet version. This decadent molten chocolate cake, which incorporates bittersweet chocolate, calls for a dry Cab—its fruit-forward flavors enhance the richness of the dessert without overpowering it. If your sweet tooth is especially strong, you can also pair this cake with a dessert wine, like vintage or tawny port.6254a4d1642c605c54bf1cab17d50f1e
Get our recipe for Molten Chocolate Cake.
Riesling: Thai Chicken Curry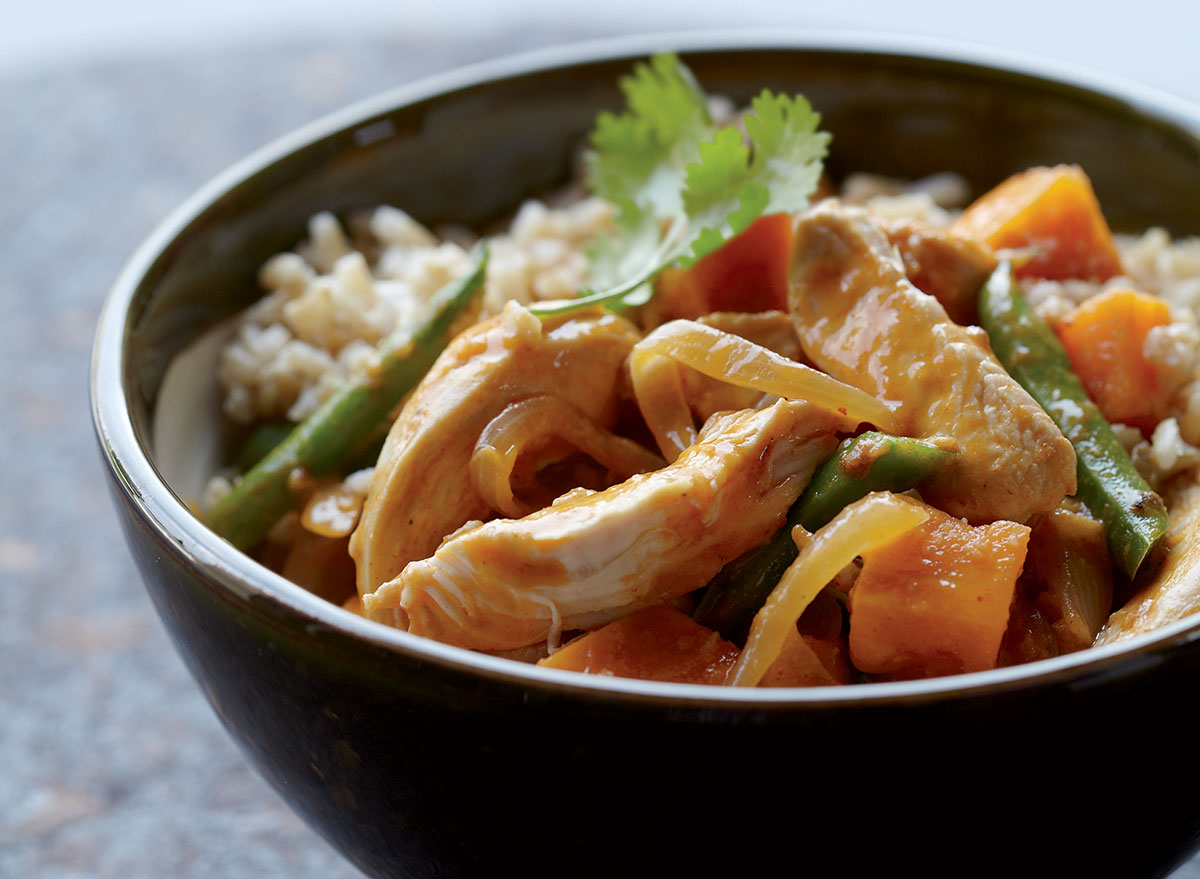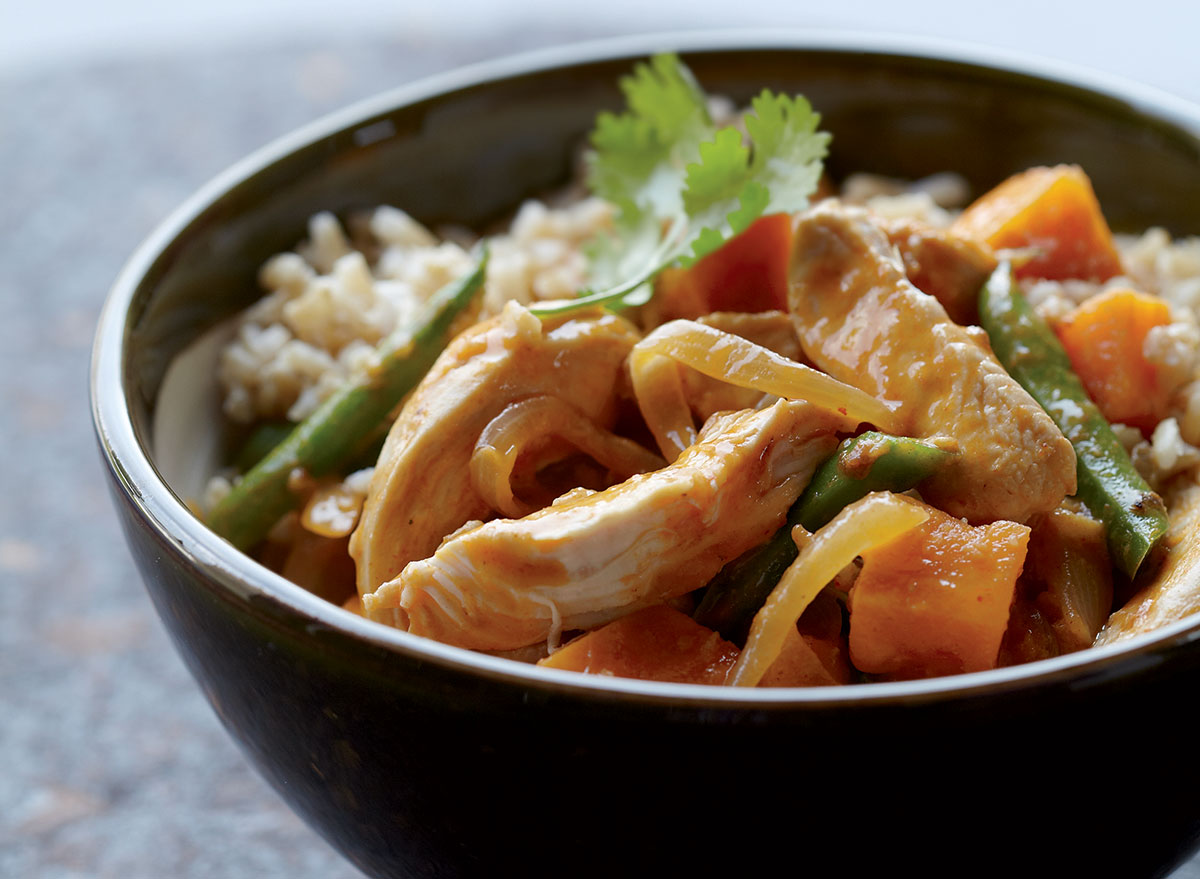 Salty, sour, and spicy all at once, this Thai chicken curry demands a wine that can stand up to its powerhouse of flavors, which include lemongrass, garlic, and chiles. Your best bet is to go for a low-alcohol, medium-bodied white like German riesling, which not only enhances the exotic flavors in this recipe but also stands up well to the pungent ginger and rich coconut milk in the curry sauce.
Get our recipe for Thai Chicken Curry.
Viognier: Crab Cakes with Mango-Avocado Salsa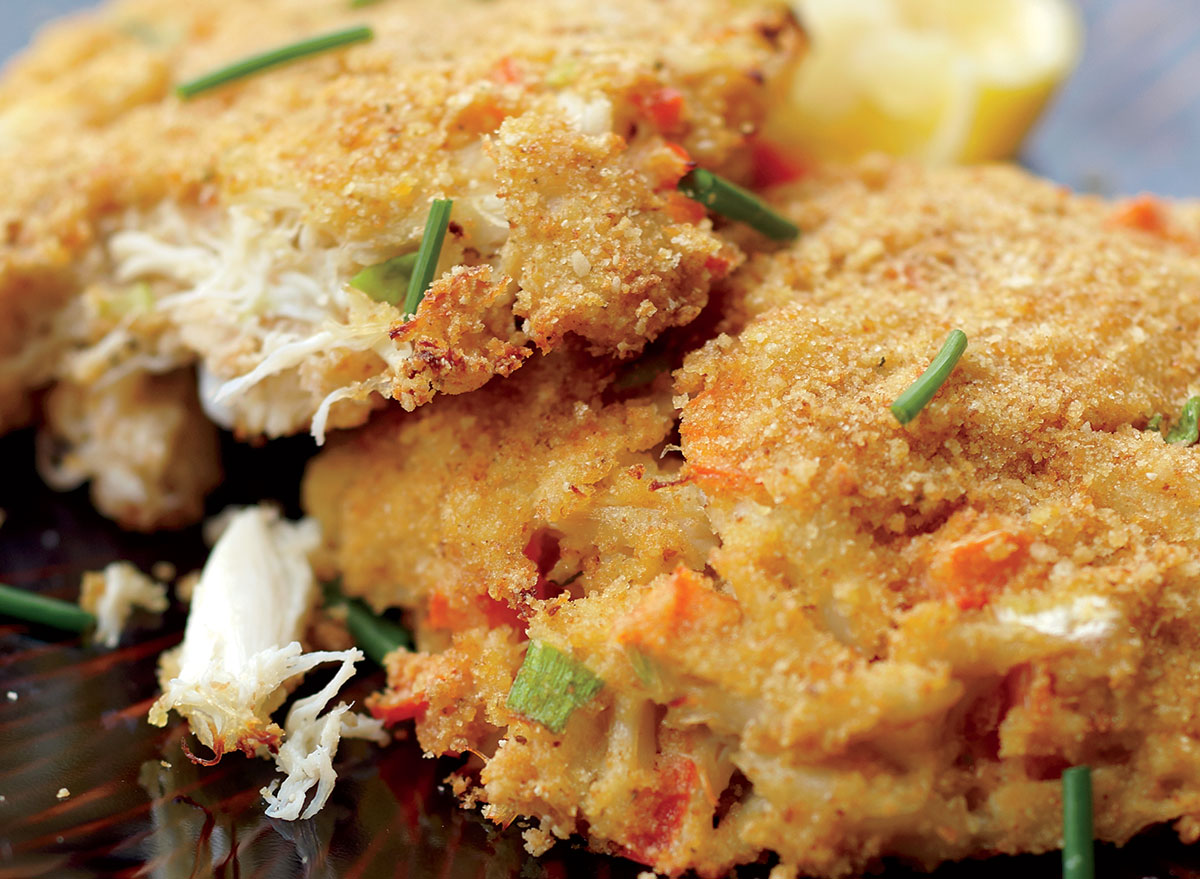 The name of the game with crab is to choose a wine with crisp minerality that's not going to overwhelm the delicate sweetness of the shellfish (looking at you, oaked chardonnay). With that in mind, opt for a food-friendly white like the elegant French Viognier—its creamy body and fresh acidity can handle the richness of the crab meat and avocado beautifully.
Get our recipe for Crab Cakes with Mango-Avocado Salsa.
Côtes du Rhône: Turkey Chili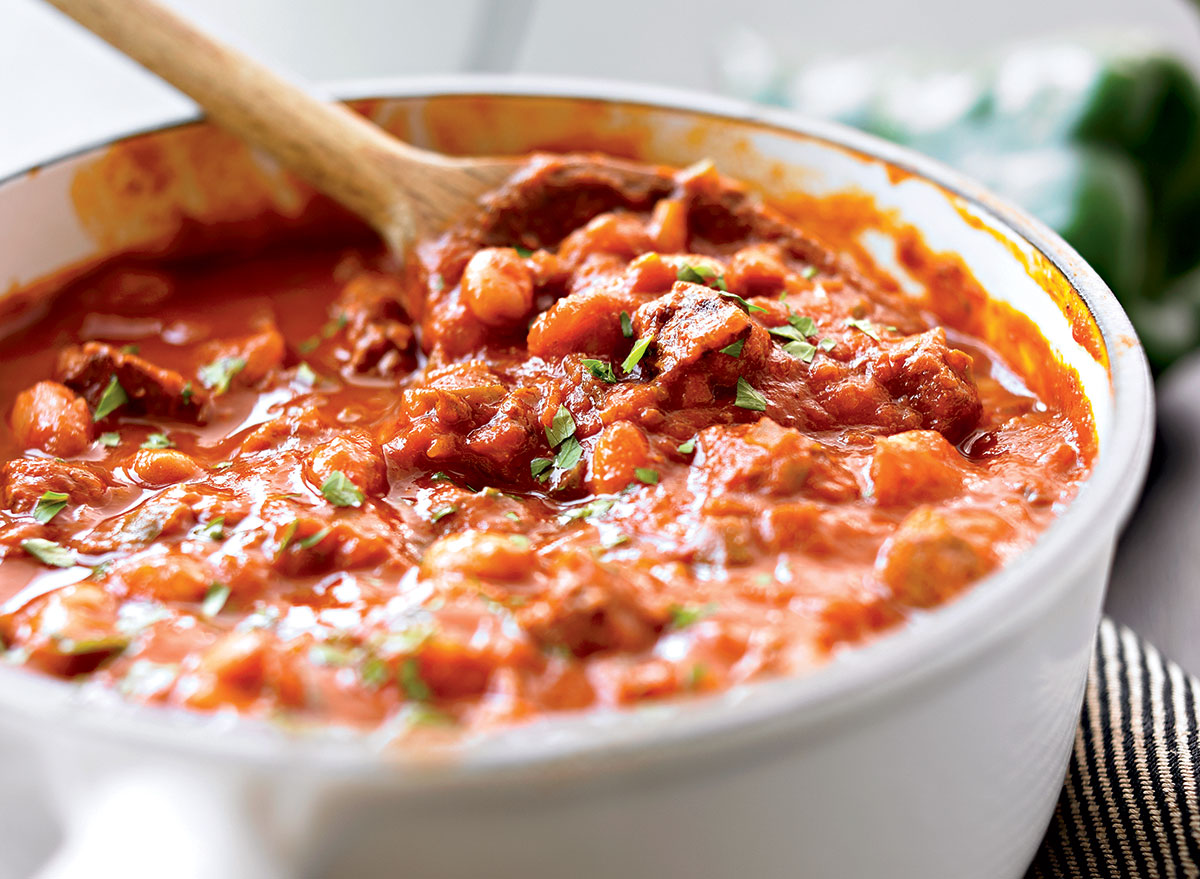 Pairing wine with chili can be a bit of a challenge since reds are better able to stand up to the intense flavors of this classic dish, but if they're too tannic, they can make a spicy meal taste bitter. For this hearty turkey chili, consider an earthy, lighter-bodied red with enough fruit to extinguish the fire from the chipotle powder, chili peppers, and cumin—like a Côtes du Rhône. This food-loving wine has enough complexity and depth to accompany the lively, smoky flavors of the chili, without stealing the spotlight.
Get our recipe for Turkey Chili.
Malbec: Barbecue Chicken Pizza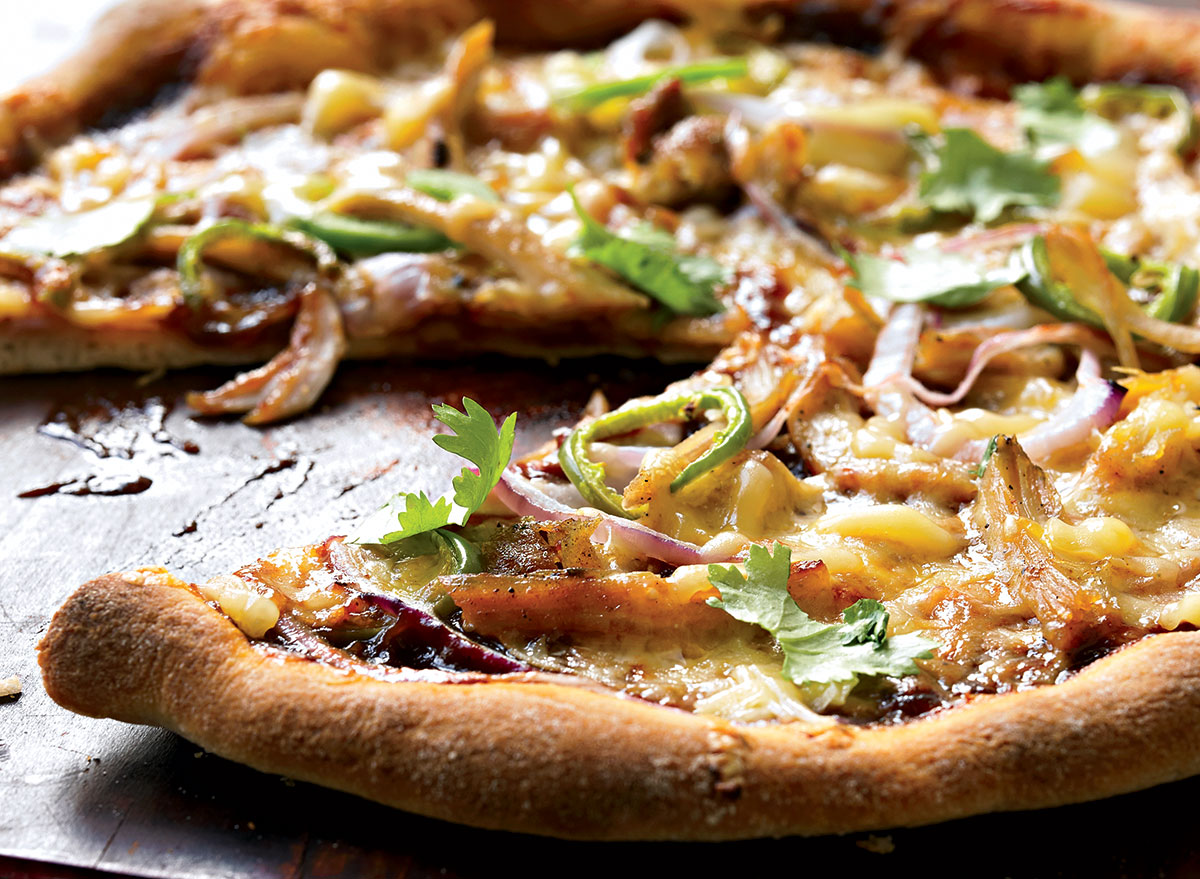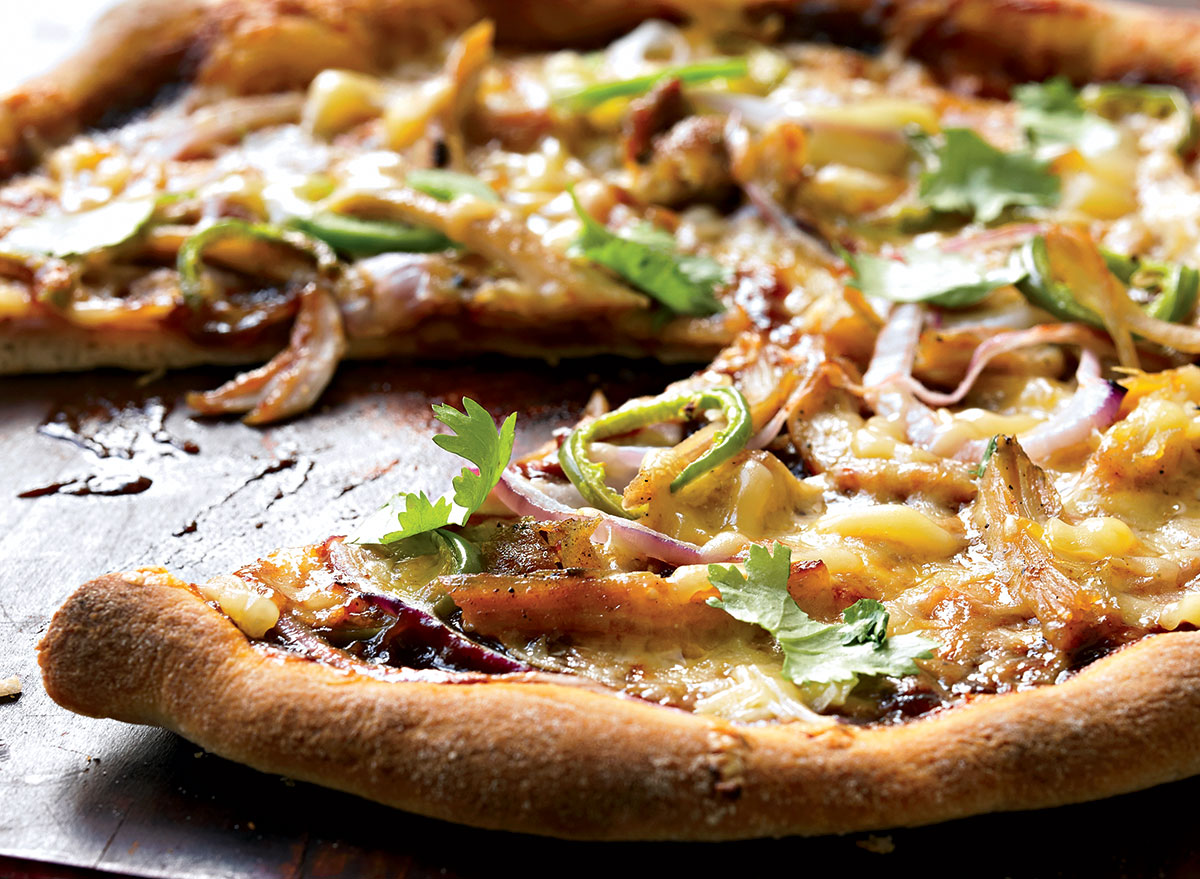 The flavors in this barbecue chicken pizza are best enhanced by a fruit-forward malbec, which can bring out the sweetness of the sauce and the smokiness of the gouda cheese.
Get our recipe for Barbecue Chicken Pizza.
Sangiovese: Pasta Bolognese
Italian reds are the obvious choice for a pasta bolognese. More specifically, you typically want to go for an acidic, medium-bodied varietal that can handle the thick tomato-based meat sauce—like a Sangiovese, which is packed with savory herbal notes that are a fitting accompaniment to the flavors of this dish.
Get our recipe for Pasta Bolognese.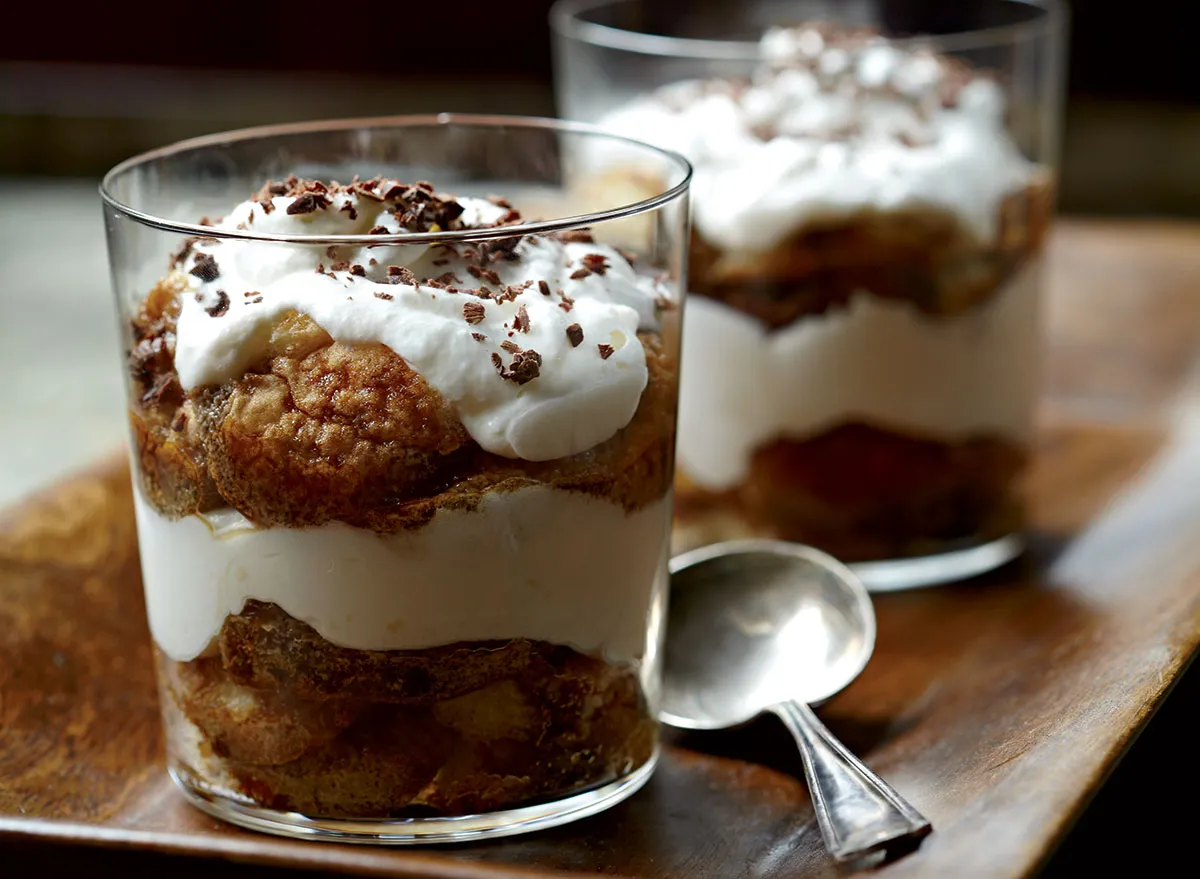 Finding the perfect wine to sip on with sweets can be tough—you need one that has a corresponding depth, structure, and sweetness that will achieve balance with the dessert in question. For tiramisu, which features the nutty flavors of coffee liqueur and espresso, pop open the champagne. Why? Champagne can actually cleanse and revitalize the palate in between bites—plus, a classy dessert calls for an equally classy wine pairing.
Get our recipe for Tiramisu.
Pinot Noir: Slow Cooker Pork Carnitas Tacos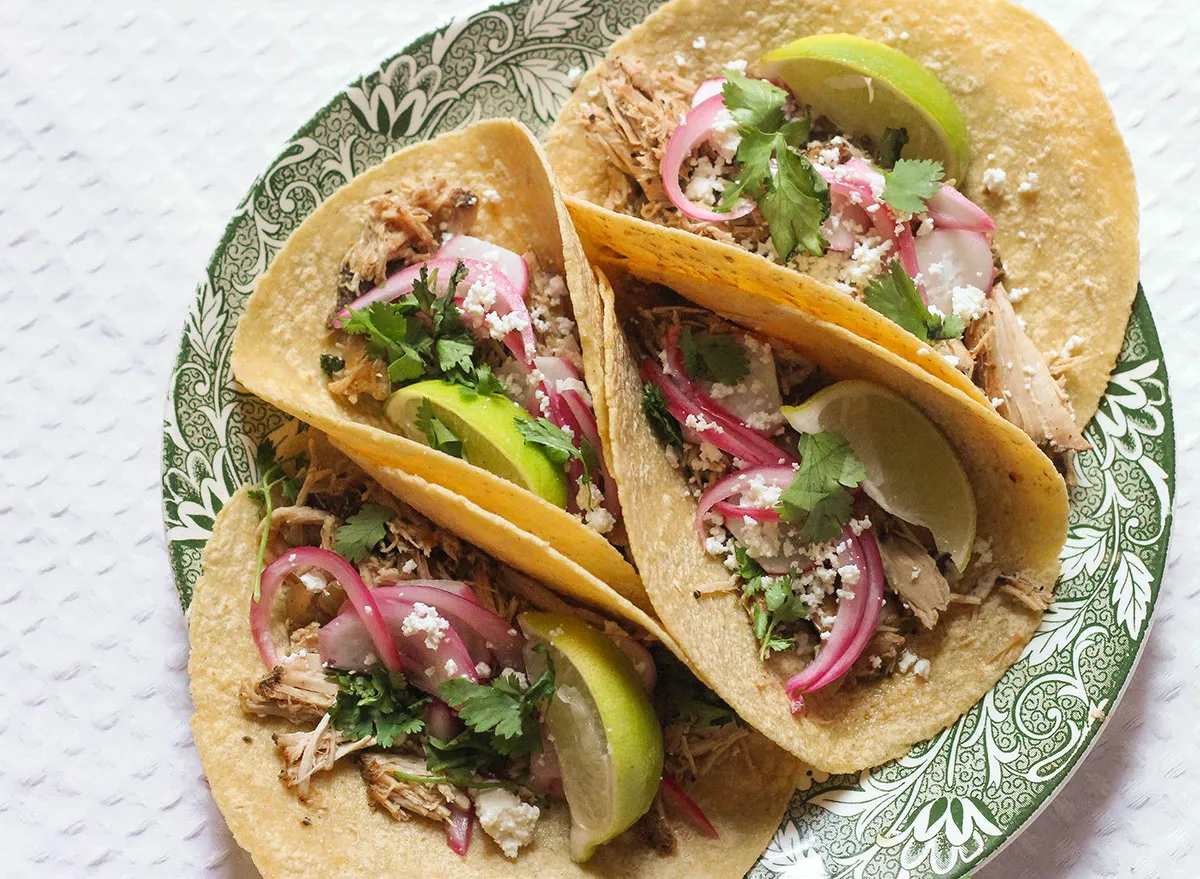 Since pork basically straddles the line between white meat and red meat, your safest bet is to select a light-bodied red wine, like pinot noir. With just a hint of spice, it complements the taco seasoning in this slow-cooker recipe flawlessly—but thanks to its lower tannins and high acidity, it will still let the flavorful meat shine. An alternative option for these slow-cooker pork carnitas tacos is a dry rosé.
Get our recipe for Slow-Cooker Pork Carnitas.
Gewürztraminer: Grilled Salmon with Ginger Soy Butter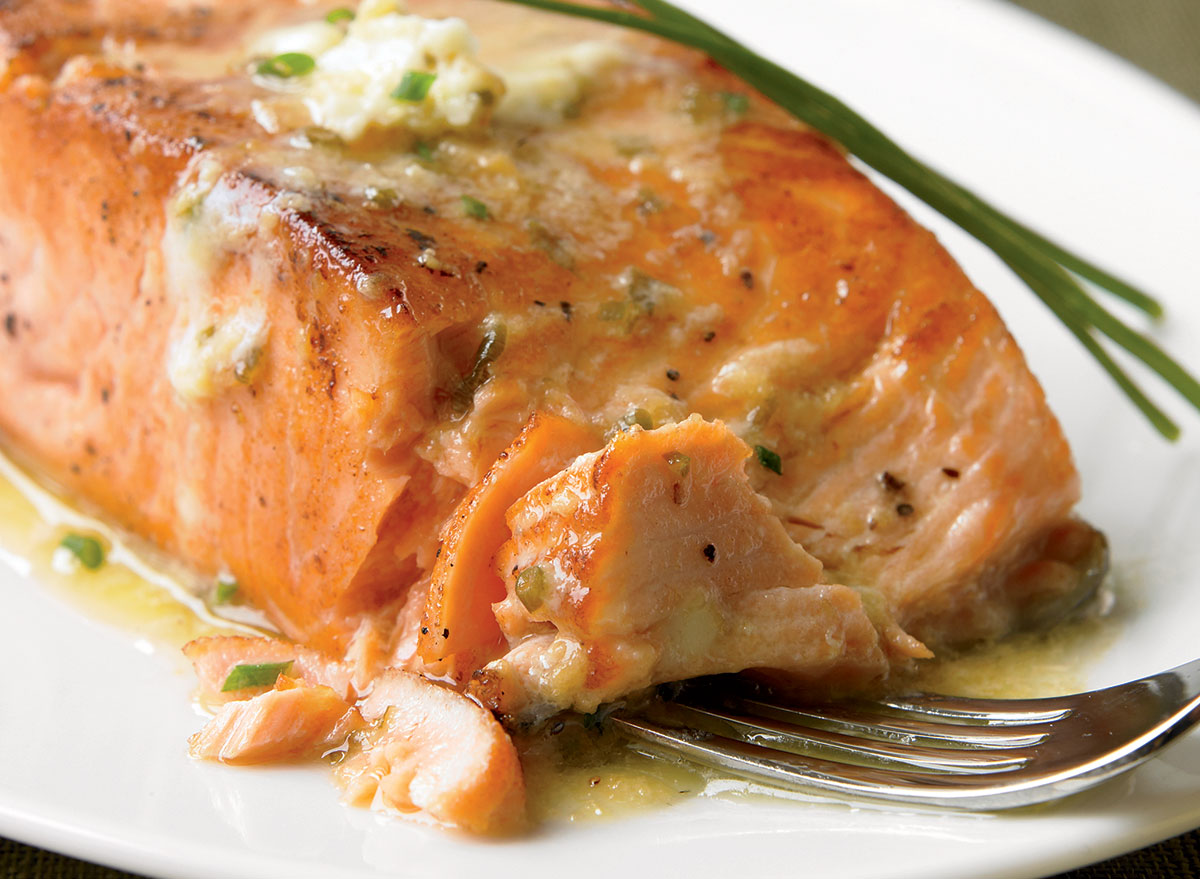 You'll be hard-pressed to find a wine that can make the soy sauce in this grilled salmon dish soar better than Gewürztraminer. The aromatics in this full-bodied white are a wonderful partner to subtle sweetness of grilled salmon, and better yet, the wine itself features a ginger-like spice that mimics one of the recipe's actual ingredients.
Get our recipe for Grilled Salmon with Ginger Soy Butter.
Pinot Grigio: Linguine With Clams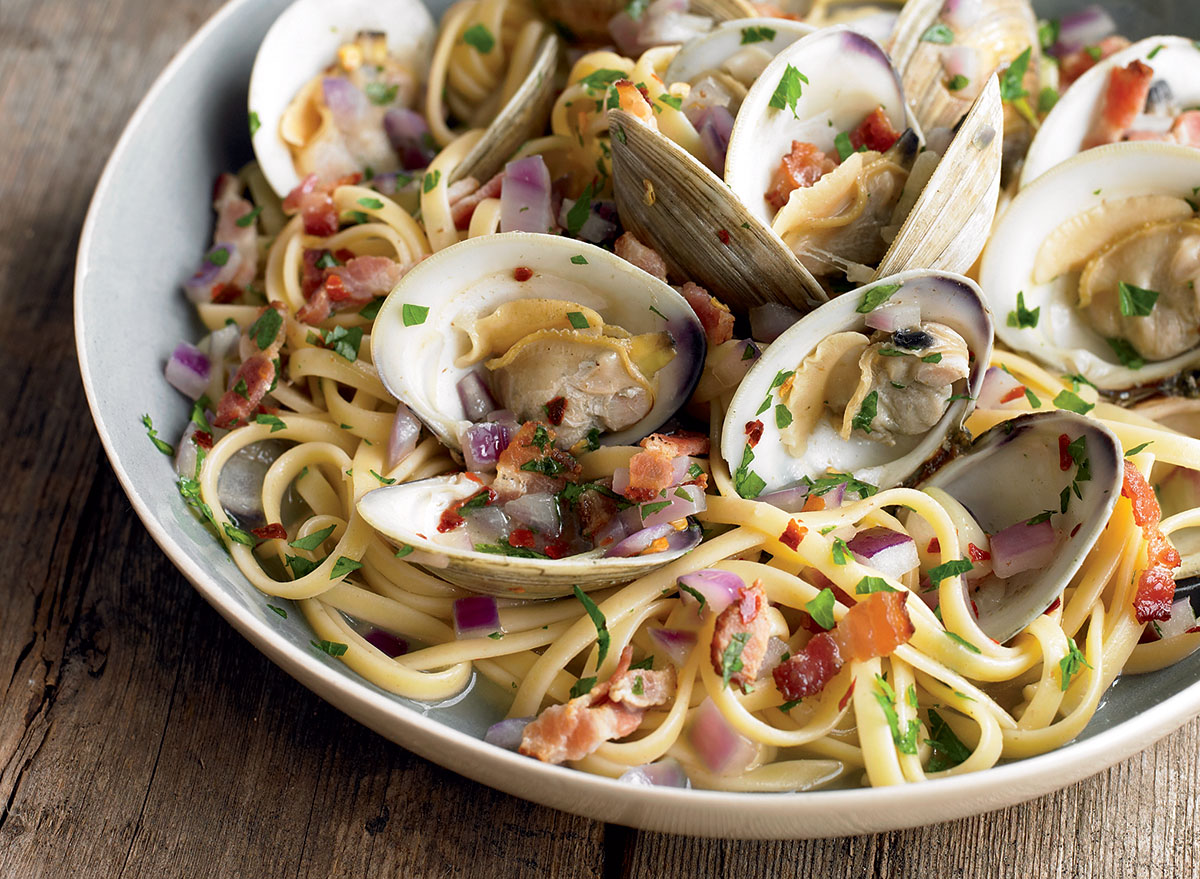 The minerality and briny flavors of this dish just beg for a young, unoaked Italian white. That makes pinot grigio a successful pairing for linguine with clams—not only does the acidity cleanse your palate of the intense garlicky flavors with every sip, but the fresh, unfussy flavor profile lets the nuanced taste of the bivalves shine through.
Get our recipe for Linguine with Clams.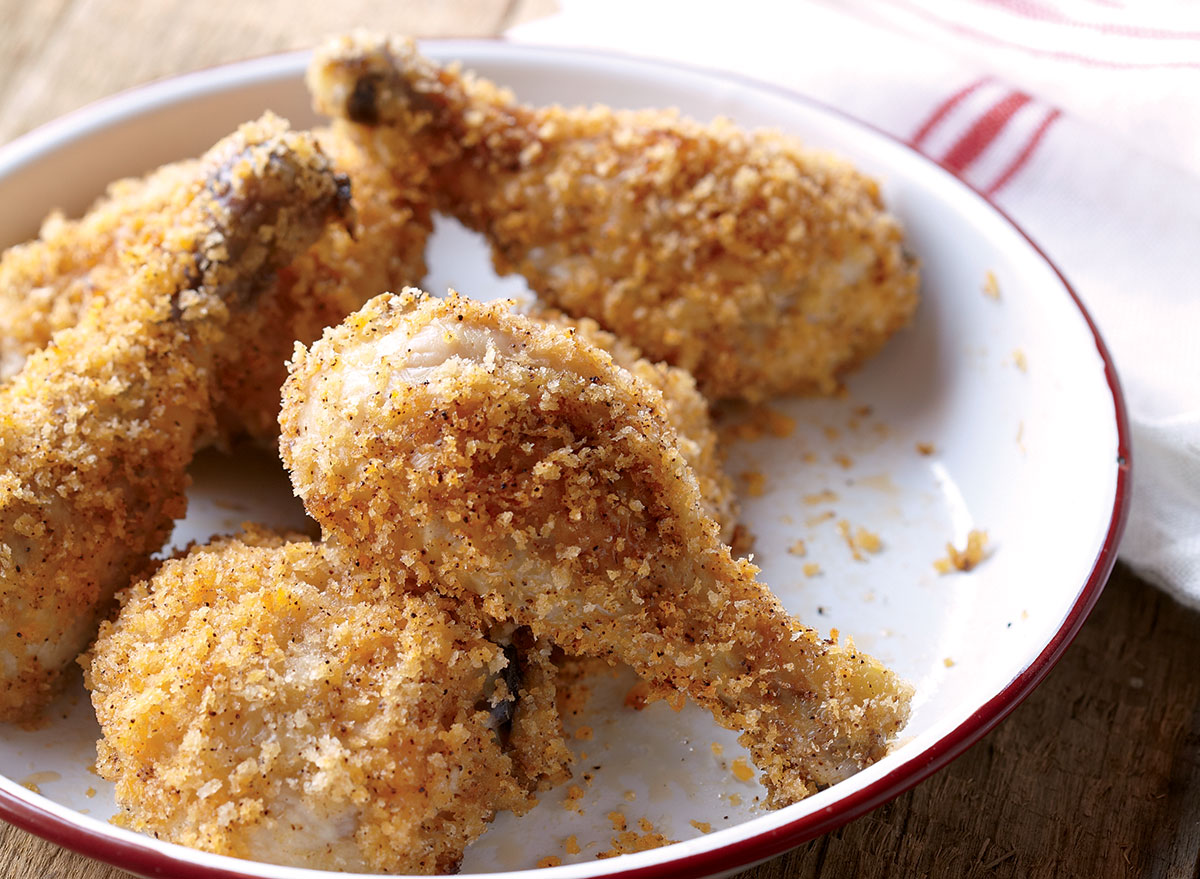 It may not be intuitive to pour an elegant sparkling wine alongside fried chicken, but in fact, these two are a match made in heaven. The refreshing acidity and effervescence of cava, which is Spain's slightly more budget-friendly answer to champagne, makes it a fitting companion because it can cut through the rich buttermilk and oil in this recipe like a sharp blade. Now that's highbrow-meets-lowbrow dining at its best.
Get our recipe for Oven-Fried Chicken.
Rebecca Strong
Rebecca Strong is a Boston-based freelance health/wellness, lifestyle, and travel writer.
Read more about Rebecca