10 Best & Worst Arby's Sandwiches
Arby's? More like Carby's. Find out which sammies are safe to order and which to skip.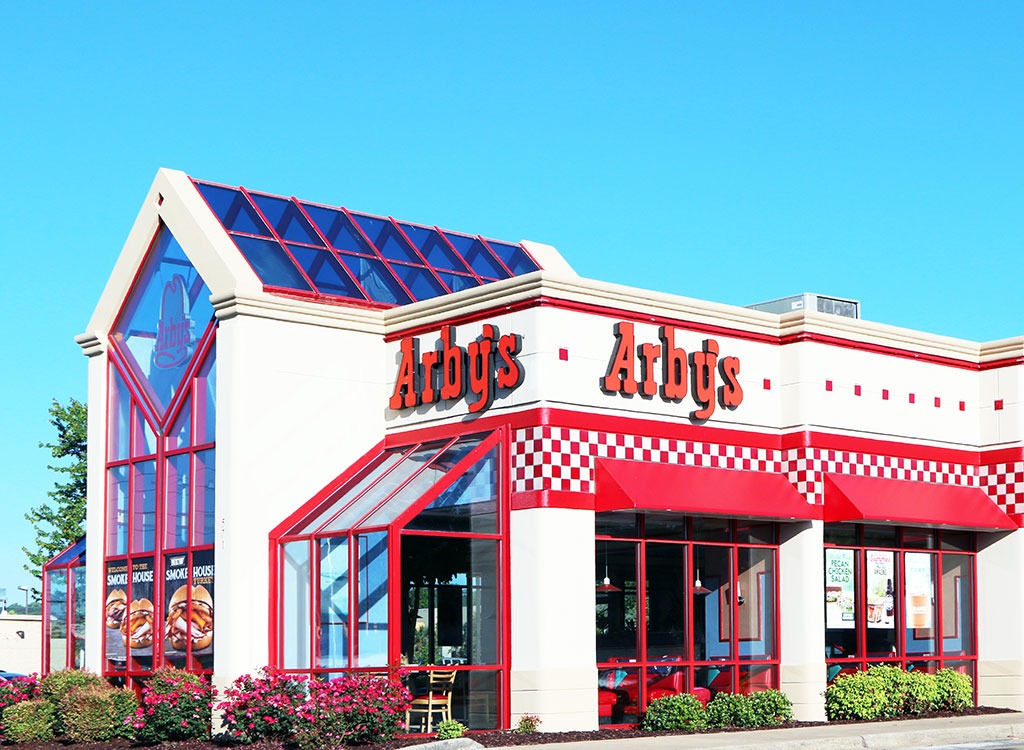 If you've been to any one of the 3,300 Arby's locations in America, you know the chain's menu is packed with mouth-wateringly juicy deli sandwiches. But while Arby's sandwiches may taste good — and satisfy that roast beef craving we all get every now and again — eating most of these fan favorites would have you cringing afterward if you only knew how much fat and sodium you'd just consumed.
That's why we've created this list to guide you through your next Arby's trip. You'll be able to approach the register with confidence, knowing your order isn't reaching cheat meal levels behind your back.
First, The Worst…
Turkey and Swiss Sandwich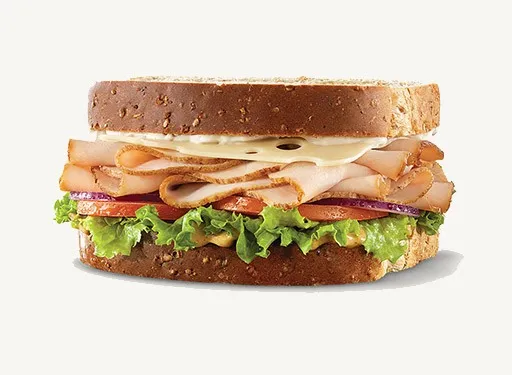 710 calories, 28 g fat (7 g saturated fat), 1,930 mg sodium, 79 g carbs (5 g fiber, 15 g sugar), 38 g protein
Sounds safe, right? With honey wheat bread and roasted turkey breast, not to mention tomatoes, lettuce, and onions, this sandwich might seem wholesome, but there's more to this than meets the eye. Maybe it's the mayo, maybe it's the spicy brown honey mustard, but Arby's somehow manages to cram in almost an entire day's worth of sodium and 28 grams of fat. There are close to 80 grams of carbs on top of that, and those aren't coming from any good carbs. News flash: honey wheat and 100% whole wheat are not the same thing.
Roast Turkey Ranch and Bacon Sandwich
800 calories, 34 g fat (10 g saturated fat), 2,420 mg sodium, 79 g carbs (5 g fiber, 16 g sugar), 45 g protein
The honey wheat bread and roasted turkey are back at it again, this time with parmesan peppercorn ranch, cheddar cheese, and pepper bacon joining them. All of that adds up a whopping 800 calories, and even though we're a big fan of the 45 grams of lean protein in this sandwich, that doesn't come close to justifying its crippling carb levels and 2,420 milligrams of sodium. To put things into perspective, you're only supposed to consume 2,300 in one day, not in one meal.
Half Pound French Dip And Swiss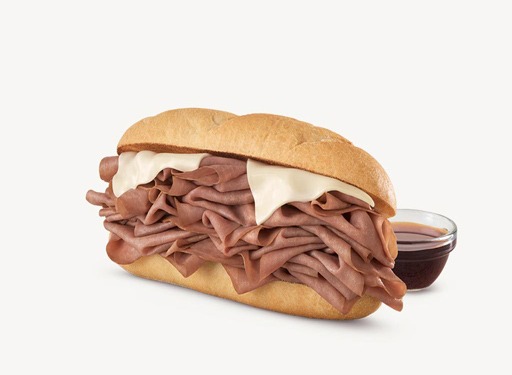 750 calories, 36 g fat (17 g saturated fat), 3,350 mg sodium, 51 g carbs (2 g fiber, 3 g sugar), 55 g protein
Thought the sodium was bad before? The 3,350 milligrams in this french dip and swiss sandwich is how much salt you should be consuming in a day and a half. And that's not to mention the 36 grams of fat or 17 grams of the saturated stuff, which surpasses your recommended daily limit. Goes without saying that this is not the right meal to leave the drive-thru with.
Triple Thick Brown Sugar Bacon BLT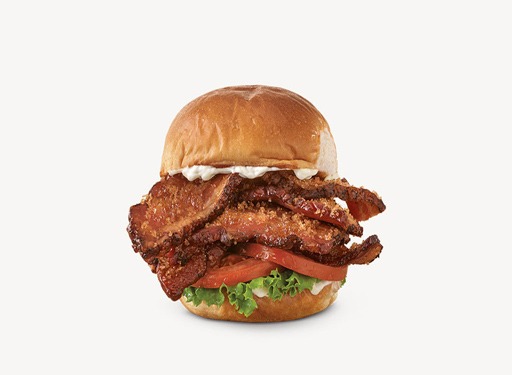 800 calories, 57 g fat (19 g saturated fat), 1,260 mg sodium, 57 g carbs (3 g fiber, 28 g sugar), 34 g protein
The nutrition stats on this one are far from surprising. It's pretty obvious to all of us that piling bacon that's three times as thick as usual onto a buttery brioche bun with a squirt of mayonnaise and a sprinkling of brown sugar isn't doing our bods any favors, even when tomatoes and lettuce are included. Almost 60 grams of fat and close to 30 grams of sugar? Yeah, that checks out.
Triple Thick Bacon Half Pound Club Sandwich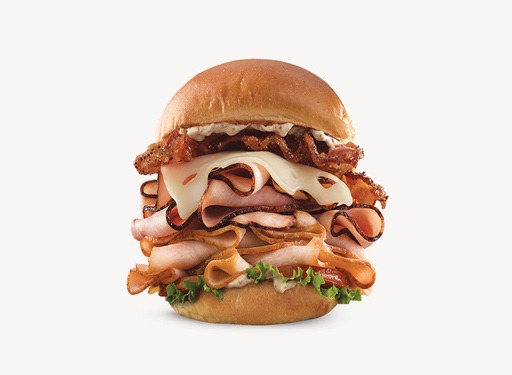 830 calories, 43 g fat (17 g saturated fat), 3,360 mg sodium, 50 g carbs (3 g fiber, 17 g sugar), 58 g protein
This chain's slogan doesn't lie. All it takes is one glance at this half-pound sandwich and you'll see that they do, indeed, have the meats. With roast turkey, smoked ham, and triple-thick bacon all packed between these brioche buns, you'll be lucky if you can get your mouth around it — and even luckier if you can work off all 830 calories at the gym later. If you order this anyway, a couple glasses of water is a must-have side dish! How else are you going to combat these insane levels of sodium?
Now, The Best…
Buttermilk Crispy Chicken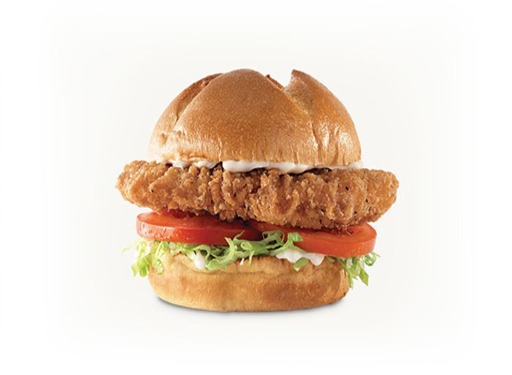 550 calories, 26 g fat (4.5 g saturated fat), 1,480 mg sodium, 52 g carbs (2 g fiber, 6 g sugar), 29 g protein
Not many of the Arby's sandwich options have more protein than they do fat, or less sodium than your daily dose all rolled into one. But at 550 calories, this chicken sandwich is a much smarter choice than all of those menu bombs. Still, this isn't grilled so it's not our go-to. You've got a better chance of reaching those weight loss goals if you whip up any of these healthy chicken recipes for weight loss to crush your cravings instead.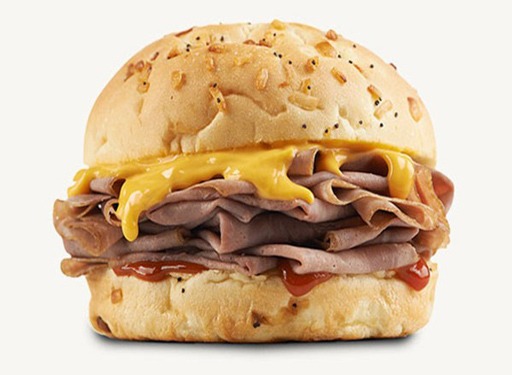 450 calories, 20 g fat (6 g saturated fat), 1,280 mg sodium, 45 g carbs (2 g fiber, 9 g sugar), 23 g protein
This classic Arby's roast beef sandwich on an onion roll is one of the few menu items with less than 500 calories, even when smothered in cheddar cheese and red ranch sauces. Resist the temptation to order the double or the half pound versions, though, unless you feel like knocking out your sodium for the day and adding anywhere from 200 to 300 extra calories.
Ham, Egg, and Cheese Croissant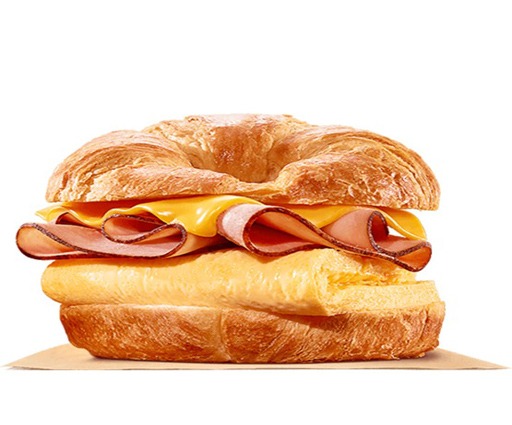 420 calories, 23 g fat (11 g saturated fat), 1,120 mg sodium, 30 g carbs (1 g fiber, 5 g sugar), 21 g protein
If you ever find yourself at Arby's in the a.m., make sure to ask the cashier for the best breakfast possible. This ham, egg, and cheese sandwich may have a buttery croissant bun, but we can look past that with its 30 grams of carbs and 23 grams of fat. When you consider it in terms of everything else on the menu, it's a low-cal option that won't do much damage.
360 calories, 14 g fat (5 g saturated fat), 970 mg sodium, 37 g carbs (2 g fiber, 5 g sugar), 23 g protein6254a4d1642c605c54bf1cab17d50f1e
By simply replacing the Beef 'N Cheddar's onion bun with a sesame one and removing the cheddar cheese and ranch sauces, this roast beef sandwich cuts its fat content in half, drops 90 calories, and leaves quadruple-digit sodium levels behind. And it does all that without losing a single gram of protein! Sounds like a great way to get your guilt-free Arby's fix.
300 calories, 8 g fat 3.5 g saturated fat), 1,060 mg sodium, 37 g carbs (3 g fiber, 0 g sugar), 3 g protein*
Now, this is what we're talking about. Who knew you could walk out of Arby's feeling full and satisfied without putting your insides through the wringer? This simple ham and swiss melt with only 300 calories and 8 grams of fat should be any weight watchers' first choice.