8 Healthiest Fast-Food Sandwiches, According to RDs
If you need something quick that won't derail your health goals, try these healthy fast-food sandwiches.
In our time-pressed days, fast-food sandwiches have become a daily staple for many. More than half of all Americans enjoy a sandwich daily, according to research from the University of Illinois. However, the researcher also reported that eating sandwiches results in individuals consuming about 100 more calories and 268 milligrams more sodium. What's more, numerous studies recommend limiting processed meats like cold cuts to reduce risk for high blood pressure, cardiovascular disease, and certain types of cancer. A study reported in JAMA Internal Medicine reported that a higher intake of processed meat, increased risk of cardiovascular disease and death from all causes. So, if fast-food and quick casual sandwiches are part of your diet, it's important to make the best choices and find healthy fast-food sandwiches that you actually enjoy.
Here, we asked registered dietitians for their most recommended sandwiches from their favorite fast-food sandwich chains. Whether you are trying to lose weight, or maintain your macros, there are plenty of ways to hack the menus at these fast-food chains to meet your goals.
Here are some guidelines from registered dietitians to help you choose a healthier fast-food sandwich:
Go vegetarian: Most vegetarian sandwiches will have more vegetables and fewer calories, saturated fat, and sodium, compared to sandwiches stuffed with processed deli meats.
Order smaller: When choosing a sandwich, opt for the smallest size, like a six-inch sandwich versus a foot-long. Often, the smaller size sandwiches have one-third to one-half the calories of their larger counterparts.
Avoid wraps: Wraps tend to have significantly more carbohydrates and calories than regular sandwiches on sliced bread or even sub-type sandwiches.
Consider an "Un-Wich:" Some chains allow you to have lettuce wrap in place of bread.
Ask for more vegetables, and less meat and cheese: That simple hack will shave a significant number of calories, fat, saturated fat, and sodium from you meal.
Limit the amount you eat: If you have high blood pressure or are sodium sensitive, you should limit these sandwiches in your diet, as most fast-food sandwiches are higher in sodium.
So, if you do go out for a quick bite, here are eight healthy fast-food sandwich options that are better than the rest.
Caprese Sandwich from Au Bon Pain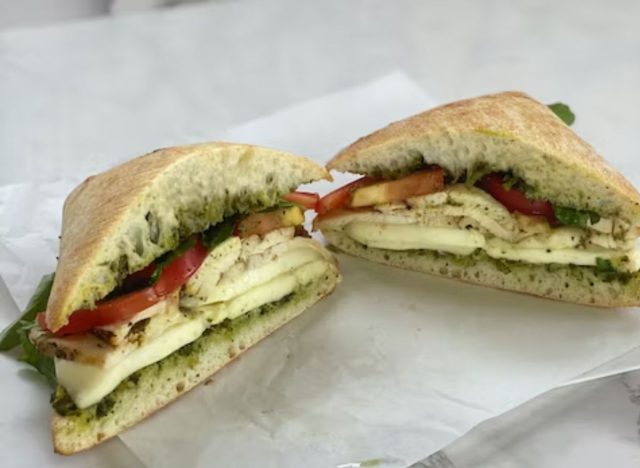 Per sandwich: 540 calories, 24 g fat (10 g saturated fat), 960 mg sodium, 56 g carbs (3g fiber, 3g sugar), 27 g protein
This delicious vegetarian sandwich is my pick at Au Bon Pain. As a registered dietitian nutritionist, I like the classic flavors of this Italian Caprese. It's made with fresh Mozzarella cheese, basil pesto, arugula, and tomatoes. Weighing in at 540 calories, this sandwich is good for a main meal, and it won't derail your healthy eating goals. When ordering at Au Bon Pain, choose to have your sandwiches on a Ciabatta role rather than other bread options, as it is significantly lower in calories.
Turkey Ranch and Swiss from Quiznos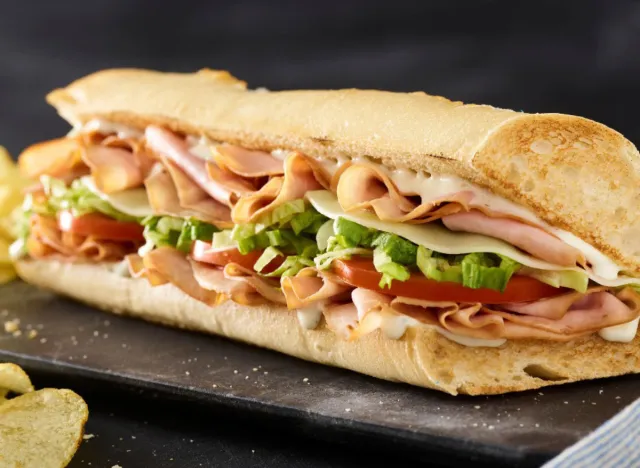 Per sandwich (4-inch): 450 calories, 23 g fat (8 g saturated fat), 1350 mg sodium, 40 g carbs (3 g fiber, 5g sugar), 21 g protein
This sandwich is a great option from Quiznos because it is moderate in calories thanks to lean turkey breast, and it provides 21 grams of filling protein. Due to the Swiss cheese, it does have eight grams of saturated fat, but that is well within one's daily limits. Whenever eating a fast-food sandwich that has more than 700 milligrams of sodium, it's important to monitor your sodium intake for the remainder of the day.
Rainbow Veggie Sandwich from Pret a Manger
Per sandwich: 410 calories, 18 g fat (2.5 g saturated fat), 770 mg sodium, 54 g carbs (6 g fiber, 9 g sugar), 11 g protein
Registered dietitian, Patricia Bannan, MS, RDN, author of From Burnout to Balance, likes this sandwich from Pret A Manger. "It's made with miso sesame hummus, avocado, arugula, cucumber, and pickled cabbage & carrots on multi-grain bread, and this vegetarian sandwich has 410 calories and provides six grams of fiber for gut health, as well as 11 grams of protein for staying power," says Bannan. "The sodium is slightly high at 770 milligrams, but it is still lower than most sandwiches at chain restaurants. Plus, it tastes fresh and delicious."
Veggie Delite from Subway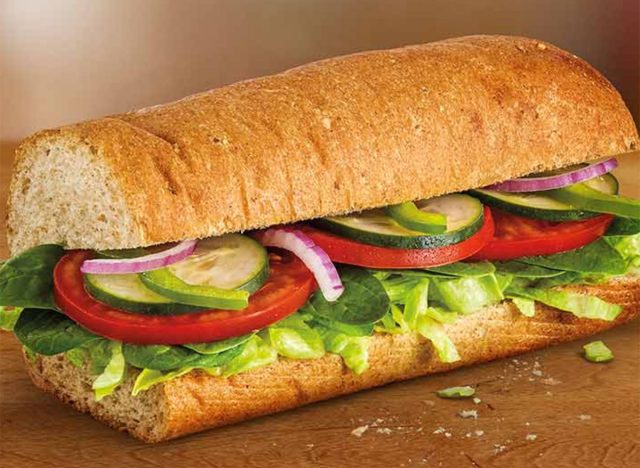 Per sandwich: 200 calories, 2g fat (0 g saturated fat), 320 mg sodium, 39 g carbs (4 g fiber, 5 g sugar), 8 g protein
I've always been a fan of Subway's Veggie Delite. I like that I can add a ton of veggie options and I can have it with or without cheese. Weighing in at just 200 calories, this sandwich is a fraction of the calories, fat, saturated fat, and sodium of most fast-food sandwiches. Despite being low in calories, this sandwich has enough fiber and protein to help keep you satisfied.
At Subway, order multi-grain bread and stick with their smallest, six-inch subs and skip their higher-calorie wrap sandwiches.
Napa Almond Chicken Salad Sandwich from Panera Bread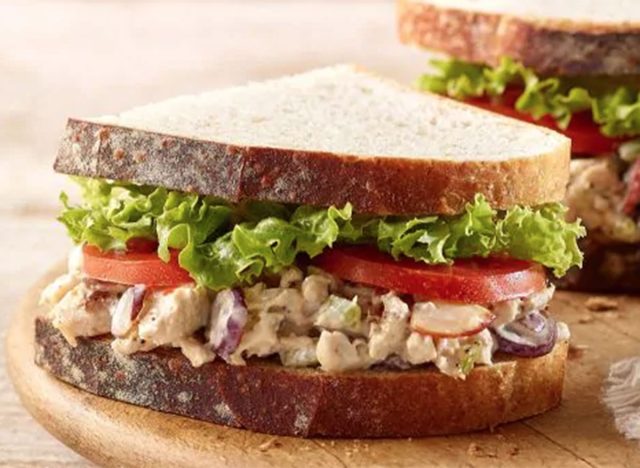 Per sandwich: 640 calories, 25 g fat (4 g saturated fat), 970 mg sodium, 78 g carbs (5 g fiber, 12 g sugar), 27 g protein
Bannan also likes this popular menu item from Panera Bread. "It's made with chicken tossed with diced celery, sliced grapes, toasted almonds, and a special dressing, served with greens and tomatoes on a rustic sourdough bread," explains Bannan. "This chicken salad sandwich has 27 grams of protein, which will help you feel fuller, longer." It also has five grams of gut-healthy fiber, and while the sodium content is on the higher side (970 milligrams), some sandwiches at Panera Bread pack twice that amount, so it's still one of the better options from the chain.
Mediterranean Veggie from Panera Bread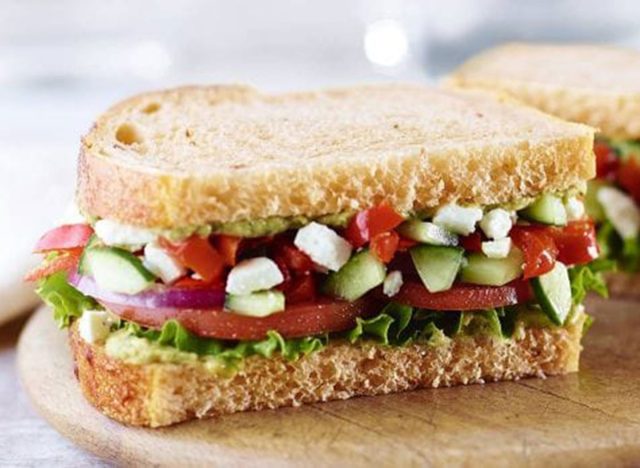 Per sandwich: 640 calories, 14 g fat (4 g saturated fat), 1660 mg sodium, 106 g carbs (7 g fiber, 11 g sugar), 23 g protein
Nutritionist Sarah Garone, NDTR, CNC recommends the Mediterranean Veggie sandwich from Panera. "This sandwich is loaded with fresh vegetables like peppers, tomatoes, and cucumbers, giving it plenty of antioxidants and an impressive seven grams of fiber. It's also relatively high in protein at 23 grams per sandwich. The primary drawback here is sodium, which is quite high. But compared to most fast-food sandwiches, it's still a good choice," says Garone. Ask to have this sandwich made without feta cheese and added salt, and you can significantly slash the sodium content.
Veggie Sandwich from the Firehouse Subs
Per sandwich (small): 360 calories, 22 g fat (6 g saturated fat), 1040 mg sodium, 29 g carbs (2 g fiber, 4 g sugar), 12 g protein

6254a4d1642c605c54bf1cab17d50f1e

A small Veggie Sandwich from Firehouse is one of the healthiest items on the chain's menu. Nutritionally, it's relatively low in calories and saturated fat, and it provides 12 grams protein. It's also easy to modify if you eat an entirely plant-based diet, explains Rhyan Geiger, RDN, Owner of Phoenix Vegan Dietitian. "Removing cheese and mayo will make the sandwich vegan and also helps lower the amount of saturated fat and sodium, making it a healthier option than many other meat-based subs." You can also opt for whole wheat bread instead of white bread for additional fiber and to keep you feeling full longer, adds Geiger.
The Veggie from Jimmy John's Sandwiches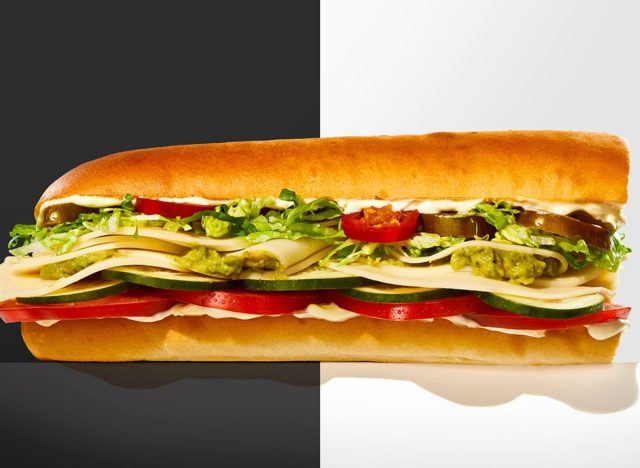 Per sandwich (8-inch): 670 calories, 39 g fat (13 g saturated fat), 1,160 mg sodium, 50 g carbs (5 g fiber, 2 g sugar), 27 g protein
This sandwich features provolone cheese, avocado, lettuce, tomato, and cucumber and can be customized with additional vegetables of your choice. Geiger recommends this sandwich (removing the provolone and mayo to make it vegan) or the Veggie Unwich. "An Unwich comes wrapped in fresh lettuce, giving you roughly 34% fewer calories overall and a boost of veggies for the day. You can customize your sandwich to include even more toppings. I like to recommend adding a dollop of hummus for extra protein, especially when you're on the go. Those are easy to carry with you."
Julie Upton, MS, RD, CSSD
Julie Upton is an award-winning registered dietitian and communications specialist who has written thousands of articles for national media outlets, including The New York Times, US News & World Report, and USA Today.
Read more about Julie