The Best Summer Foods for Weight Loss
Seeking how to get your body beach-ready in no time? Look no further than these essential eats.
From sunshine-filled days to idyllic beach getaways, summer is the perfect time to take things slow and enjoy the great outdoors before the colder temperatures creep back in. But, for many of us, summer is also the time when tons of unhealthy foods—like oversized frozen cocktails, sugary carnival treats, and deep-fried seafood—make their way onto our menus, leaving us stuffed and bloated.
But we're here to help you with that. With all the fresh fruits and vegetables reaching peak ripeness in the summer, it's not hard to swap out those fattening foods for waist-friendly ones that are just as delicious. To get beach-ready by summer, add these essential superfoods to your menu today. And make sure you're staying far away from any of these worst summer foods for your belly, and instead, stock up on any of The 7 Healthiest Foods to Eat Right Now!
Cherries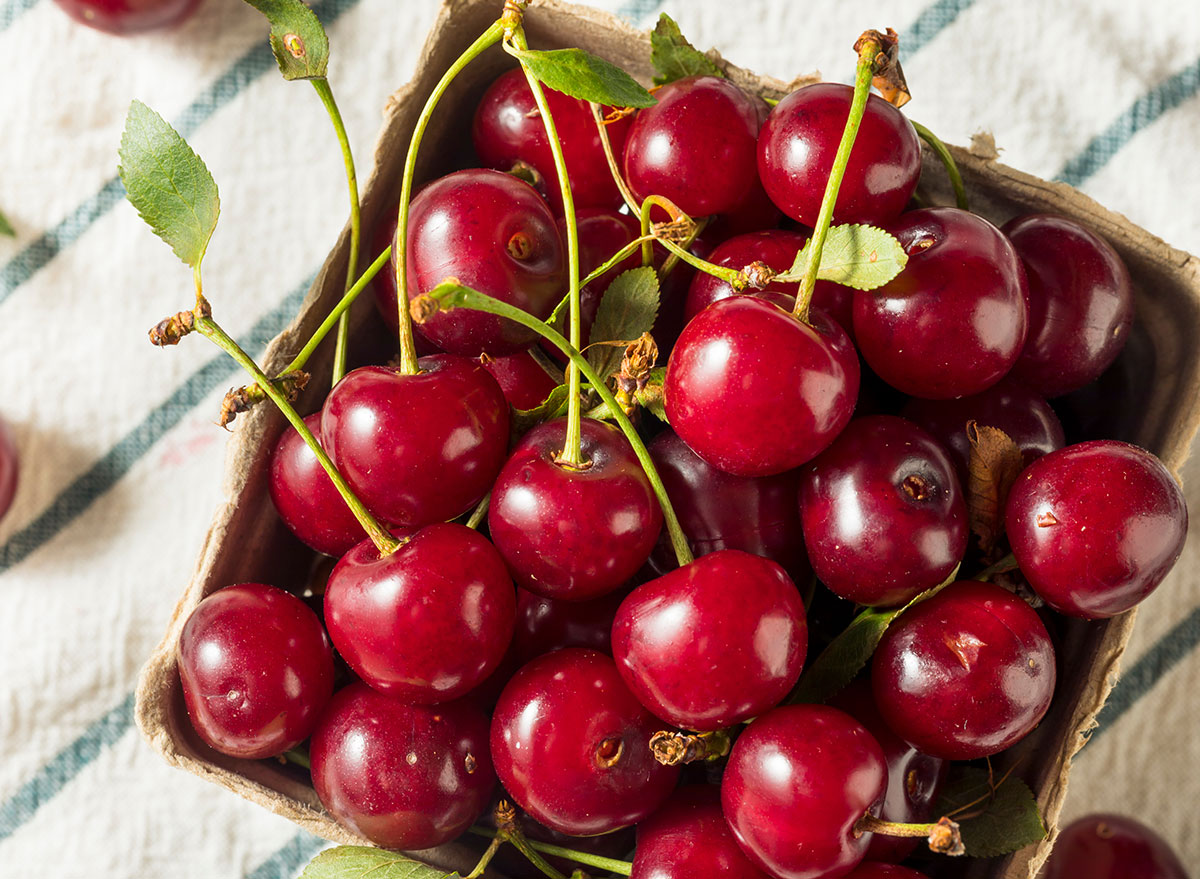 Cherry-picked for their health benefits, these tasty summer superfoods do more than just satisfy your sweet tooth. Cherries are loaded with resveratrol, an antioxidant that packs some serious body-transforming powers. Researchers at Washington State University, Pullman found that mice given high doses of resveratrol were able to convert the excess white fat on their bodies into brown fat, which can increase metabolism and help you burn more calories. And researchers at the University of Georgia, Athens, have found that resveratrol supplementation also reduced weight gain and bone demineralization.
Portobello Mushrooms
Bye, burgers! This summer, the hottest choice for grillers is the portobello mushroom. A flavorful, low-fat substitute for meat that pairs well with heart-healthy ingredients like garlic and olive oil, the portobello is as good for your taste buds as it is for your waistline. Researchers at the University of Buffalo's Department of Nutrition Science have found portobello mushrooms effective at stabilizing female test subjects' blood sugar and minimizing insulin spikes, staving off cravings and keeping those unwanted pounds at bay. Need more inspiration for your next cookout? The 29 Best-Ever Proteins for Weight Loss can help you fill up the healthy way.
Cucumbers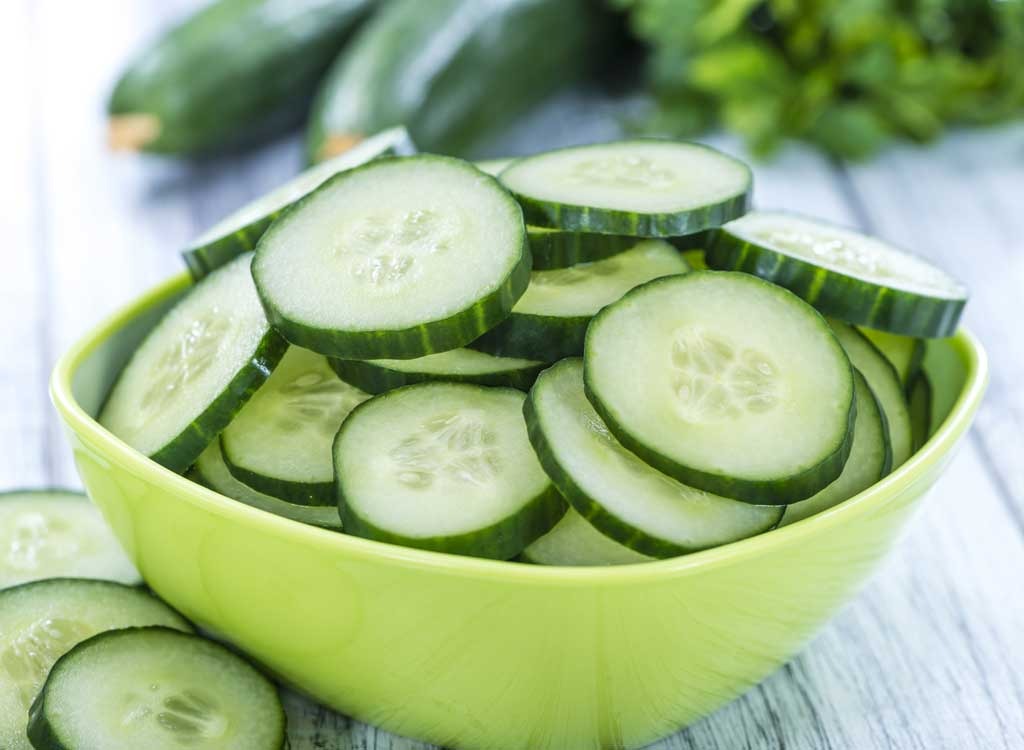 Stay cool as a cucumber this summer by making this crunchy veggie part of your menu. Super-hydrating cucumber is low in calories, loaded with inflammation-fighting antioxidants, and can even reduce your risk of hypertension. Researchers in Indonesia discovered a significant reduction in blood pressure among elderly women whose diets were supplemented with cucumber juice, suggesting this tasty veggie may even help you live longer. And who doesn't want that?
Grapefruit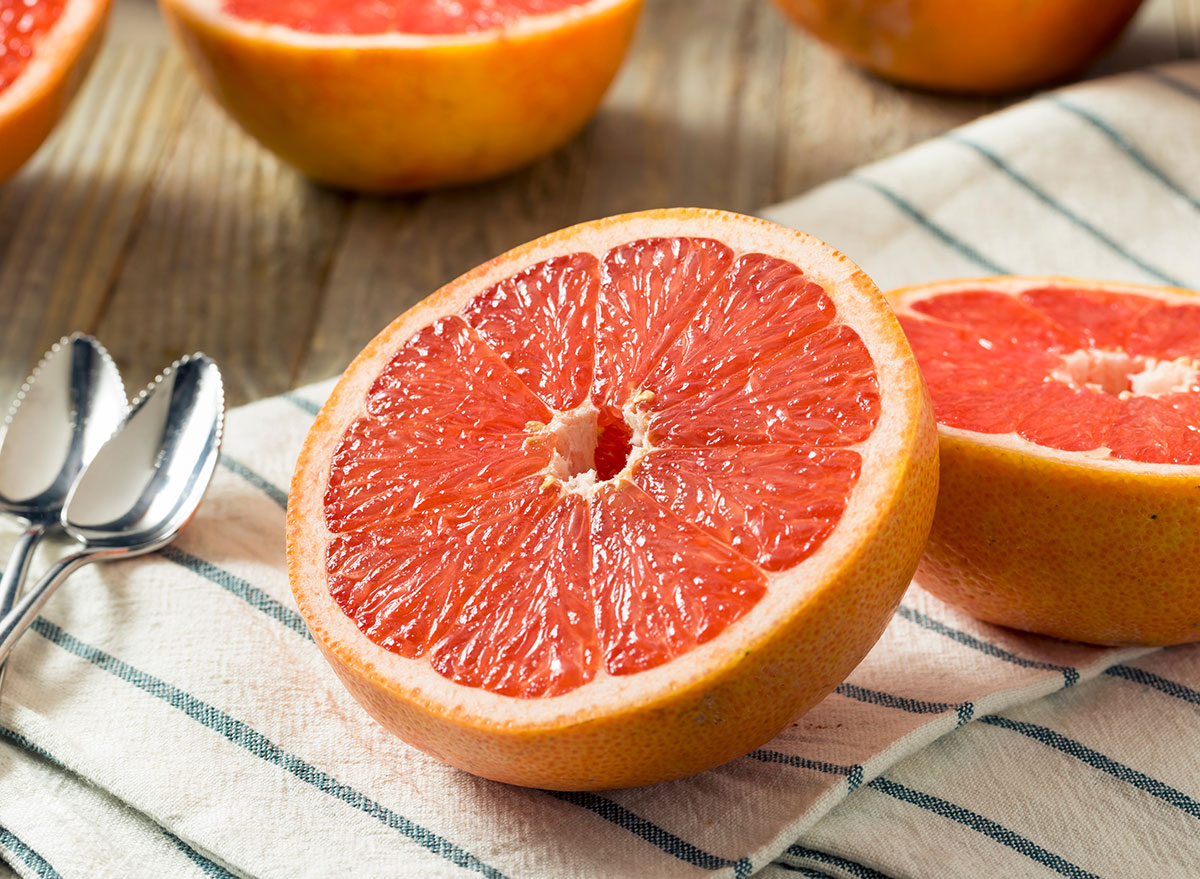 Who wants to stand over a hot stove when the temperature heats up? Instead of spending time in a sweltering kitchen, enjoy a cool and easy breakfast this summer by making grapefruit part of your regular routine. In addition to its high vitamin C content, which can boost your immune system and help you fend off those summer colds, grapefruit is an amazing choice for anyone trying to slim down. Studies suggest that grapefruit can help stabilize insulin levels, shutting up those voices telling you to indulge your sugar cravings, and it can also make it easier to shed that spare tire. Researchers at Vanderbilt University found that obese adults who downed a half-cup of pure grapefruit juice before meals lost significantly more weight than the control group, who front-loaded their food with water.
Ceviche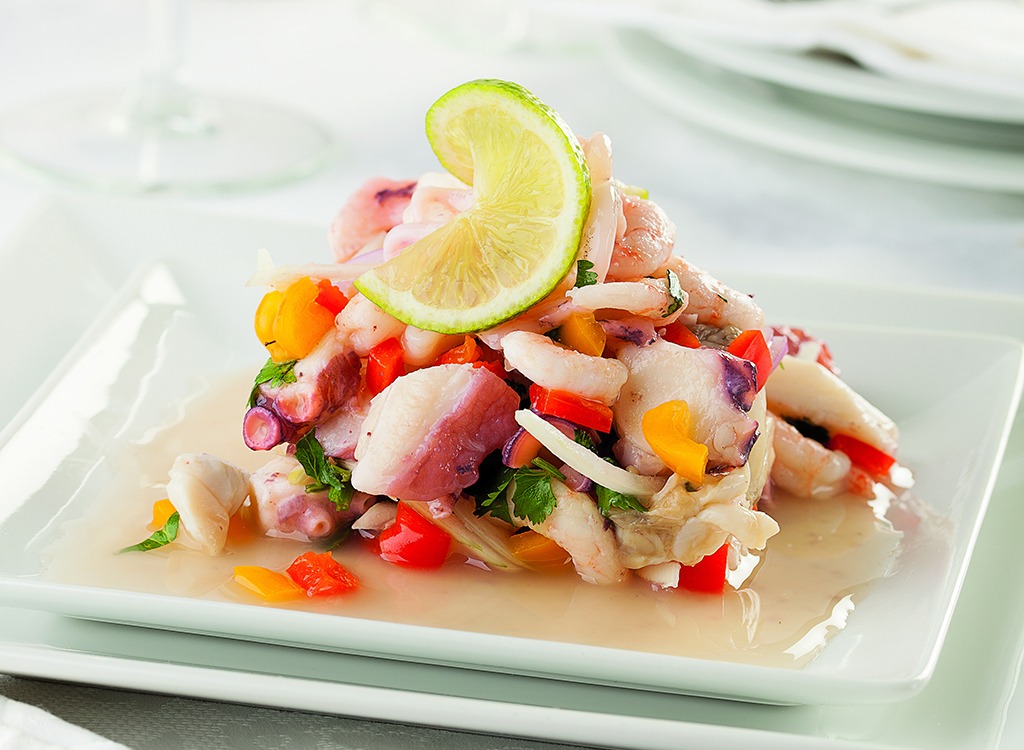 Ceviche is a great choice for those hot summer nights when you want a quick and easy meal but are trying to ignore the lure of takeout menus lurking in your kitchen drawer. Combining citrus with omega-3-rich fish, which help you feel full while fighting inflammation and reducing your risk of heart disease, is a low-calorie way to satisfy your hunger. Even better, studies suggest the spicy peppers and lime juice used to flavor this popular Latin American dish can help you slim down. Research published in the British Journal of Nutrition reveals that capsaicin, the compound that gives chili peppers their spice, helps overweight subjects lose significantly more fat after the study ended than those offered a placebo.
Salsa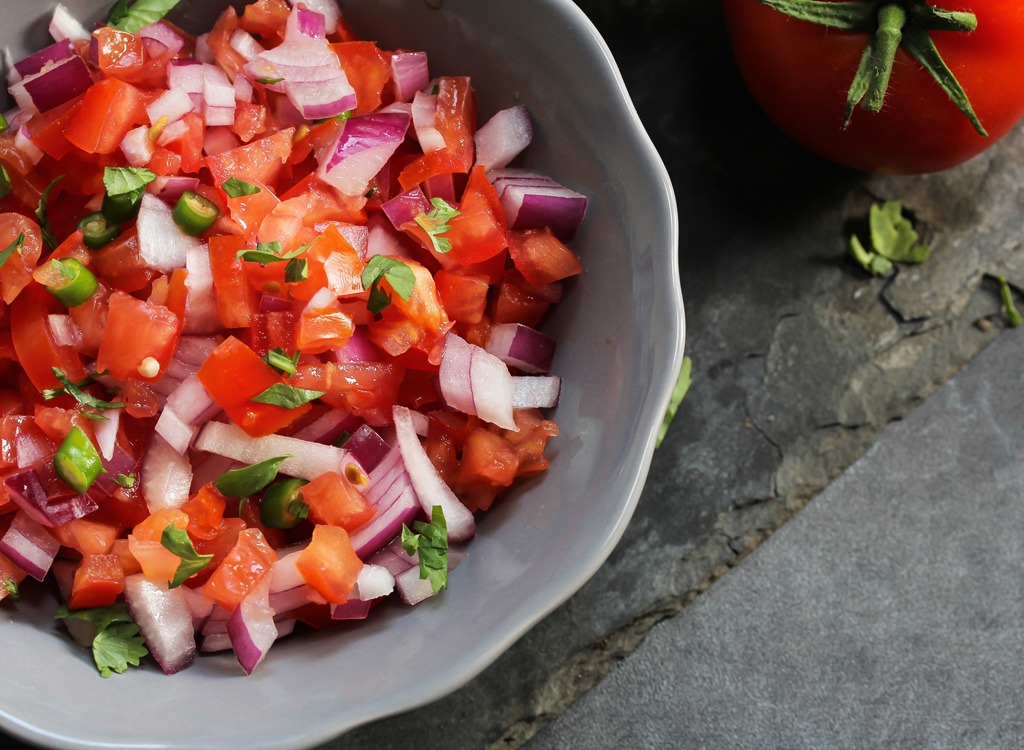 Bring the heat this summer by whipping up a batch of fresh salsa and your body will thank you. Combining antioxidant-rich onions, metabolism-revving jalapeños, and weight loss-promoting citrus, salsa is already home to a wealth of good-for-you ingredients. But, its main component, the tomato, may just be the best of the bunch. Research conducted at the Harvard School of Public Health reveals that lycopene, a pigment that gives tomatoes their distinctive hue, can lower stroke risk by up to 55 percent.
Watermelon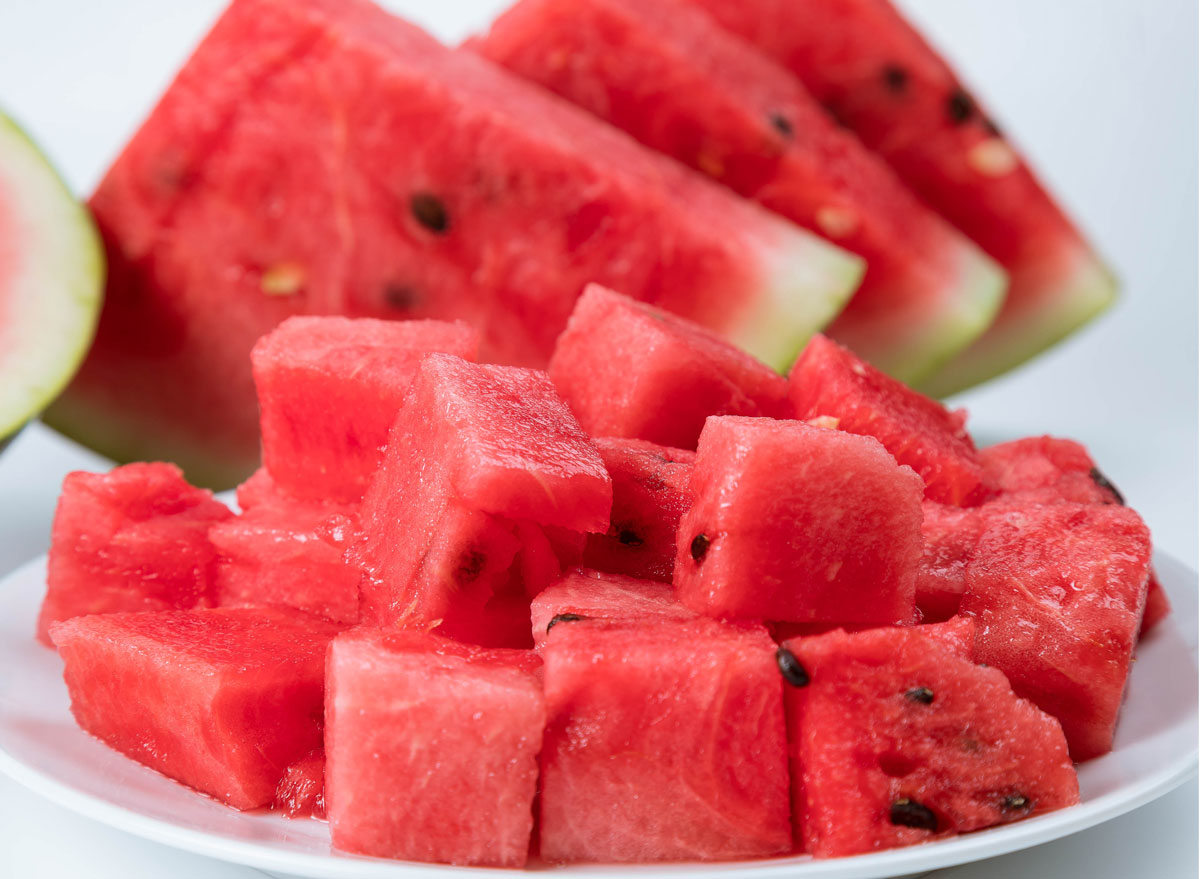 Getting healthier this summer starts with a familiar staple: watermelon. Made up of more than 90 percent water, this sweet treat is a great way to stay cool and hydrated, even on the hottest summer days. Even better, researchers at Purdue University and the University of Kentucky found that mice who consumed watermelon juice lowered their cholesterol, decreased the amount of plaque in their arteries, and lost more weight than a group given a non-watermelon carbohydrate solution.
Corn on the Cob
In season and easy to cook, making corn part of your summertime menu is an easy way to make your meals healthier in an instant. In addition to packing nearly 2 grams of fiber in every 60-calorie ear, corn is a good source of lutein and zeaxanthin, a pair of phytochemicals that researchers at the University of Vienna have linked to lower rates of age-related macular degeneration.
Iced Coffee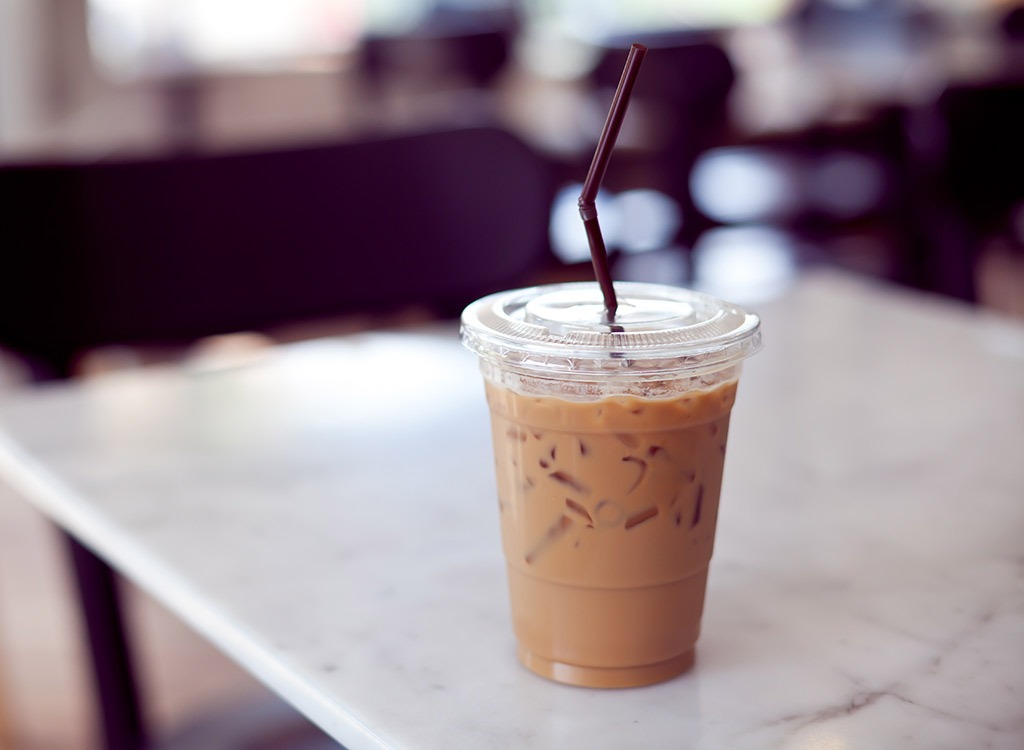 That's right: your morning pick-me-up has some major benefits for your health. Not only have researchers at the University of Exeter discovered that supplementation with green coffee extract yielded greater weight loss than a placebo in test subjects, but a study conducted at the University of Minnesota found that coffee consumption slashed patients' risk of type 2 diabetes by more than 20 percent. Just make sure you're not making an otherwise healthy drink a poor choice by loading it with creamer; many of the varieties on the market are loaded with high fructose corn syrup, emulsifiers, and preservatives that can sabotage your weight loss. (If you're looking for healthy meal inspiration, sign up for our newsletter to get daily recipes and food news in your inbox!)
Gazpacho
Cooling down with a bowl of gazpacho can make this the year you finally shed those unwanted pounds for good. Loaded with lycopene-rich tomatoes, filling cucumber, and flavorful garlic and onions, this chilled soup will keep your metabolism firing on all cylinders. Rounding out the list of ingredients is olive oil, which can reduce your risk of heart disease by as much as 35 percent, according to research published in BMC Medicine, making this a great choice for anyone eager to make their whole-body health a priority. For more soups that will slim you down, add the 20 Best-Ever Fat-Burning Soups to your summer menu!
Blueberries
The key to a red-hot body? Going blue. Whether you're tossing some blueberries into your favorite smoothie or just eating them on their own, each time you grab a handful of these sun-ripened berries, you're steering a course toward better health. While they don't share the same reddish hue as many sources of resveratrol, blueberries are still loaded with the stuff, making them a great choice for anyone trying to transform their body. They're also a low-glycemic food, meaning that they don't result in drastic insulin spikes brought about by other sweet treats.
Oysters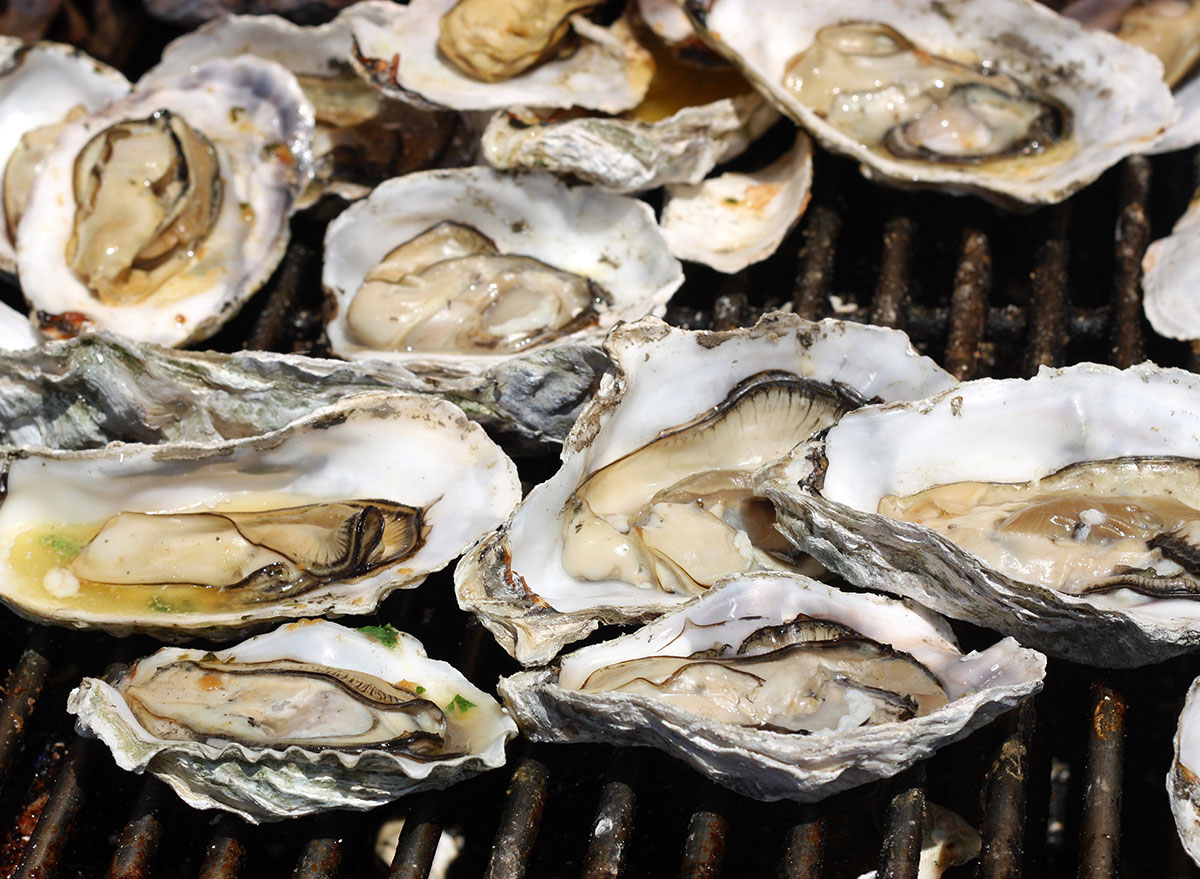 Sidle up to the raw bar and secure yourself a healthier future. Oysters are a great source of omega-3 fatty acids, which research published in Appetite has linked to increased satiety in overweight and obese adults. Anyone struggling with hypertension would be wise to add these slimy shuckers to their menu, too; researchers at the University of Utah, Salt Lake City found that omega-3s significantly reduced blood pressure.
Guacamole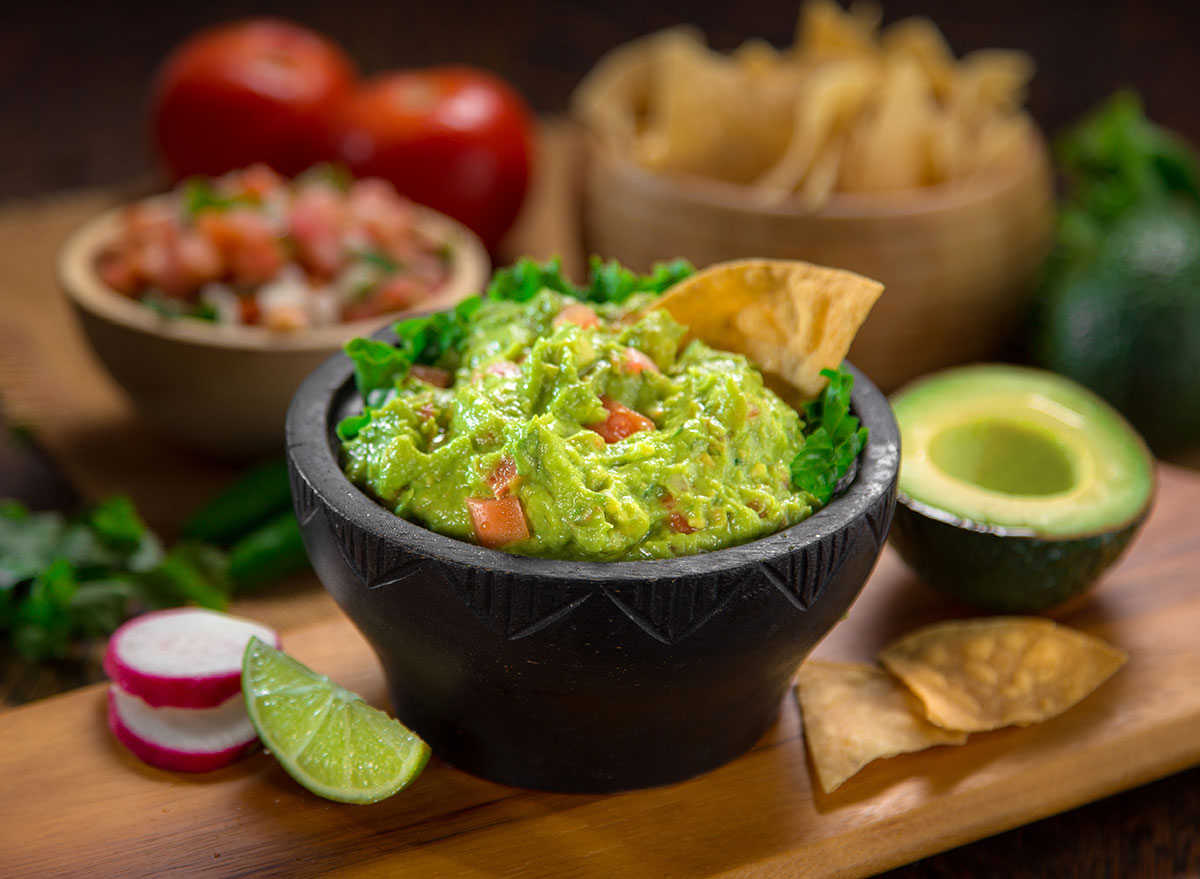 While it would be difficult to make the case for deep-fried tortilla chips as health food, their tastiest accouterment, guacamole, certainly is. Avocados are a good source of healthy monounsaturated fat, while add-on ingredients, like jalapeños, lime juice, and quercetin-rich onions, have all been linked to weight loss. The 10 Best Avocado Recipes for Weight Loss are equally-delicious ways to have your avocado and eat it, too.
Shrimp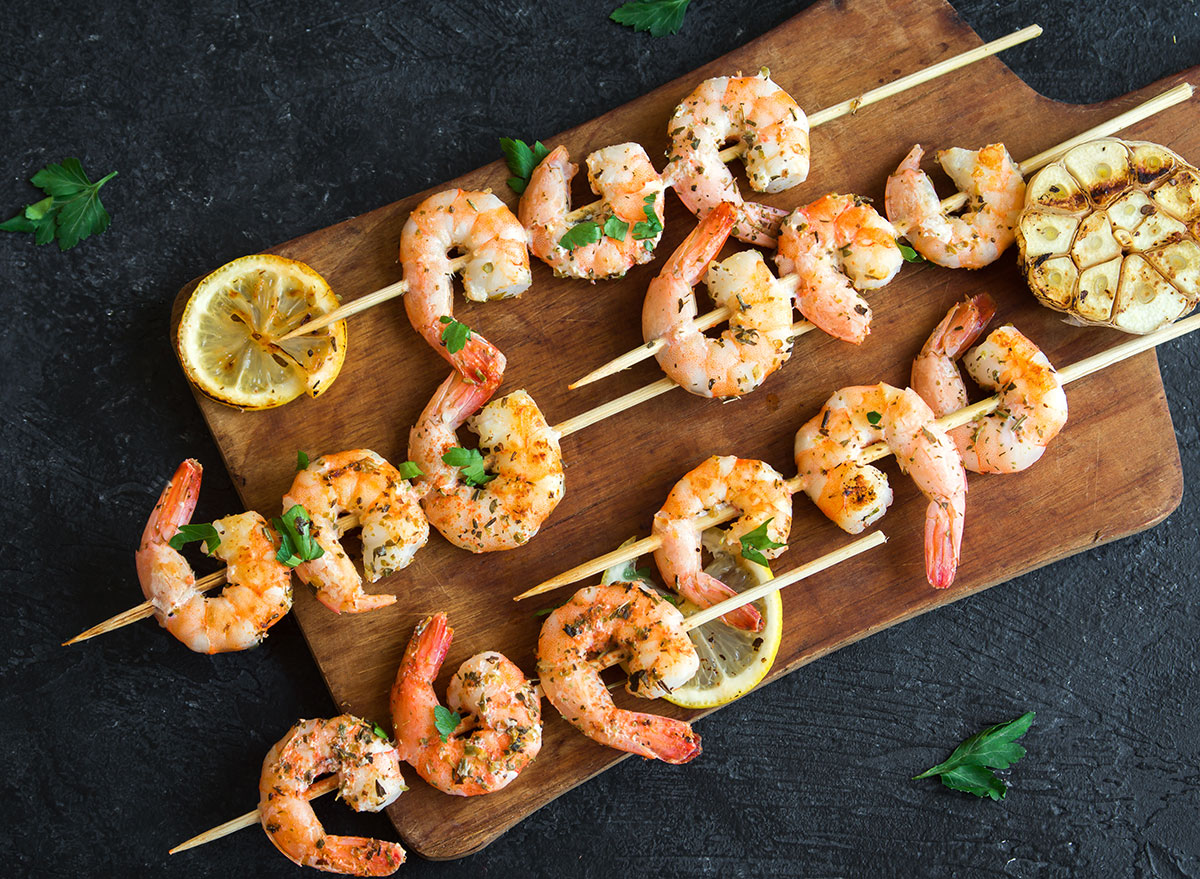 This coral-colored crustacean is no slouch when it comes to your health. Not only are shrimp a good source of low-calorie protein, they're also a good source of inflammation-fighting omega-3s, which may help speed up your weight loss efforts, too.
Strawberries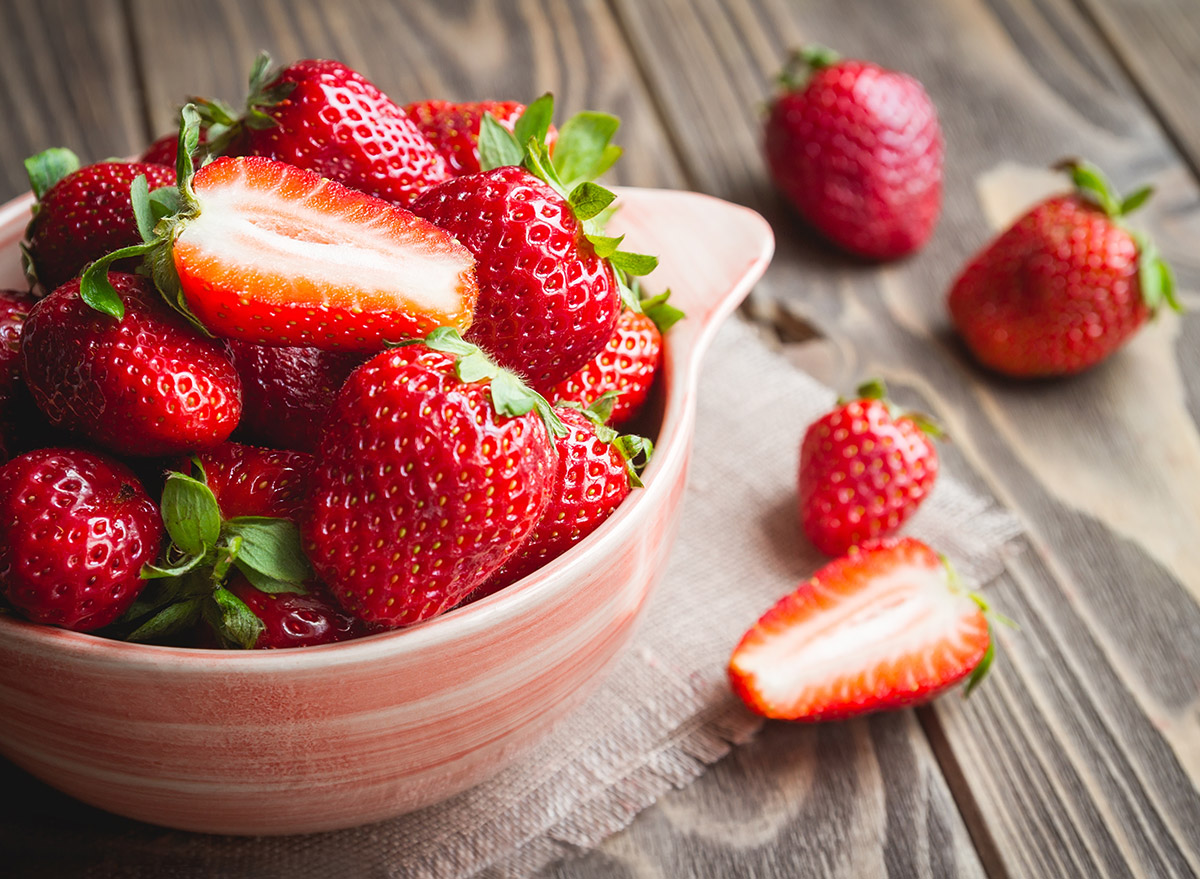 Sweeten up your menu by making strawberries your go-to snack this summer. A cup of strawberries has just 47 calories and packs nearly 3 grams of gut-health-promoting fiber, 141 percent of your daily vitamin C, and plenty of energizing B6, to boot. Strawberries are also a vegan-friendly source of iron, which can help fend off anemia-related fatigue and weight gain. Before you hit the beach this summer, make sure to add some of the best foods that melt stubborn fat to your meal plan!
Grilled Salmon
Instead of slapping another artery-clogging burger on the grill, lighten up your summer fare by enjoying some salmon instead. Chock full of protein and omega-3s, salmon is a heart-healthy choice that can make it easy to meet your health-related goals all season long. Just make sure you're opting for wild-caught fish instead of farmed salmon; wild salmon has lower levels of inflammation-promoting omega-6 and has higher omega-3 levels.
Tomatoes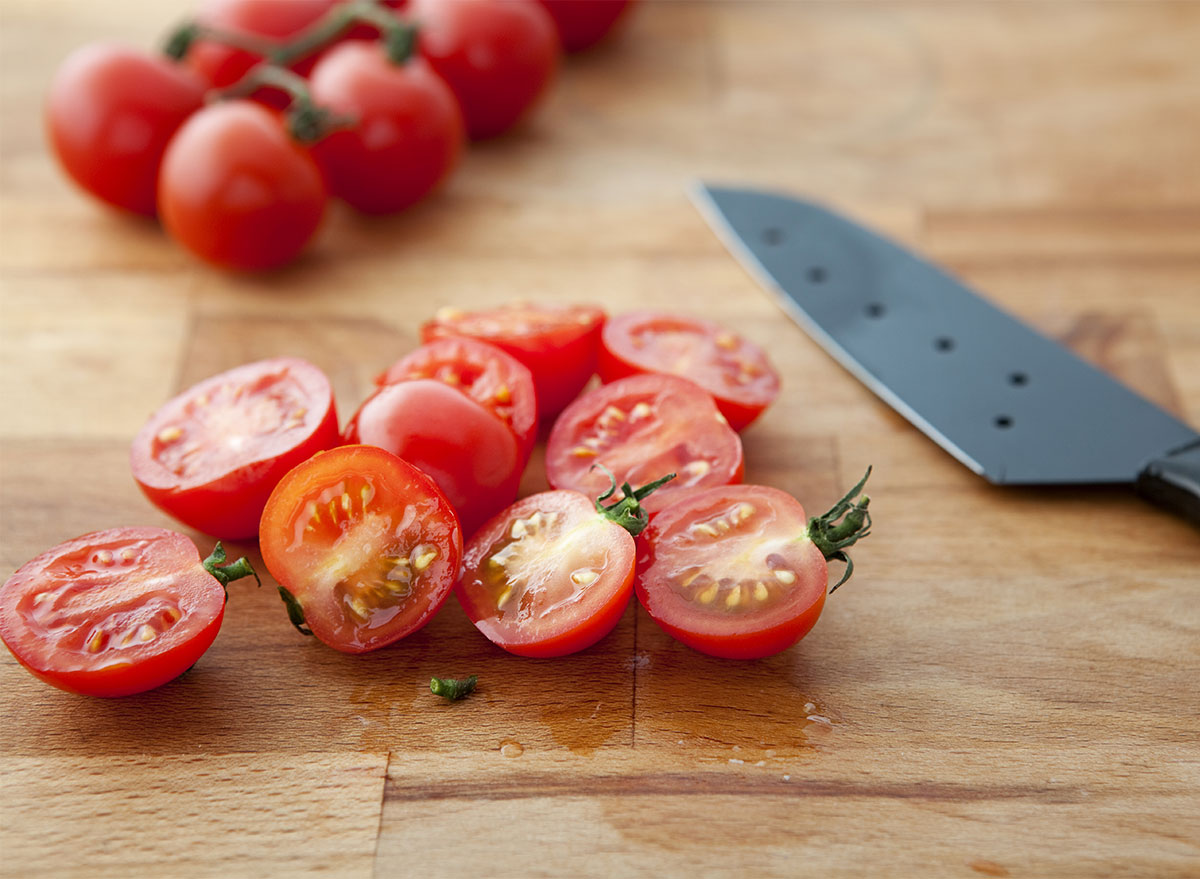 Whether in a soup, salad, or salsa, tomatoes are a refreshing way to load your diet with antioxidants while making every meal more filling. While these lycopene-rich bad boys are great on their own, drizzling them with olive oil and tossing them on the grill can lend them some extra heart-healthy benefits while transforming their flavor. Just don't try to derive the same benefits from ketchup; the sweet sauce is more sugar than vegetable.
Peaches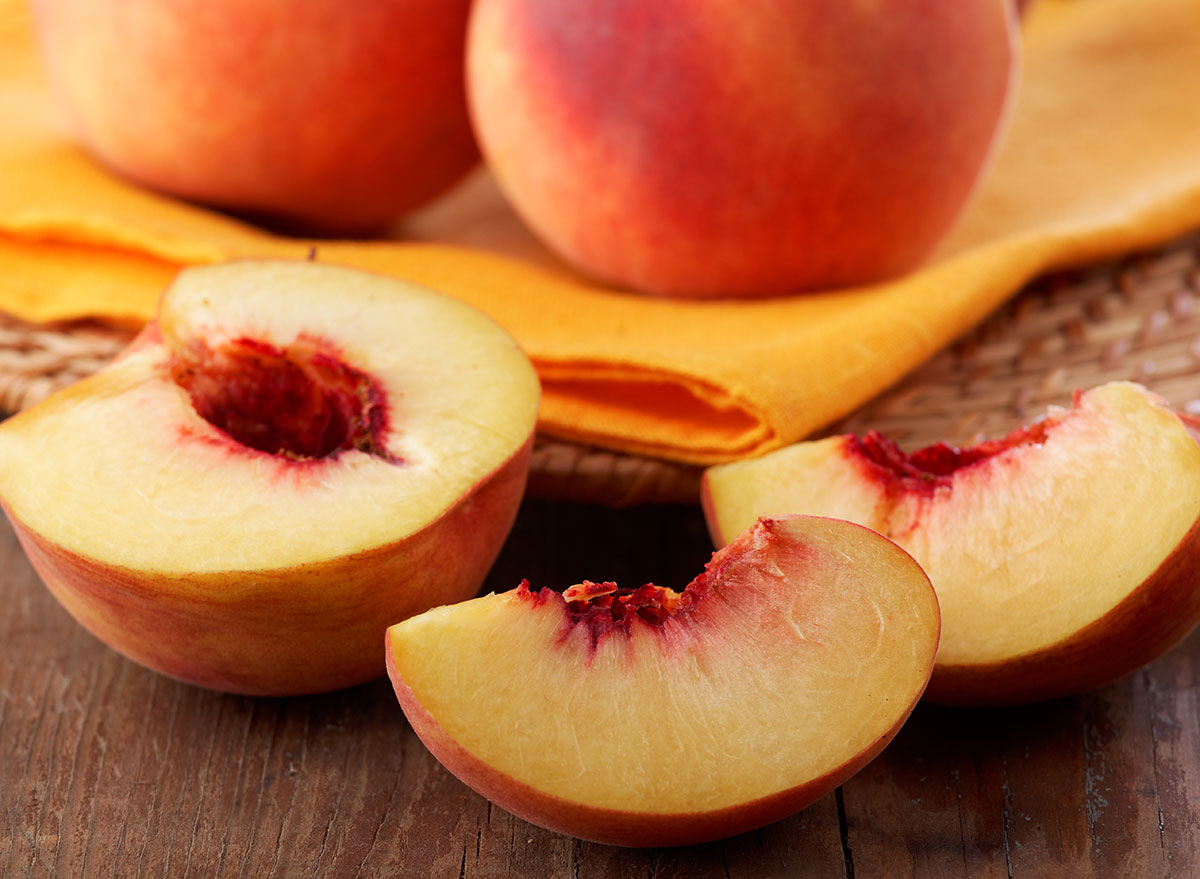 Putting some peaches on your menu can make this your healthiest summer yet. Peaches are a good source of vitamin C and beta-carotene, both of which have been linked to improvements in immune health and lower weight. If you're trying to make healthier food choices, peaches are a great sub for sugary sorbet: just blend and freeze for a no-sugar-added dessert the whole family will enjoy.
Lobster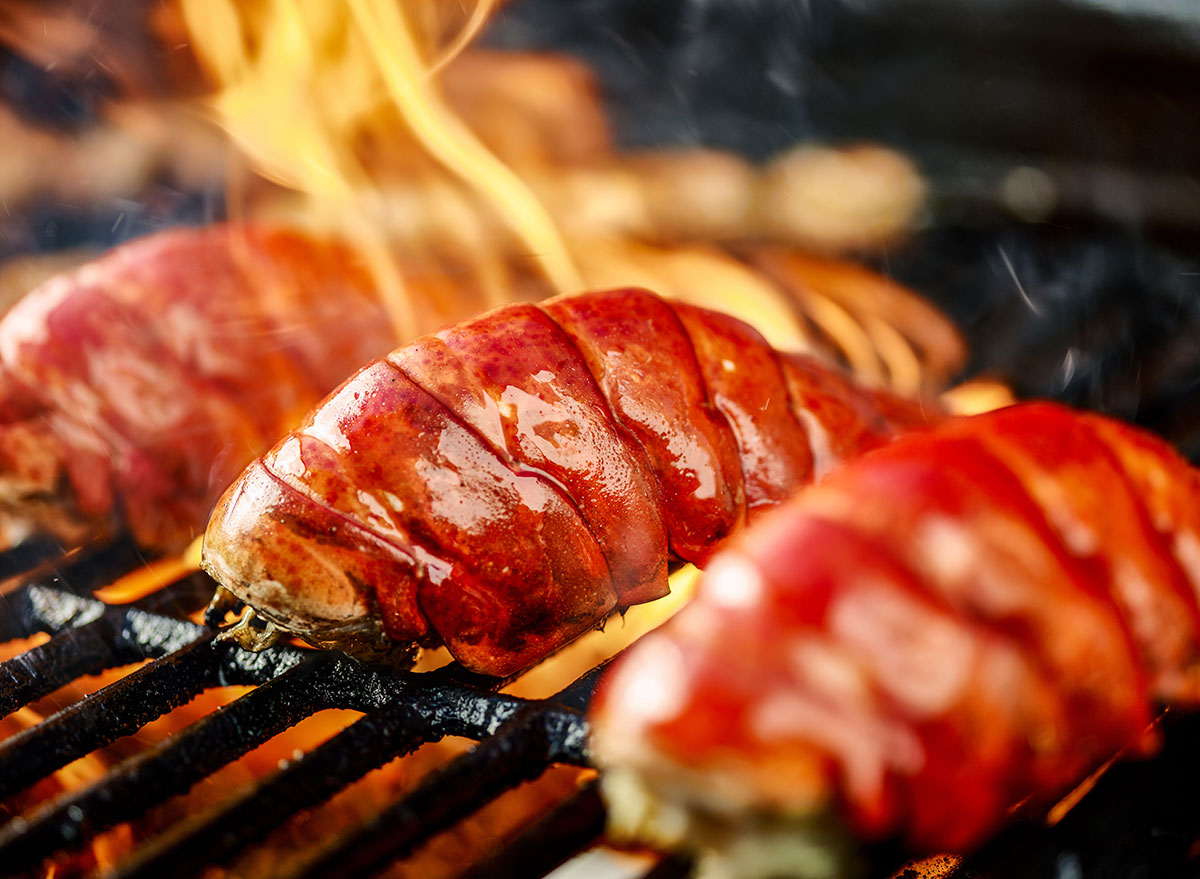 Treat yourself to some fresh-caught lobster and you'll be treating yourself to better health, too. A one-pound lobster packs just about 260 calories but contains more than 50 grams of filling protein, as well as nearly 20 percent of your RDA of bloat-fighting potassium. Like many of its fellow sea creatures, lobster is also a great source of omega-3s, making it a great addition to your healthy-living plan.
Chicken Kebabs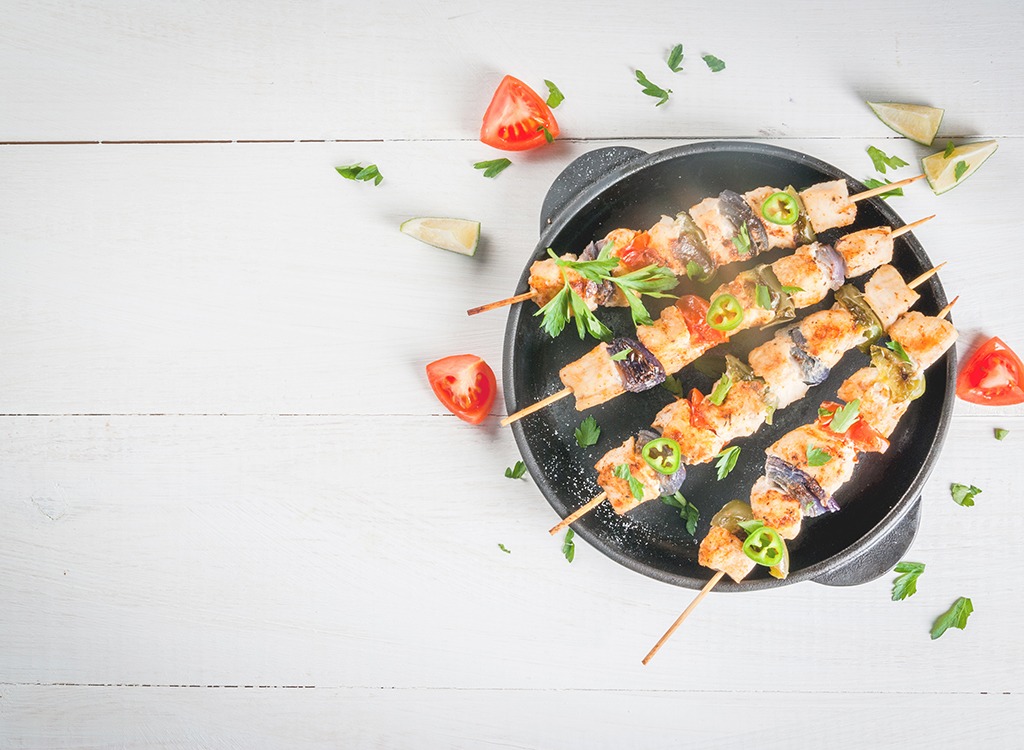 Whether it's meat, fruit, or a deconstructed s'more, there's no denying that everything tastes better when it's served on a skewer. Fortunately, your favorite impaled eats can also be pretty great for your health. Add some chicken and veggies to a skewer and toss them on the grill for some filling protein, fiber, and tons of vitamins and antioxidants that will keep you healthy from brain to belly. For the best bet, try skewering some sweet potato along with your protein; research suggests that beta-carotene-rich foods (like the sweet tater) can reduce your risk of metabolic syndrome, vision loss, and may even have a protective effect against the sun's harmful rays.
Hummus
It's no surprise that this superstar dip made our list of best slimming summer foods. Chickpeas are jam-packed with protein, fiber, and nourishing vitamins and fare well when blended with heart-healthy tahini and lemon juice. Instead of going to town on a box of crackers, cut up some crunchy veggies (we love colorful bell peppers, radishes, carrots, and celery) and dunk them into the spread instead. You'll save calories and load up on extra fiber—two major keys to sculpting your tummy for sundress season.
Artichokes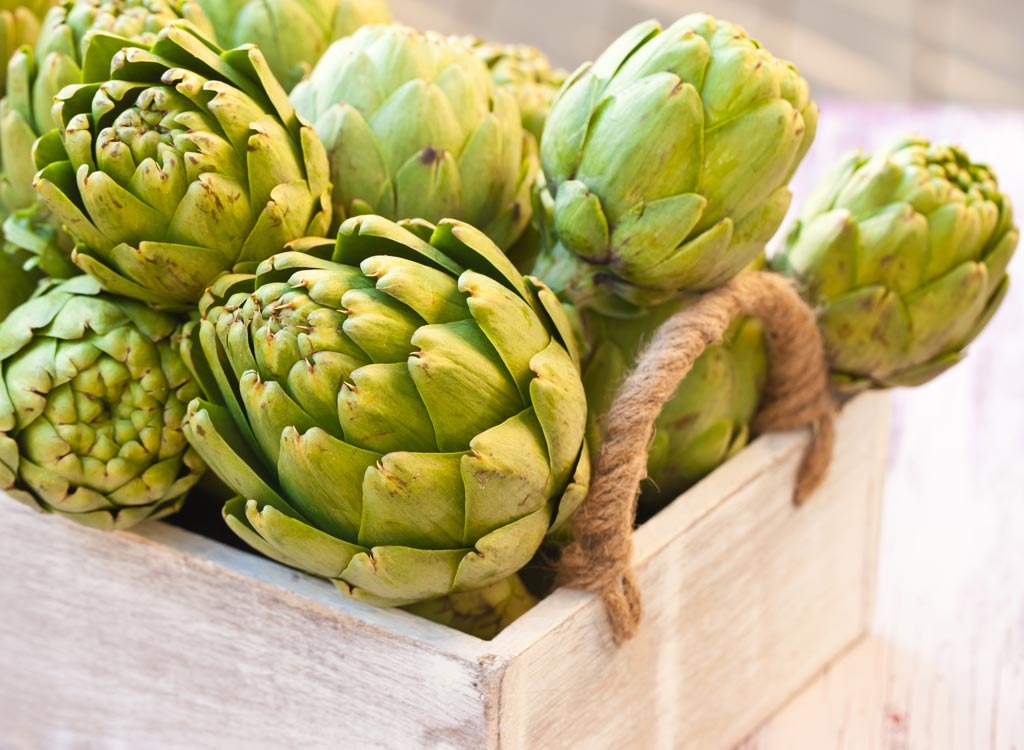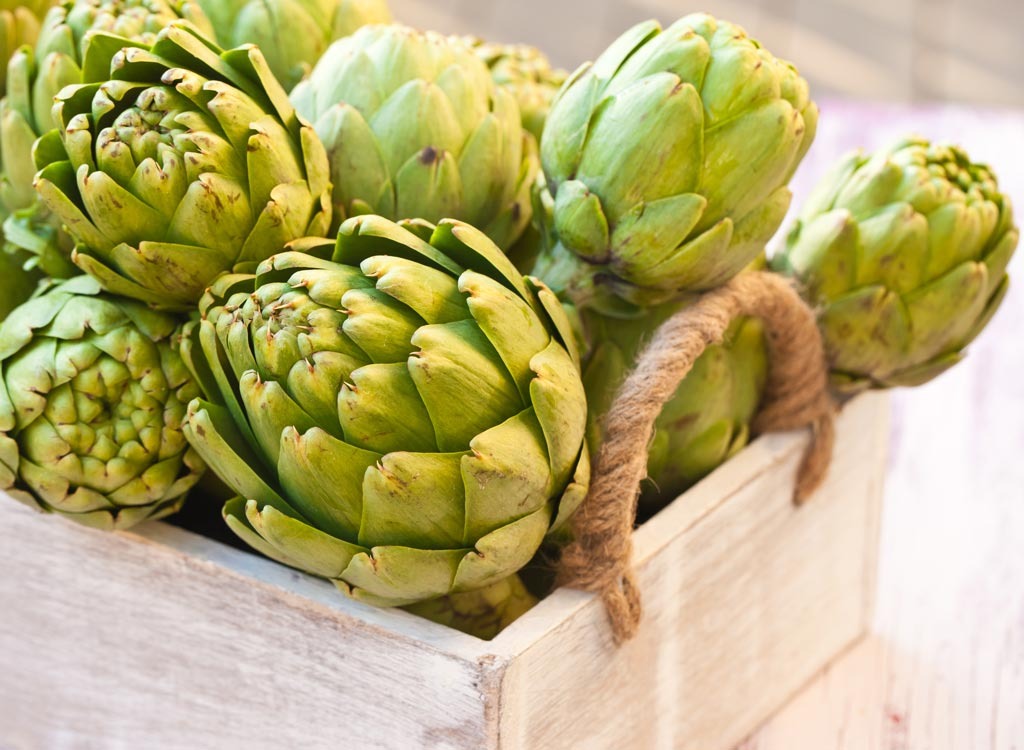 One medium artichoke packs in almost 7 grams of tummy-tightening fiber, and luckily enough, the veggie is as versatile as it is delicious. Marinate and chop artichoke hearts and toss them over a salad, fold them into a veggie omelet, or boil them whole and drizzle with lemon juice for a quick and satisfying snack.
Steel-Cut Oats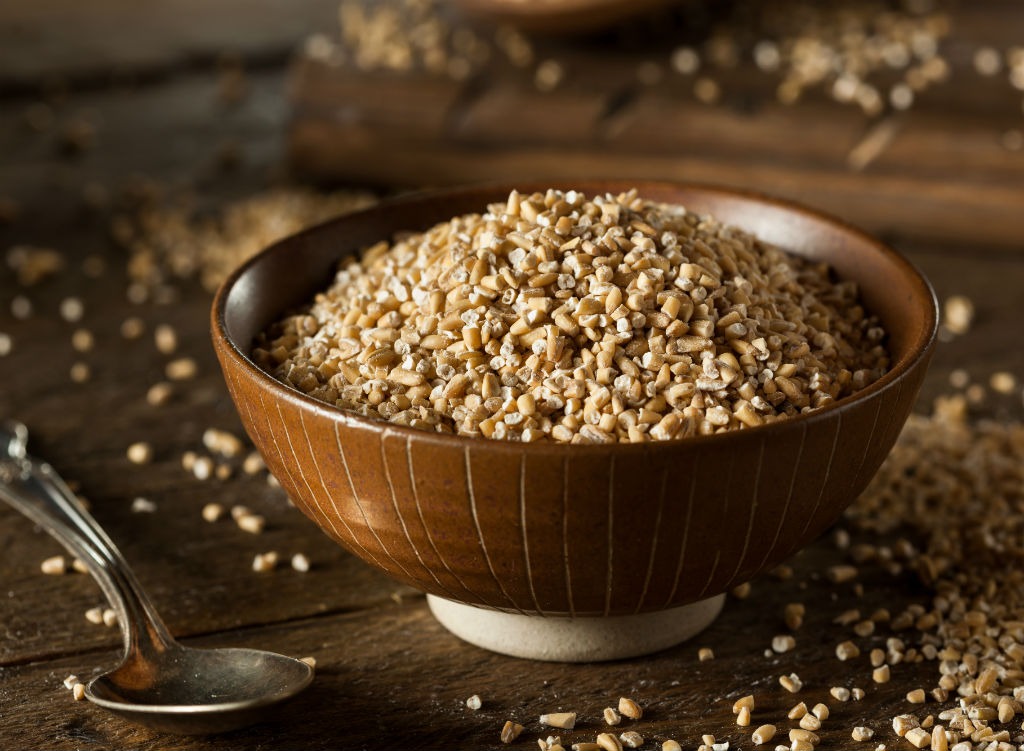 If the summer sun woke you up earlier than your alarm clock should, use the extra time on your hands to cook up a bowl of steel-cut oats for breakfast. While oatmeal is a wonderful source of fiber and vitamins B and E, opting for steel-cut over instant oats can make all the difference when it comes to whittling your middle. Since the steel-cut variety is less processed, you're getting more fiber per gram, which will help slow down digestion and keep you full for longer.
Greek Yogurt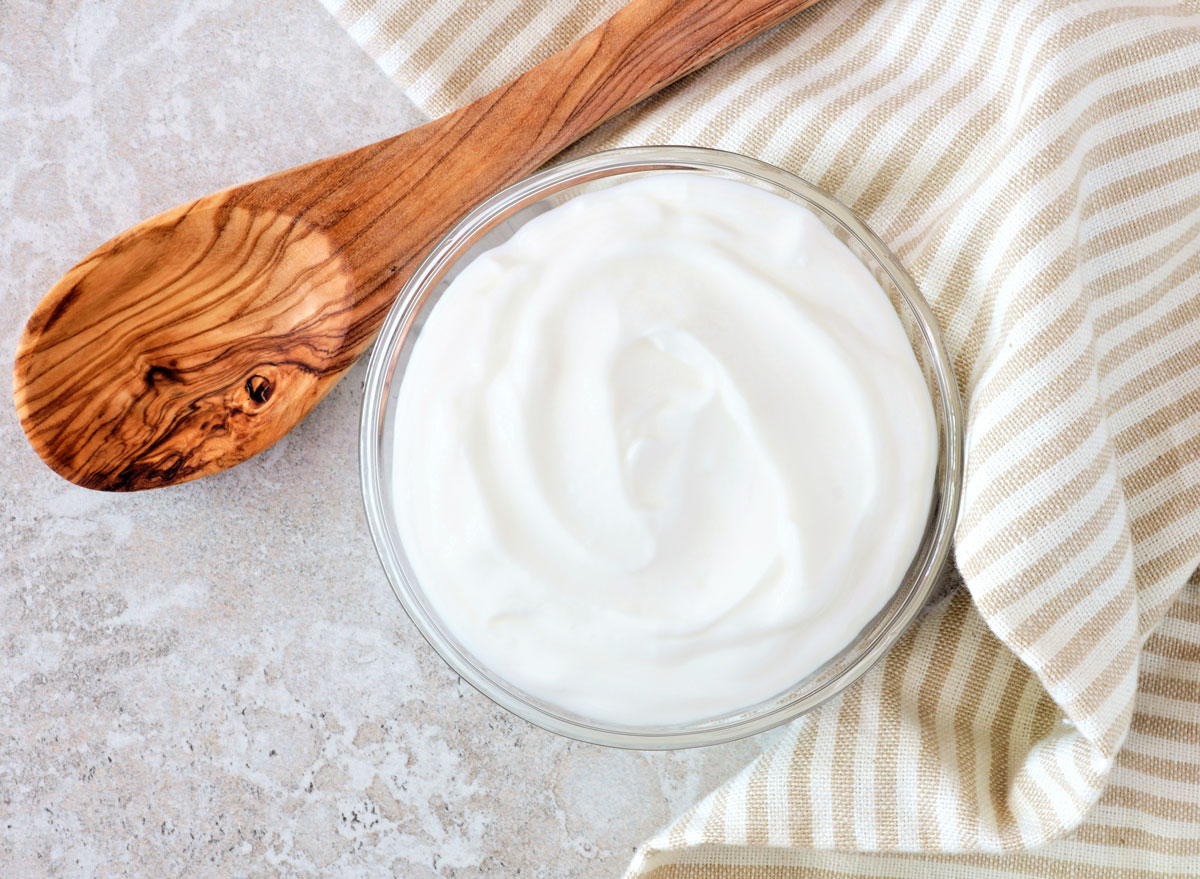 Digging into a cold cup of Greek yogurt won't just help you cool down, it'll also populate your gut with probiotics to help you stay slim and regular. Easily add more satiating protein to your diet by swapping sour cream and ricotta for the protein-rich yogurt in recipes. If you're feeling adventurous, also opt for adding Icelandic-style skyr to your basket—it has more protein and a thicker, creamier texture than the Greek variety.
Beans
You may have stocked up on black, pinto, and red beans for crockpot chilis last winter, but that doesn't mean you shouldn't toss beans into your cart once warmer weather approaches. Keep the fiber-rich legume in your diet by tossing cooked beans with cilantro, lime, salt, and cumin for a light lunch.
Pomegranate
Scoop out some juicy pomegranate arils and feel free to top your parfaits, smoothies, and oatmeal with the stuff. The superfood is packed with free-radical-fighting polyphenols, a class of antioxidants that have been shown to shrink fat cells. What's more, the exotic fruit packs in a solid dose of gut-regulating fiber to keep you full and tame stubborn cravings.6254a4d1642c605c54bf1cab17d50f1e
Cinnamon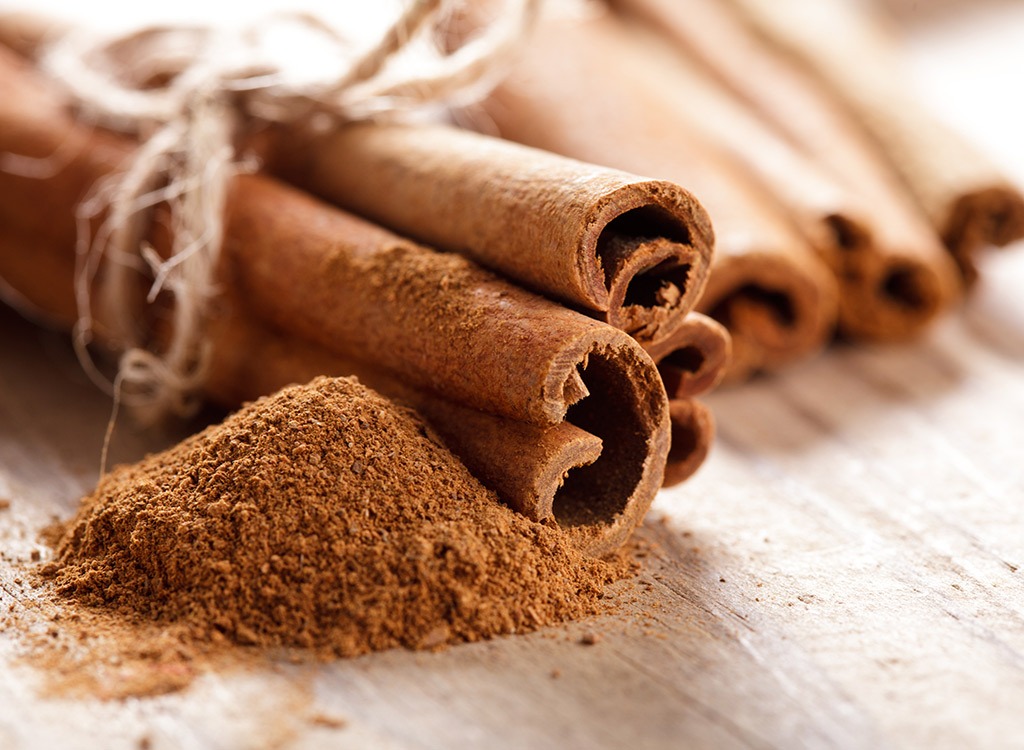 Sunny days are practically synonymous with sweet treats, so what if we told you there was one simple spice that can help keep your blood sugar and waistline in check when sprinkled on that cup of froyo? University of Michigan researchers found that cinnamaldehyde, the essential oil found in cinnamon, can prevent obesity and hyperglycemia by frying your fat cells.
Spinach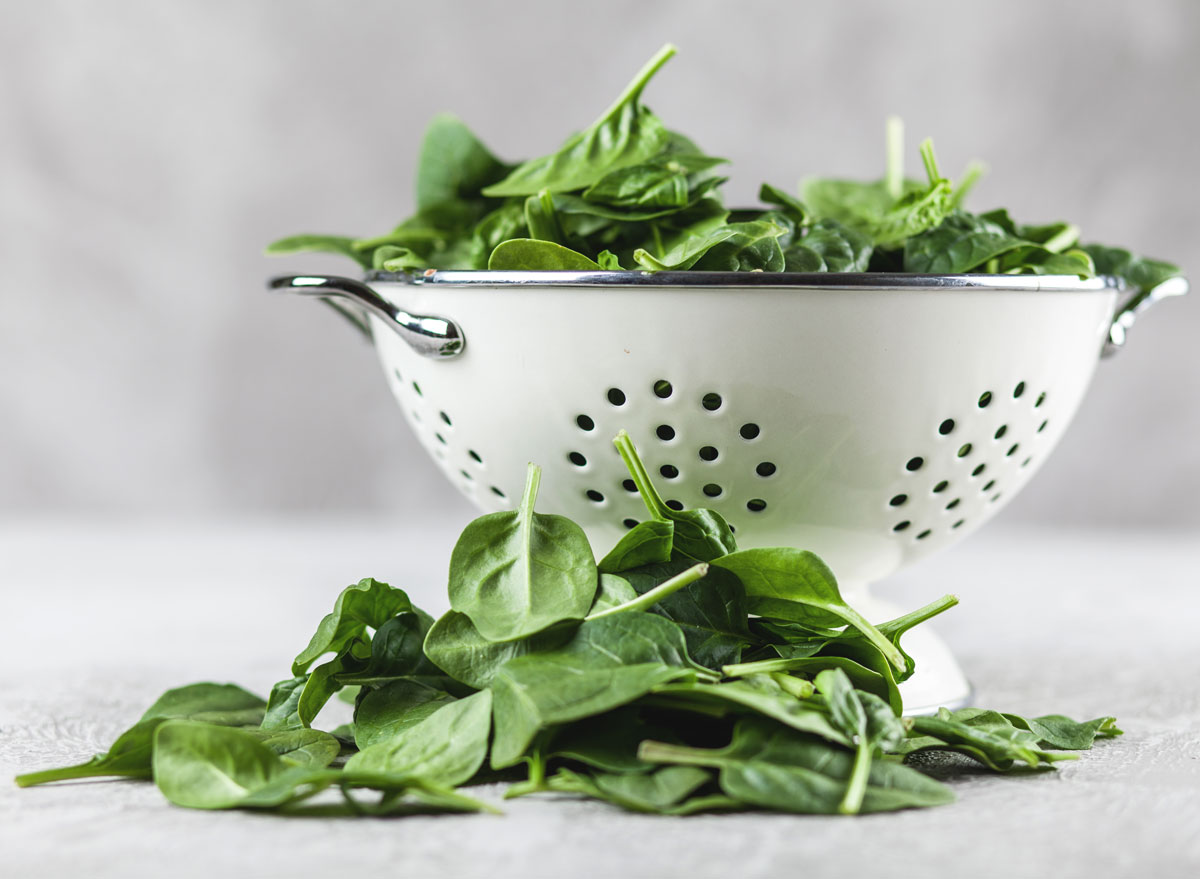 The star of refreshing summer salads, spinach is rife with vitamins A and C as well as heart-protective folate. Luckily enough, this leafy green's subtle taste is practically undetectable in breakfast shakes and smoothies, so go ahead and toss a handful into some of our 53 Best-Ever Breakfast Smoothies for Weight Loss for added nutrients and an added dose of filling fiber.
Mint Leaves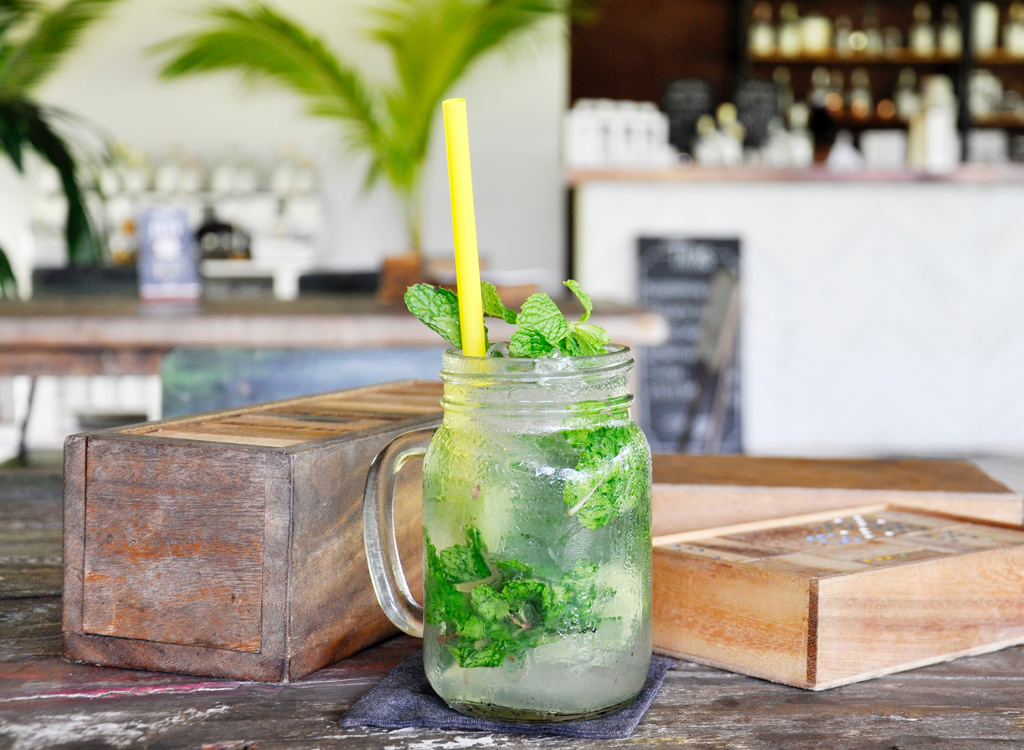 Mint snags a spot on our list of favorite herbs thanks ability to soothe an upset stomach as effectively as it can kick seasonal allergies to the curb. And the benefits don't end there: Newcastle University researchers found that Brazilian mint tea is just as potent at treating headaches as Indometacin, a prescription drug given to those who suffer from migraines and severe headaches.
Pineapple
The last thing you look forward to during 80-degree weather is sporting a pufferfish belly on the beach. Before you grab your cooler and go, make sure you pop some pineapple in. The spiky fruit contains bromelain, an anti-inflammatory enzyme that helps break down proteins in your stomach that usually cause bloat. For more ways to keep your tummy flat, don't miss these 20 Ways to Beat the Bloat.
Sarah Crow
Sarah Crow is a senior editor at Eat This, Not That!, where she focuses on celebrity news and health coverage.
Read more about Sarah