I Tried Beyond Beef, and Surprisingly, I Didn't Hate It
If I hadn't cooked it myself, I would have barely been able to distinguish Beyond Beef from ground beef.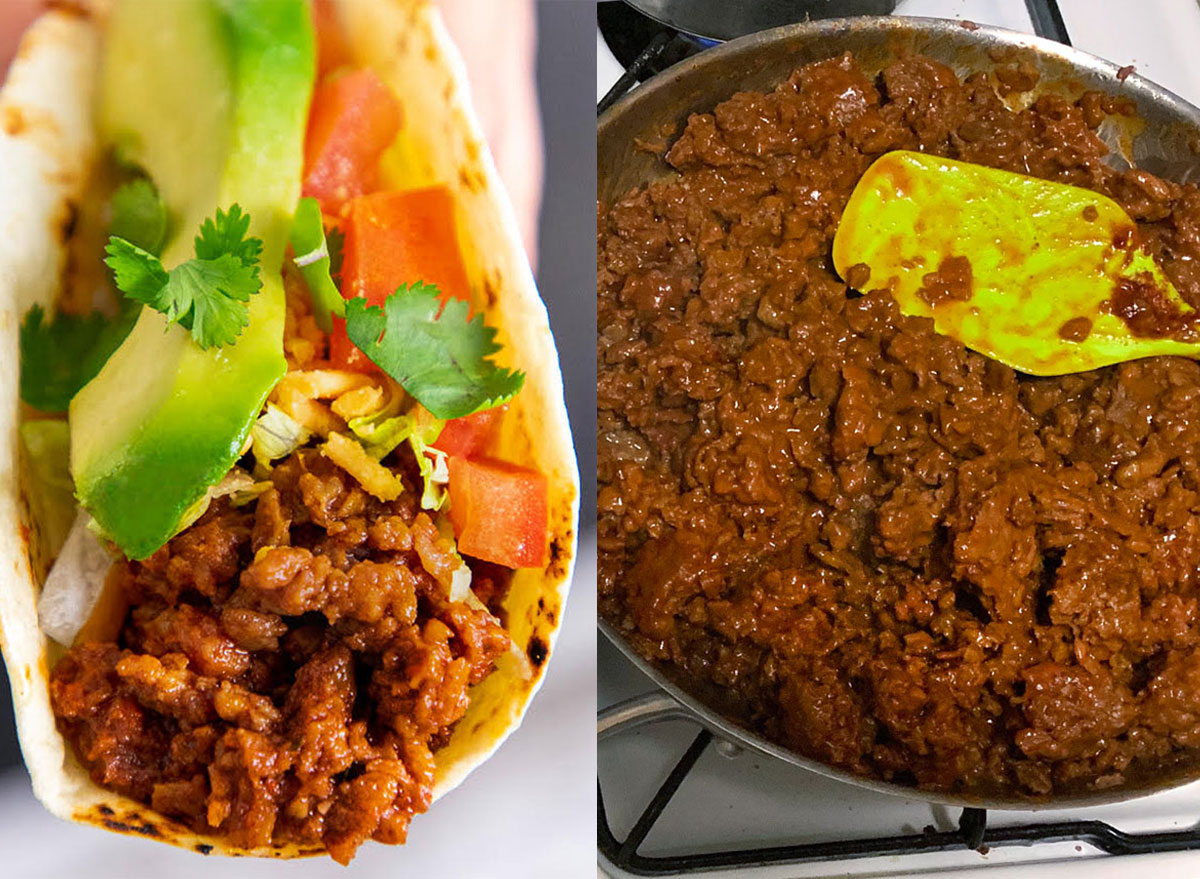 Plant-based, meat-like burgers have been around for years, but until recently, meat-eaters dismissed them as unconvincing, vegan patties. That all changed this past year. Enter, the bleeding burger wars: Impossible Burger vs. Beyond Meat. You've likely read about it in headlines for the plant protein brands' successful reformulations to make their meat alternative burgers attain a juicy texture and taste that's uncannily similar to real beef. And with fast food chains like Burger King buying in with the Impossible Whopper and Dunkin with the Beyond Sausage Breakfast Sandwich, the alternative beef is booming.
And this fake meat trend isn't just restricted to quick-service restaurants—you can also try these innovative recipes at home. Beyond Meat, which has around since 2009, sells their Beyond Burger in grocery stores across the country. Plus, the brand recently launched their latest product: Beyond Beef, their plant-based take on ground beef.
As a meat-eater, I was curious to try Beyond Beef out and see how it compares to animal-based ground beef in taste, texture, and preparation. So, I decided to host a taco night with four friends. Here's how it went.
What is Beyond Beef?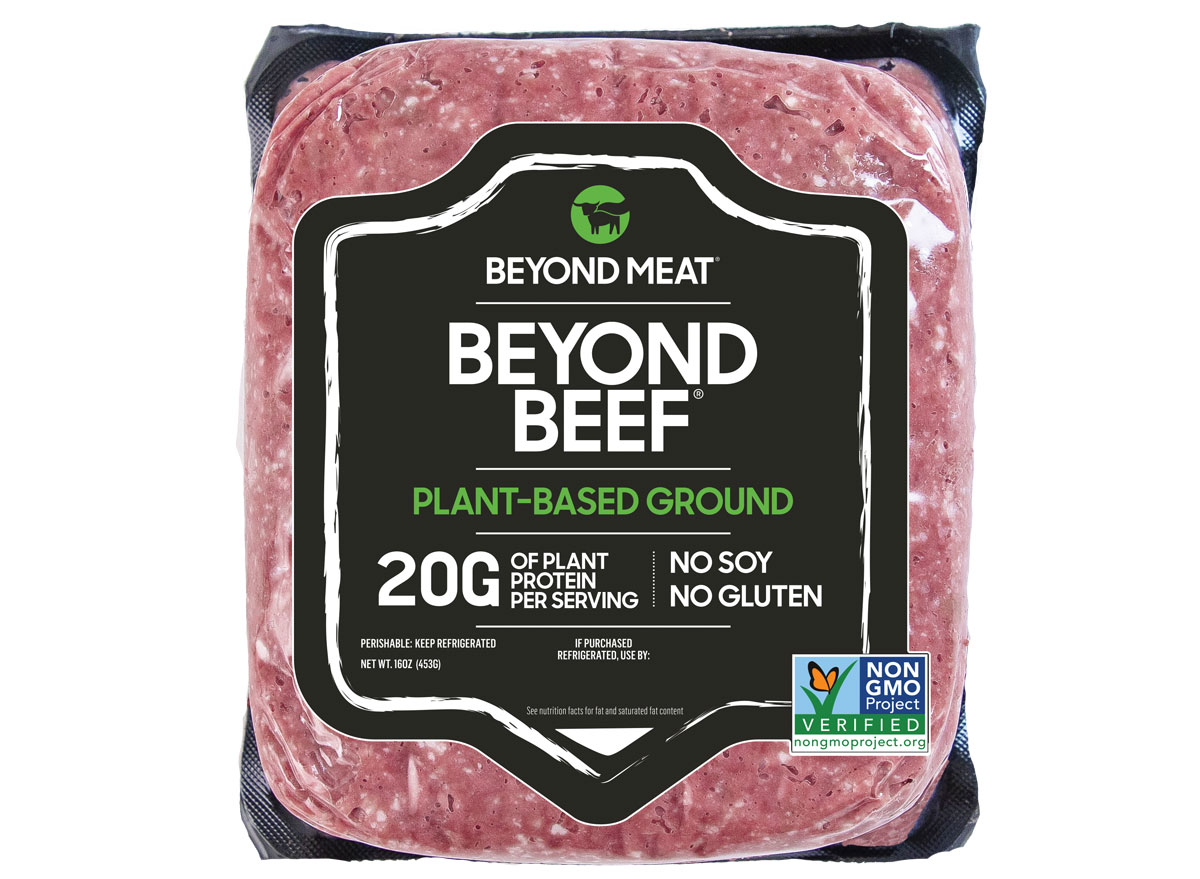 Beyond Meat is advertising Beyond Beef as "The world's first plant-based ground meat to deliver on the versatility, meaty texture and juiciness of ground beef." Its main base is pea protein, as well as rice protein and mung bean protein. Here is the full Beyond Beef ingredient list:
Water, Pea Protein Isolate, Expeller-Pressed Canola Oil, Refined Coconut Oil, Rice Protein, Natural Flavors, Cocoa Butter, Mung Bean Protein, Methylcellulose, Potato Starch, Apple Extract, Salt, Potassium Chloride, Vinegar, Lemon Juice Concentrate, Sunflower Lecithin, Pomegranate Fruit Powder, Beet Juice Extract (for color).
Beyond Meat intentionally and precisely chooses each ingredient in their grounds to match various functions of ground beef. Canola oil, coconut oil, and cocoa butter mimic the fat. The bean and rice proteins serve as the base for the beef. And the beet juice turns it all a meaty red while the apple extract helps the plant-based ground turn brown as it's cooked to replicate the same browning process you're familiar with in beef.
How does it cook?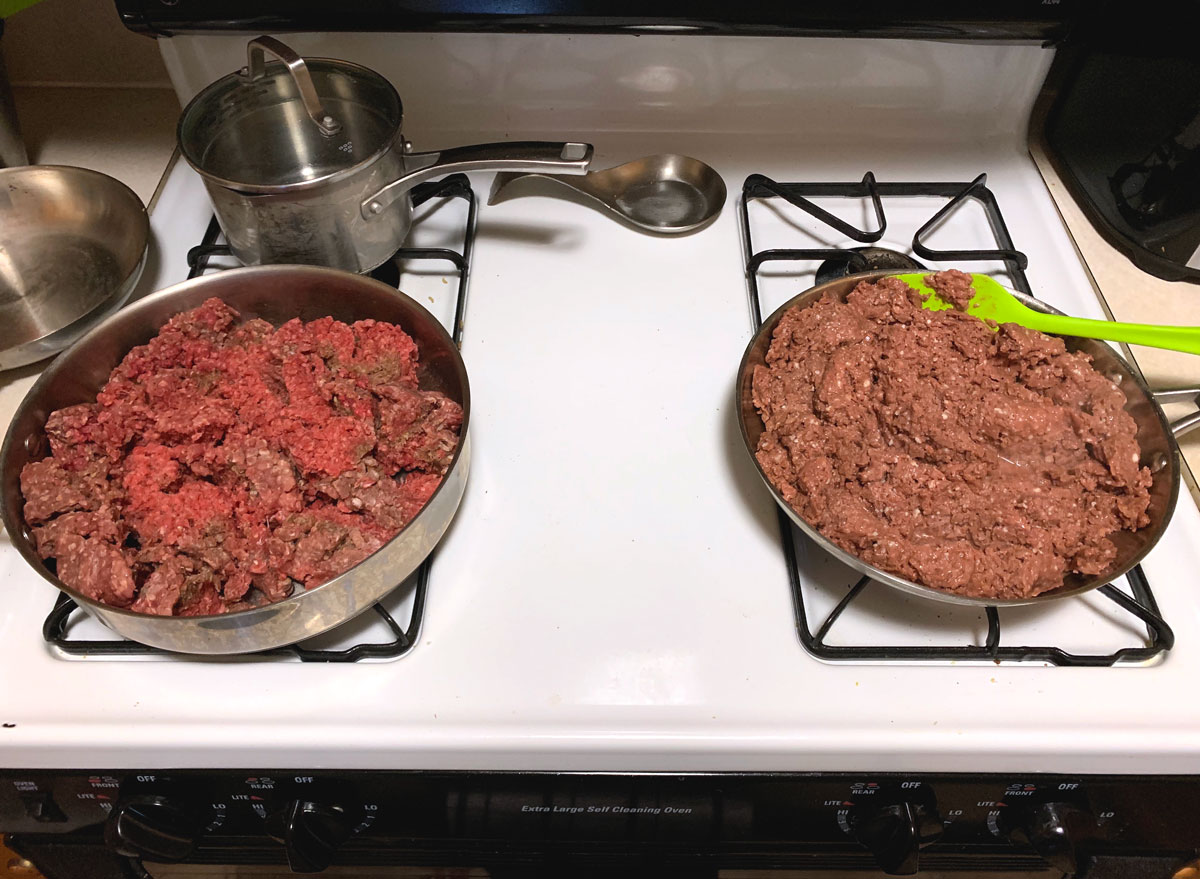 As someone who makes tacos at least once a week, I was super excited for this comparison. I whipped up two pounds of 90/10 ground beef (shown on the left side of the photo) alongside two pounds of Beyond Beef (the right).
Taking it straight out of the packaging, I thought it was cool how they added some white bits to mimic the fat in real ground beef. It was similar-ish in color to pinto beans, but as it cooked it got more color.
I was honestly surprised at how similar the texture of the Beyond Beef was to the real ground beef I cooked it up. As it cooked, it got firmer and also formed into chunks and crumbles similar to typical ground beef.
I was initially concerned that I wouldn't be able to tell when the Beyond Beef was done cooking, but like the real stuff, it also started to brown in color.
The smell was definitely different. It didn't smell like ground beef. It's hard to totally put a finger on it, but I think it lacked that iron-smell real meat wafts when it cooks. It did have a bean-smell to it that wasn't as appetizing as familiar meat sizzling, but I was impressed with how similar it looked texture-wise at it cooked.
The end result was a bit thicker than the ground beef pot. It looked a little more like chili, in texture and color (a bit more red). And when I added the taco seasoning packets, I definitely used more water in the Beyond Beef pot than I did in the ground beef taco recipe. The Beyond Beef also cooked a bit quicker than the ground beef.
How does it taste?
Texture-wise, they are super hard to discern from each other. It's crazy that Beyond Beef was able to do this! It may have been slightly chewier, but they were also able to make it springy like real ground beef, and include bits that were a bit tougher, just like the real stuff.6254a4d1642c605c54bf1cab17d50f1e
Flavor-wise, with the taco spices, it honestly tasted the exact same. We added sauteed onions, peppers, guac and cilantro to our tacos, and when fully assembled, they looked identical.
We didn't tell one of our friends that we were cooking up Beyond Beef until after he finished two tacos. When we told him he just ate the meatless version, he had no idea it wasn't real beef. (And when he went back for seconds, he chose Beyond Beef over ground beef.)
What's Beyond Beef's nutrition information?
Beyond Beef may be designed to mimic the taste of ground beef even though it is entirely plant-based, but it has a healthier nutritional profile. A 4-ounce serving of Beyond Beef has the following nutrition facts:
Calories: 160
Fat: 18 g (6 g saturated)
Sodium: 390 mg
Carbs: 3 g
Fiber: 2 g
Sugar: 0 g
Protein: 20 g
Compare that to 80/20 ground beef's nutrition information for a 4-ounce serving:
Calories: 280
Fat: 22.5 g (8.5 g saturated)
Sodium: 75 mg
Carbs: 0 g
Fiber: 0 g
Sugar: 0 g
Protein: 19 g
Beyond Beef is lower in calories, fat, and saturated fat compared to 80/20 ground beef. It also has an extra gram of protein. Be aware that the plant-based grounds are already seasoned: it contains 390 milligrams of sodium per 4-ounce serving whereas ground beef has only 75 milligrams: a difference in sodium equivalent to an eighth of a teaspoon of table salt.
If you prefer a leaner beef blend, like 90/10 ground beef, this will typically run you 200 calories, 11 grams of fat, 4.5 grams of saturated fat, and 23 grams of protein. Beyond Beef is lower in calories than this leaner blend, but it is higher in total fat and saturated fat. So if you're looking for a lower fat protein, you may be more inclined to stick with the leaner ground beef blend.
Final Verdict
We all really loved it. However, I tend to like a leaner beef, and the Beyond Beef was a bit higher in fat. According to Beyond Beef, it has 25 percent less saturated fat than typical 80/20 ground beef, but I still like to use leaner meat than that. That's my only complaint.
While I am likely not going to totally give up ground beef in place of Beyond Beef, especially for tacos, I would absolutely whip it up again. I'm not sure if the flavor would be as spot-on if we weren't making tacos, but I would give it a try with another ground beef recipe. If you want to try it, you can find Beyond Beef by using the store finder on the Beyond Meat website.