The Best Store-Bought Taco Seasonings—Ranked!
We tested five brands' taco seasoning to determine which will liven up your ground beef.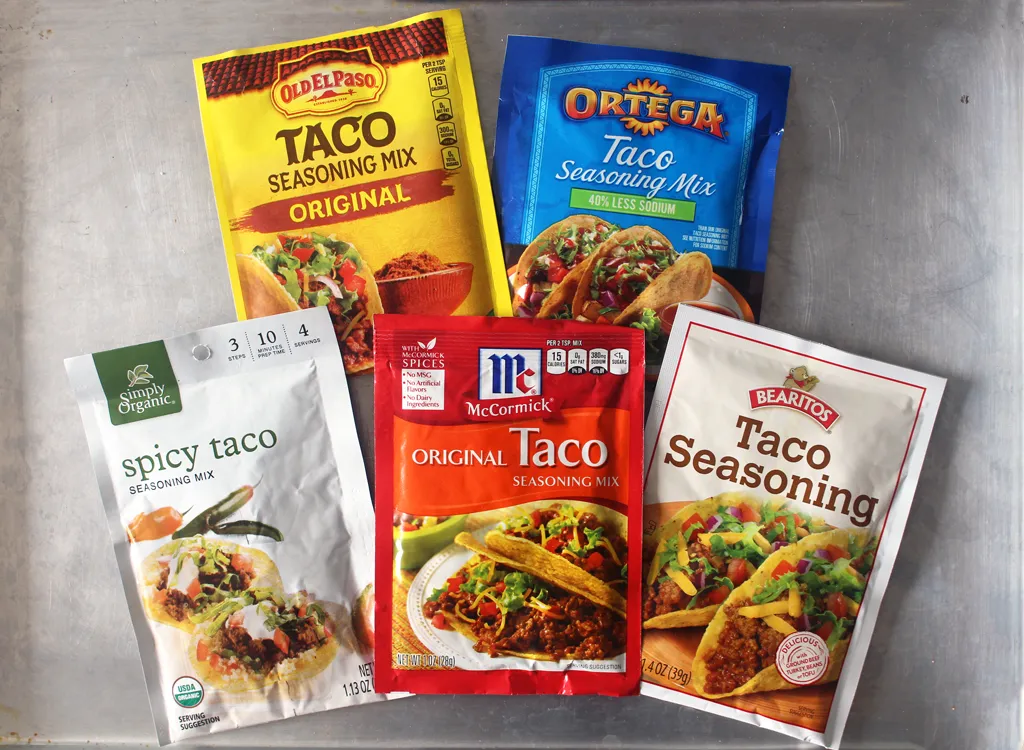 Can we all agree that tacos are among our favorite go-to weekly meals? I wish Taco Tuesday could be every day of the week (and that's not just because my favorite taco joint offers significant discounts). It's because tacos are so versatile, so easy to make, are a relatively well-balanced meal, and are the perfect default dinner whenever I don't want to spend more than a minute thinking about what I want to cook. Just try to say away from these unhealthy restaurant tacos!
Plus, those flavorful packets of taco seasonings make taco night come together even more seamlessly. With a simple tear of a seam, you can transform any boring ground beef or chicken breast into a star protein you'd happily buy from your local Mexican restaurant.
We decided to do a little taste test of the most popular store-bought taco seasonings to determine which packet deserves a permanent place in your pantry.
(Plus, don't miss These Are Costco's Most Popular Items Right Now.)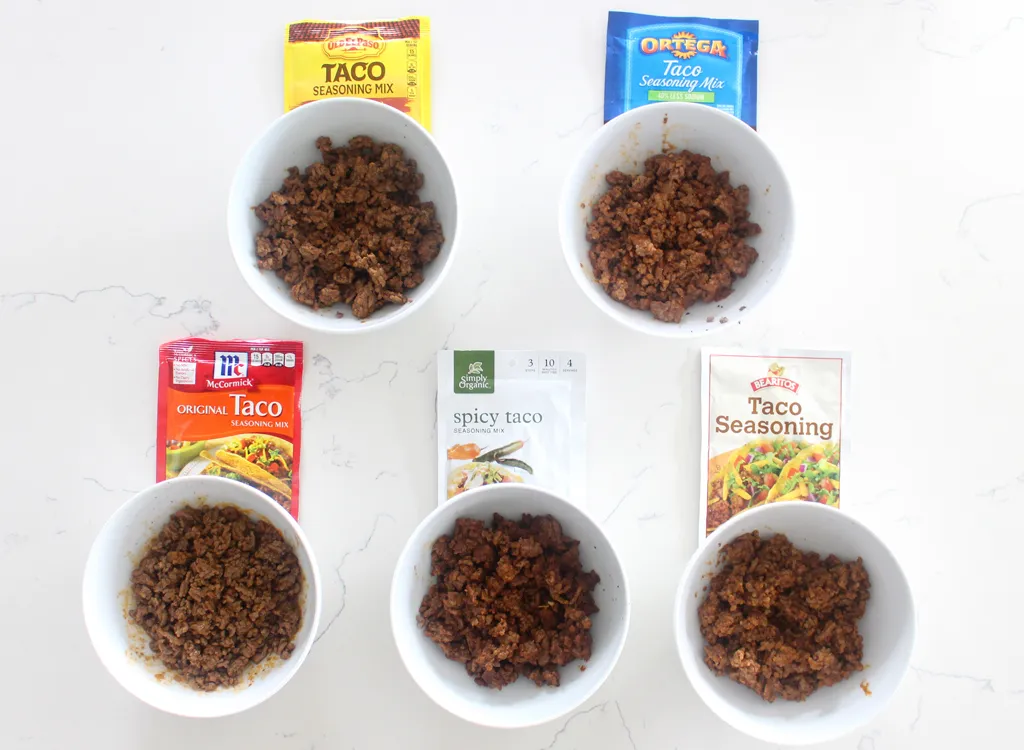 We went to our local grocery store and picked up five of the most popular taco seasoning packets and two and a half pounds of ground beef, or a half a pound per packet. We made one large batch of ground beef and then split it into 5 servings.6254a4d1642c605c54bf1cab17d50f1e
To honor the brands, we seasoned each batch of ground beef according to each packet's instructions—just cut in half (because each packet is intended for one pound of ground beef). Each packet recommends mixing the seasoning with a certain volume of water. We simply halved the amount of seasoning and water.
For McCormick and Ortega, we mixed half a packet of seasoning with 1/4 cup plus two tablespoons of water; for Bearitos and Old El Paso, we mixed the seasoning with 1/3 cup of water; and for Simply Organic, we mixed the half packet of seasoning with 1/4 cup of water. We brought each batch up to a boil and then down to a simmer for 3 minutes. Finally, we tasted!
After a blind taste test, our testers made comments and were asked to rank all five seasonings according to their preference. We averaged the results to find the Eat This, Not That! ultimate ranking of taco seasoning packets. The results, listed from our least favorite to our favorite (the winner!).
Ortega Taco Seasoning Mix, 40% Less Sodium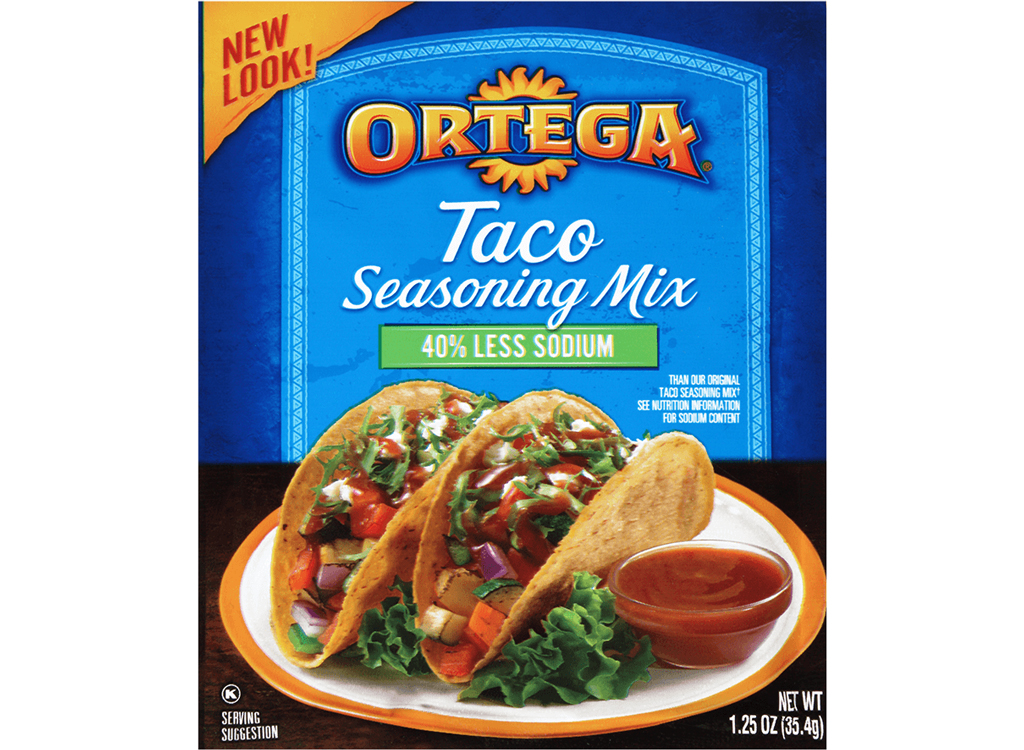 It might be healthier because it's lower in sodium, but testers agreed that this seasoning was the worst because it was very bland. The amount of seasoning and water needed made this meat look the most like cafeteria taco slop.
Old El Paso Taco Seasoning Mix, Original
Although testers agreed this flavoring was fairly underwhelming, they didn't rank it last because there was a sense of familiarity with the flavors. While one person likened it to Lunchables meat, another noted it tasted like "that yellow packet taco seasoning my mom used as a kid," which was right on the money! They were surprised to find that their mom's go-to seasoning didn't quite stack up to the other blends once they tasted other kinds.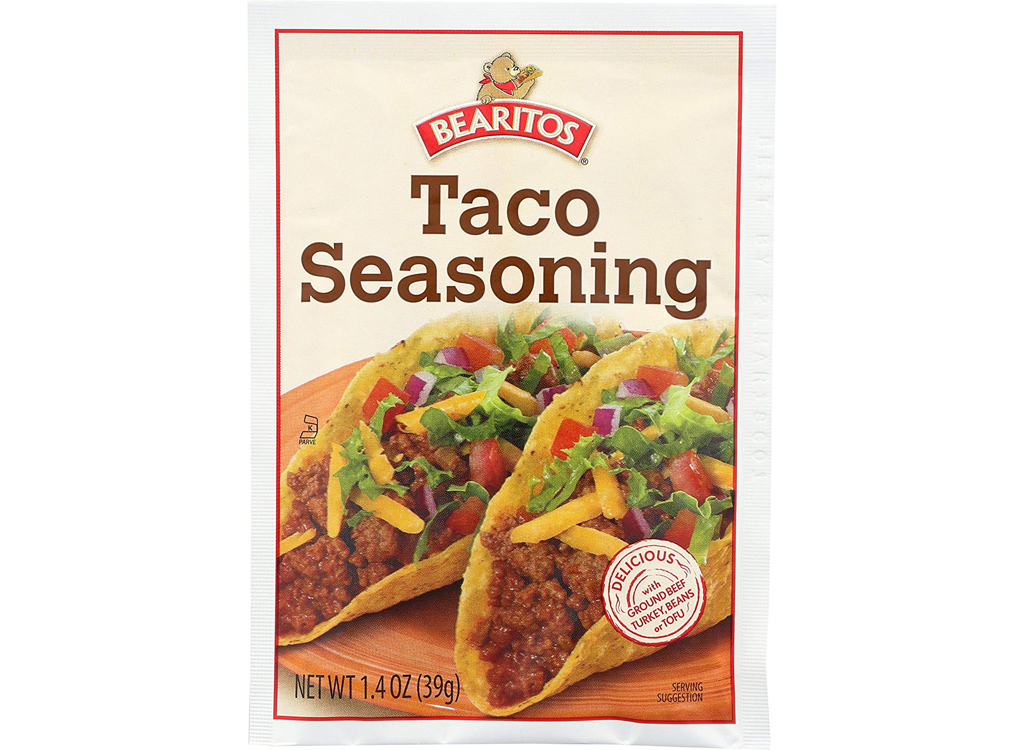 While one tester was blown away by this seasoning (and ranked it number one), the others agreed it was "fine" and "good," but not notable. After discussing their ratings afterward, everyone agreed they would buy it if they saw it in stores.
Simply Organic Spicy Taco Seasoning Mix
Everyone agreed this was the most distinctive seasoning blend out of all five choices. That's because it's very spice-forward and leans toward the "spicy" side. While it was ranked mid-range for some who thought it to be a bit too powerful, others fawned over it and marked it as their top choice. Because it was pretty polarizing depending on your spice preference, it landed our number two spot.
McCormick Original Taco Seasoning Mix
Now, the overall winner: McCormick! With flakes of garlic and a well-rounded flavor profile, tasters pleasantly chowed down on this taco meat. Not too spicy and not at all dull, this taco seasoning packet has the Goldilocks factor we were looking for, it was just right. Grab the red packet in your grocery store to make your protein the perfectly spiced canvas for all your favorite taco toppings.
Disclaimer: All of these taco seasonings tasted very similar. Our testers expressed some difficulty noting the differences between brands when we tasted the ground beef on its own, and it was nearly impossible to distinguish between brands when we paired the beef with a tortilla chip. We ultimately came to the conclusion that you can feel comfortable buying any of these taco seasoning packets to flavor your meat because they're very similar in taste and all the toppings you'll add to the tacos will really level the taste playing field.
For more exclusive taste tests and food news, sign up for our newsletter.
Read more:
We Tried 6 Store-Bought Rotisserie Chickens & This Is the Best
We Tried 5 American Cheese Brands & This Is the Best
We Tried Every Breakfast Sandwich at McDonald's & This Is the Best
Olivia Tarantino
Olivia Tarantino is the Managing Editor of Eat This, Not That!, specializing in nutrition, health, and food product coverage.
Read more about Olivia