5 Big Changes You'll See at Burger King This Year
Good things are on the horizon for the burger chain, but some restaurants will permanently close.
Burger King is one of the most successful and iconic fast food chains ever, historically placing second to only McDonald's in terms of both domestic burger sales and restaurant count. That being said, the past few years have been turbulent, to say the least, for the perennial burger bridesmaid.
The pandemic saw Burger King's business struggle mightily, with the Home of the Whopper falling behind Wendy's in terms of domestic sales. Even Burger King's recent successes have somehow backfired. The Ch'King chicken sandwich launched in 2021, garnering rave reviews from critics and customers alike, yet low sales forced BK to discontinue the sandwich last year.
In pursuit of positive change, Burger King announced the "Reclaim the Flame" campaign late last year. A $400 million investment aimed at improving the Burger King brand across all areas, the initiative is focusing on both revitalized branding/marketing efforts and an exhaustive push to modernize units with the latest restaurant technologies, kitchen equipment, and even building enhancements.
While it's too early to call Reclaim the Flame a success, business does appear to be turning around for Burger King. The last quarter of 2022 saw consolidated same-store sales jump by 8.4%, and the last three months of 2022 coincided with 11.8% system-wide sales growth. 2023 is off to a strong start as well; BK exceeded analyst estimates for Q1 2023, posting a 12.3% improvement in global same-store sales and an 8.7% increase in domestic same-store sales.
As it continues to reinvent itself, this year promises to be an eventful one for the Burger King brand. Let's take a look at 5 of the biggest changes you'll see at BK this year.
It's all about the Whopper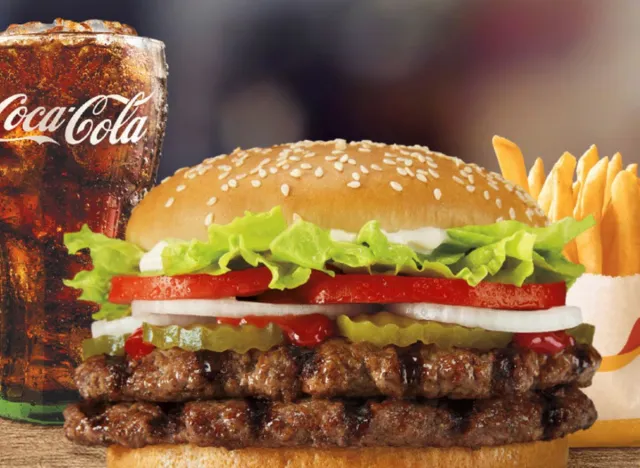 Burger King is going back to basics, and that means a renewed emphasis on its signature sandwich: The Whopper. According to J. Patrick Doyle, executive chairman of Burger King's parent company Restaurant Brands International (RBI), the BK brand needs to focus more on standing out from the competition. There are countless burger chains out there, but only one place to get a flame-grilled Whopper.
"McDonald's is pretty good at the burger business," he told analysts earlier this year, per CNN. "Their units look terrific today. I think their loyalty program has been working very well for them. There is a lot that has gone right over there." At the end of the day, however, "they do not sell the Whopper. That's the point of leverage."
"That is ultimately how we compete effectively with them." Doyle continued, at one point adding that "the Whopper may actually be a better brand than Burger King."
Remixed marketing
Speaking of the Whopper, BK's most famous burger is the centerpiece of the chain's viral hit "Whopper, Whopper," a refreshingly (or annoyingly, depending on your mood) simple jingle that has sparked countless memes online and millions of streams on Spotify.
"It's been just absolutely humbling and amazing and so validating to just see how consumers have really taken this jingle and made it so much bigger honestly than we could have ever and have really made it their own just through all the content creation they've done, the remixes," Zahra Nurani, Burger King's vice president of marketing communications, told QSR. "Honestly, my favorite part of my day is waking up and scrolling social media, seeing what new content has been created and doing the same thing at the end of the day. And we're going to continue to listen to our fans."
Besides becoming something of an inside joke among football fans, the jingle also represents a notable departure from Burger King's usual marketing catchphrase "Have it Your Way" to the new "You Rule" tagline. And, most importantly, Burger King is reporting record Whopper sales.
"We're selling more Whoppers than we ever have. It's had a really positive impact that we didn't pay for or foresee on the business…it's really exceeded my expectations," Burger King U.S. President Tom Curtis told CNBC.
New in-store training
Beyond national ad campaigns and broader rebranding efforts, Burger King has also set its sights on instilling a refreshed sense of company culture across individual locations. Not long after announcing the Reclaim the Flame initiative, Burger King began working on a new in-store training program for all of its workers.
The new program instructs employees on how to greet customers, hand out Burger King's iconic crowns, and properly craft a Whopper. Tom Curtis even told CNBC the program was "the most important thing that we did coming out of the (franchisee) convention."
Additionally, roundtable meetings were held with BK general managers across 45 cities. Those discussions included training on how to properly complete a five-week-long deep clean of a Burger King restaurant.
"I think those things are foundationally important, and they resulted in a 20% uplift in guest satisfaction," Curtis added.
Restaurant closures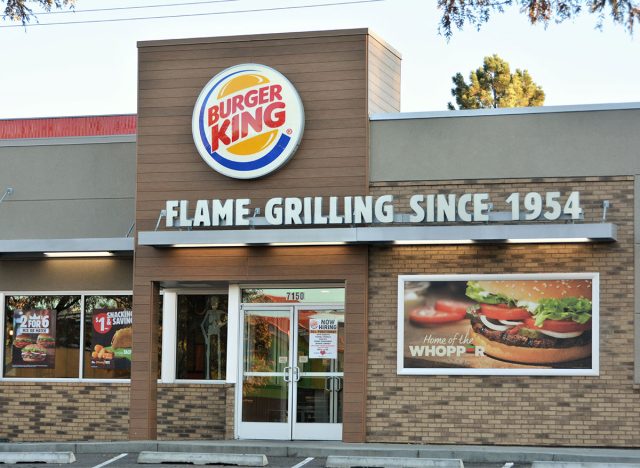 It hasn't been all good news for Burger King this year. The chain has experienced a litany of unit closures in recent months, largely caused by two of its major franchisees—TOMS King Holdings and Meridian Restaurants Unlimited—filing for bankruptcy during Q1 2023 citing insufficient foot traffic and profits. Just last month 27 of Meridian's restaurants closed, plus another 26 shut down that were operated by yet another franchisee currently involved in a lawsuit with Burger King.6254a4d1642c605c54bf1cab17d50f1e
While one might assume recent upticks in business would put an end to this trend, executives said to expect more closed locations this year during RBI's Q1 2023 earnings report. "We have had a few recent insolvencies in the U.S.," said Josh Kobza, RBI CEO. "Historically we've closed a couple 100 units at Burger King U.S. each year and had a couple of years in the 300-to-400 range, such as 2020. We currently expect gross closures in that 300-to-400 range here for the full year."
Kobza stressed that the exact number of closures coming remains to be determined and "will depend to some extent on the pace of recovery in the business, which we've already begun to see." He also noted most restaurants that shut down will be "low volume," thus RBI does not expect the closures to impact systemwide sales all that much.
New franchising strategy
Unit closures are never a positive development, but Burger King is betting on short-term growing pains paying off in the long run. The chain is looking to reorganize its entire franchising strategy by focusing on quality over quantity. Strong-performing franchisees with a smaller amount of locations will be favored for expansion, and operators unable (or unwilling) to meet Burger King's new brand standards will be encouraged to "cash out" and sell their stores to other operators.
"One of the most important factors is the willingness of our franchisees who have troubled restaurants to work with us and commit to implementing the changes necessary," Josh Kobza said. "If they can't, we have operators ready to step in and do what's required."
Moving forward, BK franchisees' performances on various operations metrics will serve as a key factor while determining who is considered for expansion. Under the new system, only franchisees rated "A" or "B" on a four-point scale will be permitted to build new locations or acquire existing Burger King units. Smaller franchisees with 50 or fewer restaurants will be emphasized, and operators who regularly spend time in their restaurants will also be favored.
"We're working to find partners who are all-in," Patrick Doyle, RBI's chairman emeritus, explained. "We want partners who take an ownership and an operator mentality, partners who set the culture, visit their restaurants regularly, get to know their team members and customers and who are hands-on as an operator, whether they have one restaurant or hundreds. I've seen first-hand the benefits of having locally engaged operators, and we have many fantastic franchisees at each of our brands."
John Anderer
John Anderer is a writer who specializes in science, health, and lifestyle topics.
Read more about John