16 Best Burger Chains In America
These burger joints are majorly successful and have a well-deserved fan following for many reasons.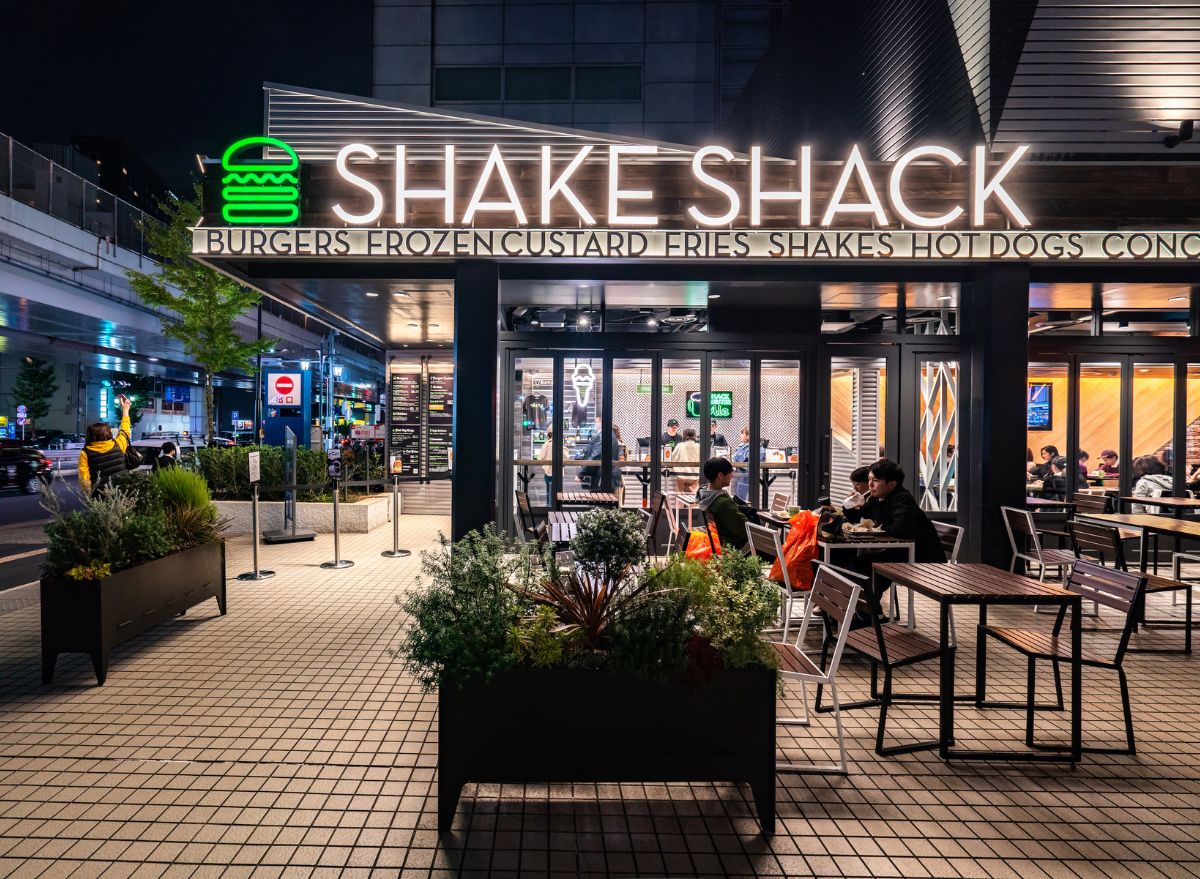 Burger chains are a quintessential American establishment. Maybe that is why, as of 2023, there are over 91,000 burger restaurants in the United States according to Ibis World. That is quite a few burger patties being flipped each and every day.
Over the years, a multitude of chains have tried their hand at perfecting the hamburger and differentiating themselves from each other. Some have moved away from processed ingredients to exclusively using the highest-quality beef. Hamburgers have gotten taller, juicier, and more complex as time goes on, but ultimately you cannot beat a simple beef pattie cooked to perfection, topped with cheese, lettuce, and tomato, sandwiched between two soft buns.
With so many restaurants focusing on hamburgers out there, you are likely not far from at least one or two chains. Each one has its own distinct strength, whether it is highly-customizable orders or a to-die-for menu that includes tasty french fries or milkshakes. No matter the reason, there are some burger chains that have risen to the top of the American psyche and have proven time and time again that they are among the best.
While some burger chains have succeeded in expanding to nearly every corner of the country, other chains succeed in other ways, like advancing customer-facing technology or simply sticking to the basics of what it takes to cook a perfect hamburger.
Here are the best burger chains in America right now.
Culvers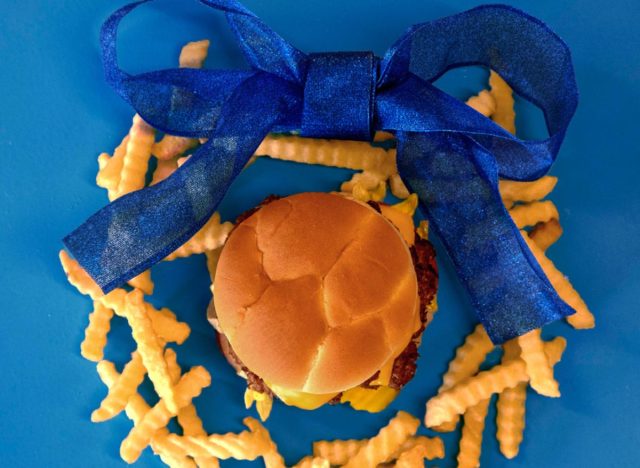 Time and time again, Culver's ranks high among burger chains when it comes to quality ingredients, customer satisfaction, and a strong menu. It all centers around its signature ButterBurger, which uses never-frozen beef in its patties which are made on-site daily. Those ButterBurgers are not cooked until the customer orders one at the counter, so you know that the food you are being served is as fresh as it gets. Beyond its burgers, Culver's is also beloved among its fans for its fresh frozen custard, also made in its restaurants multiple times throughout the day.
Culver's has been recognized by its customers as the top-rated burger chain in the country, thanks to near-perfect scores across multiple criteria. When it comes to value, taste, and efficiency, Culver's reigns supreme in the minds of many who have one in their neighborhood. It is even the burger chain of choice for celebrity chef Andrew Zimmern.
In-N-Out Burger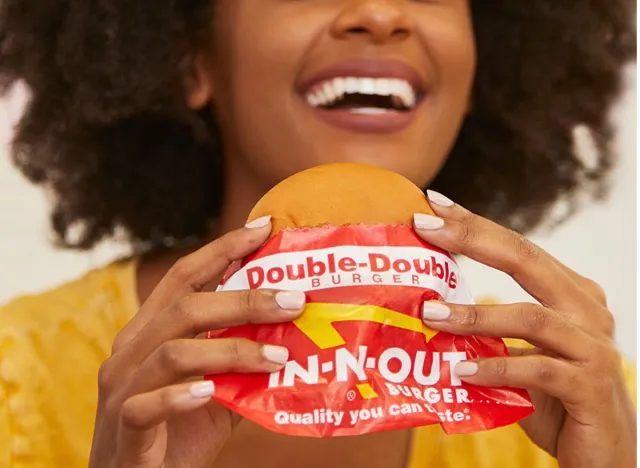 Dining at In-N-Out Burger is almost akin to a rite of passage when you find yourself on the West Coast. In-N-Out is a quintessential Western U.S. burger chain, with its recognizable criss-cross palm trees beckoning hungry customers. The burger chain is known for its simple menu, fresh ingredients, and fan-favorite customizations like Animal Style french fries.6254a4d1642c605c54bf1cab17d50f1e
Starting with its burgers, In-N-Out boasts its use of never-frozen patties made in its own facilities, ensuring total control of its product up and down the supply chain. Its french fries are also made fresh, with the potatoes individually cut in the restaurants. To round it all out, its milkshakes are used with 100% real ice cream.
While its menu is small, it is backed up by a not-so-secret menu filled with all kinds of unique ways to enjoy your meal, from a Protein Style Burger to a Neapolitan milkshake. The secret menu is perhaps more popular with regular customers than the advertised menu.
While In-N-Out has never been further east than Texas, the burger chain has its sights set on expanding east to garner even more regular customers. In-N-Out is seeking to open new locations around Nashville, Tennessee in the coming years, a rare move that will grow the chain's footprint and perhaps begin a slow but perhaps assured takeover of the East Coast. Watch out, Shake Shack!
Shake Shack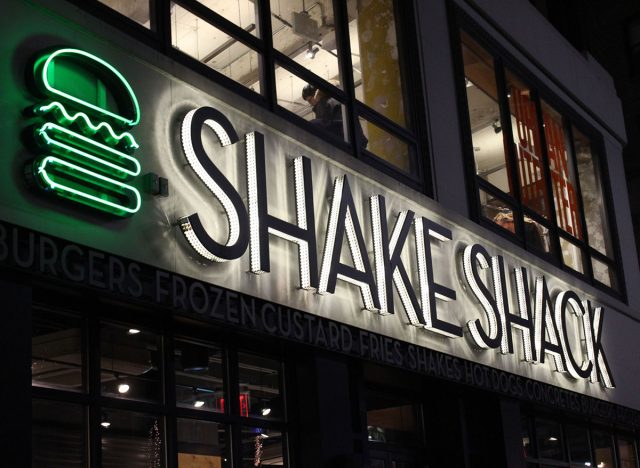 Shake Shack is not a burger chain you visit when you are looking for the lowest prices. Rather, customers keep returning to Shake Shack for its quality ingredients that include its custom 100% Angus beef blend used in every burger. And as the name implies, Shake Shack is known for more than just a juicy burger. The chain's milkshakes are a central component of any meal, made with its house-made frozen custard. Customers can also find chicken sandwiches, hot dogs, and french fries made from high-quality ingredients.
Tasty food aside, Shake Shack continually seeks to expand and improve customer experience. Shake Shack has its eyes on expansion, with 70 new locations planned to open up in 2023, many will incorporate drive-thrus and ordering kiosks. The chain's revamped digital menu boards are also making ordering and picking up food more convenient.
Also ever-expanding: its menu. New items are always launching at Shake Shack, like its Hot Ones lineup from fall 2022, inspired by the popular YouTube series of the same name. More recently, Shake Shack rolled out White Truffle menu items as well, including two new burgers. On the drink menu, Shake Shack recently added a Pomegranate Sweet Basil Lemonade just in time for summer.
Smashburger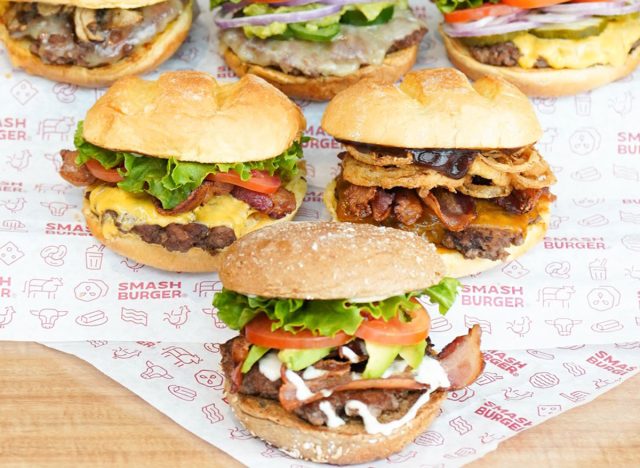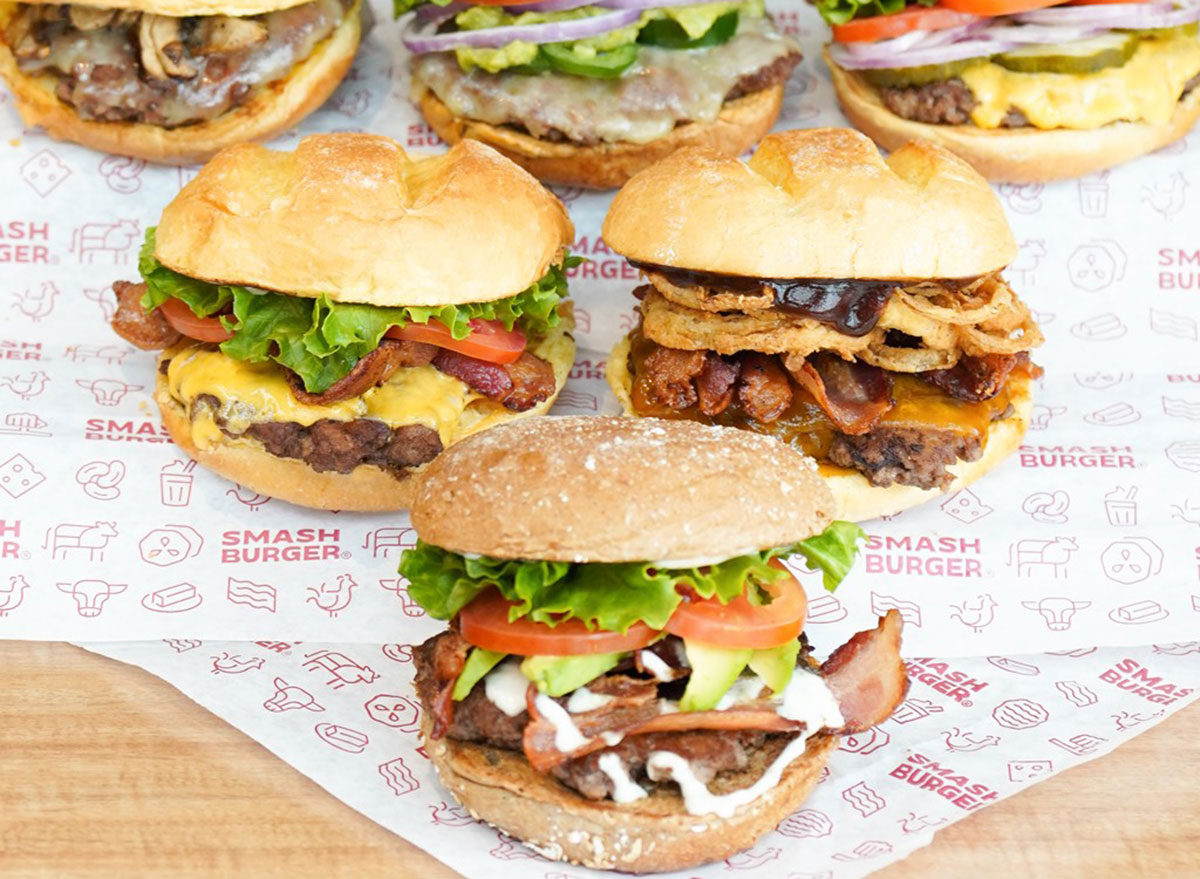 If you want to know what Smashburger offers that many of its competitors do not, simply look at its name. It takes certified Angus beef patties and hand-smashes them onto its grill, using its own customized metal smasher. The result is a juicy and fresh bite of food that can also be substituted with chicken, turkey, or black bean patties.
Speaking of chicken, Smashburger also serves great grilled chicken sandwiches as well, whether you want a Classic Grilled Chicken Sandwich or something more unique like a Truffle Mushroom Swiss Grilled Chicken Sandwich.
In the coming years, Smashburger is looking to expand its footprint by opening more locations across the U.S. This effort to expand Smashburger has been quite fast and furious since President Carl Bachmann took over in 2019, specifically targeting suburban regions. New and existing locations will include a fresh new look, revitalizing the Smashburger brand.
Also expanding is its menu, with chicken wings arriving on Smashburger menus in 2022. It is even testing the addition of full-service bars, with a drink menu that includes Blackberry Smash, Smoke & Spice Margarita, and more.
McDonald's
As one of the world's largest real estate companies, McDonald's footprint is nearly double the size of its biggest competitor. The iconic double-arched fast food company has been flipping burgers since 1955, and with a McDonald's in seemingly every town, it is clearly a popular choice almost by default. If there was any doubt that McDonald's popularity was wavering, just look at the numbers: it beat industry estimates in the fourth quarter of 2022 despite inflation and the omnipresent recession concerns.
A lot has changed at McDonald's in the U.S. over the years, and it now has a streamlined menu and fresher ingredients. The Quater Pounder for example has been made using fresh, never frozen beef since  2018. Plus, as part of its new Accelerating the Arches plan, the chain has put emphasis on expanding its core menu items, including chicken and burgers. In an ongoing quest to further perfect its signature burgers, McDonald's recently announced big changes. They include softer buns and cooking the burger with onions on the grill for a more caramelized flavor.
It is also easier than ever to get your hands on one of those juicy hamburgers, thanks to many of the developments in customer-facing technology over the years. This has included the rollout of digital self-serve kiosks as well as the launch of its app-based rewards program.
Five Guys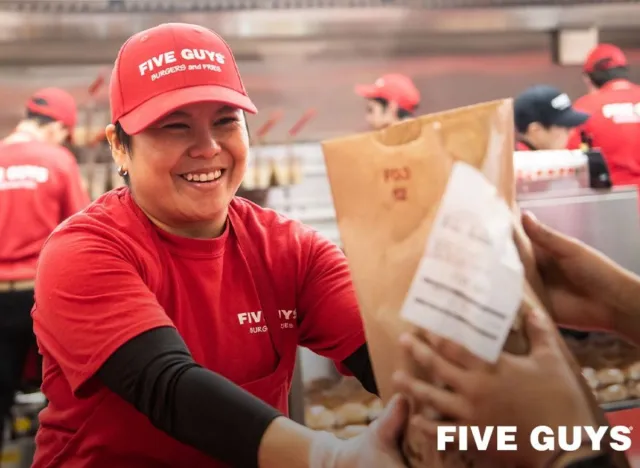 If the menu at Five Guys seems small, think again: according to the chain, there are a quarter of a million ways to order its signature hamburger, with a highly-customized ordering system. On top of that, all of Five Guys' burger toppings come at no extra cost, so you can add whatever you want without the fear of your tab slowly creeping up. With so much control over what goes on your burger, it is no wonder that Five Guys is one of the highest-ranked burger chains among satisfied customers. Beyond customization, Five Guys uses never-frozen patties that are hand-made every day.
One of the unique selling points of Five Guys is its affinity for peanut oil. It is the only oil used in restaurants, giving its french fries that irresistible flavor. And to keep its customers even more satisfied, Five Guys makes sure you get your money's worth of french fries. Ordering even the smallest size results in a bag full of fries, as evident by the oily bottom of your paper bag. Just note that if you have a peanut allergy, you will have to steer clear of Five Guys, as everything is cooked in peanut oil.
Fuddruckers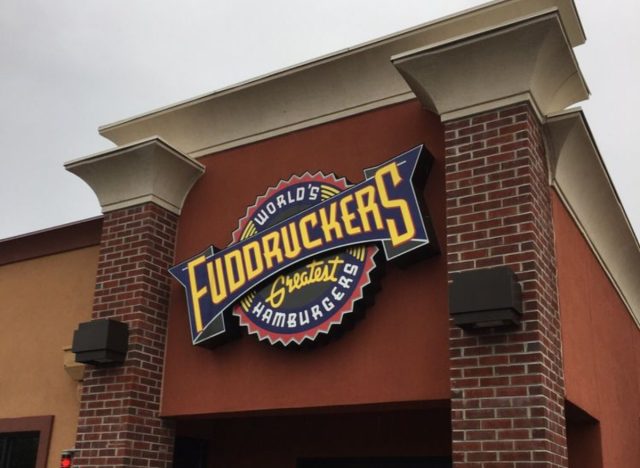 There was a time when you would not have been so far off in stating that Fuddruckers' days were numbered. But thanks to a recent buyout, Fuddruckers has been given a new lease on life, much to the relief of its regulars. Those customers have plenty to be excited about, considering Fuddruckers has been long known among its fans for serving burgers that use never-frozen beef that contain zero fillers or additives. That beef is handmade into patties in each restaurant, resulting in what many consider to be the best burgers in the country.
Fuddruckers certainly will not go down without a fight, and since its revitalization, customers have had more opportunities to get their hands on those top-rated burgers. It recently announced that new locations would be coming across the U.S., particularly in malls. It has also re-examined its menu to include options that cater to more palates and diets, including plant-based sandwiches.
Burger King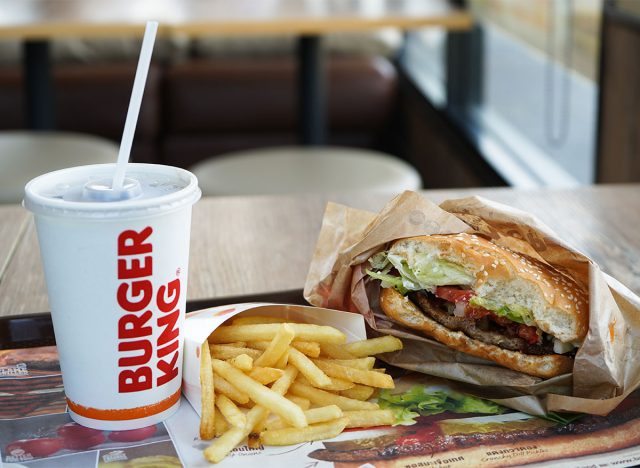 In a world where Big Macs and Whoppers have been battling it out for the top spot in the fast food industry for decades, Burger King has proven itself time and time again as a burger chain determined to stay the course. It has a massive reach with over 7,000 locations across the United States and has worked to reinvigorate the brand over the next couple of years. This has already included a brand refresh, but it also involves taking a new look at its menu and developing more tasty items for its customers.
Chad Brauze, Burge King's senior director of culinary innovation and sustainability, recently worked on rolling out three new Melts that were added to the menu for a limited time. Brauze previously worked at Michelin-star restaurants in New York City, and it looks like some of that culinary prowess was infused into the Melts, with their thick toasted bread and caramelized onions.
Classic Burger King menu items also stand out among its competition. The chain prides itself on serving burgers made with flame-broiled patties, a practice it has stuck to since it first opened its doors in 1954.
Steak 'n Shake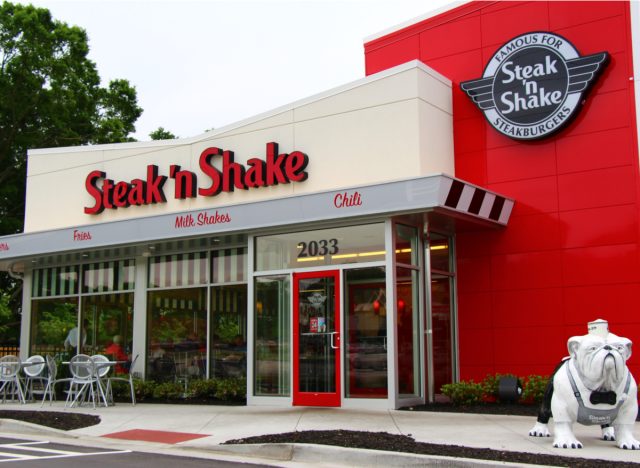 There are a lot of reasons to enjoy a hamburger, but if yours is for the pure beef aspect, then you have likely heard about Steak 'n Shake's unique approach to the sandwich. The burgers sold there are made with patties that contain a unique combination of round, sirloin, and T-bone steak, making a true meat lover's heart sing. Those patties are hand-made on-site for peak freshness, culminating in the signature "Steakburger."
Steak 'n Shake has actually been in the fast-food burger business longer than most of its competitors, opening its doors back in 1934. Despite underperforming for several years, Steak 'n Shake recently made a turn for the better, posting annual profits. On the back end, this involved restructuring that resulted in selling off over one-quarter of the company's locations. On the front end, customers saw a change in the business model that introduced self-order kiosks. As Steak 'n Shake enters its new era, fans can rest assured that at the very least, the Steakburger is here to stay.
Whataburger
If you live in Texas or have found yourself traveling through the Lone Star State, you have likely passed by a Whataburger more than a few times. The popular regional chain that is highly concentrated in Texas has expanded over the years, currently appearing in 14 states, with even more along the east coast planned to join the fold. This rapid growth is music to the ears of Whataburger fans, who will be quick to tell you how great the food is, no matter what you order.
The menu goes beyond hamburgers, which includes the aptly named signature Whataburger. Sandwiches range from the classic Patty Melt and Honey BBQ Chicken Strip Sandwich to salads and onion rings. It also includes daily breakfast, with unique items like the Breakfast Burger as well as Breakfast Bowls. And for beverages, Whataburger periodically brings back its popular Dr. Pepper Shake.
Mooyah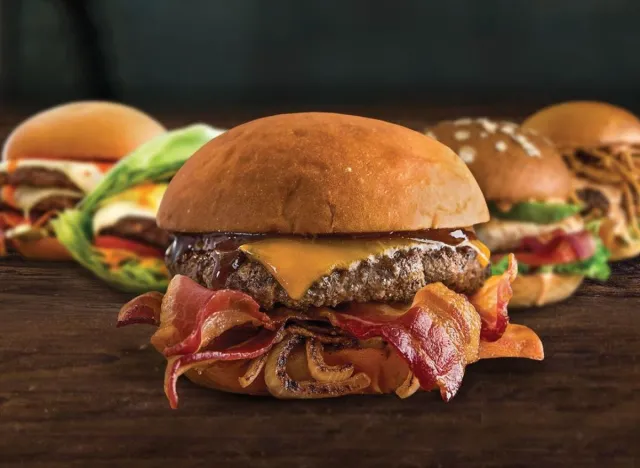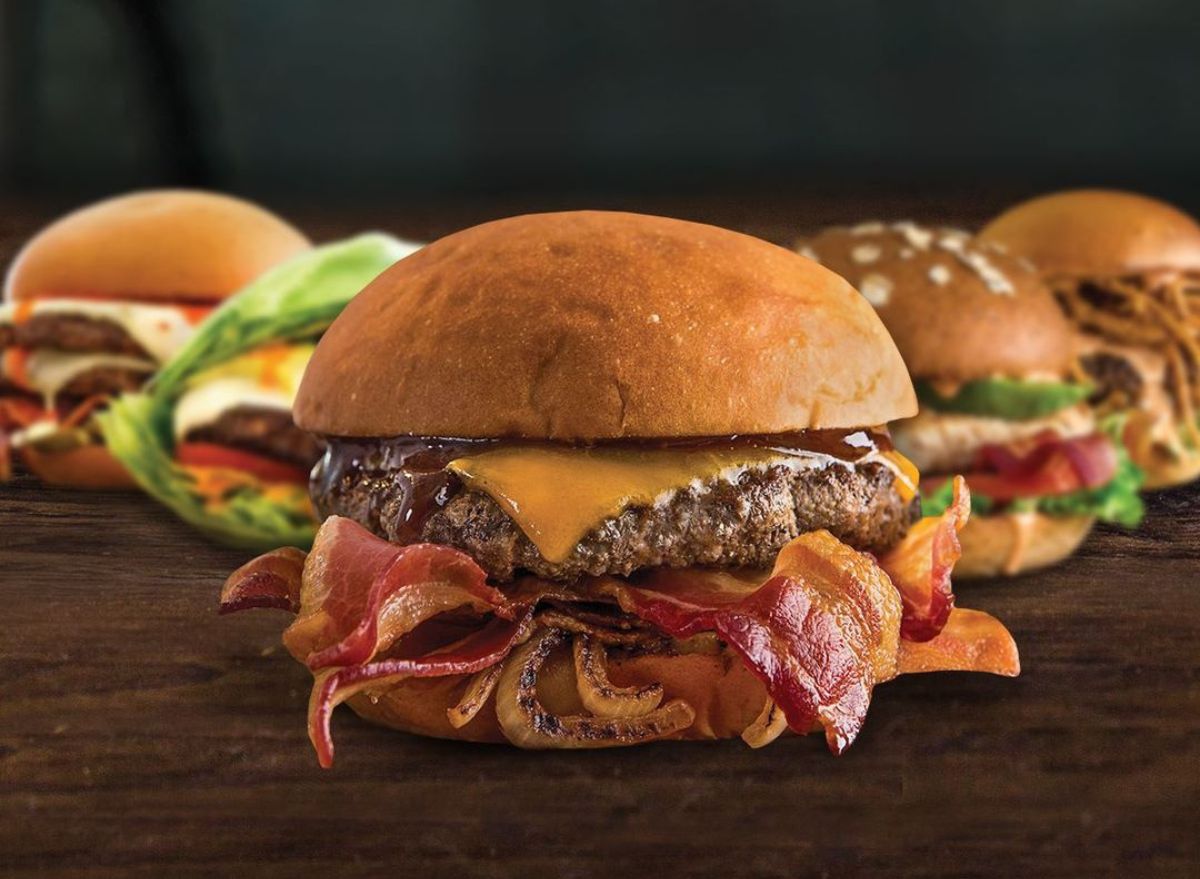 New on the fast-food scene in comparison to its competitors, Mooyah is a small but growing burger chain that first opened its doors in 2007. Since then, it has expanded from Plano, Texas into two dozen states and four international markets. So, what is it about Mooyah that allowed it to grow so early in its tenure?
It all starts with a great burger. Mooyah uses Certified Angus Beef in its never-frozen patties. From there, Mooyah bakes its buns in its restaurants each and every day. To go with your burger, you can order french fries that were hand-cut from Idaho potatoes, and to wash it all down, your milkshake was made with 100% real ice cream. Its menu is also full of what Mooyah refers to as its Lifestyle Burgers, which are sandwiches that fit Vegan, Paleo, Keto, Low Calorie, and Gluten-Free diets.
Umami Burger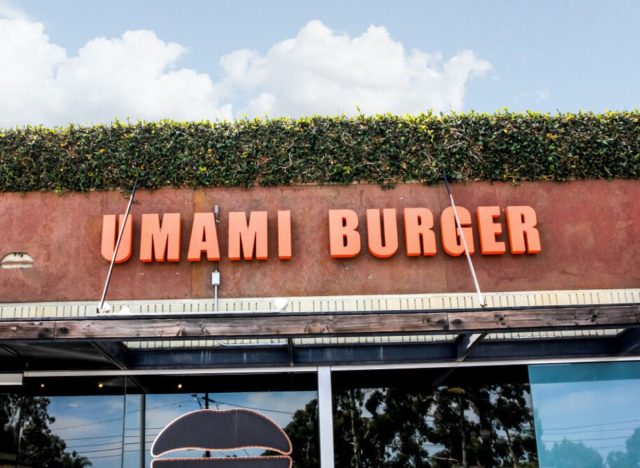 If flavor is what you want, then flavor is what you will find at Umami Burger. The full-service restaurant burger chain has a little over two dozen locations in major metropolitan areas like New York and Los Angeles, as well as several locations in Japan. Its name is inspired by the Japanese culinary term umami, which translates to delicious. The "fifth taste" has been used to describe a number of Japanese dishes for over a century, though it is a more recent phenomenon in the U.S.
Umami Burger leans into that quality of flavor in its burgers, including its signature Umami Burger as well as tasty options like the Truffle Burger, Bacon Ranch Burger, and Impossible Burger. Its beef burgers are made with American Wagyu beef patties, serving as the foundation for a sandwich, unlike anything you will find elsewhere. Other menu items are also memorable, from french fries to Cheesy Potato Tots. Some Umami Burger locations also feature full-service bars, so you can pair your burger with a signature cocktail.
Wendy's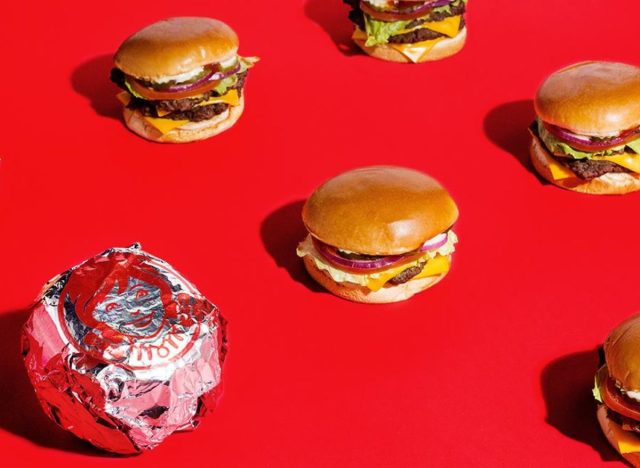 Wendy's has focused on high-quality menu items since it first opened, from never-frozen beef to responsibly sourced produce. The result is an array of food across its more than 6,500 locations in the United States that customers love, from its burgers to its Frosty dessert.
Though the distinguishable square burger patties are somewhat meant to trick you into thinking you are eating a bigger sandwich, make no mistake that the patties are fresh and of the highest caliber. The menu at Wendy's includes a few unique offerings you do not normally see at a fast-food burger chain, including its popular baked potatoes.
Professional chefs even have their go-to Wendy's orders, emphasizing the brand's wide reach and commitment to quality ingredients. Wendy's has also been quite innovative over the years with the flavors and sizes that it includes on its menu. Recently, Wendy's has tried to include seasonal Frosty flavors, including Peppermint during the holiday season. The chain has also switched things up with its french fries, like offering premium Garlic Fries for a limited time. It goes to show that Wendy's is not afraid to take risks, and in many ways, it has paid off.
BurgerFi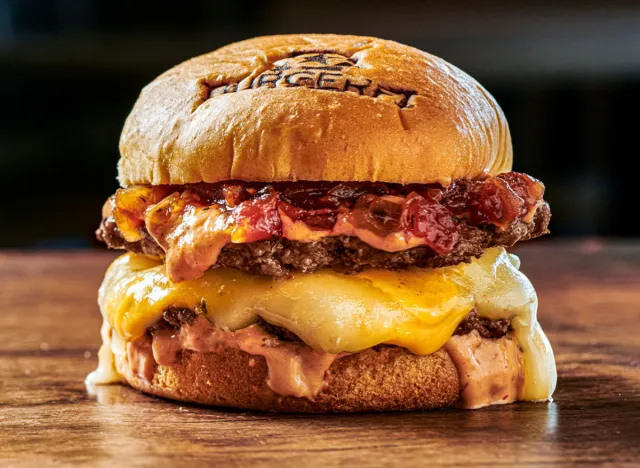 If there was ever a burger chain known for its high-quality sandwiches, fries, and shakes, it would be BurgerFi. That commitment to fresh ingredients has paid off big time, with BurgerFi being named America's favorite fast-casual burger chain. Such praise is thanks to the Angus beef patties found in its burgers, as well as its commitment to using zero artificial ingredients in any of its products. Burgers are of course the specialty, but BurgerFi's menu also has some heavy hitters among fans, including hot dogs, hand-cut fries, onion rings, and milkshakes.
BurgerFi has also started to roll out self-service kiosks at many of its locations, giving customers the opportunity to browse the menu at their leisure without any pressure from others standing behind them in line. According to Restaurant Business Online, the introduction of the kiosks has resulted in an average ticket increase of 18.5% at those BurgerFi locations. The chain is looking at several other technological advancements to improve the customer experience as well.
Cook Out
With locations primarily concentrated in the Southeastern United States, Cook Out lives up to its motto "Always Fresh, Never Frozen." Cook Out has a robust menu filled with burgers, char-grilled chicken sandwiches, hot dogs, and BBQ plates. In 1999 the chain opened its own meat commissary, ensuring that the entire process from grinding the meat to forming each pattie was done in-house.
If there were any menu item to give Cook Out's burgers a run for their money, it would be the milkshakes. The menu is jam-packed with dozens of unique milkshake flavors, including Heath Toffee, Peach Cobbler, Banana Pudding, and Chocolate Chip Cherry. Those tasty burgers and popular milkshakes culminate in a beloved regional chain that has its eyes set on expanding, with several new locations set to open in the coming months.
Fatburger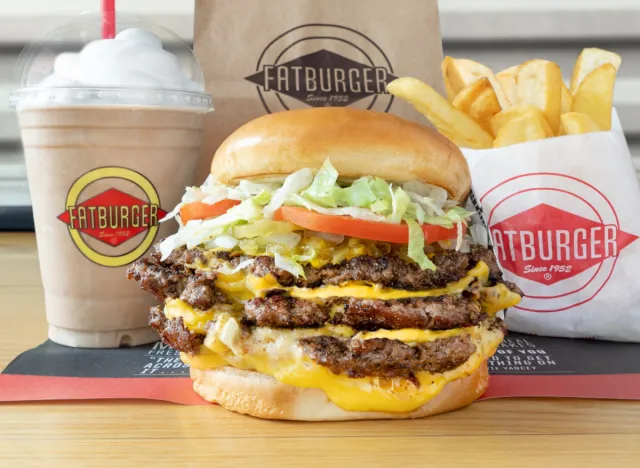 If ever there was a burger chain aptly named after what its customers can expect when ordering, then Fatburger would be close to the top of that list. The burgers are indeed huge–its hand-made pattie sizes range from ⅓ pound to a staggering 1 ½ pounds. No matter what size you order, customers can rest assured knowing that the meat used to make their burgers was never frozen. That promise of never freezing their meat is a practice dating back to when Fatburger first opened in 1947.
Fatburger's menu goes beyond the usual suspects and also includes chicken wings with a dozen different sauces to choose from, homemade onion rings, and milkshakes. Its burgers include different varieties like ground turkey and Impossible meat to accommodate different diets and lifestyles.
Carly Neil
Carly Neil is a freelance writer specializing in all things food, travel, Disney, and theme parks.
Read more about Carly