6 Most Enormous Fast-Food Breakfast Sandwiches Available Now
If you want to be full all day long, try one of these breakfast behemoths.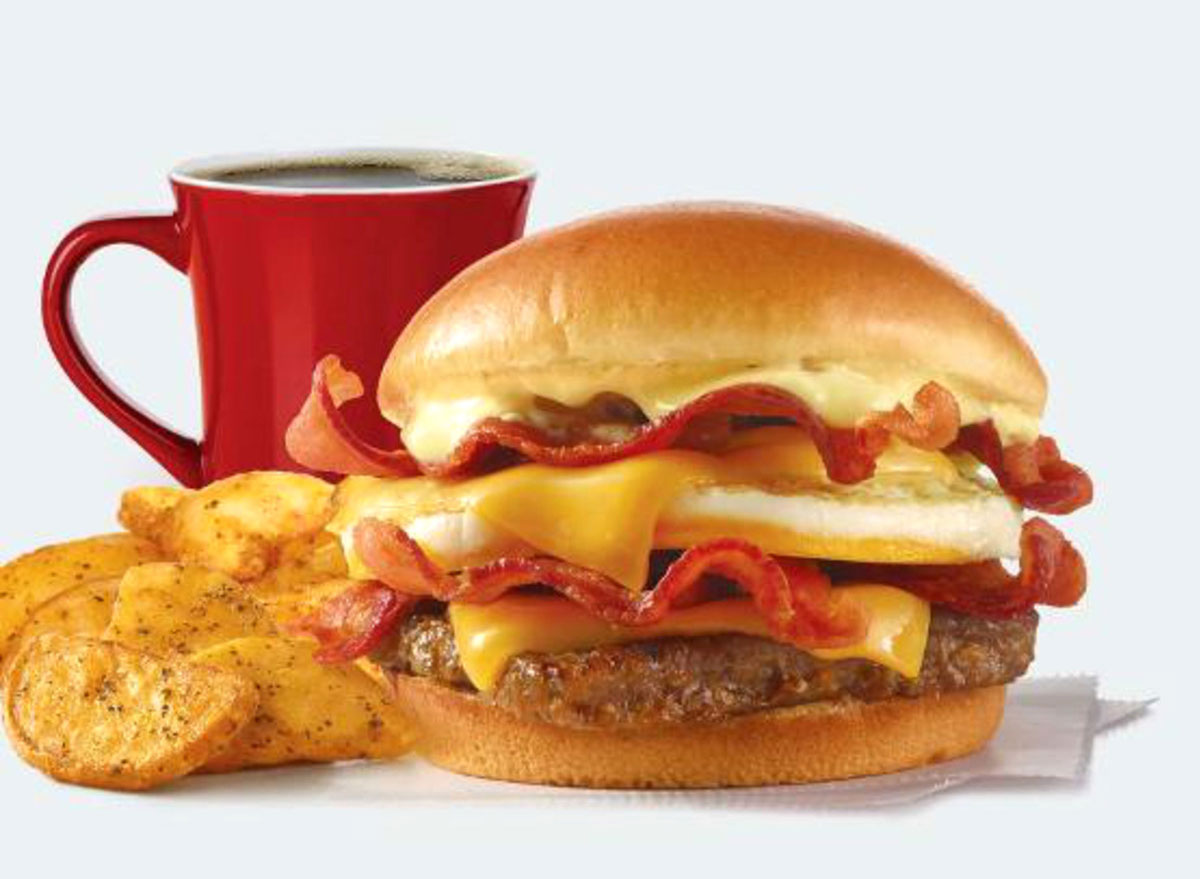 Fast-food chains are famous for touting their huge burgers, extra-long or extra-stacked sandwiches, and mile-wide pizzas. They also like to promote extra big dessert items, wild sides (we're looking at you, Fan Faves w/ Mozzarella Sticks from Jack in the Box), and fancy beverages. What gets less adulation are fast-food breakfast sandwiches, a menu category often treated as rather blasé.
That's hardly a fair assessment when it comes to the wild breakfast sandwiches we found on the menus at these six chains, though. These wild, piled-high culinary creations will require two hands to eat—and all day to fully digest.
From ample heapings of eggs and bacon to some unexpected ingredients, these are the breakfast sandwiches you order when you don't merely need a quick bite to fuel you through your morning but rather want to have a breakfast sandwich that borders on an existential experience.
Wendy's Breakfast Baconator
Per Sandwich
: 710 calories, 48 g fat (19 g saturated fat), 1,740 mg sodium, 37 g carbs (1 g fiber,7 g sugar), 33 g protein
The Breakfast Baconator from Wendy's is a shocking sandwich in so many ways.  First off, this heavy-hitter packs in 710 calories, and that's the sandwich alone with no french toast sticks or potato wedges involved. Plus, note the 48 grams of total fat and 19 grams of saturated fat, both of which are gut-wrenching stats.
Then we have the Baconator's 1,740 milligrams of sodium and 275 milligrams of cholesterol. At least it's also protein-rich, with 33 grams of it. This is no surprise given the sandwich's two kinds of meat, two kinds of cheese, and egg.
While objectively offensive to human health, the Breakfast Baconator has plenty of fans. One Redditor said, "The Breakfast Baconator rules," while another added, "I felt so wrong eating it but damn was it good."
Jack in the Box's Loaded Breakfast Sandwich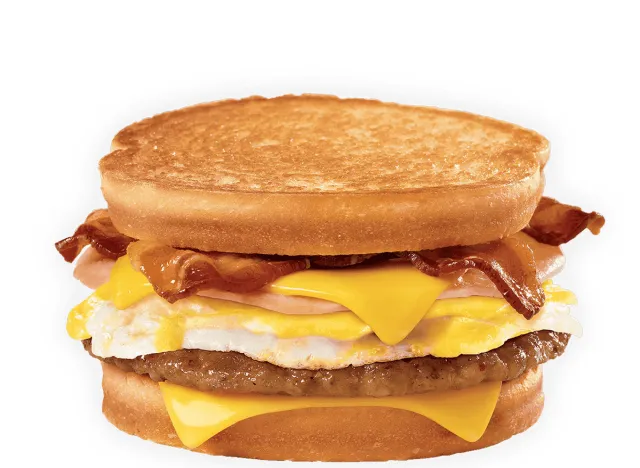 Per Sandwich
: 710 calories, 47 g fat (16 g saturated fat), 1,690 mg sodium, 36 g carbs (2 g fiber, 4 g sugar), 36 g protein
We're not sure if it's kismet or collusion, but this colossal breakfast sandwich from Jack in the Box has the exact same calorie count as the Breakfast Baconator from Wendy's at 710. The chain's Loaded Breakfast Sandwich is also loaded with 47 grams of total fats and 16 grams of saturated fat, making it a close match there, too.
This Jack in the Box sandwich "achieves" those stats based on the fact that it is made with similar ingredients to the Baconator: eggs, bacon, ham, sausage, and cheese, all of which are loaded onto thick slices of sourdough bread.
One of the main reasons this wild sandwich is popular was made clear by a Reddit poster who said he loves, "the Jack-in-the-Box breakfast sandwiches with sourdough, because they're available 24/7." Apparently, these go down quite well at 3 a.m. too.
Burger King's Fully Loaded Croissan'wich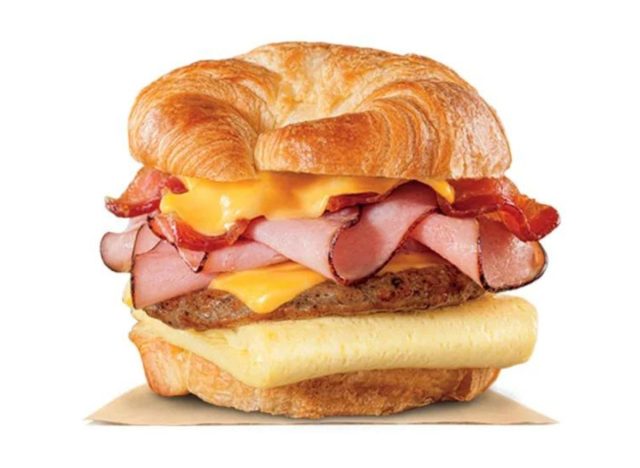 Per Sandwich
: 610 calories, 40 g fat (17 g saturated fat), 1,680 mg sodium, 31 g carbs (1 g fiber, 5 g sugar), 23 g protein
The Fully Loaded Croissan'wich Burger King consists of a sliced croissant with its halves stuffed with a tower of protein and fat. The sandwich consists of Black Forest ham, sausage, thick-cut bacon, eggs, and melted American cheese.
And while the Fully Loaded Croissan'wich might be a dietitian or nutritionist's nightmare, it's also apparently pretty good. We found plenty of love for this menu item on social media, and it's on the menu at Burger King locations all around the globe.
We also found a review by a food taster with Insider who sampled dozens of fast-food breakfast sandwiches and said of this one: "I liked Burger King's Fully Loaded Croissan'wich … the croissant itself tasted pretty good, so this was better than the Fully Loaded biscuit [from BK]."
Whataburger Breakfast Burger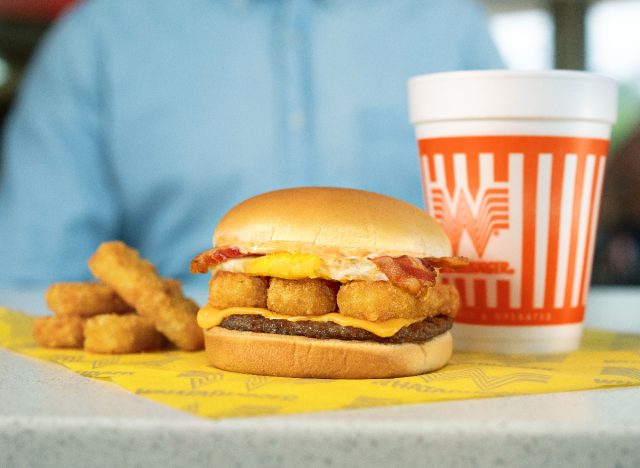 Per Sandwich
: 865 calories, 49 g fat (12 g saturated fat), 2,040 mg sodium, 72 g carbs (4 g fiber, 6 g sugar), 31 g protein
The name of this Texas-based chain comes from its founder's hope that when people tried the burgers, they'd say: "What a burger!" When people finish eating the Whataburger Breakfast Burger, it's more entirely they will think: "What a breakfast!" even though that hardly has the same ring.
The Breakfast Burger is low-key brilliant because it puts multiple common breakfast staples all in one handheld package. You have the bun, a beef patty (in lieu of sausage), bacon, egg, cheese, and then a trio of hash brown sticks.
Once planned to be a limited-time offering, clearly this breakfast menu item was a hit with customers, because now it is on the menu at all times. Well, from 11 p.m. until 11 a.m., the chain's common breakfast hours.
Panera Sausage Egg and Cheese on Asiago Bagel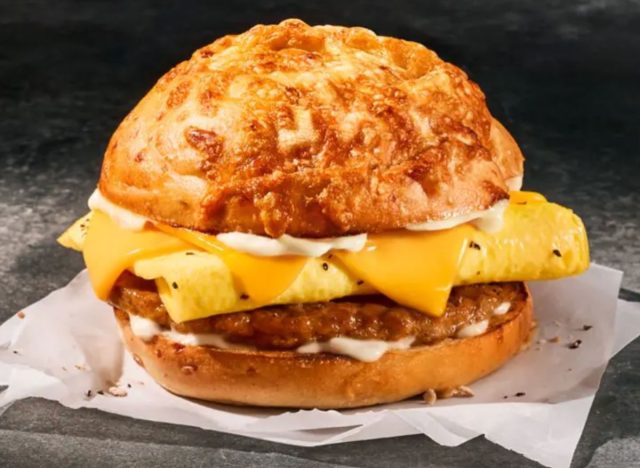 Per Sandwich
: 820 calories, 51 g fat (20 g saturated fat), 1,300 mg sodium, 58 g carbs (2 g fiber, 5 g sugar), 33 g protein
Panera is the healthier choice, right? Well, if you want to get nearly half of your entire day's worth of calories for a 2,000-calorie diet in just one breakfast sandwich, then this sandwich from Panera is a great choice. The chain's Sausage Egg and Cheese on Asiago Bagel breakfast sandwich packs in 820 calories, and if you opt to add extra sausage, an option the restaurant's website puts front and center, it tips the scales at 1,030 calories.
The sandwich itself consists of a sausage patty, American cheese, folded egg patties, and garlic aioli sauce. It's such a calorie monster because the bagel itself should be breakfast enough for most people, maybe with a little cream cheese and a piece of fruit. An Asiago bagel from Panera has 320 calories, so it's no wonder things get wild when you pile on meat, cheese, egg, and more.
Carl's Jr. Monster Biscuit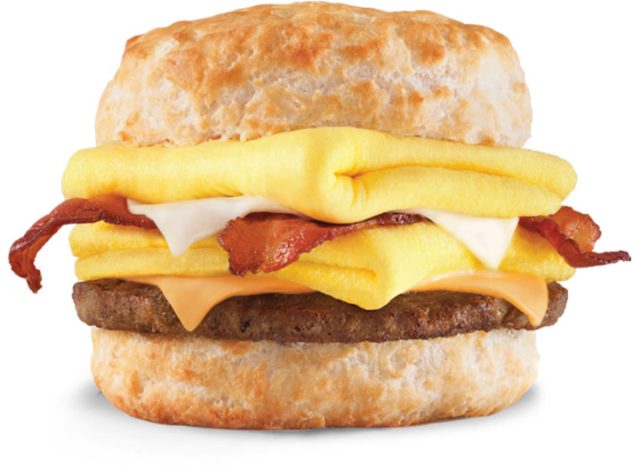 Per Sandwich
: 890 calories, 63 g fat (25 g saturated fat), 2,480 mg sodium, 45 g carbs (2 g fiber, 6 g sugar), 45 g protein
Depending on how you look at things, this breakfast sandwich from Carl's Jr. piled high with eggs, bacon, sausage, and two kinds of cheese wedged between biscuit halves, is either a monstrously good deal or an outright monstrosity. The Monster Biscuit packs in 850 calories and 63 grams of fat, including 25 grams of saturated fat. It also has a frightening 2,480 milligrams of sodium and 280 milligrams of cholesterol.
Those are some of the worst stats featured here today, and for many people, those would mean the end of the road for this breakfast menu item. But not all people are most people, because many on Reddit had high praise. One poster said, "The monster biscuits from Carl's Jr are my favorite breakfast item."Another noted the Monster Biscuit when replying to a query about the best fast-food breakfast entrees nationwide.
Steven John
Steven John is a freelancer writer for
Eat This, Not That!
based just outside New York City.
Read more about Steven