20 Healthy Butternut Squash Recipes
Turn this seasonal staple into delicious, vitamin-packed recipes the whole family will love!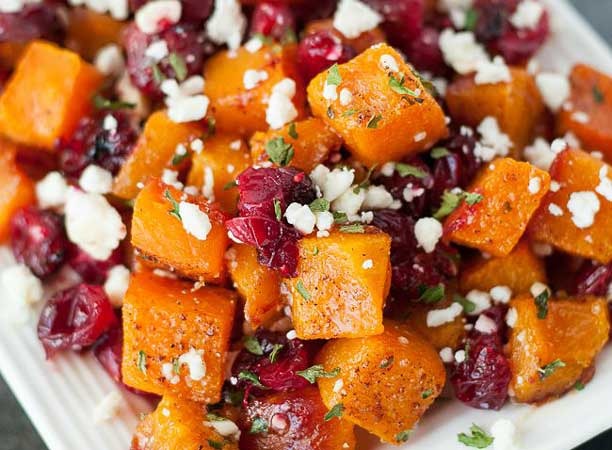 We've reached that time of the year when summer flirts with fall, which got us thinking about the plethora of autumn superfoods. Pumpkin may get all the fame, but butternut squash knows what she brings to the table and isn't afraid to eat alone. High in hunger-taming fiber, vitamins, minerals, and carotenoids—but low in calories—the gourd has demonstrated fat-burning, belly-shrinking properties. We've rounded up our favorite butternut squash recipes that are certain to get you inspired, please your taste buds, and nourish your body.
PARMESAN BUTTERNUT SQUASH FRIES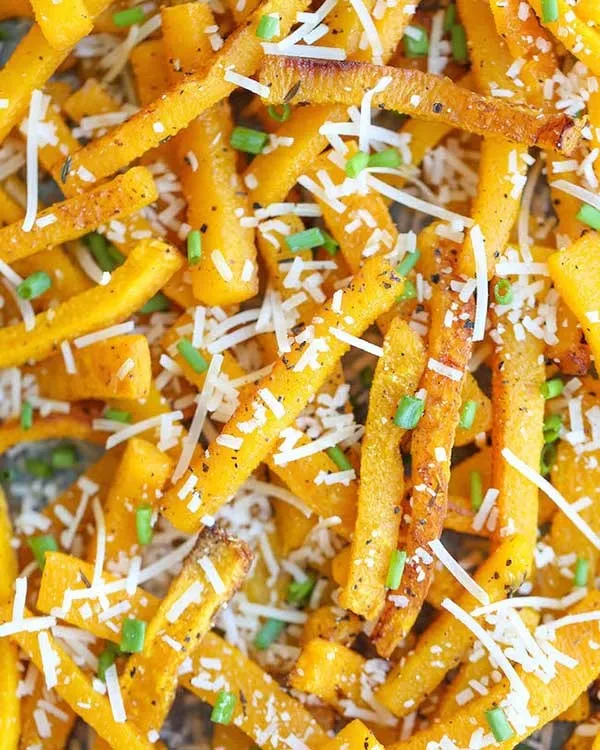 Nutrition: 107 calories, 3.6 g fat (1.1 g saturated), 70.8 mg sodium, 18 g carbs, 2.3 g fiber, 3.4 g sugar, 3.2 g protein
Fries don't have to be drenched in oil and deep-fried to be delicious. This butternut squash recipe requires just a tablespoon of olive oil, seasoning, parmesan cheese, and an oven. At just 107 calories per serving, these sweet and savory fries will have your completely smitten.
Get the recipe from Damn Delicious.
STUFFED BUTTERNUT SQUASH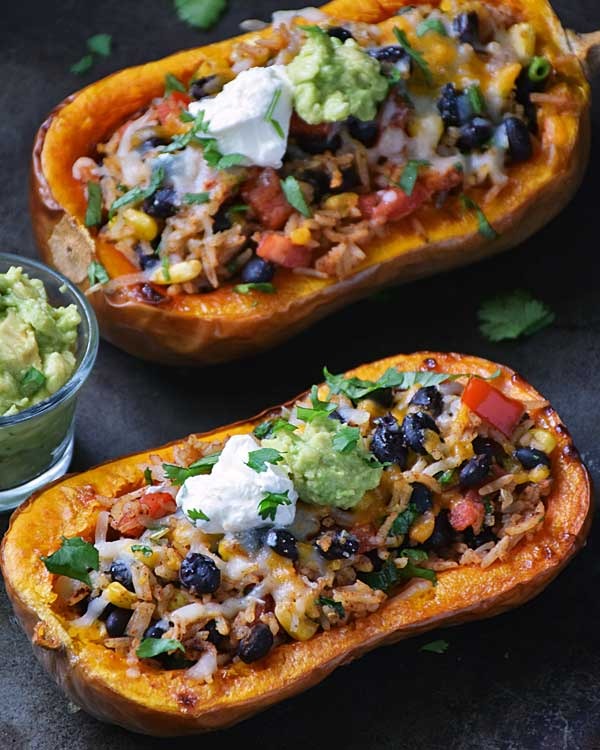 Nutrition: 298 calories, 6.2 g fat (3.5 g saturated), 333 mg sodium, 51.2 g carbs, 8.6 g fiber, 4.7 g sugar, 12.6 g protein
Take a break from Taco Tuesday with this Mexican-inspired recipe instead. Rice, black beans, corn, and spicy seasonings are tossed together, stuffed inside a butternut squash, and topped with salsa, guac, and cheddar cheese. We suggest going light on the cheese and heavier on the green stuff. After all, it's made from one of the few foods that can aid in rapid weight loss, lower blood pressure, spot reduce stomach fat, banish bloat, and quell hunger pangs.
Get the recipe from Our Life Tastes Good.
SLOW COOKER BUTTERNUT SQUASH SOUP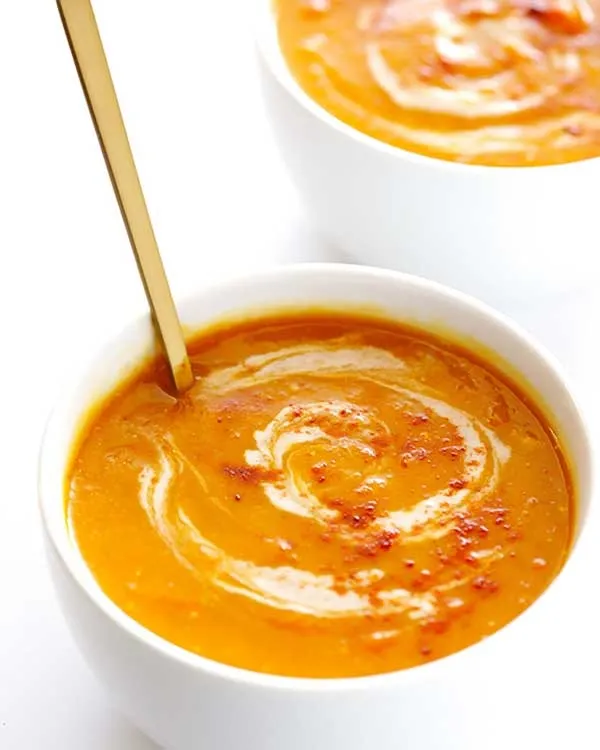 Nutrition: 122 calories, 4.9 g fat (4.2 g saturated), 145 mg sodium, 20.6 g carbs, 3.7 g fiber, 7.5 g sugar, 2 g protein
Aside from its wicked low calorie count, this soup will literally fry flab and scorch calories, thanks to capsaicin—the compound that gives cayenne its steamy-hot sensation, which increases thermogenesis and blasts fat. Better yet, studies suggest consuming a cup of soup before a meal causes you to eat less.
Get the recipe from Gimmie Some Oven.
ROASTED BUTTERNUT SQUASH QUINOA SALAD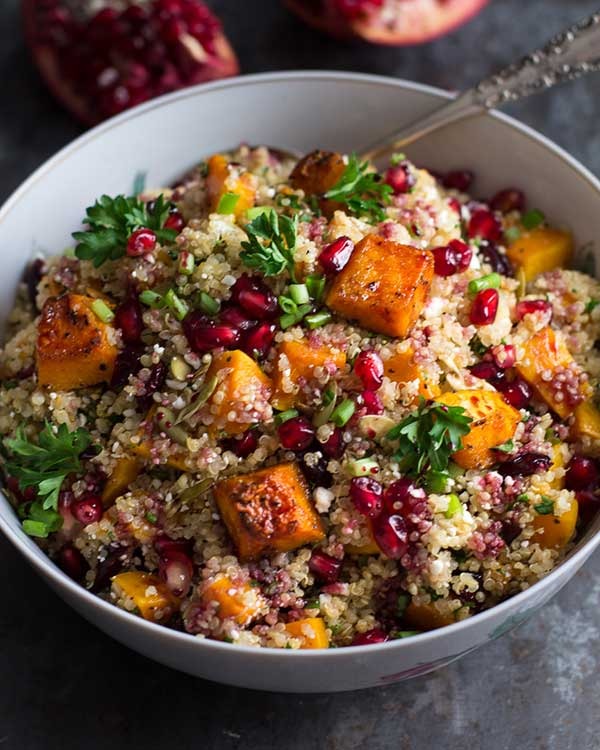 Nutrition: 262 calories, 13.8 g fat (3.4 g saturated), 170 mg sodium, 28.7 g carbs, 4 g fiber, 2.5 g sugar, 7.3 g protein
Not only is quinoa the only grain that contains all nine essential amino acids–making it a complete protein–but it's also particularly rich in minerals like manganese, phosphorus, and magnesium and naturally gluten-free. According to a 2013 survey, approximately a third of America is trying to avoid gluten. The problem is most GF-deemed products contain fattening fillers that can lead to an expanding waistline. Fortunately, this quinoa bowl isn't one of them!
Get the recipe from One Sweet Mess.
BUTTERNUT SQUASH AND SPINACH LASAGNA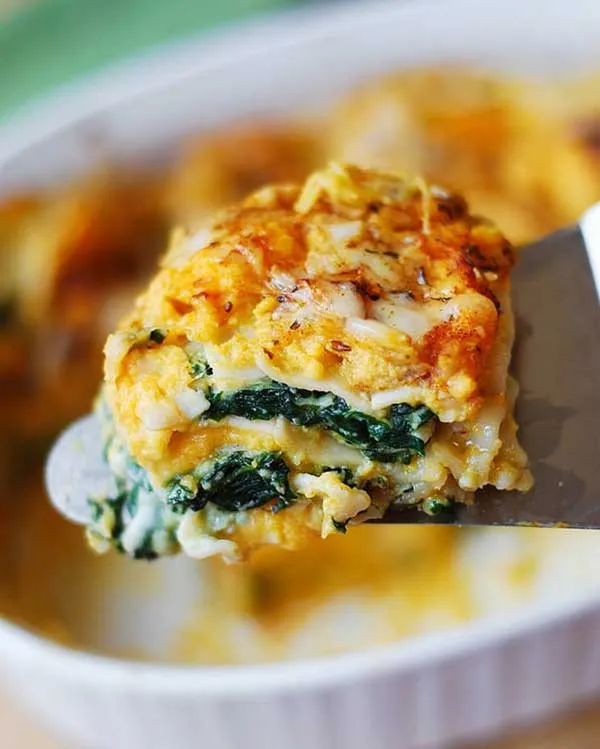 Nutrition: 303 calories, 9.2 g fat (5.1 g saturated), 238 mg sodium, 36.1 g carbs, 1.1 g fiber, 2.2 g sugar, 19.6 g protein
No matter how you slice it, lasagna is an indulgent meal. Unfortunately, its ingredients usually start as a savory treat but end in a belly bulge. This is one of the lighter butternut squash recipes thanks to the layering of potassium-rich spinach and squash between noodles. And with 19.6 grams of protein per slice, you'll be too satisfied to ask for seconds.6254a4d1642c605c54bf1cab17d50f1e
Get the recipe from Julia's Album.
BUTTERNUT SQUASH PASTA SAUCE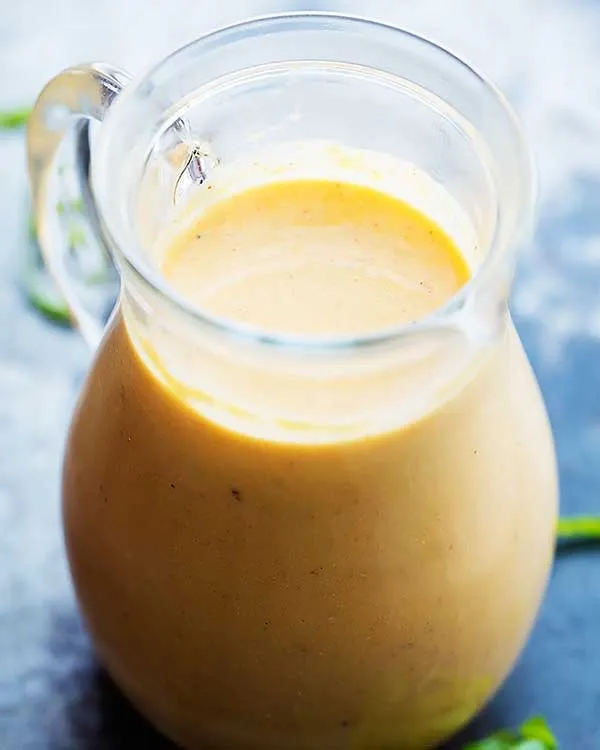 Nutrition: 87 calories, 2.5 g fat (1.6 g saturated), 134 mg sodium, 11.2 g carbs, 1.5 g fiber, 3.9 g sugar, 6 g protein (calculated with non-fat milk and on salt)
Move over tomato sauce–we've found an upgrade. And it's just in time for fall! Serve it over a whole wheat penne, spiralized noodles, or spaghetti squash with chicken meatballs for a balanced, wholesome meal.
Get the recipe from Creme De La Crumb.
HONEY ROASTED BUTTERNUT SQUASH WITH CRANBERRIES AND FETA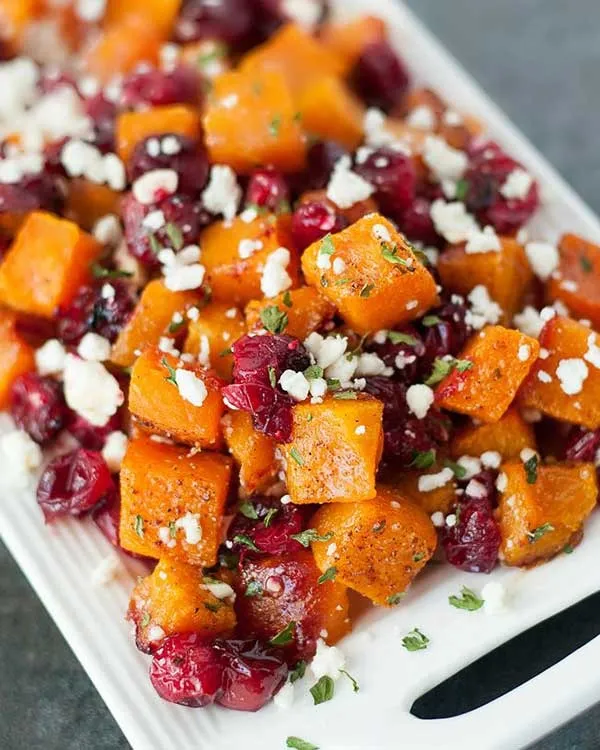 Nutrition: 120 calories, 3.8 g fat (1.3 g saturated), 101 mg sodium, 20.3 g carbs, 3.2 g fiber, 9.4 g sugar, 1.8 g protein
Before you reach for fat-free feta, keep in mind that you may not necessarily be doing your waistlines any favors. In fact, a 2013 European Journal of Nutrition research review revealed that 11 of 16 studies found that participants who consumed more high-fat dairy products either weighed less or gained less weight over time than their counterparts who didn't consume fat-laden dairy. This is most likely because the fat-free stuff isn't as satisfying, resulting in you eating more.
Get the recipe from Peas and Crayons.
ROASTED BUTTERNUT SQUASH HUMMUS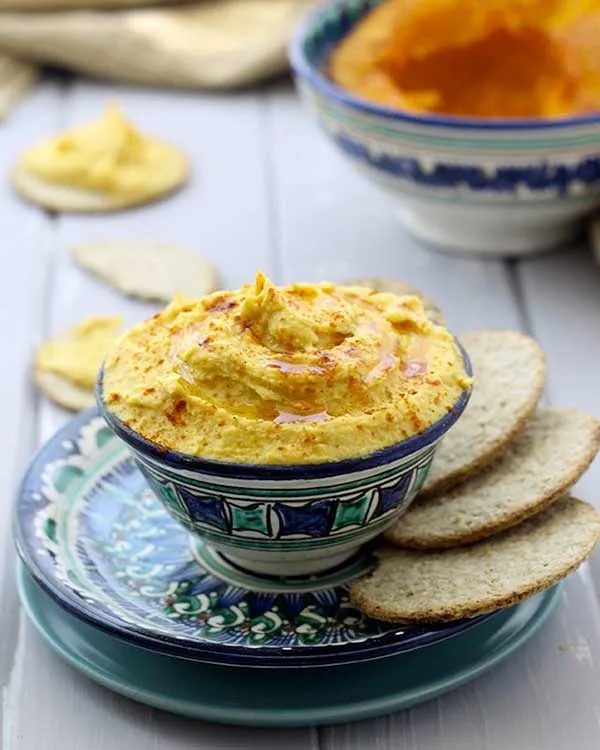 Nutrition: 104 calories, 3.7 g fat (0 g saturated), 14.3 g carbs, 4 g fiber, 2.5 g sugar, 4.4 g protein
According to a study published in the journal Obesity, people who consumed a single daily serving of chickpeas reported feeling 31 percent fuller than those who did not—and in case you weren't aware, hummus is the result of the pureed bean. The magic bullets are one of the best high-fiber foods, lowering LDL-cholesterol levels, promoting healthy-gut bacteria, and preventing cellulite, thanks to their lysine content. That's enough to get us dipping!
Get the recipe from The Healthy Maven.
BUTTERNUT SQUASH BROWNIES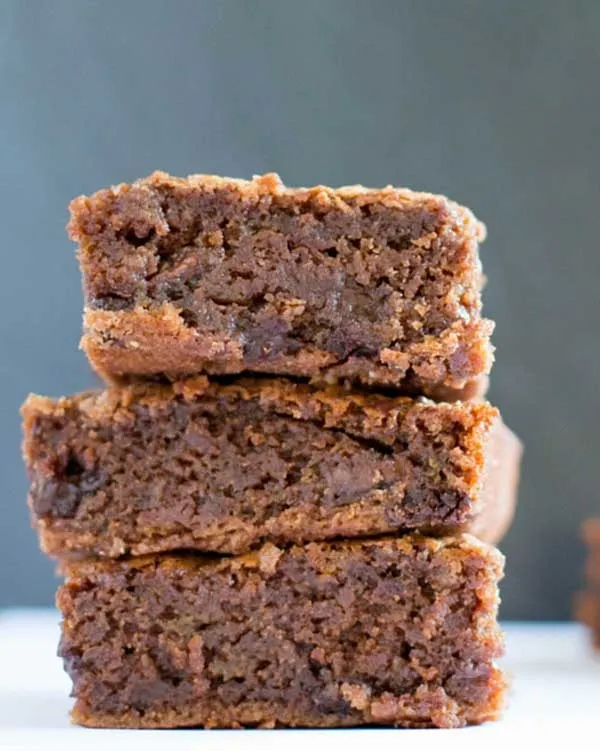 Nutrition: 167 calories, 6.4 g fat (3.9 g saturated), 38 mg sodium, 23.9 g carbs, 1.1 g fiber, 12.9 g sugar, 3.5 g protein
Looking for an absolute genius way to sneak more veggies into your kiddo's diet? These brownies are it. And unlike most prepackaged baked goods, they don't contain artificial sweeteners. Instead, they're sweetened with antioxidant-rich maple syrup. They're so good that your family will never guess they're knocking out their daily dose of vitamin A.
Get the recipe from Meals Our Kids Love.
PALEO CINNAMON SWIRL BUTTERNUT SQUASH MINI LOAVES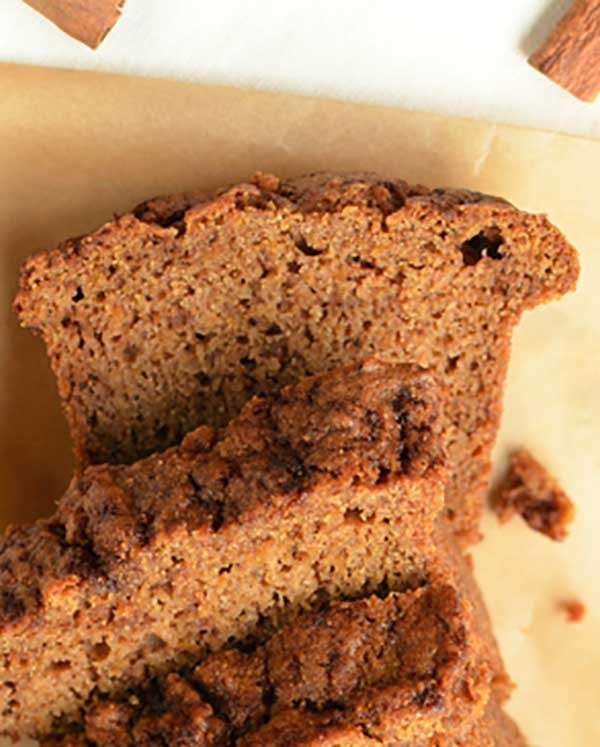 Nutrition: 246 calories, 4 g fat (1.3 g saturated), 584 mg sodium, 46 g carbs, 5 g fiber, 12.3 g sugar, 6.7 g protein
Our ancestors, who were hunter and gatherers, didn't have the ability to bake bread. However, the Paleo diet has gone through a bit of a transformation in the modern day. With wholesome, caveman-approved ingredients, these mini loaves are both gluten and dairy-free (a staple of the Paleo diet) and make the perfect gift seasonal gift!
Get the recipe from The Healthy GF Life.
BUTTERNUT SQUASH PIZZA CRUST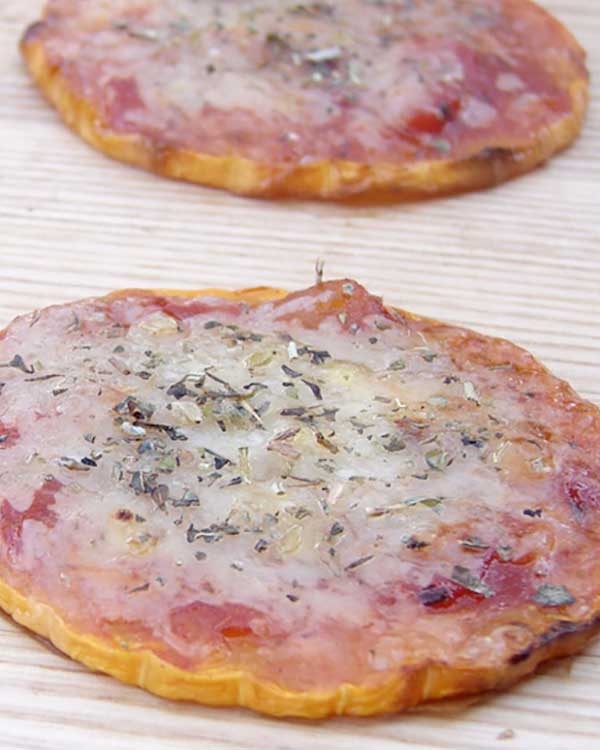 Nutrition: 122 calories, 6.9 g fat (5.9 g saturated), 64 mg sodium, 16.4 g carbs, 2.8 g fiber, 3.1 g sugar, 1.4 g protein
Are you gluten-free or simply looking to nix empty calories? This pizza crust contains three simple ingredients: butternut squash, coconut oil, and sea salt. It's low calorie, low carb, and it won't leave you with stomach rolls.
Get the recipe from Empowered .
KALE AND BUTTERNUT SQUASH BREAKFAST BOWL
Nutrition: 267 calories, 17.8 g fat (6.4 g saturated), 71 mg sodium, 23.2 g carbs, 7 g fiber, 4.4 g sugar, 8.2 g protein
You had us at kale and breakfast bowl, but butternut squash sealed the deal. And while you might be tempted to ditch the yolk, don't. Despite years of bad publicity, it actually packs in a mighty nutritional punch. Yolks contain choline, a vital nutrient responsible for the structure of cell membranes, protecting our livers from accumulating fat. Bonus: It builds healthy neurotransmitters in the brain!
Get the recipe from The Organic Dietitian.
ROASTED BUTTERNUT SQUASH PIE WITH BROWN SUGAR MARSHMALLOW TOPPING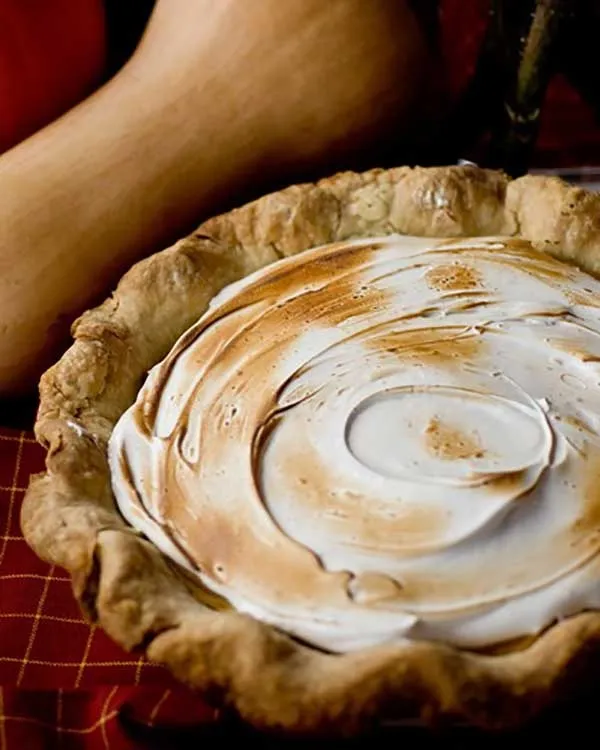 Nutrition: 267 calories, 9.7 g fat (2.9 g saturated), 134 mg sodium, 48.1 g carbs, 2 g fiber, 26 g sugar, 4.5 g protein (calculated with light brown sugar only)
Pumpkin pie may be a Thanksgiving staple, but this marshmallow topped butternut squash version also deserves a spot at the table.
Get the recipe from Keep It Sweet Desserts.
ROASTED BUTTERNUT SQUASH KALE AND CRANBERRY COUSCOUS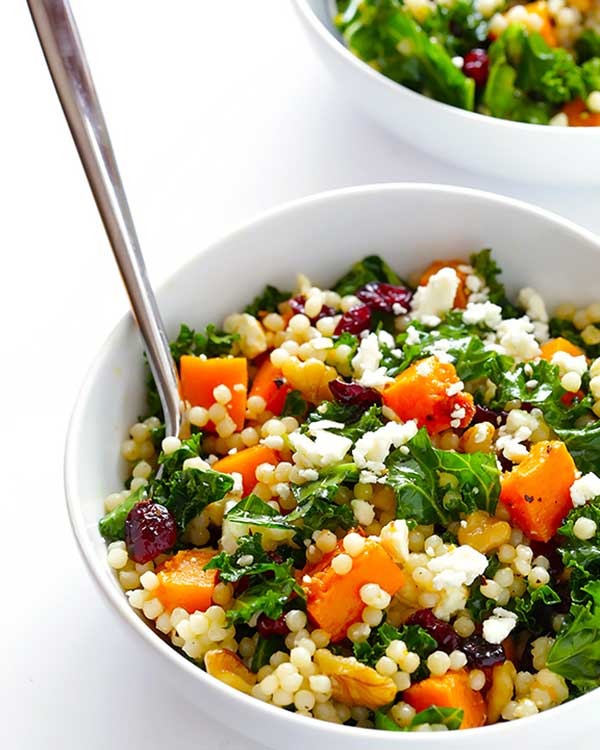 Nutrition: 269 calories, 12.3 g fat (3.3 g saturated), 47 mg sodium, 31.6 g carbs, 3.4 g fiber, 1.5 g sugar, 9.4 g protein
Sometimes, pasta can be a bore. Couscous is a great alternative. It's made from crushed durum wheat and, in this refreshing recipe, it pairs flawlessly with dried cranberries, butternut squash, and the super-green kale. Kale contains folate, which plays a key role in DNA synthesis and repair and has more calcium, gram for gram, than a cup of milk.
Get the recipe from Gimme Some Oven.
MEATLOAF CUPCAKES WITH BUTTERNUT SQUASH PUREE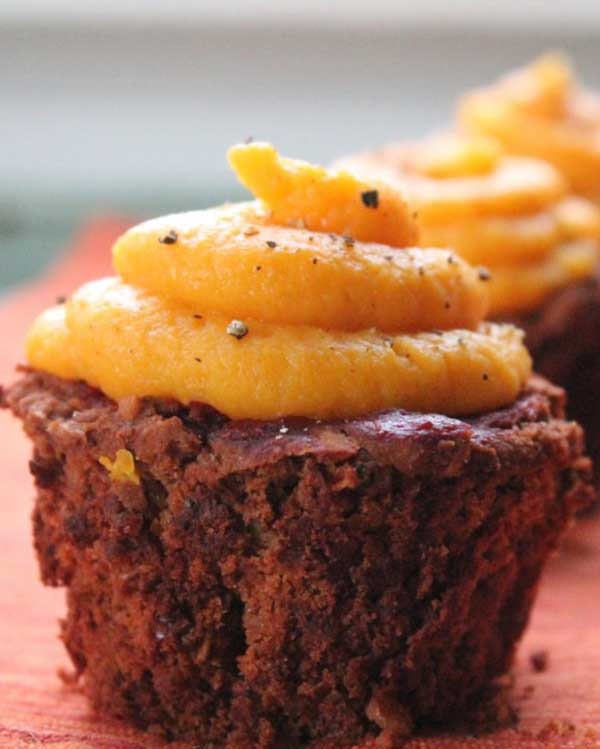 Nutrition: 286 calories, 13.8 g fat (1.1 g saturated), 207 mg sodium, 31.5 g carbs, 12 g fiber, 5.9 g sugar, 13.2 g protein
Cupcakes for dinner can be a thing—assuming they're made with whole foods and not white flour and sugar. This version contains a vegan meatloaf that's made with lentils, chickpeas, nuts, and veggies. They're then topped with pureed butternut squash to make a charming autumn app.
Get the recipe from My Darling Vegan.
WHOLE WHEAT BUTTERNUT SQUASH WAFFLES
Nutrition: 293 calories, 12.2 g fat (8.4 g saturated), 264 mg sodium, 42.2 g carbs, 5 g fiber, 9.9 g sugar, 7.7 g protein
If you've got a love affair with fast cardio, we've got the perfect post-workout meal for you. For starters, it's just shy of 300 calories, so it won't undo 45-60 minutes of hard work. And with 42.2 grams of carbs and 7.7 grams of protein, it will completely replenish depleted glycogen stores and encourage muscle synthesis. More importantly, the properly portioned dream team prevents your body from metabolizing muscle tissue for energy.
Get the recipe from Kara Lydon.
BUTTERNUT SQUASH AND CRISPY SAGE PIZZA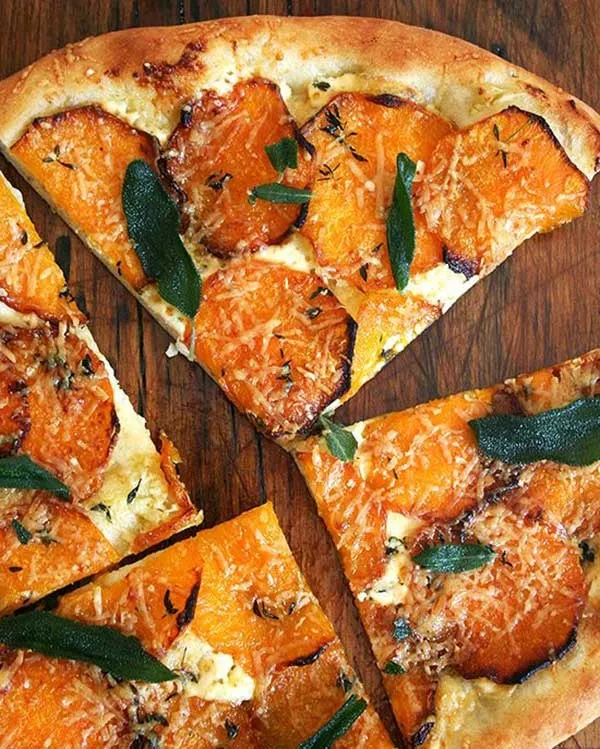 Nutrition: 407 calories, 4.3 g fat (1.6 g saturated), 37 mg sodium, 78.2 g carbs, 4 g fiber, 1.3 g sugar, 12.7 g protein (calculated with one tablespoon of olive oil and no salt)
Squash probably isn't the first ingredient that comes to mind when you're ordering pizza toppings or even an option, but we guarantee this pair will blow your mind. Sage is an herb straight out of the Mediterranean and it's bursting with essential minerals and vitamins, particularly riboflavin, a B vitamin that plays a key role in metabolism.
Get the recipe from Alexandra Cooks.
BUTTERNUT SQUASH PASTA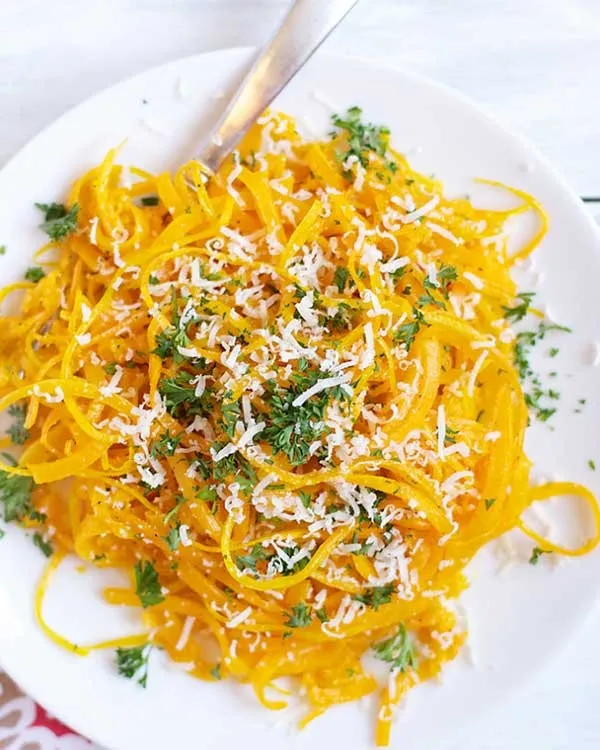 Nutrition: 246 calories, 18.9 g fat (2.7 g saturated), 10 mg sodium, 22.1 g carbs, 3.9 g fiber, 4.2 g sugar, 2 g protein
Zoodles and now boodles? Slicing and dicing are a thing of the past. Spiral-shaped food is just more fun! And it's better for you. With one simple tool, you can boost the nutritional profile, lower carb counts, aid weight loss, ditch gluten, and/or veganize any meal. With just 246 calories per bowl, this one's definitely one of our go-to butternut squash recipes!
Get the recipe from B. Britnell.
BUTTERNUT TOTS WITH SPICY MAPLE MUSTARD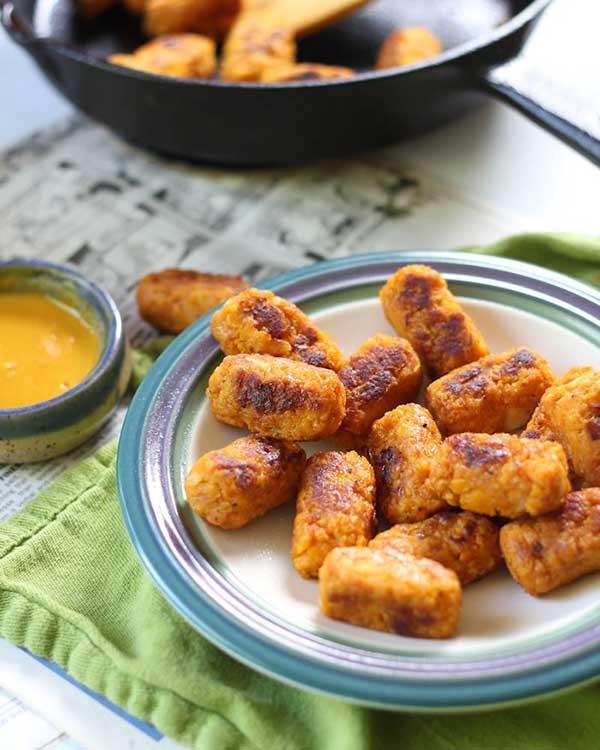 Nutrition: 204 calories, 5 g fat (<1 g saturated), 282 mg sodium, 36.5 g fiber, 9.5 g sugar, 5.8 g protein
Ever come across a person who doesn't dig tots? Nope, we haven't either. This fall spin puts the typical potato to shame. Potassium-boasting butternut squash, heart-healthy olive oil, fat-blasting sriracha, metabolism revving paprika, antibacterial garlic, and fibrous chickpeas create a waistline-friendly, crowd pleaser.
Get the recipe from Connisseurus Veg.
BUTTERNUT SQUASH CHILI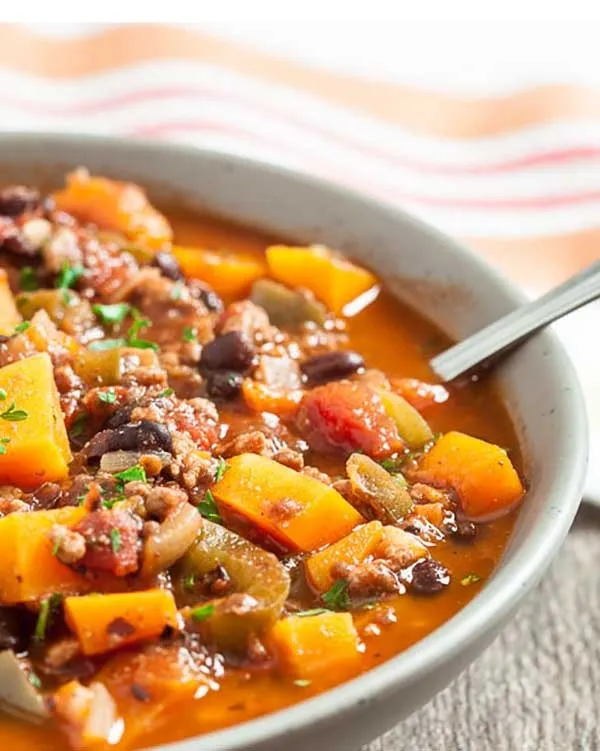 Nutrition: 314 calories, 15.9 g fat (2.5 g saturated), 133 mg sodium, 20.6 g carbs, 4.3 g fiber, 5.5 g sugar, 27.8 g protein
As evening temperatures drop, there's nothing like a bowl of steaming chili that's brimming with muscle-building, satiating protein. Better yet, for every 100 calories of protein you ingest, 25 to 30 of those calories are burned during digestion! With protein being the overwhelming macronutrient in this recipe, it's sure to scorch calories, keep you fuller longer and aid your fitness goals.
Get the recipe from Chew Out Loud.