13 Healthy Canned Chicken Recipes
Try it in chicken salads, dips, pot pies, and even tacos!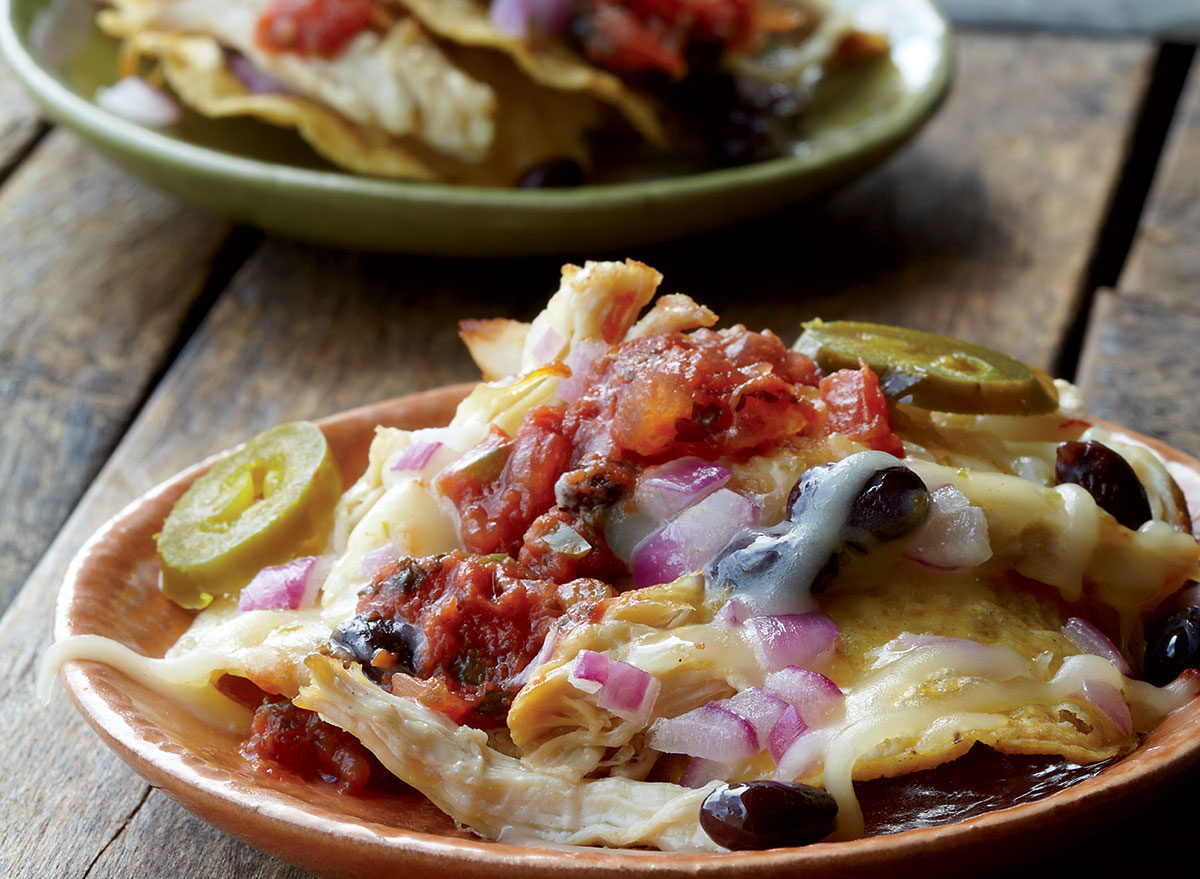 Canned chicken can substitute shredded or cooked chicken in a multitude of dishes, especially when it's combined with flavorful sauces and spices that make up chicken salads, dips, or stuffing for pot pies and tacos. The texture of canned chicken is similar to that of canned tuna or canned salmon, which can be a great starting point for coming up with your own canned chicken recipes.
However, we've chosen 13 recipes that work particularly well for canned chicken—a great protein staple to have on hand when your freezer is lacking meat. And for more, check out these 15 Classic American Desserts That Deserve a Comeback.
Chicken Noodle Soup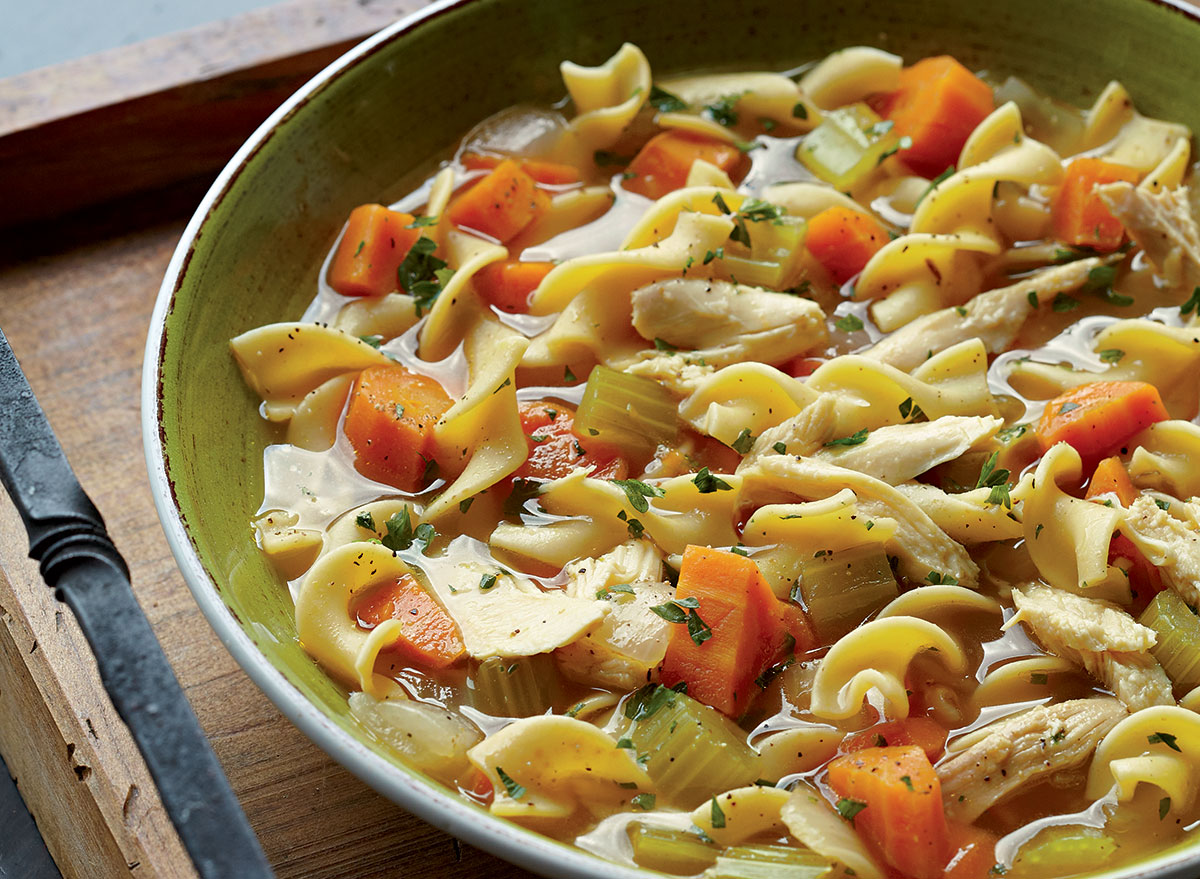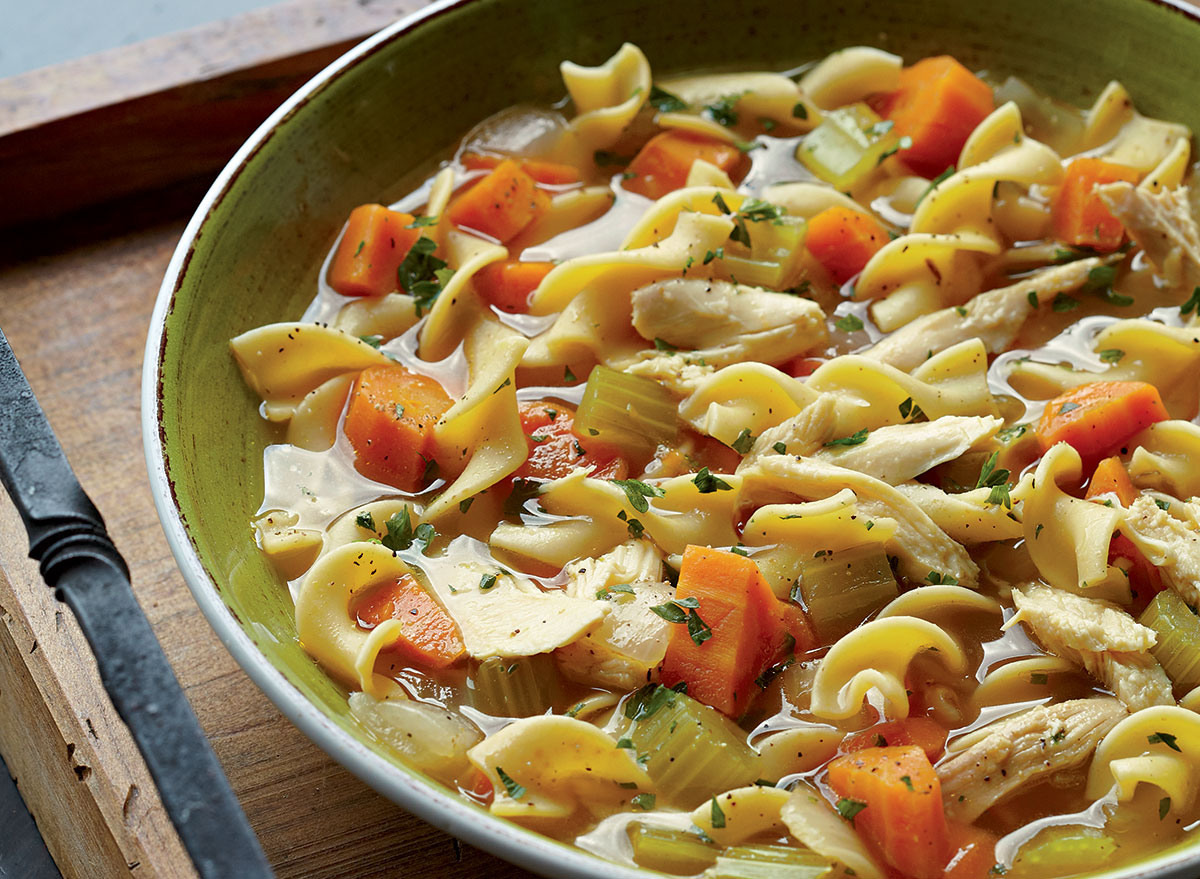 A classic chicken noodle soup can easily sub in canned chicken for leftover shredded or rotisserie chicken in a pinch. It's one of the more seamless transitions of canned chicken into a really healthy meal.
Get our recipe for the Best-Ever Homemade Chicken Noodle Soup.
Chicken and Black Bean Nachos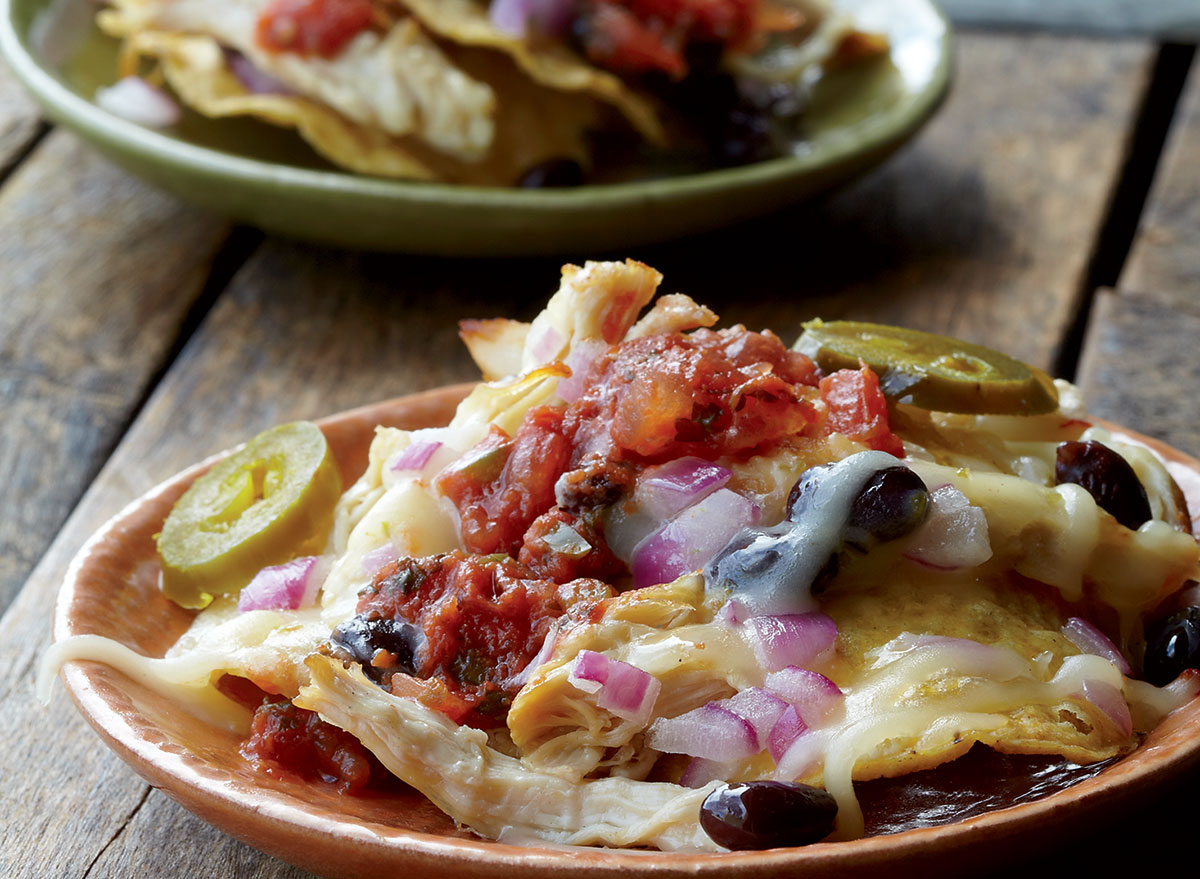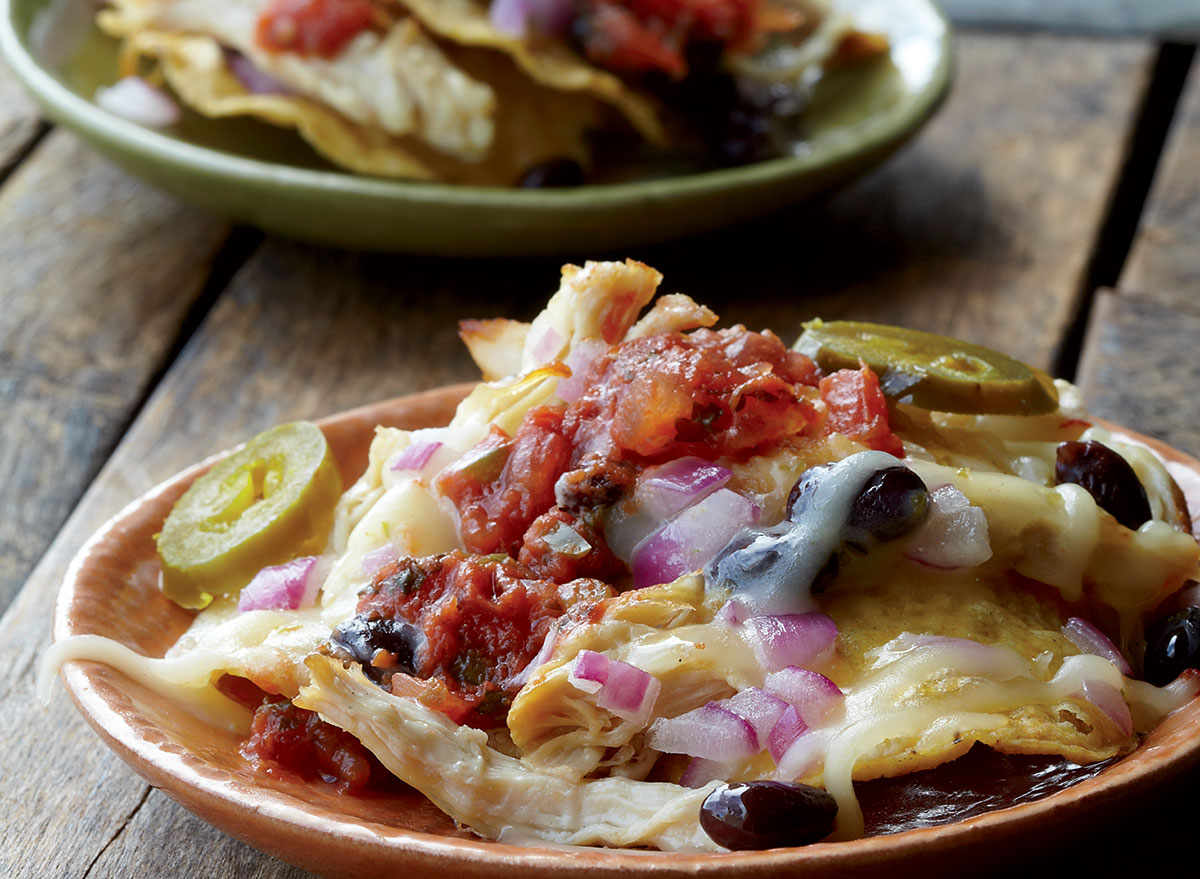 Chicken nachos are another opportunity to use canned chicken in a highly flavorful, highly snackable scenario without compromising the overall texture. This version ensures that every chip is evenly covered with protein-packed chicken and fiber-rich beans, plus enough salsa and lime-spiked sour cream to keep your mouth watering.
Get our recipe for Low-Calorie Chicken and Black Bean Nachos.
Chicken Salad Sandwich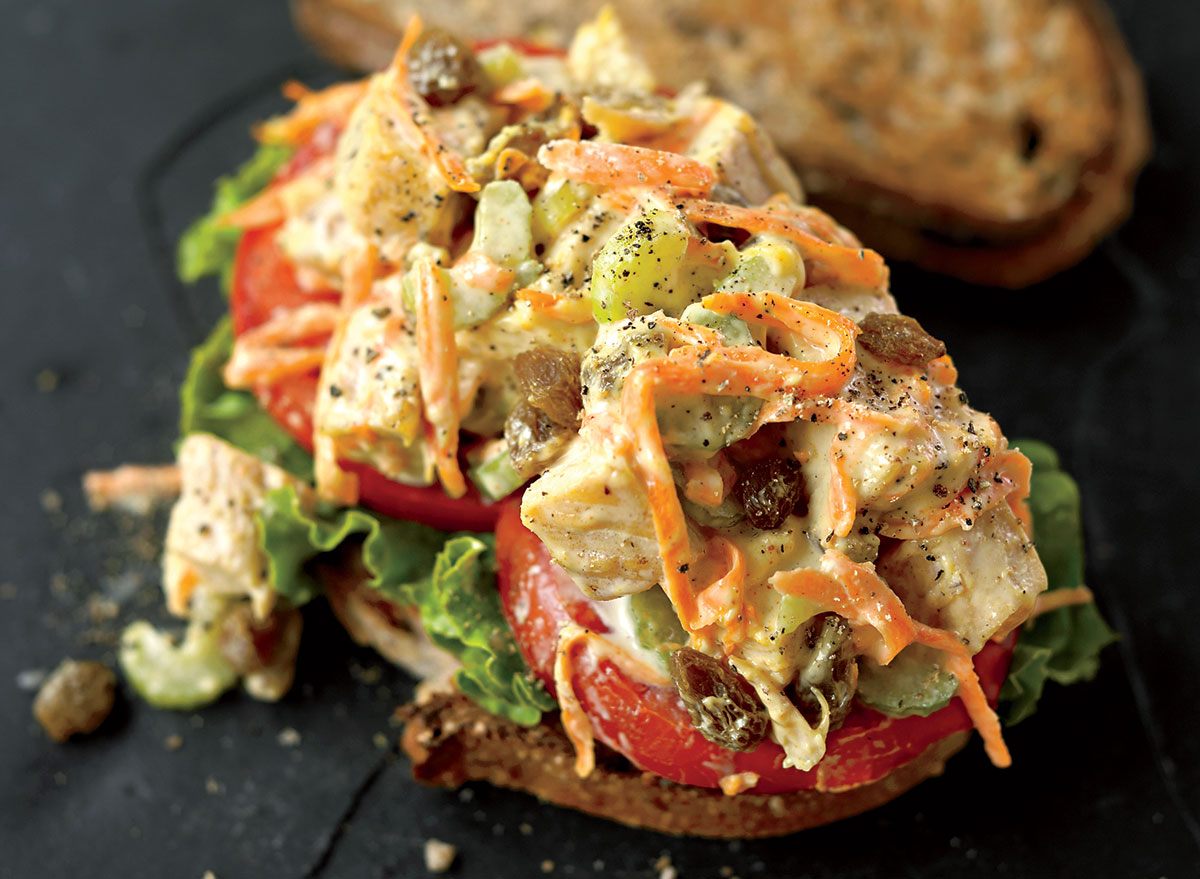 Chicken and tuna salad sandwiches are consistently the worst option you'll find on a deli menu, be it Subway or your neighborhood sandwich shop. Not this recipe, though! Use canned chicken in this lighter version that relies on a modest amount of mayo, some raising, and curry powder, to create big flavors.
Get our recipe for Chicken Salad Sandwich with Raisins and Curry Powder.
Chicken Parmesan Patties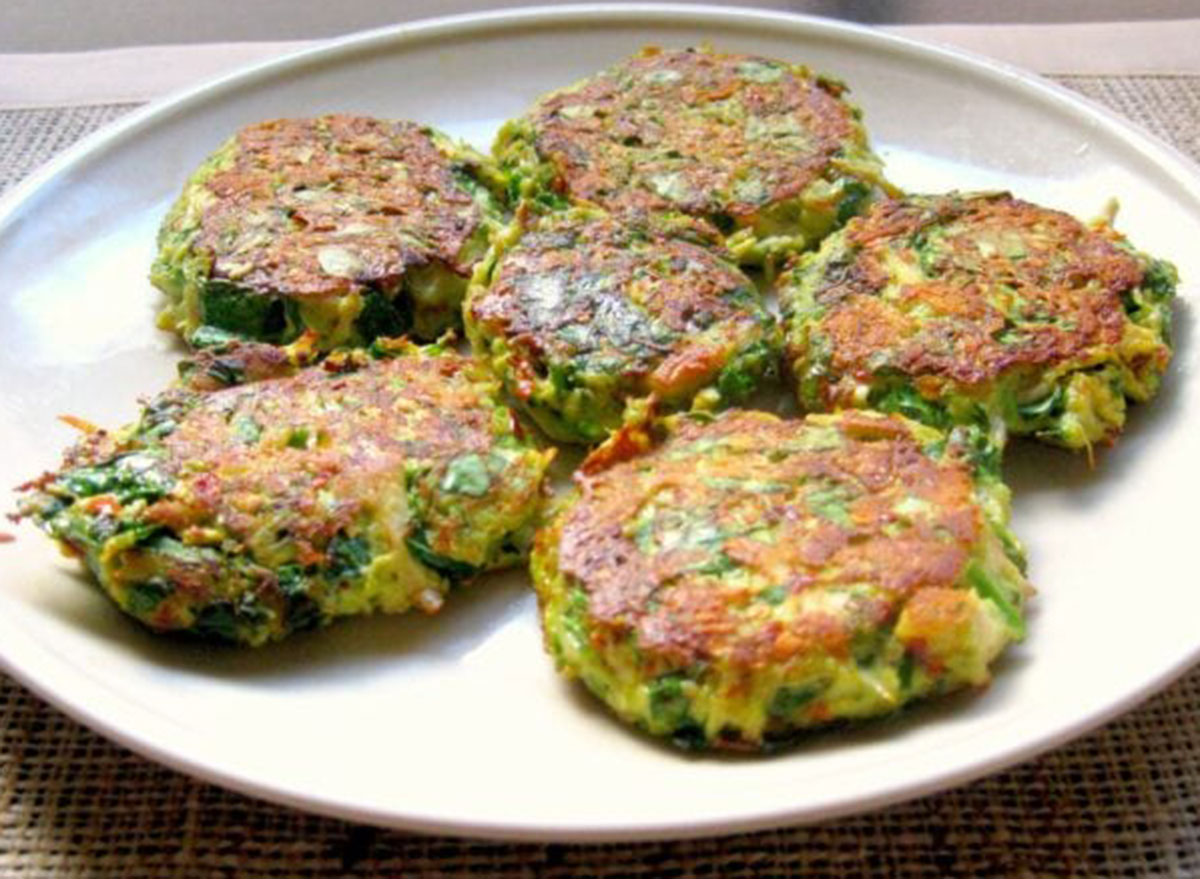 If you're looking for ways to use a can of chicken in a quick, healthy dinner, this recipe comes together in ten minutes and will leave you feeling full and satisfied. Pair it with a side salad or a bed of quinoa.6254a4d1642c605c54bf1cab17d50f1e
Get the recipe from The Big Man's World. 
BLT Ranch Chicken Wraps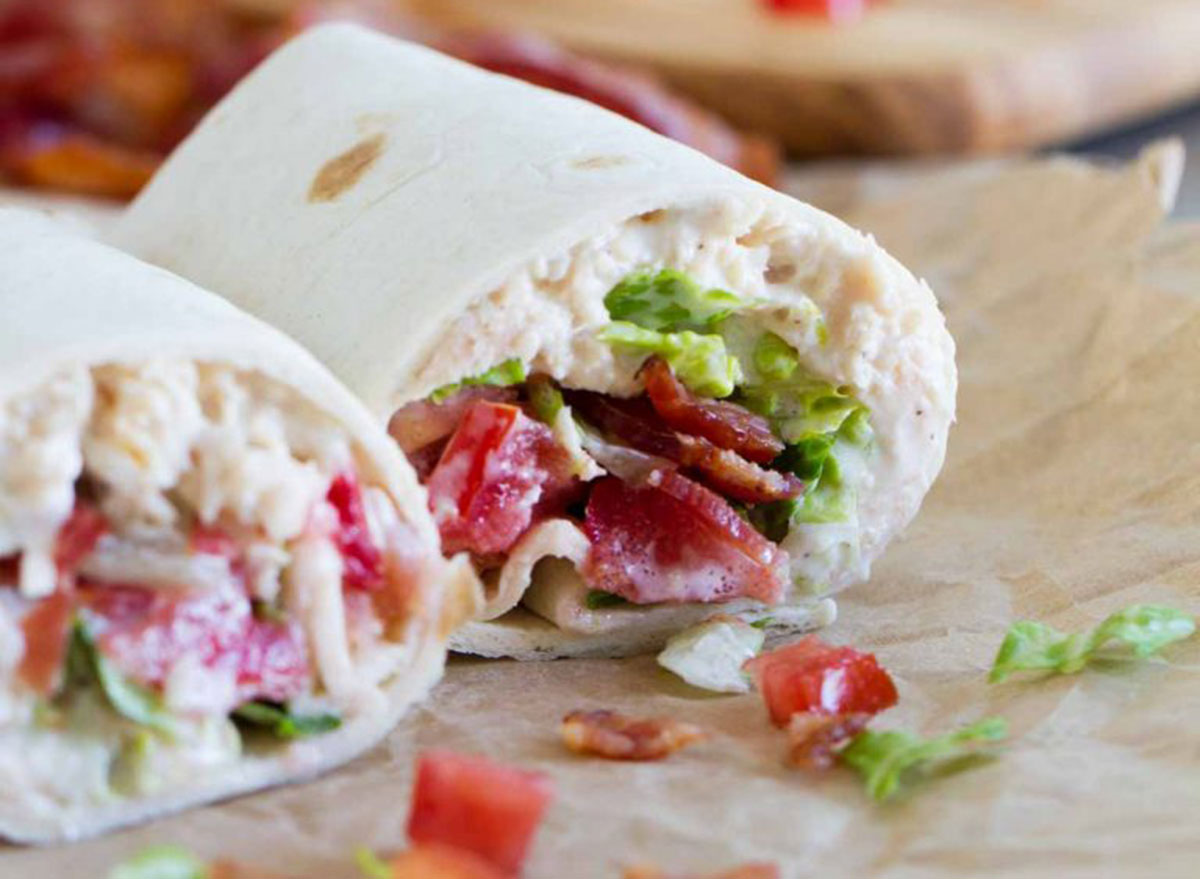 Besides canned chicken, you'll need five other ingredients to make these low-effort, high-deliciousness wraps. The chicken salad here is a simple two-ingredient affair, and you can make it with two cans of chicken and store-bought ranch dressing. A really nice lunch prep shortcut for busy weeks.
Get the recipe from Taste & Tell. 
White Chicken Chili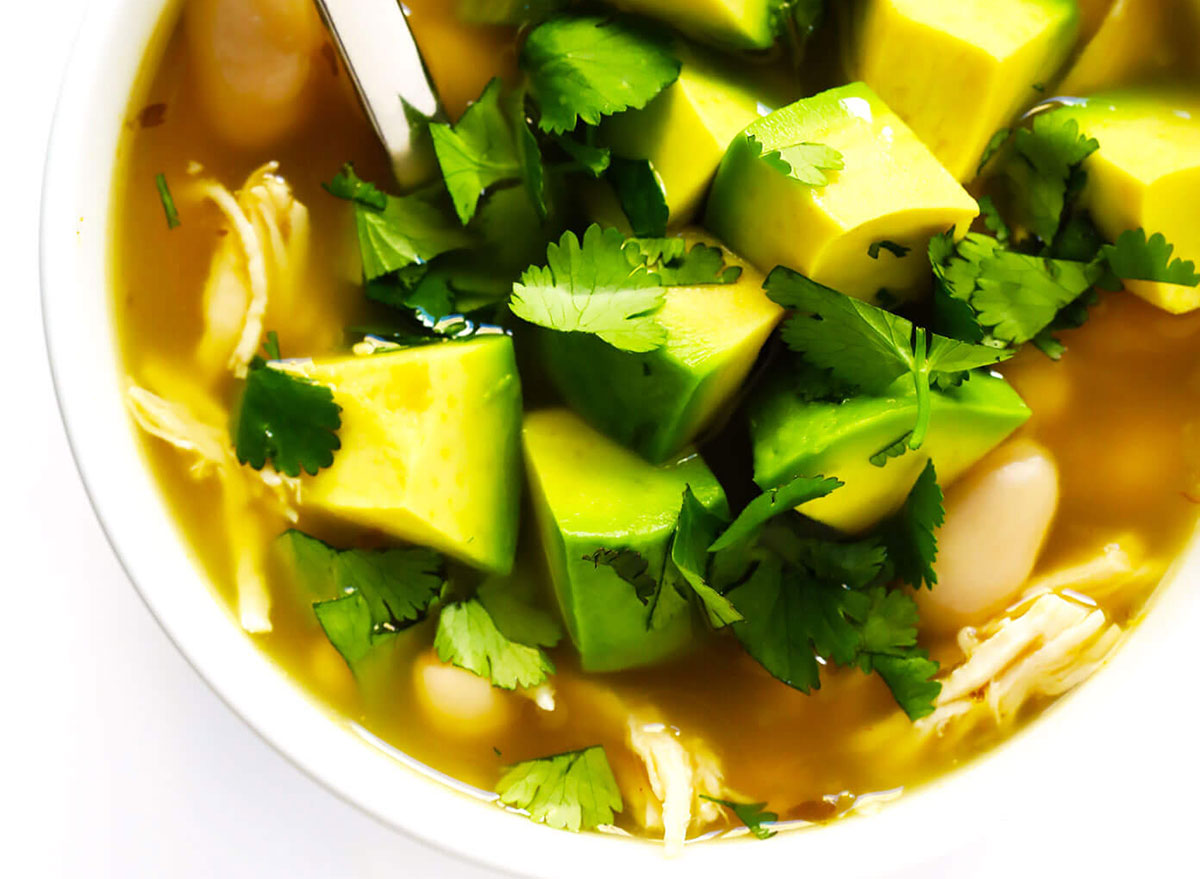 This soup recipe calls for any kind of diced or shredded chicken leftovers, and canned chicken is an equally workable option. Another thing we love about this soup is that it's truly a simple pantry creation—almost all the ingredients come from cans, which can then be dressed up with some fresh herbs.
Get the recipe from Gimme Some Oven.
Crescent Roll Chicken Bundles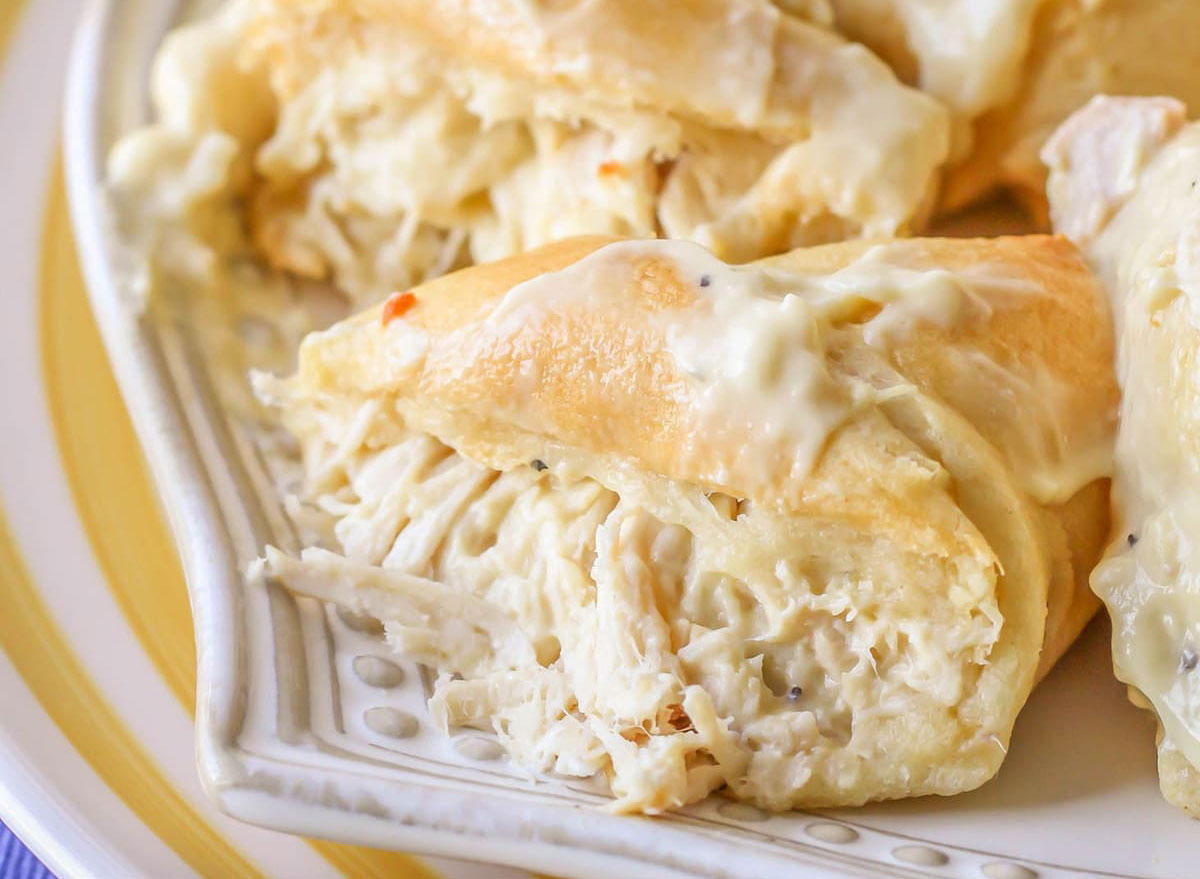 Warm chicken hand pies don't need to be a big kitchen ordeal if you use canned chicken and store-bought crescent roll dough. Any opportunity to make the canned chicken juicy by combining it with a sauce or some sort of a creamy base will make the protein live up to its true potential, and in this recipe, it's combined with cream cheese and canned cream of chicken soup for maximum flavor.
Get the recipe from Lil Luna. 
Chicken Enchilada Roll Ups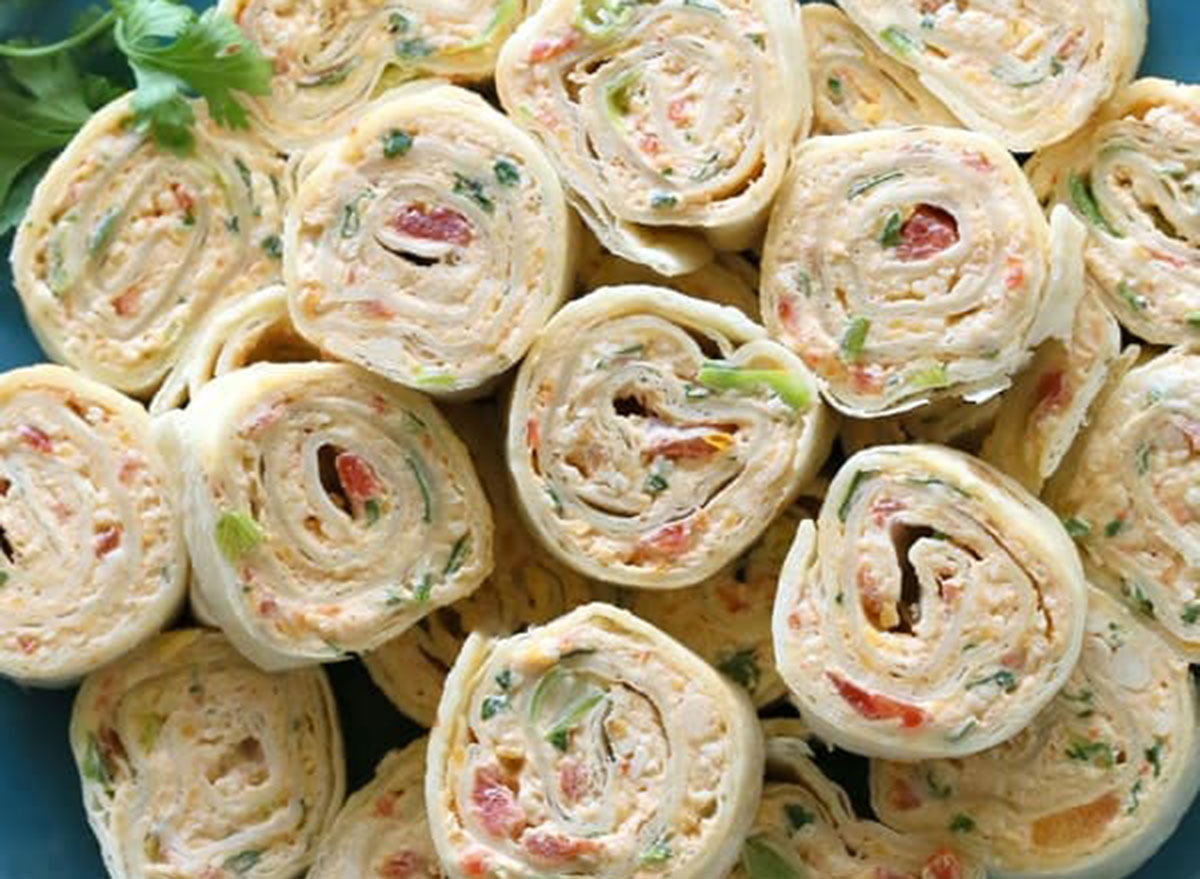 Canned chicken can be substituted for shredded chicken here. It's made into a cheesy, tomatoey, garlicky pate that gets slathered on tortillas. Cut them into smaller freezable portions for ready-t0-go lunches all week long.
Get the recipe from The Girl Who Ate Everything.
Creamy Chicken Dip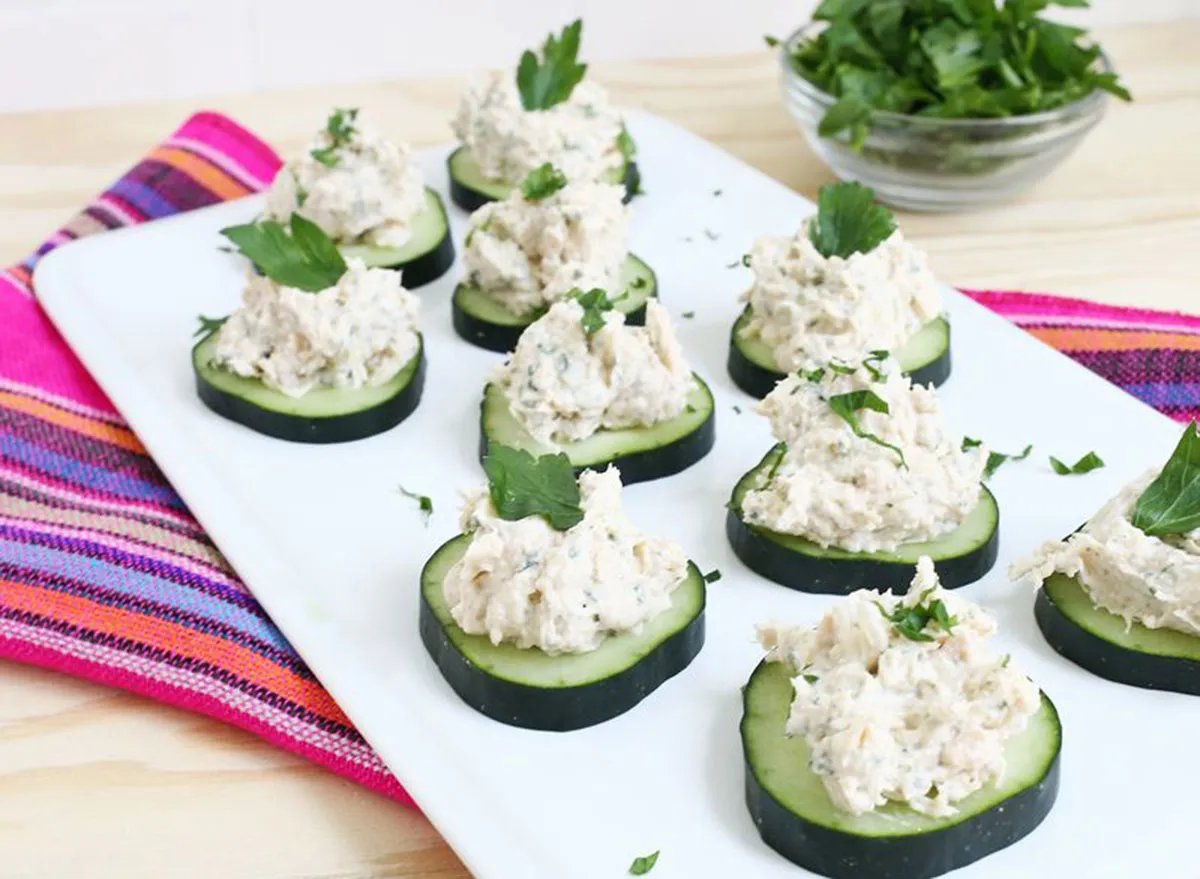 Canned chicken is joined by cream cheese, mayo, and soy sauce for a flavorful dip that can be served as is or turned into finger food. It stores beautifully in the fridge or freezer.
Get the recipe from A Beautiful Mess. 
Chicken Pot Pie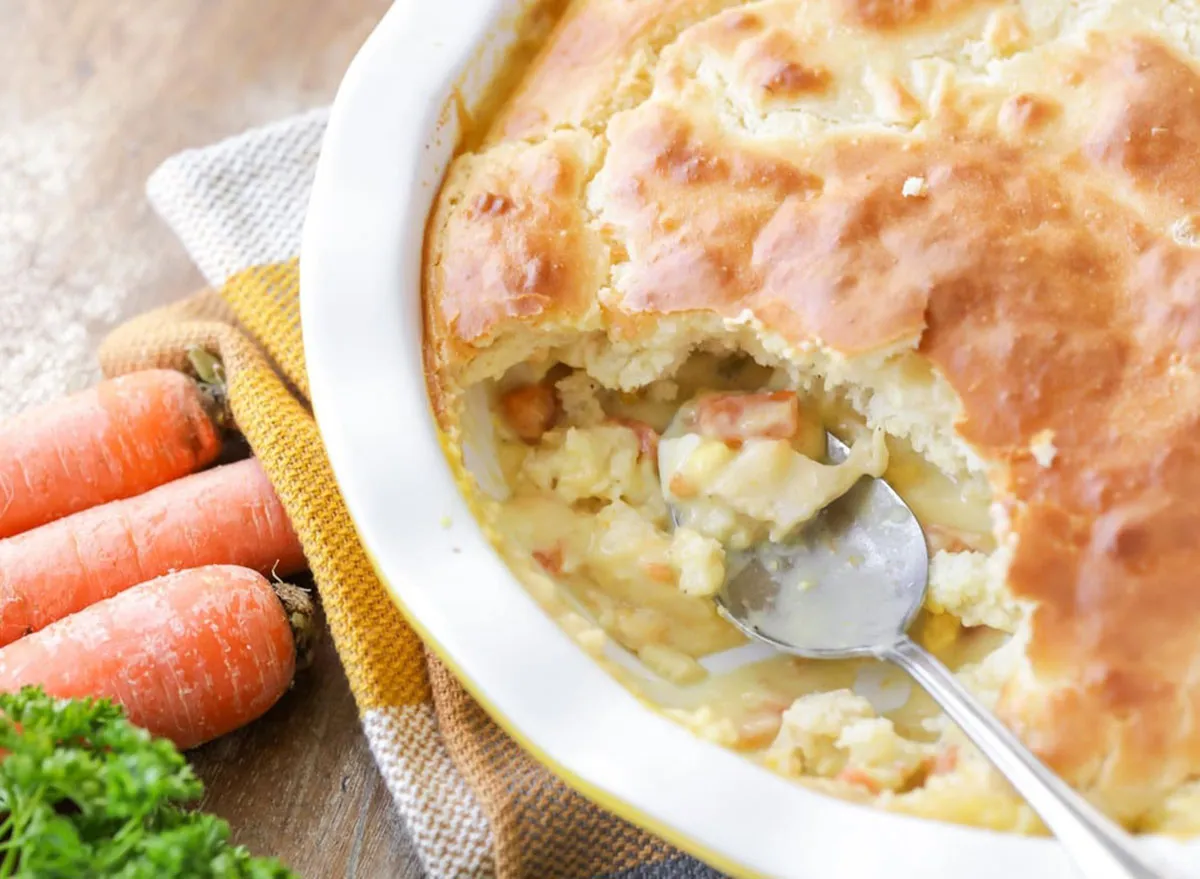 The recipe for this chicken pot pie couldn't be easier. It calls for shredded or canned chicken, frozen or fresh vegetables, and some instant biscuit mix to create a faux pot pie crust. Hey, we're all about easy peasy!
Get the recipe from Lil Luna. 
Chicken Tinga Tacos
Mixing your canned chicken with the aromatic tinga sauce turns it into a great taco or enchilada filling. Top your creation off with some cotija cheese, chopped red onion, and fresh cilantro.
Get the recipe from Pinch of Yum. 
Chicken Noodle Casserole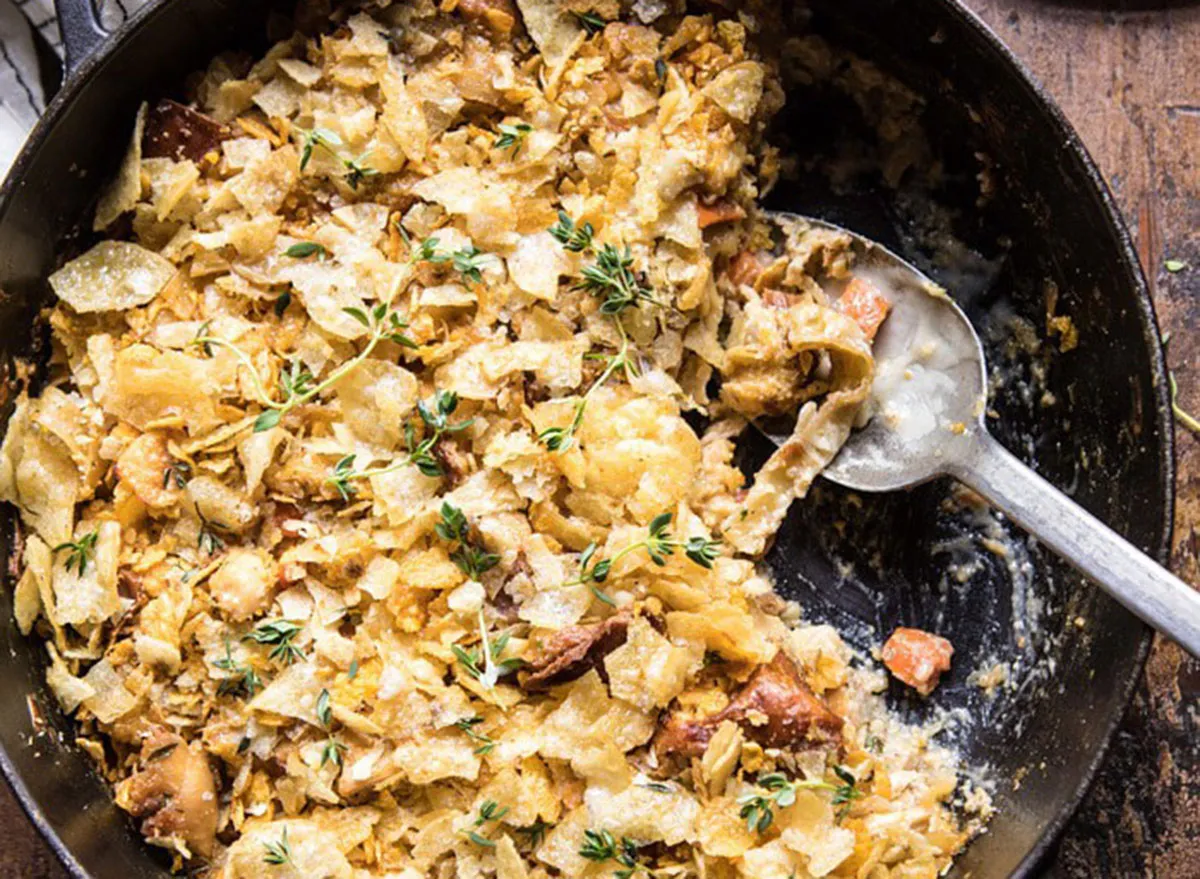 Canned chicken works beautifully in casseroles because it becomes a seamless part of a larger whole. This indulgent version also features noodles and a crispy potato chip topping.
Get the recipe from Half Baked Harvest. 
Baked Chicken Chimichangas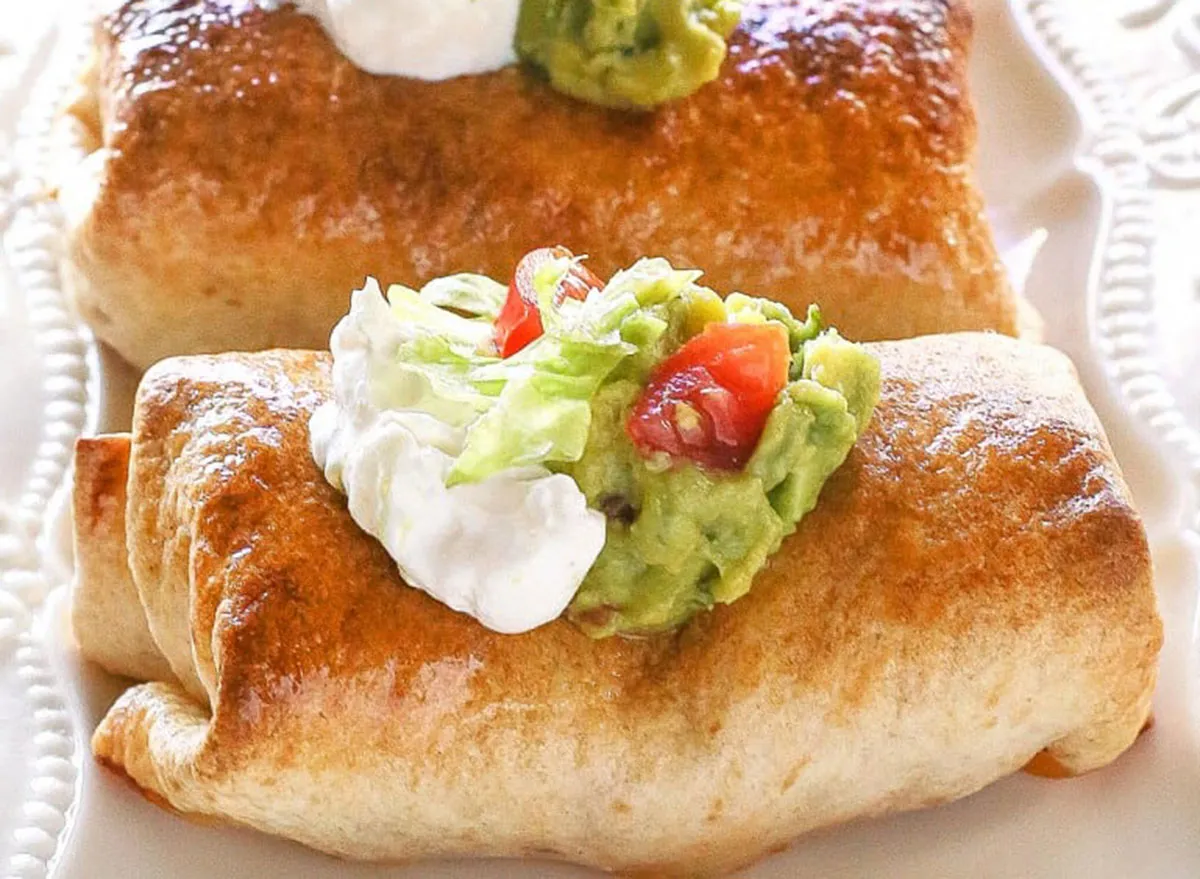 Any recipe where chicken gets tossed with a cast of flavorful ingredients and sauces, and wrapped in a dough of some kind, is a winner winner chicken can dinner in our books. To make this recipe even more amazing, you'll brush the chimichangas with a layer of butter and bake in the oven until crispy.
Get the recipe from The Girl Who Ate Everything. 
Mura Dominko
Mura is ETNT's Executive Editor, leading the coverage of America's favorite restaurant chains, grocery stores, and viral food moments.
Read more about Mura