Celebrity Couples Who Work Out Together To Stay Fit
These couples make staying in shape a team effort!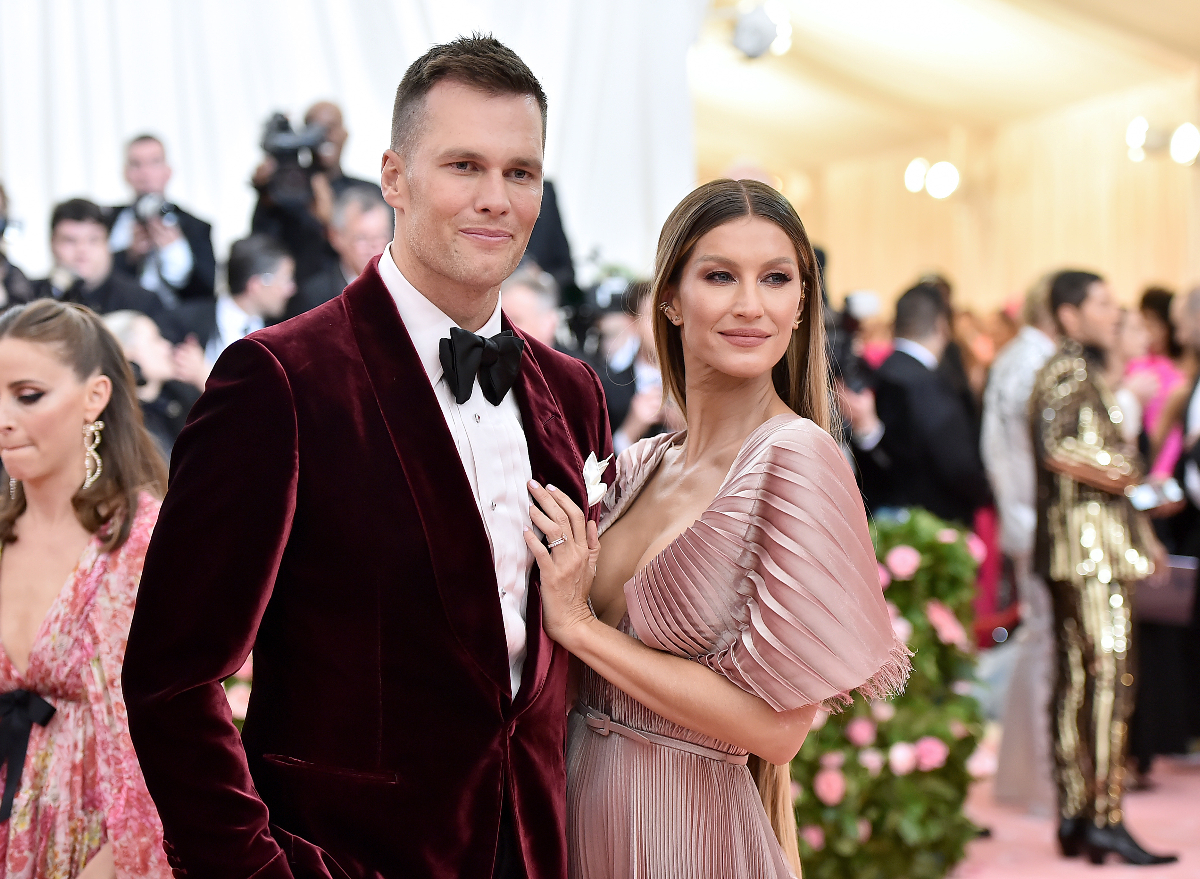 It's not uncommon for celebrities to be very in tune with fitness and exercise—they're trying to stay in camera-ready shape, after all. You may have heard the saying "couples who sweat together, stay together," but without really knowing just how many of your favorite celeb couples do exactly that. We've rounded up some celebrity couples who work out together, and they will inspire you to hit the gym with your significant other, too.
For these well-known couples, keeping up a healthy and active lifestyle is a team effort. Whether it's running long-distance, stretching it out in yoga, or simply cheering each other on, it seems as though they motivate each other to work their hardest while exercising. And it's healthy in more ways than one. After all, working out with your partner has plenty of benefits when it comes to enhancing your relationship and bond.
Here are six celebrity couples who work out together. Check them out below, and next, be sure to read The 6 Best Exercises for Strong and Toned Arms in 2022, Trainer Says.
Adam Levine and Behati Prinsloo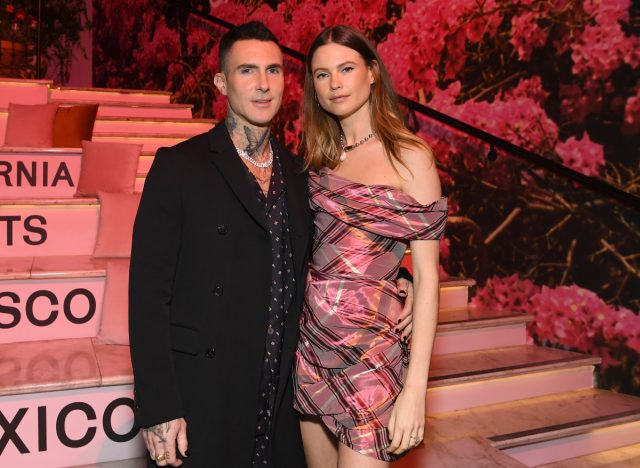 Making the effort to stay in shape together is something this power couple seems to have down pat. Lead singer of Maroon 5 Adam Levine and model Behati Prinsloo have made it a habit to build their fit physiques as a unit.
Trainer Austin Pohlen posted a video of the couple on Instagram doing a "couples workout," as the caption notes, complete with step-ups and resistance band moves. Prinsloo also posted about their workout regimen, captioning an Instagram photo of the duo performing planks, "Kinda have a thing for my trainer." The couple's even been spotted getting in some cardio while hiking in Hawaii.
Related: Burn Extra Calories On Date Night With This Couples Workout Routine
Carrie Underwood and Mike Fisher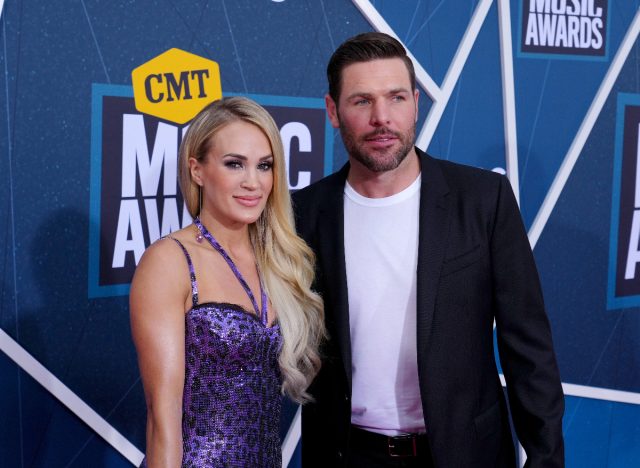 Both Carrie Underwood and Mike Fisher lead busy lives, from traveling for their careers to raising their sweet sons. Although, somehow, the award-winning country music star and former professional hockey player still make time to work out together.
Not only did Underwood roll out her own fitness app called Fit52, but she's also officially a celebrity endorser of BODYARMOR sports drinks. Fisher, who retired in 2018, was a professional athlete for more than 17 seasons.
The singer-songwriter and her hubby have shared Instagram posts breaking a sweat together in the gym and leading full-body workout classes on Fit52 to motivate their fans to work towards their own fitness goals.
Related: Get Rid Of Bat Wings With This 10-Minute Daily Workout
Tom Brady and Gisele Bündchen
It's a team effort to stay strong and fit. Legendary Tom Brady was a quarterback in the NFL for 22 seasons, and he continues to stay in shape after his recent retirement. He enjoys one special team member now: his supermodel wife Gisele Bündchen.
Bündchen previously told People that she works out every day, which included making her way to Brady's TB12 Sports Center to work on her bad shoulders three times each week. Bündchen revealed she enjoys exercising with Brady, explaining in the interview, "He kind of tells me what to do, and I kind of follow him, and I try to make it hard for him! There's a lot of: 'Who can do it better?!'"
Chris Hemsworth and Elsa Pataky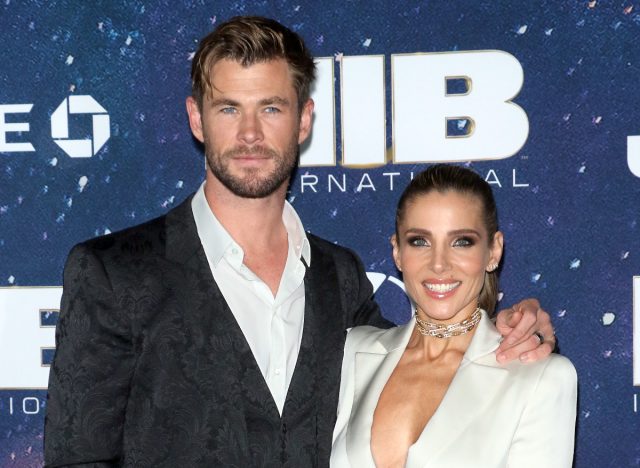 Thor can definitely throw down the hammer, and his wife makes major moves in the fitness realm, too, which can be seen on Instagram. In an interview with ET Online, Chris Hemsworth said his wife, Elsa Pataky "has a greater cardio skill set, endurance than I'll ever have, and it's a little embarrassing at times." The actor adds, "We have the same trainer, a mate of mine from school that we grew up with, and he very often says, 'You know what, your wife is much fitter than you are,' so I'm well aware of it."6254a4d1642c605c54bf1cab17d50f1e
After 10+ years of marriage and three kids, these two celebs find ways to keep their bodies sharp. Pataky revealed to Australia Body + Soul (via People), "I was in awe of the fit, athletic body and my whole life became about exercise. I've never stopped since I was 14. I just fell in love with being healthy and fit. [Chris and I] love to do sports, eat healthy and move our bodies. We've got the kids into surfing. Any hobbies to get them outside, and not on social media and computers. My daughter has been horse-riding with me since she was two-and-a-half."
Ian Somerhalder and Nikki Reed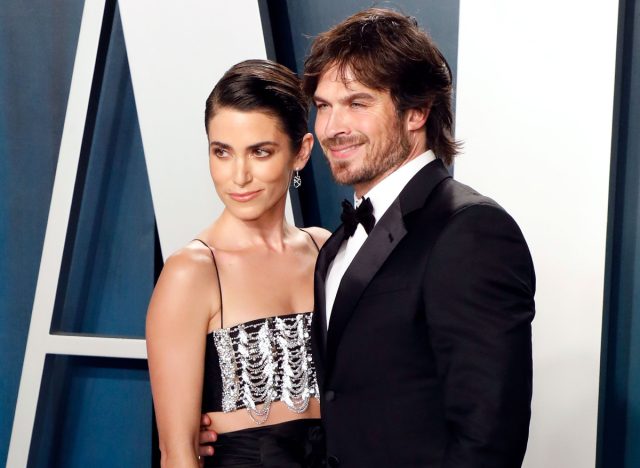 Ian Somerhalder and Nikki Reed enjoy the great outdoors together and stay active in a number of creative ways. The couple participates in activities like snowboarding, swimming, and hiking, according to Men's Health. They also stretch it out in couples yoga.
For her better half, Reed wrote in an appreciative Instagram post, "To the most amazing, secure and supportive partner who encourages me to train with some of the best Acro teachers in the world, because he knows how much joy I get from this practice, and then lets me climb all over him like a jungle gym when I get home to show him what I've been working on (+ a kiss)."
Michael Phelps and Nicole Phelps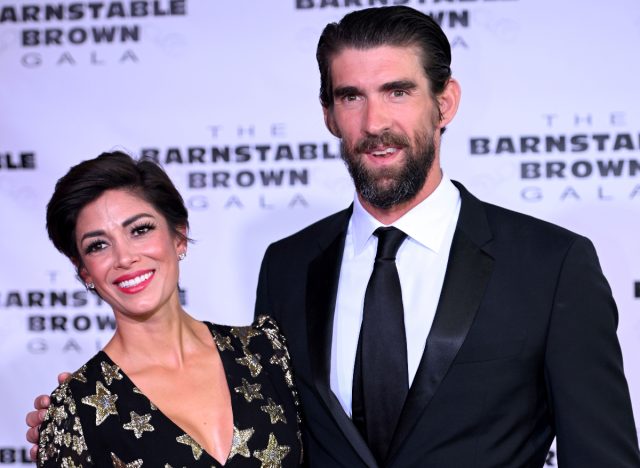 Michael Phelps, a gold medal Olympic swimmer, and his wife, Nicole Phelps, have been married since 2016. The couple constantly shares the workouts they do together on Instagram, showing how they challenge each other's athletic abilities.
Nicole Phelps captioned an Instagram post, "He may be a G.O.A.T but I think my mom strength can take em," as they both get their sweat on during a workout together.
Jordan Summers-Marcouillier
Jordan Summers-Marcouillier was born and raised in San Jose, California and now works as a writer in New York, NY.
Read more about Jordan