5 Cereals With the Highest Quality Ingredients
Start your morning off with cereals enriched with ingredients that you know and trust.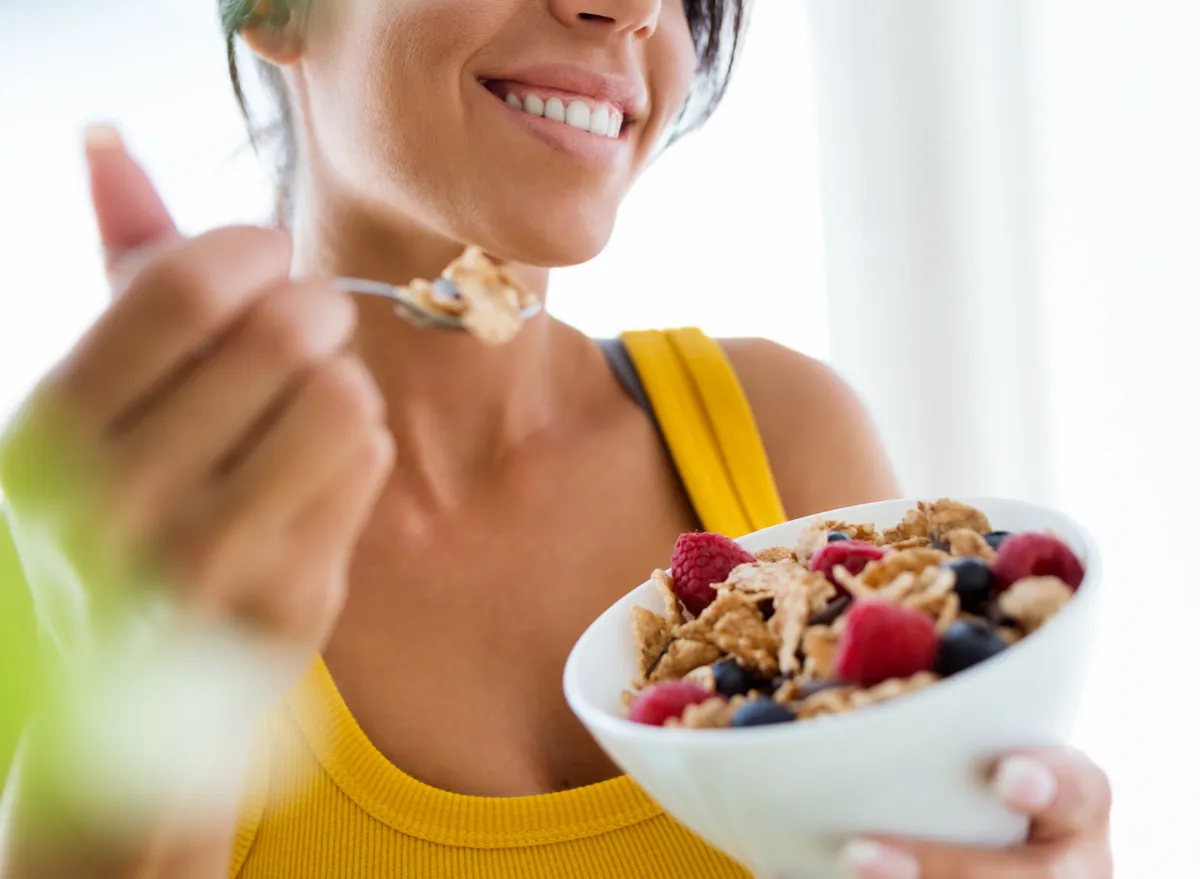 This post contains affiliate links. If you use these links to buy something, we may earn a commission.
Cereal is one of the quickest and easiest meals you can make for breakfast. And depending on what type you buy, it can also be one of the cheapest meals, too. However, when it comes to the nutritional value of cereal, this breakfast option can be hit or miss.
On one hand, tons of popular cereal options are loaded with refined carbohydrates, added sugar, and preservatives, and contain very little protein or fiber. Consuming too much added sugar can lead to immediate blood sugar spikes, and over time it can contribute to things like heart disease and type 2 diabetes. Conversely, many companies have made a greater concerted effort to produce healthier cereals that are more balanced in nutritional value. These cereals use more natural ingredients and tend to have less added sugar, more protein, and more fiber.
But which of these healthy cereal options have the best combination of ingredients to get your day started off right? To help you decide which healthier cereals can help you take full advantage of breakfast as your most important meal of the day, we consulted members of our Medical Expert Board comprised of esteemed registered dietitians for their advice.
Here are the 5 cereals made with the highest quality ingredients that our dietitians hand-picked just for you. And for more expert insight into which healthy breakfast options can help fuel your morning, be sure to also read The #1 Best Breakfast to Keep Your Brain Sharp, Says Dietitian.
Purely Elizabeth Vanilla Blueberry Almond Superfood Cereal With Vitamin D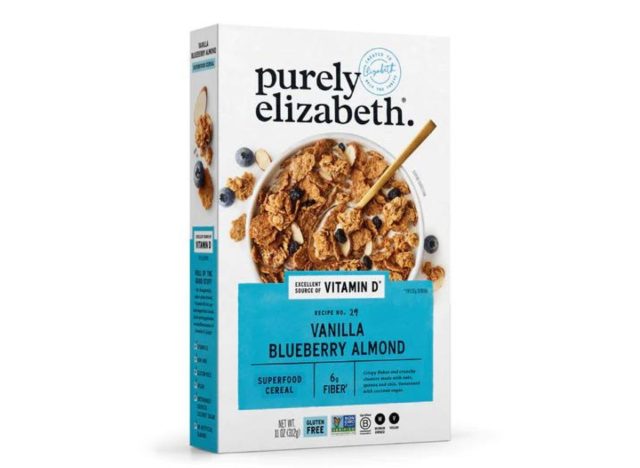 strong>Ingredients
: Sorghum, organic certified gluten-free oats, almonds, maple syrup, dried blueberries (blueberries, cane sugar, sunflower oil), organic coconut oil, organic coconut sugar, organic quinoa, organic coconut nectar, cinnamon, sea salt, organic puffed amaranth, vanilla extract, organic chia seeds, organic plant-based vitamin D3 (VegD3), vitamin E.
"This cereal is an excellent way to start your morning," says Sydney Greene, MS, RD. "One bowl has 6 grams of fiber, 5 grams of protein, and only 8 grams of added sugars, and this cereal is made from whole foods and is fortified with vitamin D to support overall health and wellbeing."
Heritage Flakes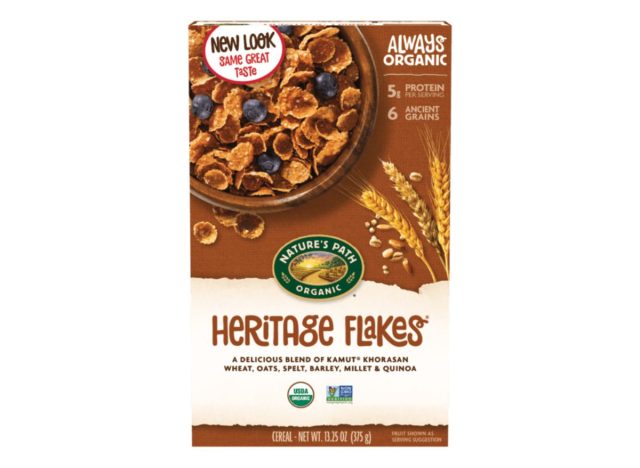 Ingredients: Organic KAMUT® khorasan wheat flour, organic wheat bran, organic whole wheat meal, organic cane sugar, organic whole oat flour, organic spelt our, organic barley flour, organic whole millet, organic barley malt extract, organic quinoa, sea salt, and organic honey.
"This cereal uses Kamut, an ancient grain that is easier to digest than modern day wheat varieties," says Greene. "This product is also organic and free of GMO ingredients. One serving provides a whopping 7 grams of fiber, 5 grams of protein, and a small amount of added sugar."
Ezekiel 4:9 Organic Sprouted Whole Grain Cereal, Golden Flax
Ingredients: Organic sprouted whole grain wheat, filtered water, organic malted barley, organic golden flax seeds, organic sprouted whole grain millet, organic sprouted whole lentils, organic sprouted whole soybeans, organic sprouted whole grain spelt, sea salt.
"While many cereals are loaded with added sugar, this cereal has none," the The Nutrition Twins Tammy Lakatos Shames, RDN, CDN, CFT, and Lyssie Lakatos, RDN, CDN, CFT, point out.
"All of the grains here are organic, high in fiber, and are sprouted, as well. So, they're easier to digest and higher in nutrients than unsprouted grains," they say.
"The folate and iron-rich lentils and soybeans used, which both are rich sources of antioxidants, fiber, and phytonutrients, are sprouted as well," the Nutrition Twins add.
Lovebird Cereal Honey
Ingredients: Organic cassava flour, organic coconut flour, organic honey, organic coconut sugar, organic coconut oil, sea salt, vanilla extract.
"Appropriate for those dealing with a variety of dietary restrictions, Lovebird cereal is made from a short list of whole food ingredients," says Greene. "Lower in protein than some other cereals, it makes up for this by providing a good amount of fiber and only 4 grams of added sugar."
One Degree Organic: Sprouted Quinoa Hemp Instant Oatmeal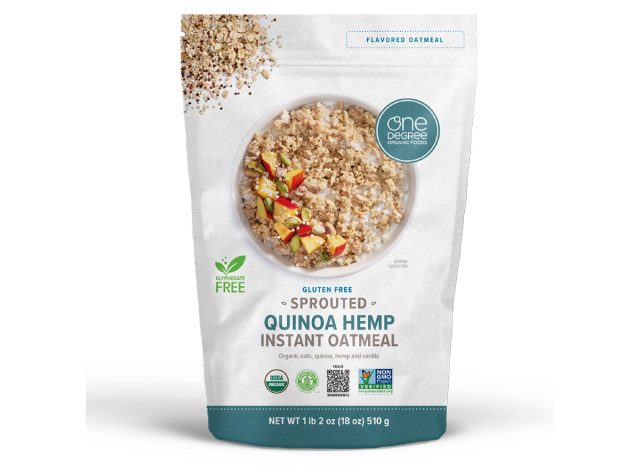 6254a4d1642c605c54bf1cab17d50f1e
Ingredients: Sprouted gluten-free organic oats, organic coconut sugar, organic quinoa, organic hemp seeds, unrefined salt, tocopherol (vitamin E).
"Made with 100% organic, vegan, and gluten-free ingredients,
this cereal
packs in whole grain superstars, including organic quinoa, which is rich in fiber, protein and folate, as well as magnesium, which most of us fall short in," the Nutrition Twins claim.
According to the Nutrition Twins, this instant oatmeal contains "hemp seeds, which are a good source of the antioxidant vitamin E; as well as anti-inflammatory omega-3 fatty acids; and both insoluble fiber and soluble fiber, which act as prebiotics to help the good bacteria in your microbiome thrive."