17 Cheap Organic Foods You Must Buy
Compared to non-organic, there are certain organic foods that are so affordable that you'd be a little crazy to ignore them while grocery shopping.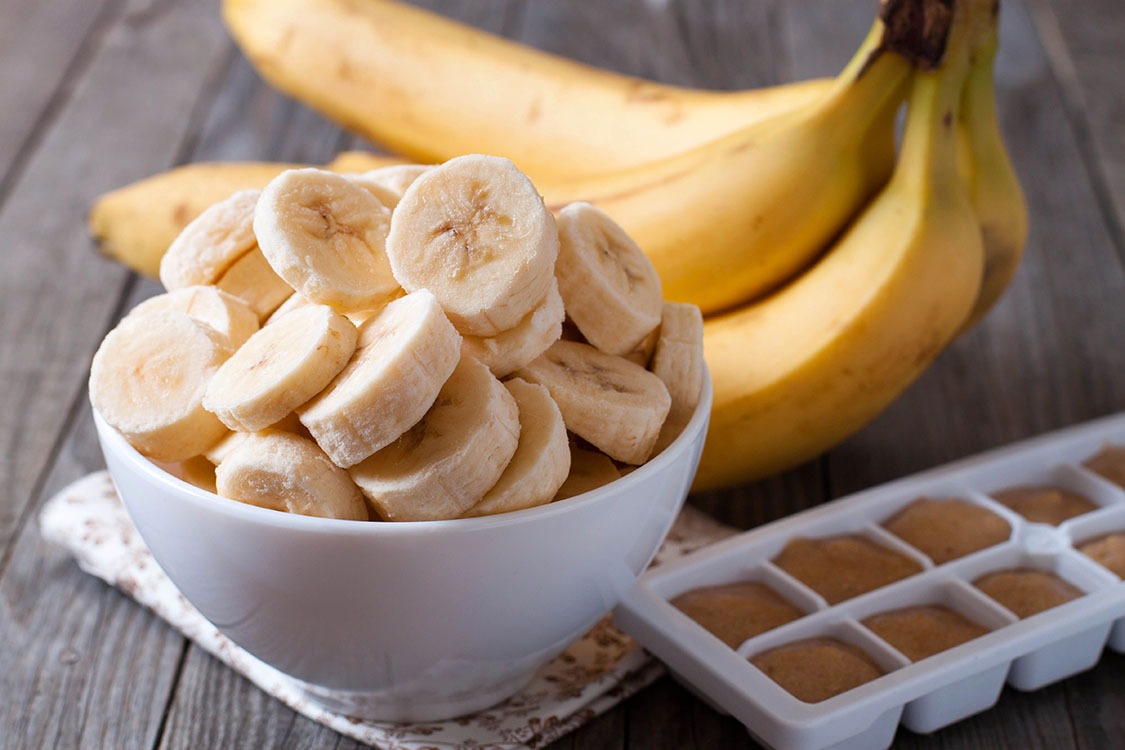 File this under Not-So-Fun Facts: You're typically exposed to at least 10 pesticides on a daily basis, according to the USDA's Pesticide Data Program. And when it comes to eating clean, you probably slip more organic foods into your diet to avoid those icky residues (and to help that whole sustainability thing).
But let's be honest; even though we know organic food is better for us and the environment, the sticker prices can be pretty high at times. This is not an argument about how you must always buy organic, nor is it a list of which foods you should buy organic no matter what; it's about what's so affordable that there's really no excuse. Read on for the 17 organic foods that are weight-loss friendly foods and give you the most bang for your buck. And don't miss our 27 Healthiest Snacks Under $1 for more slimming-down-on-a-dime ideas!
Beans
Beans, beans, they're good for your….wallet. Fiber-rich and wallet-friendly, organic beans are well-worth stocking up on for only a few cents more than conventional ones. A can of organic chickpeas, for instance, might set you back $1.39 instead of the $1.09 conventional would cost. If you look for organic beans in the bulk bins, you may find even better deals—and you won't have to worry about contamination from cans. (Always look for BPA-free cans!)
Tea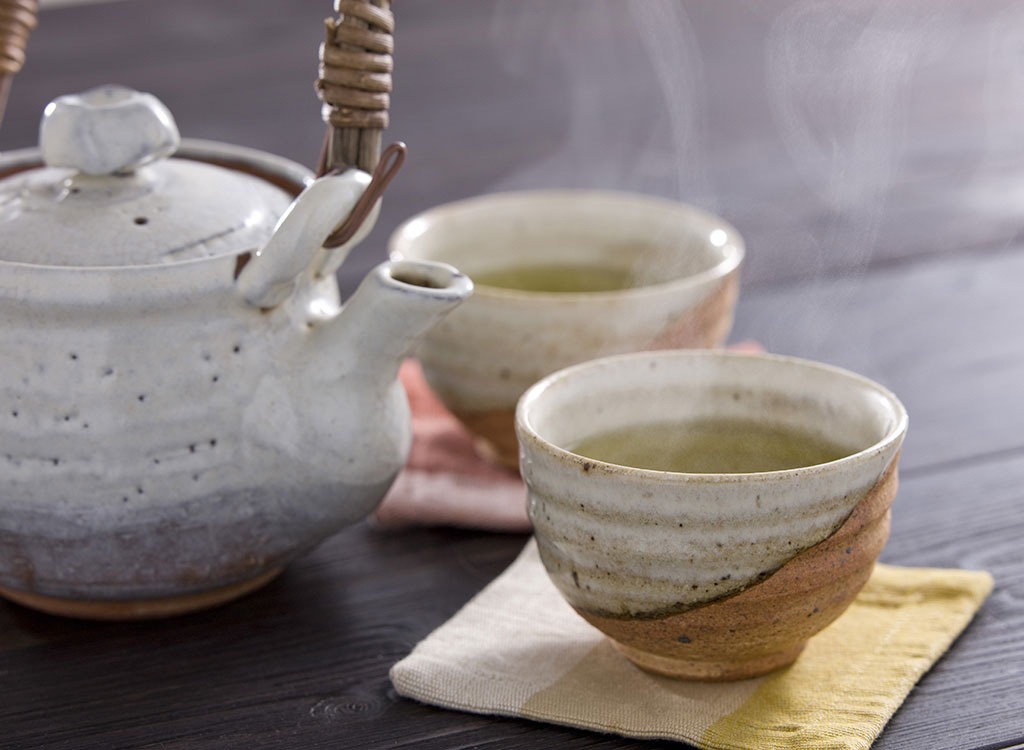 Whether you rely on it for its fat-burning prowess or enjoy it for its caffeine jolt, the organic varietals of tea are worth the extra pennies and even cheaper if you buy loose varieties in bulk. "Sampling done by the FDA shows that imported tea contains illegal levels of pesticide residues 26.7 percent of the time," offers nutritionist Kayleen St.John, RD, at Natural Gourmet Institute in New York City. "But organic tea is not produced with synthetic pesticides and poses less of a health risk."
Corn Tortillas
Mexican night? Don't mind if we do. "While sweet corn on the cob is traditionally considered to be safe, corn [used] in food products, also known as 'field corn,' is largely GMO," says nutritionist Lisa Hayim, MS, RD, and founder of The WellNecessities. In fact, nearly 90 percent of corn in America is genetically modified. "Instead, opt for organic corn tortillas. I love Food for Life's Ezekiel tortillas or Whole Foods 365 Organic Tortillas," adds Hayim.6254a4d1642c605c54bf1cab17d50f1e
Organic Frozen Fruit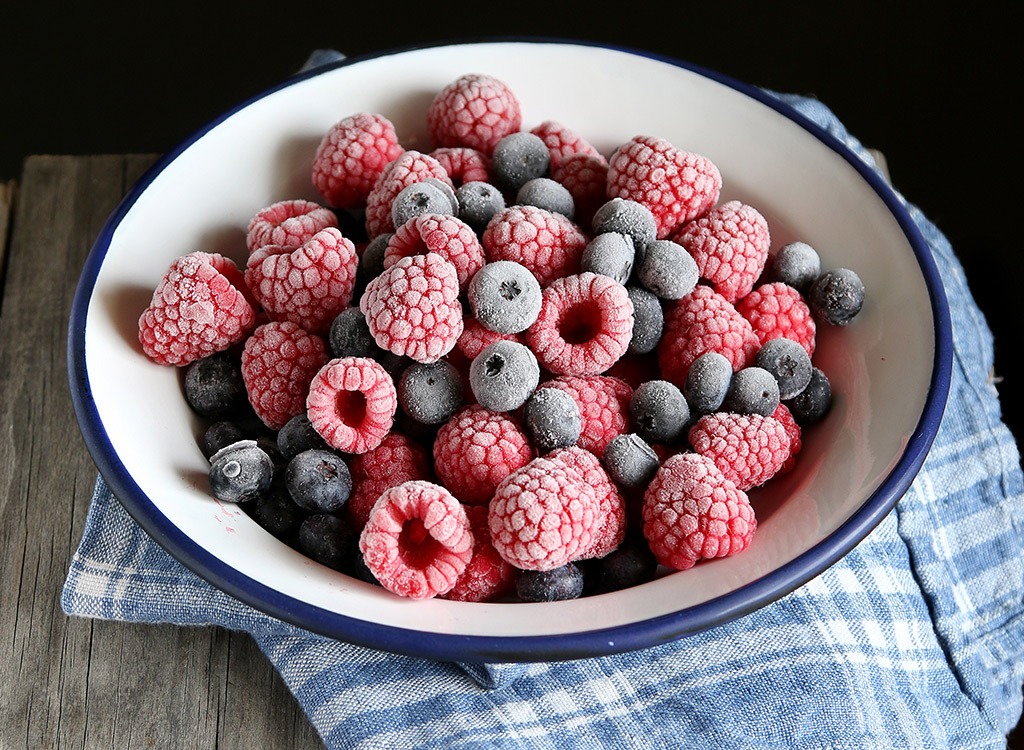 Organic frozen fruit lasts from 6 to 12 months (peace out, rotten banana syndrome), is convenient when a fruit is out of season and is more affordable than fresh organic fruit. "Organic store-brand frozen fruit can be a great option because they have to meet the same criteria as brand names to get the 'organic' label. With frozen fruit, you can purchase these labels and save on your daily smoothies, plus you save even more when you don't have to throw away fruit that's gone bad," comments Jeanette Pavini, savings expert for Coupons.com. To stretch your dollar farther (or not spend one in the first place!), find out the 25 Easy (and Cheap!) Ways to Lose 5 Pounds.
Potatoes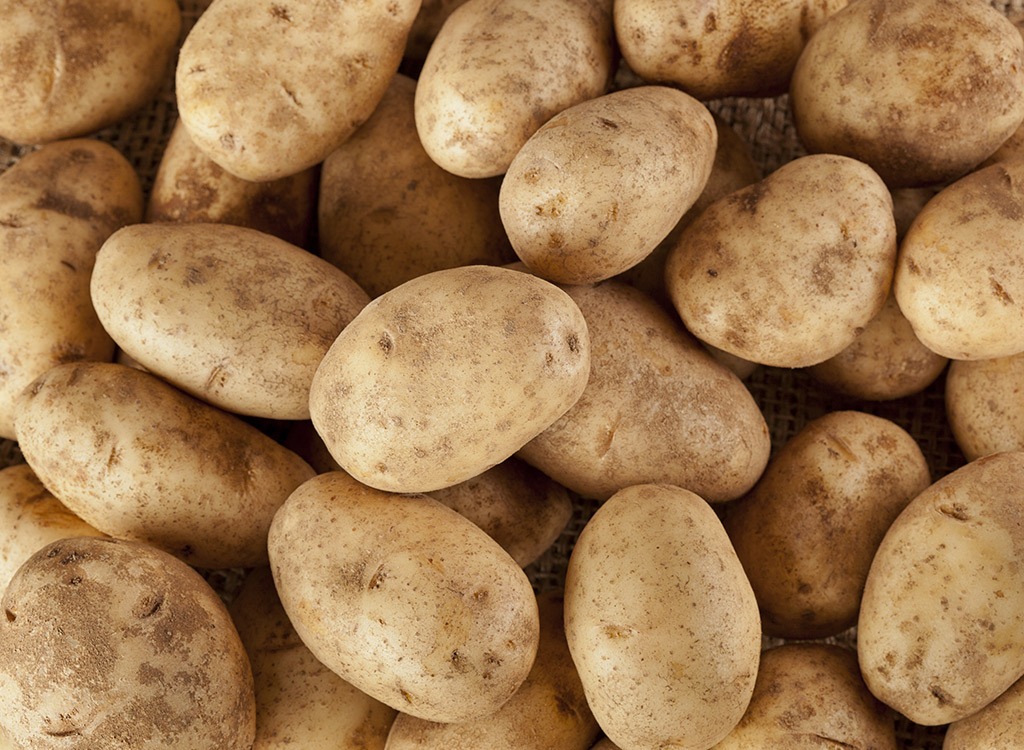 Wildly versatile and incredibly affordable (a few pounds shouldn't cost more than $10), potatoes can also last a few weeks, so you don't have to worry about cooking them right away. And serious "Ugh!" alert: "A study reported by the Environmental Work Group—the organization that puts out the 'Dirty Dozen and Clean Fifteen'—found that the average potato had more pesticides by weight than any other produce," comments Hayim. If you're a huge sweet potato fan, don't miss these 20 Sweet Potato Recipes for Weight Loss!
Spices
Dried herbs and spices aren't that expensive to begin with, and are worth forking over a little bit extra to get the organic ones to avoid scary pesticides. An effortless way to make dishes more flavorful, the non-organic varieties are irradiated (definition: exposed to radiation), which zaps them of their health-supportive properties.
Apples
"Not all produce is grown equally; some fruits and vegetables are more likely to have pesticide residues," cautions St. John. "The Environmental Working Group has a 'Dirty Dozen' list to help consumers identify high-risk produce. Apples are at the top of the list but, the good news is, their organic counterparts are relatively easy to find and not terribly expensive," she adds. Grab a two or five-pound bag to enhance your savings if you have a larger family. Hungry? Check out these delicious apple recipes!
Organic Soups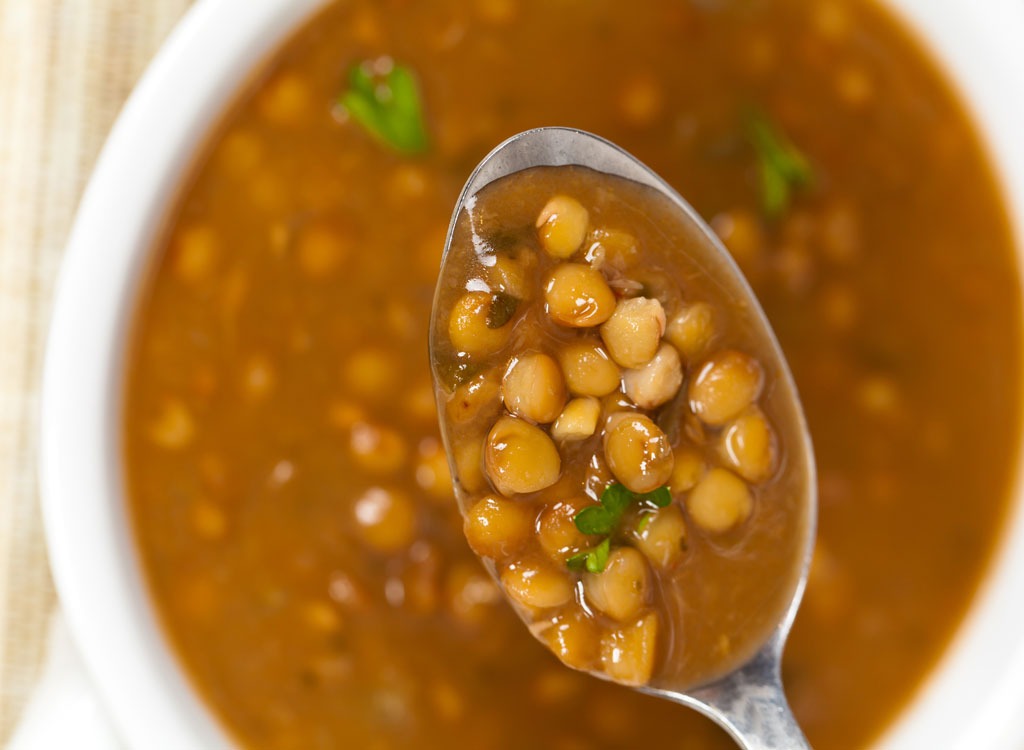 "With organic soups, you get a lot of bang for your buck, especially if you know where to shop! For example, on a given week, Amy's Organic Soups could be $2.42 at Walmart, compared to $3.69 at regular grocery stores," says Pavini. "A bonus? You can use organic soup to cook other dishes, giving even slow-cooker recipes and casseroles a tasty kick," Pavini continues.
Animal Products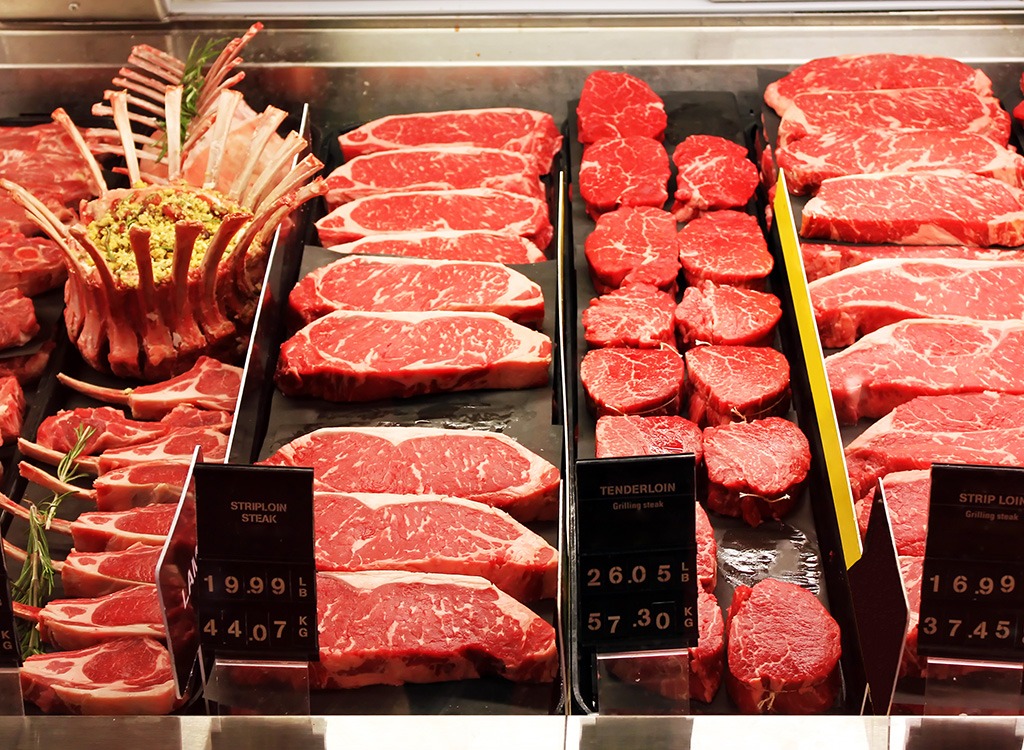 "American agriculture has become incredibly dependent on administering antibiotics to livestock. This contributes to the formation of resistant bacteria that might infect humans. Organic meat and dairy, on the other hand, prohibit antibiotics use," says St. John. To cut down on costs, slash the amount of meat you use in dishes and focus more on loading up your plate with vegetables. Pro-tip: "You can also save by the cut of the meat [when buying organic beef]. For example, the flank or shoulder are usually less expensive cuts," suggests Pavini. Animal products not your thing? Then you'll want to share how Veganism Found to Be the Best Diet for Weight Loss!
Olive Oil
Sure, it might cost you between $10-20, but it's mere cents when you consider the number of servings or uses in a bottle. "By buying organic olive oils, which are mechanically-pressed, you avoid oils that use chemical solvents for extraction," St. John says. "And given olive oil's versatility, you might consume multiple servings per day, like in a baked good, salad dressing, or roasted anything."
Earthbound Farm Spicy Spinach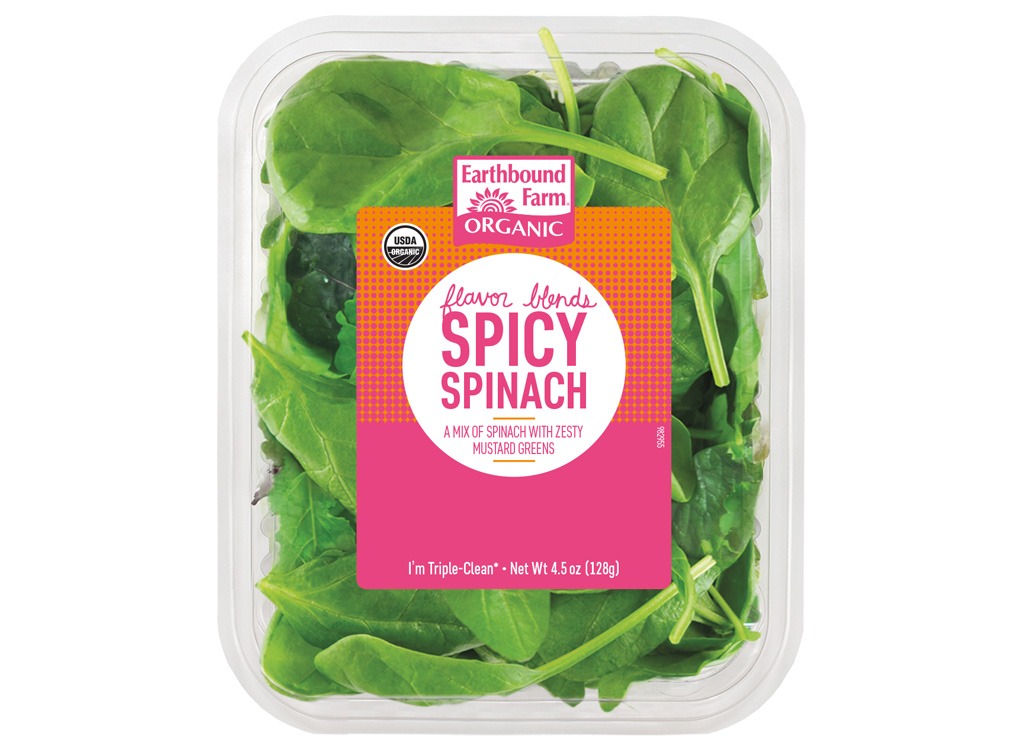 Greens like spinach and kale are notorious for heavy pesticides, so you really should opt for organic whenever you can. With a suggested retail price of just $3.99, this handy 4.5 oz clamshell is loaded with a tantalizing blend of spinach, pak-soi, mizuna and other zesty greens. If half your battle for making a healthy lunch or dinner is grocery shopping for the ingredients, this mix of greens makes it a cinch. Just add a hearty protein like baked tofu or beans.
Carrington Farms Chia Seeds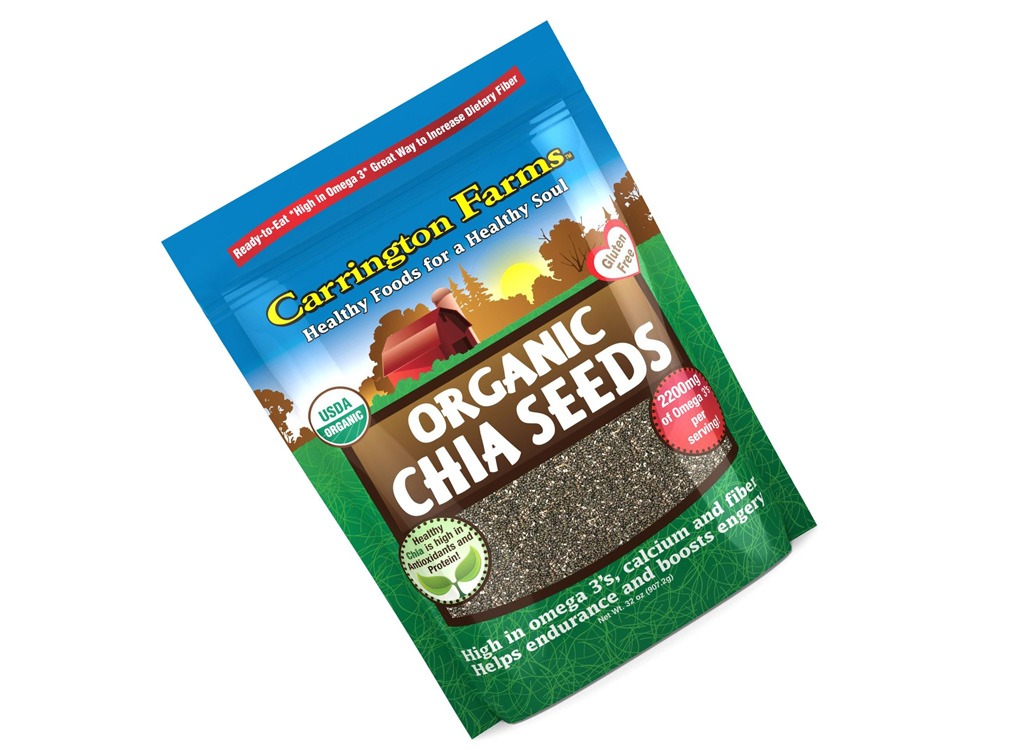 At only $9.49 for a 14-ounce bag, these tiny-but-mighty organic seeds are well worth buying. (Store 'em in your fridge to enhance shelf-life.) Simply slip them into yogurt, oatmeal, protein shakes or any of these chia seed recipes for weight loss. Oh, and did we mention they're high in antioxidants and pack more omega-3s than salmon? Further bragging rights: They've got more calcium-by-weight than milk and are loaded with fiber, potassium, and iron.
Aloha Coconut Water Powder
Coconut water addicts, brace yourself for the most convenient (and brilliant) thing since sliced bread: By gently drying fresh coconut water from young organic Thai coconuts, this powder retains all of its naturally-occurring minerals, including electrolytes, while being way easier to transport than a can or bottle. Aloha isn't exactly known for low prices, but consider this: $13.40 gets you 30 sticks (that's less than 45 cents per serving) while a can of coconut water is at least $2. All you do is simply mix the powder with water for a natural, potassium-filled drink. Or, add it to tea or coffee for a boost of sweetness.
Daily Greens Juice
Game, set, juice: These 12-ounce organic green juices will have you thinking juicing is berry tasty. At only $5.99 a bottle, these cold-pressed (which ensures the juices maintain their nutrients), are well below the $8 or $9 you'll throw down for a competitor or at a juice bar—where in many cases, the ingredients aren't even organic. Trying a juice cleanse? Go for the Costco box of 16 juices (which features the new Green Lemonade) for $59.99. And if you're not into juices, then consider one of these 56 Best Smoothies for Weight Loss.
Rhythm Superfoods Roasted Kale Chips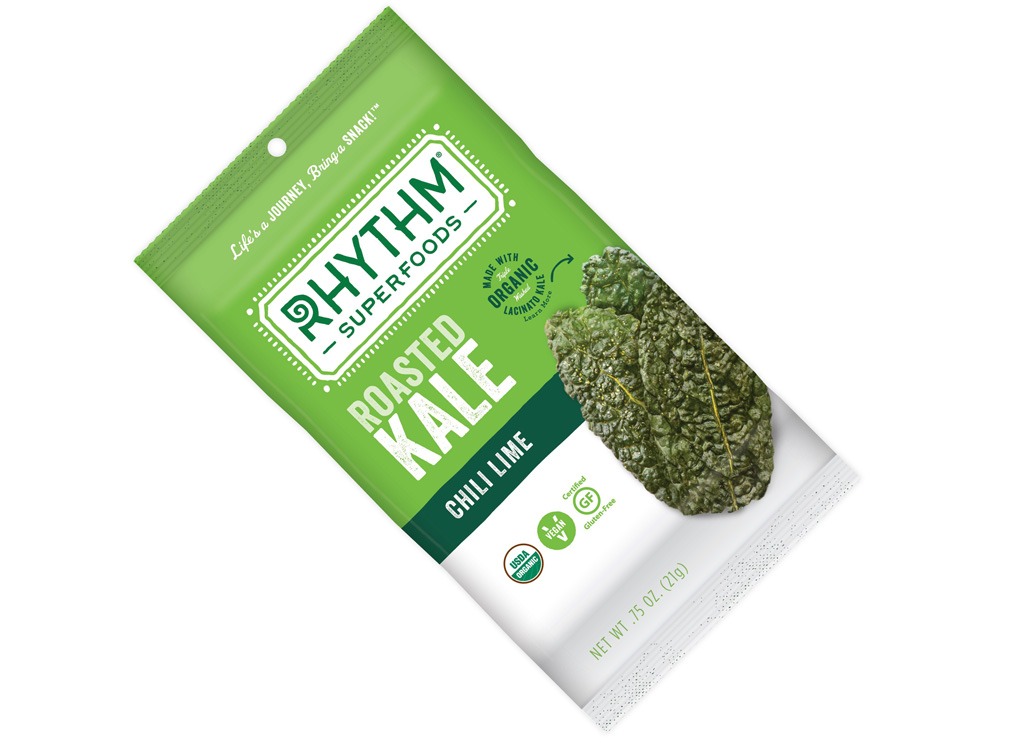 Clean ingredients? Check. Irresistible crunch? Check plus. Made with organic Lacinato kale (conventional kale is frequently contaminated with insecticides), these chips are an excellent source of vitamins A and K. For just $2.49 a bag, why not grab a few of their delectable flavors? Chili Lime, we're looking at you.
Soy Products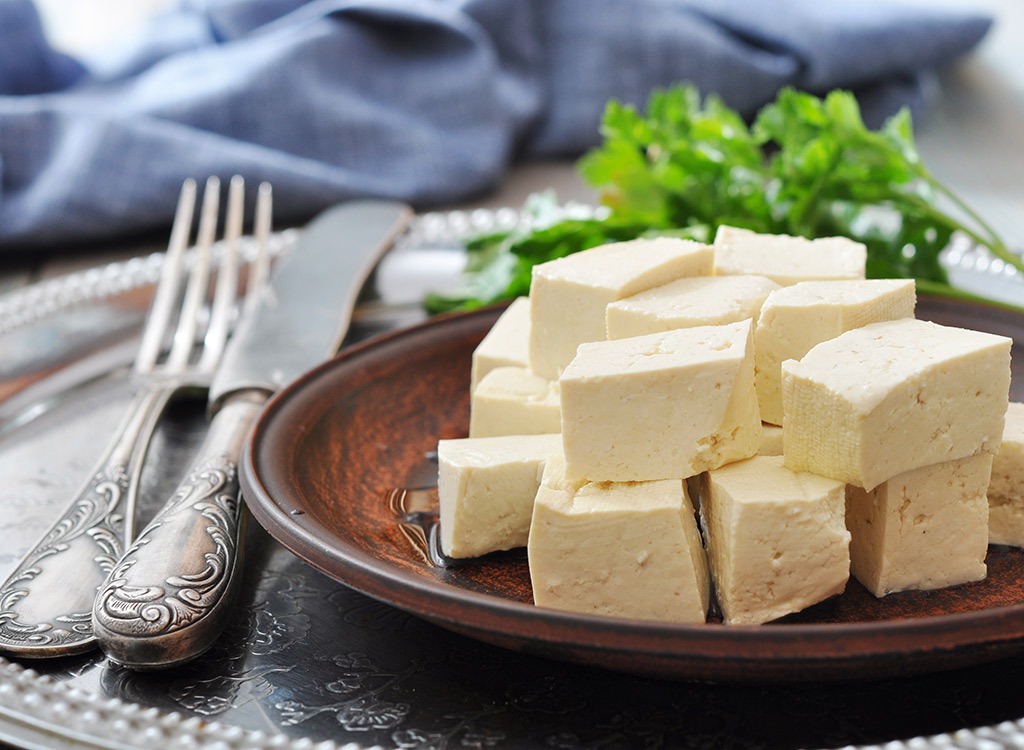 "When buying soy, or a soy product, opt for organic since 90 percent of soy production is genetically modified," cautions Hayim. For the best deals, look for house-brand tofu, or check the frozen aisle for organic, frozen edamame, which stay good for a long time and are great in stir fries and for snacks. "Remember to look at soy milk, tofu, soy beans (edamame), miso paste, and tempeh [all of which fall into the soy family]," advises Hayim.
Berries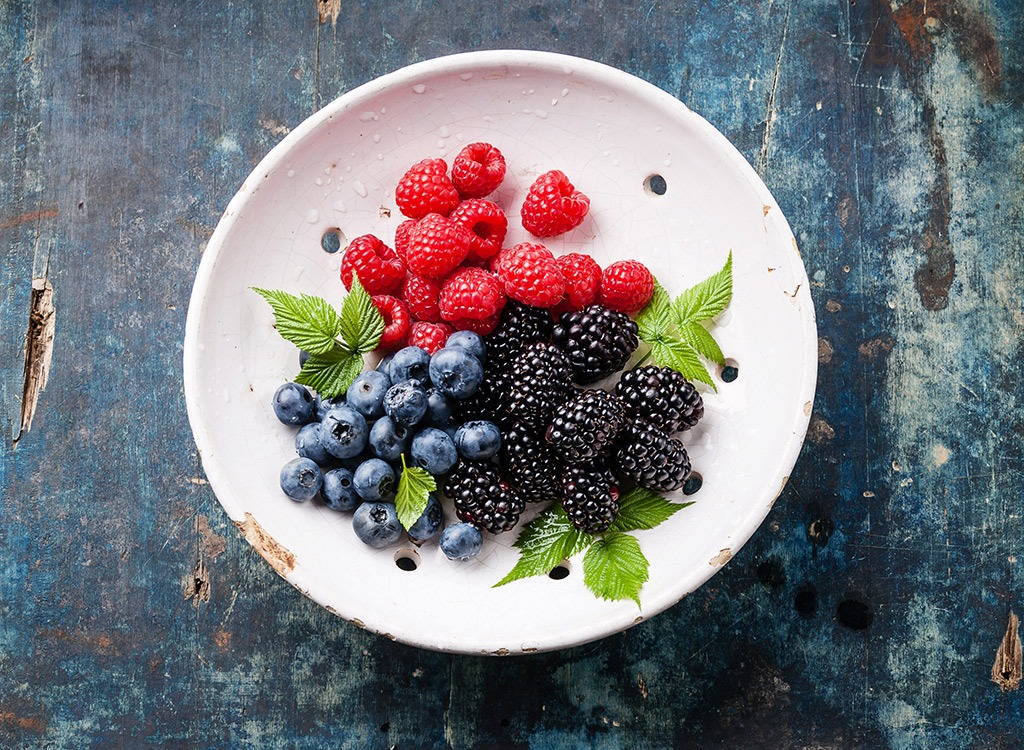 A study in the Journal of Agricultural and Food Chemistry found that organically-grown berries contained 50 percent more polyphenols, antioxidants, and levels of vitamin C, compared to the conventionally-grown berries. "And remember not to wash them until you are going to use them; they'll last longer that way!" Pavini adds. Look for sales on discounted organic berries (stores sometimes offer 2-for-1 specials) or go for the frozen variety.
7 SUPER-CHEAP FOODS TO STOCK UP ON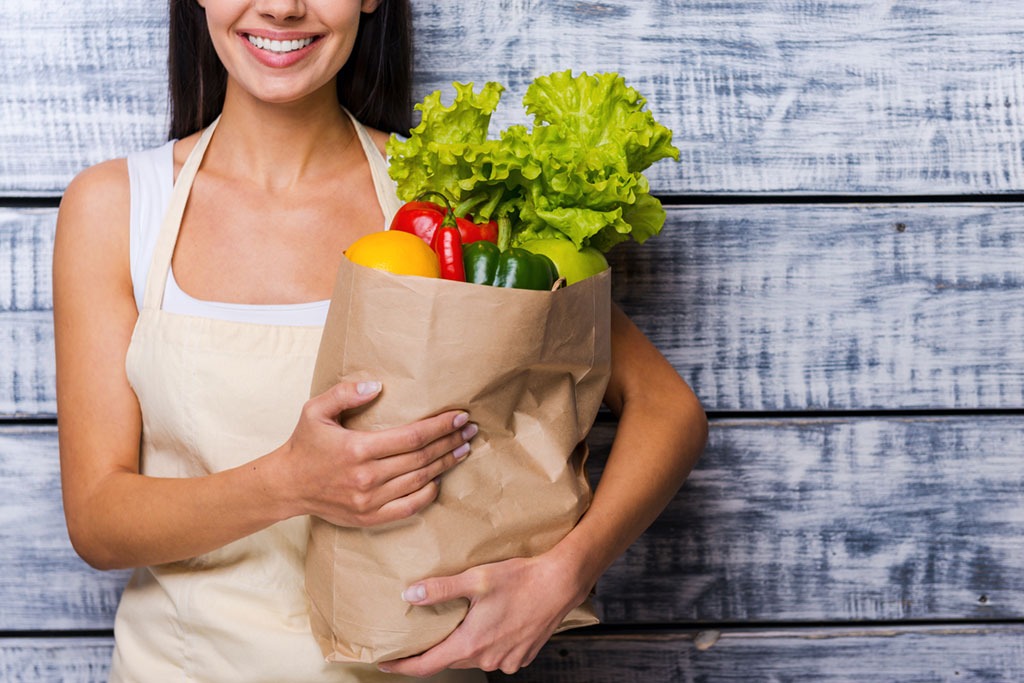 Most people think that eating healthy comes with a stiff price tag. But now that we've shown you some of the most affordable organic options, we wanted to give you a few more budget-friendly buys (not necessarily organic) for when you make your next trip to the market. In case you haven't noticed, we're all about eating healthy without bottoming-out the budget.
Shopping locally and in-season can help cut down on costs, and buying in bulk will also save you money and trips to the store. So stock up on these dietitian-approved bites the next time you hit the market.
Bananas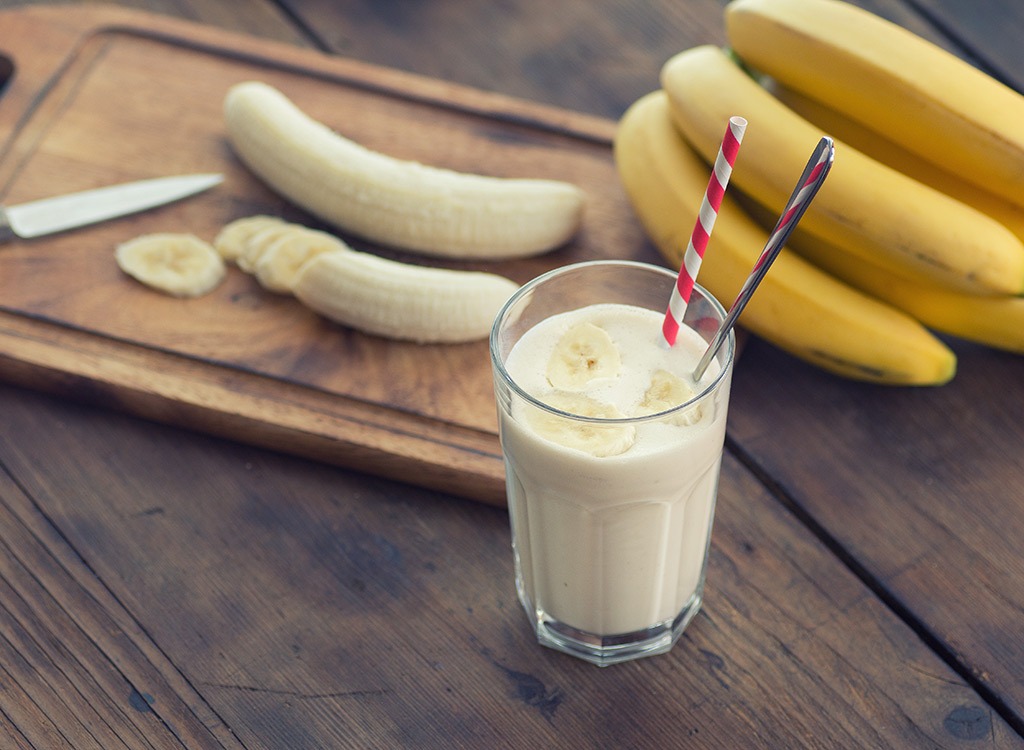 Bananas are nature's perfectly portioned, portable snack. They're rich in potassium, which is important for healthy heart function. They are also a great source of fiber—three grams on average per serving, which is why they're known to help with weight loss. Is there any wonder there are 21 Amazing Things That Bananas Do To Your Body? Don't be afraid to purchase a large bunch, either. If they start getting spots before you're close to finishing them, peel and store in the freezer. Frozen bananas give smoothies that creamy, indulgent texture that can sometimes be watered down by too many ice cubes.
Canned Pumpkin
High in fiber, low in calories and full of vitamin A—pumpkin has got a lot to offer your body. Sure, you may consume enough pumpkin at Thanksgiving for an entire year, but pumpkin goes well in more than just pie. At less than $1.50 per can, it's worth keeping a few stashed away in your pantry for some healthy pumpkin recipes. Pumpkin puree can be used in both sweet and savory dishes—bread, cookies, oatmeal, yogurt, pancakes, smoothies, stews, you name it. Just a few tablespoons are enough to help improve digestion and boost immunity.
Peanut Butter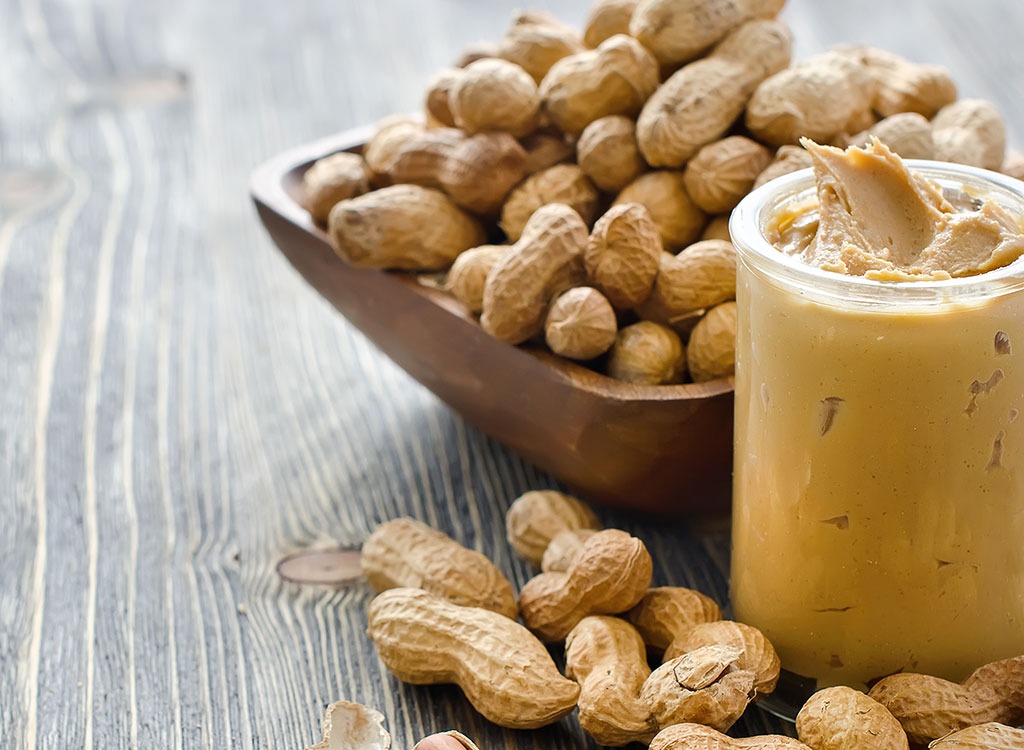 A study published in the journal JAMA Internal Medicine found a link between the consumption of peanuts and a decreased risk for heart disease. But resist buying reduced-fat versions! The healthy polyunsaturated and monounsaturated fats found in peanuts are what provide those heart-healthy benefits. Due to its caloric density, peanuts and peanut butter should be consumed in small portions, but that modest two-tablespoon serving offers eight grams of protein on average. Find out the The 36 Top Peanut Butters—Ranked before you hit the store!
Regular Rolled Oats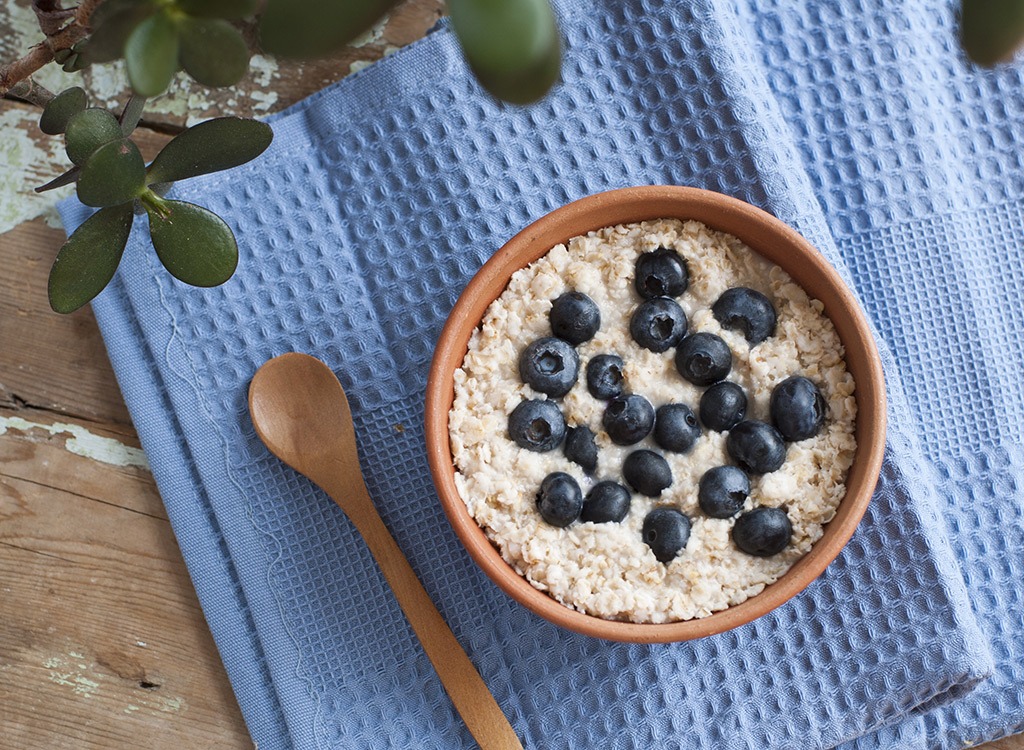 One dollar for one pound? Yep, it's true! Oatmeal is high in soluble fiber, which helps slow the digestion of food and keeps you feeling fuller longer. One half-cup serving contains about five grams of fiber and 150 calories, and there are at least 15 Awesome Ways to Lose Weight With Oatmeal! But stick to buying plain oats. They're not only cheaper, but also healthier than flavored versions. Flavored oatmeal packets often contain high amounts of sugar and other unhealthy add-ins. Mash up a banana and sprinkle on some cinnamon to add a little sweetness to your morning oats the natural way.
Popcorn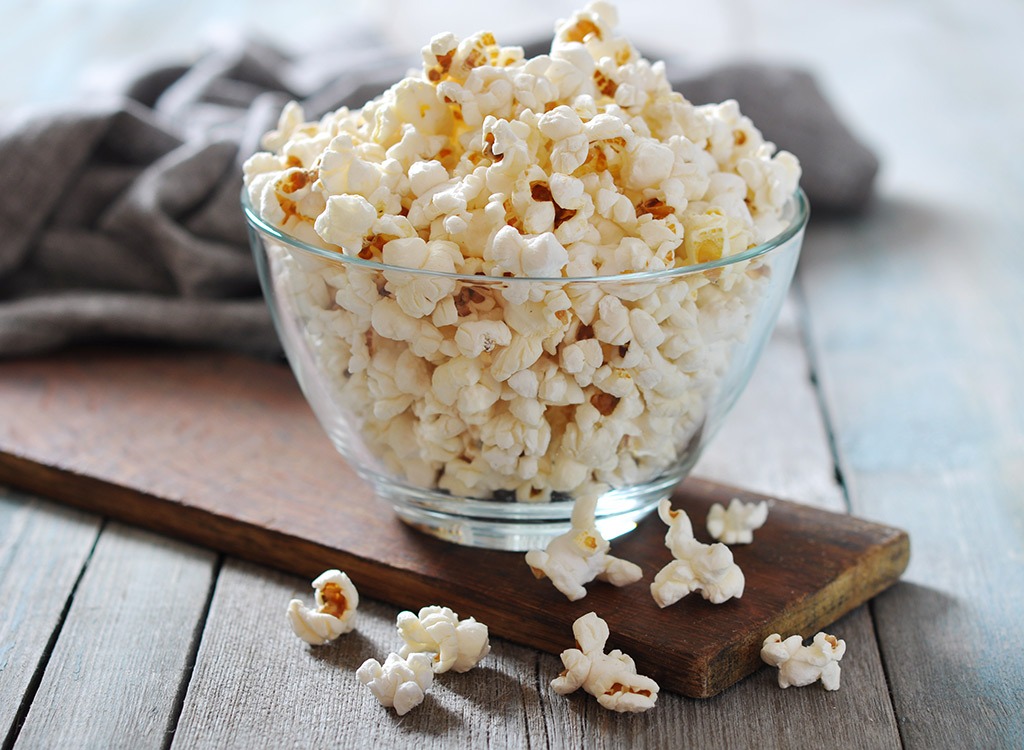 Snack time needs some attention, too. Those of you who didn't know popcorn was considered a "health food" have been missing out! Microwave popcorn does not qualify; it's actually one of the worst foods you can eat! But plain popcorn kernels are a whole grain food high in fiber and antioxidants. When air-popped, the classic snack only contains about 30 calories per cup. You can also pop kernels on the stove in coconut or olive oil for a more indulgent flavor. Sea salt, cinnamon, Parmesan cheese or herbs and spices are a healthy way to kick the flavor up a notch.
Raw Pumpkin Seeds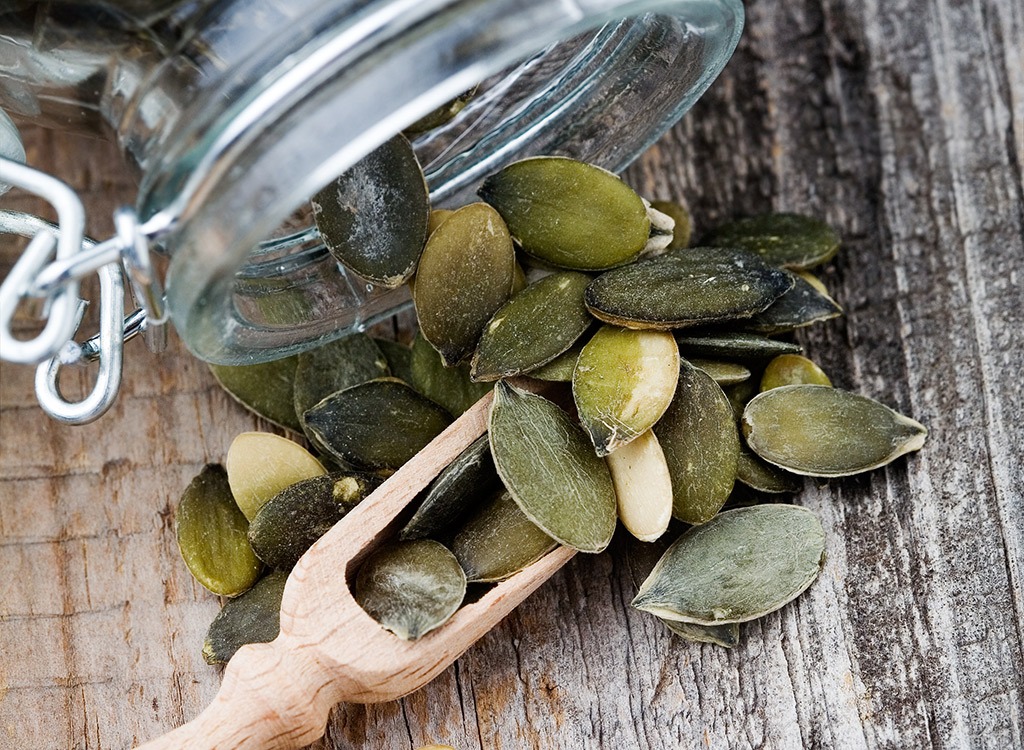 Six dollars per pound may not seem super cheap, but to even breach one pound of raw pumpkin seeds (also known as pepitas), you're going to be taking home what looks like whole year's supply. The great thing about these crunchy seeds is that you only need to consume them in small quantities to reap the health benefits. One ounce contains more than eight grams of protein and is also high in iron, potassium, phosphorus, magnesium and zinc (important for a healthy immune system). Add into salads, oats and yogurt, or pop them in your mouth as is for a quick snack. No wonder pumpkin seeds are on celeb trainer Mark Langowski's list of 15 Favorite Foods for Flat Abs!
Frozen Broccoli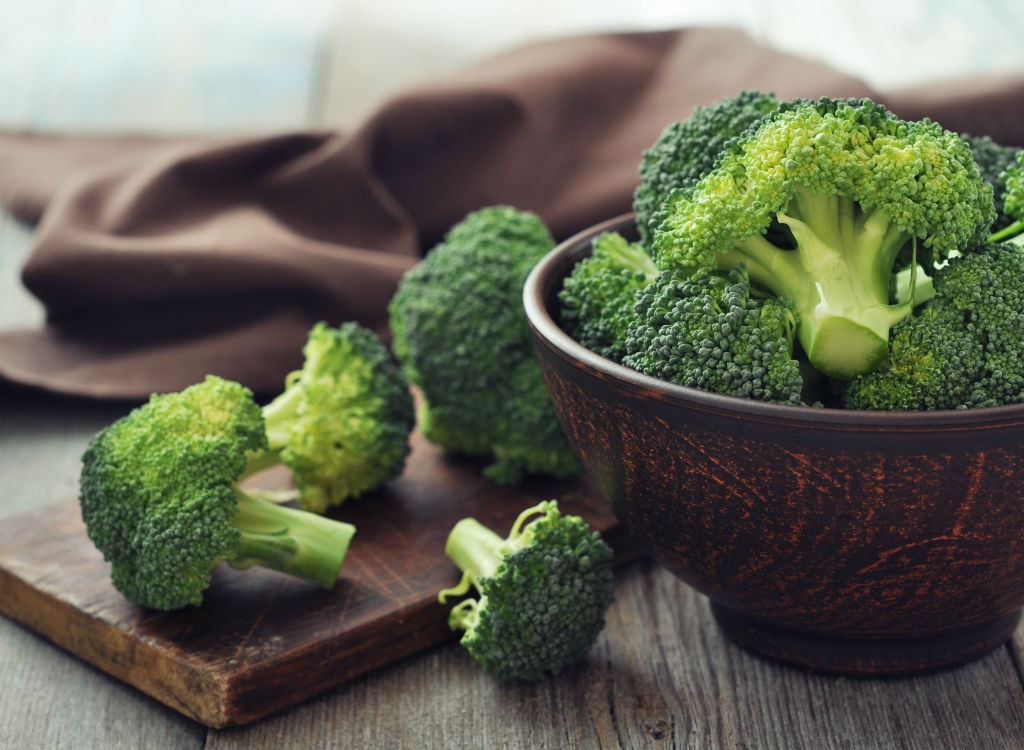 Fresh veggies may sound like the healthiest and overall best option, but sometimes you're better off hitting up the frozen section. Frozen fruits and veggies are frozen at their peak, so they retain high levels of vitamins and antioxidants. Get this: For less than forty cents and 30 calories per serving, broccoli can help reduce inflammation, cut your risk for cancer, aid digestion and enhance your body's natural detoxification process.