10 Cheaper Store-Brand Groceries That Are Just As Good As Their Brand-Name Counterparts
These copycats will help you save money without sacrificing on taste.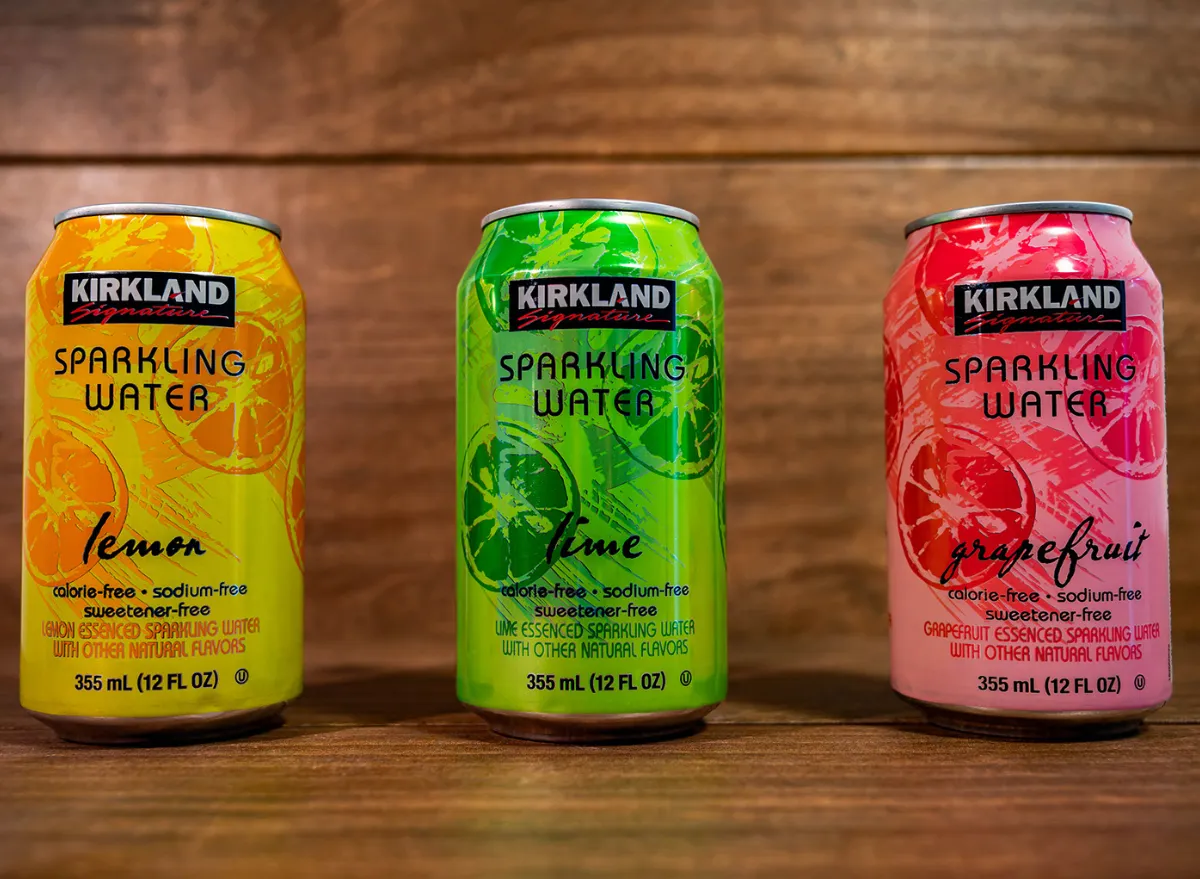 The product recommendations in this post are recommendations by the writer and/or expert(s) interviewed and do not contain affiliate links. Meaning: If you use these links to buy something, we will not earn a commission.
As food prices continue to make headlines, the question of saving money on groceries is likely at the top of many of our Google search histories. If you scroll through your results, you'll find a myriad of tips both good and bad from clipping coupons (mostly digital nowadays) to shopping the sales to always sticking to your list religiously.
Another tip you might come across—one which has a lot of validity—is swapping out name brands for generic varieties. As you shop, you may not give a second thought to spending a few extra dollars on those beloved Oreos instead of opting for the store's "Chocolate Sandwich Cookies." But, a couple of extra dollars here and there can quickly add up. CNET found that shopping store brands can actually save you up to 40% on your weekly grocery bill. Do we have your attention now?
Despite the stigma around store brands, many of them offer just as much in the way of quality as they do value. And when it comes down to it, you likely won't even be able to tell the difference. Here are some of the best grocery brand items you're sure to love just as much as, if not more than, their name-brand counterparts.
Aldi's Countryside Creamery Irish Butter
It must be the luck of the Irish. One Aldi shopper struck gold when they recently discovered a low-priced alternative to Kerrygold Irish Butter at the discount grocer. Luckily for us, the consumer kindly spread the word on Twitter. "A reminder – Aldi's carries a generic Irish butter that is the same grass-fed butter as Kerrygold, but costs less. And yes, it's from Ireland," they wrote.
The butter dupe made by Countryside Creamery sells for $3.85 per 8-ounces, while the name brand sits at around $4.39 or more at other retailers. The Aldi version is also said to have many of the same characteristics as KerryGold, including its creamy, spreadable texture and rich flavor. Plus, it even comes with a slightly lower sodium content. With all that being said, this low-cost swap seems like a no-brainer.
Aldi's Mama Cozzi's Pizza
It's not delivery, it's…Mama Cozzi's? Mama Cozzi's Pizza is not only an Aldi sensation—recently inducted into the store's Hall of Fame—but is also a worthy opponent for the well-known frozen pizza brand DiGiorno. Mama Cozzi's Rising Crust Pizzas specifically rival the name brand and share many similarities, right down to the nearly identical packaging. The Rising Crust variation comes in Pepperoni, Supreme, Four Cheese, and Three Meat flavors, all with a perfectly golden, flakey crust and made with 100% real cheese. This Aldi copycat is currently listed at $4.09 through InstaCart, while the lowest price we could find for the same size DiGiorno pie was $6.92 at Walmart.
Aldi's Tuscan Garden Italian Dressing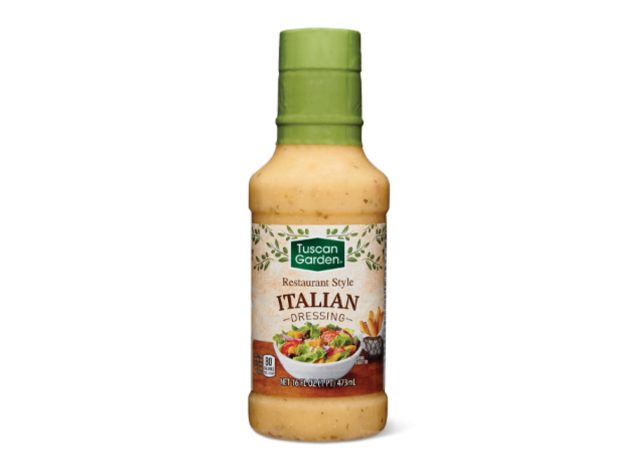 People went crazy when Olive Garden started selling its signature Italian dressing in stores. Now, get ready for some even better news. Aldi is selling the product's creamy and delicious twin for just $2, and reviews say it's indistinguishable from the original. According to Patty Catalano's review on The Kitchn, "The Tuscan Garden version mimics the Olive Garden's flavor and form down to the shape and size of the bottle." So you can bring the taste of Italy home for even cheaper!
If you love the Italian dressing, try out the Tuscan Garden brand's other notable flavors like Mediterranean and Asian Sesame as well, all available at Aldi.
Aldi's Nature's Nectar Apple Juice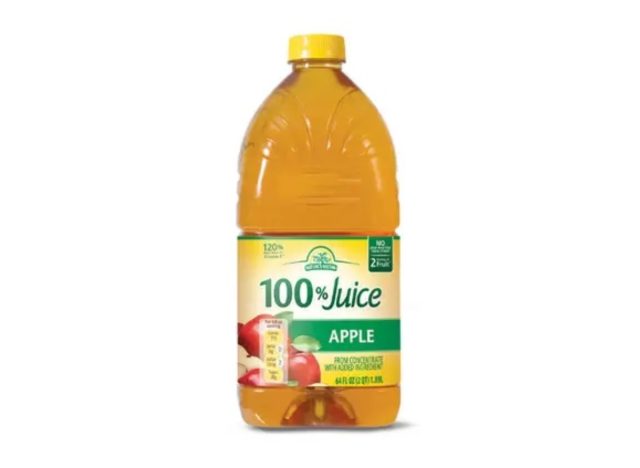 Since you'll be at Aldi anyway, add one last item to your shopping list: Nature's Nectar Apple Juice. The juice is a carbon copy of the long-standing Mott's brand in every conceivable way–so much so that Saundra Latham of Cheapism had to double-check she didn't pour two glasses of the same brand after she gave them both a try.
The Aldi brand also helps get your apple juice fix for less, and it's even mom-approved. On the Parent Tested Parent Approved website, many happy customers, along with their kids, gave the juice a big thumbs up. One mom wrote, "We have had some "100%" juices that just do not taste good. This one is great. My littlest seems to love it, and my oldest usually drinks it faster than I can buy it. Great alternative to the other sugary brand I use to buy."
Target's Market Pantry Ketchup
Step aside, Heinz. Target's private label Market Pantry carries a Thick & Rich Ketchup that is just as tasty and goes for a mere fraction of the price. According to Consumer Reports, Target's version of the classic American condiment stood out among other store brands, like Whole Foods or Trader Joe's, as a near-dead ringer for the balanced sweet yet tangy taste of Heinz. The Market Pantry Ketchup also comes with just a smidge less sodium and will cost you about 72% less than the king of Ketchup—so you can feel free to squeeze as much as you please!
Target's Market Pantry Graham Crackers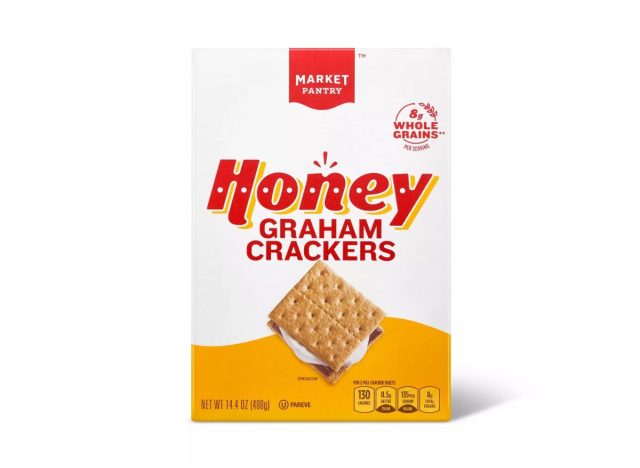 Over in the snack aisle, Market Pantry triumphs again. The store brand's Honey Graham Crackers sell for less than half the cost of Honey Maid's, and according to The Krazy Koupon Lady, they are superior in terms of taste as well. "I thought for sure I would be able to tell the difference between Honey Maid and Market Pantry, but I totally failed and so did 70% of our taste testers who actually preferred Market Pantry's version," she says. "You need to try it to believe it!" Now, we just need to find the perfect store-brand chocolate and marshmallow substitutes to create the ultimate cost-effective s'more.
Costco's Kirkland Signature Sparkling Water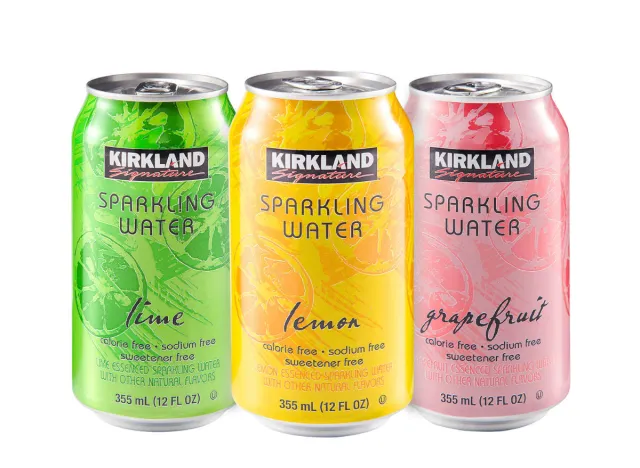 Kirkland Signature Sparkling Water allows you to enjoy everything you love about a refreshing LaCroix, but at Costco prices. Costco unveiled its version of the fizzy H20 back in 2018, and it has since been a favorite among members. Both LaCroix and Kirkland packs sell at the warehouse for a comparable price. However, the Kirkland packs include 32 cans vs La Croix's 24, for some serious cost savings.
The one Achilles' heel of the Costco substitute is that it is currently offered in just three flavors: lime, lemon, and grapefruit. So, if you're looking for a little more diversity, you may need to bite the bullet and still buy the LaCroix.
Walmart's Great Value Macaroni & Cheese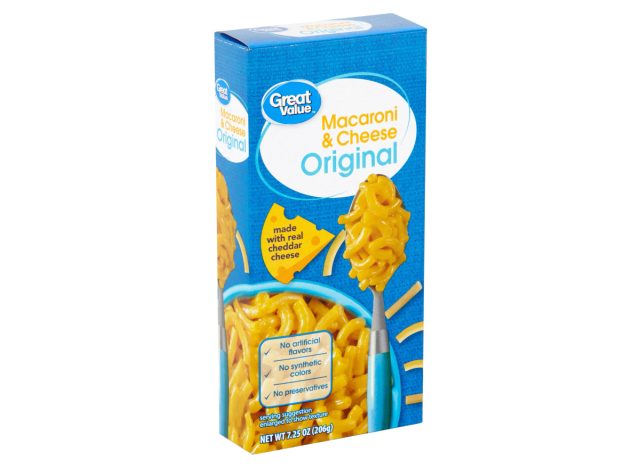 The public has spoken: Kraft Macaroni & Cheese is out and Great Value is in. The Walmart brand's cheesy dupe is turning heads left and right for its shockingly scrumptious taste and even more shocking price point. "'Great' value?! More like UNBEATABLE," says Buzzfeed's Ross Yoder in his ultimate mac & cheese taste-off. "Never in a million years did I think I'd put Walmart's $0.34 generic box of mac 'n' cheese in the top spot. I studied the ingredients in this box for what felt like hours, and I still don't know exactly why it tastes so good." Yoder went on to explain what really impressed him was the cheese sauce, which thickened quickly and perfectly coated each oblong noodle. Take notes, Kraft!6254a4d1642c605c54bf1cab17d50f1e
Walmart's Great Value Classic Chippers
If you've ever eaten Chips Ahoy cookies, you know they have a very distinct taste that blasts you with chocolate chips in every bite and a texture that is always crisp, never soft—unless, of course, you grab the Chewy variety. It's an experience that is difficult to replicate, but Walmart's private-label brand Great Value may have cracked the code. The brand's Classic Chippers (what a happy name!) beat out 13 other chocolate chip cookies including the likes of Famous Amos and Keebler in a blind taste test conducted by Cheapism. According to the blog, tasters described the Chippers as "nostalgic" and "tasting like every cookie I ate as a kid."
The price is also somewhat nostalgic and representative of the good ole days, coming in at just $2.08 compared to over $4.00 for the same 13-ounce package of Chips Ahoy.
Kroger's Private Selection Kettle Chips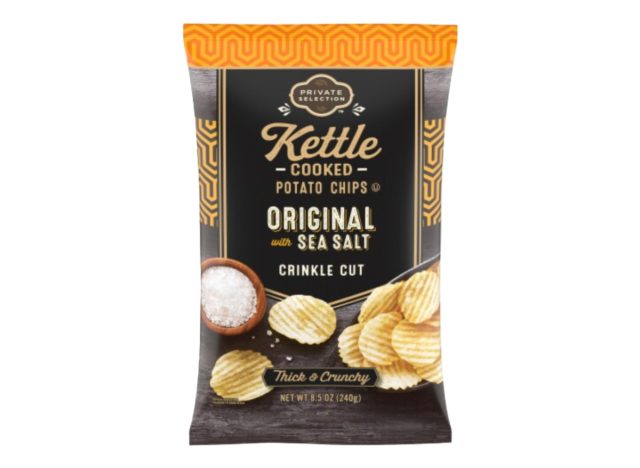 Kroger's store brand Private Selection may sound uppity, but it actually offers many great quality products at overall lower price points. One Private Selection item that stands out to avid Kroger shoppers is the Kettle Cooked Chips. A review on Allrecipes highlighted two different flavors of the chip, while Jessica Griggs from the 12 Tomatoes blog explained just what made them so good. "Here's another item that can pretty much sell itself. Crunchy kettle chips? Check. Small batch crafted? Check. Kosher? You bet! These chips are seasoned with black truffles, olive oil, cracked black pepper, and Basil. What's not to love?"
You can try out the chip's other exciting tastes as well including Chicken Tikka Masala, Cuban Style Sandwich, Sweet Southern Heat BBQ, and Sea Salt & Vinegar—all for $3.29 compared to $3.99 for the same size bag of Lay's Kettle Cooked Chips.