11 Chefs' Secrets That Make Restaurant Burgers Taste So Good
Whip up burgers just like the pros.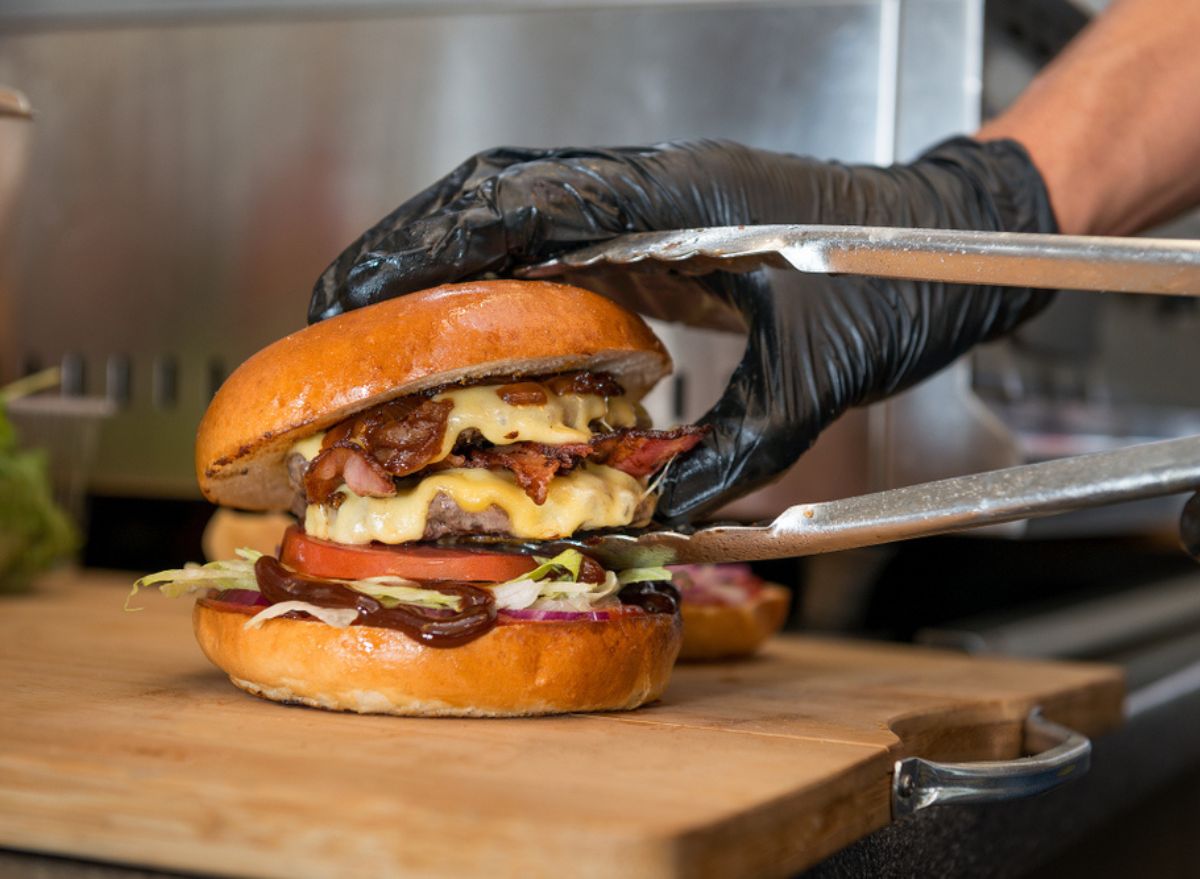 Burgers sound easy to whip up in theory: Just plop 'em on a pan and wait, right? But how many times have you tried to cook burgers only to get underwhelmed by the taste or frustrated with the texture? It seems like no matter what you do, you can't quite figure out how to get them to taste as good as they do in restaurants.  What are the secret tricks that chefs use to make restaurant burgers that are so much better?
If you're just forming a patty from any old ground beef and not paying attention to seasoning, there's no way you're going to create a burger that's restaurant-quality. Turns out, chefs pay a lot of attention to the ingredients and the technique for cooking even a simple burger.
We reached out to a handful of chefs for their tips on taking burgers from "good" to "great." They responded with a variety of answers from special equipment to secret seasonings. From adding a touch of unexpected flavor (liquid smoke, anyone?) to paying special attention to temperature, here are 11 things you'd never think of to make restaurant-quality burgers at home.
​Start with good ground beef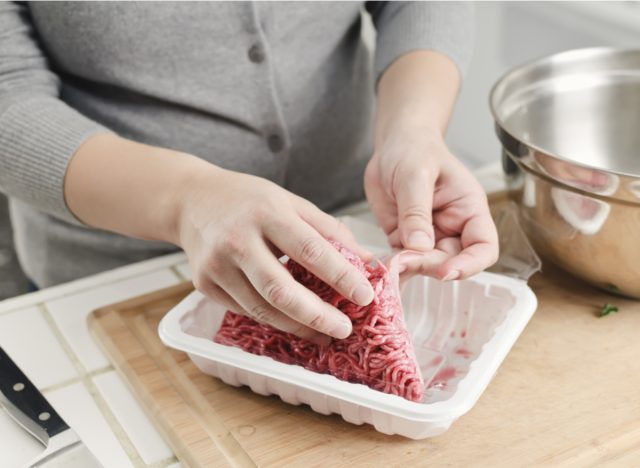 Shawn Matijevich, lead chef of online culinary arts & food operations at the Institute of Culinary Education, advises that homemade burgers should start with one thing: good ground beef. He recommends getting ground beef that is 80% lean and 20% fat. "It may sound like a lot of fat, but that is where the flavor and juicy mouthfeel comes from in a burger," says Matijevich.
Besides fat content, it's important to also remember that not all ground beef is made equally. "Spring for some ground chuck as that will only come from the chuck section of the animal and be a bit higher quality than something simply labeled 'ground beef'," Matijevich adds.
If you'd like, you can visit your local butcher shop for higher-quality, more customizable ground beef. "Many restaurants work directly with their butcher to create a blend for their signature burger," he says. "When I was the executive chef of BLT Prime in Washington, D.C., we worked with Pat LaFrieda to give us the most amazing dry-aged burger patties." If you have a local butcher willing to do this with you, make sure to stock up.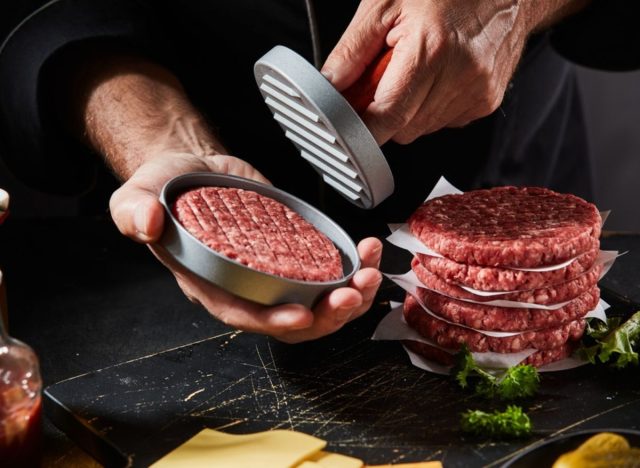 Want perfectly formed burgers each time? Pick up a patty press.
"Many times, burgers may end up looking more like meatballs because the burger wasn't formed properly," Matijevich says. A patty press can help remedy this.
Matijevich points out that protein shrinks when it's cooked, so make sure that your burger patties are thin and wide—"probably about 20% bigger than your bun," he explains. The patty's thickness should also be the same throughout. "An 8-ounce or two very thin 4-ounce patties are standard," he adds.
Keep burger patties cold until it's time to cook them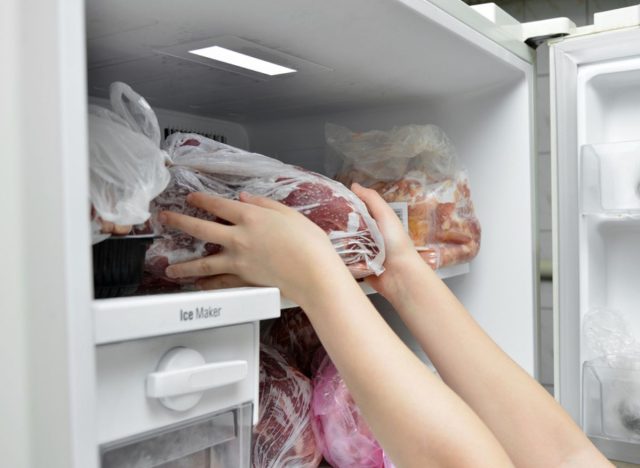 If you've ever let your burger patties reach room temperature before placing them on the grill (or stovetop), you may want to write this tip down. Dustin Green, head grill master at Weber Grill Academy, explains that patties should be kept cold until cooked.
"After you shape your hamburger patties, place them in the refrigerator until it's grill time," he says. "This helps keep the patty together while cooking."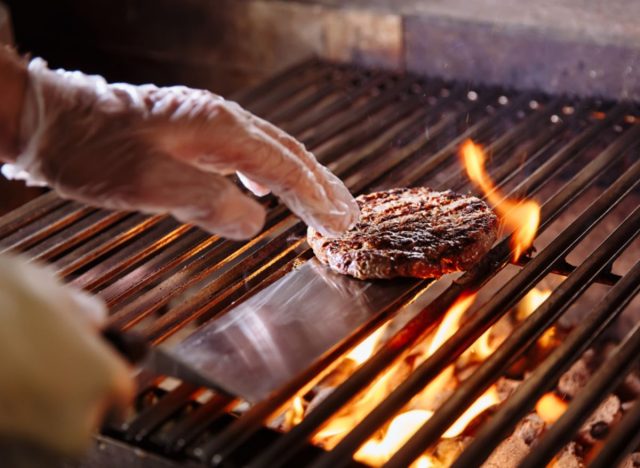 Experts agree that you should only flip patties once when cooking burgers.
"You'll know it's time when the burger doesn't stick to the grate," says Green. "The approximate total grilling time will be eight to 10 minutes on direct medium-high heat-turning."
Chef Alex Reitz, chef and recipe developer at Beef, It's What's For Dinner, echoes this sentiment and shares that it's important not to overwork your patties. "Avoid pressing down on burgers, or juices will be lost, resulting in a dry burger," Reitz says. He also points out to only use spatulas to flip burgers (and not forks—yes, we've also been there before) to avoid piercing the burger and losing more juice.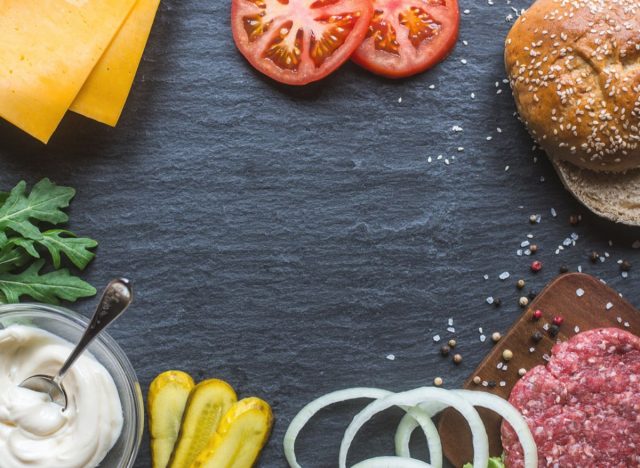 If you think only burger patties should be seasoned, think again.
"Season everything!" says Chef Brandon Sumblin, a five-time Food Network winner and executive chef at Parlour Victoria in Washington, D.C. "When I'm making a great burger, I make sure I'm not only seasoning the burger, but also my buns, lettuce, and tomato."
Sumblin shares that part of being a great chef is building flavors even with the simplest dishes—so we say, season away!
​But don't salt too early
Seasoning is crucial, but make sure you don't salt your meat too prematurely. "Don't salt your beef until the patties are formed," explains Chef Dave White, celebrity chef and chef on Bravo's Below Deck Mediterranean. "Salt will dissolve muscle proteins, which subsequently cross-link, turning your burgers from moist and tender to sausage-like consistency!"6254a4d1642c605c54bf1cab17d50f1e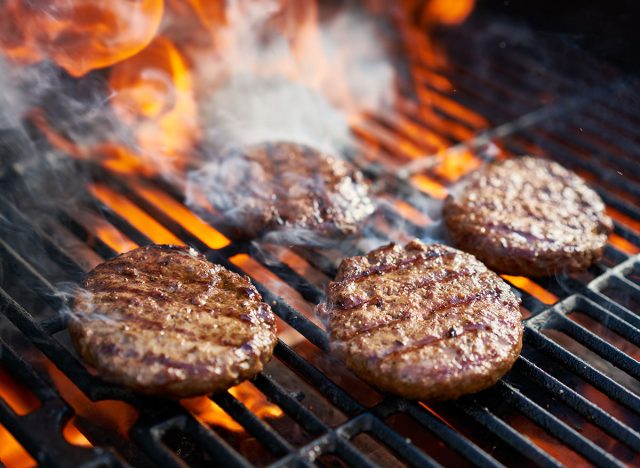 Whether you're making burgers on a stovetop or grill, getting the heat right is crucial. Evan Bergman, the executive chef at NoMo SoHo in New York City, recommends using high heat when cooking beef. "Chefs cooking at home can neglect the practice of high heat cooking, which makes the meat lack a proper sear," Bergman says. "This can result in a less flavorful dining experience."
Chef Jumoke Jackson also notes that temperature is key. "The single biggest reason an at-home cook will have trouble creating a restaurant-quality burger is temperature," he says. "The temperature of the meat and the temperature of the cooking surface are major factors—if you don't get it hot enough you won't create the Maillard reaction needed for a delicious textured burger."
Also, make sure that your meat isn't ice-cold. "It won't perform well when it hits the heat," says Jackson.
​Make sure the ingredients complement one another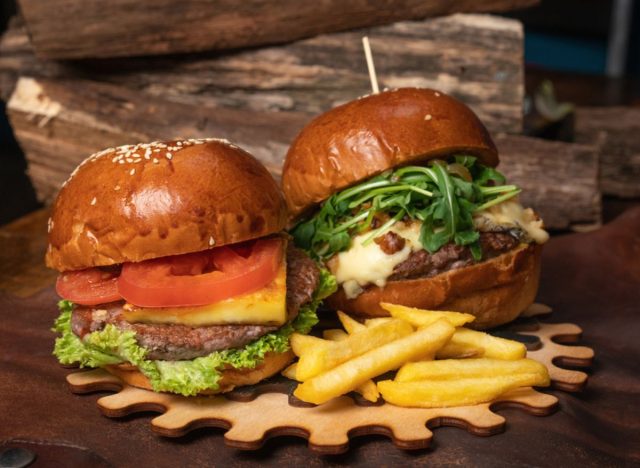 Chef Carlos Aguilera from John Martin's on Miami's Miracle Mile states that part of making a great burger is including tasty ingredients that complement one another. "Adding herbs like arugula to burgers is a great way to add subtle flavors to your burger without going over the top," he says.
A great example of an expertly-constructed burger is the Guinness Burger at John Martin's. Aguilera describes that it's piled high with dry-aged beef, arugula, roasted pork belly, tomatoes, caramelized onions, and a special housemade Guinness cheese fondue. "The secret to a delicious burger is activating all of the ingredients by combining flavors that complement each other for a culinary creation that tantalizes the taste buds," Aguilera reiterates.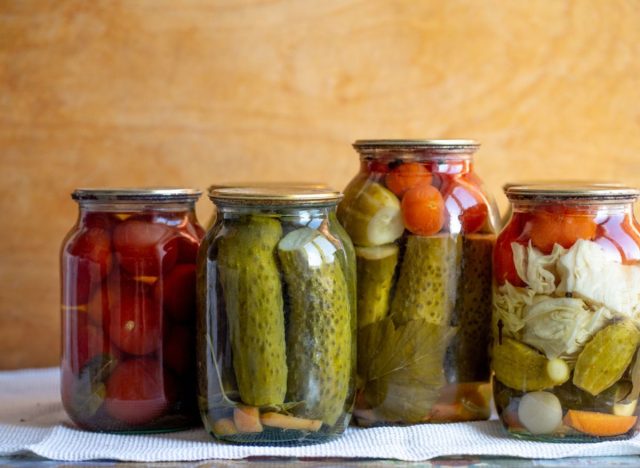 Add some mouthwatering zest to your burger by piling it high with pickles. Chef Isaac Toups, the chef at Toups Meatery in New Orleans, LA, shares that pickles are paramount. "And I don't mean the ones in the jar," Toups says. "Pickling is easy, fun, and relaxing so take your favorite veggie or cuke and make a great batch that you can munch on and use for burgers."
An unexpected flavor—smoke—can easily elevate any ho-hum burger.
"Restaurant burgers often have that char-broiled flavor which is difficult to replicate at home, especially when cooking in a frying pan or oven instead of backyard grill," says Lindsay Payleitner, chef and owner of GROW Cafe + Bistro, in Saugatuck, Mich.
Thankfully, there are many easy ways to incorporate a bit of smoke into your burgers without firing up the grill. For example, smoked sea salt and liquid smoke work great. "Just remember that a little goes a long way," says Payleitner.
​Don't forget about the ambiance
And lastly, besides getting the flavors and texture of your burgers just right, you should also pay special attention to the ambiance.
"Part of the reason that food tastes better in restaurants is because of the atmosphere and convenience," says Chef Jacob Mitzel of Islander 71 Charleston, SC. "If you want to enjoy dinner at home even more you can try making it a special time by setting the scene and making a night of it with your loved ones."