Why Are Some People So Angry About Chick-fil-A's Cauliflower Sandwich?
The chain is testing the new cauliflower sandwich in select markets.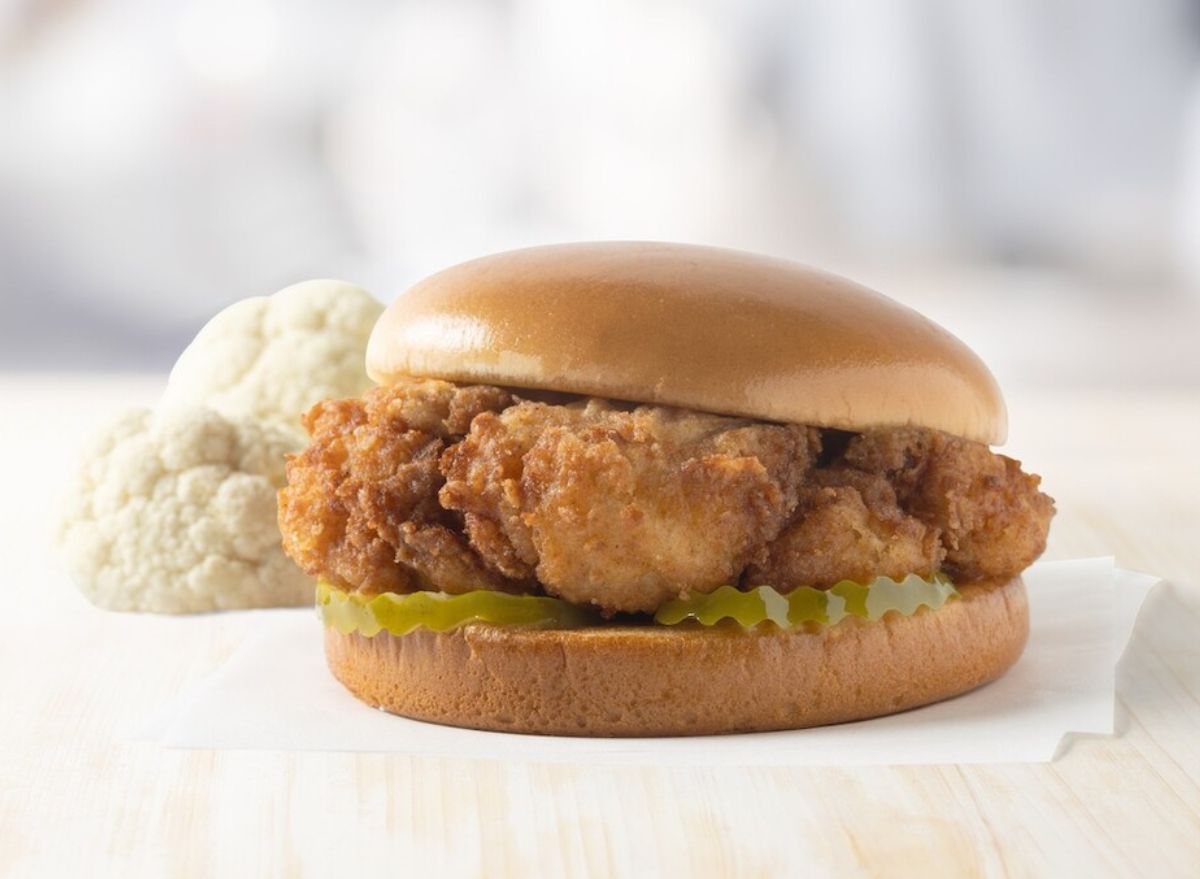 Chick-fil-A fans can always count on the restaurant chain to deliver chicken, chicken, and more chicken. Between its range of sandwiches, salads, and nuggets, Chick-fil-A menu items that don't feature either fried or grilled chicken are few and far between. So it may not come as a surprise that Chick-fil-A's announcement of its first-ever veggie sandwich this week, which replaces the traditional chicken with cauliflower, has customers divided.
While some commended Chick-fil-A on social media for offering the new veggie-based item, others were completely outraged that the chain would sell a sandwich that strays from its roots—both culinary and ideological. In the comments section under an article about the Cauliflower Sandwich that Chick-fil-A retweeted, some Twitter users accused the company of becoming too "woke." They even vowed to stop eating at Chick-fil-A, which is known to be guided by Christian values and has faced controversy over past donations to anti-LGBTQ organizations. All because of some cauliflower.
"Not a penny more spent on your woke agenda," @MomOTMountain tweeted.
The brand began testing the controversial cauliflower sandwich in select stores in Colorado, South Carolina, and North Carolina on Feb. 13. Apart from the fact that it replaces chicken with a hunk of cauliflower, it is prepared in a very similar fashion to the chain's chicken sandwiches. The cauliflower is marinated, breaded in the brand's signature seasoning, pressure cooked and served on a toasted bun with two pickle chips.
Chick-fil-A isn't the first chain restaurant to be criticized for adding a plant-based item to its menu. When Cracker Barrel launched a meatless sausage patty last year, it similarly faced a wave of backlash for what some customers described as a "woke" decision.
Other critics of the Cauliflower Sandwich were more focused on whether it could live up to its poultry counterpart.
"

Let's go to the chicken place for cauliflower?"

@ghostofcoals tweeted mockingly.
Though Chick-fil-A is marketing the sandwich as "plant-forward," it does not consider it to be vegetarian because of its cooking environment. This has drawn additional confusion and ire from customers who questioned why Chick-fil-A would develop a veggie sandwich without making it fully vegetarian-friendly.
"I wonder what the point of a cauliflower sandwich was if not to be a vegetarian option, or low calorie? [It's] still breaded and deep fried," Reddit user u/Zealousideal-List779 wrote.
In a statement shared with Eat This, Not That!, Chick-fil-A said that the "decision to step into the plant-forward space came directly from customer feedback asking for more variety and the opportunity to flex their diets by incorporating more vegetables into their meals."
"We created the Chick-fil-A Cauliflower Sandwich to continue providing our guests with quality food and excellent service," the chain added. "​And rest assured, the Original Chicken Sandwich isn't going anywhere!"
UPDATE: February 15, 2023
An earlier version of this article incorrectly stated that Chick-fil-A's Twitter page disabled the comments for a post announcing the cauliflower sandwich due to the negative nature of the comments. A source from the company contacted us to dispute this, stating that the comments are disabled as a default.6254a4d1642c605c54bf1cab17d50f1e
Zoe Strozewski
Zoe Strozewski is a News Writer for Eat This, Not That! A Chicago native who now lives in New Jersey, she graduated from Kean University in 2020 with a bachelor's degree in journalism.
Read more about Zoe